For just about any organization, communication systems are a major life-line and way of conducting business. We need to constantly be in contact, thanks to the ubiquity of conferencing tools. Clients, customers, users, departments, locations, teams all need to be able to reach each other at any time.
But unfortunately, we do not live in a perfect world — and disasters can strike at a moment's notice, whether we are ready or not. When, not if, a disaster occurs, your business should be as prepared as possible. If your organization doesn't have a business continuity plan, your team and customers will flood your contact center and phone system with questions and concerns.
Thankfully, cloud services can keep your business running. The introduction of cloud communications like business VoIP and UCaaS has not only made it possible for small organizations to gain powerful communication tools, but these tools have made it easier for SMBs to prepare their infrastructure for a worst case scenario.
Understanding Disaster Recovery
A million and one things may go wrong, whether we are discussing a natural or unnatural disaster, the same needs persist: to account for everyone and everything, shift resources to handle the interruption, and get things back up and running as smoothly and quickly as possible.
Depending on the exact needs of your organization, or even the exact specific industry of your organization (for example, Health Care always has its own nuances with HIPAA and related regulations), the level of preparedness and necessary steps will of course differ.
However, when disaster strikes, there is a fair number of questions your organization must be able to answer, as well as a number of pivotal moments that must be handled properly to ensure a smooth recovery.
During the disaster — will teams be able to communicate in anyway, to ensure everyone is accounted for, and safety is a top priority. Offer instant messaging tools to allow everyone to communicate in the same channel.
After the disaster — what forms of communication will be available? Can managers/administrators get in touch with their teams? Can account managers get in touch with their clients? Use audio conferencing solutions to ensure everyone gets on the same page
What if no office access — is there a backup plan to help ensure contingency even if the office itself is physically inaccessible? Video conferencing keeps people working together.
IT stability — what if that infrastructure is damaged, and your network is down or inaccessible? How can your team recover without the physical hardware needed to keep things running
Service Restoration Time — how long will it take your team to even get back up and running? Make sure your call center has up to date information to offer your clients.
This is by no means an exhaustive list of what your business must be aware of, there will be far more. Instead, this is a rough outline to help explain the behind-the-scenes thinking of disaster recovery preparedness.
When it comes to communications specifically, there is an extra priority that must be placed — after all, most of your recovery plan will rely on the ability to communicate with the rest of the organization.
At the end of the day, your first goal for communications disaster recovery is to get communications back up as soon as possible. Your organization should be looking to minimize downtime, and narrow down the time it takes to get back online. As soon as communications are back up, the rest of the plan can go into action, and many of us can even get back to work.
Ensuring Communications through Redundancy
Now, in the past when we have discussed specific Business VoIP vendors, like our  Nextiva vs RingCentral comparison, we always attempt to offer a section of these providers to highlight their data network. Data Center locations are incredibly important to the resilience of any Cloud Network, which is particularly important for cloud-based communications like hosted PBX systems.
The idea is that if one location, let's say the data center in New York, experiences a disaster, communications and processes can then be rerouted to a redundant data center located in Texas, where the geographical disaster is not occurring. Of course, the more data centers the better — this ensures not only a higher level of redundancy, but better connections for users around the world.
If someone in Los Angeles is attempting to send communications through a New York data center, there might be a noticeable delay or lag to their communications, moving these locations closer is one of the first steps to preventing any packet loss. And, of course, at the same time this level of redundancy is the first step to ensuring rapid disaster recovery.
Redundancy, however, is not limited to just host VoIP and UCaaS solutions. We'll take a closer look at the difference between traditional UC and cloud communications in terms of redundancy and disaster recovery.
Establishing Redundancy with Traditional UC
Traditional Unified Communications are of course where we will begin. These solutions, as we know, require on premise hardware and installations. Organizations must install their own hardware within their headquarters, and then assign a dedicated IT department or team to install, manage, handle and update that solution. While this brings a list of benefits to the Enterprise, this is where the downfall for disaster recovery comes in.
According to a 2015 report Frost & Sullivan, Moving from Disaster Recovery to Disaster Avoidance with Cloud-based Unified Communications, "with traditional on-premises PBX or UC platforms, ensuring a level of disaster recovery and business continuity is an exercise in risk and cost analysis." Meaning, your organization must weigh the risks, and potential cost to mitigate those risks. The organization must then decide if that cost is worth it based on the potential risk.
Because everything to run, maintain and utilize the communications system is directly installed on the organization's premise, everything about that system is handled by the organization itself. And, when organizations rely so heavily on their communications (especially the massive Enterprise users of traditional UC), they also then require "a high level of up time or very narrow recovery windows," according to the same report.
To ensure both a high level of up time, and a narrow recovery window, organizations utilizing traditional UC and on premise communications will often "resort to deploying duplicate hardware platforms in geographically disparate locations." Essentially, organizations maintaining their own solution must ensure their own level of redundancy — and that is where the problem lies.
Installing, running, hosting maintaining and updating a single communications platform or data center can be very, very costly — this is the main reason we have seen the mainstream success of UCaaS solutions.
So, when utilizing an on premise UC solution, disaster recovery falls back to that "risk and cost analysis:"
What is the potential loss in revenue without a disaster backup?
Does the organization have the capital, budget or resources to not only install another instance, but also hire the proper team to maintain that redundant back-up?
Do we establish new locations, place data centers in existing locations, or rent space in a communal data center?
What locations are most accessible in terms of physical access and cost, while keeping in mind the potential latency increased due to distance?
These are just a few questions your team might be asking when discussing the implementation of a redundant data center. For organizations with multiple locations, this is naturally a bit easier, as data centers can be replicated in the existing locations.
However, for a large scale Enterprise to ensure their own disaster recovery plan with on premise data centers, the must:
Establish physical data center locations
Hire staff to implement these solutions
Maintain staff to update and manage the solutions
The situation only becomes even more complicated when including Trunking. According to Frost & Sullivan, "legacy analog or digital trunks create another disaster recovery challenge by requiring a physical demarcation point at the customer site."
A large Enterprise can introduce and maintain their own redundant communications network, but it will be very costly, and realistically limited to only the largest organizations with the capital to invest.
The Cloud's Inherent Redundancy

Now I am going to be beating a bit of a dead horse here, but there really is no other way around it. The benefits of UCaaS and other Cloud Communications solutions that we are normally touting directly tie into disaster recovery, as well.
In fact, according to a report by Jive Communications, UCaaS solutions are naturally designed for disaster avoidance, more-so than recovery. Cloud solutions can be accessed from anywhere, and are engineered for redundancy from the get-go. In fact, as I mentioned above, redundancy is a major factor when it comes to the overall reliability and quality of service offered from a UCaaS vendor.
We all know the main reasons that organizations are switching from landline communications to cloud based business VoIP solutions:
Overall cheaper costs without the need to purchase, install or maintain any hardware
Massive flexibility and scalability due to the nature of the cloud, users can access the solution anywhere and on any device. Locations or users can also be added or removed at the click of a button
Overall simplicity of both the cost (with reoccurring monthly fees) as well as the user experience. Online based portals are designed with the UX in mind and make the platform super easy to use and configure
Even the smallest organizations can gain access to an incredibly advanced communications platform with little cost or overhead
All of the hard work, heavy lifting, and network nonsense is handled by the provider directly. These vendors have their own staff of highly trained IT professionals that are exact experts on the solution
And honestly, the last point is potentially the most important when it comes to UCaaS and disaster recovery. As we explained with traditional UC, the implementation and maintenance is handled by the user, the organization that will be using the communications platform. It is all in their hands.
However, with Business VoIP and other UCaaS solutions, all of the hardware, installation, and maintenance is installed and hosted from the vendor's data centers. According to Frost & Sullivan:
"Cloud-based telephony and UC solution…are fundamentally architected to provide high levels of availability and reliability.  These services are, by design, intended to be accessed remotely, be it across a customer's wide area or multi-protocol label switching network or over the public Internet."
Any cloud communications vendor worth their salt will have some form of redundancy built into their network — in fact, this is how providers can expand their overall global offering coverage, by introducing more data centers. With more data centers in more locations, these providers can cover larger areas — and at the same time, they have more data centers to utilize as back-ups.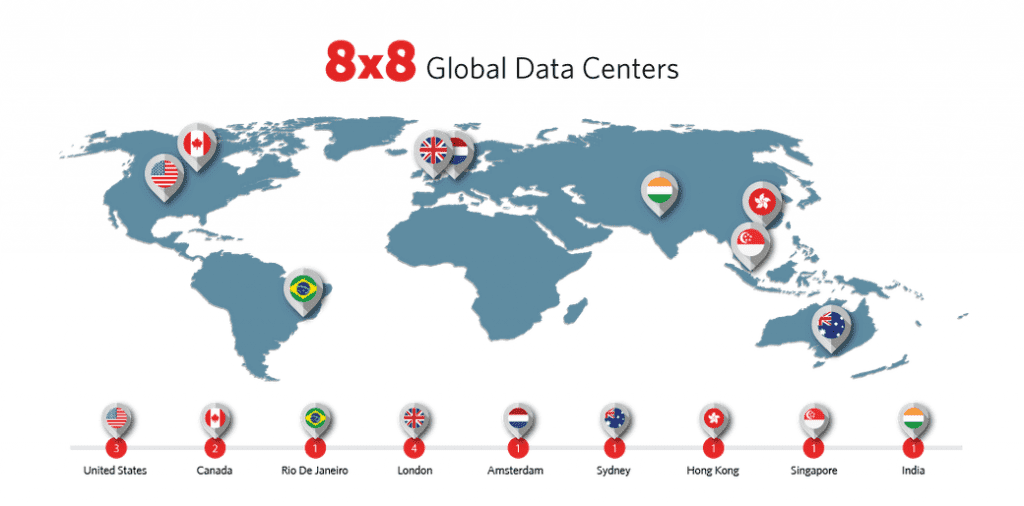 In fact, it is very likely that when utilizing a hosted UC platform, users within the affected area of a disaster may not even realize any interruption, as the service will switch over to a redundancy without interrupting the solution in anyway. Again, this is handled by the provider, with highly trained professionals, and not your own organization.
Frost & Sullivan even goes further to explain how, "even endpoints, both hardware devices and software clients, can factor into the failover equation." For example, I desk phones can simply "phone home" and recover configuration information through the cloud, instead of storing directories and contacts on the device itself. This is also where softphones like Bria and Zoiper can come in, enabling users to ditch the physical phones altogether.
The Importance of Reliability, and Customer Service
The major take away should truly be this: on-premise UC solutions require organizations to maintain and pay for redundant data centers to ensure disaster preparedness, meanwhile cloud UCaaS solutions inherited provide this benefit to end-users due to their nature.
Which then means, in short, when something goes wrong it is your provider that will be fixing the issue. This is really a double-edged blade if you think about it. On one hand, if things go wrong your business should be ready and communications should stay online. However, that is in a perfect world, and if you remember: we don't live in a perfect world.
That is why in a 2014 survey hosted by Frost & Sullivan, IT decision-makers recognized that the two most important criteria of selecting a Cloud Communications provider are both Security and Reliability, in that order. Customers must be able to trust that they are in good hands, and the provider will manage to handle any issues do they occur — because while it is a benefit that the hosting and behind the scenes work is handled by the provider, your organization is that their mercy when an issue does occur.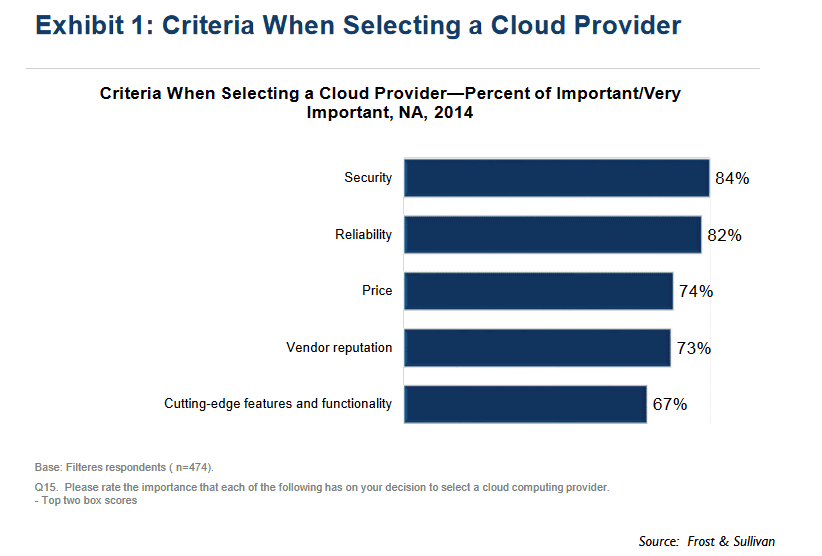 In reality, not all solutions are made equal, and according to F&R they are not all "architected to deliver the same degree of service reliability." That is why it is imperative for organizations to specifically seek out a provider with a strong record for reliability, and a well-constructed network with global span:
We often turn to reports like Gartner's UCaaS Magic Quadrant to gain a better understanding of the architecture of vendor's network and therefore global reach. Those with all their eggs in one basket are to be avoided
Organizations must search for a truly Cloud delivered and hosted solution. Some vendors "rely on capabilities deployed locally on customer infrastructure ore endpoints, which again exposes the customer to local adverse events."
Decision makers should enter conversations with vendors and specifically inquire on data infrastructure, redundancy, uptime and a history of outages. This information can be verified through a provider's Service Status page, if available. Those that do not provide this functionality should be verified through other third-party resources.
Ensure that the vendor offers an Uptime Guarantee, or will engage within a Service Level Agreement. Put very simply, an SLA is a contract that your business will enter with a provider to define exactly what services will be provided, the expected levels of quality of those services, and how your business can measure this performance.
Armed with the proper knowledge, and understanding of how these solutions fit into place, your organization can ultimately find the best vendor that fulfills the specific requirements put forth.
COVID 19 Taught Us We Have a Long Way to Go
The many COVID 19 communication tools offered by VoIP providers helped keep us all connected but also proved there were things we still had to learn. The prevalence of Zoombombing taught us all a lot about cybersecurity.
Unified Communications as a Service, and other cloud communications platforms, provide a wide range of benefits and advantages to organizations, specifically those within the small to midsize market, this of course goes without saying.
It is understandable for smaller organizations to not put much thought into disaster recovery or preparedness, it simply ranks small on the list of priorities that a SMB must handle. But being prepared is not just an exercise for the wealthy, or large Enterprise organizations in this case.
The good news is that simply by utilizing a UCaaS solution, your organization gains not only the benefits of a more accessible and feature packed service, but also the redundancy that these solutions naturally provide. But, when things go wrong, your business must know that they can trust their service provider to right the course and get things up and running as soon as possible.