With much anticipation, we have finally managed to get our hands on the latest UCaaS Magic Quadrant release from Gartner this year. We utilize the Magic Quadrant results in a number of industries to help us better understand the current market landscape, as well as dramatic shifts that occur year over year. Gartner analysis is of course highly respected, and serves as a strong authority.
This latest UCaaS Magic Quadrant was released in early October, and covers the entire worldwide UCaaS market, highlighting vendors that have a strong domestic as well as international presence. According to Gartner's recent findings, the UC market is currently making a fundamental shift away from legacy and premise-based solutions, in favor of cloud delivered Unified Communications as a Service options.
Gartner's UCaaS Definition
In order to provide greater context, it always makes sense to go back and make sure we establish a common understanding for exactly whatever it is we're discussing. We offer our own guide to Unified Communications and Collaboration, but also Gartner places a specific definition behind the term UCaaS, and separates the technology a bit from its older legacy brother, Unified Communications.
Simply put, Unified Communications (UC) represents legacy, premise based solutions. These require costly hardware to be installed within the premises of an organization, then established and maintained by an in-house IT department. Legacy UC solutions are, of course, falling in popularity and have been for years now.
On the other hand, we have Unified Communications as a Service (UCaaS), which is what this most recent Magic Quadrant focuses on. Now this is an important distinction, primarily to understand who and what we're looking at, but also to recognize that Gartner puts out a Magic Quadrant for both UCaaS and UC, independently.
UC and UCaaS are roughly the same, and differ mostly on their delivery methods. According to the UCaaS Magic Quadrant, "Gartner defines unified communications as a service as supporting the same functions as its premises-based unified communications counterpart." These platforms generally includes six specific functionalities:
Voice and Telephony
Meeting Solutions
Messaging
Presence and IM
Clients
Communications-enabled business processes
Now that we understand the distinction being placed, and what solutions we are focusing our attention on, we can better understand Gartner's future predictions, and current assessments.
The State of UCaaS in 2018
For the past few years, UCaaS has been in a bit of an interesting position. While widely embraced by SMB organizations, it is fairly common knowledge that the Enterprise are generally less agile and slower to adopt to new trends. This has brought rise to the Hybrid deployment, enabling a "best of both worlds" scenario for Enterprise teams that still like their in-house control.
However, as time goes on, more and more legacy UC solutions will be phased out and further replaced by cloud delivered UCaaS, even for the largest businesses. And this is actually happening fairly rapidly, at this point. After all, UCaaS has grown out of its infant stages. In fact, Gartner predicts that "by 2021, 90% of IT leaders will not purchase any new premises-based UC infrastructure."
To provide more context, this number today is sitting around 50% in 2018 — by 2021, this will jump to 90%. Meaning, in 2021, 90% of all new UC purchases will be cloud based UCaaS. This is following yearly predictions made by Gartner, who closely watch not only the evolution of Providers and Vendors, but the buying patterns of businesses and organizations, as well.
This Year's Magic Quadrant
So, clearly, UCaaS is here to stay and is quickly over-taking and looking to replace legacy UC within the near future. Now, just because 90% of new spending will be on UCaaS doesn't mean UC will entirely dissolve, but we are rapidly approaching a new era where even standard legacy Enterprise providers are switching over to a "digital approach," just take a look at Avaya and even Mitel.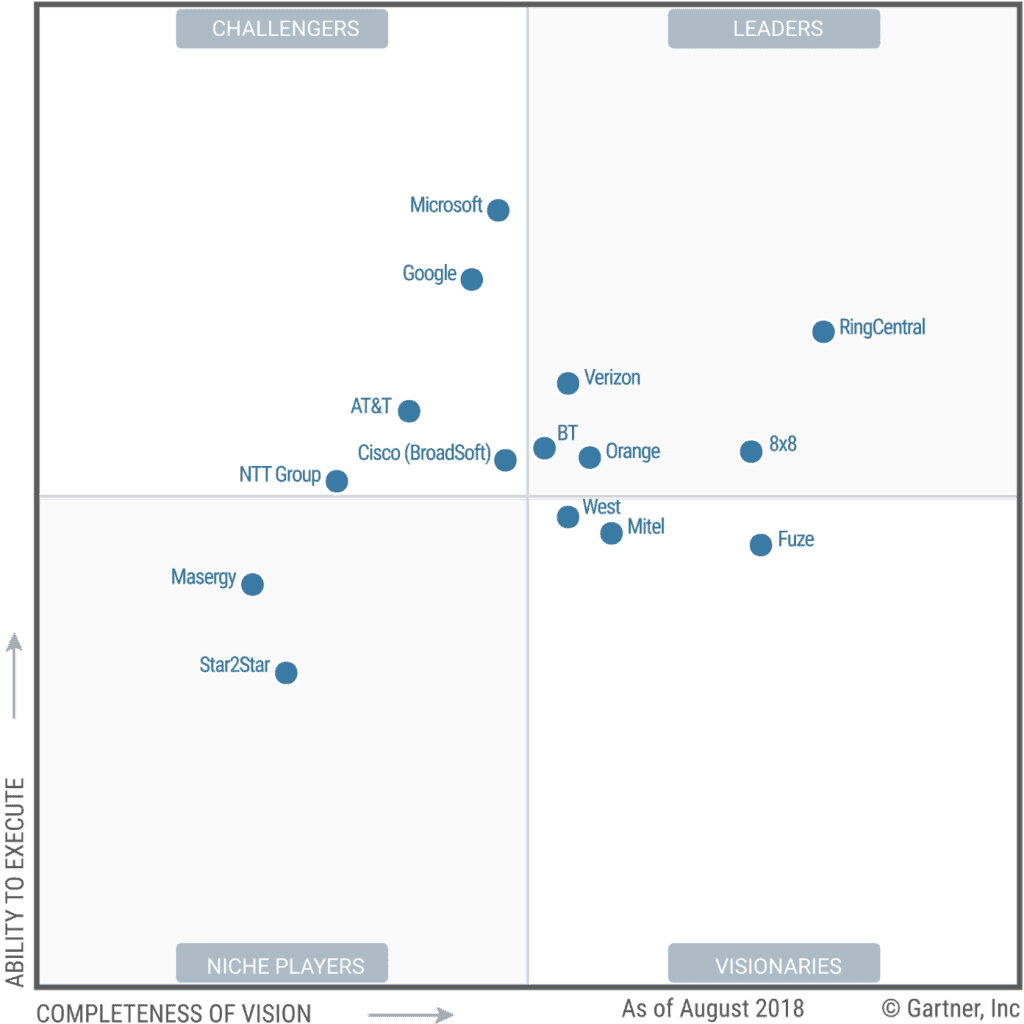 And despite the massive rise in UCaaS popularity, with constant innovations being pushed out month after month, there really wasn't too much of a dramatic shift within the last year of Gartner's Magic Quadrant. However, it is still full of the names and even positions we would expect to see.
Now, one important aspect to note is that this Magic Quadrant focuses on the worldwide stage, and therefore is looking at vendors with a very strong international presence, not just domestic. That's why this list might seem a bit smaller, and doesn't include other popular names we are familiar with. Either way, the Magic Quadrant offers a reference point for where the best of the best providers are currently sitting, and why they are there.
A Closer Look at the Current Leaders
One of the most informative aspects of Gartner's yearly Magic Quadrant is the light it shines on the market, and more specifically who is at the top of the market. Gartner doesn't necessarily offer any more in-depth analysis for the Leading providers, but their run-downs do provide sufficient evidence to better understand what the strongest platforms have to offer, and why they are at the top.
With an understanding of who is leading and why, organizations can make much more informed decisions. With the criteria for who is on top in mind, business leaders can identify which competitors or market options are excelling in certain areas, or lacking in others.,
RingCentral
Probably the most familiar UCaaS name within the leader category is absolutely RingCentral. We have highlighted RingCentral and their numerous innovations time and time again on our blog, and it really isn't of much surprise to see them listed as a Leader in UCaaS once again.
Gartner explains, that with "SMB UCaaS roots, RingCentral has successfully expanded its presence across midsize, enterprise and global accounts."
With its own "internally developed multi-tenant platform branded as RingCentral office," and also the inclusion of Glip as a team collaboration tool, RingCentral offers a very strong platform and presence for SMB enterprises with up to 5,000 seats due to their strong mobile first platform.
Gartner highlights RingCentral's strengths to include:
A strong UCaaS market position, 2017 revenue growth of 34%, which serves as a solid foundation for "for customers leveraging the full suite of UC services." Gartner explains that RingCentral has strong UCaaS offerings across the board.
RingCentral's platform also supports a strong API ecosystem with both other cloud apps into RingCentral, as well as RingCentral into other cloud apps.
Users frequently report solid customer service, support and channel partner feedback.
Verizon
While a house-hold name when it comes to standard and mobile telephony, Verizon might not be the first provider that comes to mind when discussing UCaaS. However, as evident in Gartner's Magic Quadrant results, Verizon stands as a very strong leader within the worldwide UCaaS market.
With both Enterprise and SMB offerings, Verizon's portfolio includes three distinct UCaaS options: a lead, global offering known as Verizon Unified Communications and Collaboration (based on Cisco HCS), a go-to-market partnership with Cisco, and Verizon One Talk.
According to Gartner, One Talk is the provider's "flagship mobile-first solution," that is U.S. only and based on the BroadSoft/Cisco platform. One Talk is a bit unique in that it allows for either desk phones and apps, or a mobile-only contract and is marketed to SMB customers.
Gartner highlights Verizon's strengths to include:
Despite usage of a Cisco platform, Gartner notes that Verizon has "five-plus years of experience" supporting a Cisco-based UCaaS solution, specifically for customers over 5,000 seats.
Verizon One Talk "has proven itself in the small business market," as well as the midsize market. As a simple solution, One Talk of course competes with other providers, and has enhanced accessibility. The solution is even available through physical Verizon mobile stores.
Verizon offers a robust "UCaaS Adoption Program" to better understand the direct needs of the customer, assist in adoption and implementation, and even optimization down the road.
BT
As another massive global player, BT has a complete UCaaS portfolio with five individual solutions and offerings available. However, according to Gartner, the "One Cloud Cisco (Cisco HCS) and One Cloud Microsoft (Skype for Business Server)" are both offered globally, and therefore the focus of the Magic Quadrant analysis. Gartner explains that the majority of BT's customer base for UCaaS specifically is "represented by large multinational corporations." UCaaS solutions are also deeply integrated with CCaaS solutions for a complete approach.
Gartner highlighted that within just the past year, "BT has invested in UCaaS self-administration portals, dashboards, and management and reporting tools for use by end-user administration." The provider has also invested within a "Cloud Solution Builder and Cloud Bulk load tools" for simpler onboarding and implementation.
This form of innovation is part of what pushes BT towards that Leader position.
Gartner highlights BT's strengths to include:
A massively wide range of other tools and applications that can easily be integrated with UCaaS, including "network, Session Initiation Protocol (SIP) trunking, wireless LAN, security and application services."
To help ease the transition from complex UC solutions to more flexible UCaaS models, BT offers consulting resources, user adoption programs, and has continued investing in these areas to simplify the process even further.
With "skills in both Cisco and Microsoft UCaaS technology," BT is capable of supporting massive large global MNCs, around the globe."
Orange
Last but not least is Orange. With two major UCaaS offerings, one Cisco-based and one Skype-based, Orange is in a similar position to that of Verizon and BT: repackaging popular solutions to offer service to a global market. Gartner did note that Orange specifically "deploys a reference architecture for its UCaaS offerings with a defined set of session border controllers, gateways, headsets, handsets, routers, video endpoints and switches."
To Gartner, this standardization is by design and helps Orange offer a more consistent service with predictable outcomes, leading to "fewer customer problems." Orange also has physical UCaaS infrastructure within Europe, Asia/Pacific and of course North America. Their solutions will also integrated with legacy PBX equipment and solutions.
Gartner highlights Orange's strengths to include:
With strong knowledge in Cisco and Microsoft UC stacks, Orange is "well-proven" to handle large UCaaS accounts with over 10,000 seats, and can even serve organizations with offices in the Middle East, African and Latin America for a truly global offering.
Gartner notes that Orange's pricing is "competitive," and offers "more mature UCaaS processes, automation tools, project management and offshore customer support" to keep the cost as low as possible. Offshore customer support can also be a con for many, however.
Orange's overall solution offering extends behind UC and includes SIP trunking, Contact Center, SD-WAN, security and management and even mobility, which can be directly integrated into an UCaaS offering.
Who Moved Where
Generally we like to use this opportunity of a Magic Quadrant release to highlight the current market leaders, and offer insight into why they hold the position that they do. However, after looking at the best options on the market, it can be helpful to take a look at the changes within the Magic Quadrant from the previous year to now.
For comparison, here is the 2017 UCaaS Magic Quadrant: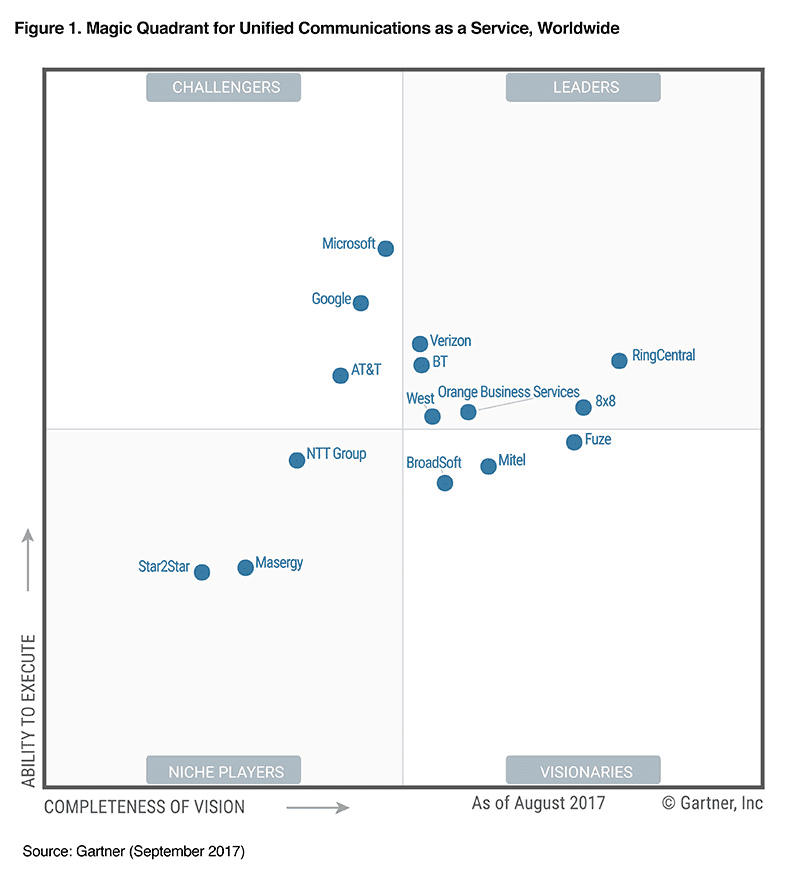 As mentioned, from 2017 to 2018, Gartner's Magic Quadrant for UCaaS Worldwide actually didn't see too much of a dramatic shift. Only three providers actually moved from last year. More importantly, only one provider moved in a very meaningful way: West dropped from the Leader category into a Visionary.
West: From a Leader to a Visionary
Cisco (BroadSoft): From a Visionary to a Challenger
NTT Group: From a Niche to a Challenger
West
From Leader to Visionary
And that is exactly where we will start. Following the closing of their purchase by equity investor Apollo Global Management in the fourth quarter of 2017, West is now a privately held organization. This dramatic shift has lead Gartner to reclassify the vendor down to a visionary, following a leadership and structural reorganization.
Gartner noted that West's main UCaaS offering is (VoiceMaxx CE) actually based on Cisco's HCS platform, and the provider is therefore "highly dependent on Cisco technology, making long-term differentiation difficult and commoditization a concern." On the flip side, Gartner did highlight that the recent acquisition positioned West to make four adjacent acquisitions, but "it is too early to assess how these acquisitions will be integrated."
West therefore remains a visionary, with the potential pieces to slot together a winning platform, and the right investment and visions to do-so.
Cisco
From Visionary to Challenger
Following their acquisition of BroadSoft, Cisco managed to push their way out of just a Visionary, and into the Challenger box. Cisco always has been a very strong contender for premises based UC, as well as Contact Center and endpoint solutions. With their Spark, now WebEx, platform and focus on collaboration Cisco had begun to push further into platform as a service markets as well.
But it wasn't until their 2018 acquisition of BroadSoft that Cisco managed to launch themselves headfirst into a UCaaS strategy. In fact, Gartner's assessment is specifically looking at the new platform absorbed from the acquisition, in which Cisco operates and maintains a UCaaS stack within its managed datacenters, as opposed to other HCS platforms.
With existing Cisco tools like WebEx Calling, WebEx Meetings and WebEx teams, Cisco is able to create a very powerful platform once full-on integration can happen. Gartner also notes that the "Cisco BroadCloud platform is scalable and capable of supporting large customers." Overall, this acquisition has positioned Cisco to push much further into the UCaaS market, not with just a vision but also products and platforms available today.
NTT Group
A name not incredibly familiar to those in the U.S., NTT Group's UCaaS portfolio is made up of combined assets from the Japan-based NTT communications, France-based Arkadin and South Africa-based Dimension Data, according to Gartner. These "three UCaaS groups are run as separate business units, though they perform joint marketing, planning, and investment."
Based on Cisco HCS, NTT's large-enterprise offering is branded as Arcstar UCaaS and is where NTT has a strong Asia/Pacific presence. A midsize offering from Arkadin known as Totocal Connect introduces Microsoft and Cisco UC stacks, and Dimension Data's strong partnership with Cisco UC and even Genesys offers a solid Contact Center Software offering.
Gartner explains that the NTT group "has made methodical gains aligning its three UCaaS groups together," and collectively offers broad global coverage across market sizes. However, the separation of three different UCaaS units, and therefore the separation of "profit and loss centers, core competencies and regional strengths" puts customers at a disadvantage.  Gartner also expresses other cautions with NTT including limited API integrations, and early offerings in AI as well as CPaaS.
The Bottom Line
It is of course safe to say that Unified Communications as a whole is not going anywhere. Now that can be a bit misleading. UCaaS is clearly on the continued rise in popularity and adoption, and will not be slowing down by any means. However, traditional legacy and on premise Unified Communication solutions are clearly on their way out.
One major theme that we noticed throughout 2017 and 2018 so far has been the shift from legacy solutions and provider focus over to a "digital" or "cloud transformation." As I noted previously, we specifically saw Avaya announce a huge transition and strategy shift, looking to go cloud first, and assist Enterprise organizations in moving to the cloud for their communications.
Gartner's latest UCaaS Magic Quadrant continues to highlight the strengths of UCaaS and cloud solutions specifically, while shining light on not only how the market is growing, but why it is growing and will continue to do so, as well.