When you trust your communication methods to business VoIP technology, you need to know that you can rely on your connection. The current generation of VoIP software and devices are the most responsive and user-friendly so far, but at the end of the day your call quality depends on the quality and speed of your internet connection. Luckily, with the right tools it's easy to keep an eye on how your connectivity is performing from day to day. We've rounded up ten of the best and most reliable speed test tools for business VoIP users.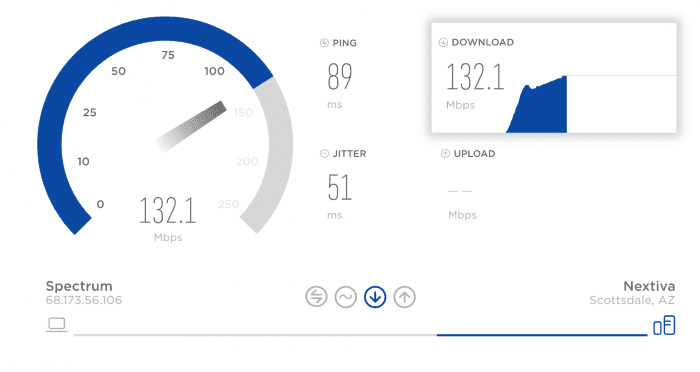 The new and improved speed test from Nextiva tests your line quality quickly and easily and gives you an accurate report almost instantaneously.  You don't have to enter any information, just press the "Go" button to get your results.  The report is concise, easy to understand, and gives you all the information you need.
Another handy web-based speed test, but with an unusually fun and engaging interface. You choose your connection type and location from a simple dropdown menu, and then enter your postcode. The Flash-supported graphics allow you to visualise your estimated line speed as if you were looking at a speedometer in a fancy sports car. It also gives you the chance to compare the performance of your connection with the average speeds of other users in your area.
3. Speed Matters Speed Test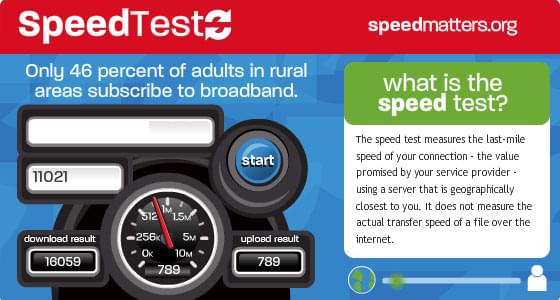 Speed Matters was founded by The Communications Workers Of America, who are on a quest to bring reliable, affordable high-speed internet to all Americans. It's a lofty goal, and one that any business owner can agree with. Their website offers a quick one-step speed test which measures the "last-mile speed" of your connection: the one most likely to cause trouble. Just enter your email address and you'll receive information about both upload and download speeds, along with a comparison of your result with users around the world.
4. Freeola Broadband Line Quality Test

This tool from Freeola will test your line quality over a range of different parameters, including upload/download speeds, packet loss, network latency, and jitter, giving you a detailed picture of your overall line stability and performance. The website offers a helpful glossary of terms and a good picture of what you should be expecting from the results. The one-click process couldn't be any easier. You don't have to enter any information, just press the "start test" button, and a few seconds later your report will appear on screen.
5. Pingtest.net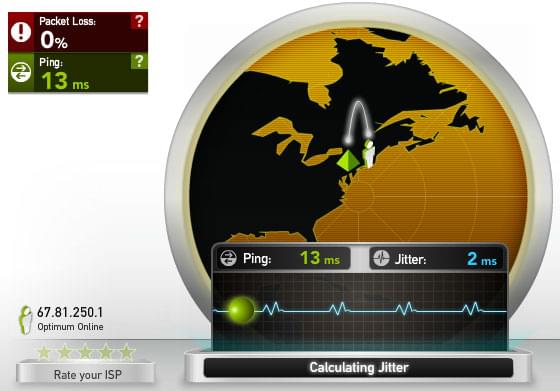 Pingtest is a super-speedy tool with ultra-cool graphics and an intuitive report. With one clicks you'll gain access to a report which gives your connection a "school report card" style rating, and a "stars out of five" rating, along with specific information about the raw speed of your line, packet loss, and jitter. Pick your nearest test server from the James Bond-style map: a couple of seconds and an engaging animation later, and you'll have your results. You also get the chance to instantly rate your ISP.
6. 8×8 VoIP Readiness Test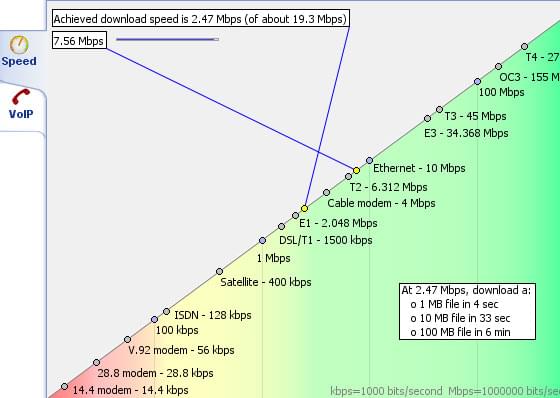 This VoIP-specific test from VoIP industry giants 8×8 is a wonderful way to make sure your connection is ready to handle the demands of business VoIP use. It allows you to simulate VoIP data traffic for multiple lines (up to 100!). You choose the length of the test and the Codec settings. The tool will open a socket connection to your browser and pass the simulated traffic through your connection to your computer. You'll get a clear picture of how your ISP will perform under pressure.
OnSIP offers another VoIP-oriented testing tool which can offer you valuable information about the way your broadband connection handles simulated VoIP traffic. The one click test provides an easy-to-read graph rating and summary of the connection's performance. The results offers the usual metrics of speed, jitter, and latency, but also gives you a Mean Opinion Score (MOS), which is based on human input from related quality tests. It gives you a glimpse of how users could experience call quality over your connection.
8. MegaPath Speed Test Plus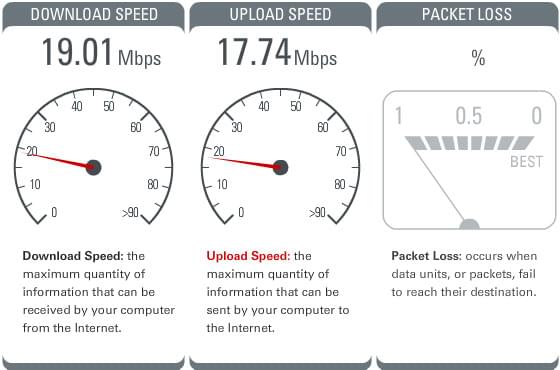 As the successor to speakeasy.net, (which first began testing internet connections back in the 1990s,) the MegaPath Speed Test Plus tool comes with a first class pedigree. Connectivity has come a long way since then, and so has MegaPath. The tool is simple to use: just choose your nearest city from an interactive map, and one click later, you'll have access to a detailed report measuring your connection's upload and download speeds, jitter tests, packet loss, and latency measurements. It's a good way to uncover if there's a problem with your line beyond a basic speed test.
9. Visualware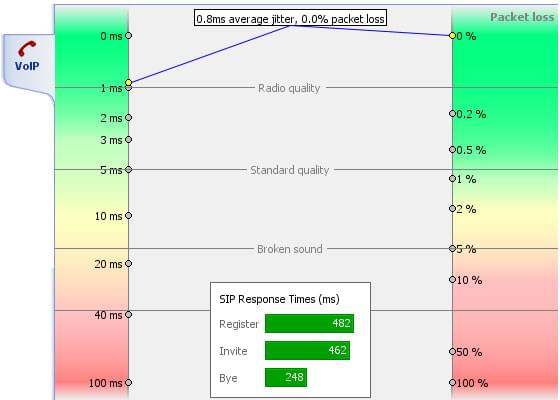 This comprehensive online testing tool gives you a huge range of connection tests to choose from. Just pick your nearest server from the large (zoomable) world map, and then select which test you'd like to run from the menu. Available tests include: quality, speed, route, firewall, VoIP, video, and IPTV. The results appear in the same easy graph and summary ratings as the OnSIP test, customized for your chosen test.
10. Bandwidth Place Internet Speed Test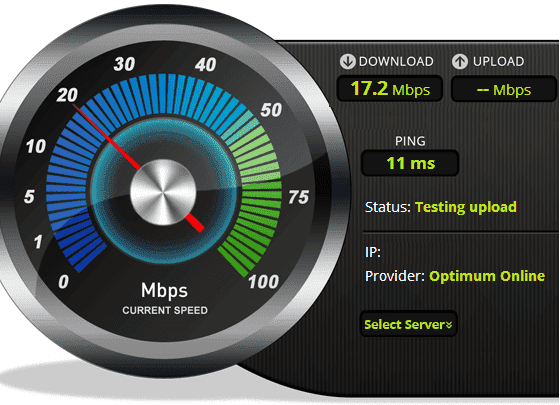 Bandwidth place offers a quick and easy checkup for your broadband connection. The app automatically senses your ISP and nearest test server, and one click offers you almost instant upload and download speed tests, as well as a simple ping test, all displayed in an attractive speedometer interface. As a plus, the test also works over mobile, so you can keep an eye on how your wireless connection performs for any VoIP mobile apps your business uses.
Finally, here at GetVoIP, we now have our very own internet speed test that you can use anytime for free!
Monitoring your broadband line quality is so important, but it doesn't have to be complicated. Whether you're looking for a speedy spot-check or a more in-depth exploration of your connection's performance, these tools will give you the peace of mind you need. If you can ensure that you're getting the best out of your internet service provider, you'll be able to relax and focus on the benefits that VoIP has to offer your business every day.