VoIP service allows for different types of connections to fit individuals' needs. In doing so, users can connect and fully use VoIP services without any new phones/devices; all that's necessary is a high-speed Internet connection.  While all methods of VoIP connection will require registration with a provider, there are options that do not require additional devices/hardware, such as IP Phones. Instead, these device-less connections offer VoIP service with minimal risks and without sacrificing cost efficiency and quality. Though price and function vary between methods, these connections are perfect for weary consumers who are still unsure of VoIP.
Computer-to-Computer Connections: Computer-to-Computer connections provide users with an easy way to make phone and video calls. For users that aren't ready to fully switch to VoIP service, this type of connection is a great starting point. These connections are typically free to use. Additionally, set-up fees are cheap or non-existent, as all users need is the Internet (and of course the use of audio-transmitting hardware such as microphones and speakers). Aside from that, users will also need an account through a service provider such as Google Voice or Skype. While not technically a requirement, users need to make sure they have adequate bandwidth to ensure quality, especially when on a video call (50kbps being minimal-100kbps for a quality conversation).  You can check your connection speed for free right now with our quick and easy internet speed test.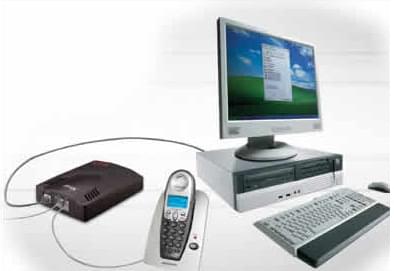 Computer-to-Any-Phone Connections: Most providers don't charge users for computer-to-computer connections because they're not responsible for setup, and calls would be made to other in-network subscribers; however, here a computer-to-phone connection uses a provider's software/service to connect to any out-of-network phone. In this process, the digital data is then converted to be sent through telephone lines. While there may be a cost, it is substantially less, especially for international calls. For example, you can use Skype or Google Voice to dial out to an out of network user, even landlines. This method has a little more to it than the previous, as users no longer simply connect directly from their computer; however, users may feel a little more comfortable using a phone.
Mobile Softphones & Apps: Where the previous two methods worked from stationary devices, mobile softphones and apps allow for greater mobility without sacrificing quality or ease of use. With mobile softphones and apps, users are able to make VoIP calls, as well as utilize premium features, directly from their mobile device. While these apps vary in price, they come with full VoIP capability that is accessible and user friendly (and in some cases don't require a fixed provider). Additionally, these apps are typically available on various platforms including Android, iPhones, Windows, etc. With increased compatibility and interoperability, mobile softphones and apps allow users the same flexibility as computer-to-computer or computer-to-phone connections; however, here there is a simplified setup that integrates expanded mobility.
Any Landline Phone via ATA: Analog Telephone Adapters (ATAs) are devices that make calls over the Internet by connecting an analog telephone to a digital network or VoIP system through either a computer or a network device. In doing so, ATAs convert your voice into data to be sent over the Internet. In using an ATA, users' phone systems will also be fitted with a host of VoIP features (i.e. caller ID, call waiting, call transfer, etc.). As with all methods of VoIP connection, users will need to register with a provider for service. Additionally, users need to either port their existing number or get a new number depending on the provider selected. It's important to note that users who choose to use their existing landline number with an ATA do not typically retain their landline connection in order to port over their phone number to their selected VoIP provider; however, some ATAs do allow for call switching—which allows users to switch between traditional service and VoIP interchangeably. Also, ATAs can be extremely helpful during power outages. While ATAs run on electricity, some devices are able to automatically default to landline service in case of an outage. In regards to pricing, this method is on par with the others. Here, users need an ATA; however, most residential VoIP providers will typically include a free ATA with service.
Despite all the features and advantages of VoIP, many users are still hesitant in switching from their traditional landlines. While many fear to switch due to lack of quality and cost inefficiency, there are now a number of methods that do not require new devices. Instead, users can use the equipment they already have and supplement it with VoIP service. In doing so, users not only benefit from the hands-on experience but cost efficiency as well. Though some small fees may apply with VoIP calling, costs are much lower than other alternative methods. Each of the above connections dictates a different level of involvement, making VoIP more accessible and available than ever before.