Looking to empower a new era of hybrid work, Zoom Video Communications, Inc., announced the general availability of Zoom Apps and Zoom Events. 
The launch of Zoom Apps means that Zoom customers can seamlessly embed third-party apps within their Zoom Meetings and desktop client experience – elevating the collaboration, productivity, and entertainment experience at work. 
Zoom Apps, Generally Available
According to Zoom, Zoom Apps expands the offerings of the Zoom App Marketplace. As it stands, the marketplace has over 1,500 third-party integrations. There are over 50 Zoom Apps now available, which range from whiteboards, to project management tools, note-taking apps, and video games. 
Zoom users can leverage apps like Asana to host meetings where they can create in-meeting action items and next steps, avoiding the proverbial dropping of the ball. "You can even create, edit, and assign tasks, without leaving your Zoom Meeting," Zoom wrote in a statement. 
There is also "Dot Collector," which enables meeting attendees to share real-time feedback via polling. "This fosters more inclusive collaboration, transparency, and meaningful relationships among colleagues; while empowering individuals with insights that help them to unlock their full potential," a spokesperson for Zoom noted in an email statement.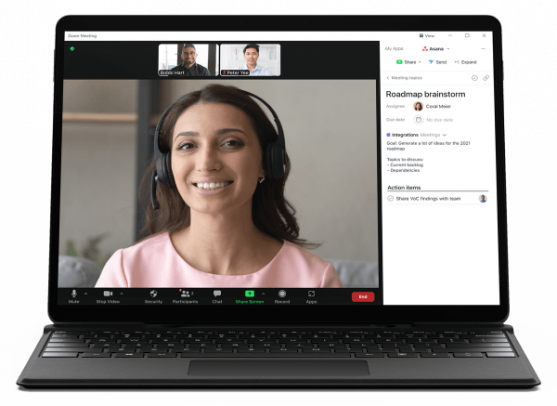 Dropbox Spaces is another app available in the Zoom App Marketplace, and users gain access to a shared workspace to collaborate in real-time. SurveyMonkey Enterprise by Momentive will allow organizations of all sizes that leverage Zoom technology to host more "engaging and inclusive meetings with in-the-moment feedback from surveys and polls available directly within the Zoom meeting experience," according to Zoom. 
These individuals can even capture stakeholder insights from customers, employees, patients, along with – any other meeting attendees. Companies can take action to increase employee engagement, improve the customer or patient experience, and foster more productive remote meetings.
Zoom Events, Now Generally Availability
Zoom Events assists in creating an assortment of interactive and immersive virtual events. Last year, at Zoomtopia, Zoom announced the soft launch of both offerings, news I covered at the time. Eric S. Yuan, Founder/CEO, Zoom, said the company is embracing the future of work with the release of the new features, hoping to prop up its userbase even more. 
"As the world embraces hybrid work, empowering the workforce today and into the future is possible through these innovations which will enhance the way we connect and collaborate with colleagues, clients, friends, family members, and others," Yuan remarked.
Yuan added that improving productivity and collaboration while maintaining elements of fun and well-being are also top priorities of the company, with the release of the two novel capabilities.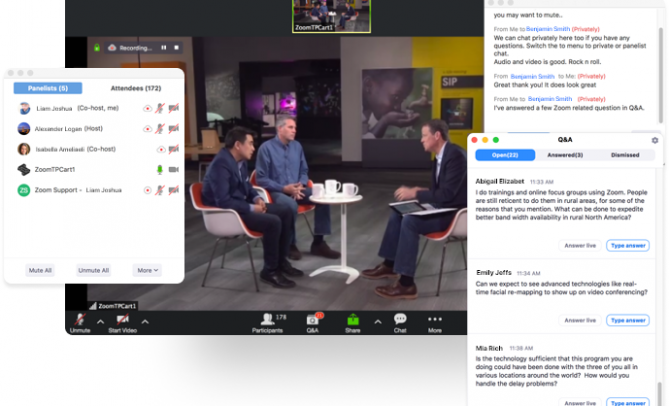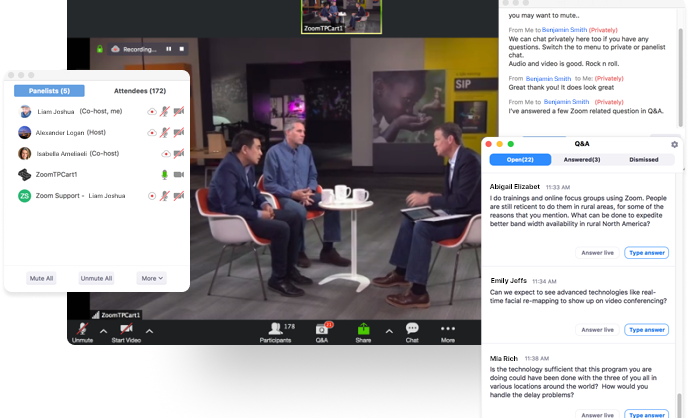 Now, Zoom Events enable large and small businesses to manage and host events from sales summits to customer events, trade shows, and internal gatherings. Zoom Events offer features like event hubs, dedicated corporate virtual event spaces, customizable registration, and networking through a chat-enabled virtual event lobby, read a statement from the video conferencing software provider.
Zoom Events also allows event-specific reporting around registration, attendance, and ticket sales. Brands of all sizes can create, host, and monetize events, including training sessions, courses, conferences, etc. Event hosts can host and publish events to Zoom's public event directory, giving them access to a broader consumer audience. 
There's Plenty of Opportunity in CCaaS
In other news, Zoom is beefing up its platform altogether, namely with its commitment to acquire cloud contact center provider, Five9 – in a nearly $15-billion-dollar deal. The move is one that catapulted Zoom into the Contact Center as a Service (CCaaS) space in an instant, and the duo is poised to shake up the market once the deal gets finalized. The folks over at Zacks Equity Research say there is a lot of opportunity in the cloud-based solution-provider industry.
They note that companies in the space have benefited from continued demand for digital transformation.
"Growth prospects are alluring, especially as companies rapidly adopt software-as-a-service (SaaS), which offers a flexible and cost-effective delivery method of applications," the firm noted.
They say that cloud-based comms cut down on the deployment time compared to legacy systems – and that SaaS attempts to deliver applications to any user, anywhere, anytime, and on any device, an increasingly popular delivery model.
As the demand for cloud-based solutions skyrockets, it seems that Zoom is in a "good spot," so to speak. More and more enterprises seek the assistance of software companies to build the critical digital infrastructure needed to keep up with the online world, also according to Zacks Equity Research.
During this period of deep innovation, Zoom is emerging as more of a frontrunner in several areas, including Gartner's UCaaS MQ, and now CCaaS MQ. All this begs the question, what is next for the video conferencing giant? Could a rebrand be in order? As video communication is no longer the company's focus; perhaps it is time?
The company has had its fair share of misunderstandings in the past, having tried to pass its platform off as being fully encrypted. Zoom later admitted that was not the case then said that it would give paying customers end-to-end encryption.
Facing stakeholder backlash, Zoom reversed its decision and extended end-to-end encryption to all users – not just paying ones. Today the platform is as robust as it has ever been before, thanks to a few clever acquisitions – including that of Keybase. The firm helped Zoom greatly enhance the security of its flagship video conferencing software since the 2020 merger.