Recently, Five9 announced the soft launch of a feature designed to reduce agent-customer misunderstandings. Five9 hopes that the feature will solve a significant problem for contact center agents who undoubtedly receive chats from individuals who don't speak the same language.
Here's how it works. When a customer initiates a chat session, they select their preferred language. They are then presented with a short list reflecting common languages or that of their current browser language configuration, according to Callan Schebella, EVP of Product Management, at Five9.
Schebella further shared that customers can select from over 100 supported languages, and the agent sees both the original and translated text. For both parties involved, the experience is seamless, with the agent replying in English. That then gets translated into the customer's preferred language, and for (the sake of) transparency, the customer sees the original and translated text – too.
"This is done to let them know that the conversation is being translated, with translations also shown in the chat transcript stored after the session," Schebella added.
Addressing the English-Only Conundrum 
Having a contact center agent who speaks Spanish is not too uncommon, but what about other languages, Chinese, Korean, and Japanese? These are a bit more difficult to come by – especially when finding an agent who can provide service in that language. 
That is why Schebella says the contact center-focused firm recently launched the tool. Available in controlled access, it could prove handy for most contact centers. Available today, upon request, Five9's new artificial intelligence (AI)-powered feature is set to become generally available at the end of February or early March. 
Schebella attributes the high volume of English-speaking contact center agents to global expansion and enterprises looking to outfit their workforce with a low-cost yet high-value crew, noting: 
 "It is a (pretty) common scenario where companies have customers distributed across regions and countries, and the primary contact center language is English due to location or skill set."  
One possible retort to this is that finding and retaining bilingual or multilingual agents appears to be the most-sizable undertaking for the 58% of companies that extend multilingual support, according to an ICMI report titled "How languages impact customer experience."
And according to Intercom, some 29% of companies say they lost customers because they didn't extend multilingual support. On the benefits of the feature, well, those are near-endless, but Schebella presented me with a (fairly) high-dollar perk, adding: 
"One big benefit to the business is the ability to expand their support and client base to regions where it has been under-serviced due to language barriers and/or the cost of supporting bilingual agents."
He maintains that it is about extending fluid experiences, ultimately enabling consumers to move through the most efficient and personalized path across channels and between virtual and live agents. "This keeps context and creates a frictionless customer journey regardless of barriers such as language," he summarized. 
Will this Make it to Voice, Anytime Soon?  
In short, the technology is already in place, things; like speech-to-text transcription, text translation, and text-to-speech audio generation. The problem is pulling this off in real-time. In most cases, it is not feasible. In this instance, latency proves, once more, to be an issue, according to Schebella, who told me: 
"The issue is quality and latency; here are technologies that dabble in direct audio-audio manipulation. For example, to improve speaker comprehension but not to the extent of changing the language entirely." 
Like most technological advances – someone will think of a creative way to bypass this, and Schebella says it will eventually be a possibility. He said; what is difficult is predicting when the quality of the output will be ready for mass adoption in the contact center. Yet some, like Cisco, seem to have it mostly figured out – at least for meetings.
It extends a service for real-time meeting translation, which is a pretty impressive feat, considering latency is such a big issue. It has found a way to bypass that.
Schebella also shared that Five9 is working with several start-ups in this space to (one day) make this a reality – for CX. That too will be a massive undertaking, but once realized – (a true) game-changer. There do: however, remain several ethical considerations with making this a reality, Schebella reminded me. 
Multi-Lingual Support May Mean Repeat Business
With such an experience in place, you can almost guarantee customers will return as this is the kind of experience they seek, according to CSA Research. Researchers there; found that more than 75% of customers say they are more likely to return to a company that extends support in their language. 
Not trying at all, well, that could lead to frustration and that well-known concept of customers going to a competitor because you aren't offering the kind of service they want. Companies like Uber, Booking.com, and Airbnb have all seen much success because they all put effort into extending custom customer service experiences in various languages, something their customers value. 
Companies with large budgets could learn a (thing or two) from Uber, which launched Uber Chinese in Toronto in 2016. After learning it had over 20,000 riders in Toronto who had used the app in traditional or simplified Chinese language – massively catering to the needs of Chinese speakers in Toronto. 
It did something similar in India; with the launch of UberLITE – which extends service in seven Indian languages: Hindi, Marathi, Tamil, Telugu, Kannada, Bengali, and Gujarati.  
It seems there is still a lot of work to (be done) regarding local language support in the contact center: but many CCaaS providers are doing their part to ensure equity and inclusion extend into the contact center sphere, too. That includes the likes of Google, which has an AI-powered that translates things like documents, etc.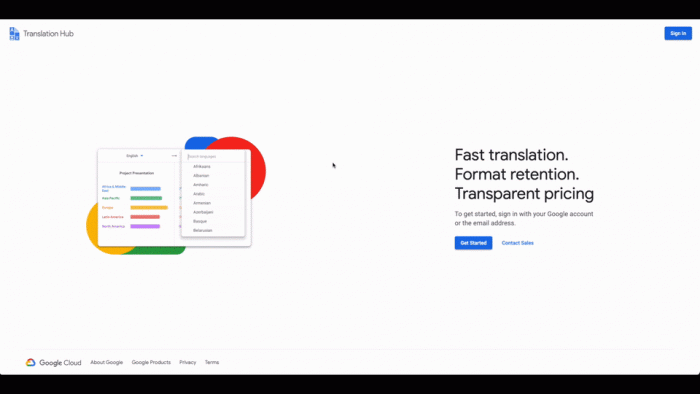 It seems that it is only a matter of time before this technology percolates, deeper into the cracks of the contact center, and ends up as a standard tool for most agents to leverage when they interact with someone who doesn't speak the same language as them.