Last week RingCentral announced the results of its second quarter 2022 earnings. In many aspects: the company exceeded analyst expectations, with its total revenue increasing 28% year over year to $487 million. Subscriptions revenue increased 32% year over year to $463 million. And the firm's annualized Exit Monthly Recurring Subscriptions (ARR) increased 31% year over year to two billion USD.
It made gains in the mid-market, and its enterprise ARR increased 38% year over year to $1.2 billion. RingCentral CEO and Founder Vlad Shmunis, also announced during the call – that its MVP solution – reached five million paid seats. 
This is a feat for the cloud communications provider, which has been a long time in the making. Let's look at what makes RingCentral MVP such an attractive user offering. After all, it now has five million paid users, making it an even bigger competitor for the likes of Dialpad, 8×8, Nextiva, and Vonage. 
So, what exactly is RingCentral MVP? It enables voice, video, chat, file sharing, etc. RingCentral MVP is (mostly) attractive thanks to its pricing structure, geared toward SMBs, starting at $19.99 and topping off at $49.99 per person per month; (annually) it's something SMBs can afford. 
SMS, team messaging, unlimited fax, video up to 100, and single sign-on are all possible features of the platform, depending on what you are willing to fork out. There is a lot more that makes the offering something desirable to the audience it caters to. 
I will dive deeper into the ins and outs of the offering and what has earned it five million users and counting. 
UCaaS and CCaaS Growth in Europe 
Its second-quarter key metrics exceeded the high end of its initial guidance range, according to Shmunis. He continued, "It demonstrated our consistent execution." UCaaS and CCaaS largely fueled the growth.
"The market opportunity in front of us is large, and customers continue to gravitate to RingCentral because of our industry-leading UCaaS and integrated CCaaS solution, proven reliability, and broad geographic reach," he concluded. 
During Q2, RingCentral also announced the launch of 'Vodafone Business UC with RingCentral in Germany. "This enables RingCentral's flagship offering RingCentral Message Video Phone (MVP), with Vodafone's mobility and 5G capabilities.
This further pushes the MVP presence into Europe (which) has a firm foot forward, as according to Statista, it has nearly 110 million mobile phone users. The solution could become a contender for fueling the future of work with a simple 5G connection. 

Find more statistics at Statista
Vodafone has nearly 32 million mobile phone subscribers in Germany alone, hinting; at the prospect for the partnership to thrive if well-executed and advertised. In the coming years, true nomads may rid themselves of traditional routers: in favor of a faster 5G connection to pull off the tasks of their work; daily.
This does not matter if they choose to work in the office, at home, or on the go. 
All About Creating Customer Value
As I learn more about RingCentral, I have to say, I am impressed. There is a ton of value in the offering. I also have to say, I use the offering nearly every day to conduct interviews, and I take advantage of its advanced features. 
There are (so) many; I continue to discover more every time I use the platform via my mobile device or desktop. And I use it multiple times daily to conduct meetings, make local phone calls, send faxes, and even record interviews with sources.  
If you are willing to dish out almost $50 per user, you can gain a lot of value with a RingCentral MVP plan. Unlimited storage, internet fax, audio conferencing, and unlimited calls within US/Canada.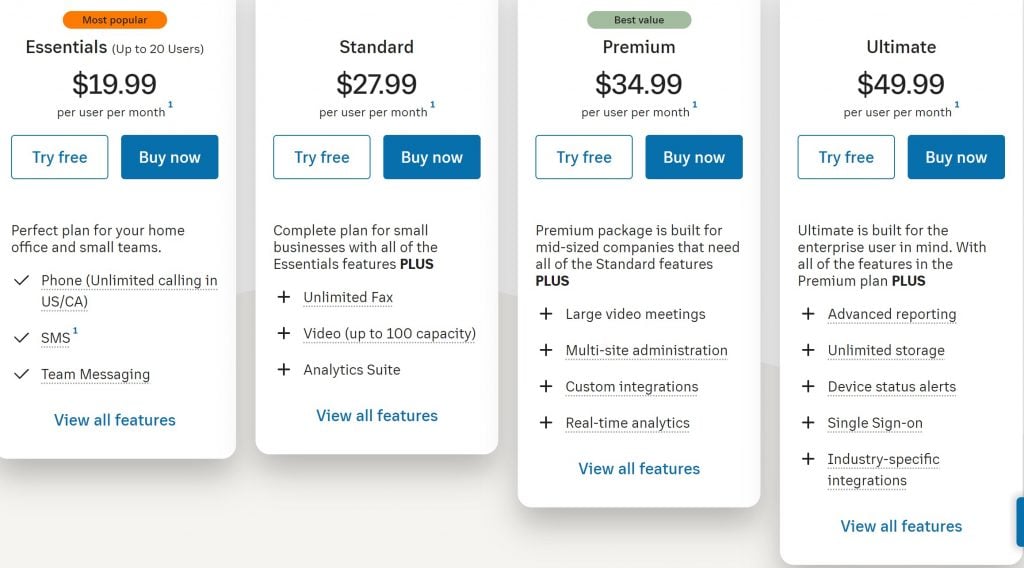 Voicemail-to-text, visual voicemail, and voicemail-to-email; are all automatic features, and they are worthwhile if you do not want to listen to messages. On the reporting side of things, there are call log reports, document sharing, real-time analytics, device status reports, and alerts. 
Professional implementation is available for all deployments, and there is 24-hour support. 
Even on the lower end of the spectrum: and with its cheapest plan, RingCentral extends unlimited calling within the US and Canada. There is also call management and phone system admin, up to 20 numbers, and toll-free minutes available at this price point.
Voicemail-to-text, visual voicemail, and voicemail-to-email, enhanced business SMS, team messaging, call log reports, and document sharing – are all features that extend a ton of worth at an affordable entry price point of $19.99. 
In Other RingCentral News 
In other RC news, the company announced the expansion of its RingCentral Rooms hardware ecosystem. It enables RingCentral Video – to lend users access to the same familiar RC video experience in a conference room. 
Now RC customers can choose from new hardware partners Avocor: EPO; and Jabra. RingCentral said it plans to continue working with Logitech, Poly, and Yealink – looking to give users access to a wide range of RingCentral Rooms-enabled, all-in-one video conferencing solutions.
The firm also announced a plethora of feature enhancements. That includes the addition of whiteboarding functionalities, closed captioning, HDMI sharing, rooms activation code, E2EE rooms support, and proximity sharing mobile. 
And RingCentral got recognized for all its growth and innovation by industry analysts Frost & Sullivan. Analysts there; call it a "leader" in its Frost Radar: North American Unified Communications-as-a-Service Market, 2021 report. The report credits the company's strategic North American partnerships for much of this success. 
Lastly, the company's CEO was recognized by Comparably as a top ten Best CEO for Women and for being the "Best CEO for Diversity." The firm further; earned a top 10 ranking for "Best Leadership Team and Best Company for Career Growth." 
With all this victory in its path, it is easy to see why its MVP platform has earned over five million users thus far, and I expect to report on more milestones yet to come. Stay tuned for the latest UCC industry insights, headlines, and analyses as we continue to bring you the latest from movers and shakers in the world of UCC here on GetVoIP News.