Summary: Slack is a team messaging app focused on chat, while Zoom One is a multichannel unified communications platform with video, chat, and an optional phone system. Since Slack focuses on messaging only, it's cheaper than Zoom One–which has more channels and functionality.
Teams seeking a low-cost messaging and collaboration platform should pick Slack, and teams that want advanced video meetings should choose Zoom.
High-Level Overview of Slack & Zoom
Slack
Zoom One
What is it?
Team messaging app
Unified communications and video conferencing platform
Use Cases

Messaging and chat
File sharing
Quick video huddles

Video conferencing
Phone system
Messaging and chat

Cost
Free to $12.50 monthly per user
Free to $25 monthly per user
Key Features

Workflow builder
Team chat and channels
Audio and video huddles
File sharing

Video meetings with advanced features
Phone system
AI Companion
Whiteboards

Best For
Internal team communication, with a focus on messaging
External and internal communications, with voice, video, and chat
What is Slack?
Slack is a business messaging application that teams can use to communicate via chat, audio, and video. Available on desktop, mobile, and web browser, Slack enables team productivity with file sharing, task management and to-do checklists, and workflow automations. Team members can send DMs, create group channels, and initiate threads.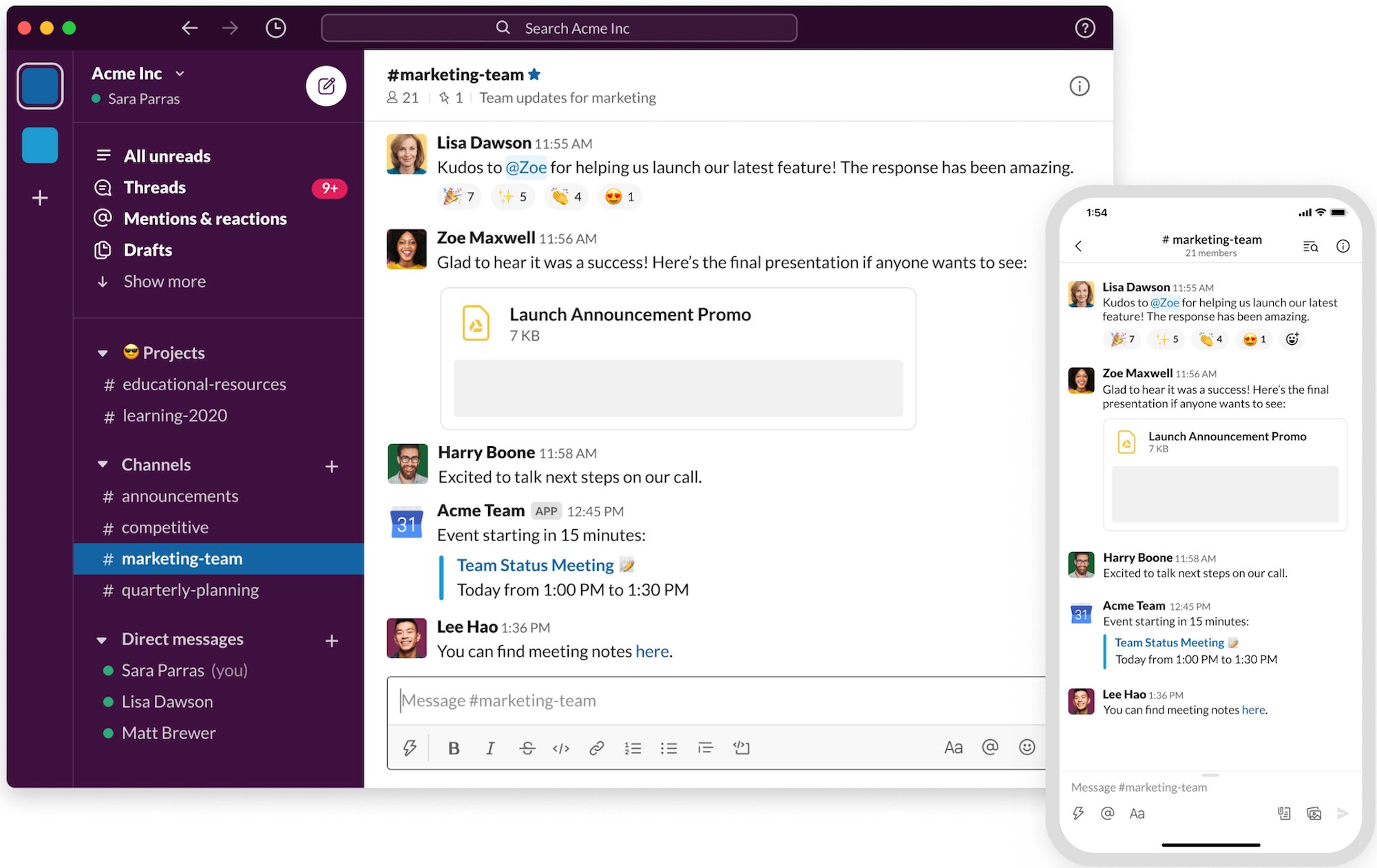 What is Zoom?
Zoom One is a unified communications platform emphasizing video and team chat, with the option for a native VoIP phone system. A strong team collaboration tool, it features video conferencing for up to 500 users with advanced features like breakout rooms, whiteboards, waiting rooms, live streaming, and more. Zoom team chat enables file sharing and one-click video meetings. The higher-tier plans include Zoom Phone–a complete cloud-based phone system with virtual numbers, call monitoring, and routing functionality.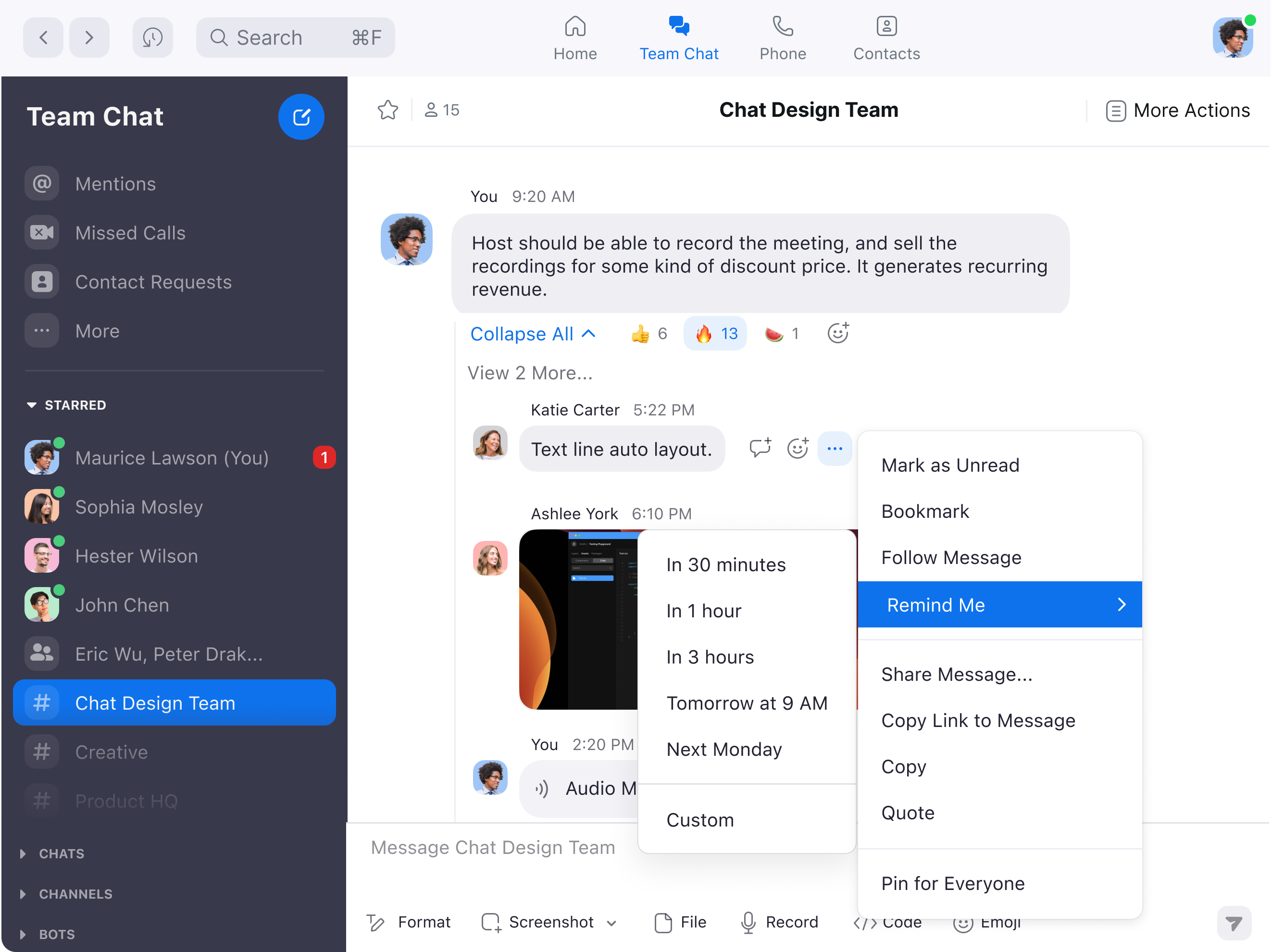 Slack vs Zoom: Key Features
Dashboard, Interface, and Accessibility
Comparison: Zoom and Slack both have intuitive dashboards, available on desktop, web browser, and mobile. Slack's interface is more user-friendly and easier to manage, but Zoom's interface provides more functionality by unifying multiple channels, plus calendars.
Winner: Slack has a more user-friendly interface.
Slack Interface and Accessibility
Accessibility: The Slack app is accessible on desktop, web browser, and mobile apps
Dashboard and menu: We found Slack's interface intuitive and easy to understand. The left-hand menu displays a user's channels and 1:1 conversations. When you click on one of these, the center screen displays the active conversation and conversation history.
Notifications: New activity in 1:1 conversations or group chats pings the user in the left-hand menu, making it easy to stay on top of all activity
Connect with outside organizations: We loved the Slack Connect feature, which enables team members to add and invite users outside of the organization so that you can chat with them in Slack. Simply create a channel, email the invite code to any user, and they can join the Slack channel through their Slack interface.
Teammate availability: The Slack interface displays teammate availability via a green dot next to the user's profile picture. Team members can also display an announcement next to their name. Our team members frequently let others know when they're in a meeting or occupied for the day.
Slack Canvas: Every team channel has a Canvas–a section where users can organize and prioritize an ongoing list of needs and activities. Pin resources like files and images, create action item checklists, and post announcements.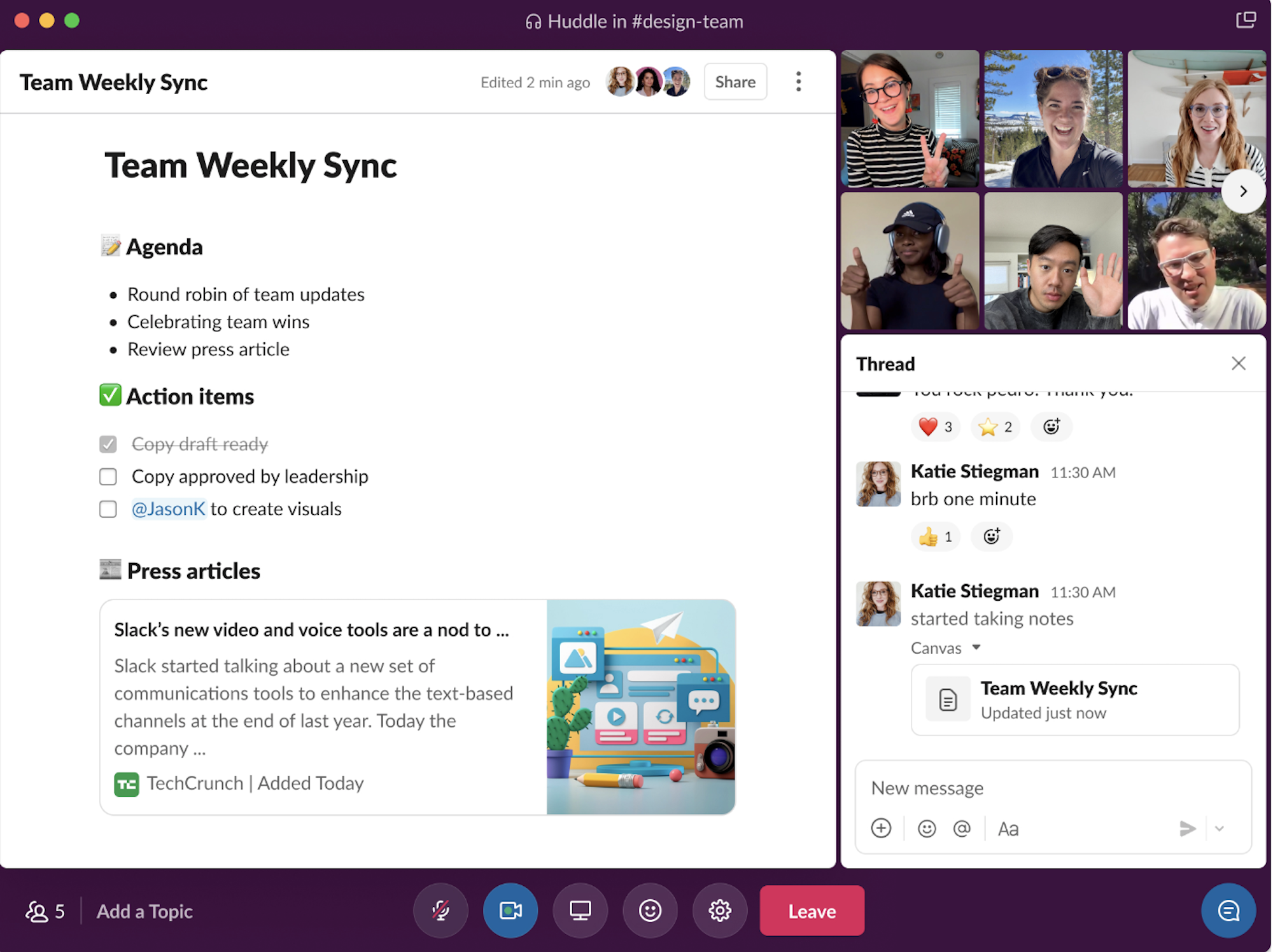 Zoom Interface and Accessibility
Accessibility: The Zoom One app is available on desktop, browser, and mobile
Channels and interface: Zoom's app interface has a top menu that organizes a user's channels–Home, Mail, Calendar, Team Chat, Phone, Meetings, and Contacts. Once you click on a channel, the center screen and left-hand menu update to reflect the channel.
Dashboard and left-hand sidebar: Within each channel, the left-hand sidebar organizes basic functionality. View teammate availability, call and messaging activity, messaging groups and channels, reminders, and mentions from teammates.
Notifications: Any new activity triggers a notification in the sidebar and top menu
Folders: Organize files, chat conversations, and contacts into folders for easy access
Customizable: In the Settings tab, users can customize the items they want to permanently display atop their sidebar across all channels–Missed Calls, Contact Requests, Bookmarks, Reminders
External access: Invite users outside of your organization to join video meetings, phone calls, and chat groups
Team Chat and Messaging
Comparison: Slack and Zoom Phone both offer internal team chat and messaging, with file sharing and team channels. Both messaging interfaces include customizable formatting options. However, Slack goes above and beyond with built-in audio and video huddles that feature screen sharing.
Winner: Slack has more advanced team messaging features.
Slack Team Chat and Messaging Features
Team channels: Create an unlimited number of channels–groups devoted to particular purposes, departments, projects, or anything else. Create public and private channels, with file sharing that remains private to only the members of that channel.
In-conversation features: Users can reply to the whole group or initiate threads under particular messages. Tag teammates and use emojis to react to messages. Share files, links, videos, and audio recordings.
File sharing and media: Users can share a variety of message types in chat. While using the product, our team shares files, word documents, and Google Drive files.
Message formatting: Format messages with bullet points, numbered lists, bold and italics, or embed code
Searchable: Users can search their entire message history by keyword or sender
Integrations: Connect other apps to stay current on activities and messages across apps–from one dashboard. Our team personally connects Slack with Google Drive, Asana, and Salesforce.
Clips: Clips are a combination of video communication and messaging. With a "record" button built into the chat bar, users can record brief videos and send them via DMs and team channels. Users can also record audio and screen shares. When playing clips, view the transcript and adjust the playback speed.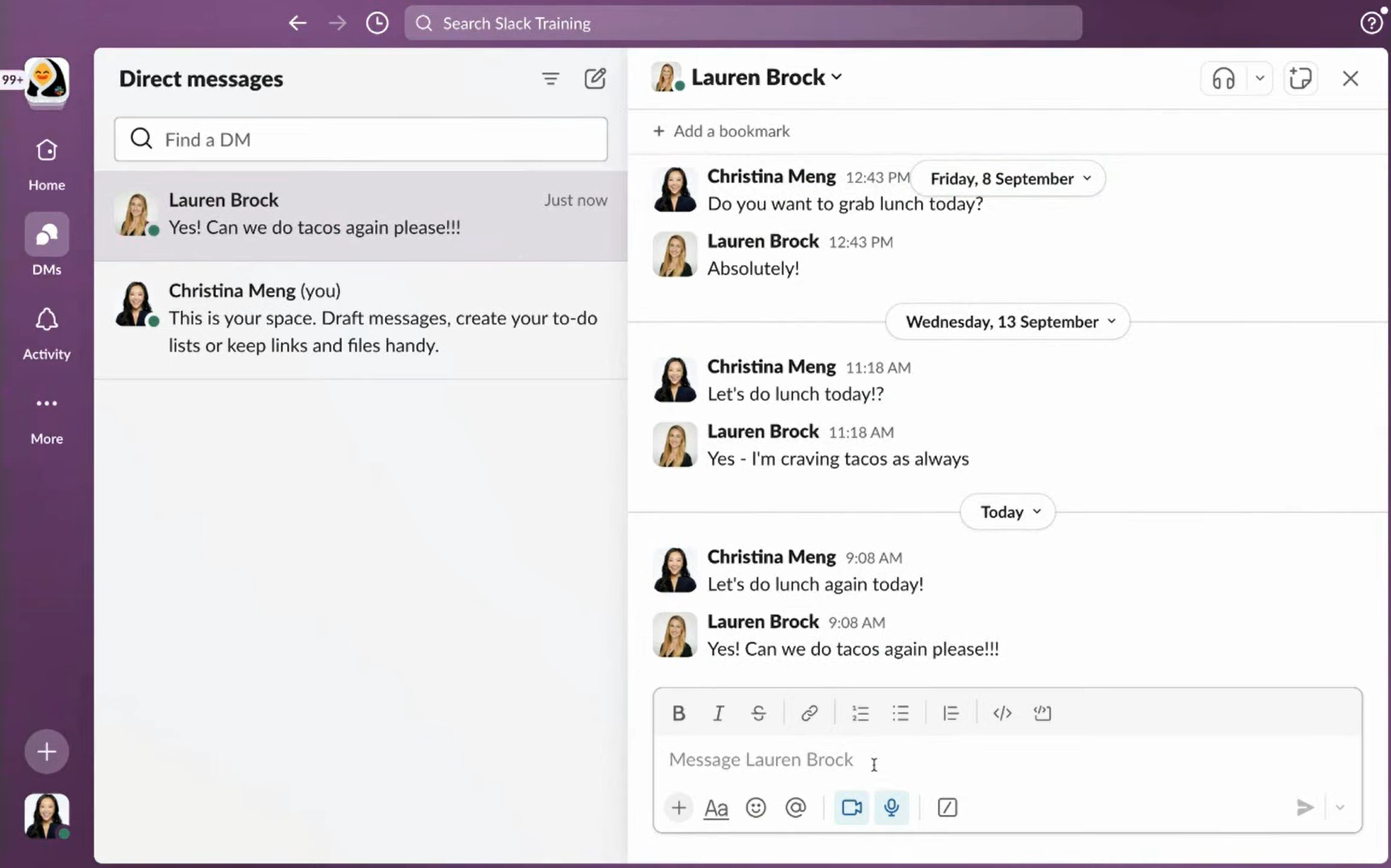 Zoom Team Chat and Messaging Features
Team chat: The Zoom app supports 1:1 chat, group chats, and chat channels. Channels have a few extra features that 1:1 and group chats don't have, such as the option for an instant video huddle.
Chat channels: Team chat channels are devoted to messaging groups and projects. Each channel receives a title, and the ability to designate private or public access. Channels also can share and store files, react to messages with emojis, and initiate video meetings with one click. Each channel can host up to 10,000 members.
Inviting users: Easily add team members to channels by typing their contact names. Internal team members can join your channel by searching for it and clicking Join. Invite external users to join by email.
File sharing and media: Send files, gifs, images, and respond to teammate messages with emojis
Message formatting: Format messages with bold, italics, font color and size, bullet points, indents, and quotations
Permissions: Account administrators can customize who creates channels and groups, who can send messages, and what permissions are available to users within each chat group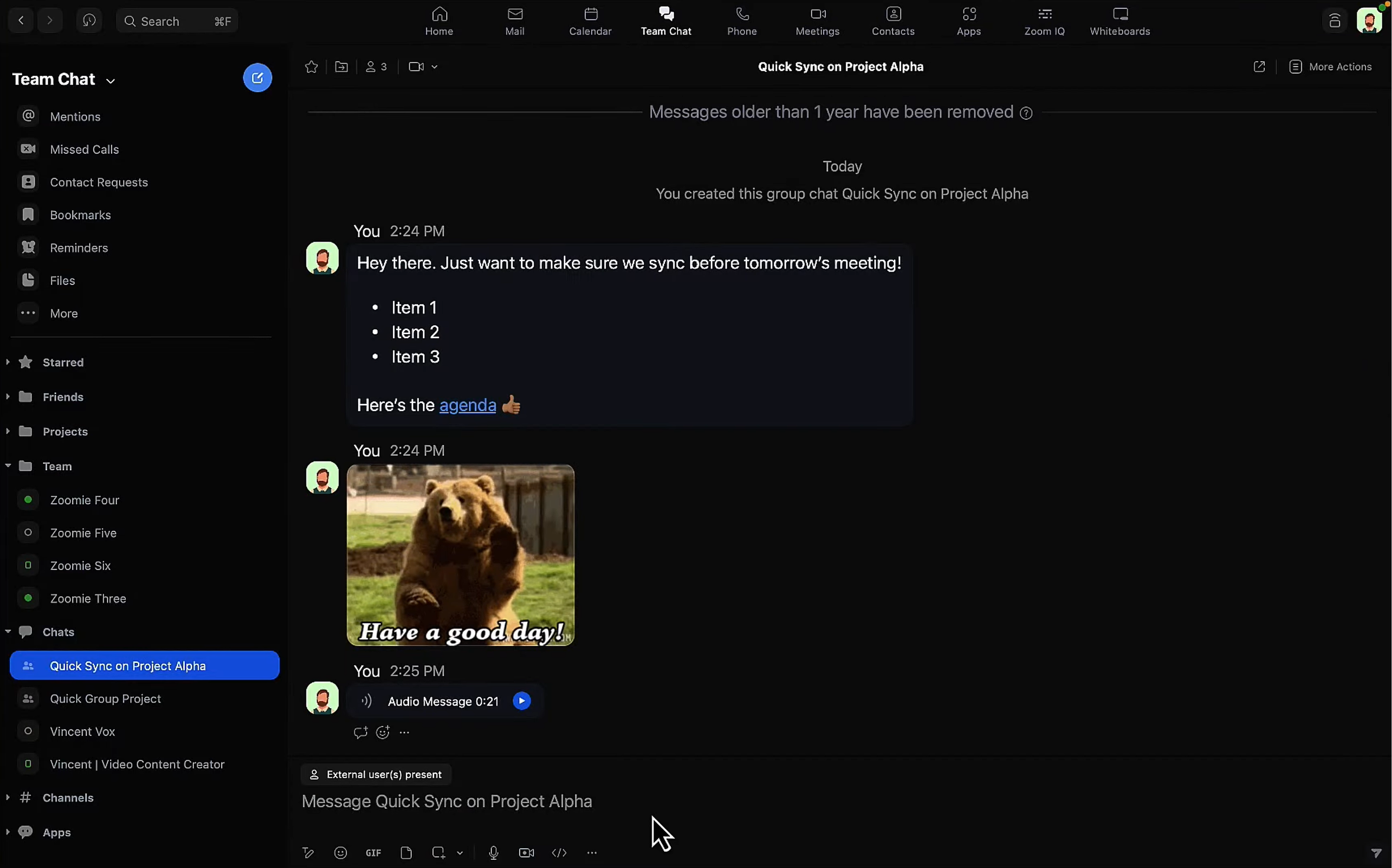 Phone System and Audio
Comparison: While Zoom offers a complete VoIP service on Business Plus plans, Slack only offers audio meetings built into chat. Zoom's Phone system includes virtual phone numbers, routing, and calling around the globe. This makes it much more robust than Slack audio.
Winner: Zoom offers a robust VoIP phone system.
Slack Audio Meetings
Team huddles: Initiate audio and video meetings from any DM or team channel, with one click. The left-hand menu's headphones icon starts an audio huddle, with the option to turn video on. Any user in the group can hop in using the same button.
File sharing: Drop notes, files, Google Drive files, or links into team huddles
Any device accessibility: Access audio huddles on any device–mobile, web, or desktop
Zoom Phone System and Audio
Zoom Phone is included within Zoom's Business Plus plan, costing $25 monthly per user. This VoIP phone system provides cloud telephony, SMS texting, virtual phone numbers, routing, and analytics.
Zoom Phone Features:
Multi-device accessibility: Make and receive calls from desktop, web browser, or mobile app. Softphone functionality enables agents to use these devices as a phone, with no other hardware necessary. Flip active calls between devices.
SMS texting: Zoom users can send unlimited SMS texts from any virtual phone number
Virtual numbers: Purchase toll-free and local phone numbers from area codes around the country. If you'd like to keep your current business phone numbers, port them in to use with Zoom.
IVR menu: Create a self-service IVR phone menu that your customers can use to route to particular agents or voicemails
Call distribution: Customize call distribution groups and call queues, to organize inbound calls for particular departments
Call monitoring: Supervisors can listen quietly on calls, whisper guidance to agents, or join the call
Real-time reporting: Administrators have a view of real-time call volume and user activity. Customize reports by channel, user, and historical timeframe.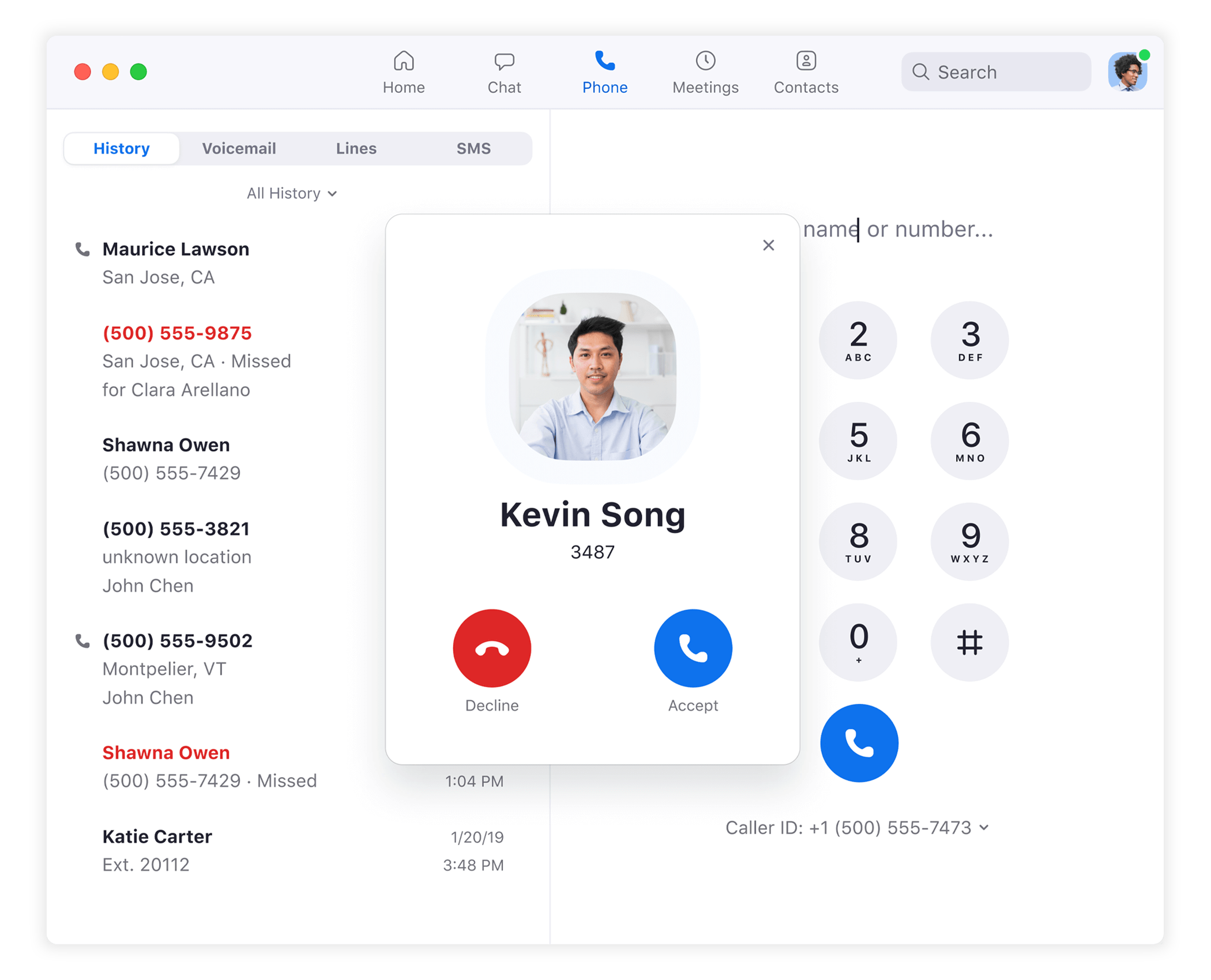 Video conferencing
Comparison: Zoom One offers an industry-leading video conferencing platform with advanced features, while Slack includes video huddles built into team chat.
Winner: Zoom offers a much more dynamic video conferencing platform.
Slack Video Huddles
Slack huddles with video: Transform audio huddles into video meetings with one click, within any DM or team channel. The video icon turns on each user's camera, with the option to expand the meeting grid to occupy the full screen.
Customizable: Customize each huddle's name, topics, and grid settings
Chat: Audio and video huddles have an active chat, where users can share files. All messages sent during the huddle are available as a thread in the team chat, keeping users synced
Screen sharing: Multiple users can share screens at once, from desktop or mobile
Collaboration tools: Draw on the screen like a whiteboard, and react with emojis during the video meeting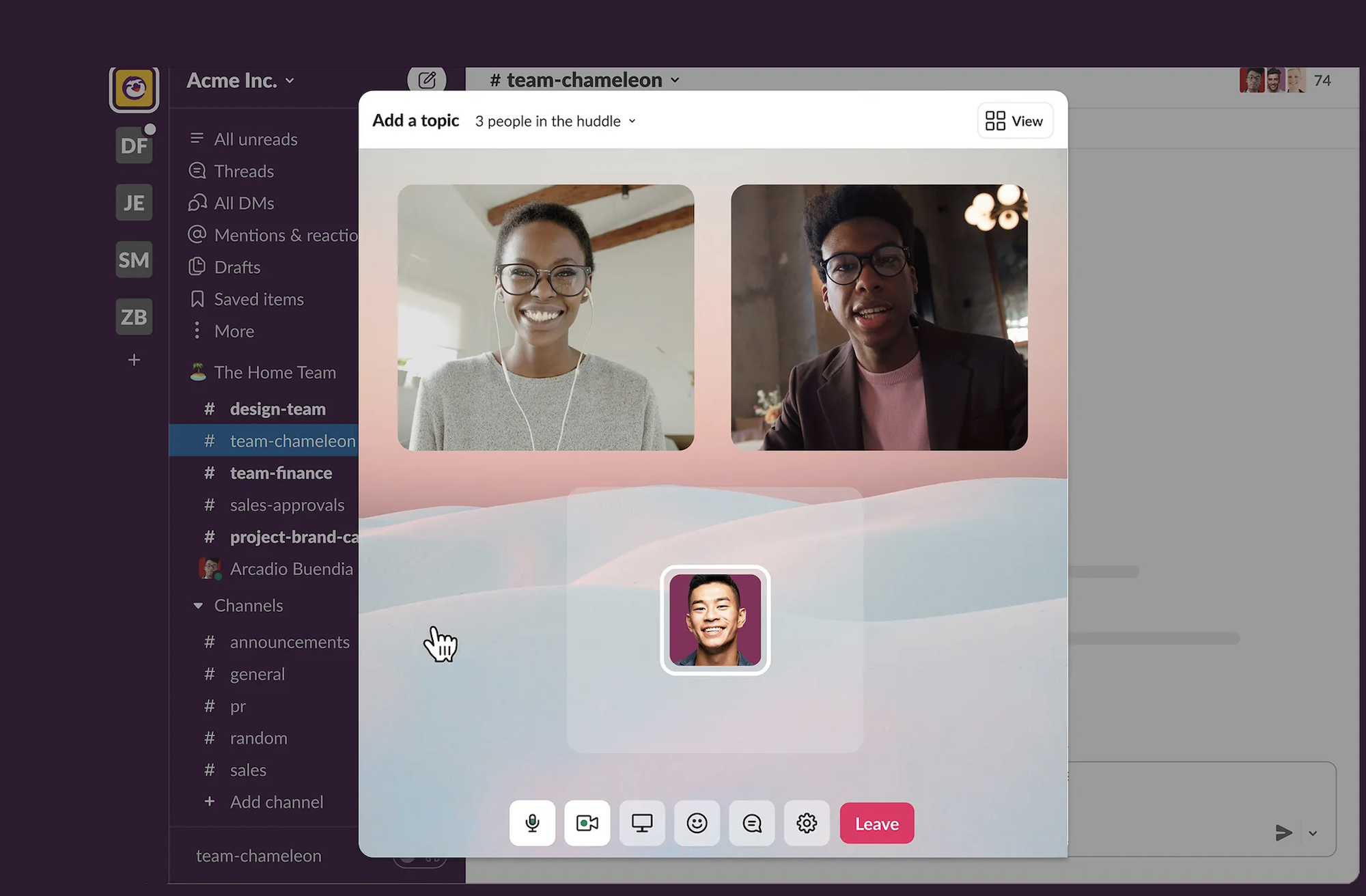 Zoom Video Meetings
Capacity and time limit: Zoom meetings last 30 hours and can host up to 500 or 1000 participants
Accessibility: Access Zoom Meetings on any device–web browser, desktop, or mobile
Engagement features: Waiting rooms, breakout rooms, virtual backgrounds, chat, built-in polls, collaborative notes
Screen sharing: Users can simultaneously screen share from any device and co-annotate, drawing on the screen live for other participants to see
Scheduling and setup: Schedule meetings directly within Zoom and invite external and internal users. Generate unique invite codes for each meeting, which you can share via email.
Webinars and streaming: All paid Zoom plans support live streaming to YouTube and Facebook Live. The Enterprise plan supports webinars for large audiences, with admission and registration tools.
Fun features: In-meeting emoji reactions, quizzes, avatars, appearance touch up, and special audio specifications for musicians
Calendar integrations: Zoom Meetings integrate easily with calendars like Google Calendar and Microsoft Outlook Calendar
Whiteboards: Collaborate with team members to design whiteboards. Use drawing tools, shapes, colors, images, and post-it notes to ideate simultaneously with team members. Create whiteboards live during meetings, work on them asynchronously, or share whiteboards via link or team chat.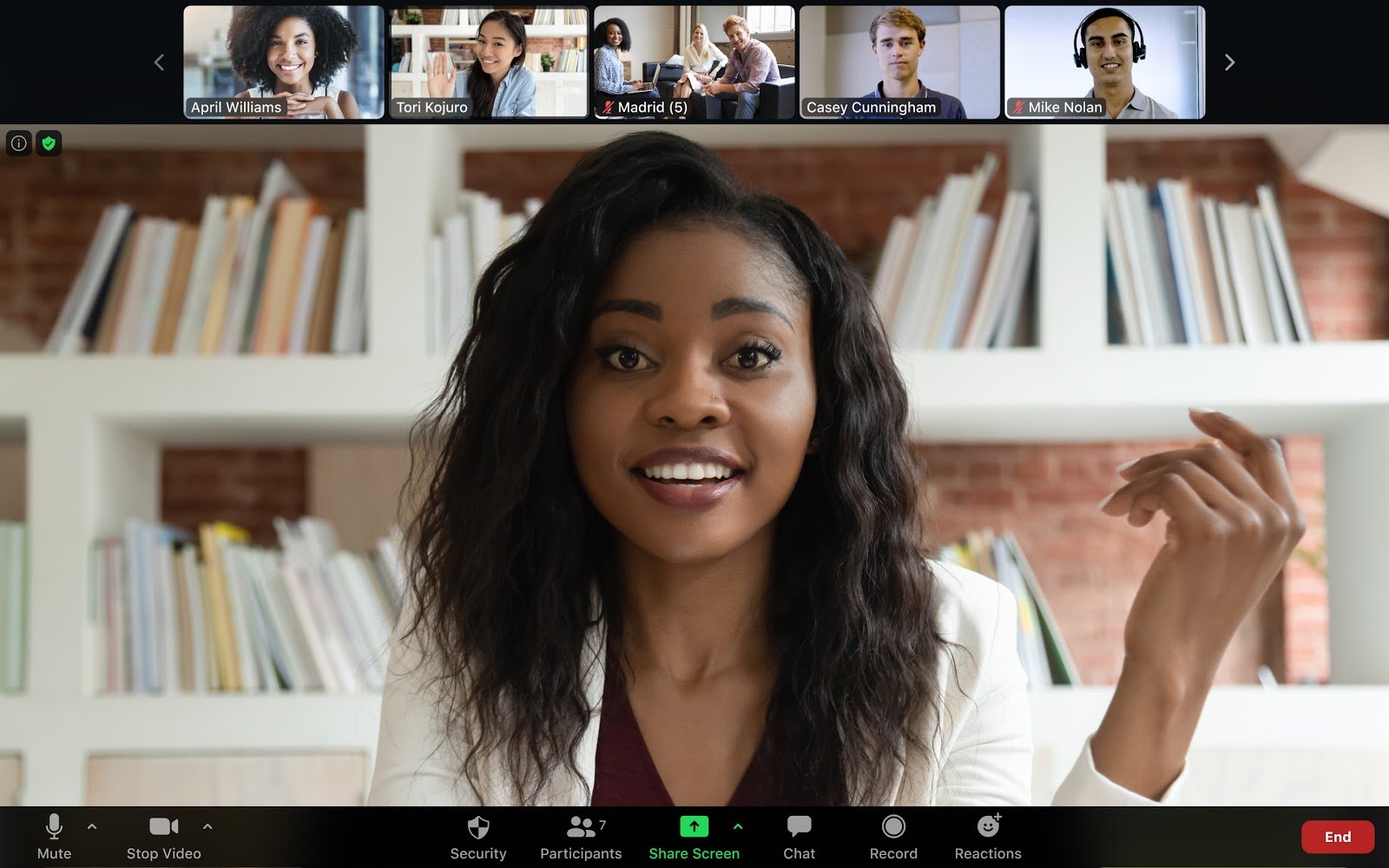 Workflows, AI Automations, and Integrations
Comparison: Slack offers a better workflow automation builder, while Zoom's AI Companion is a better AI tool.
Winner: Tie
Slack Workflows, Automations, and Integrations
Integrations: Slack integrates with over 2600 apps spanning every imaginable category–analytics communication, sales, marketing, CRM, file management, design and more. Incorporate these apps into workflows to sync functionality. For example, receive Google Drive and Asana notifications right in Slack.
Email: Integrate Gmail and Outlook with Slack, to receive forwarded email messages and reply directly within Slack
Workflow Builder: A drag-and-drop no-code tool that streamlines your team's processes across various apps, documents, and users. Build from a library of predefined steps–forms, messages, channels, Google Sheets, Salesforce, Zoom, Asana, and other integrated apps. When you click "Publish," the automation goes into effect.
Templates: Use Slack's premade templates to guide workflow creation. Some templates include New Employee Onboarding, Submit IT Request, Collection Information, and more.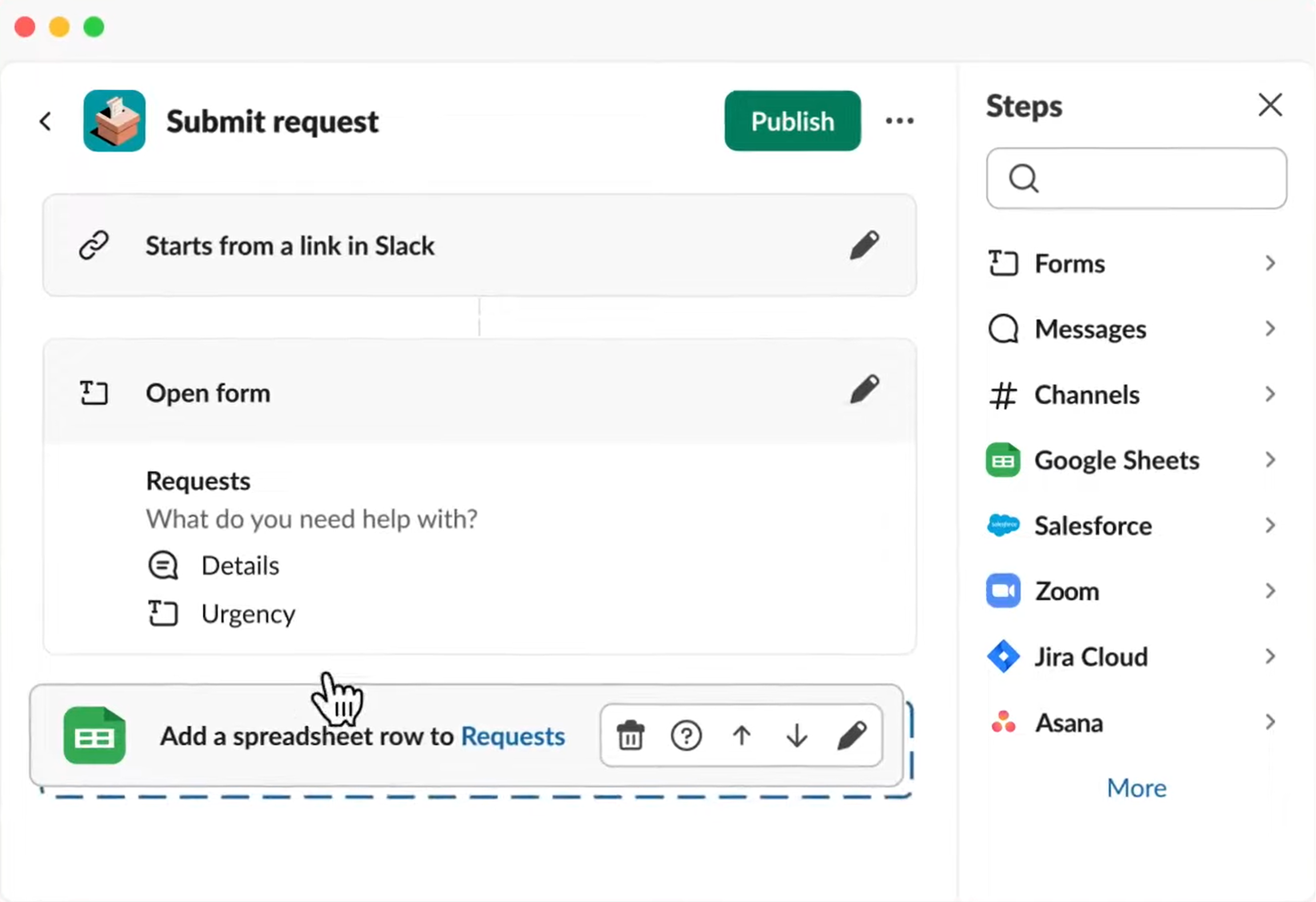 Zoom Workflows, Integrations, and Automations
Integrations: Zoom offers integrations with over 2300 apps–including integrations for Zoom Phone, Zoom Meetings, and team messaging. App categories cover many categories–marketing, CRM tools, sales, scheduling, note-taking apps, and more.
Email: Zoom offers a built-in mail client, acting as an email system. Connect your Gmail or Microsoft 365 account to send and receive emails through the Zoom app interface on any device
AI Companion: Zoom's AI companion tool automates routine tasks across the whole Zoom platform–video, voice, and chat. In chat, Companion uses AI to generate chat responses or summarize missed chat messages and conversation highlights. During video conferences, AI Companion provides live translations and summarizes meetings for latecomers.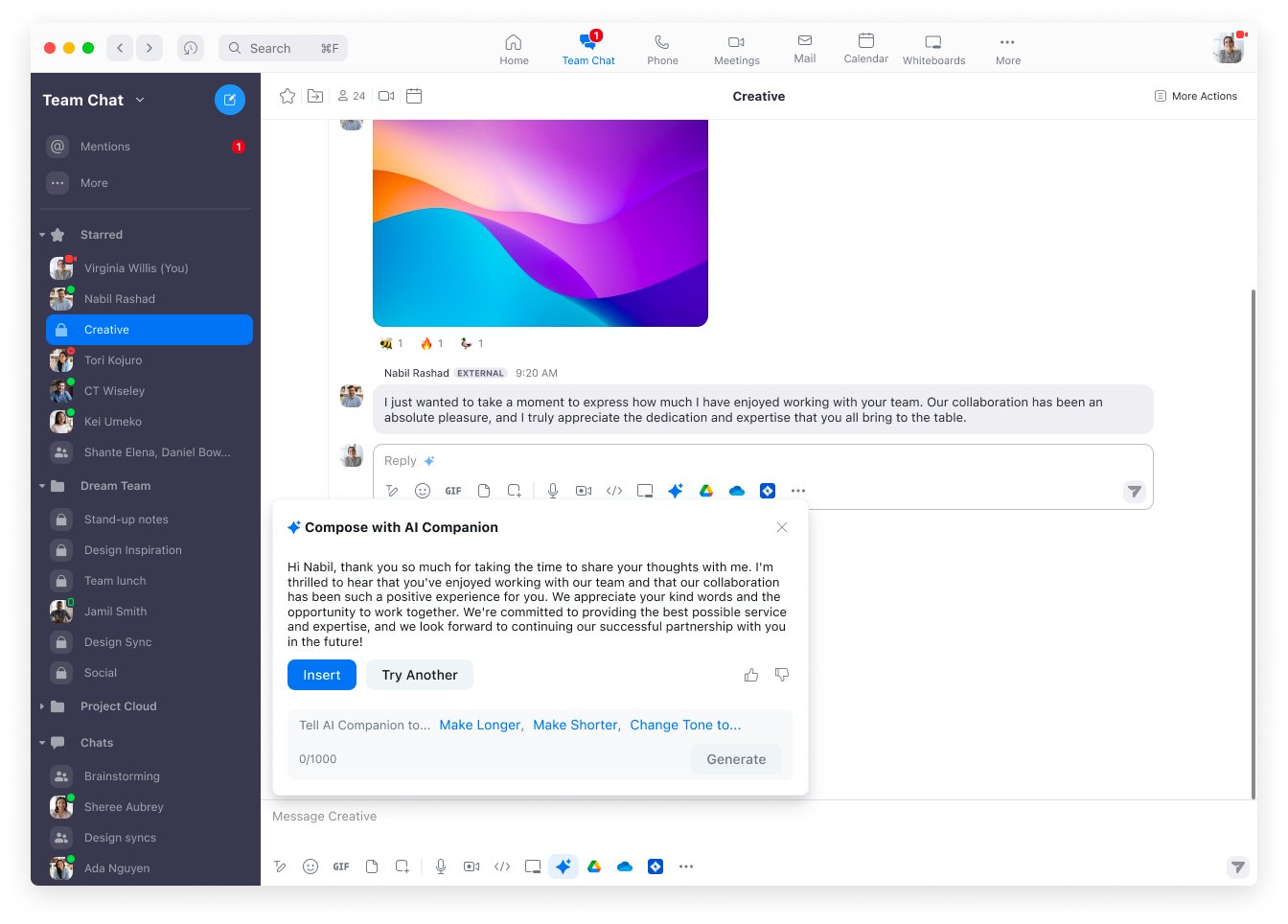 Pricing Comparison of Slack and Zoom
Slack Pricing: Slack offers 4 plans that range from free to $12.50 monthly per user. Each plan adds to the benefits of the tiers below it.
Free: Desktop, mobile, and browser apps. Supports DMs and team channels, audio and video clips, 1:1 voice huddles, and 90-day access to message and file history
Pro ($7.25 monthly): Unlimited message and file history, voice huddles with the whole channel, unlimited canvases, Workflow Builder, unlimited workflows
Business+ ($12.50 monthly): Adds custom sidebar sections, guaranteed 99.999% uptime, third-party SSO, and data exports for all content and messages
Zoom Pricing: Zoom One offers five pricing plans from free to over $25 monthly per user.
Basic (free): Desktop, mobile, and web apps. 40-minute video meetings for 100 participants, 3 whiteboards, waiting room and breakout rooms, team chat
Pro ($15.99 monthly): 30-hour meetings with 100 participants, 5 GB recording, AI companion, meeting polls, live streaming to Facebook and YouTube
Business ($19.99 monthly): 300 meeting participants, unlimited whiteboards, custom email domain
Business Plus ($25 monthly): Adds Zoom Phone with unlimited domestic calling, a virtual phone number, call routing, and call queuing
Enterprise (custom pricing): Up to 500 or 1000 attendees per meeting, webinar features with branding and event registration
Pros and Cons
Slack Pros
User-friendly: The Slack interface is straightforward to use, even for users who aren't tech-savvy
Tons of integrations: With over 2600 integrations, Slack likely integrates with most of the software apps you already use
Workflow automation: We found Slack's Workflow Builder very easy to use, and we think it's a very unique and valuable tool
Slack Cons
Team chat only: Slack works well for team chat and collaboration, with some video and audio. But you can't use Slack for video or audio calls with external users.
Overwhelming notifications: Slack's notifications keep us in the loop during the workday. But for users involved in multiple groups and channels, this leads to too many notifications that feel overwhelming.
Threads get lost: The way Slack's messaging interface is structured, we found that threads sometimes get lost within channels and chats–leading to people missing your replies
Zoom Pros
Does it all: Especially with the Business Plus plan, we were impressed with Zoom's unified communications diversity–video, phone, and chat
Best video on the market: In our opinion and experience, there's no better video-conferencing platform than Zoom. It includes a great mix of collaborative, productive, and fun features.
Surprisingly advanced phone system: We were pleasantly surprised by how intuitive and capable Zoom's phone system is. It includes advanced features like monitoring and queueing, added to the UCaaS offering for just $25 a month.
Zoom Cons
Too many features: While Zoom's video meetings feature tons of features, we ended up not using about 75% of them. Some teams, like us, might feel that many of these features are unnecessary or distracting.
Bandwidth-dependent: In our experience, low bandwidth or a crowded internet connection majorly disrupted Zoom video meetings, leading to latency and glitchy video
Bottom Line
Slack is a low-cost messaging platform for internal communication. Zoom is a unified communications platform with video, team chat, and the option for a phone system.
If your team wants to enhance its communication system with team chat only, Slack is a better option. However, if you're looking for a complete business communication app with multiple channels–it's worth the extra cost for an app like Zoom.