Web conferencing solutions are an invaluable business communication tool for both remote and in-house teams, allowing for face-to-face, real-time conversation with the added benefits of chat messaging, file sharing, and project management capabilities.
As of this writing, close to 80% of employees say they've used video calling tools to meet with internal team members and external clients or project collaborators.
Though Skype for Business was one of the earliest video communication platforms, its past popularity has been eclipsed by more robust tools like Zoom, GoToMeeting, and RingCentral.
That's why in September of 2017, Skype for Business announced it would be replaced by Microsoft Teams by the July 31, 2021 Skype end-of-life date.
But what other free Skype for Business alternatives are available in addition to Teams?
Read on to find out.
Compare top
web conferencing solutions
Quick links:
An Overview Of The Top Skype for Business Alternatives
The below table offers a brief overview of the ten best alternatives to Skype for Business.
| | | | |
| --- | --- | --- | --- |
| Provider | Maximum Meeting Duration | Maximum Number of Attendees | Best For |
| Microsoft Teams | 60 minutes | 100 | Current Skype for Business users wanting an easy transition |
| Zoom | 40 minutes | 100 | SMBs that meet frequently, but usually only briefly |
| Cisco WebEx | 50 minutes | 100 | Mobile-first teams needing CRM integrations  |
| GoTo Meeting | 40 minutes | 250 | Remote teams that don't need collaboration features |
| WhatsApp | Unlimited | 256/chat | Casual business conversation, quick consumer-to-representative chats |
| Zoho Meeting | Unlimited | 2-10 | SMBs looking for webinar capabilities  |
Best Skype for Business Alternatives
Now, let's take a deeper look at the ten best video conferencing software platforms.
Although all of the Skype alternatives listed below have free plans, most also offer paid plans that include advanced features, a higher number of meeting attendees, and optional add-ons.
Below, we'll cover the features and functionalities of the free plans only. Additional information on available paid plans can be found on the providers' websites.
The top 10 best Skype replacements and alternatives are:
Microsoft Teams
Zoom
Cisco WebEx
GoTo Meeting
WhatsApp
Zoho Meeting
Microsoft Teams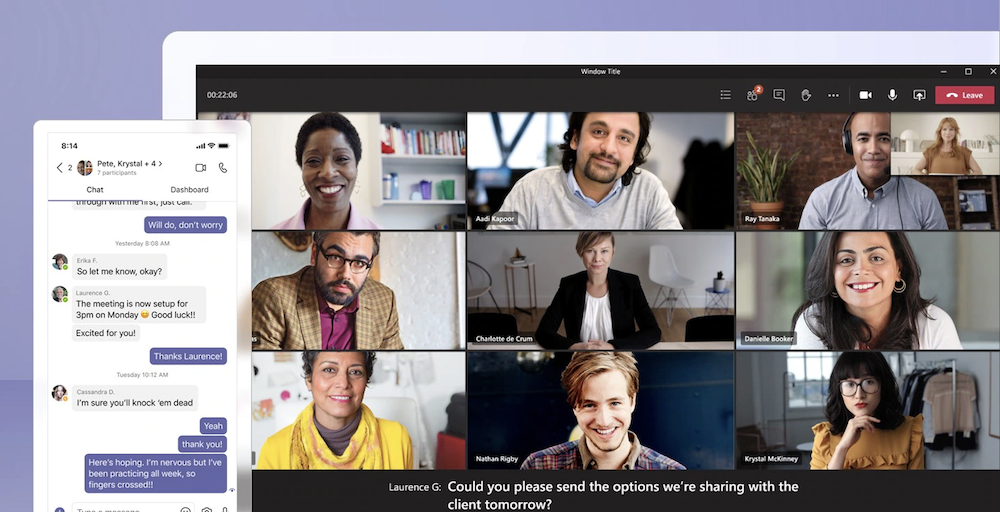 First, we'll explore Skype's chosen replacement, Microsoft Teams.
Teams is a video communication and team collaboration platform designed to work within the Microsoft 365 software universe.
It provides a central location for team chat messaging, video calls, file sharing and editing, and audio conferences.
Teams' free business plan only requires you to provide an email address to create an account.
Free Teams users can host meetings with to 100 participants for a maximum of 60 minutes. There is no limit to the number of monthly meetings free users can host/attend.
Both audio and video calling capabilities are included, in addition to chat messaging tools for up to 500,000 users and unlimited guest access. Team members can immediately transition from a chat message to a video call or can schedule a meeting for a future date.
Free Microsoft Teams features also include:
Unlimited individual and group chat messages
Searchable chat history
Custom video backgrounds
Screen sharing
​In-chat file attachments of up to 2GB/user
10GB file storage in total
Real-time collaboration in Microsoft 365 apps (PowerPoint, Excel, Word)
Background blurring
Over 250 integrated third-party apps
End-to-end encryption
In addition to the free plan, Microsoft Teams offers 3 paid plans ranging in price from $5.00/user per month to $20.00/user per month.
Best For: Teams is best for businesses working with Office 365 tools, as well as teams that need a comprehensive free video calling solution with robust features. It's also ideal for Skype users that want a simple transition to a new video calling tool after the Skype end-of-life date.
Zoom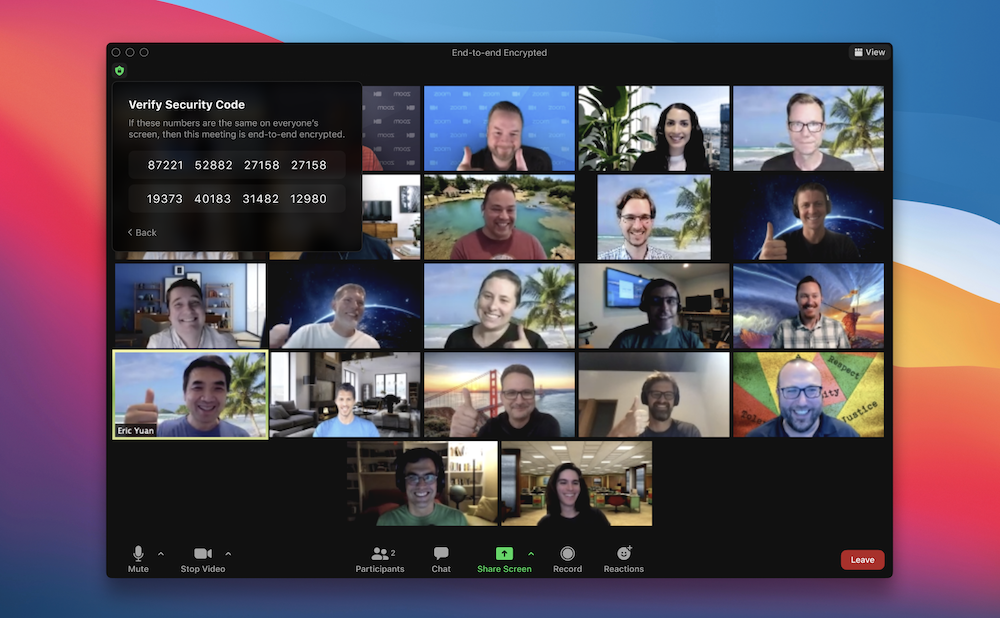 Zoom is the best-known — and the most popular — video communications tool, surviving even security issues like Zoombombing and concerns about user data privacy.
Zoom's free plan lets up to 100 users meet for a maximum of 40 minutes — 20 minutes less than Teams' free plan — but also allows for an unlimited one-on-one video meeting duration.
Zoom also offers meeting recording within its free version, which gives it a major leg-up on competitors.
The free plan even includes breakout rooms, which lets hosts break up larger meetings or webinars into up to 50 smaller groups ideal for brainstorming and better team collaboration. Other popular team collaboration tools include interactive whiteboarding, screen-sharing, and file sharing and co-annotation. One popular new free feature is the Filter option, which lets users touch up their appearance or even add silly features to their faces.
Additional free Zoom features include:
Unlimited number of meetings
Active speaker view
Personal Meeting ID
Meeting Waiting Room
Spotlight/pin users
Up to 25 simultaneous screen views
Remote screen control
Virtual backgrounds
Virtual hand-raising
Zoom API
Zoom Meetings offers 3 paid plans as well as paid plans for Zoom Phone and Zoom United, which combines messaging, video meetings, and VoIP phone capabilities within one interface. To learn more, read our Zoom overview.
Best For: Zoom is best for teams that usually meet one-on-one several times a week, and that gather for brief daily team meetings. It's also ideal for businesses that need extensive team collaboration tools on a free plan that prioritizes ease of use.
Cisco Webex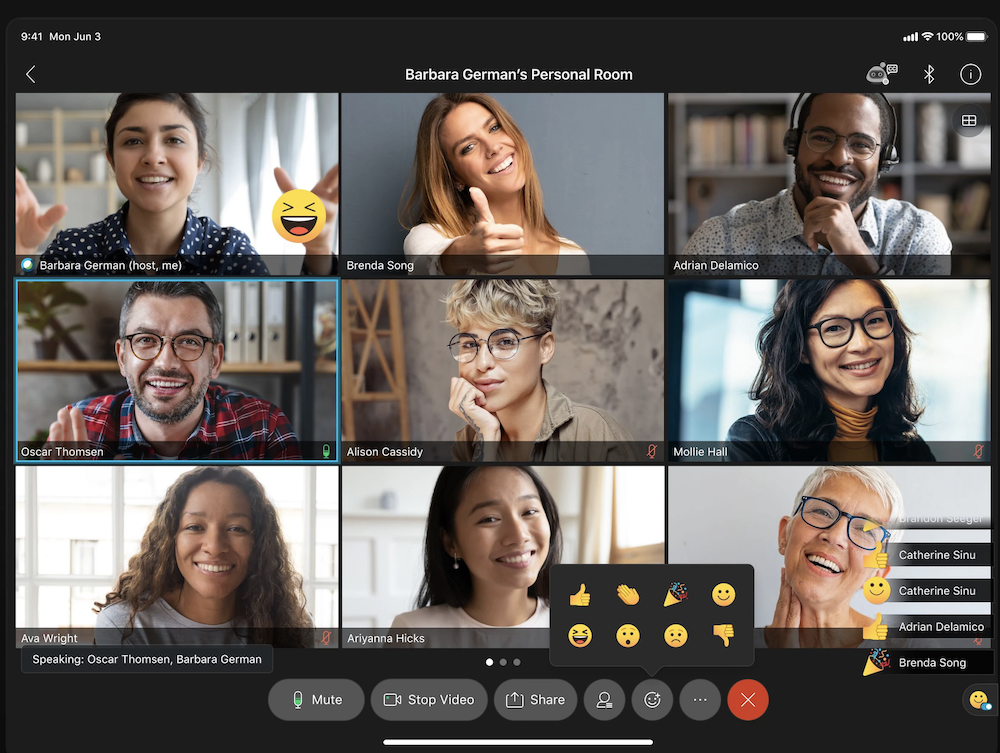 Cisco WebEx is a video conferencing, instant messaging, and online meeting software that lets up to 100 users meet for a maximum of 50 minutes, providing a happy medium between Zoom and Teams meeting duration.
Though the desktop app has excellent capabilities, WebEx also offers a superior mobile app for both Apple iOS iPhone and Android users. Mobile users can use voice commands to communicate hands-free, share their screens, and choose from multiple view formats on smartphones. Screen sharing allows business users to present their entire desktop/mobile screens or individual applications.
Additional free plan features include file sharing, two-way whiteboarding, and the ability to start meetings directly from Slack or Teams integrations.
Other WebEx video conferencing features include:
Active speaker view
Pre-built integrations with Salesforce, Gmail/GSuite, Office 365, Google Calendar, and Outlook Calendar
25 simultaneous video screens
Webpage sharing
Personal Meeting Rooms
"Meet Now" Feature
In-app meeting scheduling
Polling
Custom message notifications
Hand raising
Q & A feature
Default password-protected meetings
WebEx offers three paid plans ranging in price from $13.50/user per month to $26.95 and up per user per month.
Check out our WebEx review to learn more, or read our post on Zoom vs Webex to see a detailed comparison between these two video chat platforms.
Best For: WebEx is best for mobile-first teams that want to be able to integrate their video calling tool with third-party platforms like Salesforce CRM, Microsoft 365, and GSuite, especially when it comes to scheduling meetings.
GoTo Meeting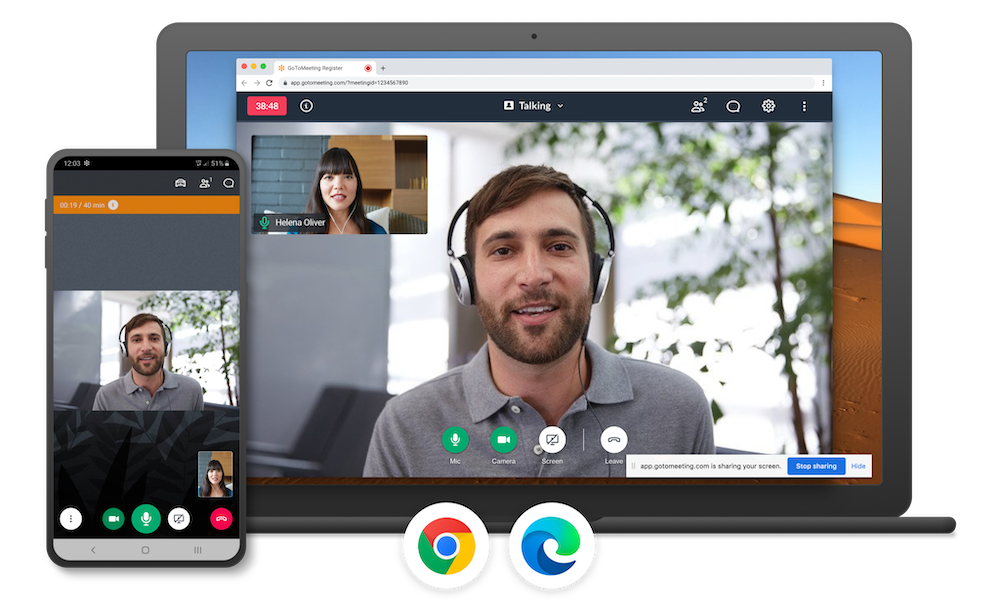 GoTo Meeting is an online video meeting tool with a free version allowing up to 3 participants to meet for a maximum of 40 minutes on Windows or Mac desktop computers and mobile devices.
It also includes VoIP audio, HD video, free in-meeting chat, screen sharing features, and webcam support.
GoToMeeting's interface includes a helpful countdown clock at the top of your screen, so you can wrap up your meetings when you're close to the 40-minute maximum as opposed to getting abruptly kicked off of a group video call.
The free GoToMeeting plan also includes:
One-click "Meet Now" feature
Webpage screen sharing
File sharing and annotation
Whiteboard features
Integration with Microsoft Outlook and Google Calendars
In-app meeting scheduling
Internal and external chat messaging
Public/private one-on-one/group messages
User status in chat messaging
Personal meeting rooms with customized URLs
Maximum of 25 simultaneous video screens
GoToMeeting offers three paid plans from $12.00-$16.00/user per month and up.
Best For: GoToMeeting is best for primarily remote teams that don't need extensive collaboration features, but that likely work within a variety of web browsers on multiple devices throughout the day.
WhatsApp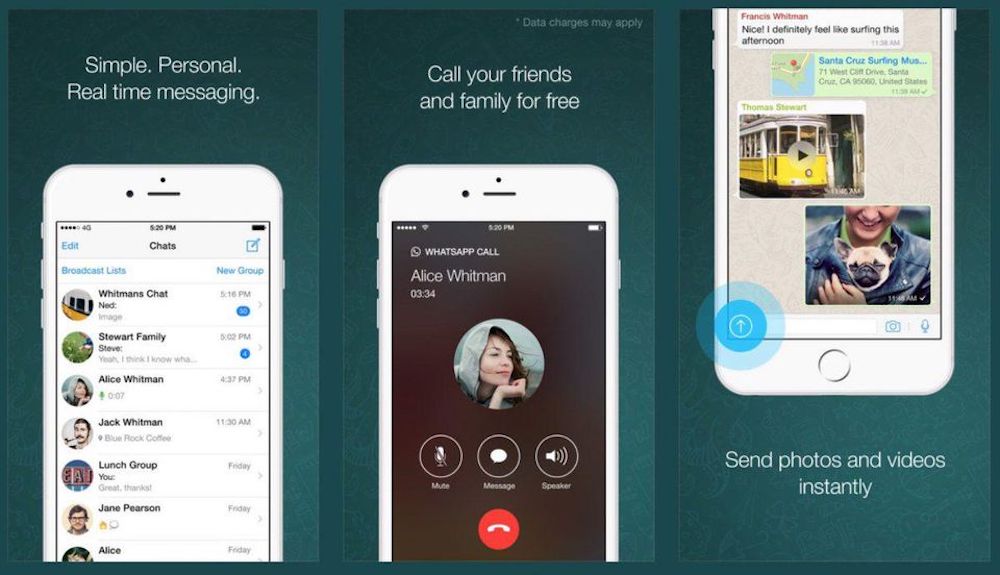 WhatsApp is a basic WiFi, Ethernet, or phone data-powered free chat messaging platform with video calling capabilities.
Though primarily known as a texting tool, WhatsApp also allows users to record, share, and save voice notes, images, and files, and even lets companies create business profiles on the app.
This lets company representatives text customers directly within WhatsApp, offering support, delivery updates, and more. Business profiles also let you link to your company's website, list your opening hours and locations, and provide a description.
Users can create private groups with up to 256 participants to chat, upload/share files, and even transition to video and audio calls in the middle of a text.
WhatsApp is meant to provide quick internal and external business communication for more casual conversations, and can also be used to enhance teamwork and collaboration.
Additional features include:
Up to 100 MB document sharing
PDF, Excel/Sheets, PowerPoint/SlideShare file sharing
Location sharing
Read receipts
End-to-end encryption
Best For: WhatsApp is best for teams that need a mobile-first video call experience, teams that frequently communicate with international team members or use Linux, and teams that want to meet face-to-face but don't have a need for additional extensive communication/collaboration features.
Zoho Meeting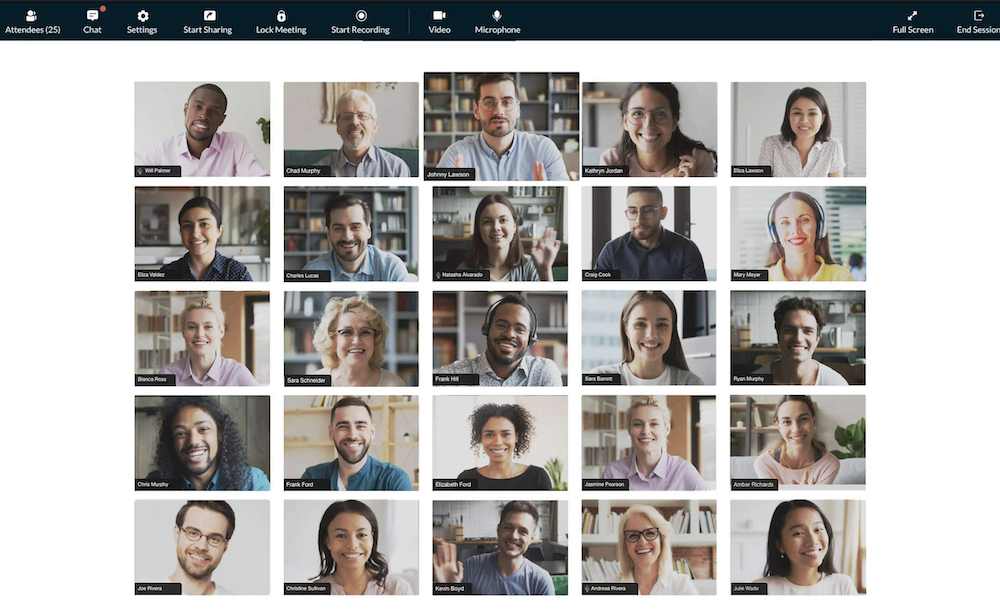 Zoho Meeting is a browser-based video meeting tool with a free version allowing up to 2 meeting attendees and up to 10 webinar participants to meet for an unlimited amount of time.
Its best known for its webinar features, which include not only scheduled webinars with custom registration forms and email reminders but also follow-up emails and basic webinar analytics.
Users can also create polls before or during a webinar, use the live Q&A feature, broadcast messages, and enable virtual hand raising.
Free Zoho Meeting features also include:
Instant and scheduled meetings
Remove, mute, unmute participants
Meeting RSVPs
In-meeting chat messaging
Up to 3 simultaneous screens
Add a meeting to the calendar
Screen sharing
Application sharing
Webcam/VoIP sharing
Zoho Meeting offers 4 paid plans ranging in price from $2.50/user per month to $10.00/user per month.
For more information on Zoho products and plans, read our overview of Zoho.
Best For: Zoho Meetings is best for small businesses who need a free webinar hosting platform or need to have advanced team collaboration tools for one-on-one meetings.
Additional Team Communications Platforms
In addition to the Skype for Business alternatives covered in this post, there are numerous other paid and free team communication solutions offering video meetings, chat tools, workflow management, and unified communications.
These solutions are ideal for both enterprise-level and small businesses and offer free plans in addition to tiered pricing.
Our interactive tables on business VoIP providers and team collaboration tools include information on user experience, pricing and plans, features, landline compatibility, and more.
FAQs
Below, we've answered some of the most common questions about Skype for Business alternatives.
As of this writing, only Microsoft 365 users can now download Skype for Business. If Skype is not a part of your current Microsoft 365 plan, you can download the Skype app on the Microsoft 365 website or on the Apple or Google Play stores.
In general, it will take up to 36 hours to successfully and completely transfer all your data from Skype to Teams. 

Skype for Business recommends that users begin their transition to Teams as soon as possible to ensure a smooth process and to protect their existing data. 
To make the process easier, Skype has a recommended transition guide on their website.
Based on the features, plans, and providers, if you opt for a plaid plan, expect to pay anywhere between $15.00/user per month to $50.00/user per month.

Though plans will vary according to provider, at the very least video conference tools should include: 

Chat messaging
Multiple video view formats
Virtual waiting rooms
Password-protected meetings
Instant and scheduled meetings
Basic file sharing and image sharing
Screen sharing and whiteboarding
Audio calling/conference calling
Integrations with CRM software, calendar tools, and other popular business communication third-party platforms