Call logging software provides valuable customer data to help businesses strategically improve agent performance and the customer experience.
Often included with UCaaS solutions, call logging systems collect customer phone numbers and track basic metrics like call duration and call date/time. They may also provide advanced reporting, analytics, and WFO capabilities.
Here, we'll cover  what a call logging system is, how it works, and top features, providers, and benefits.
What is a Call Logging System?
A Call logging system is a business communications tool that collects essential voice data and analyzes call outcomes. A call logging app measures customer experiences, rep efficiency, and other call-specific metrics.
Call logging systems collect and analyze data and KPIs like: 
Customer phone numbers
Daily call volume
Agent status (user presence)
Call duration
Inbound call origin
Network/device used
Call logging systems replace the need for manual recording keeping, giving workers more time to focus on customer interactions.
How Does Call Logging Work?
The basic call logging process is:
Step 1: Admins integrate/configure the call logging app with their business phone system (customize KPIs, set reporting intervals, enable notifications/alerts)
Step 2: The call logging software records and tracks all inbound/outbound call history data (call origin+duration, caller ID, customer phone numbers, hold time)
Step 3: The call data is presented in a customizable and digestible reports (optimizes agent scheduling, improves IVR flow, streamlines call management)
Automatic call logging software works in a similar way:
Step 1: The call logging system is integrated and synced with the company's CRM software to provide in-call CRM data screen pops two-way data syncing
Step 2: Admins customize the system with optional workforce management features like lead scoring, call list generation, etc.
Step 3: Calls are automatically logged in the CRM alongside existing customer/deal management data to give teams and stakeholders a 360-degree customer view
Types of Call Logging Reports
Call summary: A three to five sentence automated post-call report with a conversation summary covering call participants, highlights, action items, etc.
Agent performance: A quality management reporting tool analyzing agent productivity and performance with metrics like missed calls, AHT, agent status, idle time, FCR, etc.
Call volume: Tracks the number of incoming calls on a daily, weekly, or hourly basis to help companies recognize call patterns and measure how well marketing campaigns are working.
Missed calls: Tracks how many calls went unanswered by an agent. A high number of missed calls is a good indication that more agents need to be hired, more training is needed, or better self-service systems need to be put in place.
Abandoned calls: The call abandonment rate shows the number of calls that ended with the customer hanging up before reaching an agent–usually due to long hold times.
Network and transmission details: A report showing metrics such as call origin, call destination, call length, and specific network used.
Most Important Features of a Call Logging App
Call logging software features every business needs are:
Call History Logging: call history logging automatically captures basic data such as caller information, phone number, date, time, and extension dialed.
Why it's important: sales teams use call history logs to analyze agent performance and call center activity,  follow-up with prospects, and provide a better CX and more efficient workflow
Call Recording: call recording records phone calls automatically or on-demand and stores recording transcripts/audio files in multiple formats (MP3, etc)
Why it's important: Recording calls is important to ensure agent compliance with company protocols and consistency in customer experience. Recorded calls can also be used to train new agents.
Managing Call Logs: call log management is the ability to search (by date, type of call, etc.), sort, download, and share call logs with efficiency.
Why it's important: Sorting calls by duration or type can help business owners gain valuable insight into calling trends, allowing them to optimize the workforce.
Call Quality Monitoring: call quality monitoring is a feature that tracks valuable metrics regarding the quality of calls such as call volume, latency, and jitter.
Why it's important: Tracking call quality helps admins ensure that all calls meet customer expectations and that issues with low volume, latency or jitter are addressed quickly.
Call Log Analytics: call log analytics collect and display data (such as total call statistics, inbound and outbound statistics, average handle time, etc.) in a way that makes it easy to manage, analyze, and oversee.
Why it's important: Call log analytics are essential for uncovering customer trends, leading to better decisions on call distribution, customer self-service resources, and even agent scheduling.
Agent Metrics: agent metrics are metrics specific to each individual agent and include KPIs such as queue time, ringing time, speed-to-answer time, hold time, wait time, talk time, resolution time, and after-call work time.
Why it's important: Agent metrics allow supervisors to compare the performance of each agent, determine who is efficient, and ensure that agents are meeting their goals.
CRM Integrations: CRM integrations enable companies to sync a customer relations management system such as Salesforce or Hubspot with a call logging system, allowing agents to view a customer's identity, purchase history, and other details during calls.
Why it's important: Agents can leverage CRM data during calls in order to provide more personalized support and a better overall customer experience.
Benefits of Call Logging Software
Cost savings: Call logging gives companies information on peak call times, slow times, and agent activity, helping businesses avoid hiring additional agents/overstaffing call centers
Increased agent efficiency: Automatic post call notes and summaries save time for agents and provide a record of important customer conversations
Improved customer service: Data from call logging systems gives agents and managers insight into past interactions and customer preferences to provide personalized service. This data ensures customers don't have to repeat themselves, optimizes call routing strategies, and increases FCR
Solve customer disputes: Call logging systems equip agents with context and call recordings of past interactions so that when disputes arise, they can be handled quickly and fairly.
Stay compliant with local regulations: Call recordings and agent performance metrics help supervisors ensure all agents are following both local regulations and company policies.
Best Call Logging Software
Nextiva
Nextiva is a small business UCaaS solution that includes voice, messaging, and video calling capabilities. All Nextiva users have access to basic call logs with historical reporting. Collected metrics include timestamps, call duration, and called parties.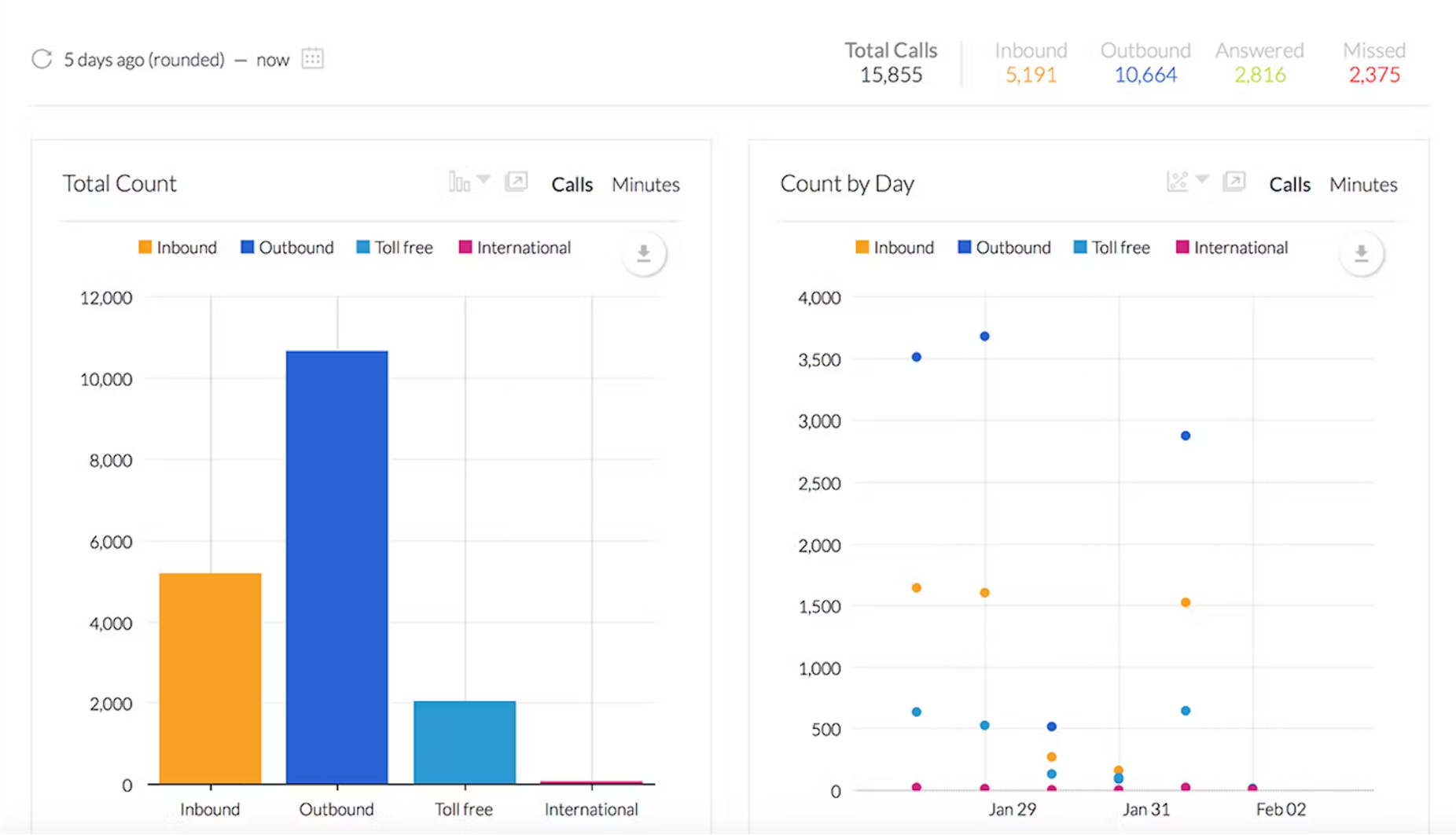 Key call logging features: 
Call recording
Report filtering by date, user, call type
Advanced analytics including trend analysis and performance gamification
Pros:
Highly reliable and secure call logging system with 99.999% uptime guarantee
HIPAA and SOC 2 compliance
24/7 customer support
Cons:
Enhanced call logs (showing recent incoming, outgoing, and missed calls) and call recording are only included in Enterprise plans.
RingCentral
RingCentral is a full-featured cloud communication system for companies of all sizes. Its call logging system collects call data like call type, activity, duration, date, and time. RingCentral records phone calls and analyzes call details.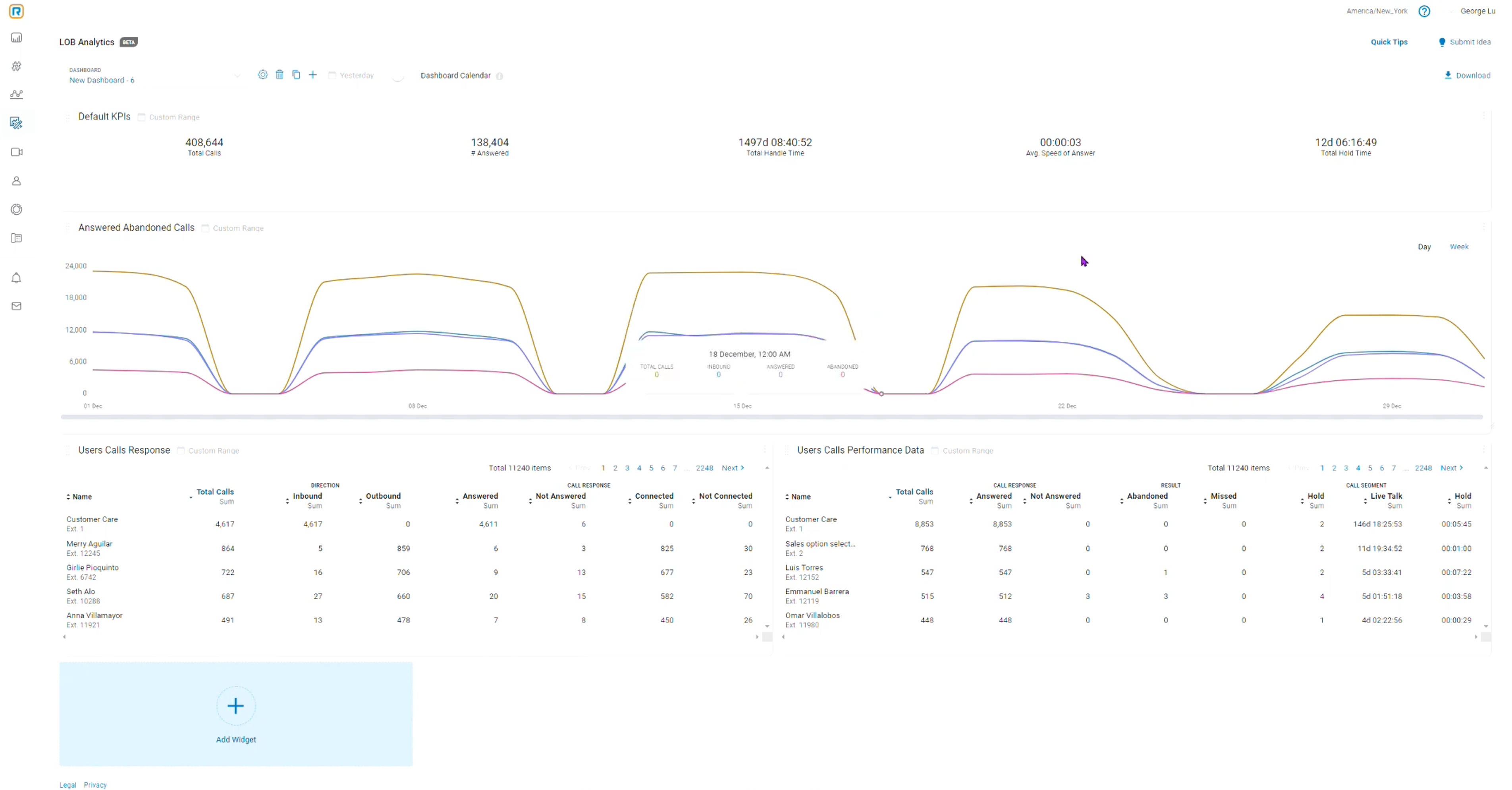 Key call logging features:
Filter by inbound/outbound, date, or type of call
Listen to call recordings directly from call logs
Real-time queue management, quality of service analytics, and alerts
Pros
Highly secure platform with end-to-end encryption
Call recording and real time QoS analytics included with every plan
Cons
Expensive compared to competitors
Live reports for real-time queue management only available as an add-on
Vonage
Vonage Business Cloud is a business communication platform that combines the flexibility of APIs with an out of the box UCaaS solution with voice, video and messaging capabilities. Its call logging feature allows admins to access detailed call records by extension or account.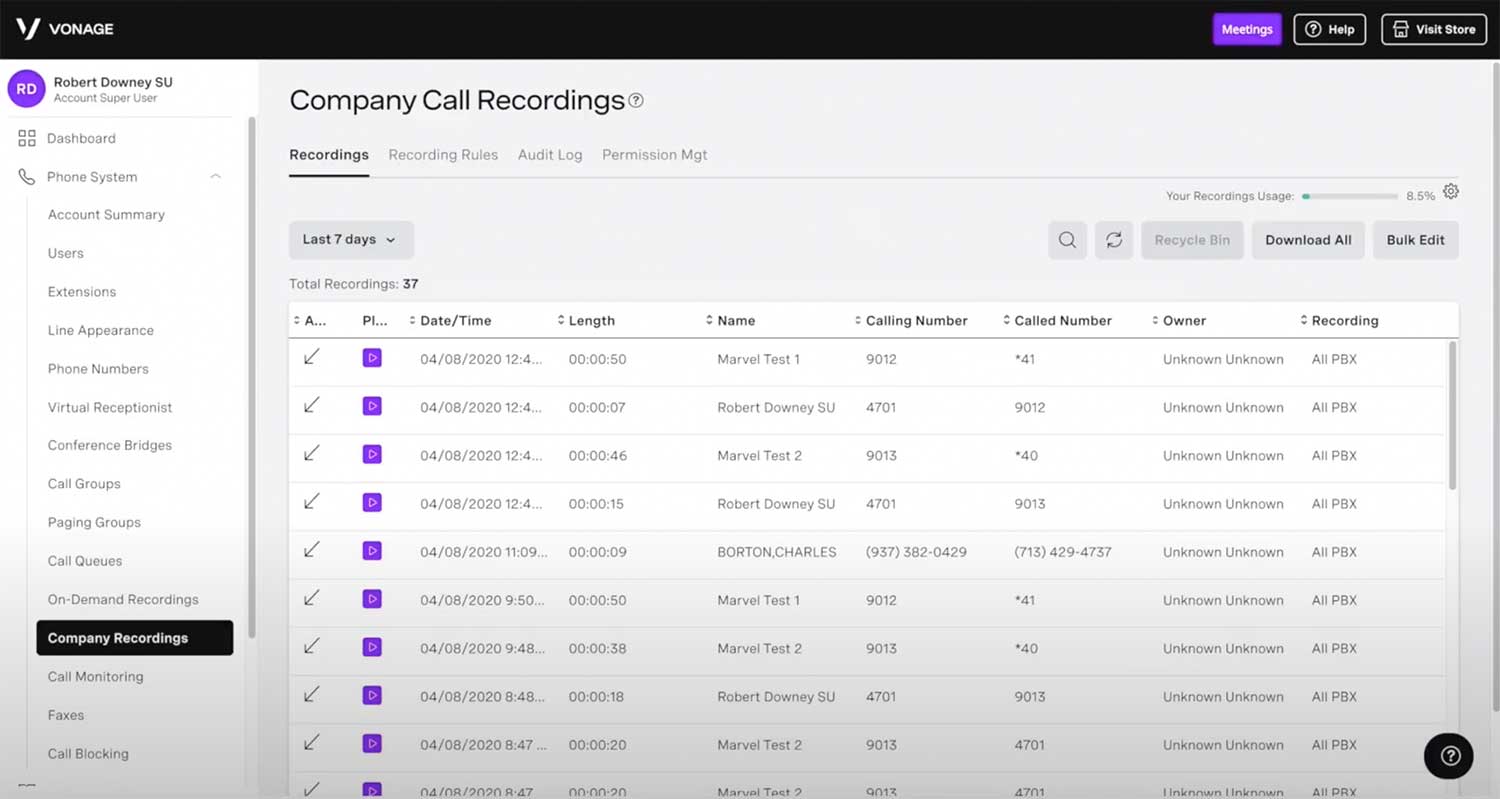 Key call logging features: 
Run custom reports with a set start and end date/time.
Save reports as a PDF, or export as an Excel document.
Call recording
Pros
 Affordable and flexible plans.
On-demand or automatic call recording
Cons
No real time analytics
Automatic call recording only available as an add-on
8×8
8×8 is a UCaaS and CCaaS solution with call handling capabilities and a fully featured video conferencing platform. Its call logging system enables users to run custom reports on demand or on a regular basis.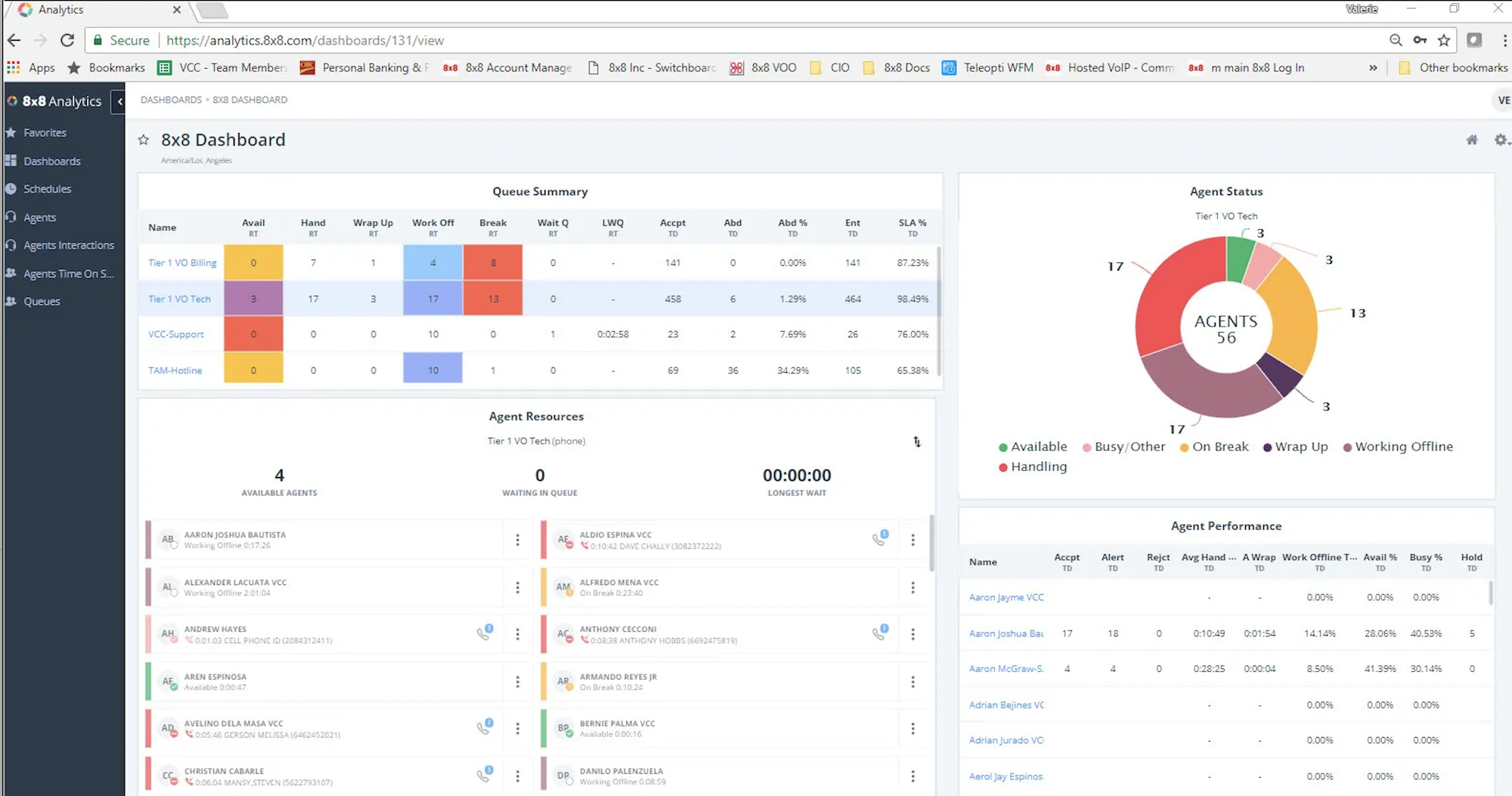 Key call logging features: 
Call reporting templates
Schedule regular reporting
Filter by date range, extension, call direction, etc.
On demand and automatic call recording
Pros
Variety of metrics to choose from on custom reports (average wait time, overflow agents, current wait time)
25+ CRM integrations, including Microsoft Teams, Freshdesk, Zendesk, etc..
Cons
Users can only purchase advanced analytics quality management and speech analytics as add ons.
GoTo Connect
GoTo Connect is a cloud based business phone system with texting/SMS, video conferencing and team messaging features. Its call logging system includes call activity details such as duration, disposition and call volume as well as automatic and on-demand call recording.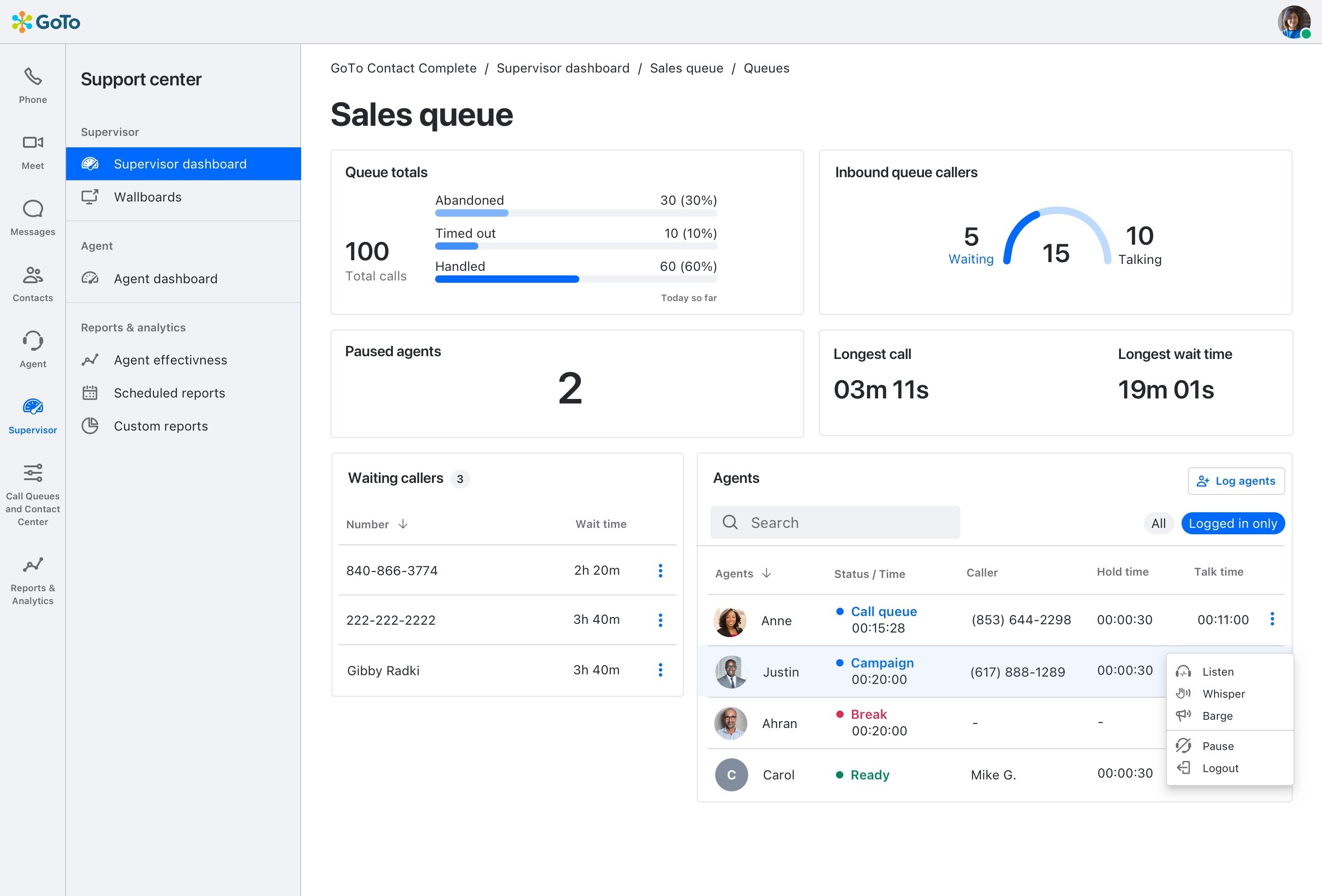 Key call logging features: 
Custom templates
Call traffic metrics such as average time in queue
Agent performance board (shows percentage of queue calls transferred by agent and more)
Call recording with cloud storage.
Pros
Users can upgrade to GoTo Contact Center
Users can combine call logs with omnichannel communication data (text, chat and social media conversations)
Cons
Data can take up to 6 hours to display in reports
Call log reports are only available in English.
Dialpad
Dialpad is a secure business phone system with a focus on artificial intelligence features and tools. Its call logging system features filters, built-in analytics, and CRM integrations.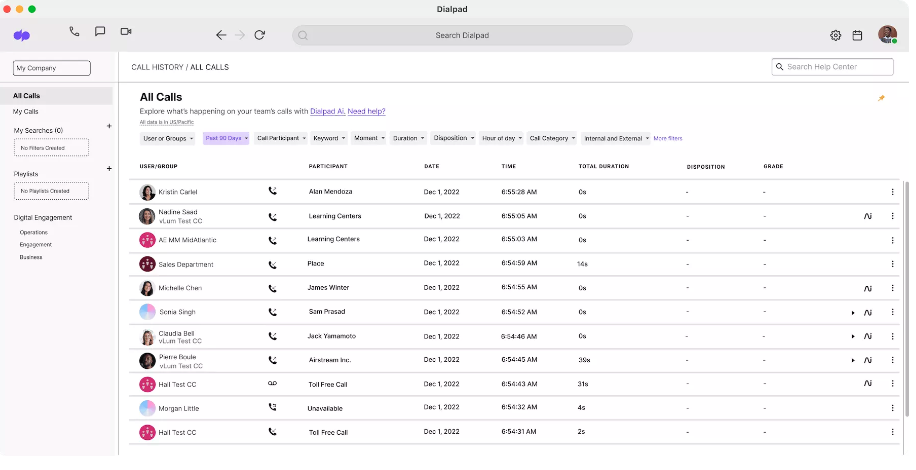 Key call logging features: 
Call log templates
Filter by department, duration, time frame etc.
Sentiment tracking and filter by call sentiment
AI-powered call summaries
Receive call logs by email automatically
Call recording and transcription.
Pros
Call recording and real-time transcription included in all plans.
Built-in AI analytics like sentiment tracking, summaries, transcription, etc.
Cons
Platform has a steep learning curve
Customer support can be difficult to reach
WhatConverts
WhatConverts is a call tracking software that allows users to create custom call flows and select which numbers are tracked and logged using triggers and dynamic number insertion (DNI).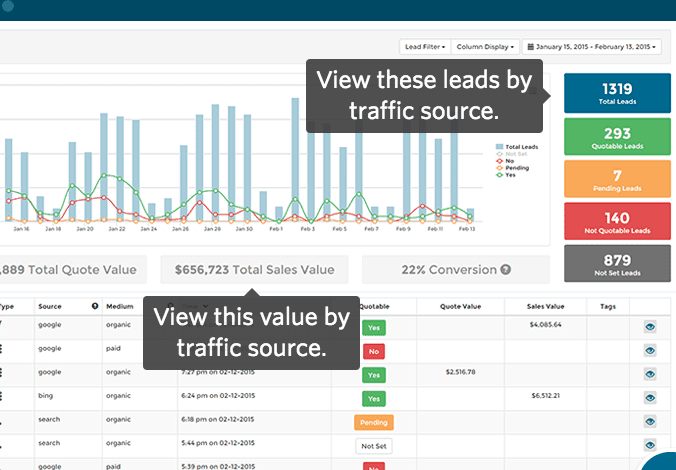 Key call logging features: 
Custom report builder
Call recording and transcription
Templates
Pros
Call recording and transcription included in all plans
Affordable pricing with no per-user fees
Cons
The number of included tracked phone calls is limited to 148
HIPAA compliance only available in Pro and Elite plans (starting at $100/mo.)
CallTrackingMetrics
CallTrackingMetrics is a suite of customizable contact center software tools including call forwarding, real time analytics, and skill based smart routing.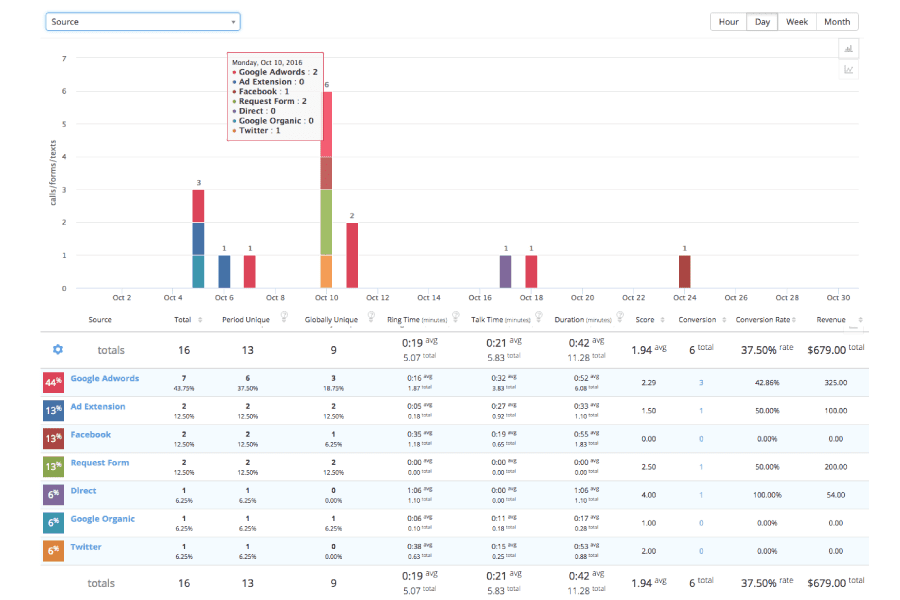 Key call logging features: 
Call recording and transcriptions
Keyword spotting
Over 40 integrations.
Pros
Two factor authentication on all plans, HIPAA/GDPR compliance available
Call recording included in all plans
Cons
Usage fees for local/toll-free voice minutes and text messages