Most businesses were already making the switch from paid to free business communication tools before the early 2020 COVID-19 pandemic. However, the pressure to make a decision fast to cut costs and keep your small business afloat was powerful.
Zoom is one of the most well-known video calling tools. With its popular free version, there's a good chance you're now among one of its 200 million daily users.
But is it right for your business?
Zoom's flawed security features have already damaged the reputations of companies like Chipotle. Even the House Oversight Committee recently suffered a Zoombombing attack.
While being budget-conscious matters now more than ever, does using a free communication tool like Zoom offer the kind of secure remote work benefits your business needs?
Why Seek Zoom Alternatives?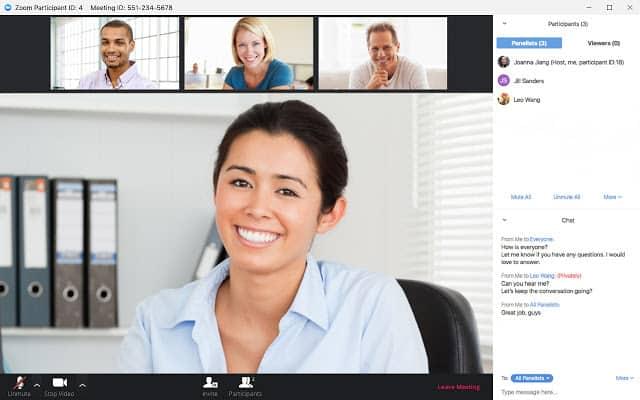 Zoom's problems with data privacy and the broadcasting of obscene, offensive material on Zoombombed video calls means companies don't just make the choice to switch to another tool.
Their compliance, HR, or even legal departments have outright banned the use of Zoom within their organizations.
Zoombombing
Zoombombing is when trolls invade public Zoom meetings to spew hate speech and offensive, graphic images.
Especially as trolls become more organized in their harassment, simply removing or blocking Zoombombers isn't enough. Instead, companies are forced to abruptly end their meetings — and then address the damage to their reputation caused by those attacks.
Zoom address this issue by making its "Waiting Room" and password-protection features default meeting settings, but it is still possible for Zoombombers to infiltrate meetings.
Data Sharing and Privacy
Zoom calls are not actually end-to-end encrypted as the company stated, leading to leaked user email addresses and webcam hacks.
Additionally, Zoom has shared user data with Facebook and Linkedn without informing users — which lead to class-action lawsuits filed against the video chat platform.
Zoom's data sharing and privacy are especially problematic for businesses required to be HITECH and HIPAA compliant.
Feature Limitations
The free version of Zoom places a call limit of just 40 minutes on video conferences between three or more people, and users frequently report issues with video and audio quality.
Zoom's free plan doesn't allow users to record calls, has only limited user management and host controls, and doesn't include a complete set of team collaboration tools.
Compliance Issues
Using free video conferencing tools helps your budget, but also means you'll have limited features and lowered security standards.
The resulting errors, miscommunications, and compliance issues cost companies much more than paid versions of video calling platforms would have.
While there are still competitive free video chat apps available, like FaceTime and Skype, scalable web conferencing tools let you select a la carte features suited to your current and future phases of business and communication needs.
What are the Top Video Conferencing Features?
To accurately assess Zoom alternatives, consider the specific features that your small business requires as well as how your company's budget influences your decision.
Flexible Capacity
The first thing to look at when evaluating alternatives to Zoom are limitations regarding the number of users and time limits on meetings.
Smaller businesses may not need plans that allow for 100+ attendees per meeting, but will need much longer than 40 minutes to speak with their teams. Unlimited meeting length, as well as an unlimited number of meetings per month, are essential.
If your business uses webinar software to host meetings or meets with multiple organizations simultaneously, your software will need to allow for a higher number of meeting attendees.
Strong Security Features
We've already outlined the consequences of poor security above, but you'll also need to consider the level of admin/host controls a video calling tool includes.
Look for platforms offering:
Waiting room features
End-to-end encryption
Meeting locks
Password-protected meetings
Ability to remove/block attendees
Co-hosting features
Mute/unmute buttons
Background screen features
Attention tracking
Screen Sharing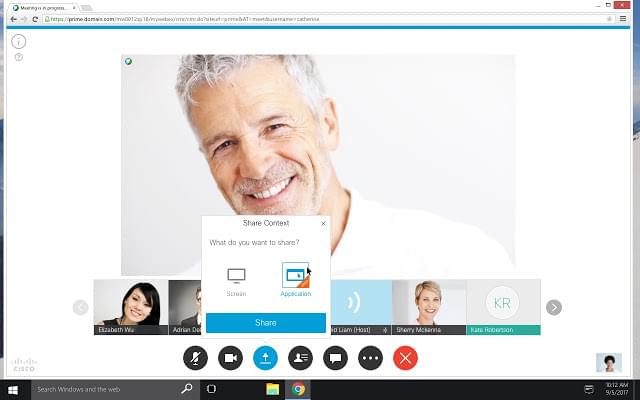 In standard office meetings, it's easy for you to share PowerPoint presentations, pass out documents, or use projector screens to teach team members how to use software.
The screen sharing feature of your video conferencing tool allows you to share your entire desktop, files, or specific applications with anyone on the call. Also consider screen sharing limitations and pass presenter capabilities, which allow meeting hosts to control who is and isn't able to share their screens during a meeting.
App Integrations
Video calling platforms don't always have native team communication and collaboration tools. Instead, they integrate with popular business software you're already using.
Review the app integrations any Zoom alternatives offer.
Examples of key software integrations include:
Office 365
G Suite
Google Drive
Dropbox
Mailchimp
Adobe
Slack
Microsoft Outlook
File Sharing and Version Control
You'll need to be able to share important files, images, videos, and even PDFs during your video conference without having to open an additional app.
Ensure that the software you select not only lets you upload files directly into the current conversation, but that it also allows for real-time editing of these files. This way, your entire team can see the specific file being discussed and make notations or adjustments to it during the meeting. In-app file sharing and editing helps to prevent employees from working on outdated versions of company files.
Secure Chat Messenger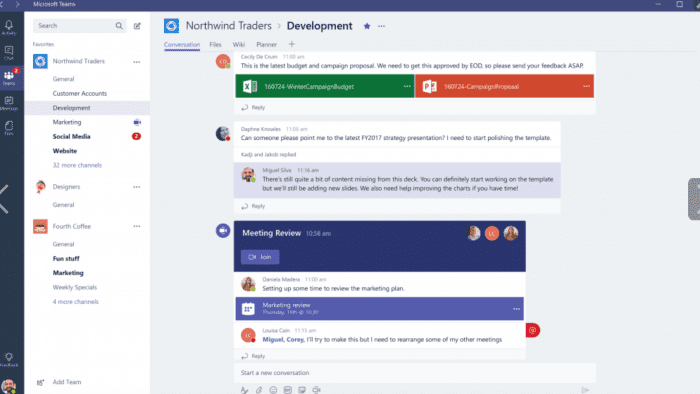 In addition to allowing users to upload files, answer questions posed during the meeting, and share their ideas with all attendees, having access to a group chat tool during a video conference lets users notify hosts if they're experiencing technical issues.
Private, one-on-one chats let attendees ask each other questions that aren't relevant to the entire group and help them get immediate clarifications about concepts they didn't fully understand.
Though not all video calling tools have a native chat app, most integrate with Slack and other popular Slack alternatives.
In addition to a text chat feature, virtual hand raising and attendee polling help to improve communication during a conference.
Recording Abilities
Especially if you want to create a training webinar for your team, you'll need to ensure that any web conferencing software you select allows for audio/video recording and transcripts.
Sharing meeting recordings with team members in different time zones or with different work schedules means no one will miss out on essential information just because they weren't able to attend a meeting set for a specific time.
Employees can also refer back to information discussed in recorded meetings to get clarification about the workflow process or how to use certain software. This frees up project managers to address more pressing issues instead of answering the same questions over and over again.
The Top 7 Zoom Alternatives
The below list of the top seven  Zoom alternatives for small businesses offer either free or tiered pricing plans that include all of the features mentioned above.
Amazon Chime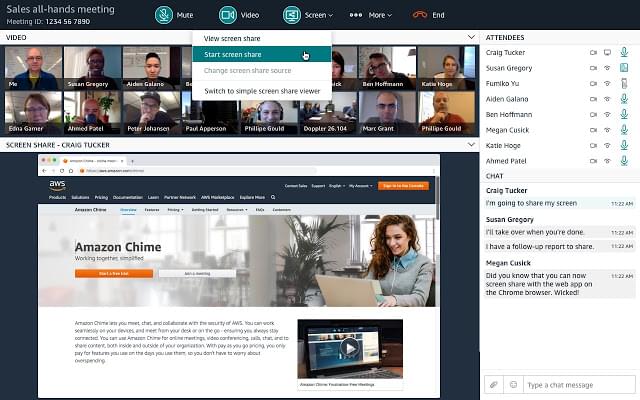 Amazon Chime is a mobile and desktop Zoom alternative offering video conferencing, team collaboration tools, and excellent integrations.
Users can schedule meetings in their preferred calendar tool or by sending out personalized one-click meeting links. Chime also lets users join meetings with Alexa, a call-me feature, and dial-in options.
In addition to standard screen sharing features, Chime also offers:
Virtual attendance rosters
Meeting recording
HD video and VoIP audio
8 maximum mobile attendees
16 maximum desktop attendees
Whiteboard features
File sharing
Public/private chat messaging
Attendance status indicators
Chat bots for automation
API automations
Remote desktop control
Meeting reporting tools
Single sign on
Host controls/usr management tools
End-to-end encryption
The best aspect of this software, especially for small businesses, is Amazon Chime's pay-as-you-go option. This means there is no need to sign a long-term contract and pay upfront fees. Users can select the specific features they need on a per-meeting basis.
A Basic Chime account is free to use, and you'll receive a free 30-day trial of Chime's Pro version wen you create an account.
Add-on features include hosting up to 250 meeting attendees, the ability to start meetings instantly, meeting locks, co-hosting abilities, and more.
GoToMeeting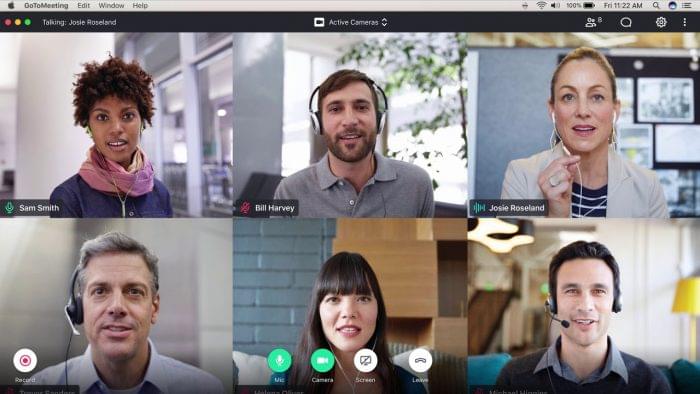 GoToMeeting is a web conferencing platform owned by LogMeIn compatible with Windows and Mac desktop computers, the iOS iPad and iPhone, and Android mobile apps.
It offers a free version and a complimentary 14-day trial of it's paid Business version, allowing you to better evaluate whether or not you truly need to upgrade to a paid plan.
Just like Zoom, GoToMeeting's free plan allows you to host 40-minute long meetings with a maximum of 3 participants. The free plan also includes VoIP audio, video calling, chat messaging, and one-click meeting access. The paid plans, Professional, Business, and Enterprise allow for up to 150 participants, 250 participants, and 3,000 participants respectively.
Read a more detailed comparison of Zoom vs GoToMeeting on our blog.
Additional paid GoToMeeting features include:
Toll-free calling
Call me feature
File uploads
Real-time file editing
Searchable online meeting recordings
Meeting transcription
Meeting scheduling
Instant meetings
Full desktop and single application screen sharing
Whiteboard and drawing tools
Email and calendar integrations
Pass presenter features
Unlimited meeting length and number of meetings
Meeting locks
Co-hosting features
GoToMeeting offers one of the top webinar hosting tools through its own GoToWebinar platform. GoToWebinar offers registration pages, email reminders, an engagement dashboard, custom branding options, and much more.
Google Hangouts Meet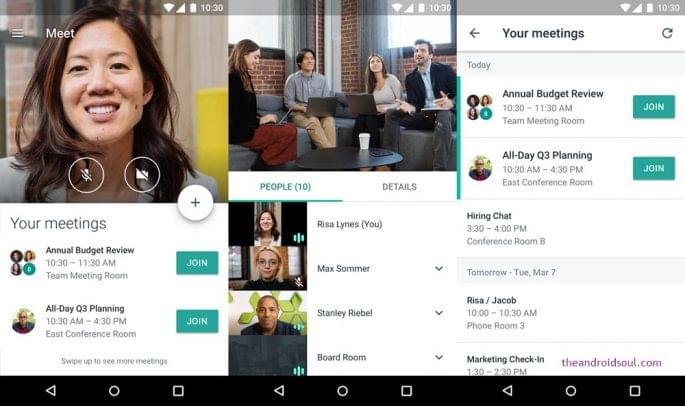 Small businesses looking for a video calling tool with a user-friendly and intuitive interface should opt for Google Hangouts Meet.
Unlike free Google's Hangouts communication tool, Google Meet a paid platform specifically geared towards businesses. It is compatible with desktop computers and Android and Apple mobile devices.
Hangouts allows up to 25 users to make and receive audio and video calls without a time limit. Via hangouts, users can also share screens, access a chat messenger feature, and invite users to join instant video calls via email or link.
Google Meet's three paid plans offer those tools in addition to more team collaboration features, including:
Access to G Suite tools
App integration
Currents employee engagement feature
Google Drive storage
Searchable cloud storage
Analytics/reporting via Work Insights
Livestreaming to up to 10,000 users
Meeting recording
Up to 250 meeting participants
International and domestic dial-in access
Automation
Meeting scheduling features
2-step verification
Endpoint management to limit data access
Account activity monitoring
Google Vault data retention
BlueJeans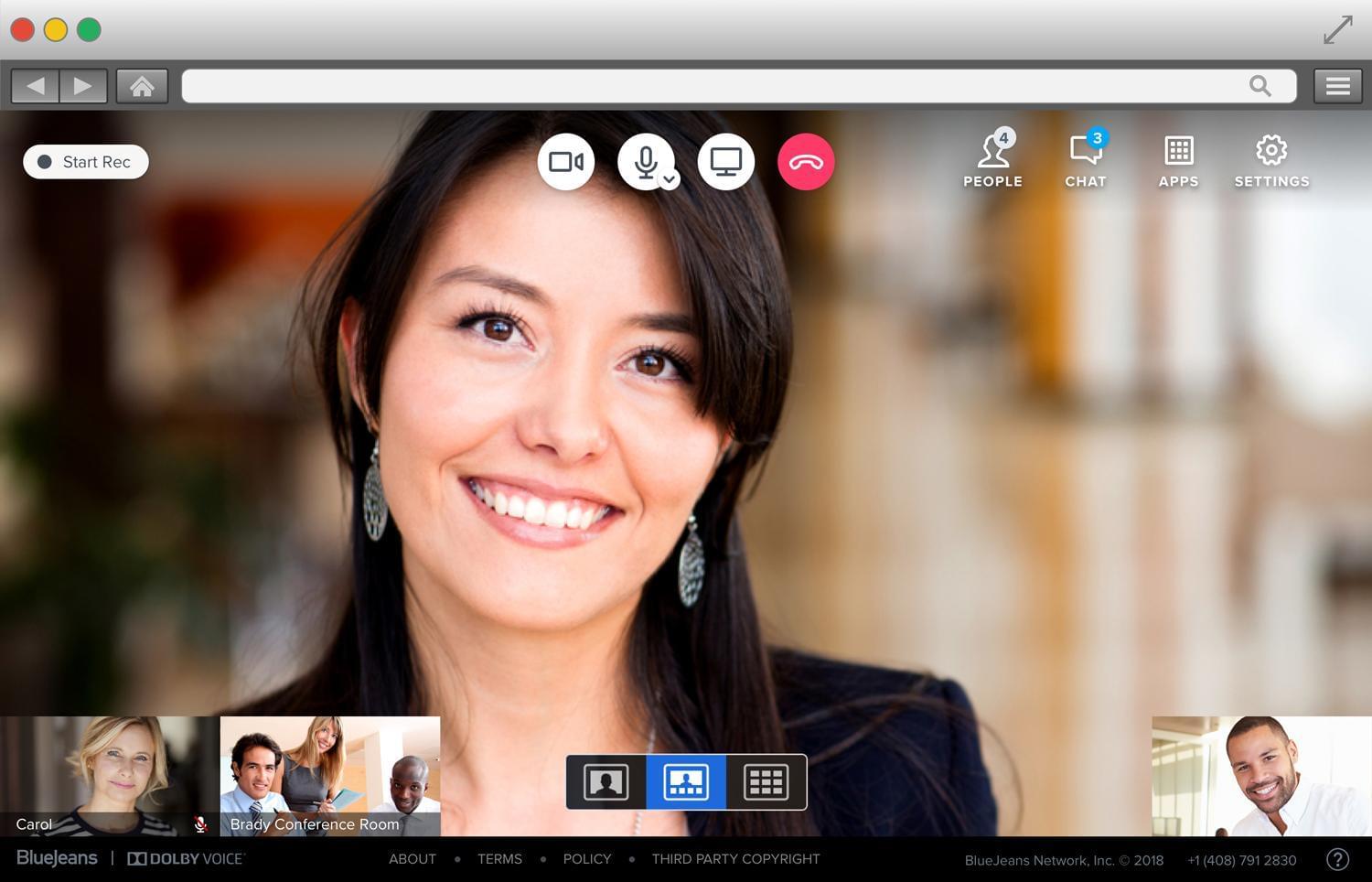 BlueJeans video calling software offers both video conferencing and webinar live stream capabilities.
It works with desktop and iOS and Android mobile devices and within a variety of web browsers including Firefox, Opera, and Safari. Though it does not currently offer a free version, it has a 7-day free trial for its video video calling software and a 30-day free trial for its webinar tool.  Our review of BlueJeans video conferencing breaks down the features of the free plan in detail.
BlueJeans is especially known for its high-quality audio calls thanks to its Dolby Voice technology. It also lets users access online meetings without having to download any software and integrates with other popular communication tools like Microsoft Teams, Slack, and Skype for Business.
Other top features include:
Screen and file sharing
Up to 100 participants
Unlimited number of 1:1 and group meetings
No meeting time limits
Meeting highlight recaps
Breakout sessions
Whiteboard tool
Active speaker and gallery views
Real-time meeting analytics
ROI calculations
Mute/unmute
One-touch meeting access
Meeting cloud recording
Microsoft Teams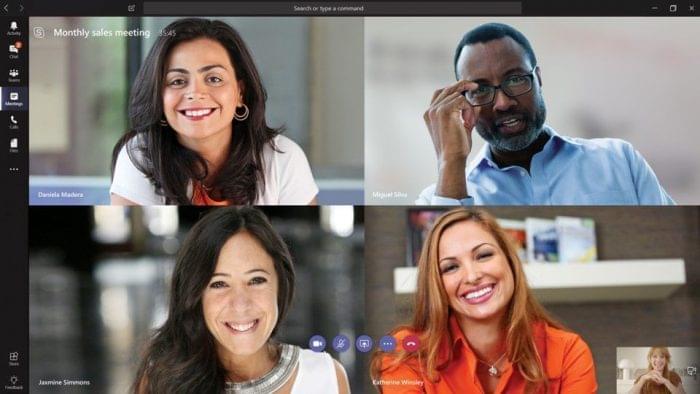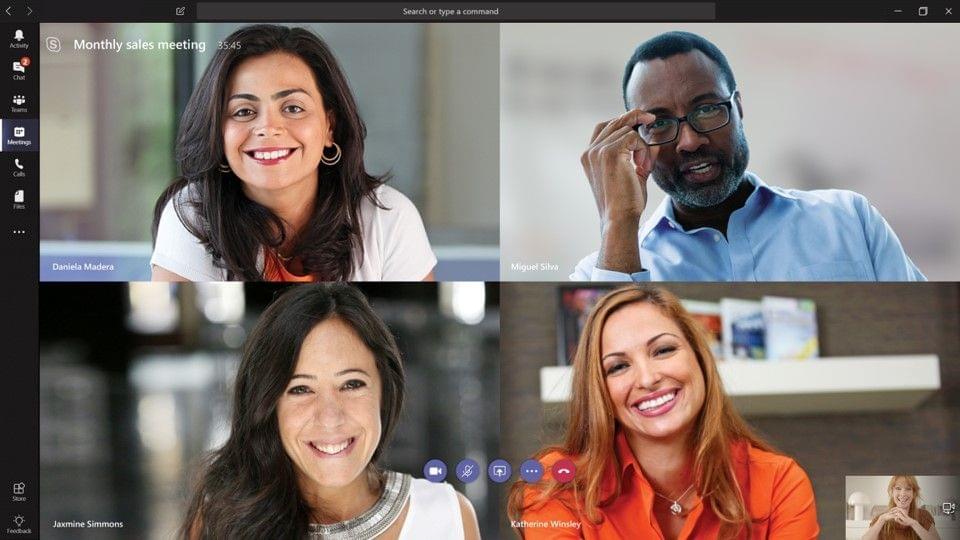 If you're currently using Skype for Business to communicate with your remote employees, then you'll soon be automatically migrated to Microsoft Teams.
But even if you're not on track to make the switch, Microsoft Teams offers a competitive free plan and excellent features to streamline workflow and improve communication. Microsoft Teams is a part of the Office 365 enterprise, meaning it easily integrates with Outlook and other Microsoft business software. However, Teams also offers third-party file integration with Google Drive and Dropbox.
Teams doesn't have a standard free plan, but it is currently offering a six-month free trial to help companies adjust to remote work. Teams plans, including the free trial, allow for an unlimited number of users, unlimited audio and video calls, unlimited chat messages, file sharing, and guest access.
Other top Microsoft Teams features are:
Screen sharing
Background blurring
Meeting recordings and transcripts
Online Event hosting of up to 10,000 people
  250+ app integrations
End-to-end encryption
Real-time file editing
Cisco WebEx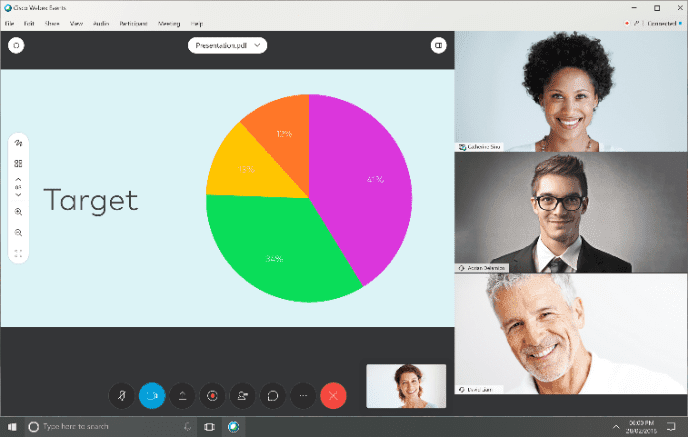 Cisco WebEx is an online meeting video conferencing app with a particular focus on team collaboration tools.
It offers a comprehensive free plan allowing up to 100 participants to meet without time limits as often as they'd like. The free plan also includes VoIP audio and dial-in access, whiteboard tools, instant and scheduled video meetings with Google and Microsoft calendar integrations, and host controls.
Additional WebEx features like virtual hand raising, meeting recording, chat messaging, availability status, meeting room locks, and searchable message history offer small businesses the opportunity to experience the level of service of a paid plan — for free.
WebEx has four additional paid plans, whose features include:
Alternate host assignment
24/7 customer support
Data/analytics reporting
Customized branding
Extended user management
Encrypted cloud meeting recordings
Signal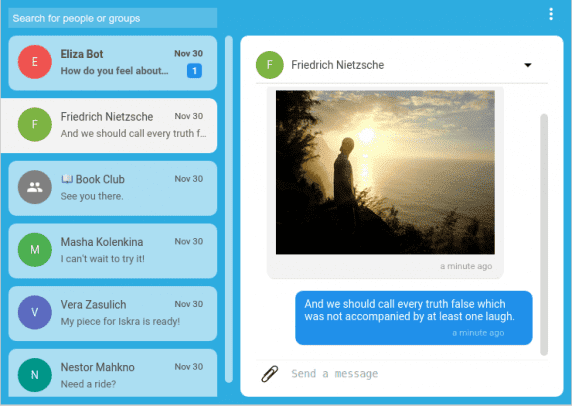 If privacy and security are your small business's top priorities, then Signal is the video calling tool to use. It's compatible with desktop and iOS Mac and Android mobile platforms.
It's an open source software that's completely free to use.
Signal positions itself first and foremost as an encryption tool, which means it doen't offer as many features as other tools discussed above.
Signal lacks screen sharing capabilities and in-app file editing, meaning it may not be an ideal fit or smaller businesses who are in constant collaboration-based communication. As of this writing, Signal only offers one-to-one video calls. But for more independent remote teams who value security or are legally required to abide by certain security/compliance standards, you can't do much better than Signal.
Its features include:
VoIP audio calling
Unlimited number of one-on-one video calls
No time limits on audio and video calls
End-to-end encryption
File, video, and image sharing
Chat/text messaging
Group chats
Stickers/emojis
Disappearing messages
Signal profile creation
Safety numbers
User blocking
PIN numbers
Which is the Best Zoom Alternative for Small Business?
The best Zoom alternatives for small business are WebEx, Signal, and Microsoft Teams depending on whether you prioritize cost, security, or features.
Below, we've outlined these three alternatives to Zoom according to the most important three factors: price, data privacy, and use case.
What is the Best Free Zoom Alternative?
WebEx's free version offers the most features out of any free plan we've featured here. It also gives a free month to month-to-month users and four months for free when users select an annual plan — meaning even its paid options offer top value.
Webex's free plan was recently updated to allow for up to 100 meeting participants and unlimited meeting length. Plus, active speaker view, instant and scheduled meetings, HD video conferencing, and an unlimited number of meetings are also included within the free plan.
This makes it the top choice for small businesses whose budget won't allow for a paid plan but still require a robust free web conferencing app.
What is the Most Secure Alternative to Zoom?
Small businesses with set compliance standards and that handle especially sensitive information should opt for Signal.
Not only does Signal end-to-end encrypt its messaging tools and data, it even integrates with GitHub so users can study the code to ensure privacy controls. Signal also provides "Safety Numbers," which authenticate and verify message and contact security.
Signal allows users to set up disappearing messages that expire after a set amount of time, offers view-once media, and doesn't collect or store user data. Because it's a non-profit platform and survives only off of user donations and grants, Signal also does not sell or share user data with advertisers.
Which Zoom Alternative is Right for Educators?
Though specific Zoom for educators software is an excellent fit for many within the teaching profession, many schools have banned the software over privacy concerns.
Microsoft Teams gets our vote as the best Zoom alternative for educators, especially since it gives teachers and students the software for free.
It lets teachers create and manage assignments, develop quizzes, share files and presentations with students, and offers an interactive whiteboard feature that will make students feel at home in a virtual classroom. Teams for Education also provides a Gradebook feature and even integrates with plagiarism checking apps. It also integrates with Moodle, BlackBoard, FlipGrid, and more teaching tools. Best of all, it offers teachers the flexibility to share both live and pre-recorded sessions with student — so they have plenty of time to grade and relax while students are learning.
Zoom Alternatives Won't Improve Team Collaboration Alone
Keeping your small business afloat during and beyond social distancing means you'll need more than just video communications software.
You need to consider additional communication tools like Web conferencing software services, chat messenger platforms, and webinar software.
The right team collaboration tools measure employee productivity, provide long-term project timelines, and let you prioritize tasks according to urgency.
Our detailed comparative tables provide a breakdown of pricing, features, and user feedback regarding today's top team collaboration software.