While a professional is never supposed to blame their tools, a strong performance requires the right hardware. Call center agents know that the wrong call center headsets have a drastic impact on a company's bottom line. For example, studies are showing that low sound quality impacts a speaker's credibility to listeners, which keeps some buyers from jumping to a BlueTooth headset from their current wired headsets.
Dropped calls, irate customers, and miscommunication aren't a problem for call center agents equipped with quality call center technology. The aim of call center headset reviews should be to inform consumers and businesses on the most important features before purchasing a headset. That's why we've created this breakdown of the top 10 headsets for 2020.
A Quick Comparison of the Best Call Center Headsets
| | | | | | |
| --- | --- | --- | --- | --- | --- |
| Headset | Noise-Canceling? | Bluetooth Enabled? | Range | Pros | Cons |
| Leitner LH270 | Yes | No | 350 ft | Five-year warranty | Tethered to base rather than phone or PC |
| Sennheiser CC 550 IP | Yes | N/A | 3.3 ft | Dual audio, comfortable | Short range of motion |
| Plantronics .Audio 628 | Yes | N/A | 6.5 ft | Hi-fi stereo | Less comfortable than pricier options |
| Jabra Biz 2400 II | Yes | N/A | 3.3 ft | Lightweight | Users report inferior noise-canceling to other models |
| Plantronics Voyager Focus UC B825 | Yes | Yes | 150 ft | Great for managing multiple conversations | Pricier than other options |
| VXi BlueParrott B350-XT | Yes | Yes | 66 ft | 500 hours of standby time | Short range for a wireless headset |
| Jabra Pro 930 MS Mono | Yes | No | 395 ft | Lightweight and comfortable | Users report a drop-off in battery life |
| Koss CS100 | Yes | N/A | 8 ft | Inexpensive, lightweight, comfortable | Low microphone gain |
| Plantronics CS540 | Yes | No | 350 ft | Great sound quality | Users report problems with earpiece fit |
| Jabra Evolve 75 Stereo UC | Yes | Yes | 100 ft | Unique "do not disturb" light | Users report discomfort with the design |
Here are the Best Call Center Headsets
#1 – Leitner LH270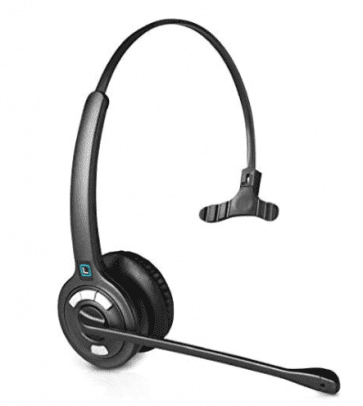 The Leitner LH270 just about has it all. This VoIP ready headset is compatible with virtually every office phone brand out there and features a 5-year replacement warranty that ensures battery life.
This mono headset features contoured leatherette cushioning and a flexible headband. Wearing this headset keeps agents focused on their job and not on chronic discomfort. The LH270 features dual-connectivity, allowing users to easily switch between VoIP and landlines.
#2 – Sennheiser CC 550 IP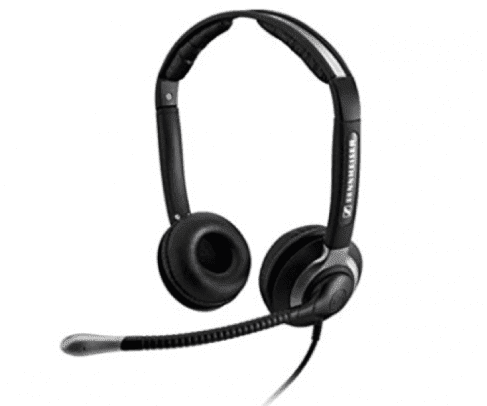 The Sennheiser CC 550 IP has been on the call center headset scene for a long time. Unlike most electronics, it has aged well and made it on to our list once again.
These Sennheiser series headsets use a USB connection and background noise cancelling to allow users to concentrate. Its noise reduction feature eliminates audio interference.
This is the only of the call center headsets in this list to protect from acoustic shock with its ActiveGard® technology. The extra-large earpads and headband padding will help make sure users are comfortable throughout the long workday.
#3 – Plantronics .Audio 628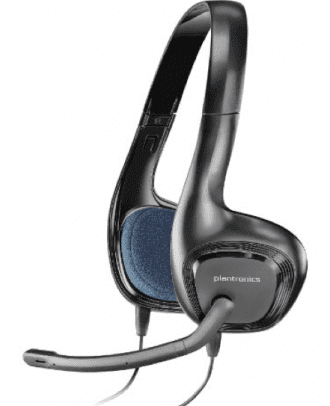 The Plantronics .Audio 628 headset is known for its clear sound and is certified for Skype use, allowing users to accept Skype softphone calls right from the headset. Its 24-bit hi-fi stereo sound is digitally equalized to enhance audio while making calls, acting as headphones for music or watching videos, during downtime of course.
This USB headset features buttons conveniently located on its wire for volume control and accepting calls. The Plantronics .Audio 628 headset utilizes digital signal processing to scrub static and eliminate echo.
#4 – Jabra Biz 2400 II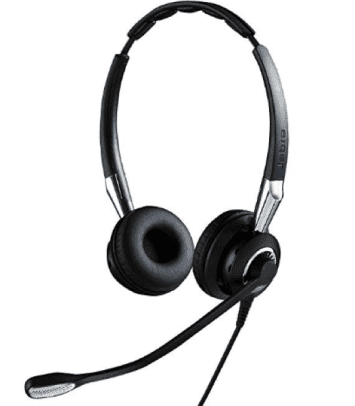 The Jabra Biz 2400 II is a lightweight headset that features a 360-degree flexible spin boom mic. It has been designed to work with most phone systems and has large cushions for extra comfort. Its noise-cancelling microphone is breath-resistant and eliminates background noise while delivering crystal clear audio to the caller on the other end.
While it is a corded headset, this may be an advantage for many as the durable, reinforced cable is unlikely to falter. A wired solution isn't perfect for every contact center but when looking for the right headset for voice clarity, this is one of the best headsets out there.
#5 – Plantronics Voyager Focus UC B825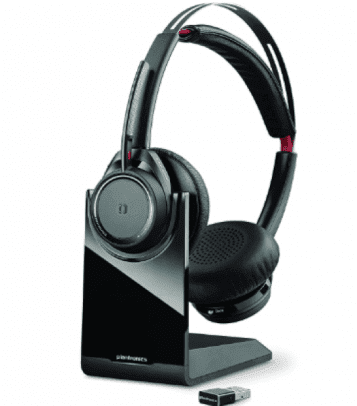 The Plantronics Voyager Focus UC B825 wireless headset features Bluetooth technology that has a roaming range of up to 250 feet for those who like to do a little pacing on phone calls. It was designed to sync easily with a cell phone and includes a conveniently located mute button to quickly silence a call.
This headset includes noise-canceling to eliminate outside distractions for users and delivers natural sounding voices to callers on the other end through its enhanced DSP triple microphone.
#6 – VXi BlueParrott B350-XT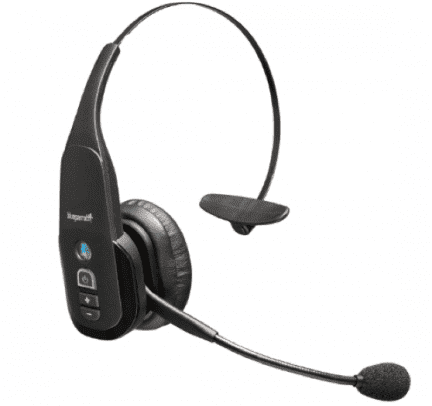 The VXi BlueParrott B350-XT uses a micro USB port for charging and features its own Blue Parrot smartphone app to easily program the device. The app is compatible with both Android and IOS and allows users to program its "Parrot" button to enact any feature the user wants.
VXi has designed this headset for those who may need to block out chatty coworkers as the company claims that the B350-XT blocks out 96 percent of outside noise.
#7 – Jabra Pro 930 MS Mono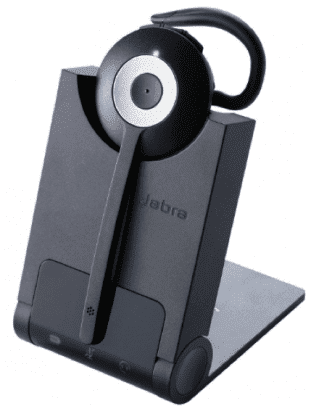 The Jabra Pro 930 MS Mono is with you for the long haul as it offers a wireless range of up to 395 feet. This headset features HD voice and noise cancellation to make sure communication between call center agents and customers is reliable and clear. While it doesn't have the binaural capabilities of other headsets, Jabra designed this device to protect users against random spikes in volume.
The Pro 930 is a plug and play device, allowing users to enjoy this headset right after unboxing.
#8  – Koss CS100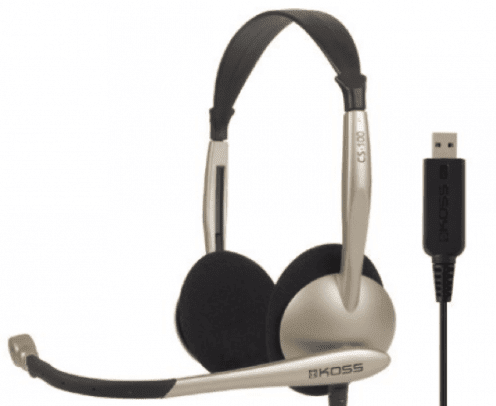 The Koss CS100 is also another classic that made our call center headset reviews. There are two versions, one that uses a 3.5mm plug and another that features a USB plug for just a few dollars more.
This is an inexpensive entry-level headset that still features soft ear cushions that rotate slightly to help tailor the fit to the user's preferences. Like other products on this list, the Koss CS100 features noise-canceling technology and clear audio quality. However, Koss stands apart from most other companies with its lifetime warranty.
#9 – Plantronics CS540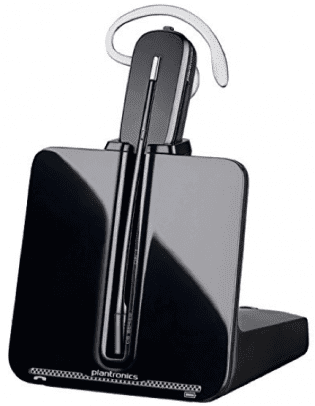 The Plantronics CS540 may be light in weight (lightest DECT headset available) but it is heavy with features. It was designed to eliminate Wi-Fi interference and to protect against audio spikes. Its DECT 6.0 technology allows users to roam up to 350 feet while maintaining clear high-quality sound for communication.
It connects to a desk phone and features up to 7 hours of talk time per charge. The CS540's extended noise-canceling microphone should improve call quality and handle active noise, perfect for a busy call center.
#10 – Jabra Evolve 75 Stereo UC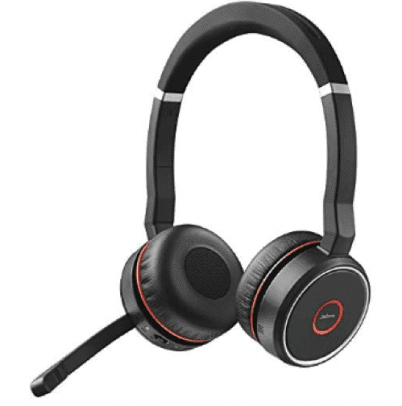 The Jabra Evolve 75 Stereo UC was designed to provide crystal-clear sound for voice delivery, audio from callers, and for listening to music. For those with coworkers who cannot take a hint, the Evolve 75 includes a "do not disturb" busy light to maintain call control over the task at hand.
Its dual Bluetooth connectivity allowing users to connect two devices at the same time. This allows for a seamless transition between listening to music and taking an important customer, vital to getting through the day wearing one of these call center headsets.
Disclosure – The GetVoIP team writes about stuff we hope you'll like and strives to offer the best recommendations we can. Our team has affiliate partnerships and may collect a referral commission from your purchase based on our recommendations. This does not influence the content we publish, but only supports our honest efforts to offer you the best and most transparent information. All recommendations are based on our independent research and hands-on experience.