Since the beginning of the Coronavirus pandemic, protecting your company's bottom line has likely become the focus of your operations. As of this writing, over half of small business owners say they can only afford to keep their businesses open without incoming revenue for a maximum of three months.
You need to cut corners wherever possible, and you'd prefer to do so on things like business communication tools or your physical office space as opposed to letting go of loyal longtime employees.
Now that you've transitioned to a remote workspace, it's time to transition to free video conferencing and team collaboration tools.
Is Skype your best web conferencing option, or are there free Skype alternatives that are better suited to the needs of your business and employees?
Should Your Company Use Skype for Business?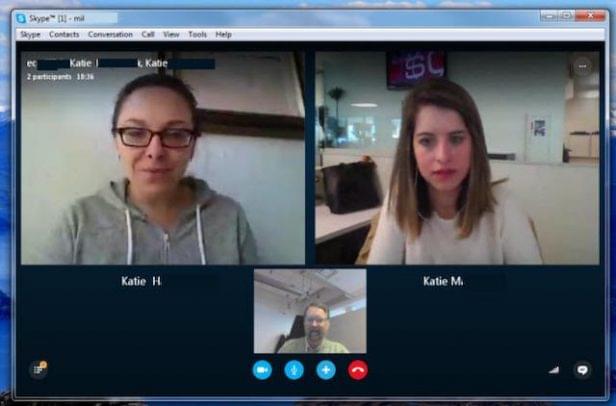 Skype has been around since 2003, meaning there's a good chance it was one of the first video chat tools you ever used (just like WhatsApp was probably one of your first instant messaging apps.) Although countless — and perhaps better — video conferencing software options have been released since then, Skype still boasts an impressive 300 million users per month.
Since Microsoft's 2011 Skype acquisition, the tool has expanded both the features it offers and the maximum numbers of attendees it allows for.
However, to drive more users towards its Microsoft Teams software, Microsoft plans to kill Skype for Business on July 31, 2021. For now, you can still download Skype for Business, but since Microsoft has already made Teams the default business tool on the Skype website, the process is much more cumbersome than in the past.
This means that, even if you're already using Skype for Business and satisfied with what it has to offer, you only have little over a year to decide which alternative to use.
Still, especially given the sudden rise in working from home thanks to social distancing and COVID-19, you may wish to rely on a video call tool that you have a bit of familiarity with — even if only for a little while.
Skype for Business Features
If it's been a few years since you used Skype in any capacity, it may be worth revisiting. The standard version of the popular video meeting tool isn't going anywhere, so depending on the needs and size of your business, you may find that its features provide you with everything you need.
In addition to being able to make both audio and video calls, Skype offers an instant messenger feature for both desktop and Apple iOS iPhone and Android smartphone users. It's also compatible with a wide variety of devices, including both Alexa and Xbox.
Its other features include:
A maximum of 50 people per call
Call recordings stored up to 30 days
Call subtitles
End-to-end encryption
Skype To Go international calling
Skype call forwarding to any phone
Searchable chat history
Background blurring
Screensharing
Free unlimited meetings
Skype local phone number
Location sharing
File sharing (up to 300MB)
Real-time translations
Microsoft Teams: Skype For Business Replacement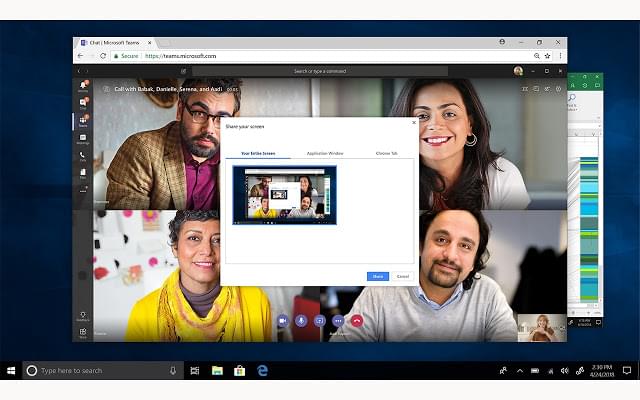 Microsoft Teams offers a free video conferencing plan for both accredited academic institutions and businesses. Note, however, that educators must provide a school email address for verification.
Teams' free business plan only requires you to provide an email address to create an account. Unlike many other free versions of team collaboration software, Teams doesn't place a limit on the number of users that can join your video or audio call. "Meet Now" meetings have an 8-hour maximum length, which hopefully gives you plenty of time.
However, note that the free plan does not include meeting recordings, nor does it allow you to schedule meetings in the app. Instead, you create a "team" to invite or just use Gmail to send the meeting link to allow others to join.
Other free Microsoft Teams features include:
Unlimited individual and group chat messages
Searchable chat history
Up to 10GB team file storage/sharing
Up to 2GB individual file storage/sharing
Integration with Microsoft 365
Screensharing
Background blurring
End-to-end encryption
In-app file editing
Microsoft Teams also offers two paid plans, Office 365 Business Essentials and Business Premium. Both options provide a larger amount of file storage, meeting scheduling and recording, and allow you to host online webinars and events with up to 10,000 participants. The paid plans also offer more user support, user reporting, and greater host controls.
Most businesses, however, will likely find that the free version of Microsoft Teams suits their remote work needs.
Top Skype for Business Alternatives
If Skype for Business doesn't offer enough of the features you need and if you're looking exclusively for free online meeting tools, you have plenty of other options.
Keep in mind that though all of the pieces of software listed below have free plans, many also offer paid plans that provide you with higher meeting caps and additional features.
GoToMeeting
GoToMeeting's free plan allows you to meet with up to 3 people simultaneously for a maximum of (like Zoom) 40 minutes on Windows or Mac desktop computers and mobile devices. It also includes VoIP audio, HD video, free in-meeting text chat, screen sharing features, and webcam support.
GoToMeeting's interface includes a helpful countdown clock at the top of your screen, so you can wrap up your meetings when you're close to the 40-minute maximum as opposed to getting abruptly kicked off of a group video call.
The free version of GoToMeeting, therefore, is probably best for businesses that primarily have one-to-one meetings. If your needs are greater than that, the free version of GoToMeeting does offer a free 14-day trial of GoToMeeting Business. This allows you to meet with a maximum of 250 people without any meeting time limits.
Paid GoToMeeting plans also include:
Internal and external business messaging
One-click "Meet Now" feature
Additional Screensharing features and controls
File sharing and annotation
Whiteboard features
Integration with Microsoft and Google Calendars
In-app meeting scheduling
Meeting recording and transcription
Meeting "Call Me" feature
Personal meeting rooms with customized URLs
Maximum of 25 simultaneous video screens
8×8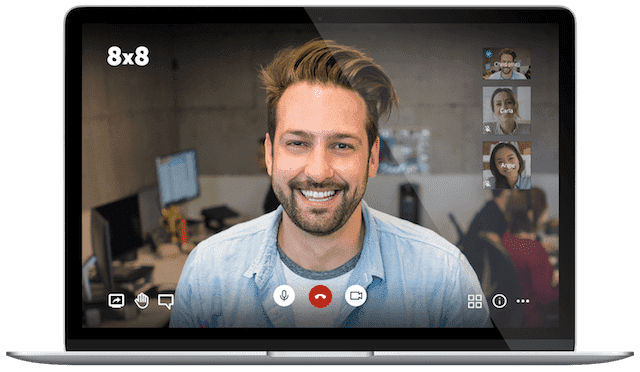 8×8's free online meeting tools include an unlimited number of audio and video conferences, an unlimited meeting length, and a maximum of 50 participants.
To sign up, just provide your email address and create a password — so it's ideal for those who focus on ease of use above all else. Every user has a URL and a unique meeting space.
You'll be able to schedule/sync your meetings using Office 365, Google Calendar, or simply through the app itself. The free version also includes virtual hand raising, meeting recordings, screen sharing, the ability to share files, chat messenger, and the option to password-protect your mobile or desktop meeting.
You can send your meeting's link to your team or take advantage of 8×8's free dial-in via a toll-free number. 8×8's free version even includes a view of your meeting history, so you can ensure that everything is still running as it should when your employees are working remotely.
Most companies will be able to get almost everything they need out of 8×8's free video conferencing software, as it is one of the most comprehensive options to date.
However, if you'd prefer to have a singular cloud communications solution for your phone system, video conference calls, and SMS messages, you may want to opt for one of their paid plans. 8×8 offers a free 30-day trial for their Express plan.
Zoom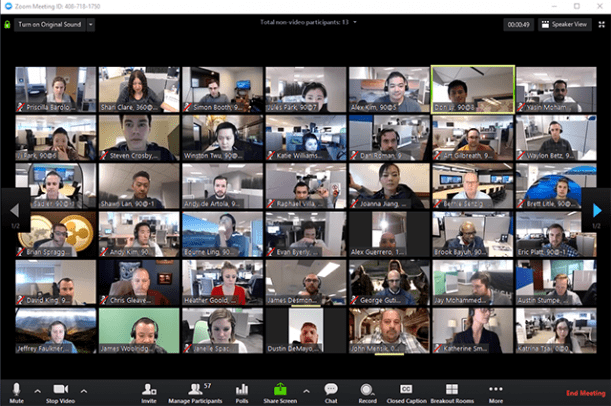 It's no secret that if any company is going to come out of Coronavirus on top, it's Zoom. By the end of February 2020, Zoom downloads had increased by 90% when compared to 2019. That number is still growing, sometimes faster than the company can keep up with.
Unfortunately, Zoombombing has become a major issue lately, as have concerns about the way Zoom protects user data. As a result, Zoom has now made password-protection and waiting rooms default settings.
Even with these issues, Zoom's free plan is one of the most comprehensive on the market — though users remain frustrated with the 40 minute meeting time limit.
The top free Zoom features include:
100 maximum meeting participants
Unlimited number of meetings
Whiteboard and annotation features
Active speaker view
Up to 25 simultaneous screen views
Superior social media integration
Dial-in meeting access
Virtual backgrounds
Screen sharing and file sharing
Breakout Rooms (separate participants into small groups)
Google calendar integration for scheduling
Chat messenger
Integration with Google Hangouts, Slack
Hand raising
Zoom's paid plans allow for a maximum of 1,000 meeting participants, meeting call recording and transcription, single sign-on, and extended user management and admin controls.
Cisco Webex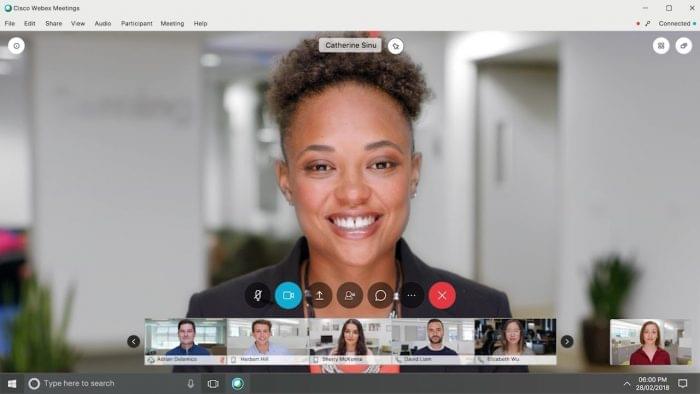 Cisco WebEx's recent additions to its free plan due to COVID-19 will likely result in many companies making the switch from Zoom.
It recently increased the maximum number of meeting participants from 50 to 100, got rid of its 40-minute time limit so users can enjoy unlimited meeting time, and now allows for users to have as many meetings as they'd like. It's also made audio call-ins free, and now offers whiteboard capabilities to those using a free plan.
In addition to these upgrades, Webex is offering a free four months of service with the purchase of any annual plan, and a free first month of service to paid monthly users.
WebEx's free features make it an ideal choice for larger companies or those who are a bit more detail-oriented.
Other WebEx video conferencing features include:
Active speaker view
Screensharing
File sharing
Integrations with G Suite, Office 365, Google Calendar, and Outlook Calendar
25 simultaneous video screens
Webpage sharing
"Meet Now" Feature
In-app scheduling
Polling
Hand raising
Q & A feature
Chat instant messaging
Default password-protected meetings
Excellent host controls
WebEx also offers several different paid plans, which allow you to record/transcribe meetings, assign alternate hosts, and meet with up to 200 people simultaneously.
Check out our post on Zoom vs Webex to see a detailed comparison between these two video conferencing platforms.
Jitsi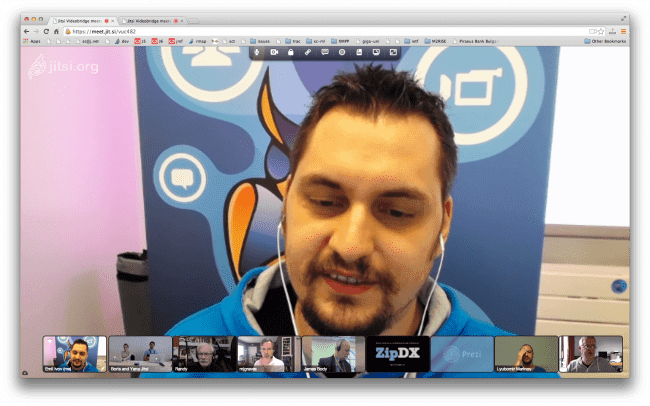 If security and keeping the trolls out of your video conference is your biggest concern, then Jitsi may be the most suitable free Skype alternative for your business. You don't need to provide your email address or even create an account to start a Jitsi video call.
Jitsi is an open-source software, somewhat like Linux. This means you can customize and tweak the tool to perfectly suit your company's needs.
You can share your meeting link directly with other users, or provide a dial-in telephone number with a PIN for added security.
Password-protected meetings
Muting/unmuting meeting participants
Office 365/Google Calendar integration
Virtual hand raising
Share entire screen, single application, or Chrome tab
Chat messaging
Jitsi meet app
Livestream meetings
Meeting recordings
Background blurring
Speaker statistics
No meeting time limits
File sharing/editing
Individual meeting URLs
End-to-end encryption
Comparison Table of Popular Video Conferencing Tools
| | | | | | | | |
| --- | --- | --- | --- | --- | --- | --- | --- |
| | Skype | Microsoft Teams | GoToMeeting | 8×8 | Zoom | Webex | Jitsi |
| Meeting Time Limit | Unlimited audio, 10 hours daily maximum video | 8 hours | 40 minutes | unlimited | 40 minutes | unlimited | unlimited |
| Maximum. number of meeting participants | 50 | unlimited | 3 | 50 | 100 | 100 | None listed |
| Screensharing and file sharing | yes | yes | yes | yes | yes | yes | yes |
| Meeting Recording | yes | no | no | yes | no | no | yes |
| Mobile Apps and Desktop Versions | yes | yes | yes | yes | yes | yes | yes |
| Password Protected Meetings | No, but meeting lock | No, but can disable anonymous users | yes | yes | yes | yes | yes |
| Paid Plans Include | Skype phone number, unlimited calls to landlines | Larger meeting cap, more file storage, meeting recordings | Unlimited meeting time, higher meeting cap | Unified communications solution | | | Jitsi is a completely free, customizable open-source software |
Skype for Business Alternatives Keep You Ahead as Others Fall Behind
You don't have to keep using a business video calling tool that even the company owning it believes is obsolete, and you shouldn't have to pay to be able to maintain face-to-face team communication in the time of COVID-19.
Don't just default to using a collaboration tool that Microsoft has chosen for your company, and keep in mind that just because everyone else is using Zoom doesn't make it right for your business — or even for their own.
Once you've chosen your video calling tool, think about the other ways you can streamline the rest of your team collaboration software and task management tools.  While other businesses may fall behind during this period of uncertainty, with the right tools, you can not only save your business, but also drastically improve it.