About 80% of companies currently use social communication tools to ensure that both remote and in-house team members stay connected.
You've likely heard of more popular communication tools like Slack. However, many teams feel they've either outgrown Slack or that it didn't have the features to meet their needs in the first place.
Company leaders didn't just need to talk to their team members via text chat or phone: they needed to be able to host frequent efficient meetings with them — preferably, face-to-face meetings. They also needed to be able to share, edit, make notes on, and update files in real-time during those meetings.
Especially since remote work has been steadily on the rise (up 44% in the last five years alone) meeting tools that allow team members to connect from anywhere, at any time are invaluable.
Here, we'll compare two of the more robust meeting tools on the market today: Zoom and Webex.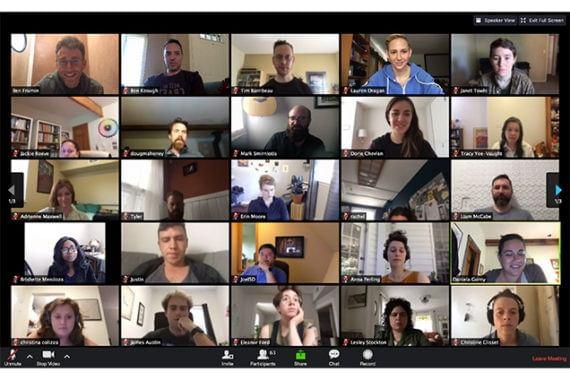 Since its 2011 founding, Zoom has quickly become serious competition for other team collaboration tools — especially when it comes to video conferencing software. In the past year alone, Zoom has grown by nearly 120%.
Let's take a look at what makes it such a popular web conference service provider and explore the features that set Zoom apart from the rest.
Video Conferencing
Zoom's incredible video conferencing platform is far and away the best thing about it.
When using Zoom to join any type of HD video conference (one-on-one online meetings, larger team meetings, trainings, or even video webinars) users can access Zoom from their PC, Mac, or mobile device. Zoom also offers advanced screen sharing features that allow you to share either your entire desktop or only specific applications and files with everyone on the video call.
In addition to sharing documents, Zoom also gives you the chance to see up to 49 of your team members face-to-face simultaneously on your screen. This means everyone truly feels like they're in the same room, even if they're connecting from across different time zones and a variety of devices.
Scheduling A Meeting
To schedule a meeting, hosts can send an email with a link to a virtual meeting room to anyone their team needs to connect with, whether or not they have Zoom installed. Those users without Zoom will be immediately redirected to a download page. Hosts can also send a meeting ID to attendees, who then simply enter that ID on this page of the Zoom website to join the meeting.
Additionally, scheduling a Zoom meeting is possible in Outlook and Google Calendar on both desktop and in the mobile app.
Hosts can also choose to schedule a one-time meeting or a recurring one.
Joining a Meeting
Joining a Zoom meeting or call is refreshingly simple.
Click on the link the host emailed you or enter the meeting's ID code into the app or website, and you're in.
If the host of the meeting hasn't started it yet, you and other meeting participants will be held in a virtual "waiting room" until things begin. When the meeting starts, you'll be asked to enable audio and/or video capabilities for your screen.
During the Meeting
While in a video meeting, everyone (not just the host) will have the option to share their screen, upload files, and add notes to the files being discussed. In addition to adding notes on the files themselves, users may also make notes or strategize about a project using the whiteboard feature.
Private and group text chat features are still available during the meeting, so you can quickly ask another team member a question or, share an idea.
Team members can also choose a visible background screen for their video call. This way, no one needs to know about your messy home office or get distracted by whatever's happening in the background of the cafe you're working in for the day.
Other popular video calling features include:
Virtual hand-raising feature
Password-protected meetings
Ability to live stream Zoom video meetings on YouTube
Video/Audio recordings of meetings
Searchable transcripts of recorded meetings
Mute/Unmute yourself during a meeting
Anonymous polling options
Closed captioning during meetings
Breakout Rooms
Zoom also allows you to create "Breakout Rooms" while in a video conference.
Hosts can break up meeting participants into a maximum of 50 different "small groups," to go over specific tasks, brainstorm a topic, discuss a project, etc. Hosts will be able to manually choose who goes in which room or can randomly assign groups.
Once the Breakout Room meetings are over, participants will be automatically transferred back into the entire group meeting. This way, there is no need to sign into the meeting a second time.
Zoom Rooms

In addition to standard video meetings and Breakout Rooms,  Zoom Rooms outfitted with Zoom's best video conferencing equipment take the place of traditional conference rooms.
Instead of having to waste time setting up hardware before each meeting, having a Zoom Room means you have a physical conference room in your office that is permanently outfitted with Zoom's video and audio equipment.
You'll now have a dedicated meeting space every time you and large numbers of team members need to make a conference call. Zoom rooms are especially helpful if you and your team/board need to connect with another branch or another company.
This way, you'll be able to get everyone in the Zoom Room on a single screen and connect with other Zoom Rooms to collaborate with those outside of your office in a much simpler way. Zoom rooms are $49/month, per room, with a free 30-day trial.
Zoom Webinars
Internal company meetings and training videos are essential — but what if you want to share information about your company or products externally, with those you don't work with? That's when you want to create a webinar that can be shared across the globe.
Zoom's webinar feature makes it possible for you to broadcast a seminar/event/panel to up to 10,000 people in a view-only setting. You'll be able to share slides and files with viewers, and they can ask you or other attendees questions using the chat tool during the event.
If you're hosting multiple panelists, you can easily label them, giving them the chance to speak and share documents during the event. There is a maximum of 100 panelists per webinar.
Zoom even makes registration for an upcoming webinar easy, allowing you to either manually or automatically approve registrations. Their solution is competitive with the top webinar software on the market.
Zoom Phone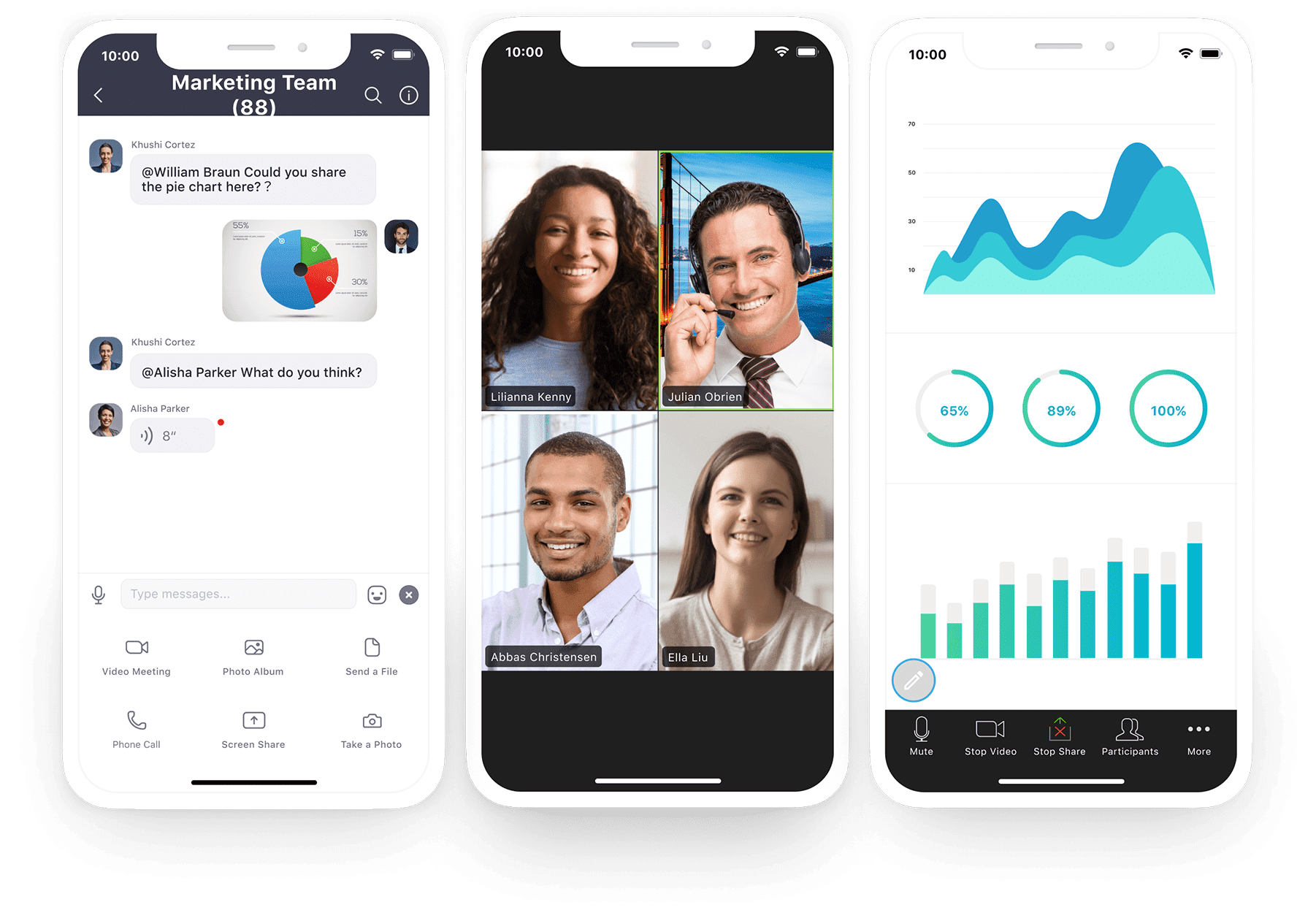 Zoom Voice has recently rolled out its own enterprise cloud-based secure phone system that works to streamline communication. The system's centralized management means it's easy for admins to listen in on business phone calls and other interactions.  It works seamlessly with Zoom's desktop program and mobile app, meaning that you'll still be able to share and view content while making a phone call on your Zoom Phone. Plus, you can always transition directly into a Zoom meeting if needed.
Standard phone features include:
Call forwarding
Call recording
Call blocking
Voicemail transcription
Automated Assistance
Integration with Salesforce, Google G-Suite, Microsoft Office 365
Ability to monitor calls in real-time
Zoom Integration

Zoom supports and integrates with:
Slack
Okta
HipChat
Skype for Business
Outlook
Google Chrome/Calendar
Firefox
Google Drive/Dropbox
For more information about Zoom integrations, click here.
Zoom Pricing and Plans
Free Version
Pro Plan
Business Plan
Enterprise Plan
Free
$14.99/month per host
$19.99/month per host
$19.99/mont per host

Unlimited one-to-one meetings

40 minute limit on Group calls
Maximum 100 participants per meeting

Unlimited number of group and one-on-one meetings
24 hour limit on all meetings
Maximum 100 participants per meeting, can upgrade to 1,000

Automatic Meeting Transcripts
Maximum 300 participants per meeting, can upgrade to 1,000
Ability to add your branding to the dashboard
Custom Zoom URL and managed domains

Maximum 500 participants, can upgrade to 1,000f
Unlimited cloud storage
Dedicated customer service representative
Business Reviews Feature

Basic Video Conferencing, Web Conferencing, and Group Collaboration Features
Available Add-ons include Zoom Rooms, Webinar Features, Extra Cloud Storage
Available Add-ons include Zoom Rooms, Webinar Features, Extra Cloud Storage
Available Add-ons include Zoom Rooms, Webinar Features, Extra Cloud Storage
Zoom User Experience: The Pros and Cons
After reading numerous reviews of Zoom, we've compiled a list of the most consistent pros and cons below.
Pros
Highly user-friendly
Excellent video and audio quality
Freezing, glitching, jitter and latency in calls are rare
Scalable according to the current phase of business
Ability to host a larger number of attendees
Meeting recordings often edited/turned into future training materials
Cons
Too many people on a single screen can be highly distracting
Free version abruptly ends video meeting at 40 minutes, causing sudden ends to meetings
No attendee screen sharing control means doodles and private notes could be accidentally displayed to all meeting attendees
Somewhat expensive, forced to upgrade to a paid plan to create a Zoom Room and pay for licenses on top of that
Overall Zoom User Impressions
We get a strong sense that, simply put, people like using Zoom.
Many claim it's much more intuitive and reliable than their previous communication tools and the other options currently out there. Zoom offers features that more basic tools like Slack don't, which users feel cuts down on the need to use multiple software/tools. Plus, users consistently mention that its video conferencing options make teams feel much more connected, improve productivity, and boost morale in the work environment.
Zoom reports that over 90% of Zoom users saw more productivity and a higher level of engagement after making the switch.
Who Should Use Zoom?
Zoom is best for companies and teams who:
Have international or remote team members and customers
Need to scale their web conferencing tools/don't want to pay for features they don't yet need
Frequently host not just meetings, but webinars
Must often schedule immediate/unscheduled meetings due to unexpected/emergency circumstances
Don't consider themselves or their employees to be "tech people"
Want to stop using multiple screens in meetings (ie. one for files, one for video stream)
Need to combine their communication tools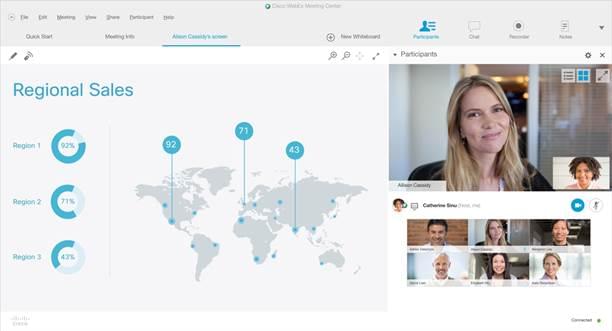 Since Cisco acquired Webex in 2007 (for a cool $3.2 billion) it has consistently been adding new features and frequently updating its interface to keep pace with other communication tools.
Webex bills itself as a "video-first" meeting tool. Here, we have the breakdown of what is Webex and how their features differ from Zoom.
Webex Meetings (Video Conferencing)
On the surface, you'll notice quite a few similarities between Webex and Zoom.
Like Zoom, Cisco Webex allows users to join a meeting on desktops, Android, or iPhones, and offers excellent HD audio and video quality. You're able to record meetings and even have whiteboard capabilities that are nearly identical to those offered by Zoom. You're also able to share screens — though here, with up to a maximum of 25 people.
However, unlike Zoom, Webex allows you to customize your preferred video layout — meaning that you can choose not to see all of your coworkers in numerous video feeds across your screen. Though Zoom also provides users with a list of meeting attendees, Webex takes things a step further.
In addition to simply the names and photos of other people in the virtual meeting room with you, Webex offers users the chance to create more thorough profiles through their People Insights feature. Users can learn more about other peoples' professional roles, history with the company, background, and more. Webex's People Insight tool also has facial recognition.
While Zoom also offers transcriptions of meetings and video recordings, Webex immediately emails these transcripts/recordings out to everyone who attended the meeting after it ends.
Scheduling Meetings
You can schedule Webex meetings from the homepage of your Webex dashboard by clicking the "Schedule a Meeting" button. You can then set the meeting name, a password if needed, the date and time, and make a list of attendees.
Like Zoom, you also have the option to set up a recurring meeting.
Additionally, you can schedule meetings in Outlook.
Joining Meetings
Webex's Productivity Toolbar allows users to schedule, join, or start a meeting in the tool itself, meaning there's no need to go back through your email to find a link or ID code.
You'll get notifications starting up to 15 minutes before the meeting starts, reminding you to join. Once it's time for the meeting, a button reading "Join" will pop up in your toolbar. Just click it and you're in.
Webex also makes joining a meeting easy with the "Call Me" Feature. You'll receive a direct call to the number/device of your choice when it's time for a meeting to start. The moment you answer, you're immediately placed into the meeting and able to instantly turn on audio/video capabilities. No security codes or extra buttons to press.
If you simply prefer to send meetings via a link in an email, or if you want your meeting to have an ID code, that is still possible in Webex.
During the Meeting
During the meeting, you'll enjoy many of the same options in Webex as you would with Zoom. This includes screen sharing, whiteboard capabilities, and the ability to chat publicly or privately with other meeting attendees during a video conference,
Especially if you and your team members often work in urban areas/loud settings, you'll enjoy Webex's Noise Detection and Suppression feature. It helps you to cut down on distractions like sirens, barking dogs, and even keyboard clicking.
Other popular video conferencing features include:
Ability to share the entire desktop screen or a single app
"Meet Now" feature allows anyone to immediately transition to a conference/video call from a text-based chat
Attention Indicator Tool
A "Call Me Back" feature
Ability to take attendance
Polling
Virtual hand raising
Webex Teams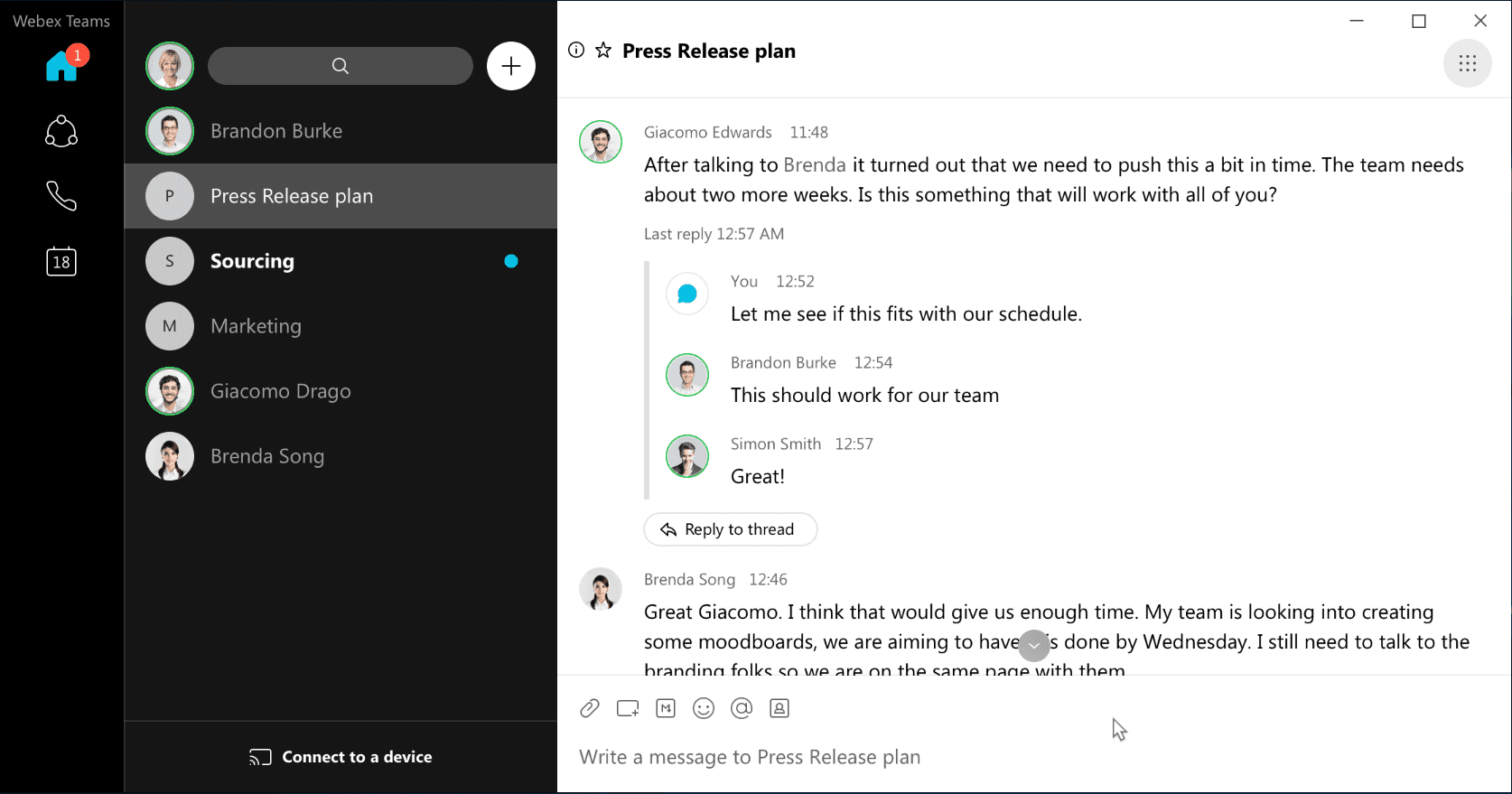 Though there are some differences, Webex Teams and Zoom Rooms essentially aim to accomplish the same things. Webex Teams functions much like the physical "conference room" space of Zoom Rooms. You'll set up your office's Webex team room in the space of your choosing, using Webex hardware and equipment. This makes it easier for you and your team to have a video conference with another office's entire team.
However, unlike Zoom, anyone can host a Webex Teams meeting. Anytime you or another member of the team has an urgent matter that requires a company-wide internal or external meeting, there's no need to wait for the approved admins or hosts to begin the Webex Teams meeting.
You can still meet with other Webex users, which is ideal, again, for companies with multiple branches or those who frequently work with other businesses.
When it comes to physical equipment for your Webex Teams space, there is a bit more to choose from than there is with Zoom. In addition to the standard projector, you can also choose special desktop devices, a large, all-in-one whiteboard, or even smaller screens on stands. For highly visual teams, this flexibility is a bonus.
Documents with Microsoft OneDrive and SharePoint can be edited by anyone in Webex, so there's no need to open up multiple apps. Best of all, if anyone's device is ever lost/stolen, Admin can wipe all of the data off the device remotely.
Webex Webinars
Though Webex and Zoom have similar webinar features, if you need more help both planning your webinar and conduction follow-up research, you may get more of what Webex has to offer.
Webex can send discounts to potential attendees, track leads, and can then integrate these leads into your marketing plan. Through Webex, you can send out customizable webinar invitations and automated reminders. Webex even has a virtual private room where speakers can "practice" beforehand.
What differentiates Webex webinars from Zoom webinars is that, with Webex, you'll get real-time analytics about webinar registration, participation/attention, attendance, and more.
This is an especially helpful way to evaluate whether or not these webinars are helpful to your company, as well as provide you with insights into your customers, target market, and team members.
Webex Cloud Calling
Even if you and the rest of your team loves the transparency of video calls, sometimes, you still want to be able to use your office phone system to make a standard telephone call.
Webex's Cloud Calling solution provides your team with the several Cisco IP hardware options to choose from, including phones with built-in video screens. Webex Cloud Calling also provides:
Call holding
Call forwarding
Do not disturb feature
Call transfer
Group phone lines
Possibility of adding virtual receptionist
Webex Integration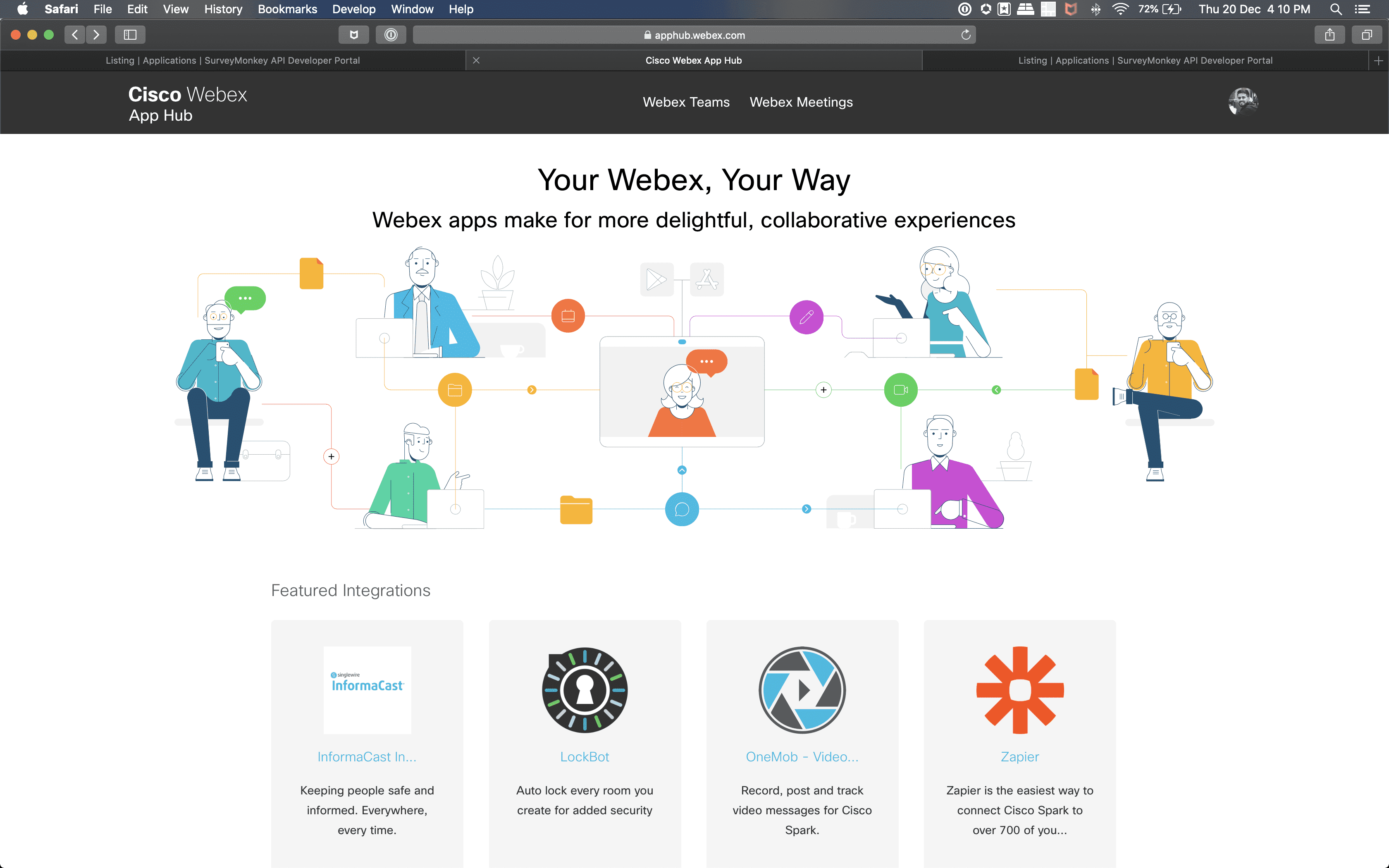 Webex supports and integrates with:
Gmail/Outlook
Google Drive
Salesforce
Office365
Github
Slack
Google Calendar
SharePoint
Trello
For more information about Webex integrations, click here.
Webex Pricing and Plans
Free Plan
Starter Plan
Plus Plan
Business Plan
Free
$13.50/month per host
$17.95/month per host
$26.95/month per host

Unlimited meeting time/number of meetings
Maximum 100 participants
Mobile App

Unlimited meeting time/number of meetings
Maximum 50 participants
File and Application Sharing
Transcripts of Recordings
1 GB cloud storage

Up to 100 participants, can assign alternate hosts
Other people can schedule meetings
24/7 customer support
Your own Webex site URL

Up to 200 participants, can assign alternate hosts
10 GB Cloud Storage
Branding options available

Basic Video Conferencing and Team Collaboration Features
Basic Video Conferencing and Team Collaboration Features
Available add-on: "Call Me" International or Domestic Feature
Available add-on: "Call Me" International or Domestic Feature
Webex User Experience: The Pros and Cons
After reading numerous reviews of Webex, we've compiled a list of the most consistent pros and cons below.
Pros
High-quality audio
Easy to join a meeting with a one-touch button
Can make/receive landline and/or Internet calls
More affordable plans offer access to more features
Cons
Frequent platform integration/compatibility issues
No toll-free dial-in numbers
Consistent issues with lagging/glitches when screen sharing
Desktop version stronger than app
Have to pay extra for the "Call Me" feature
Problems with Webex User Support/slow customer service
Overall Webex User Impressions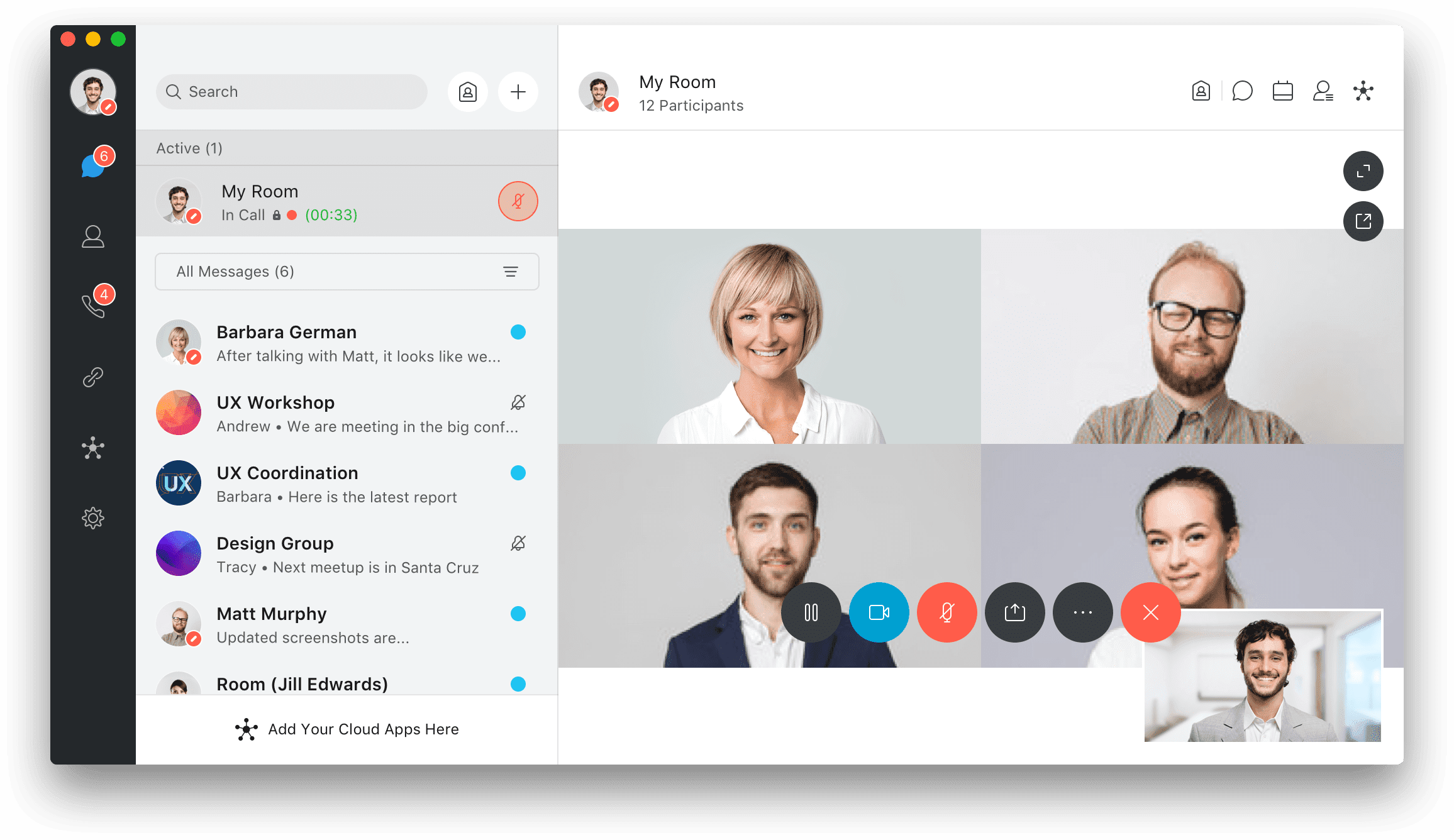 On the whole, although Webex has a few more features than Zoom, the technical issues that users consistently bring up when discussing Webex are a real problem. Additionally, users cite Cisco's frequent updates/changes to the platform as confusing — almost as soon as they learn how to work one upgrade, another one is implemented, throwing them off again. That being said, Webex's free plan has much more to offer than Zoom's does. Additionally, Webex offers user and webinar attendee analytics that Zoom does not. Webex states that over 80% of their users have reported both shorter and more efficient meetings and stronger team collaboration.
Who Should Use Webex?
We've found that the companies and teams who see the most success with Zoom:
Need something similar comparable to GoToMeeting plans and pricing
Rely heavily on Outlook
Need real-time analytics regarding Webex use (for reporting, evaluations, marketing information, etc.)
Don't need all the features of a paid plan, but do need to have longer meetings
Frequently host or perhaps even sell webinars
Zoom Vs Webex: Which is Better?
If you're a young or small business without a lot of capital, the free version of Webex is likely a better option for you. However, be aware that you won't be able to enjoy as many integrations with other apps/tools you've been using as you would with a paid plan or Zoom.
We feel that Webex is the best option to integrate with enterprise VoIP solutions, especially when it comes to webcast features.
However, the reality is that the majority of companies just don't need all those features Webex offers. Instead, they'd much rather have the reliability, clear video/audio, and better technical performance of Zoom — even if they have to pay for it.
In the end, you need to evaluate and discuss with your team whether they'd rather have more features with more glitches, (Webex) or fewer features with fewer glitches (Zoom.) If your primary focus is ease of use, we'd suggest opting for Zoom. However, if your team is more tech-savvy, then consider Webex.
If you feel that neither Webex nor Zoom is a good fit for your team, don't worry.
We've compiled in-depth user reviews and insights on the top web conferencing products to offer a look at what enterprise solutions are most reliable.