Though PanTerra may sound somewhat like the metal band from the 80s, this cloud service provider has been making waves in the cloud PBX and unified communications field for many years. The company is located in Santa Clara, CA, and the PanTerra Streams service is their flagship offering for businesses of any size or scale.
Most PanTerra Networks reviews agree that this solution is a great all-in-one product that allows teams to work more collaboratively.
What is PanTerra Networks?
PanTerra Networks is an enterprise VoIP vendor that has created software to streamline business communication practices. The company provides team messaging, and its PanTerra Streams platform can even be used for contact center operations. Their Stream platform is entirely cloud-based and provides multiple features that are designed to increase productivity.
Their UCaaS solutions have provided such reliable service that PanTerra has won multiple awards.
For example, the Stream service provides team messaging, video conferencing, cloud PBX, and multi-device support. The PanTerra Networks file sharing feature is also very useful as files can be synced across devices, including iOS and Android phones.
PanTerra Networks Plans and Pricing
PanTerra Networks offers a business phone plan at pricing tiers aimed toward a variety of organizations from small businesses looking to unify communications to larger contact center-based companies. PanTerra offers a free trial, and if an organization doesn't like the service, there's also a 30-day money-back guarantee.
| | | | | |
| --- | --- | --- | --- | --- |
| Plans | Business Basic | Business Plus | Professional | Call Center |
| Outbound Calling | Unlimited | Unlimited | Unlimited | Unlimited |
| Softphone Integration | Yes | Yes | Yes | Yes |
| Outlook Integration | Yes | Yes | Yes | Yes |
| SmartBox | 2 GB of Storage | 2 GB of Storage | Unlimited | Unlimited |
| SMS Messaging | No | Yes | Yes | Yes |
| Unlimited Conferencing | No | Yes | Yes | Yes |
| Auto Attendants | No | Four Levels | Unlimited | Unlimited |
| Screenshare | No | Yes | Yes | Yes |
| Digital Fax | No | No | 100 per month | Unlimited |
| Unlimited Call Queues | No | No | No | Yes |
| Supervisory Monitoring | No | No | Yes | Yes |
With Business Basic, organizations get voicemail, outlook integration, integrated smartphone, and unlimited outbound calling. Despite being the initial plan, this is a very competitive features list.
At the top end of the spectrum, the Call Center plan ratchets up the offerings and includes features like lifetime analytics, detailed reporting, online fax, and Skype for Business International.
All of the available plans include unlimited outbound calling, iOS, and Android mobile integration, call recording, and voicemail to go along with other phone services. In addition, the setup for each of these plans is simple and quick, and PanTerra Networks even makes migration a one-day affair.
Downtime always means loss of revenue, so organizations depend on reliability. PanTerra Networks has a 99.999 percent uptime reliability promise, which is based on the average availability of the service.
PanTerra Streams for Unified Communications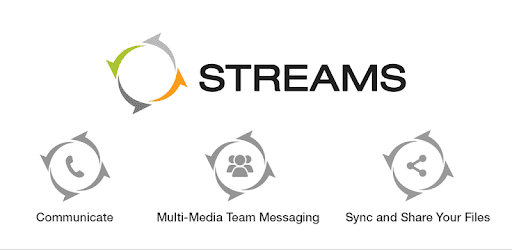 PanTerra Streams is the solution offered by the company to help streamline the communications experience for organizations. In many cases, many offices utilize multiple service providers like Slack, Zoom, Dropbox, and Google Docs to complete a wide variety of processes. In most cases, these don't integrate very well with each other, which feels disjointed.
PanTerra Streams is designed to bring all of this functionality into a single software solution, and all of these functionalities like office collaboration and chat, file storage, and web conferencing can be accessed via a single interface. Streams is PanTerra's attempt to help users "work their way," and it does offer some agile solutions to help augment unified communications, file sharing, and team collaboration.
File Sharing
At any point, the software will allow users to send content via a robust file sharing feature. With this feature, images, text, or videos can be sent securely. The file-sharing utility is called SmartBox, and it's available on iOS and Android mobile devices through dedicated applications. Smartbox has two gigabytes of storage for the Business Basic and Business Plus plans but provides unlimited storage for Professional and Call Center.
PanTerra Streams is HIPAA/HITECH-compliant, so essential customer data and confidential information will be encrypted as they are sent. Encryption happens at both the at-rest and in-transit points with automatic file sync, so there's coverage at all times. Individual files or folders can be sent this way, which is useful for those sending larger packets. All files can also be sent across devices with sync & share capabilities, so when users are out working remotely, work can still get done in real-time.
Collaboration Via Team Messaging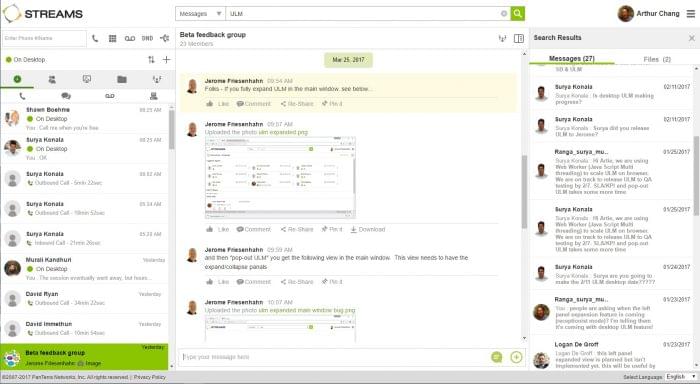 Teams need to communicate, and PanTerra Networks' team messaging features are robust enough to provide teams with several tools to aid in collaboration. For example, if the team is separated by vast geographical distances, there are tools for supporting real-time and time-shifted communications.
Integrated PBX
Streams has a built-in PBX that is designed to support IP phones (including Cisco phones), softphones, conference phones, and mobile devices. The streams interface places all of this functionality right at the top of the UI, and from this section, users can access voicemail, set DND status, or route calls to any device. In fact, even active calls can be rerouted to any device without the need to redial.
The softphone functionality also works on desktops, mobile devices, and IP phones, so getting an office set up is simple.
HD Conferencing
If a user wants to switch from a text-based session to an audio or video conference, the software allows them to do this using a single click. The option is backed by PanTerra's "ConnectMe" service, and the streams that result have both HD audio and video. The software has Outlook integration for easy calendar functionality.
Screen sharing is another on-click function that PanTerra provides offering meeting collaboration tools for team members to share their work and decks.
Call Recording
All tiers of PanTerra Stream come with call recording. For both your teams and your call centers, call recording is valuable for ensuring compliance, note-taking, and for training purposes.
By default, PanTerra Stream comes with one gigabyte of storage space, which will provide 277 hours of audio. For about $4.95 per gigabyte, per month, users can upgrade so that they can have the call recording storage amount that they need.
Voicemail
Via Streams, users can access voicemail quickly in the interface, and voicemail storage is unlimited. With an add-on feature, PanTerra also offers the ability to have voicemails transcribed. This is useful for those that want to send voicemails via email.
PanTerra Call Center Support
Phone-based sales are a significant contributor to many organization's profits, so having an enterprise VoIP provider that offers a fully-integrated call center is beneficial. PanTerra has this feature in its most advanced plan, and with its contact center software, multiple features can help a company compete.
Queuing Tools
As you know from the article we published on call priority queuing, having an agile system to manage multiple calls is crucial. PanTerra's call center software provides advanced queuing functionality that will use sophisticated algorithms to ensure that calls are routed intelligently. There are even features for customer callback, so a customer can spend less time waiting for an agent to handle their needs.
Tools to Improve Service Level
When running a contact center, managers are required to monitor calls as a coaching tool to improve agent performance. This feature is critical for enhancing the rate of reach outs as well as the customer service experience. PanTerra's call center technology includes both supervisory modes that are very useful for this.
With the supervisory features, managers use silent listening to hear what's happening on a call. With this information, the managers will determine if the customer service experience is up to par and information about average handle time, and after-call work time will also be available.
Is something going wrong on a call? PanTerra has a barge-in feature that will allow supervisors to directly address the customer, which will change a refusal to a conversion.
PanTerra Networks also offers sophisticated monitoring tools with real-time notifications on agent performance. This tech won't require managers to listen in on every call, because  SLA/API monitoring provides information about error rate, downtime, and maintenance issues so that stakeholders can be sure that they are getting value.
Actionable Analytics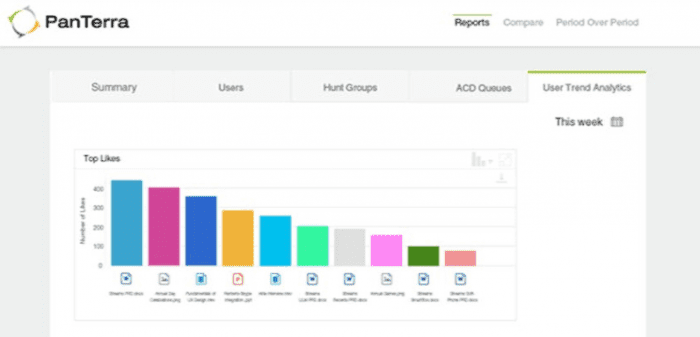 Clear and actionable analytics have become incredibly vital, especially in the age of CRM and marketing automation solutions like Salesforce, Hubspot, Zoho, and other cloud CRM solutions. PanTerra has a very robust API that will interface with just about any CRM or web-based database to gather analytics data.
In addition to this, its built-in SLA/KPI metrics system has over 100 customizable data points that can help your team perform more efficiently. For example, the summary page has information about the number of calls, total talk time, average talk time, and outbound canceled calls. There are even graphs that detail information for users to take their business analytics to the next level.
Hardware as a Service With PanTerra
One of the biggest barriers to entry for small- to mid-sized organizations is the lack of hardware to support a fully VoIP-enabled business setup. Fortunately, PanTerra can help mid-market enterprises bridge this gap via their hardware as a service (HaaS) offerings.
With PanTerra's offering, new customers will be able to rent any of the equipment required for Streams. PanTerra's partner, Yealink, furnishes this hardware. Yealink is a global brand that manufactures unified communication (UC) terminals, IP phones, and video conferencing hardware. As part of their HaaS service offering, customers of PanTerra can upgrade the equipment every year to take advantage of technology advancements and upgraded hardware.
For all orders, PanTerra does have a five-phone minimum. The base price is $24.95 per month, per user. There is also an option PanTerra is providing that offers free phones. With this program, the pricing is dropped down to $19.95 per month, per user. The HD IP phone provided by the company is the Yealink T42S, which is a great piece of hardware for a new business's phone system.
This is an excellent way for companies without the budget for purchasing VoIP hardware to still have the ability to compete with larger enterprise integration efforts. Yealink's hardware is known for its excellent features and having a leading provider offer an option for HaaS can make the decision to go with PanTerra an easy one.
PanTerra UCaaS Allows for Agile Collaboration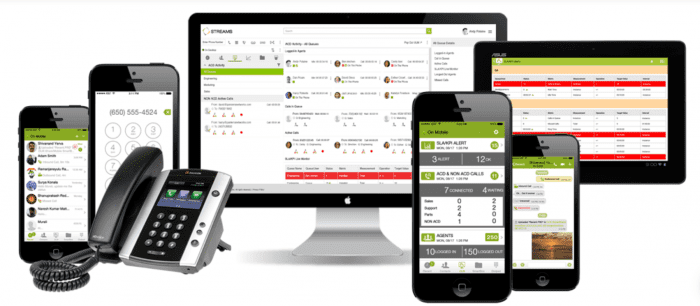 PanTerra, with their Streams offering for unified communications, can provide organizations with a quality, cloud UC system that is agile. Still, with the features taken into account, let's take a look at some of the solution's key benefits.
Easier Implementation
With PanTerra's partnership with Yealink, it's straightforward for companies to get set up and ready to go with Streams. The software itself is also easy to implement on a company-sized scale, and once it's installed, your teams will need fewer individualized solutions like Slack, Hangouts, or Google Docs. The file-sharing is effortless to use, and the fact that files can sync to your desktop makes keeping track of files from your teams a cinch.
Reliability
As a vendor, PanTerra is very reliable. Not only does the company have 99.999 percent uptime, but unlike some other vendors, most of the technology needed falls under the Streams platform. This means that there aren't additional service providers in the pipeline that could have problems – everything is a PanTerra solution. This also reduces the supply chain, so updates and fixes are delivered in a much faster sequence.
Mobile is Fully Embraced
Every aspect of this cloud solution is usable via the Android and iOS mobile apps. This makes it easy for people working remotely to collaborate with their colleagues, and despite not being office-based all of the time, files will be fully accessible. Despite this freedom, encryption isn't compromised; PanTerra does a good job of protecting data as it rests, and as it is sent, and the encryption is HIPAA/HITECH compliant.
The Call Center is Well-Supported
The fact that PanTerra has an entire plan dedicated to business-class call centers is a significant feather in its cap. The same software installation can be used by both your marketing team and your agents, and both will be well-supported with streams. The call quality is high-def, and the recording solutions are good for improving agent performance and your customer service offering.
There are tools for call center automation and even built-in monitoring that has barge-in functionality for contact center managers.
PanTerra Networks Believes in Their Product
PanTerra is confident in their product offerings; they not only offer four plans for various sizes of business, but they even offer a free trial. Also, once you've selected PanTerra Streams for your UC solution, you even get 30 days to really determine if you like the service. Customer support is also available for live-chat functionality, and their sales team is eager to walk you through their entire list of product offerings.
PanTerra ensures that on-site IT services have robust support for every plug-in and feature they offer for their communications solutions.
PanTerra Networks Provides Solution for Enterprise VoIP Clients
Overall, this is a great option for small- to mid-sized businesses. If the organization doesn't have any communications hardware, its HaaS options can be upgraded later. Larger organizations are also very well supported.
The call center software is good, and just about every feature of Streams is scalable. If you're sending out automated SMS or calls to your clients, consider working with a tool like Twilio or one of the many Twilio alternatives on the market.
Smartbox is the only feature that has a preset price, so those looking for a dyed-in-the-wool pricing structure may have to find another solution. With that said, this also means that there's a lot of customizability with the software.
Finally, their one-stop-shop software provides a nice, UCaaS solution for those that don't want to be bogged down with multiple programs and converting an instant messaging session to a full-on conference is a simple process.
While their add-ons are limited to virtual fax and voicemail transcription, they are a good option for most businesses. Still, if you want to check out what's available for unified communications outside of PanTerra, consider options like NetFortris or the most up-to-date user reviews on other business VoIP providers and the best business phone services.