Business telephony went through a massive transformation with the introduction of cloud-based VoIP phone systems. And while the utility of call center analytics is no secret, the availability of call logging systems in VoIP solutions in general has been steadily increasing.  These systems enable advanced reporting, analytics, tracking, and so much more.
Nowadays, all of the best business VoIP providers include a robust call logging system as part of their business phone plans.  Call logging systems contain valuable data such as the phone number, caller account number, time of the call, call duration, reason for call, call resolution, and even a caller's device.
Call logging software features allow you to improve business performance and overall customer experiences.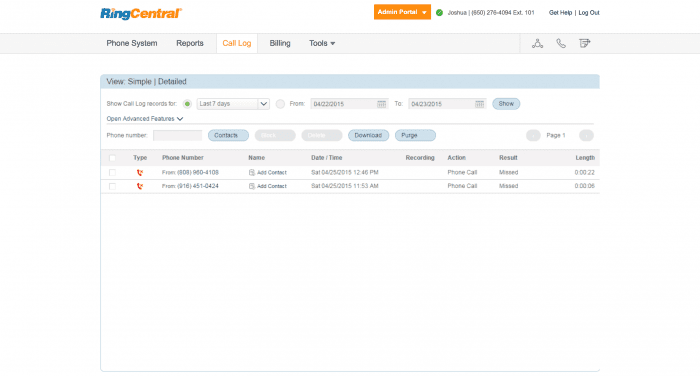 What is Call Logging Software?
Call logging software collects call volume information, caller information, and analyzes call outcomes. A call logging system measures customer experiences, rep efficiency, and many other call-specific metrics.
There are many reasons why call logging systems are considered to be a key feature for businesses of all types. They replace the need for manual recording keeping; all of the call data is systematically captured and stored, which means that workers are free to focus on their actual work.
The data collected with these systems is used to maximize efficiency, enhance agent performance, and improve the overall customer experience.
Call logs are useful for any business that makes and receives calls because they provide valuable data for future decisions. These logs help companies organize phone call information for record-keeping, reporting, and analytics. Most VoIP providers include powerful reporting and analytics systems to maximize the use of collected phone call data.
You can't manage what you can't measure, and you can't make good business decisions without relevant data. With the help of call analytics, call logging software can show you exactly how well your communications network is operating.
Whether used by support centers or sales teams, call logging software captures essential data for both inbound and outbound calls that can be used to improve performance. Call logs have a lot of benefits, such as saving money and time, solving customer disputes, and help professionals stay compliant with regulations.
The Most Critical Call Logging System Features:
There are a few critical call logging software features that every business needs. These features are:
Call History Logging
Call Recording
Managing Call Logs
Call Quality Monitoring
Call Log Analytics
Agent Metrics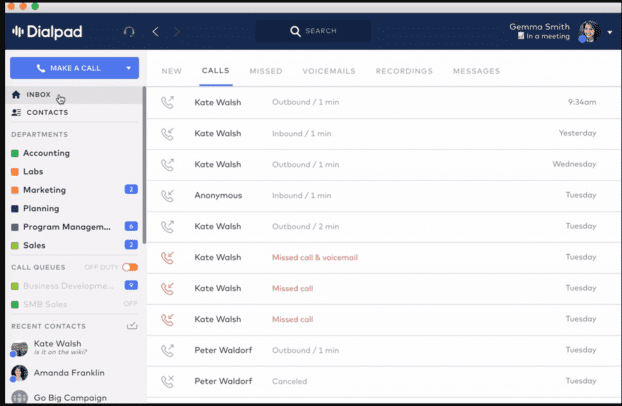 Call History Logging
The most basic yet also the most critical feature of any call logging system is call history logging. Call history logs usually include things like caller information, phone number, date, time, and the extension dialed. Having the ability to view past inbound, outbound, and missed calls, along with the standard data, is a game-changer for businesses.
Before modern cloud-based phone systems, call logs data had to be manually entered on a piece of paper, which took a lot of time and effort, and it was also hard to keep track of.
Nowadays, it's all automatically captured, safely stored in the cloud, and easily accessible with reporting dashboards, and analytics systems. Keeping track of call records was always important for various reasons, but modern workforce optimization software just made it better.
Why is it Important?
The ability to systematically capture and store call logs wholly transformed the way businesses operate online. Apart from saving tremendous amounts of time, call history logging also provides a lot of flexibility for companies that employ it. Keeping the whole business communication in the cloud is great, but also unimaginable without call logs.
How can a business make use of cloud-based call history logging?
To start with, it's always a good idea to have all of your call logs safely stored and accessible online. For outbound purposes, your sales team can use these logs to analyze performance and follow-up on the prospects. Data matters a lot when it comes to sales, and having the ability to systematically track things such as phone numbers, dates, duration, and missed calls is always helpful.
Finally, all call history logs can be gathered, analyzed, and exported using modern technology to track the overall performance. That's why call history logging is essential, and that's why more and more companies are turning towards such systems.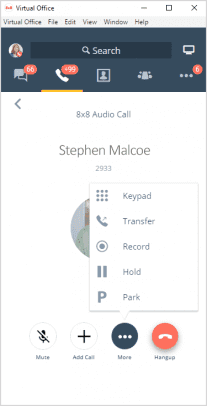 Call Recording
Call recording used to be an expensive solution requiring complex hardware and has since become a feature offered in most business VoIP solutions. Nowadays, call recording has become an industry-wide standard for modern call centers. Thanks to the features of hosted PBX platforms, your business gains access to a robust feature such as call recording without the costs that previously came with it.
Businesses can also set up automatic call recording with just a few clicks.
There are multiple benefits that come with call recording, useful for both small and enterprise-level businesses.
Why is it Important?
At the most basic level, call recording offers your business a way to ensure legal, regulatory compliance, company-wide guideline compliance, and it's one of the best ways to gain insight into the customer's journey and how your agents are performing. However, beyond fulfilling the most basic needs, your business can also utilize call recording to improve the overall service.
Managers can utilize recorded call logs to listen in to conversations and ensure that agents are delivering the best customer experience possible. Your managers should make sure that agent interactions meet the quality standards that your business is striving for. Call recording can also help you understand which agents might require extra training. With call recording, your business can look back at previous customer interactions to improve the product or service that you're offering.
Your marketing teams can utilize the logs to gain insight into common customer issues, and where their pain points lie.
Finally, call recording can also be used to capture missed details and information, as well as build customer personas to help with marketing.
Managing Call Logs
IP telephony is often praised for its flexibility, and rightfully so. Both small businesses and large companies can enjoy the benefits of cloud-based business phone software, and call logging is just one of the many great things about it. However, this feature wouldn't be that flexible without the ability to manage and sort call logs as needed.
When talking about managing call logs, we're talking about the ability to search, sort, download, and share logs with efficiency. Businesses should be able to search for call logs by date, type of call, and whether the call was inbound or outbound.
Also, sorting calls by duration or type can help business owners gain valuable insight into calling trends. Finally, there should be an option to extract and share spreadsheets with call logs.
Why is it Important?
When you're operating a business with lots of call volume, call management and accessibility is a must. As the systems get more complex, simplicity starts being a huge priority. The ability to search, sort, and extract relevant data efficiently gives businesses the edge needed to optimize the workforce. Easily manageable call logs produce an overall better result for everyone involved.

Call Quality Monitoring
We've talked a lot about the standard data collected with call logs that can be used to optimize the business performance. It's also worth addressing a more technical aspect, such as call quality.
Are you missing customer calls, and losing business you don't even know about? Are you getting the communications quality and reliability you expect?
An excellent way to answer these questions is to track actual call quality metrics. These metrics provide valuable information regarding the volume and the quality of your calls.
Why is it Important?
For IT personnel who need to ensure their organization's calls meet the quality expected, tracking call quality trends over time is a must. These logs contain all the valuable data regarding the quality of the calls over time, and they're especially useful after conducting network changes.
Call quality logs are safely stored in the cloud, and they can be accessed at any time, going months, or even years back. Individual call quality logs show whether the call quality was excellent, okay, or bad. Also, each call log can be further analyzed individually to determine what exactly caused the problem.
For businesses looking to maximize customer satisfaction, call monitoring is an important feature that should not be overlooked.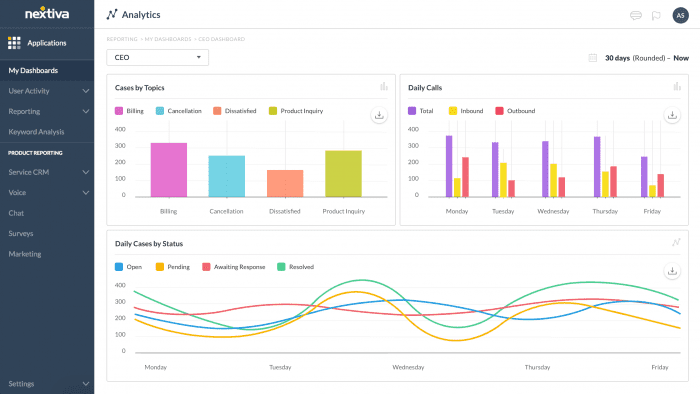 Call Log Analytics
All of the data stored in call logs wouldn't be as great without the ability to analyze it thoroughly. Historically, analytics software used to be offered as an add-on to your phone systems, but most providers today include it in their solutions. Modern call logging systems now often include a robust suite of tools that provide enterprise-level call analytics.
Call analytics should be highly customizable, easy to use, and able to deliver rapid insights into the data provided by the call logging systems.
Why is it Important?
Having access to a powerful analytics dashboard is a huge plus when it comes to analyzing the data found in call logs. These dashboards group and display data in a way that makes it easy to manage, analyze, and oversee.
Call log analytics should cover just about everything, from total call statistics, inbound statistics, outbound statistics, and some plans may even offer agent metric features. The summary dashboard should be easy to manage and search based on a date or activity. More specific information that can be found within call log analytics are things such as unreturned calls, calls by DID, missed calls, abandoned calls, and more.
In short, call log analytics offer must-have tools for businesses looking to handle a large volume of calls. The feature goes hand in hand with advanced call logging systems and is useful for business of all types and sizes, inbound or outbound purposes. More advanced plans also include additional features for supervisors such as agent metrics that we will cover down below.
Agent Metrics
You now understand the vital role that call logs play when making future business decisions. Having access to all of that data helps business decision-makers determine what's working and what's not. When it comes to calculating the performance of individual team members, there's an analytics feature called agent metrics that captures just about everything that's agent related.
With this feature, call logs also include metrics on the agent who handled the call, queue time, ringing time, speed-to-answer time, hold time, wait time, talk time, resolution time, and after-call work time.
Performance reporting software can take this valuable data on the individual to calculate how he compares to other team members. For example, after call work time is a feature that calculates the time taken by agents to wrap up relevant work before becoming available again. Speed-to-answer time lets you know how much time it took to resolve the issue.
Admins can use agent metrics to easily assess agent performance, customer behavior, business processes, and optimize them.
Why is it Important?
Monitoring call log history is crucial for assessing the overall business performance, and agent metrics take that to the next level. Supervisors often have a tough job of monitoring everyone's performance, and this feature helps with that. By comparing the metrics of each agent, supervisors can clearly determine who is efficient and who is not.
They can use this data to address the issue, train the agent, or replace him or her with someone else.
It's worth noting that this type of performance reporting was rarely available before, and now it's getting more and more common with VoIP providers. Businesses can utilize call logging systems in conjunction with reporting and analytics software to receive precious data.
Workforce optimization is a growing trend in the industry, and it's only going to get better.
Top Call Logging Software Compared
| | | | | | | |
| --- | --- | --- | --- | --- | --- | --- |
| Provider | | | | | | |
| Pricing & Plans | Starting at $20/mo/user | Starting at $19.99/mo/user | Starting at $14.99/mo/user | Starting at $25.00/mo/user | Starting at $19.95/mo/user | Starting at $20/mo/user |
| Call History Logging | Yes | Yes | Yes | Yes | Yes | Yes |
| Call Recording | Yes | Yes | Yes | Yes | Yes | Yes |
| Managing Call Logs | Yes | Yes | Yes | Yes | Yes | Yes |
| Call Quality Monitoring | No | No | No | Yes | No | No |
| Call Log Analytics | Yes | Yes | Yes | Yes | Yes | Yes |
| Agent Metrics | Yes | Yes | Yes | Yes | Yes | Yes |
Your Call Logging System Features Give You Control
Call logging system features are useful for all types of businesses, regardless of the size. These features can help you determine the ongoing trends related to your customers, agents, or networks. Call logging software lets you monitor history, agent metrics, call quality, and international rates to maximize the overall efficiency of your business communications.
It's worth noting that most VoIP providers ensure basic call logging systems in their starter plans, but you might have to dig a little deeper to find features such as call quality monitoring and extensive agent metrics reports. Your priorities should guide your choice but make sure your business maintains basic access over your call logs.