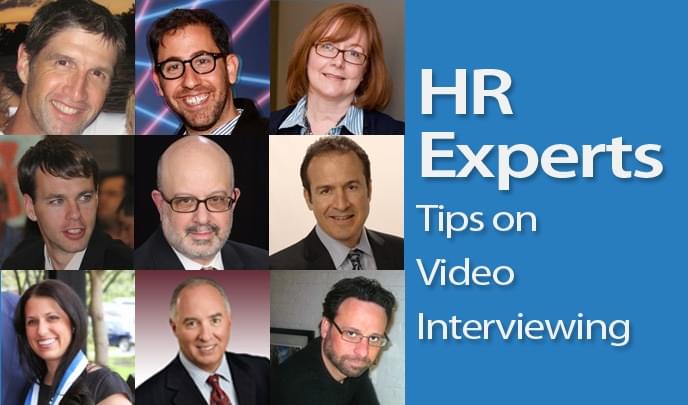 Digital interviewing has become a reality in today's job market: a recent study showed that 6 out of 10 HR managers routinely use video conferencing tools to screen candidates, and that number is continuing to grow as VoIP gains traction across industries.  It's easier than ever to add in the video elemet due to the advancements in technology along with a drop in costs.  There are even several free video conferencing tools out there!  To help you leverage this technology, GetVoIP has brought together nine industry leaders to share their insight into how candidates and companies can make the most of a video interview. Whether you're searching for the perfect job or the perfect employee, their video interviewing tips can give you the edge you need to make a strong impression.
Meet the HR Experts: First off, I'd like to thank each of our experts for graciously taking the time to answer our questions, and for sharing their invaluable knowledge and expertise with our readers.

Kris Dunn (@Kris_Dunn) is an HR and recruitment specialist. He's the Chief Human Resources Officer and partner at Kinetix, and the founder of two hugely popular industry blogs: The HR Capitalist, and Fistful of Talent.

Stephen Robert Morse (@morsels) is a journalist and consultant, as well as acting Head of Marketing, Communications, and Advertising at Skillbridge, which brings together the best independent consulting talent and high-impact organizations looking for expert assistance. He blogs about digital media, consulting, and related issues at his personal website.

Sharlyn Lauby (@sharlyn_lauby) is the president of ITM Group Inc. A highly respected HR consultant and speaker, she has been quoted by the Wall Street Journal, The New York Times, and Reuters, and is a regular contributor to Mashable. She writes an award winning blog, HR Bartender.

Ben Eubanks (@beneubanks) is the cofounder of a groundbreaking "unconference" for HR and business leaders called HRevolution. An HR professional, consultant, speaker, and writer, he shares his experience and passion for the industry with people on his blog, upstartHR.

Bruce Hurwitz (@HurwitzStaffing) is President and CEO of Hurwitz Strategic Staffing, a boutique executive recruiting firm which specializes in promoting the hiring of veterans. He is a noted HR and recruiting expert, writer, teacher, and radio host. He writes about career advancement at his personal blog, Employment Edification.

Darrell Gurney (@careerguy) is an author, career coach, speaker and consultant with over 25 years of experience helping professionals to market themselves effectively and build meaningful, productive business relationships. His website, www.careerguy.com, offers resources and advice for those looking to make a career transition.

Julia Berning (@JuliaBerning) is the Talent Acquisition Manager at Cincom, and has won awards for outstanding work within the company. She's passionate about recruiting and retaining the best talent in the industry, at home and abroad.

Tom Hart (@eliassengroup) is Chief Marketing Officer at the Eliassen Group, a prestigious IT staffing services and consulting firm based in Boston. Throughout his career he has specialized in HR, recruitment, and consulting.

Bob Myhal (@BobMyhal) is the CEO of NextHire, a recruiting firm which utilizes digital technology to revolutionize the hiring process for growing companies.
Questions & Answers:

Sharlyn: Interviewers want to have a good conversation with a candidate. To do that, they need to make the candidate feel comfortable – even over video. One way to achieve this goal is by telling the candidate up front the format for the video interview. The candidate isn't caught off guard and can focus on the conversation.
Ben: When conducting a video interview, it's critical to remember why you're using the medium. In other words, pay attention to their facial expressions, body language (what you can see), and other nonverbal cues. The video interviewing process is superior to the phone interview because it offers those benefits, so it's important to take advantage of them.
Bruce: Pay attention to body language, but don't hold technical problems against the candidate, unless they are applying for a tech/IT position. Most people just don't know how to stop the picture from"flickering" or don't realize that their zoom is too close.
Darrell: Watch for the care they put into their appearance, the background behind the camera, their planning for the conversation. Little things bespeak big things. Messy, unkempt background? Professional appearance attire-wise and environment wise? Did they plan ahead or are dogs and kids running around in the background? Care and attention, or lack thereof, speaks volumes.
Julia: Treat a video interview no differently than a normal face-to-face interview. Look for the same interview etiquette you would with a face-to-face candidate. Not only will treating both a face-to-face interview and a video interview the same make it easier to compare candidates, it will also provide an equal opportunity for all candidates interviewed.
Tom: Given that the technology behind video interviews is never perfect, establish a back-up plan with the interviewee at the start of the meeting. For example, "If for some reason we get disconnected, please call me at the following number immediately, so that we can discuss the alternatives available to us". It's important to remember that video interviews should not take as much time as an in-person interview. Due to the fact that video interviewing is a bit more of a strain on both parties, keeping the timeframe reasonable assures a higher-quality conversation.
Bob: I like to think about video interviews as a hybrid format that falls between phone screens and face-to-face meetings. The best video interviewers understand this. Video interviews have the conversational rhythm of a phone call while also providing important insight into a candidate via facial expressions. Don't just run through a list of prepared questions. Leverage this great technology to really engage the candidate in a conversation about the position.


Kris: Frame yourself – don't be too far away from the camera – I want to see your head at the top of the frame and just below the shoulders at the bottom. You're going to think you are too close – you're not. Light yourself. A lamp with the lampshade to the right or left of the camera will do a nice job lighting you up and making you look more human.
Stephen: One of my best tips is to raise your laptop if you are working on one. When you are looking down at a computer, that just looks unnatural and bizarre. When the computer is raised to eye level, everyone wins. If you have a room with a bookshelf, that makes for a great background. Think of yourself as a TV director/producer when setting up your interview: The key is to test, test, test to make sure it all works right.
Sharlyn: 1) think about where you will be during the interview and 2) consider what you will look like on video. It's fine to have bedhead during a phone interview but with video you want the interviewer focused on your skills and experience, not your looks.
Ben: On the flip side, be aware that the employer is paying attention to your expressions, tone of voice, etc. It's a great substitute for in-person conversations, but it's still not perfect. If you have anything on your end that might be distracting, whether visually or auditory, then try to eliminate those before the interview begins. You want the interviewer's focus to be on you and your answers, not your cat playing the background.
Bruce: Have your resume in front of you, pen and paper to take notes, and a glass of water handy.
Always look directly into the camera. Losing eye contact is literally and figuratively magnified during a video interview. When you lose eye contact it is usually seen as a sign that you are trying to hide something. Have a few questions to ask based on your research to show the interviewers that you prepare well for meetings.
Darrell: I believe one of the best things to keep in mind is to be personal…even though it seems like an impersonal filter between you and the person on the other end. Some ways to do that are to get more of your face into the shot rather than just the top-third of your body distance shot. People can then relate more to you by seeing your eyes and facial expressions. Smile and try to imagine that you're in the office with the other person.
Julia: – Always make sure to have a strong internet connection. Be prepared – Don't Google during the interview. Have all of your notes and vital information in front of you to reference if needed. Make sure that the interviewer has a copy of your resume on hand—even if it is just an electronic version—and provide anything else you would like the interviewer to see or know before going over it. This can be a cover letter, a small list of accomplishments, parts of a portfolio, etc.
Tom: During the interview, concentrate on keeping your answers concise yet complete. Remember that video format is a bit more difficult for both parties, so lengthy, rambling answers need to be avoided. If the interviewer desires more information on the subject, he/she will ask you a follow-up question, or possibly to elaborate on your answer. Finally, the "non verbal" message you convey is critical. Maintain eye contact. Avoid fidgeting. Avoid temptations to be distracted. Maintain good posture. Do not eat or drink anything during the interview!
Bob: Candidates need to try to let their personalities shine through. Video interviews can be intimidating. Practice by Skyping with your friends and family. The more comfortable you are with the format, the more likely you are to make a good impression.


Kris: Pros: – Immediate access to candidates, especially remote candidates.-You get to see what they look like and sound like without bringing them into the office. – You understand how they have face to face conversations under pressure without the time committed to bringing them info the office.
Cons: – Your recruiters probably aren't much better at using the tech than the candidate. – Your recruiters are too rigid when conducting interviews via video.-You hiring managers are even less comfortable with video than your recruiters.
Sharlyn: The biggest advantage for companies is the ability to 'cast a wide net' when it comes to talent. Organizations can interview people from anywhere. This is especially advantageous when it comes to hard-to-fill positions. The company isn't constrained by geography. The downside is that technology is great but not always a 100% substitute for talking in person. Interviewers should focus on candidate responses, not the technology.
Ben: Employers obviously can save on costs and get a better read on their candidates than a phone screen would offer. A friend in the recruiting industry recently shared that he was trying to get a hiring manager to select a candidate, and the manager rejected the five resumes he provided. My friend did a short video interview with three of the strongest candidates and shared them with the hiring manager. The result? The manager requested in-person discussions with all three!
Darrell: Advantages are obvious in that they can meet desirable candidates without the expense of face-to-face, and depending on the type of position, can weed out through first pre-screen meetings when appearance and attitudes are critical. A disadvantage for both interviewer and interviewee is the lack of personal, caveman bonding chemistry that takes place in actual face-to-face meetings that doesn't convey through video. Yet, overall, I think it serves the company, at least in a pre-screen way, to conduct video interviews rather than face-to-face or simply by phone.
Julia: Advantages: – Cost savings: This allows interviewers to get a glimpse of the candidate before paying travel expenses for bringing them in.
– Time efficient: Some positions might have a sense of urgency. This allows managers to get the hiring process going quicker.
Disadvantages: – Lack of personal connection: Video conferencing can sometimes be cut short and kept strictly to the interview. Opportunities to get to know the candidate on a more personal level might be lost as well as the chance to discover the candidate's other skill sets.
– Impossible to sell the culture: It is generally important for candidates to get a feel for the environment and culture of the company. They like to see how comfortable they would feel and how well they would fit in. Video interviewing eliminates this process.
Tom: You can focus on just finding the best candidate for the job, and worry about relocation expense later, if even necessary. The "always on" capability of the technology facilitates busy work schedules.. Disadvantages include the fact that video interviewing is not the same as "the real thing". There's really no substitute for giving someone a solid handshake and seeing if they return the same. Of course, you always run the risk of technology issues, which worst-case will bring a great interview to a dead stop, but more likely transmission quality issues just degrade the quality of video and audio reception.
Bob: Video interviews provide a level of insight into the candidate that you simply cannot get from a phone call. One of the biggest disadvantages of video interviewing is that employers can sometimes forget to listen. Watching a screen is a very visual experience. As an employer, you have to be sure that you balance the visual stimulus by listening closely to a candidate's response.

Kris: If you're good at it, it's going to jump you to the front of the pack. If you're bad at it, you lose the opportunity before the company even brings you into the office.
Sharlyn: Candidates who don't want to relocate can be considered for jobs outside of their immediate area. If an organization is willing to interview over video, maybe they're also willing to have virtual employees. Many people get very nervous during a face-to-face interview. Adding a video component could overwhelm a candidate. To overcome any technology fears, practice using video with a friend prior to the interview.
​Ben: Plenty of candidates are great culture fits and very passionate, but it's difficult to convey that with a resume, and sometimes even with a phone screen. The video interview is much more likely to allow those traits to show through, which is great for the candidates that possess those characteristics.
Bruce: The biggest advantage for the candidate is the ease of scheduling and having control over their environment. For example, if I were being interviewed, I would position the camera in such a way that the background would be my library to send the message that I am well-read. Someone else might want to have their awards/trophies in the background. The interviewers may ask about what they see and this could lead to a friendly and productive conversation making the candidate a "person" and not just a "candidate."
Darrell: The pressure to perform well on this less-personal video venue is even higher. Advantage is not having to run around for obviously not-right opportunities. For whatever reason the employer may not think it a fit, better to save gas and effort by nipping it in the bud via video. Yet, overall, I think it best for the candidate to get a face-to-face whenever possible.
Julia: Advantages: – Removal of Stress: Going to an interview is stressful. Doing a video interview will remove some of the pressure caused by a face-to-face interview. Stress is limited because the interview can take place in the candidate's own space or comfort zone.
– Savings of time and money: For the candidate, taking multiple, long-distance trips to interviews can be costly. Doing a video interview can save that time and money but still allow the candidate to seek the job opportunity they're looking for.
Disadvantages: – Lack of "meet and greet": When you do a video interview, the interviewer can't give you a tour of the building in which you might be working, and you are also limited to the people inside of the organization that you might have met in a face-to-face interview.
– Personal connection is limited: It is important for the candidate to allow the interviewer to get to know them and see how well rounded they are even outside of work.
Tom: If the candidate is currently employed and worries about taking time off during the day to interview, presuming the interviewer has flexibility, arrangements could be made for early morning or early evening conversations to take place, mitigating any risk of being away from the office during work hours.
Bob: As with employers, employees can save a great deal of time using the video interview process. Video interviews enable you to have tremendous flexibility. All you need is a webcam and an Internet connection.
The biggest disadvantage for candidates with video interviewing is comfort level. Most people are much more confident either on a phone call or at a face-to-face meeting.

Kris: For companies with budget, there are multiple video interviewing partners out there including HireVue, Take the Interview, etc. For those with no budget, Skype seems to be the choice, although I've become a big fan of Go to Meeting's HD Faces feature. Other broad video interview vendors like The Blue Jean Network are cool. The big thing to think about is all the workflow advantages that the video interviewing vendors provide that can make your process more efficient. It's probably worth the investment for many companies.
Stephen: Skype or Google Hangout. If on Google Hangout, I suggest not wearing an animated hat. :)
Darrell: I prefer Google Hangout, but sometimes the connections on either are suspect. Being at the ready with both is a good idea because, if one isn't working, the other usually does.
Julia: I really prefer to use Facetime with those who have access to it. Facetime provides a smoother connection for those who own an Apple product; it's also very user-friendly. For someone who doesn't have access to an Apple product, I would say that Skype is the next best option. Skype is more universal than Facetime because it can be used on any device, no matter the manufacturer or service provider. Skype is also great because it's free to use. The only disadvantage of Skype is that you have to ask the candidate to create an account.
Tom: I have always used Skype and find it fairly reliable, easy to use and easy to explain to somebody who has never used it before. Technically, Skype is a VoiP technology, meaning that wherever the internet is present, the ability to conduct an interview is too. Further, Skype uses what is known as a "peer-to-peer" network infrastructure, which means that it relies on the collective performance and power of all of the computers using Skype to deliver its services, meaning that performance, accessibility, scalability and reliability are rarely an issue.
Bob: While Skype or Google Hangouts can work in a pinch, I definitely prefer working with more customized tools that were built with the specific needs of video interviewing in mind. HireVue and InterviewStream are two of my favorites.
In conclusion: Today's highly mobile and global talent pool has had a strong effect on recruitment strategies, with more and more companies are conducting at least early interview rounds online. Thoughtful preparation and positive body language remain as important as ever, and a strong video interview may get you in the door for a face-to-face more effectively than your average phone screen.