The Polycom HDX 7000-1080 video conferencing bundle includes the Polycom HDX 7000 codec, a powerful computer that the videoconferencing platform runs on. Also in the package, is an EagleEye 1080 HD camera, microphone array, & remote control. Designed to Polycom's renowned quality and High Definition standards, the HDX 7000-1080HD takes full advantage of features such as Polycom HD Voice technology to deliver crystal clear audio. The unit also boasts StereoSurround audio to separate room sounds into left and right channels to deliver immersive, physical-sense spatiality to participants involved in the conversation.
An impressive collection of hardware, the Polycom HDX 7000-1080HD's capabilities are ideal for education, medical, enterprise, and on-demand collaboration applications. Delving deeper into the components included in the package, let's break down the true power of the VoIP peripheral in a little more detail by focusing (pun not intended) on the HD camera and Codec: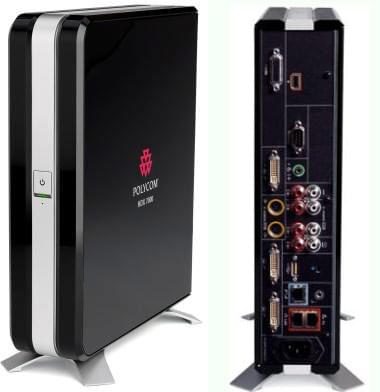 Polycom HDX 7000 Codec:
First, it may be useful to discuss the actual role of the Codec in a VoIP phone call. VoIP Codecs operate by taking uncompressed digital audio, and applying a standardized algorithm to reduce the number of bits it takes to represent that audio. It is important for both ends of a phone call to "agree" on what the algorithm should be, in a process called "capabilities exchange." 
Via Polycom's "Codec Choices for HD Voice Telephony":
Every VoIP phone contains one or more codecs, and during call establishment, they share their
lists of supported codecs. One phone, for example, may say "Hey stranger, I can support codecs
A, B, or C", and the other one will respond "Nice to meet you, I can support codecs "B, C, or D." At
this point, both phones recognize that they could converse in either B or C (this process is can
easily be compared to two multilingual strangers meeting on the street, figuring out what languages
they share, then deciding which of the shared languages to proceed in). Depending on how they
have been set to prioritize various parameters, one phone may then say "well, since C gives better
audio bandwidth than B, let's proceed with that," or "B uses a lower bit rate and my company thinks
that's more important, so let's proceed with that."
In lesser terms, the HDX 7000 Codec is responsible for orchestrating VoIP connection by being the medium between phones. Most VoIP phones contain a number of different codecs covering a range of performance levels, and often, bandwidths. Having wideband capability does not necessarily mean that a phone is unable to connect to a narrowband phone, it just means it has a wider repertoire and can do both. This can be most easily compared to a musician who is able to play multiple instruments. The HDX 7000 codec, without getting extensively into specifications, has a high audio quality and latency due to extensive codecs.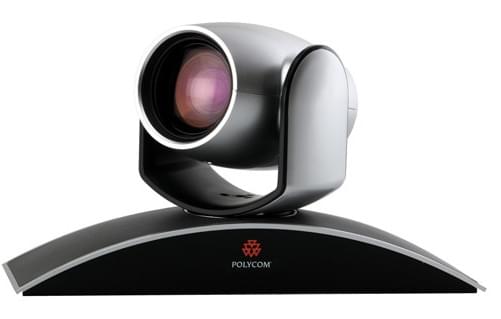 EagleEye Camera HD:
Capable of high definition capture of up to 1080p and 720p (shipped), the Polycom EagleEye Camera HD is the ultimate in video telecommunications, not compromising precision for quality, or anything else for that matter. It zooms up to 12x, with a 180° panning radius, grabbing images and environments in full HD. It relies on power from the HDCI input one (1) on the back of the HDX codec, with the option of using another power source in port two. Focus is automatic, and colors are crisp and natural through its powerful lens.
As mentioned above, the EagleEye will ship set to 720p, and it is the consumers responsibility to upgrade to 1080p, which can be done with a license key. Once again, although the camera has 1080p capabilities, they will not be available until the proper key is acquired. The pricing differs depending on which bundle you pick up, but for this particular unit, the transition from 720p to 1080p will require a one-time cost of $3000.
Other Great Features:
Users may deliver presentations on two monitors positioned side-by-side, via a splitter on the back of the Codec. One possibility among many, is that users may display a simultaneous frame such as a graph or Powerpoint alongside the live, broadcasted conference
Polycom's "People + Content IP" is the means by which HDX 7000-1080p users can directly share content with the callers they are interacting with in the teleconference. In other words, files and pictures may be sent to end-users via the Internet connection already being used to connect them. (This particular feature was something I was incredibly impressed with; exemplary of Polycom's implementations of fine detail and innovation)
The possibilities are absolutely endless considering the portability and use of this shiny bundle. Of course, a high definition medium in which to broadcast telecommunications is necessary and naturally, sold separately. Systems can be wall-mounted, free-standing, or easily wheeled to any location to accommodate visual communication in any room. There are differing prices throughout the Internet so find exactly which is best before investing in this amazing kit. Looking around the web, I saw business VoIP equipment sellers' prices hovering around $8,500, with the list price being $12,999.
Click Here for the complete spec sheet for the Polycom HDX 7000 Series
See Also:
– The Polycom EagleEye Director: Are You Ready For Your Closeup?