Microsoft has long been a leader in implementing artificial intelligence into its various tools; be it, the sort designed for workplace collaboration, gaming, or even in the company's military endeavors; it has a rich record of doing so. In tools like Microsoft Teams: that manifests by the firm leveraging AI to enable live translations (for captions), which Teams Premium users can access for real-time translations in 40 languages. 
Microsoft says that the goal here is 'productivity:' seemingly the phrase of the decade, at least (when it comes to) enterprise. Or, since the onset of the Coronavirus pandemic, which seems to have flipped the script concerning how and where folks work. 
Available for commercial – otherwise known as enterprise users, a select group can today access what the firm calls Microsoft 365 Copilot, which Microsoft lauds: "Combines the power of large language models (LLMs) with business data and Microsoft 365 apps to unleash creativity, unlock productivity and uplevel skills." 
The new tool will be embedded in Microsoft 365 apps like Word, Excel, PowerPoint, Outlook, Teams, etc. For now, there are no specifics concerning pricing, but the company says details on both pricing and licensing will be available soon.
What is Microsoft 365 Copilot?  
Microsoft calls it "a whole new way to work," and it does appear to be a helpful tool – especially for agents in the contact center orb – primarily those who use the Microsoft ecosystem of business tools from Word to Teams.
Copilot in Word can write, edit, and summarizes things like customer calls, while Copilot in PowerPoint can turn ideas into full-fledged presentations via natural language commands.
For agents leveraging Excel, Copilot in Excel, well, they can unlock insights, identify trends and create professional-looking data visualizations that reflect customer trends. Regarding email, there's Copilot in Outlook, which can assist agents in making sense of and managing their inbox so they can spend "more time actually communicating," Microsoft notes. 
Copilot in Teams extends real-time summaries and action items (in the context of) a conversation or meeting. And then there was Copilot in Power Platform, a tool for developers of all levels. That means those with little coding capabilities to full-on developers; build various apps within the Power Apps and Power Virtual Agents.
It harnesses the power of low-code tools to achieve this. 
An Addition to Microsoft Dynamics 365 Copilot
News of 365 Copilot; comes on the heels of an announcement earlier this month when Microsoft said it would launch Dynamics 365 Copilot. 
Practically speaking: it can assist (a myriad of) users, like contact center agents, by helping to resolve customer issues quickly. It is not too dissimilar to what Zoom, Five9, and others like Verint did well before the conglomerate did; in the past.
It does so by uncomplicating how agents search for relevant answers to customer queries: the kind stored in company databases. It also extends tailored responses in real-time across various channels. AI comes into play via Copilot, as it helps agents analyze customer data (to further) anticipate what they might need by presenting valuable guidance. 
At the time of launch, the firm called it the "world's first AI Copilot in both CRM and ERP to bring the next-generation AI to every line of business." And it appears sophisticated. 
The suite of tools consists of Copilot in Microsoft Dynamics 365 Sales and Viva Sales, which uses AI to help automate clerical tasks via apps like Outlook. "The meeting summary pulls in details from the seller's CRM such as product and pricing information, as well as insights from the recorded Teams call," Microsoft wrote. 
On the CX and contact center front: Microsoft launched Copilot in Dynamics 365 Customer Service. The tool  (is said to empower) agents to deliver elevated customer experiences by drafting contextual answers to queries in both chat and email, in addition to providing an interactive chat experience over knowledge bases and case history.
It also introduced Copilot in Dynamics 365 Customer Insights and Dynamics 365 Marketing. 
"And With Copilot in Dynamics 365 Customer Insights, marketers can create personalized and targeted customer segments by having a dialogue with their customer data platform using natural language," the company wrote.
Microsoft Teams Contact Center Integrations
It is necessary to mention that Microsoft Teams has many contact center integrations ranging from 8×8 to Five9, Genesys, Cisco, Nice, Talkdesk, and various others. And there are presently several others in the process of certification. 
Cloud migration represents a decent portion of the conglomerate's business, with the firm offering various ways to connect its popular Teams offering to contact center offerings.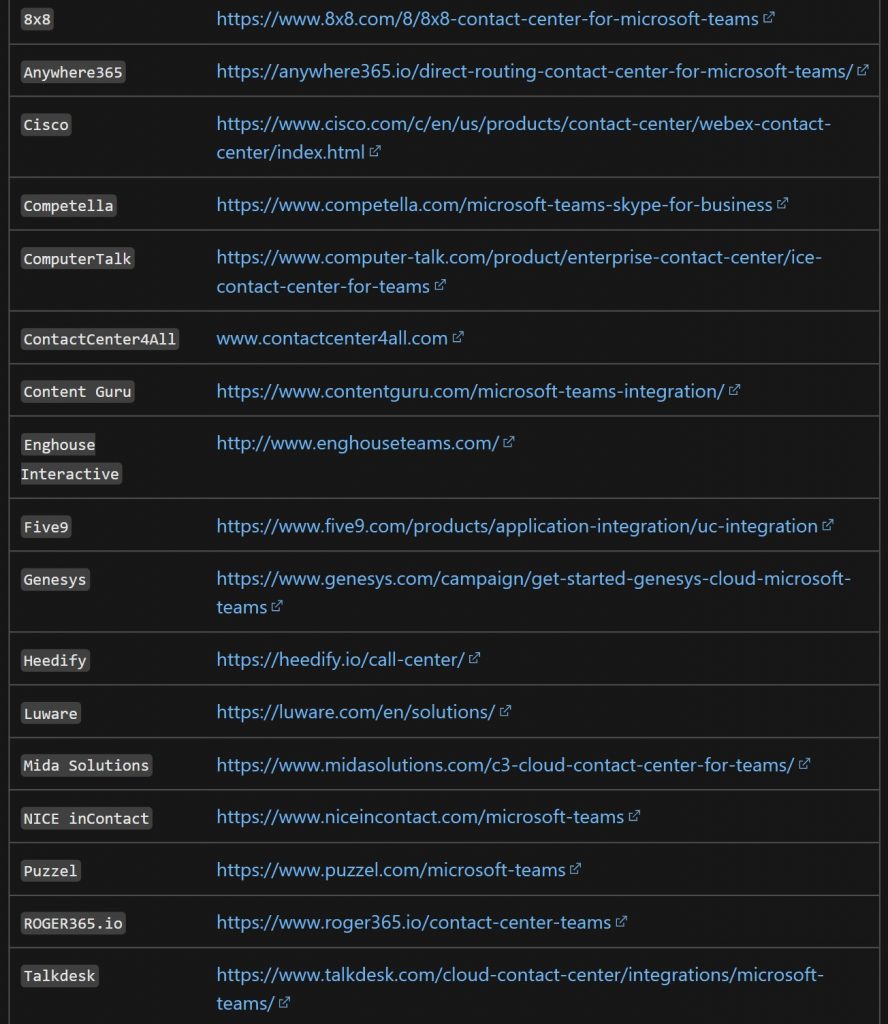 Deployment is a process that often takes a substantial (amount of) time and resources, and it seems that Microsoft set out to change. It works closely with various partners to test and certify new and existing solutions and APIs – looking to extend a seamless integration process. 
Presently Microsoft has a few different integration models for integrating contact center solutions into Teams. That is certified SBCs (session border controllers), Direct Routing, and cloud communication APIs.
Thoughts on Microsoft AI
As many others have during this time: Microsoft has released (a slew of) AI-backed features, looking to capitalize on something more popular than a mere trend. From chatbots to virtual agents, there is no shortage of ways to deploy AI in any number of settings via Microsoft Teams. 
Microsoft, however, has a bit of a different play – charging a premium for most of the AI features it extends via Teams and various other platforms. Some of the "less premium" features are, however, free: and that includes voice quality improvements, echo cancellation, de-reverberation, background noise suppression, and various video quality improvements.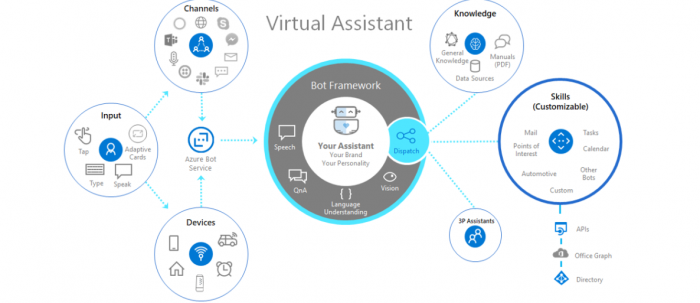 Of course, "less premium" is subjective; and could be a godsend to any organization, especially agents working from home or even for those in a larger setting where noise can prove challenging and canceling background noise is ever vital. 
Microsoft AI will surely grow more mighty over the coming years. And with the introduction of tools like ChatGPT – there are sure to be more breakthroughs by way of AI being inserted into various business/enterprise situations previously unimaginable.