For the past 20 years, the folks over at IntelePeer have built a network of over 4,000 enterprise customers who have grown to know and expect IntelePeer's zeal for white-glove service and network reliability. Having started as a voice-only provider in the early 2000s; today – the firm is a full-fledged CPaaS provider that extends not only voice but SMS, social and other channels. 
I sat down with Frank Lauria, Senior Vice President of Business Development. We spoke about two key partnerships with IBM Watson IVA (intelligent virtual assistant) and WebEx Teams and Calling, news it broke at Enterprise Connect 2021 virtual. We talked about what sets the company apart from the competition; and the journey to becoming a CPaaS market leader. But first, the news. 
IntelePeer & IBM Watson, Fully Integrated 
IntelePeer recently teamed up with IBM Watson – IBM's question-answering computer system. IMB's IVA technology harnesses the power of artificial intelligence/machine learning to answer customer queries in a natural-human-like way: a functionality that proves most beneficial in a contact center environment.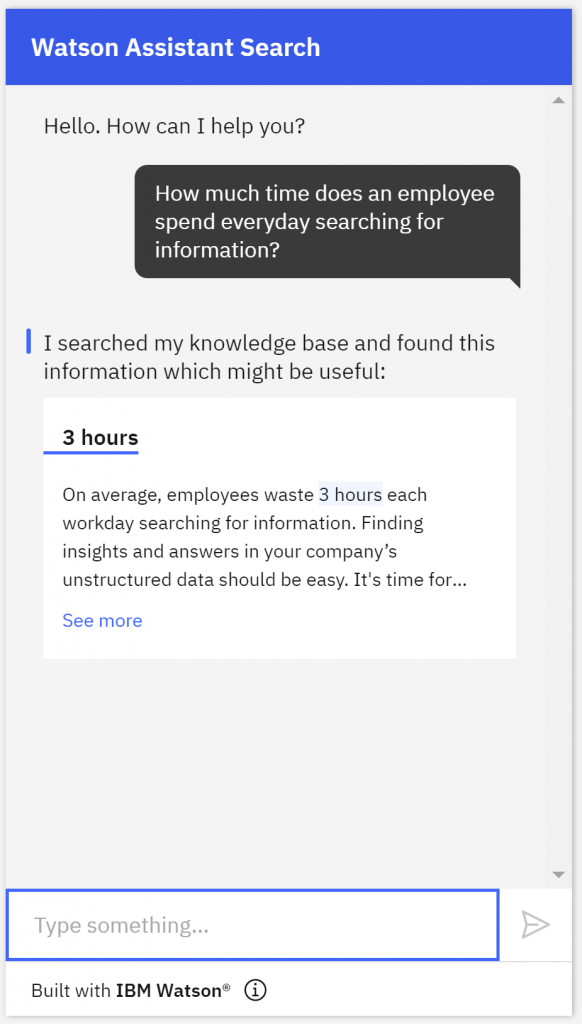 IntelePeer has worked closely with IBM Watson in a few ways over the years, according to Lauria, who noted: 
"Along with AWS, we use IBM Cloud for some of our existing cloud infrastructures. And as we got closer and closer with IBM, they started looking at our CPaaS (Communications Platform as a Service) offering."
Now IntelePeer technology is fully integrated with the IBM Cloud, meaning when a customer goes to IBM to enable an IBM Watson virtual assistant – they can also "Utilize our API calls, acquire IntelePeer numbers on a global basis, and can leverage those numbers across IntelePeer services, all integrating closely on the IBM Cloud."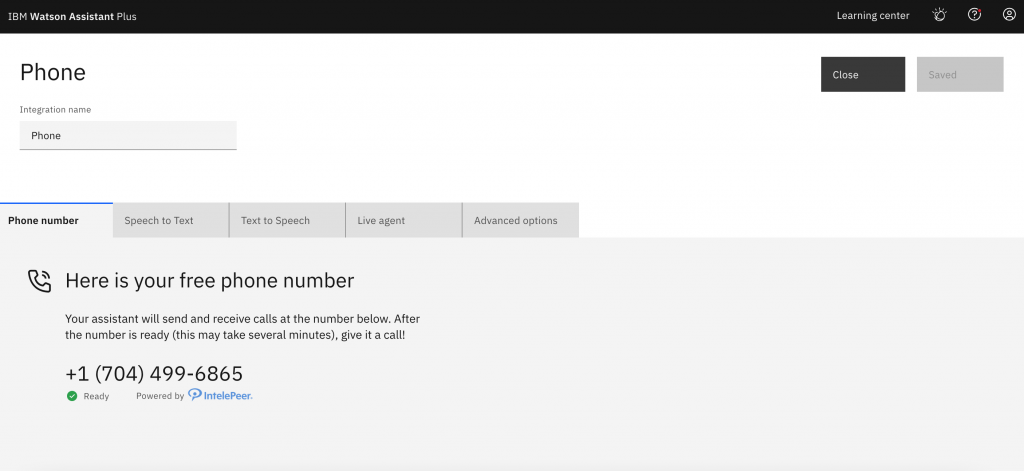 IBM Watson's conversational AI skills extend robust voice-to-text-to-speech and speech-to-text technology and are included so customers enjoy an omnichannel experience powered by two heavy-hitters. And others can white-label the solution where IntelePeer acts as the service provider.
Customers also gain access to IntelePeer's CPaaS platform, intelligent routing, and other capabilities like call recording. The intent of the partnership, facilitating these intelligent experiences with low code and self-service in mind, with most deployments made possible with an Internet connection. 
Updated Cisco Partnership 
IntelePeer and Cisco have had a long-standing partnership for a decade now. In the deal, IntelePeer acts as Cisco's "bring your own carrier" provider via IntelePeer voice services.
"We've just recently expanded that relationship so that we are now fully built into the Cisco, Cisco a control hub as part of WebEx calling, so that there's a little drop-down menu within Cisco WebEx where you can select IntelePeer as your carrier."
The updated partnership also now means that IntelePeer will enable additional capabilities for Cisco users. This includes IVR/IVA, some AI self-service, notifications for messaging, etc. If you have noticed a trend, you are on to something. Lauria told me that many of the partnerships it has with other industry leaders are a bit similar. 
It has interchangeable arrangements with Microsoft and Zoom, too.
"This is a part of our strategy so we can provide not only the communication services; but access to value-added applications that layer value on top of that."
Differentiating IntelePeer from the Competiton 
Trying to get to what sets IntelePeer apart from its competition, I posed a rather direct question: So, what is the difference between IntelePeer? And let's say at Twilio? Lauria's response: 
"Twilio's platform, from day one, was built up with a developer ecosystem, and IntelePeer's platform – built for the enterprise user."
He notes, even the likes of business analysts and other enterprise users can create applications in minutes. They also gain access to and can leverage integrations with WebEx Teams, Microsoft Teams, WebEx Calling, contact center environments across all (major) players, IBM Watson, and Watson assistant in a multi-vendor environment. 
"We also work a lot with existing, legacy, and premises-based ACD platforms where we layer in the cloud capabilities for self-serve cloud queuing, call recording, etc." 
The agnostic nature of IntelePeer's technology means that it works with multiple carriers and vendors like Verizon, AT&T, Century Link, and others to extend best-of-breed solutions. 
At Zoomtopia 2021, Zoom announced that it selected IntelePeer to join Zoom's Reseller Partner Program. The integration will support Zoom's BYOC strategy, as well as IntelePeer's Bring Your (own) CPaaS strategy with Bandwidth also getting chosen by Zoom. 
One of the First Low-Code CPaaS Providers
Certainly, anybody who knows anything about unified communications/collaboration can tell you the amount of value and flexibility a CPaaS offering like the one IntelePeer offers can deliver. Not only are the company's prices fairly competitive – but users can easily scale up and down as needed with IntelePeer's CPaaS solution.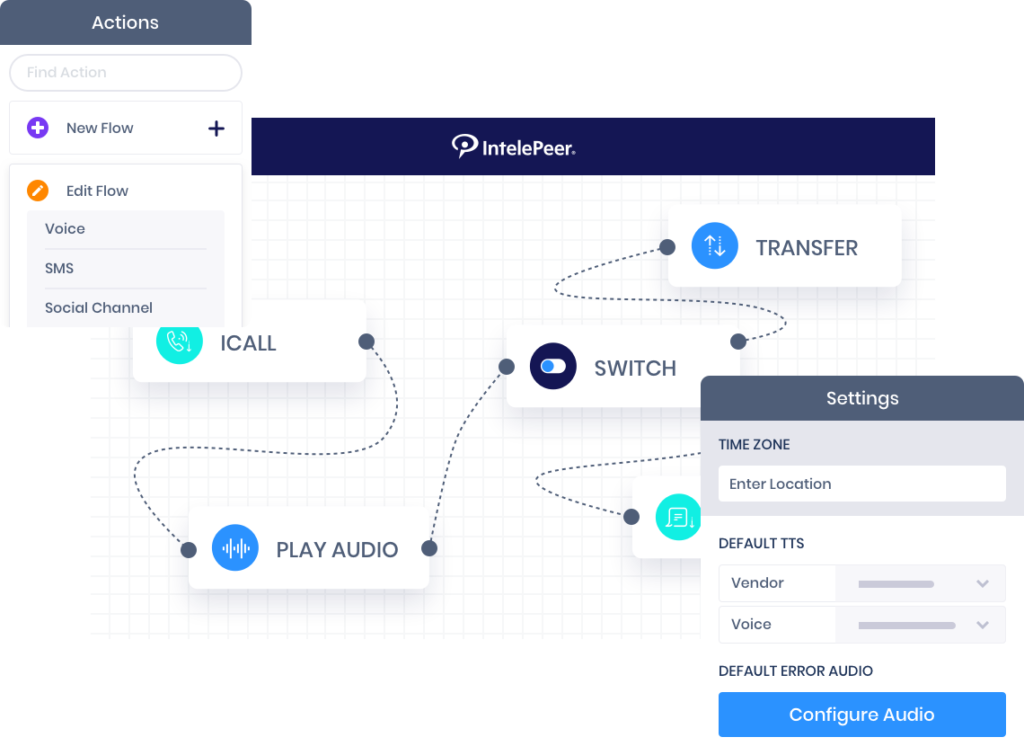 I have started somewhat of a tradition, with my final question for most interviewees being: Are you the first in the industry to do something you don't get any or enough credit for? According to Lauria, IntelePeer's low code smart flows, visual designer:
"Was and is the first communication-centric orchestration engine truly designed for a non-developer so they can create intelligent communication flows across different communications channels, like voice, SMS, and social."
He summarized, pair this with the fact that it is "by far the easiest to use, quite robust and the only one that truly offers 99.99% reliability," it is easy to see how its strategy might be a solid one. Even the company's financials are in order.
An IPO in IntelePeer's Future? 
According to CrunchBase, the company is worth a whopping $252 million. And recently secured funding by the leading Communications Platform as a Service (CPaaS) provider brings the firm $110 million closer to a potential IPO (initial public offering).
With tons of momentum and investment in the CPaaS space, it is hard to say which company will surprise us with the public offering in the UCC space, but when the writing is on the wall, it is sometimes hard to ignore. It may not be this year, or even next – but it does appear the company is on track to do just that if it stays on the trajectory it is currently on.