Effective team communication has always been essential to business survival and success, but the rise in remote work and the global workforce requires a new approach to team collaboration.
The instant chat messaging app Slack quickly became the standard for contemporary team collaboration–and given its intuitive, easy-to-use platform, user tagging, and notification management features, it's easy to see why. Plus, Slack offers a robust free version, consistently adds new features like in-app calling and video chat, and integrates with top third-party tools.
However, Slack is not a perfect fit for every team. The below Slack alternatives outline the best new players within the team communication and collaboration space.
Why Look for Slack Alternatives?
Slack is one of the most popular team collaboration apps, but it's not without its faults. The below pros and cons of Slack highlight what users love about it and why others seek out Slack alternatives.
Slack Pros
Audio and Video clips available in all plans
Data Encryption at rest and in transit
99.99% SLA
100+ integrations with apps such as Salesforce, Google Drive, and RingCentral
Slack Cons
Only 90 days of message history in the free plan
HIPAA compliance only in the enterprise plan
Lack of advanced productivity tools such as kanban boards, virtual whiteboards, etc.
Expensive compared to competitors
Best Slack Alternatives for Team Communication
If Slack isn't right for your business, there's no need to settle. There are a plethora of options in the team communication space. Read on to learn about our top 11 Slack alternatives.
Microsoft Teams allows Office 365 users to chat in real-time in the Office mobile app, which combines Word, Excel, file sharing, and PowerPoint. This allows users to seamlessly collaborate on documents, spreadsheets, files and slide shows. Additionally, Teams includes robust video conferencing software.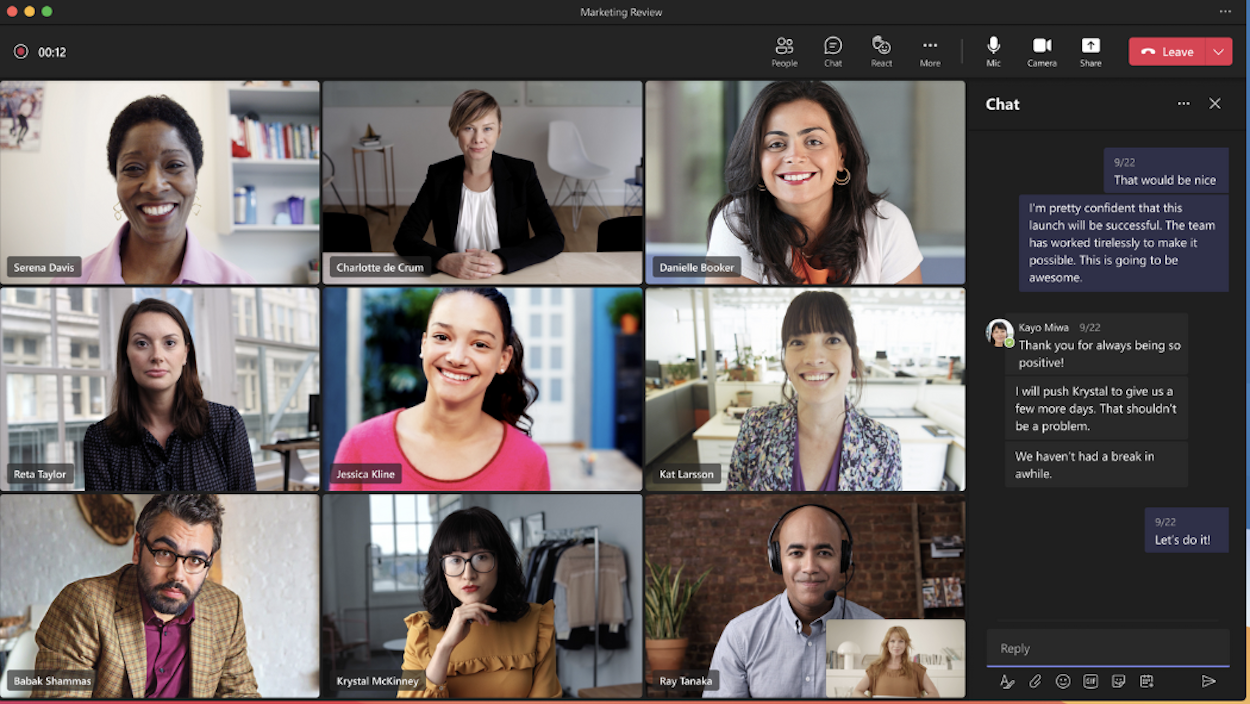 Even in the free version, users can host video meetings with up to 100 participants for as long as 60 minutes per meeting. As a part of the Microsoft ecosystem, Teams has the added benefits of being highly secure and reliable, with a 99.9% uptime guarantee, data encryption, SSO, and 24/7 phone and web customer service.
Supported operating systems
Microsoft Teams works with Android devices using the last four major OS versions and with iPhones, iPads, and iPods using the last two major iOS versions. Teams also has a web app that works with the Chrome browser.
Pricing
Microsoft Teams subscriptions range in price from $0 to $22 per user/month.
Key Features
Some of Microsooft Teams key features include:
Video Conferencing: Teams' video conferencing solution allows for 100-300 participants. Meeting lengths are limited to 60 minutes in the free version and 30 hours in paid versions. Advanced web conferencing features include screen sharing, live captions, meeting recording and transcripts, noise suppression and customized backgrounds.
Chat: With Microsoft Teams, up to 100 users can use the chat feature in the free version and up to 300 in paid versions. Business plans also allow for guest access. Chat includes file sharing of up to 1 TB per user and up to 1 TB of file storage. Even in the free version of Teams, chat is unlimited and searchable. Users can also chat between work and personal accounts.
Microsoft Whiteboard: Microsoft's whiteboard includes a number of advanced features such as collaboration rosters, which allow users to see who is active on the whiteboard in real time. Other features include whiteboard templates, collaborative cursors, and real-time reactions. Admins can share whiteboards from the Teams web, desktop, or mobile app.
How is Microsoft Teams Different from Slack?
Microsoft Teams has an advantage over Slack in that it includes a full fledged video conferencing solution, whereas Slack only allows for video clips. Teams also includes more native productivity tools such as Microsoft Whiteboard and does not limit chat history, even in the free plan.
Slack has an advantage with a slightly higher uptime (99.99% for Slack as opposed to 99.9% for Teams). Teams also does not have an equivalent of Slack Huddles, which are persistent meetings kept open for team members to jump in when they are available, simulating an in-office experience.
ClickUp is a project management and team collaboration platform that combines tasks, chat, docs and goals in one place. ClickUp's tools are focused on creating and tracking team goals. ClickUp offers over 20 different views showing project progress in real-time. ClickUp docs, whiteboards, and chat space make team collaboration seamless.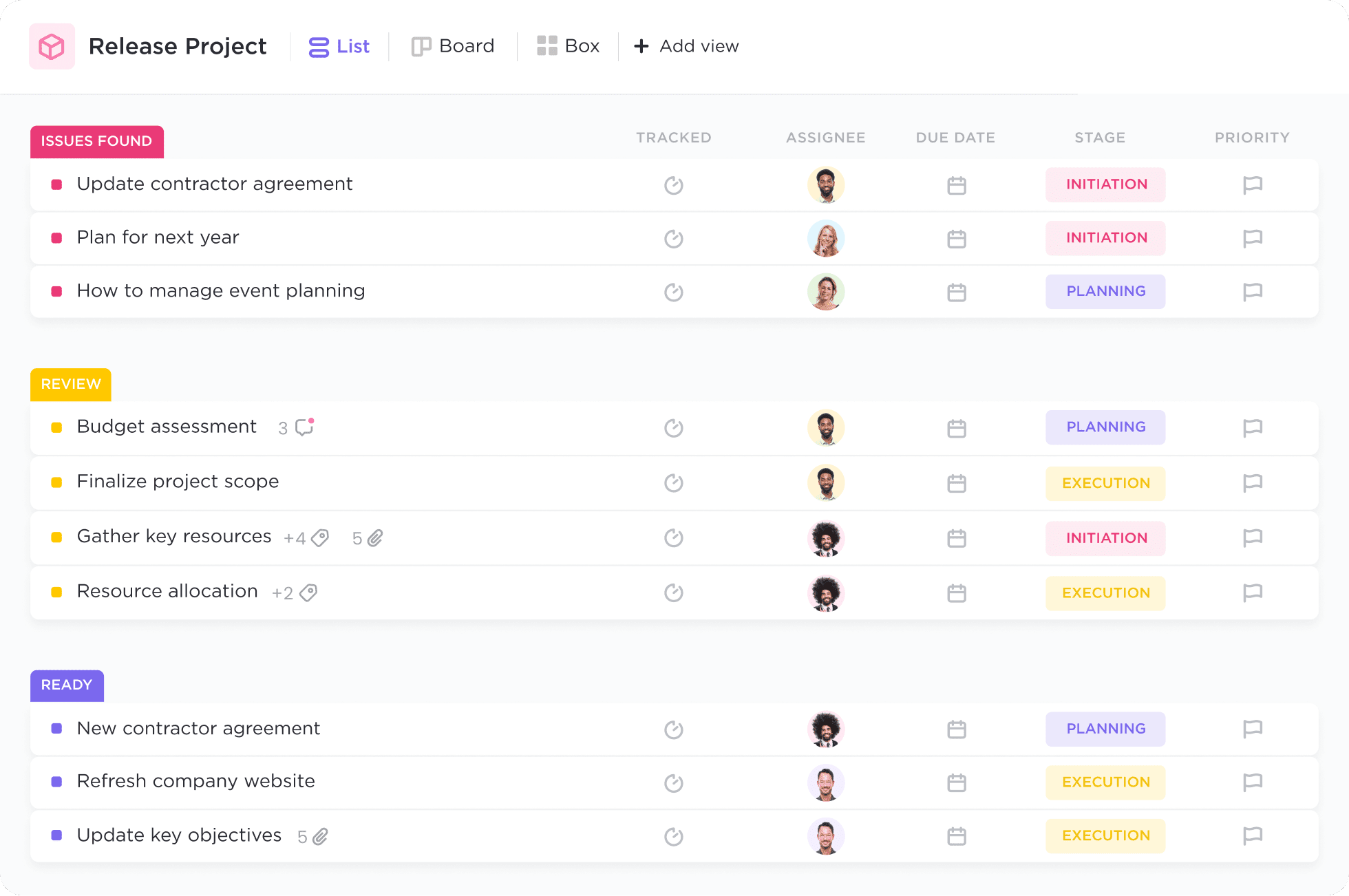 Supported operating systems
The ClickUp desktop app is available for Mac, Windows, and Linux operating systems. The mobile app is available for iPhone, iPad, and Apple Watch and Android.
Pricing
ClickUp subscriptions range in price from $0 to $29 per user/month.
Key Features
ClickUp key features include:
Smart Notifications: ClickUp's Smart Notifications allow users to customize when they receive task deadline reminders, whether there will be an audible mobile notification, and what time daily task summaries arrive.
Docs: ClickUp docs tool allows users to import content from anywhere and use rich formatting and collaborative editing tools. The docs tool allows for comments, tags, and connections between content and tasks. ClickUp also provides doc templates. Docs can be exported in PDF, HTML or markdown format.
Dashboards: ClickUp customers use dashboards to create visual representations of all tasks and project, team or even company wide. Customizable widgets such as time trackers, charts, and rich text are added creating a completely personal workspace designed to organize tasks and monitor key metrics.
How is ClickUp Different from Slack?
The main difference between ClickUp and Slack is the main focus of the software. ClickUp is targeted toward project management with some collaboration tools, while Slack focuses on collaboration with its workflow builder as the sole native project management tool. Slack has a higher level of security and reliability than ClickUp, and offers video chat which is not available on ClickUp. On the other hand ClickUp has many work management features that Slack lacks from kanban boards to mind maps.
Zoom started as a video conferencing tool that skyrocketed in popularity during the COVID-19 pandemic. Today, Zoom offers a UCaaS solution combining video meetings, team chat, VoIP, and more. Teams can collaborate in video meetings, chat channels, or on digital whiteboards. Video meetings are capped at 100-300 participants, but add-ons are available for larger groups. Zoom's team chat space includes file sharing, user tagging, and more.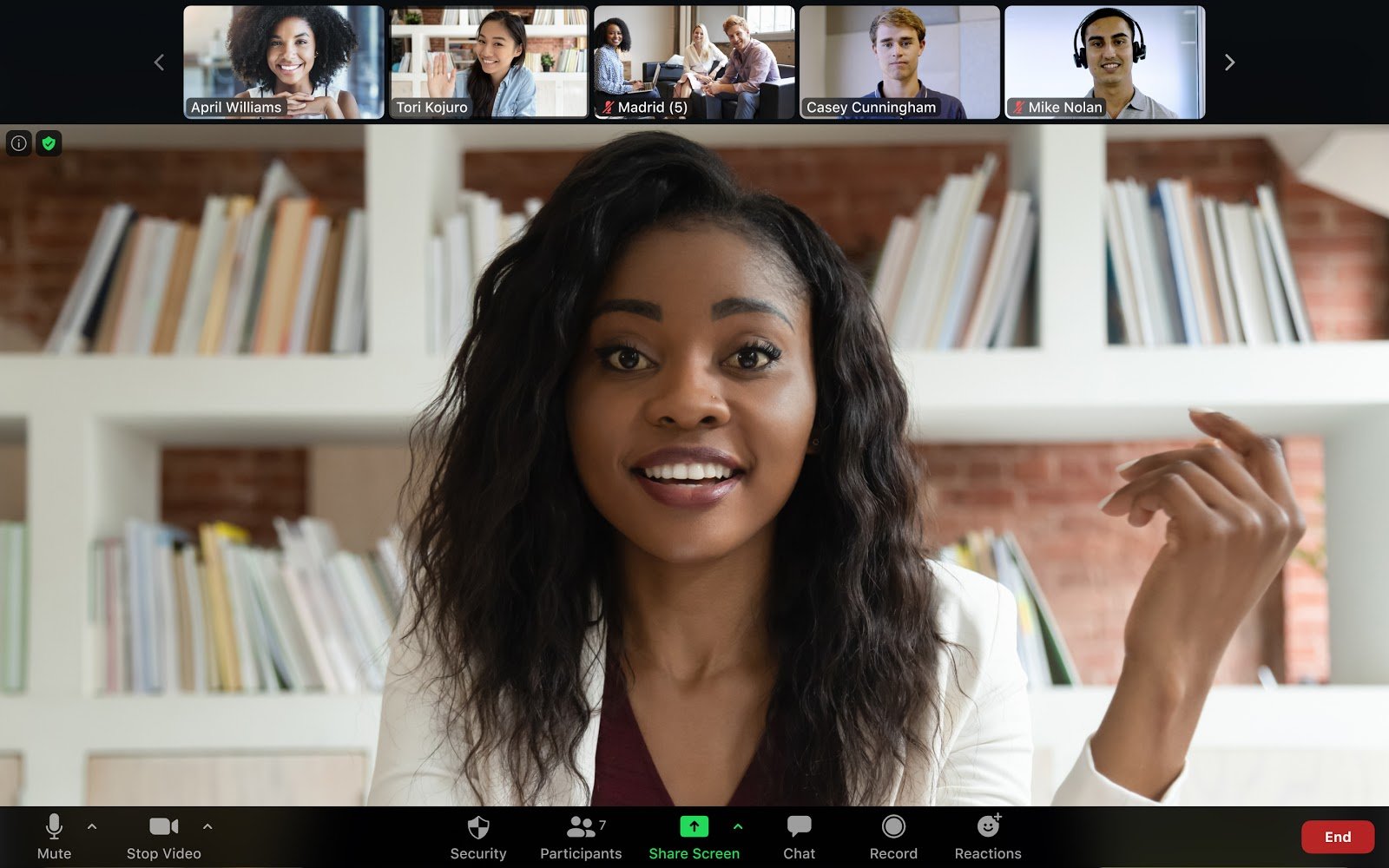 Supported operating systems
Zoom is supported by macOS X with macOS X (10.10) or later as well as Windows 7 or later and Linux 6.4 or higher. The Zoom mobile app is supported by iOS, iPadOS and Android.
Pricing
Zoom pricing tiers start at $0 per user/month and go up to $250 per user/year (or about $21 per user/month).
Key Features
Some key features of Zoom team chat include:
Search Function: Zoom users have access to a powerful search tool that combs through contacts, group chats, files, and instant messages. Account owners and admins can choose how long chat messages are stored with a maximum of 10 years. The default is 2 years.
Admin Controls: Zoom's granular admin controls allow users to fine-tune roles, permissions, and security settings. Admins can decide whether each user can add contacts, save data to the cloud, show status to external contacts, and more. Permissions are easy and fast to change.
File Sharing: In Zoom's team messaging space, participants can share files securely with advanced encryption, SSO, and two-factor authentication. Team members can share audio messages, gifs, files, and videos with a 30MB size limit.
How is Zoom Different from Slack?
The main difference between Zoom and Slack is Zoom's robust and secure web conferencing platform. Zoom meetings include features such as spotlight, E2EE, virtual backgrounds, filters, polling, and more. Additionally, Zoom comes with a decent VoIP solution, whereas Slack includes neither video conferencing nor VoIP. Zoom costs more, however, and the extra functionality may be unnecessary for companies just looking for a team chat solution.
Fleep combines messaging, tasks, and file sharing into one seamless cloud collaboration solution. Fleep's platform centers around group conversations which can be organized by topic, team or project. Important information or ideas from conversations can be highlighted and added to a Pinboard to create tasks and coordinate execution.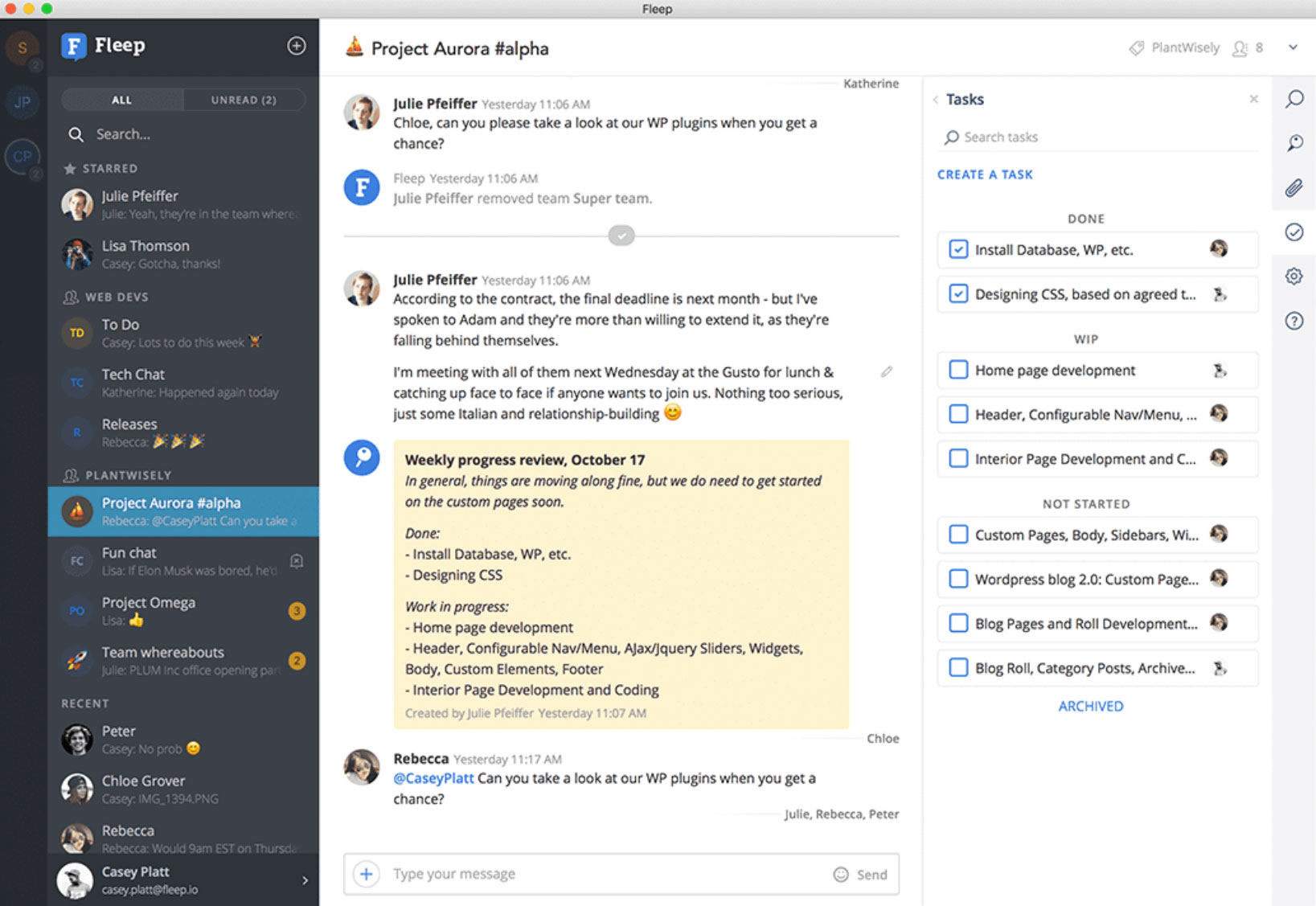 Supported operating systems
Fleep has native apps for Mac, Windows, Linux, Android and iPhone.
Pricing
Fleep subscriptions range from $0 to about $5 per user/month.
Key Features
Fleep's main features include:
File Drawer: File drawer keeps track of all files and images that are shared in team chat conversations. There is a separate file drawer for every conversation that appears on the side tab so that images and files can be found quickly and easily.
Presence: Fleep's presence indicator will tell you more than just whether a team member is on or offline. This feature allows users to see when a team member was last active on Fleep. A writing indicator lets users know if a team member is busy writing a reply.
Whereby Audio and Video Calling: Fleep includes an integration with whereby enabling users to call or video chat with a colleague with the click of a button. A join link can be added to a conversation to grant access for everyone in the conversation. Video calls include essential features such as screen sharing.
How is Fleep Different from Slack?
Fleep is far less expensive than Slack, but it doesn't include advanced features such as workflow builder or persistent meetings. Fleep also doesn't have the level of security and reliability that Slack has.
Mattermost is an open source, self-hosted team collaboration solution made for developers. Mattermost's platform integrates both project management and team collaboration tools. With Mattermost, users have access to a searchable and centralized chat history, task tracking, kanban boards, checklist-based process automation, calendars and team workspaces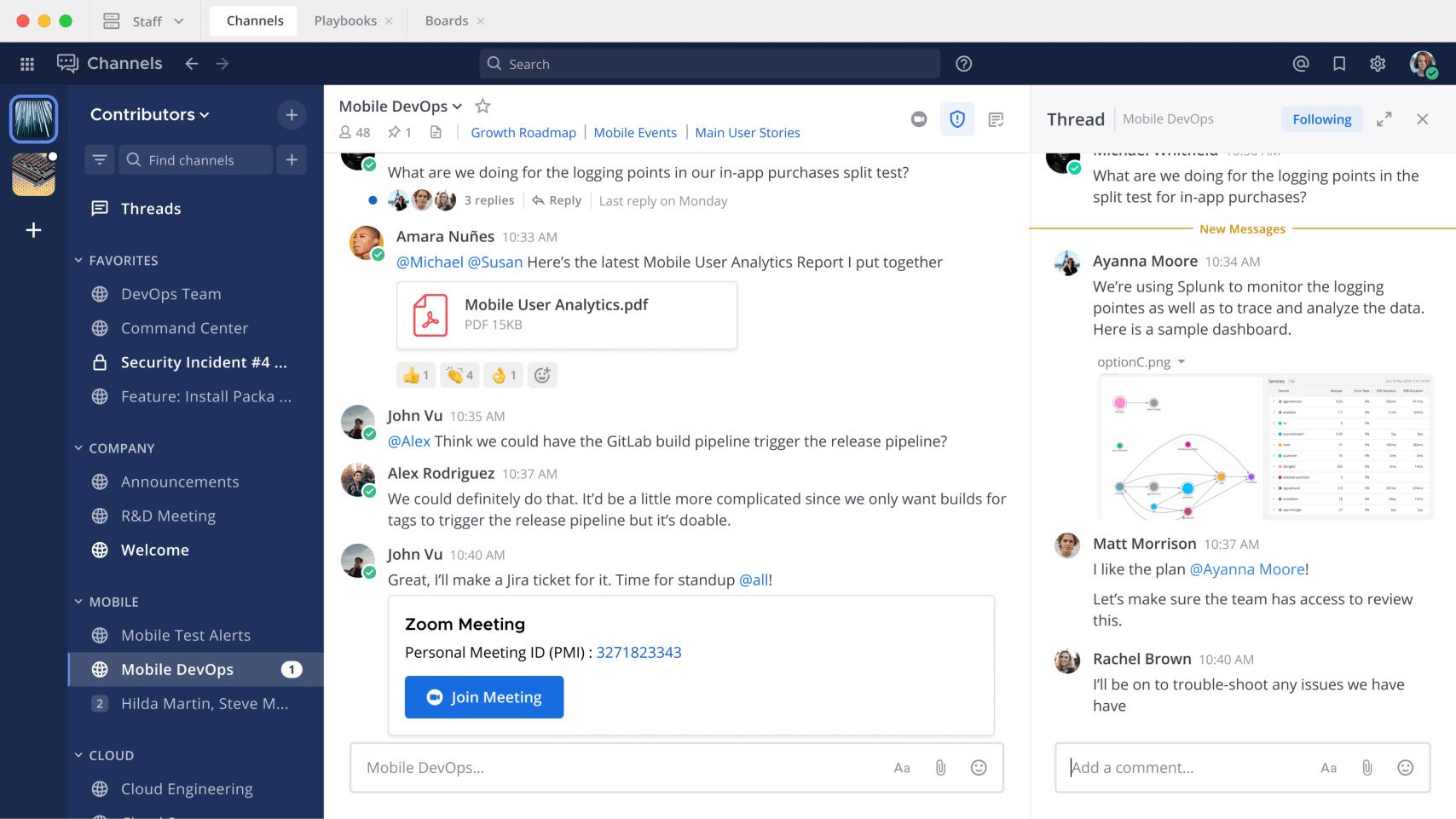 Supported operating systems
Mattermost is compatible with most operating systems including Windows (8.1 or higher), Mac (MacOS 10.14 or higher), and Linux (Ubuntu LTS releases 18.04 or later). The web app is supported by Chrome, Firefox, Safari and Edge browsers. The mobile app is supported by iOS (iPhone 5s devices and later with iOS 12.1+) and Android (Android devices with Android 7+).
Pricing
Mattermost plans range from $0 to $10 per user/month.
Key Features
Mattermost key features include:
Channels: Mattermost Channels enable users to interface directly with third-party developer tools and use CLI-style commands, automation, and integrations. Mattermost users can share files and images and switch from channel based chat to secure audio calls with a single click.
Playbooks: Mattermost Playbooks are pre-built, configurable checklists that outline repeatable processes to achieve specific outcomes. With Playbooks, teams can build workflows and define recurring operations. Playbooks integrate company processes into the messaging platform. Built in retrospectives create reports from all Playbook runs.
Boards: Mattermost boards allow for the customization of task cards configured with information such as ​​assignees, tags, and due dates. Cards are then organized on customizable board templates such as kanban. Mattermost boards include integrated calculations for key metrics such as number of tasks in progress.
How is Mattermost Different from Slack?
Mattermost is supported by an ecosystem of community-driven apps, an open API, and a developer framework, making it extremely customizable. Mattermost is also significantly more affordable than Slack. Slack is better for teams that don't have a dedicated developer and aren't overly concerned with customization.
Twist is an async messaging app that combines email, chat, and forums within a unified collaboration space. Async communication simply means that when a message is sent, an immediate response is not expected.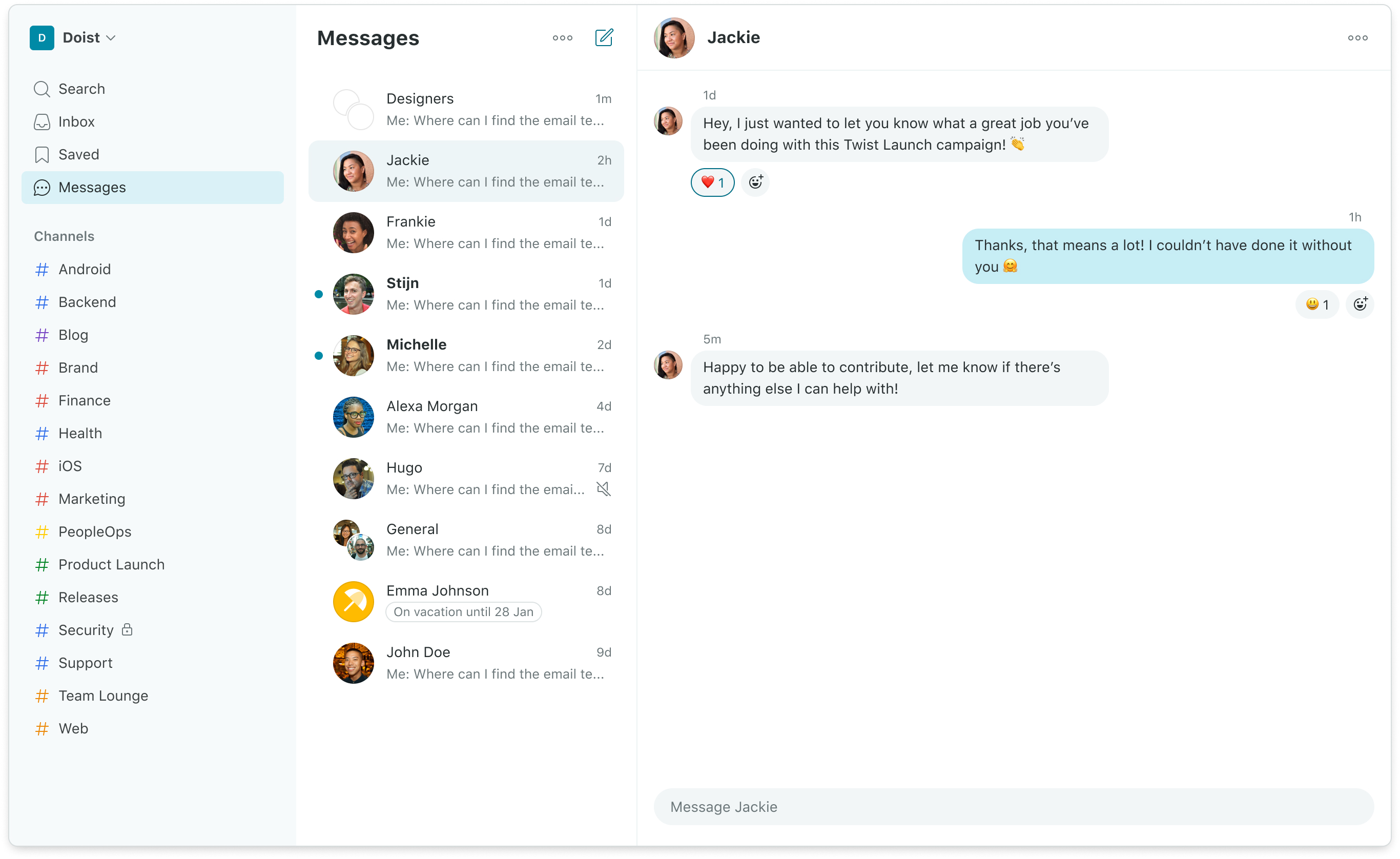 The Twist platform enables employees to communicate on threads, public channels, and direct messages. Channels are organized by topic, project, or client and users have access to features such as file sharing and emojis. Twist purposely does not use notification dots or "I'm available" status bubbles in order to help employees stay focused and reduce stress.
Supported operating systems
Twist has a web app as well as a desktop app that is supported by Windows (Windows 10 or higher), macOS (macOS 10.11 or higher), and Linux. The Twist mobile app is supported by iOS (11.0 or higher) and Android (6.0 or higher).
Pricing
Twist plans range from $0 to $6 per user/month.
Key Features
Some of the key features of Twist include:
Inbox: Twist Inbox gathers conversations from channels and allows team members to prioritize topics however they like. Users can also set up smart notifications.
Link to Past Threads: Twist allows users to link to past threads, even if they are closed. This feature can be used to give new employees context on how a decision was made, or to simply reduce the need for team members to waste time searching through archived conversations.
Integrations: Twist includes over 30 integrations as well as an API to create a completely customized communication solution. There are integrations for productivity (such as Todoist), Project Management (such as Asana) and automation (such as Zapier).
How is Twist Different from Slack?
Twist is a much more simple platform compared to Slack. It does not have the workflow builder or allow for video clips or huddles. Accordingly, Twist is much more affordable than Slack. Where Twist really shines, however, is its focus on asynchronous communication. Because the Twist app eases pressure to respond immediately and prioritizes organization of communication above fast communication, Twist's solution is ideal for remote and hybrid teams that work in different time zones.
Troop Messenger is an all-in-one office collaboration tool and Slack alternative. The platform includes an impressive number of features along with end-to-end encryption, LDAP/SSO and multi-factor authentication.Troop Messenger's platform can be delivered as an on-premise or SaaS solution.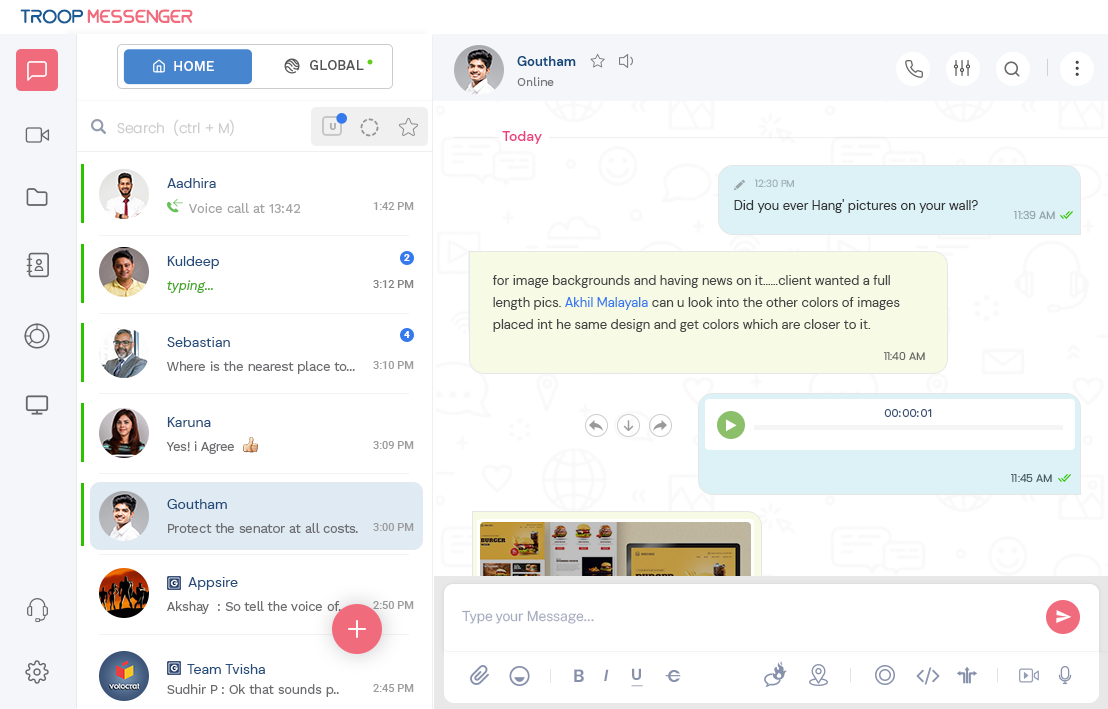 Supported operating systems
The Troop Messenger on-premise platform requires Windows (10 or higher) or Linux (64-bit server). The Troop Messenger mobile app is supported by Android and iOS.
Pricing
Troop Messenger plans range in price from $5 to $25 per user/month.
Key Features
Troop Messenger key features include:
Group Audio/Video Calling: The group calling feature allows all users in a group to jump on an audio or video call directly from the group chat window.
Remote Screen Share and Control: This feature allows Troop Messenger users to share their screens with supervisors and admins. Users also have the option to take control of a remote desktop screen and access its contents with remote screen controlling.
Global Search Filters: Troop Messenger has an extensive list of filters that can be applied to chats. Users can filter by groups, exited members, images/videos/documents, contacts, location, date/time, and more
How is Troop Messenger Different from Slack?
Troop Messenger includes several features that Slack doesn't including:
Fork out (sending a message to multiple users or groups)
Live location tracking
Recall (unsend)
High-end security pin and fingerprint access
Mute conversations
Burnout Window (incognito chat)
Additionally, Troop Messenger includes many more filters than Slack. Troop Messenger does not offer any work management tools, however, whereas Slack includes a workflow builder. Troop Messenger also does not have a free version while Slack does. Due to its emphasis on security, Troop Messenger is best for teams dealing with highly sensitive information.
Flock is a shared space for team collaboration and cross-functional work. Flock's async communication-based platform provides chat channels, video conferencing and productivity tools such as tasks and reminders.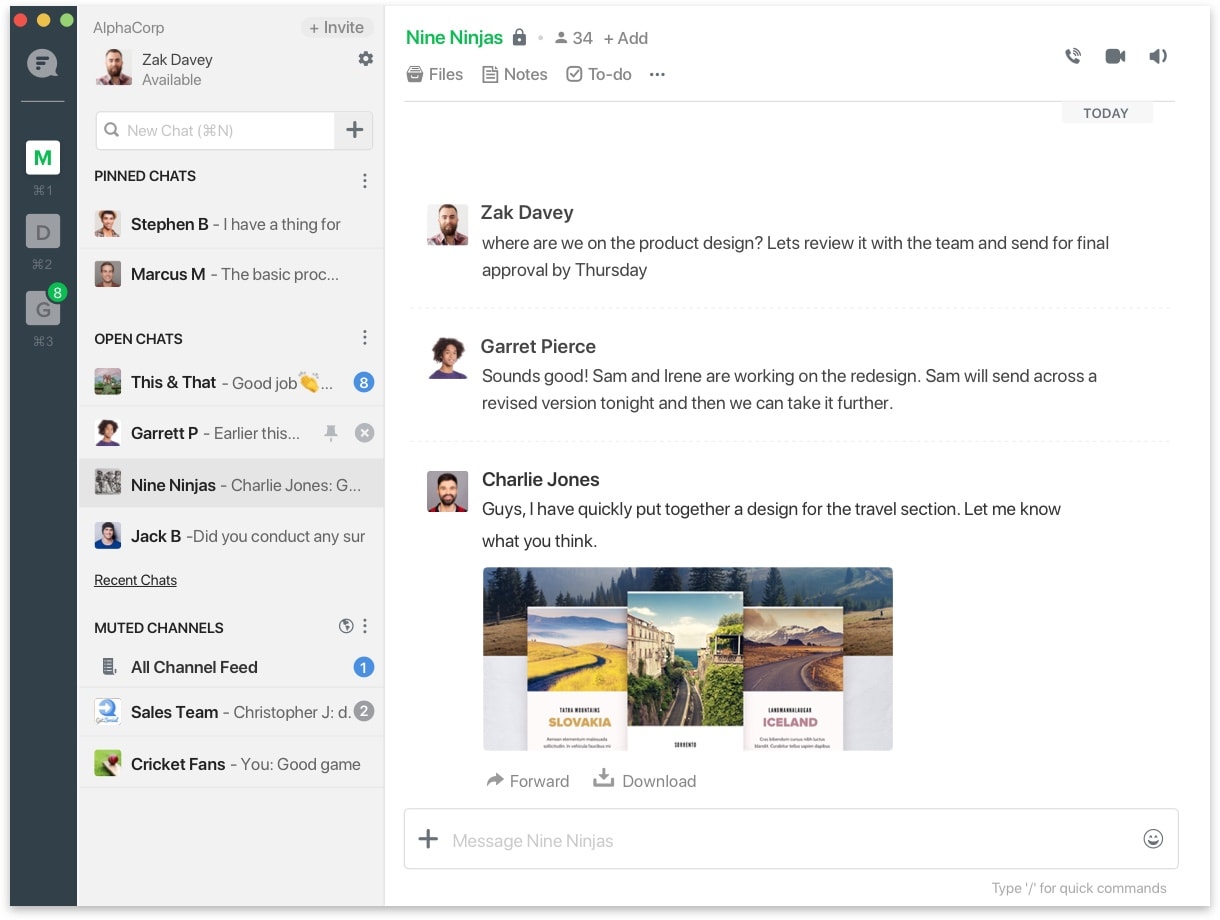 Supported operating systems
The Flock desktop app is supported by Windows (7+), macOS (10.9+), and Linux (Ubuntu 12.04+, Fedora 21+, and Debian 8+). The mobile app is supported by Android (4.4+) and iOS (9.0+). The web app is supported by Chrome, Firefox and Safari.
Pricing
Flock pricing plans range from $0 to $6 per user/month.
Key Features
Key features of Flock include:
Voice Notes: Flock mobile users can send personalized voice notes in lieu of long text messages. Voice Notes can be used to clarify a point or add context to a conversation. Users can also record memos and reminders for themselves in their own voice.
To-Do Lists: Flock to-dos enable users to create tasks for themselves or other team members. Tasks can also be generated directly from channel discussions. When tasks are assigned to other users, Flock's to-dos bot will send a notification to them. Users can also set due dates and reminders on to-dos.
Polls: Flock customized polls can be created in any channel. Poll creators can allow teammates to select multiple options or restrict responses to one. An expiration date for the poll can be set and visual elements such as images can be added. Polls sync automatically across channels and a single consolidated report can be downloaded once responses are in.
How is Flock Different from Slack?
Flock includes some features that Slack doesn't such as polls and videoconferencing and has a significantly lower price tag than Slack. Flock does not have the level of security and reliability that Slack does. Flock is best for small remote and/or hybrid teams that are looking for task management and team collaboration.
Ryver is a cloud-based team collaboration solution. Ryver's platform combines custom conversation channels with voice, video, and task management functionality. Conversation channels can be company-wide forums, small teams, or 1:1.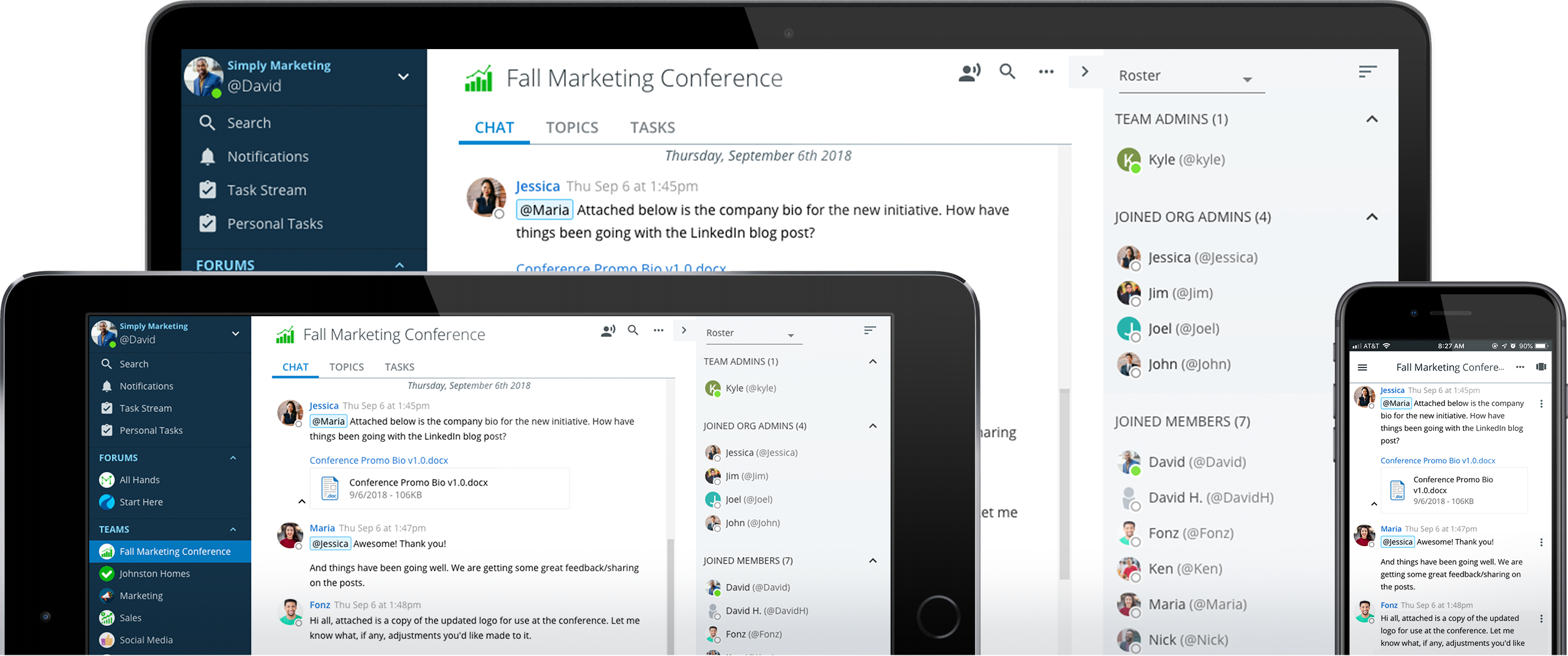 Supported operating systems
The Ryver web app is supported by ​​Chrome, FireFox, Safari, Internet Explorer 11, and Edge browsers. The desktop app is supported by mac OS X and Windows. The mobile app is supported by iOS and Android.
Pricing
Ryver pricing plans start at $4.30 per user/month and go up to $5.75 per user/month.
Key Features
Ryver key features include:
Task Manager: Ryver includes both personal and team task managers where users can assign tasks, set due dates, convert messages to tasks and set alerts.
Video calls: Ryver video calls are meant to improve productivity. Video calls are limited to just 5 users and participants are able to share screens.
News Streaming: Ryver's news streaming will automatically gather social media posts, RSS feeds and news articles based on the customized settings of users. This feature is great for keeping track of competitors and staying up-to-date on research.
How is Ryver Different from Slack?
Ryver is a more simple and affordable solution compared to Slack, however, Ryver still offers a lot of functionality along with substantial security such as SSO. Ryver's news streaming feature makes it a great choice for teams that need to monitor social media channels or news sites.
RocketChat is a compliant and secure communications platform offering team chat, omnichannel customer service, project management and tasks.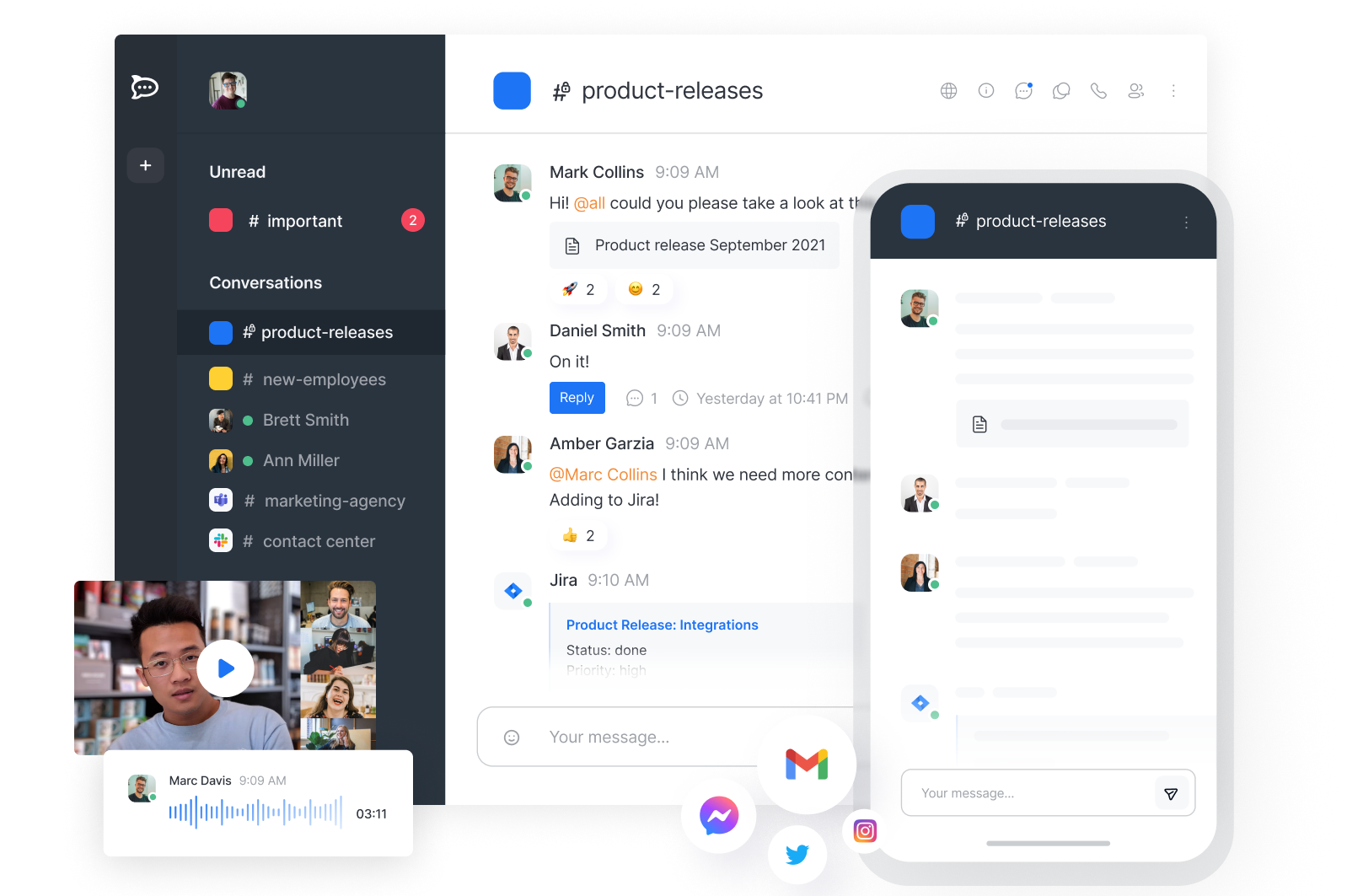 Supported operating systems
The RocketChat desktop app is supported by Windows (8+), macOS (OS X 10.11+) and Linux (Fedora 28+, Ubuntu LTS releases 18.04+, or Red Hat Enterprise Linux 7.0+). The mobile app is supported by iOS (11+) and Android (6.0+). The web app is supported by Chrome, Firefox, Safari, Internet Explorer and Edge browsers.
Pricing
RocketChat has only two pricing plans, a community plan which is free and an enterprise plan which is $7 per user/mo if there are 25 users or more and $35 per user/mo. if there are 5-24 users.
Key Features
RocketChat key features include:
Omnichannel Customer Service: RocketChat's omnichannel solution provides a single inbox where agents can view all customer communication whether it's text, Whatsapp, Twitter messenge, or Livechat. The omnichannel solution includes a ticketing system with complete chat history and permissions. Companies can integrate their preferred CRM, chatbot and/or machine learning app when its time to scale.
White Labeling: RocketChat white labeling allows RocketChat users to leverage pre-built chat components and options to create a completely customized communication app for their customers. Advanced features such as video, voice messaging, and file sharing can be added. Customers can also be enabled to communicate with each other while admins monitor and moderate.
Team Collaboration: RocketChat's team chat app is made for cross-company communication. It includes group messaging, long-term chat "channels," and short-term "discussions" for projects. RocketChat users can also engage in video and voice calls, build custom workflows, search history, and share files.
How is RocketChat Different from Slack?
Rocketchat's Enterprise plan (when there are more than 24 users) is cheaper than Slack's most economical paid plan and it offers more features and comparable security measures. Additionally, RocketChat includes a complete omnichannel service solution while Slack is solely focused on internal communication. For small and medium-sized B2C teams, RocketChannel is a better value than Slack.
Chanty is an easy-to-use team communications tool with unlimited messaging. Chanty users can @mention users and share content from YouTube, Coub, and other social media websites as well as GIFs and code snippets. Project management features include kanban boards and task assignments. Chanty users can pin messages, rename, or leave conversations with a single click.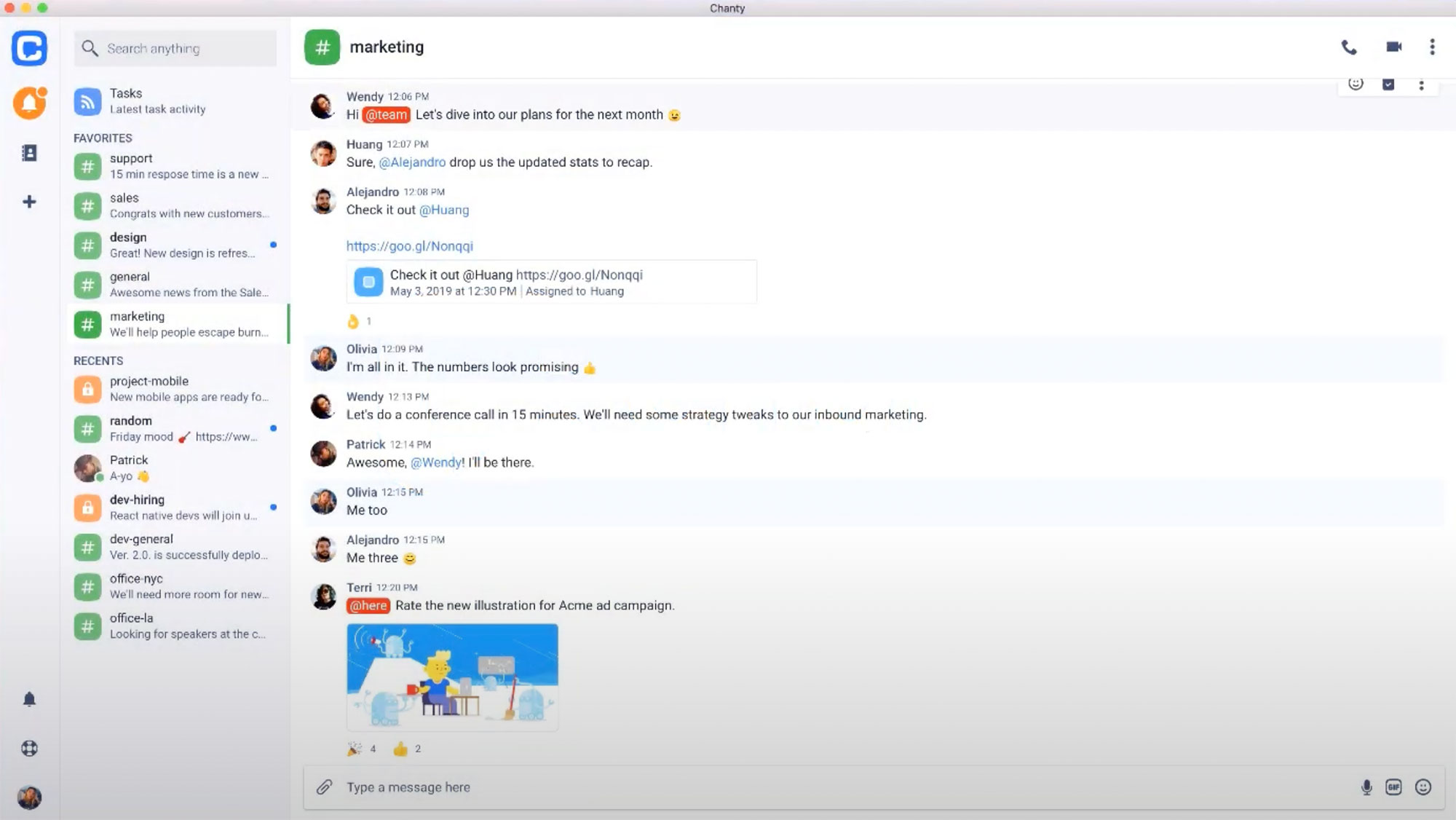 Supported operating systems
The Chanty desktop app is supported by Windows, macOS, and Linux (Debian and Fedora-based distributives). The mobile app is supported by Android and iOS. The web app is supported by Chrome, Safari, Edge, and Mozilla browsers.
Pricing
Chanty offers two pricing plans: a free version and a paid version that costs $3-$4 per user/month.
Key Features
Chanty key features include:
Video Conferencing: Chanty's video chat tool allows for up to 1000 video participants and 49 videos on-screen with 4K video and audio. Video features are limited compared to providers such as Zoom, but users can share their screens.
Task Management: Chanty users can create new tasks from scratch or turn any message into a task in any given conversation. In Chanty, users assign, reassign, track status, and use filters to find tasks quickly. Additionally Chanty enables users to discuss any task in a related flow with only relevant people around.
Teambook: Chanty's Teambook is a hub for individual users that houses tasks, conversations, pinned messages, and shared content. In Teambook, users can get quick access to message history and contacts.
How is Chanty Different from Slack?
When it comes to team collaboration, Chanty is a more simplified solution than Slack. Slack has a more advanced search function, more integrations, and more notification options.
Slack also has a significantly higher price tag.
When it comes to project management, Slack offers a workflow builder while Chanty doesn't, but Chanty includes task assignments and kanban boards. Chanty is also more flexible than Slack, allowing users to customize how conversations and tasks are organized. For small teams that need help with organization and collaboration, Chanty is a great option.
How to Choose the Best Team Collaboration Software for Your Business
The best team collaboration software for your business is the one that your team members will use. This means that the decision should be based mostly on how your team works. If employees are in different time zones, it might make sense to go with an async communication platform such as Twist or Flock. If your team needs video conferencing capabilities, Microsoft Teams or Zoom might be the best choice. If project management and organization is a priority, ClickUp is a great option.
Ultimately, your team members are likely to have the best idea of what features will help things run smoothly. Research, open discussion, and perhaps a few trial runs will lead you to the best team collaboration solution. Keep in mind that although the above solutions are our top picks, this is not an exhaustive list. Other Slack alternatives to consider are Flowdock, Github, Trello, Glip, Google Chat, and Discord.