OpenPhone and RingCentral are two of the most popular VoIP providers on the market. Both offer a wide range of features including unlimited calling, text messaging, and team collaboration tools.
However, there are some key differences between the two platforms.
In this article, we compare OpenPhone vs RingCentral in detail. We'll examine features, pricing, user experience, integrations, and more. Read on to find out which platform is best for your business needs.
Quick links:
OpenPhone vs RingCentral at a Glance
OpenPhone is built for small companies and is limited in features but offers some of the lowest prices in the VoIP space.
Quick facts about OpenPhone:
Offers international calling and messaging at per-minute or per-message rates that vary by country
Additional phone numbers can be purchased for $5/month
7-day free trial
RingCentral is more expensive than OpenPhone, but offers a much more robust, secure, and feature-rich platform.
Quick facts about RingCentral:
All plans include HD video conferencing with breakout rooms, whiteboarding, screen sharing and remote screen control, and more
14-day free trial with support for up to 20 phone lines
Sppecial pricing packages for education institutions
OpenPhone
RingCentral
Pricing
$13-25 per user/month
$20-$45 per user/month
Key Features

Unlimited calling and messaging in the U.S. and Canada
Group calling
IVR
Voicemail transcription
Call recording

Advanced call monitoring
IVR
Hot desking
Team messaging
HD video conferencing
Visual voicemail

Available Communication Channels
Integrations
8 integrations including Slack, Zapier, and Hubspot
Over 300 integrations including Salesforce, Zendesk, Microsoft Teams and Office 365
Customer Support Options

Live Chat
Online support case
Social media
24/7 Phone support
Knowledge base and online community

Alternatives to consider
Grasshopper
Dialpad
Best For
Small businesses and startups that only need basic voice and messaging functionality.
Large companies, enterprises, healthcare organizations, educational institutions, and other businesses that need a reliable, secure solution.
What is OpenPhone?
OpenPhone is a cloud-based phone system that offers affordable telephony and messaging services. Its platform includes basic call center features such as call routing and call forwarding.
Voice and text conversations are organized into digital "workspaces."
Each OpenPhone business phone number has its own designated workspace, so companies can assign a separate phone number to different departments. Team members can then view all interactions within their department, including both text messages or phone call recordings.
Employees can also collaborate on conversations and share a universal contact list.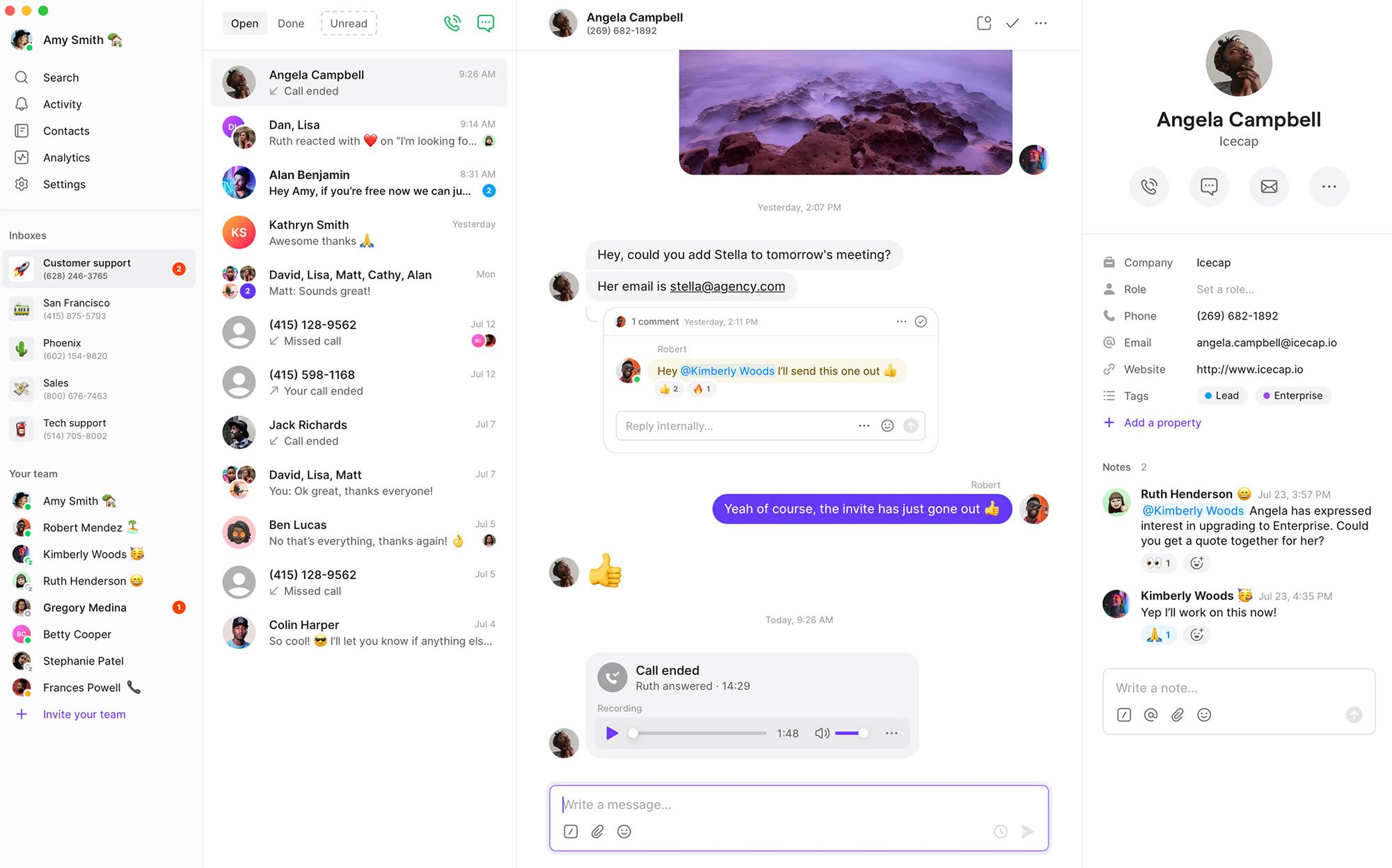 What is RingCentral?
RingCentral is a unified communications and contact center as a service provider.
RingCentral MVP is its cloud-based PBX platform, offering phone, messaging and video functionality. One of the oldest providers in the UCaaS space, RingCentral's platform focuses on security and reliability with a 99.999% SLA uptime and over ten compliance certifications.
RingCentral users have access to a number of advanced features including robust team messaging and video conferencing platforms.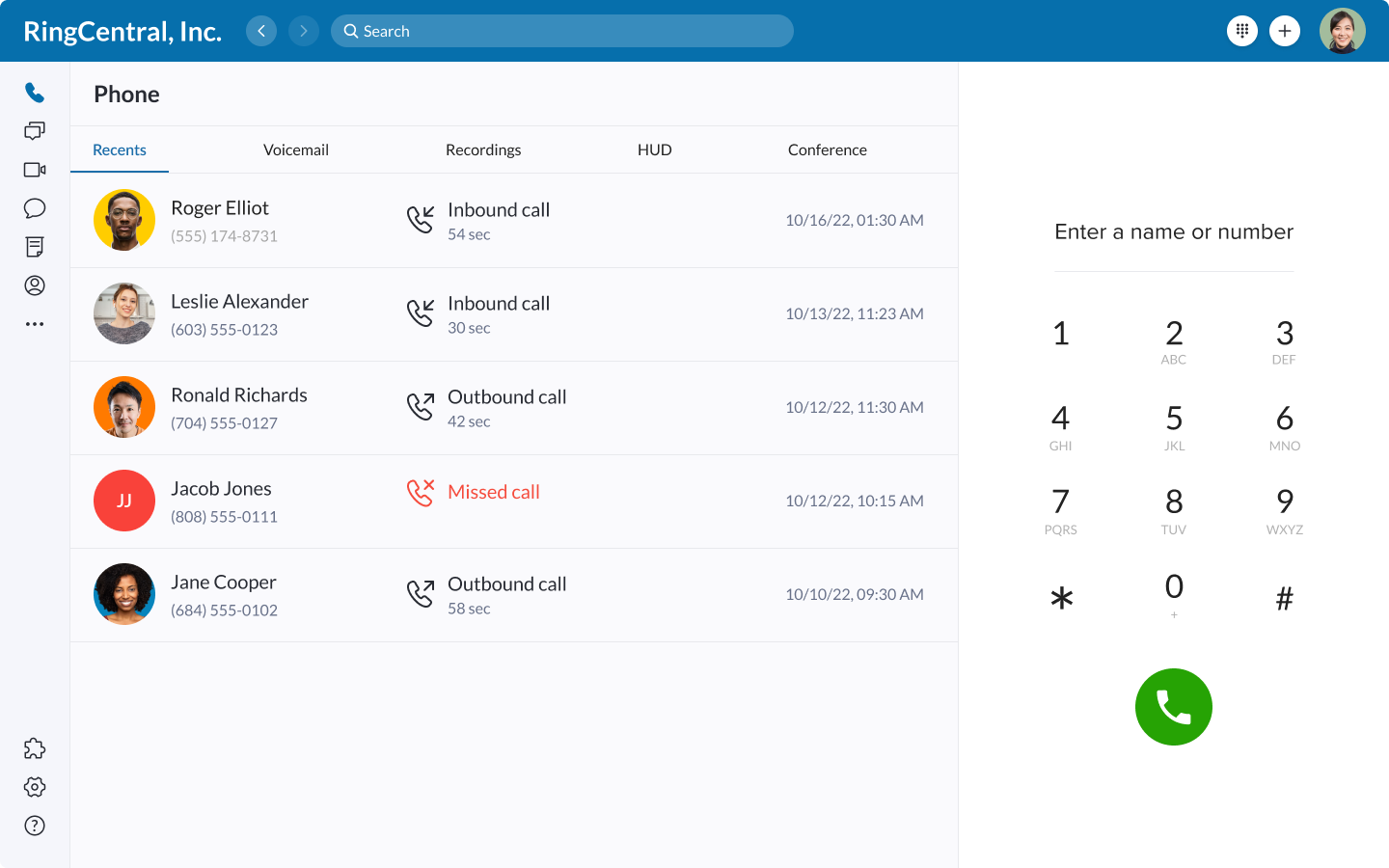 OpenPhone vs RingCentral: Pricing Overview
OpenPhone offers three bundled featured plans outlined below:
Standard Plan ($13 per month/user, paid annually): Includes unlimited calling and messaging plus basic features such as business hours, voicemail-to-text, and call recording. Users are limited to 10.
Premium Plan ($20 per month/user, paid annually): Users are unlimited. Additional features include group calling, call transfers, round-robin call distribution, and analytics/reporting. Includes priority customer support.
Enterprise Plan: Includes an audit log and a dedicated support manager.
RingCentral offers three pricing plans for its business communications solution:
Core Plan ($20 per month/user, paid annually): Includes unlimited domestic calling, texting, team messaging and video conferencing (for up to 100 participants), along with 100 toll-free minutes. Features include IVR, call logs, real-time QoS reports, and on-demand call recording.
Advanced Plan ($25 per month/user, paid annually): Includes 1,000 toll free minutes and unlimited internet fax. Additional features include automatic call recording, 8 digit extensions, call whisper/barge, and essential business analytics.
Ultra Plan ($35 per month/user, paid annually): Includes 10,000 toll free minutes and up to 200 video participants. Additional features include unlimited storage, device analytics and alerts, and business analytics (pro version)
OpenPhone vs RingCentral: Feature Comparison
Calling
OpenPhone calling is reliable and includes a number of useful features. Each paid user can choose a new local or toll-free number, or can port an existing number. Additional numbers can also be purchased without adding users.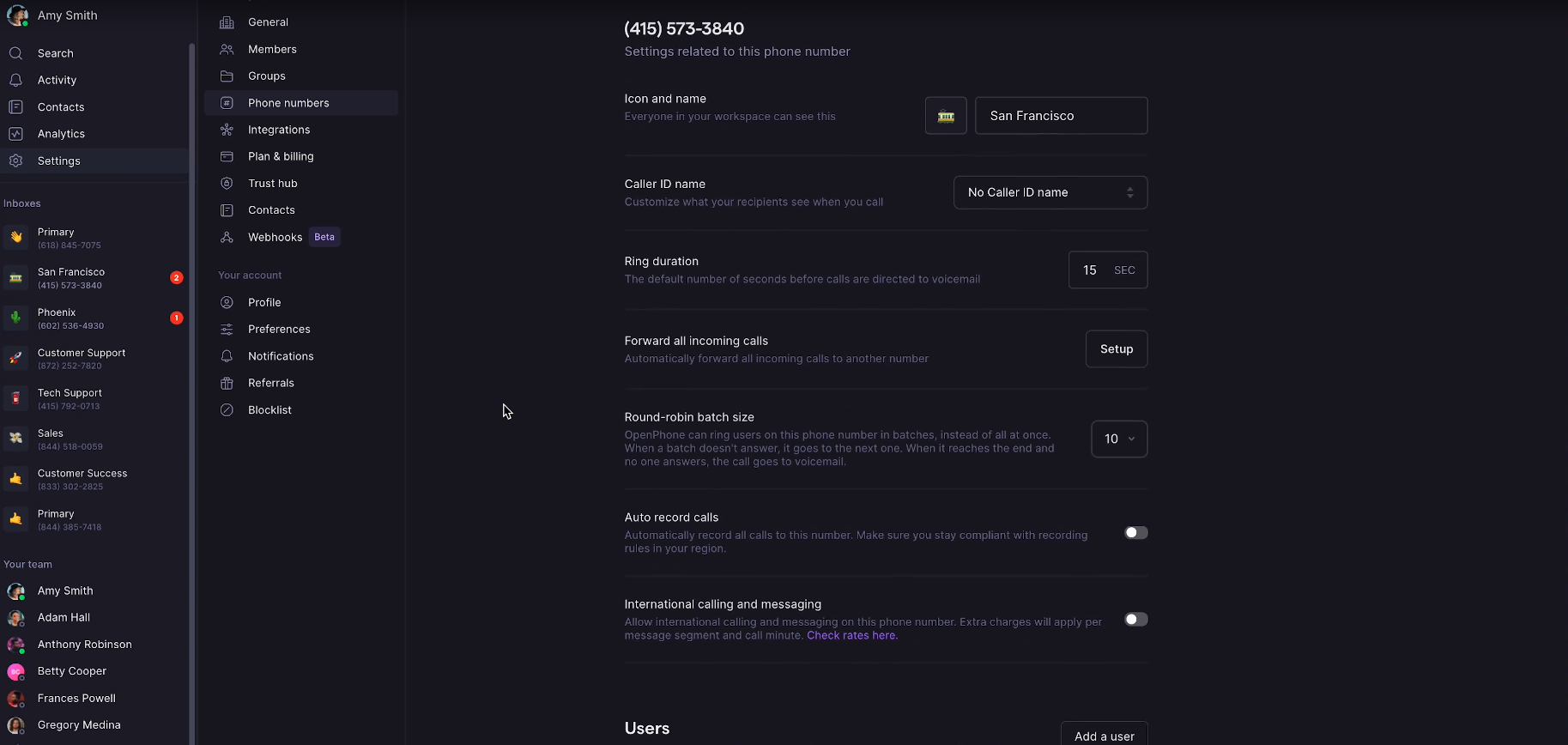 Each OpenPhone phone number comes with a digital inbox, or workspace. Within the inbox users can view and collaborate on calls, recordings, texts and voicemails without having to jump between apps. This allows companies to designate one phone number for a department (such as support). OpenPhone also offers international calling at per-minute rates that vary by country.
OpenPhone calling features include:
Business hours
Shared contacts
Voicemail-to-text
Call recording
Phone menus
Group calling
Call transfers
Round robin
RingCentral offers unlimited calling on all plans with plenty of advanced voice features. Each user can choose a local or toll-free number, with toll free minutes included. Additional local, toll-free, vanity, and/or international numbers can be purchased as add-ons.
RingCentral offers full service in over 45 countries and inbound virtual numbers in 105+ countries. Advanced phone security features include AI-based spam blocking, number masking, and TLS encryption/SRTP secure voice.
RingCentral voice features include:
Voicemail routing based on business hours
RingOut (calling on third-party devices with business phone number)
Emergency response locations for E911 calls
Visual voicemail (voicemail transcription and voicemail to email)
Multi-level auto attendant and IVR
Call queues
Call recording (on-demand and automatic)
Hot desking
Messaging 
OpenPhone includes unlimited SMS/MMS messaging on all plans. Users can send and receive texts on any device including computers, iPhones and Android devices. OpenPhone messaging supports all types of files including videos, GIFs, and PDFs.
Text messages are viewed in the phone number inbox along with call recordings and voicemails that are made/received by the same OpenPhone number. This keeps messages organized and allows team members to collaborate on text message communication.
OpenPhone messaging features include:
Auto replies
Schedule messages (users can schedule texts to go out at a certain time)
Snippets (canned responses that team members can use to save time when answering common questions)
Incoming message alerts
RingCentral's business SMS feature is included in all plans and allows users to communicate in real-time with members and clients. Users can send and receive texts of up to 1,000 characters across Android and iOS cell phones, tablets, computers, and the RingCentral desktop and mobile app.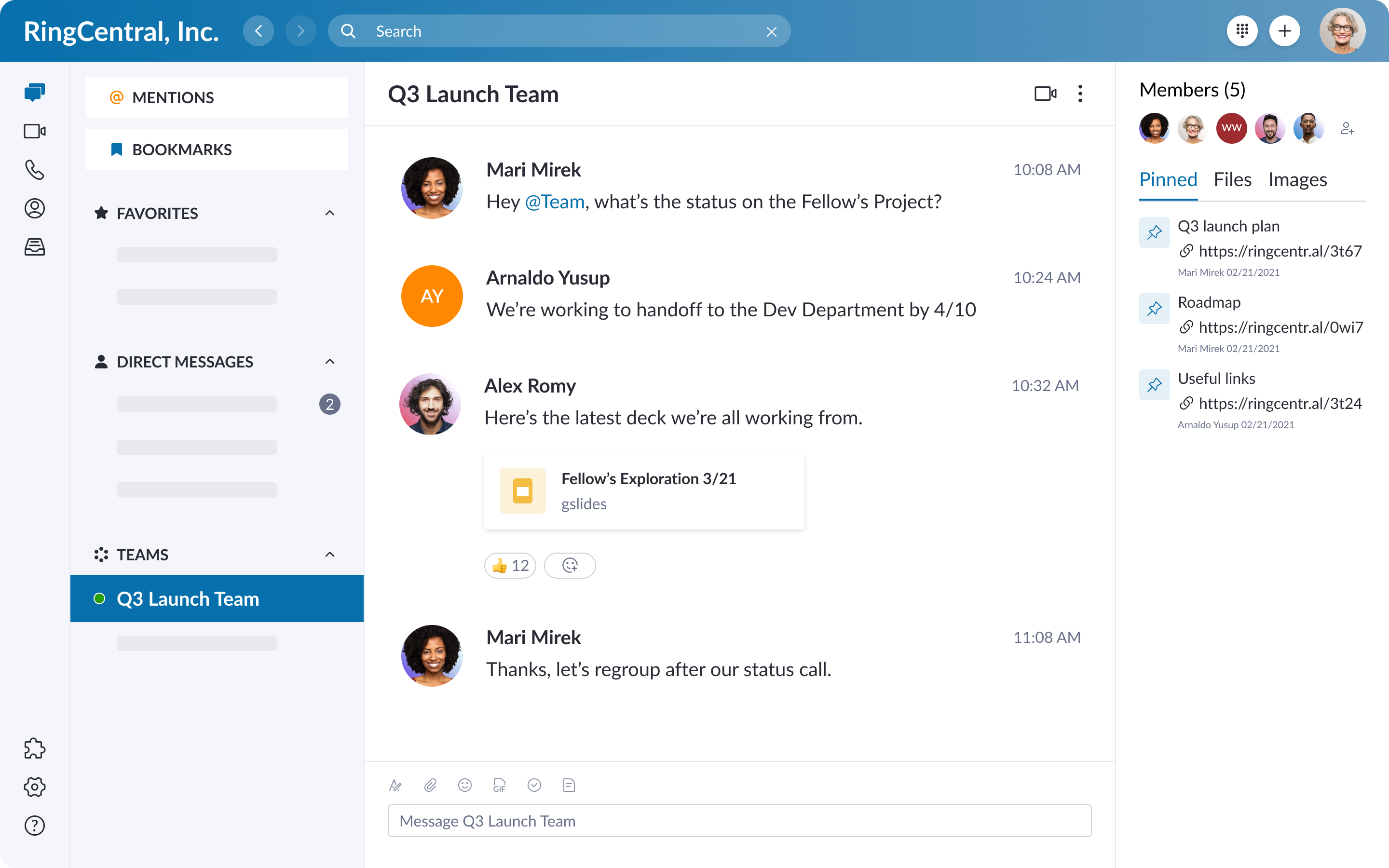 Each RingCentral user can store up to 5,000 text messages. Monthly SMS limits vary according to the pricing plan. After the threshold is reached, rates apply for each message sent/received.
High volume SMS bundles can also be purchased as an add-on. Texts can be sent from toll-free numbers, and international SMS texting is available.
RingCentral messaging features include: 
Support for images, audio files, videos, emojis, and other file attachments
Advanced search function
Spam blacklist and number blocking
Make a call directly from a text
Reminders and notifications
Call Conferencing 
OpenPhone offers a group calling feature to Premium and Enterprise users. A group call can be started on the web, desktop or mobile app. Users can add people during a call by typing in a name or phone number.
When adding a workspace teammate to a group call, users can send a message along with the invitation to the conference call. Invitees receive a pop up screen with the option to accept or reject the group call. The group call initiator can see people who have been added and remove them by clicking next to the person's name.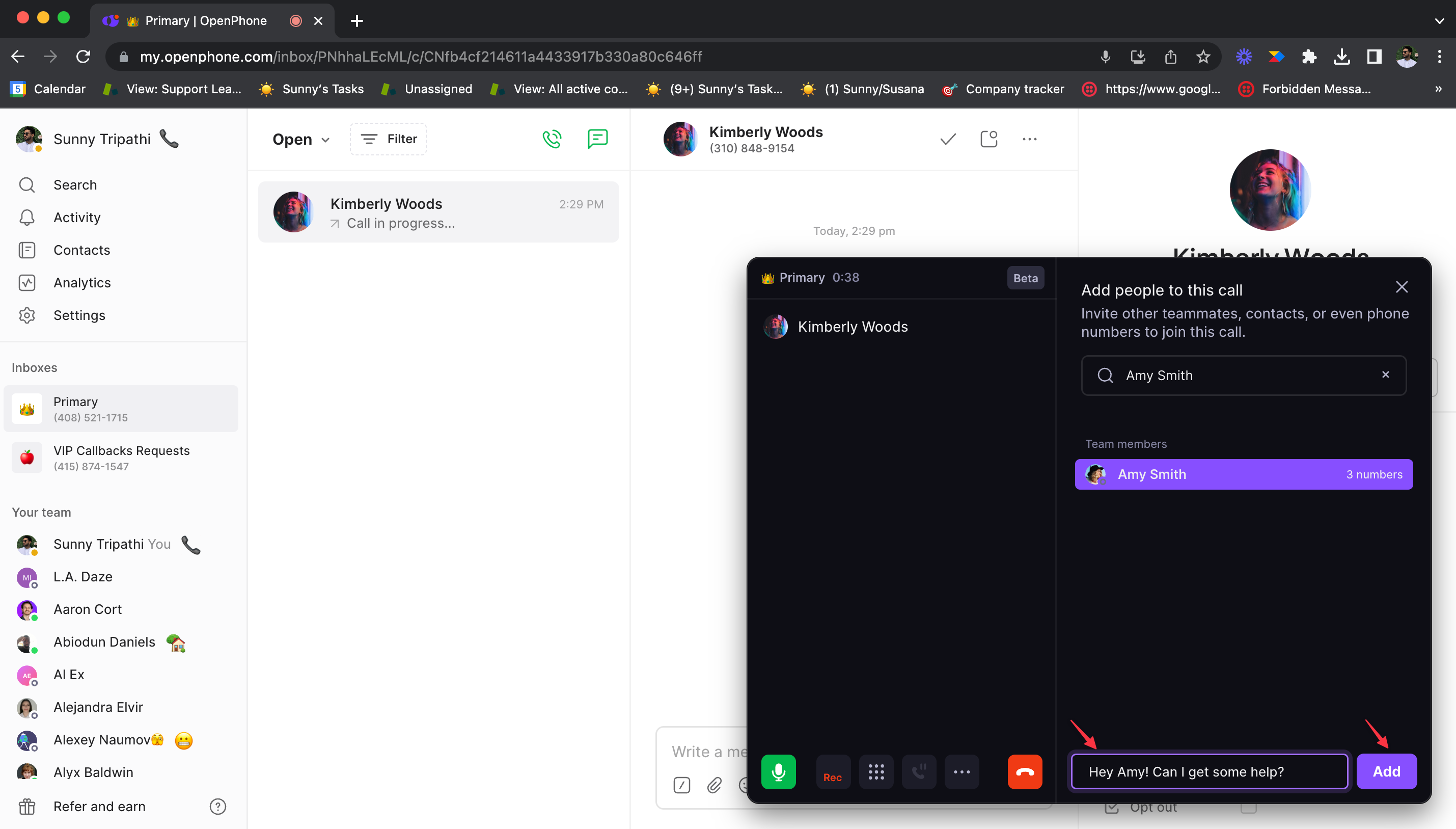 RingCentral's MVP platform includes a free conference call feature.
Users have access to unlimited audio conferencing and can invite up to 1,000 participants per call. RingCentral has a single and dedicated dial-in number for each company, so participants can join a conference call from any device–including a landline.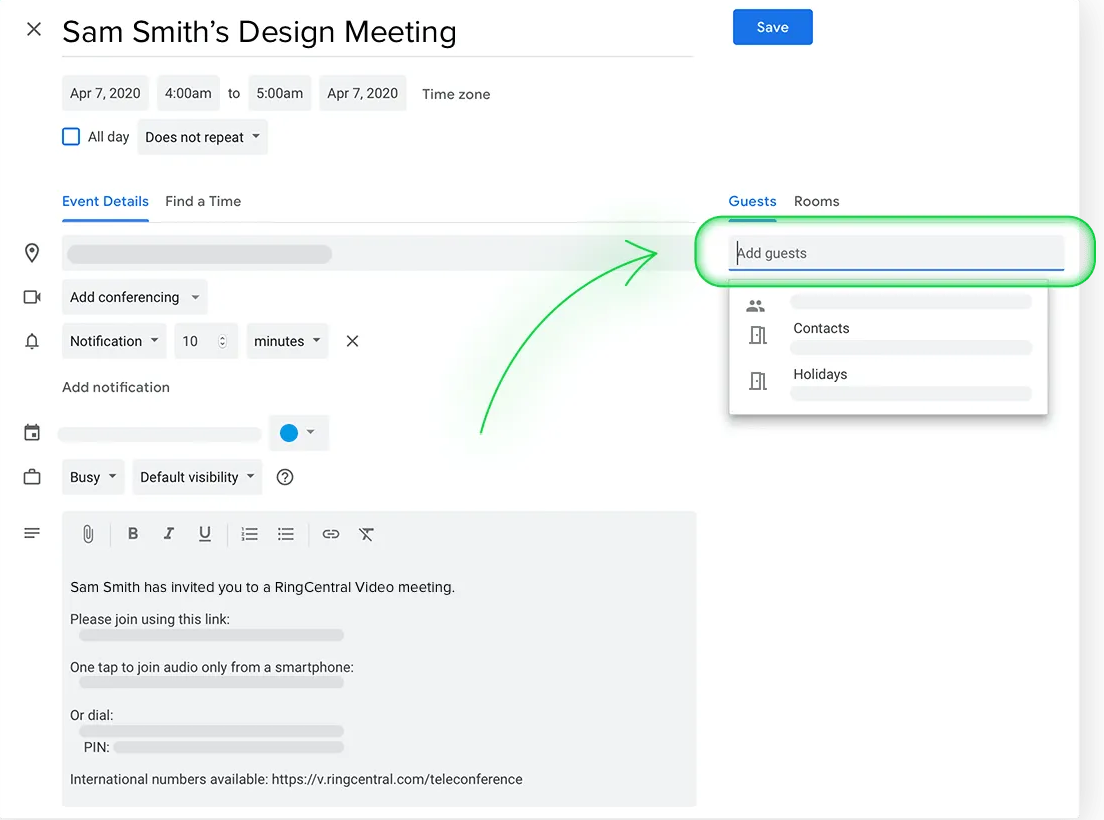 Each RingCentral user gets their own host and participant codes. RingCentral also offers separate long-distance dial-in numbers for international callers. RingCentral integrates with Google Calendar and Outlook to automatically create links to conference calls for invites.
Analytics & Reporting 
OpenPhone analytics are available on Premium and Enterprise plans and provide an in-depth look at all the phone numbers used by the company. Analytics can only be accessed on the Web and desktop apps at this time.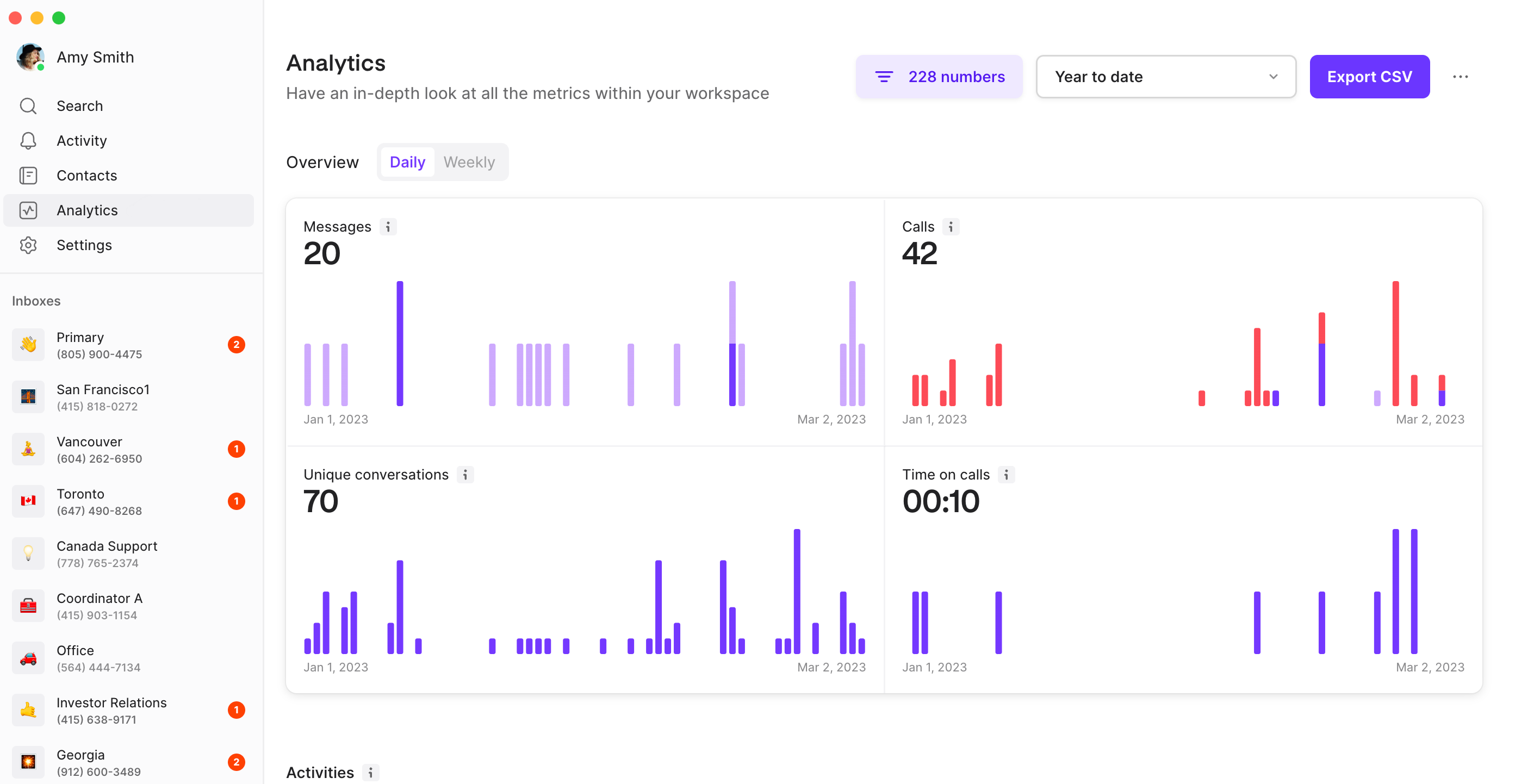 The OpenPhone analytics dashboard displays the following key metrics as totals and on a per-user basis:
Outgoing and incoming messages
Outbound and inbound calls
Number of unique conversations
Time spent on calls
There is also a heatmap showing the busiest days and times of the week.
Owners and admins can view analytics for every phone number, while members can only view numbers they are assigned to.
Data can be filtered, exported and emailed to admins. Data exports contain 24 data points including call duration and call statuses.
RingCentral includes both real time and historical analytics in its MVP platform. RingCentral analytics provide historical data on metrics such as: 
Call quality
Agent activity
Average speed of answer
Inbound/Outbound Call Volume
Total Calls
Average Calls per day
RingCentral users can customize what data is included in reports as well as specify data ranges, departments, and individual agents.  Alternatively, supervisors can choose from a list of pre-built KPI and report templates. All RingCentral reports can be automatically scheduled at preset intervals, and admins can set up real-time email notifications when a new report is sent out.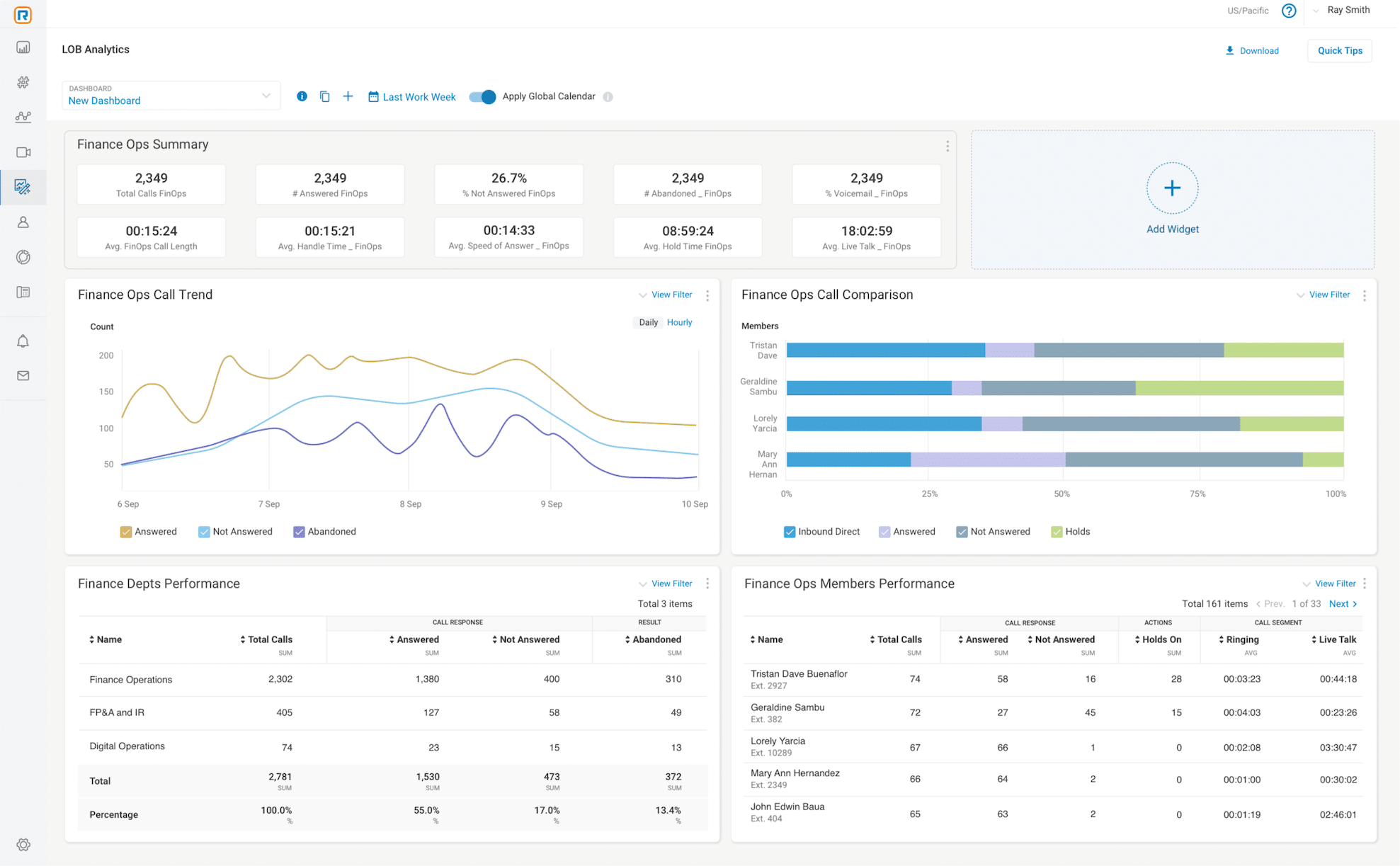 Adoption analytics and Business Analytics Essentials are available in RingCentral's Advanced Plan. Business Analytics Pro is included in RingCentral's Ultra Plan. Business Analytics (currently in Beta) provide interactive reports of historical data and company-wide trends, as well as pre-defined templates, data-driven alerts, and report subscriptions.
Real-Time Analytics (or Live Reports) are available as an add on to any plan. Live Reports use data visualization techniques like graphs and charts to display a snapshot of live call data for metrics like queue statuses and agent activity.  Real-time snapshots are available for 24 hours.
Integrations
OpenPhone only offers six out-of-the-box integrations with third party apps: 
Slack
Zapier
Google contacts
HubSpot (Premium+Enterprise Plans only)
Salesforce (Premium+Enterprise Plans only)
Gong (Premium+Enterprise Plans only)
 OpenPhone does offer a Beta version of Webhooks and users can integrate email accounts.
RingCentral is known for its vast integration ecosystem with over 300 third-party platforms–the most of any UCaaS provider.
RingCentral's Core plan includes basic integrations like:
Outlook
Microsoft 365
Google Workspace
Slack
Microsoft Teams
Advanced and Ultra plans include CRM integrations with: 
Salesforce
Zendesk
ServiceNow
Industry-specific integrations (Canva, Smarsh, etc.)
Custom APIs are available on all plans.
OpenPhone vs RingCentral Pros & Cons
Here's a look at what users like and dislike about RingCentral and OpePhone.
OpenPhone Pros & Cons
Pros:
Extremely affordable
Minimalistic and user-friendly interface
Digital workspaces enable companies to assign each department its own phone number
Cons:
OpenPhone does not offer video conferencing
Advanced features and integrations are extremely limited
No live phone support
RingCentral Pros & Cons
Pros:
High-level security with SSO and E2EE included on every plan
Integrates with over 300 third party applications
24/7 live customer support via phone and live chat
Cons:
Expensive compared to competitors
RingCentral's platform is complex, and its low ease of use means a steep learning curve
User reviews consistently mention customer support agents often difficult to reach
Who Should Use OpenPhone?
OpenPhone is ideal for small businesses and startups that only need essential business communication system features and want to keep VoIP service costs consistently low.
The simple user interface is perfect for teams without an in-house IT department. The collaborative phone number inboxes are a great feature for remote teams and businesses with a designated support number for customers.
Who Should Use RingCentral?
RingCentral is best for larger businesses and enterprises needing high-level call monitoring, advanced third-party integration, and team collaboration.
With its superior security, high uptime, and 24/7 support, RingCentral offers the most value for large remote, hybrid, and/or international teams.
RingCentral is also a popular choice for educational institutions as it offers discounts and special packages for them. And with HIPAA compliance and telehealth capabilities, RingCentral is a great choice for healthcare organizations as well.
FAQs
Openphone is a more affordable business phone solution but it includes less advanced features and does not offer the same level of security and reliability as RingCentral. 

Yes, you can send and receive text messages with OpenPhone.

RingCentral is best for large companies, healthcare organizations, and enterprises that need a secure and reliable business phone system.