Project management software like ClickUp and monday.com offer much more than to-do lists alone.
These platforms create a balanced workflow with a central place for assigned tasks, collaborative files, deadlines, and project progress updates. They can be used for onboarding, building a knowledge base, or preparing a webinar.
Project management and team collaboration tools streamline a variety of tasks, including onboarding, building a knowledge base, managing lead follow-up, and preparing webinars. Especially with today's remote, hybrid, and global workforce, tools like monday.com and ClickUp keep teams on the same page and ensure project details aren't overlooked.
In this post, we'll consider how ClickUp vs monday.com compare when it comes to pricing, features, integrations, and more. We'll also provide our favorite alternatives to both options.
Jump to ↓
ClickUp vs monday.com: Overview
Here is a quick overview of the ClickUp and monday.com platforms.
ClickUp
monday.com
Pricing
$0-$29 per user/mo.
$0-$20 per user/mo.
Free Trial
No, but they offer a free version
No, but they offer a free version
Most popular plan
Business Plan ($12-$19 per user/mo.)
Standard ($10-$12 per user/mo.)
Key Features

Goals and portfolios
Mind maps
Advanced automations and time-tracking

Gantt charts
Formula and dependency columns
Multi-level permissions

Collaboration Tools

Image and PDF annotation
Email in ClickUP
Smart notifications

Embedded documents
Updates section
Whiteboards

Unique Integrations
Box, Make, Timesheets
Zoom, Adobe Creative Cloud, Dropbox, Google Drive
Custom Dashboards
Yes
Yes
Templates
Yes
Yes
Security & Privacy Features
Two factor authentication in all plans, SSO available in Business plan and higher, HIPAA compliance and custom permissions/roles available in some plans
SOC 2 Type II compliance and two-factor authentication in all plans, SSO and HIPAA compliance available in some paid plans
Apps Marketplace
Yes
Yes
Best for
Companies with multiple remote/hybrid teams
Small teams and startups
What is ClickUp?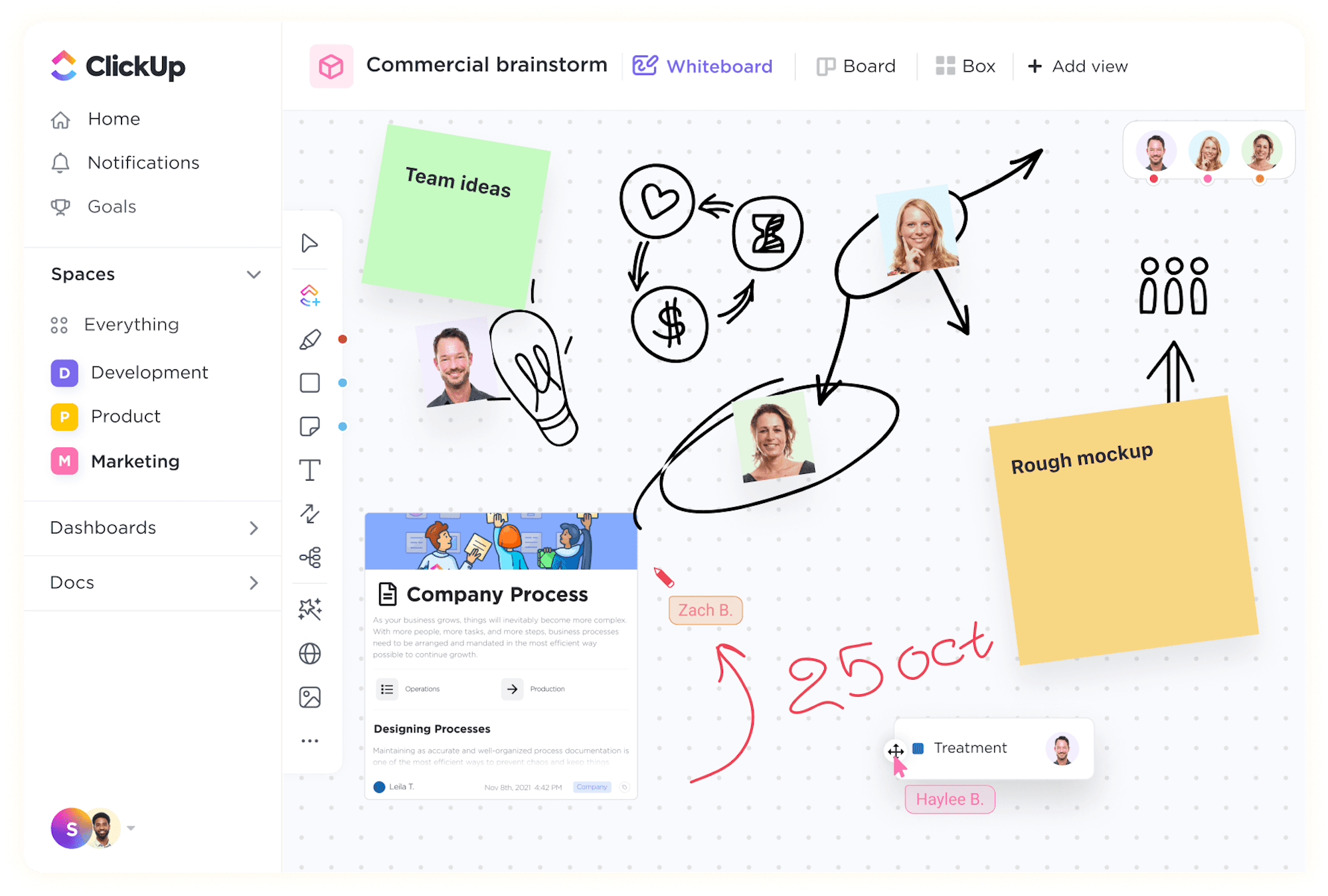 Clickup is an all in one collaboration and project management tool that enables users to organize projects and tasks using digital workspaces and customizable dashboards. ClickUp includes cutting-edge features such as natural language processing, mind maps, and more. ClickUp's platform also includes a dedicated team chat space with file sharing.
What is monday.com?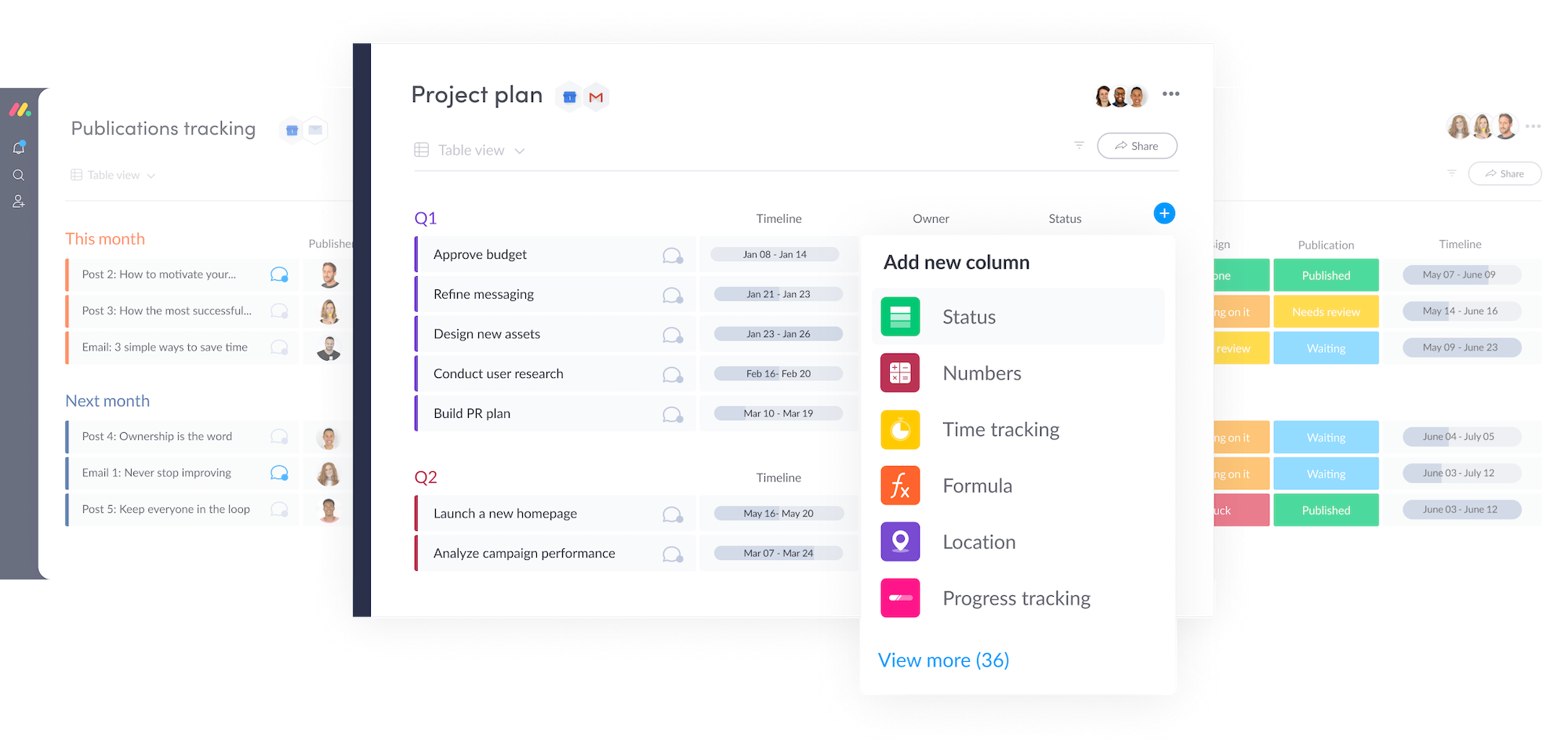 Monday.com is a leading cloud-based work management software provider. Monday's platform includes tools for creating work flows, automations, and more. With over 200 project templates, 5 different views, and 20+ column types, monday's platform is extremely customizable.
ClickUp vs. monday.com: Feature Comparison
In the following sections we will take a closer look at how ClickUp and monday compare in a number of categories and declare a winner in each section.
Task Management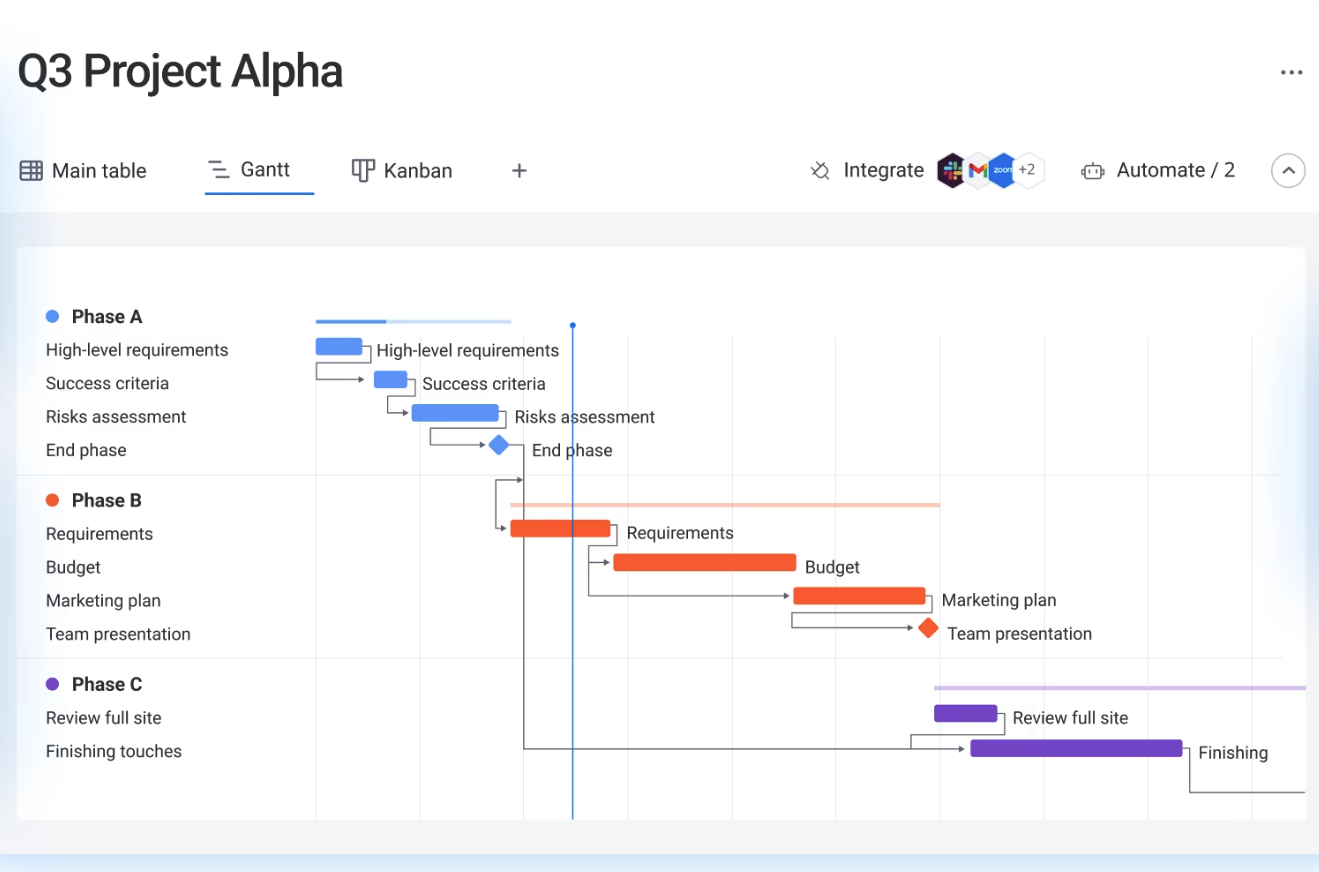 Monday.com's flexible platform allows users to customize and manage tasks according to their specific business needs–instead of forcing users to choose from rigid, pre-made workflows and templates.
Key project components like tasks, assignees, and due dates can be organized into several view options, including kanban board, timeline, calendar, map or chart. Customizable notifications can also be set up.
Pro and Enterprise plan users have access to a workload view, which shows each team member's assigned tasks, projects, and even schedule to prevent them from being overburdened. Users can also set up a dependency column to draw clear relationships between tasks ( for example, one task cannot begin until another task is completed).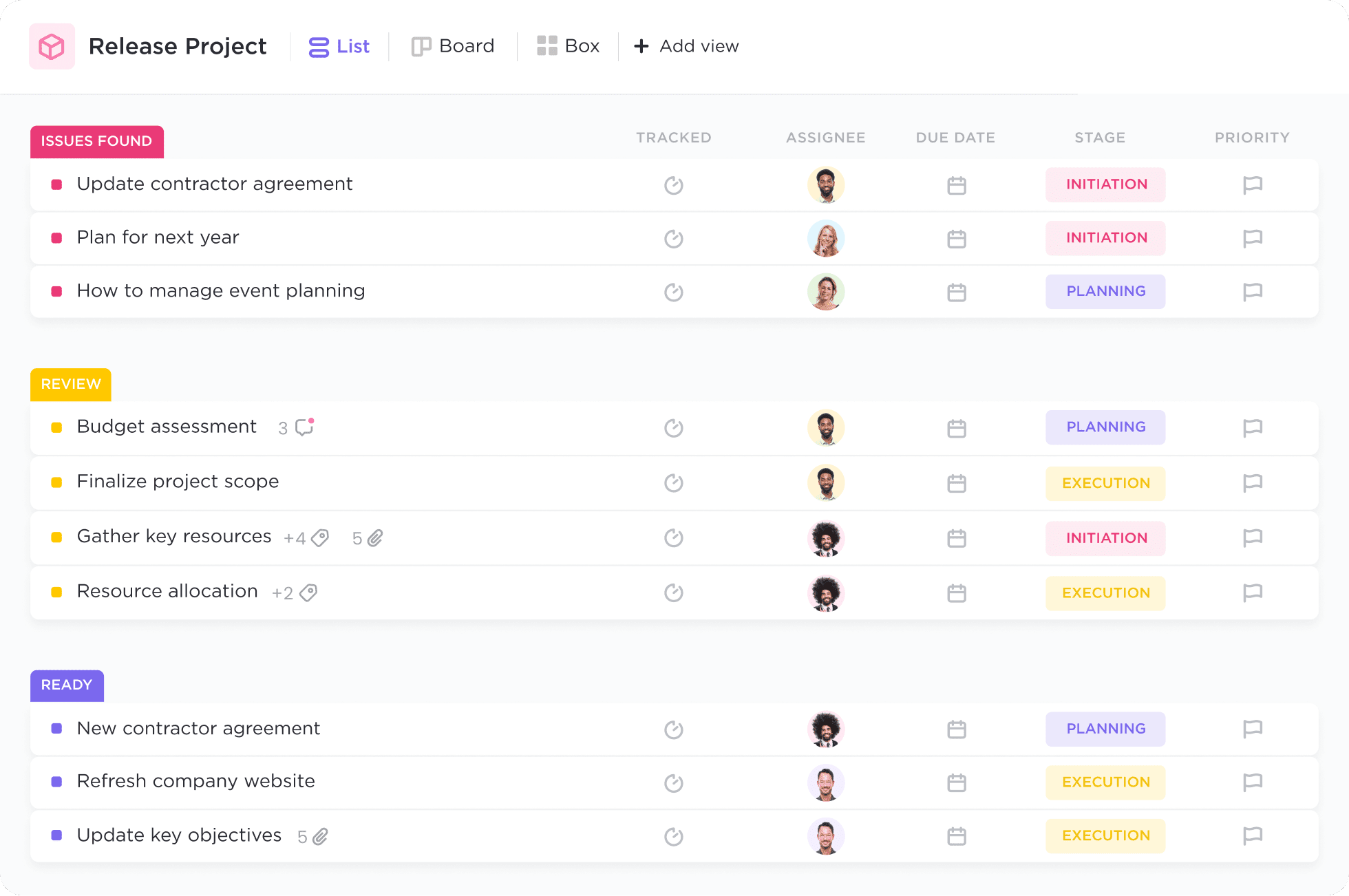 ClickUp's powerful task management tools enable users to assign multiple team members on any task, set up task comment threads, and assign comments as action items. All tasks can be set as one-time or recurring.
ClickUp users can organize work using a variety of different views, including list, Gantt chart, calendar view, and more. As with monday.com, ClickUp includes a workload view. The workload feature is available in all plans, although it is limited to 100 uses in the free and unlimited plans.
Winner: ClickUp
The two providers are similar in the task management category, however, ClickUp is the winner here because it includes more functionality for less money. For example, even in its limited free version, ClickUp offers three different views (list, kanban and calendar) as well as workload monitoring, while monday only offers one view in its free plan (kanban) and no workload monitoring.
Workflow Management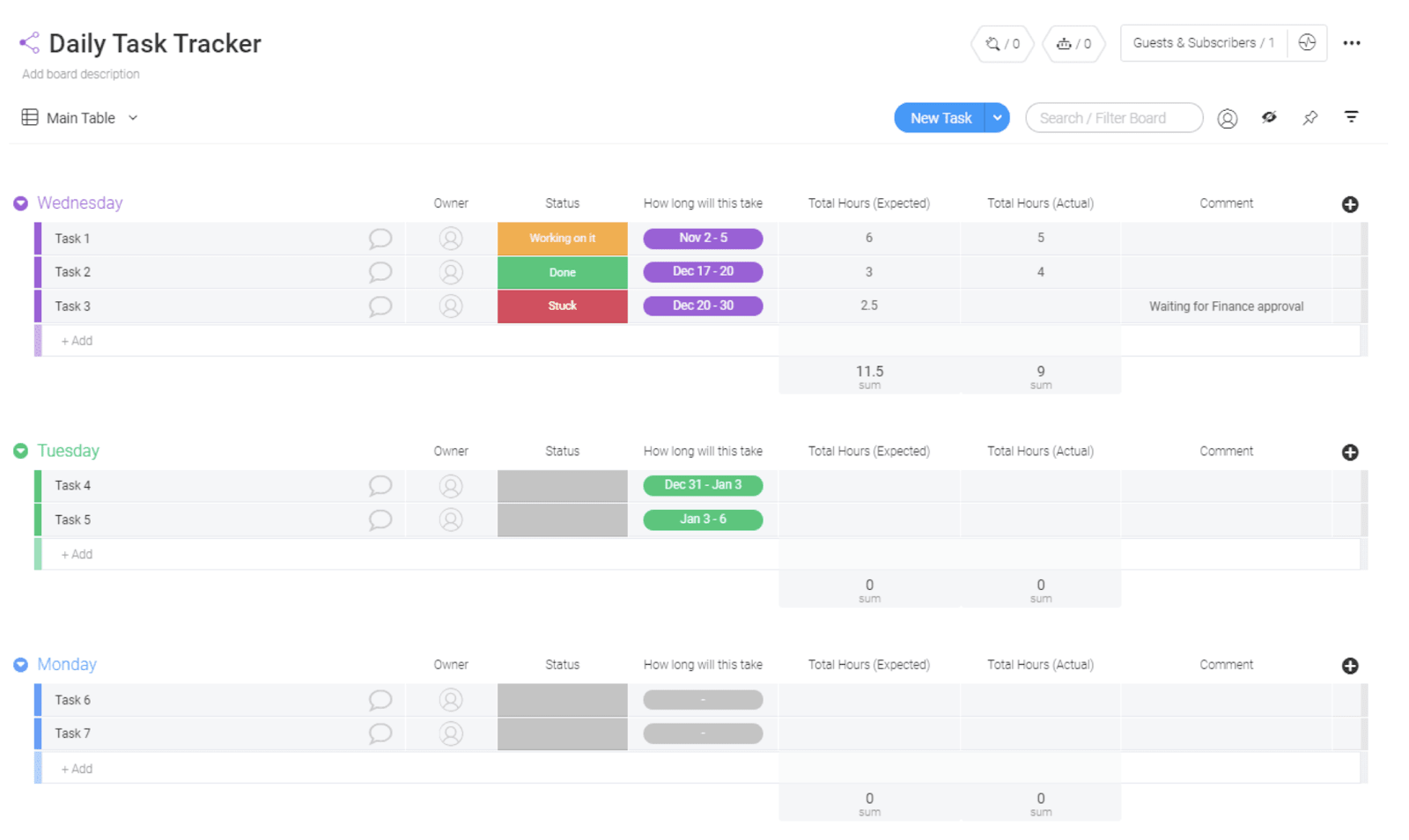 Monday.com users can create custom workflows using automations, dashboards, and time tracking. Automations are included in the Standard plan and above. There is a 250 actions/month limit for Standard plan users, a 25,000 actions/month limit for the Pro Plan users, and a 250,000 actions/month limit for Enterprise Plan users.''
monday.com Enterprise plan users have access to work performance insights that present workflow data in a visual format.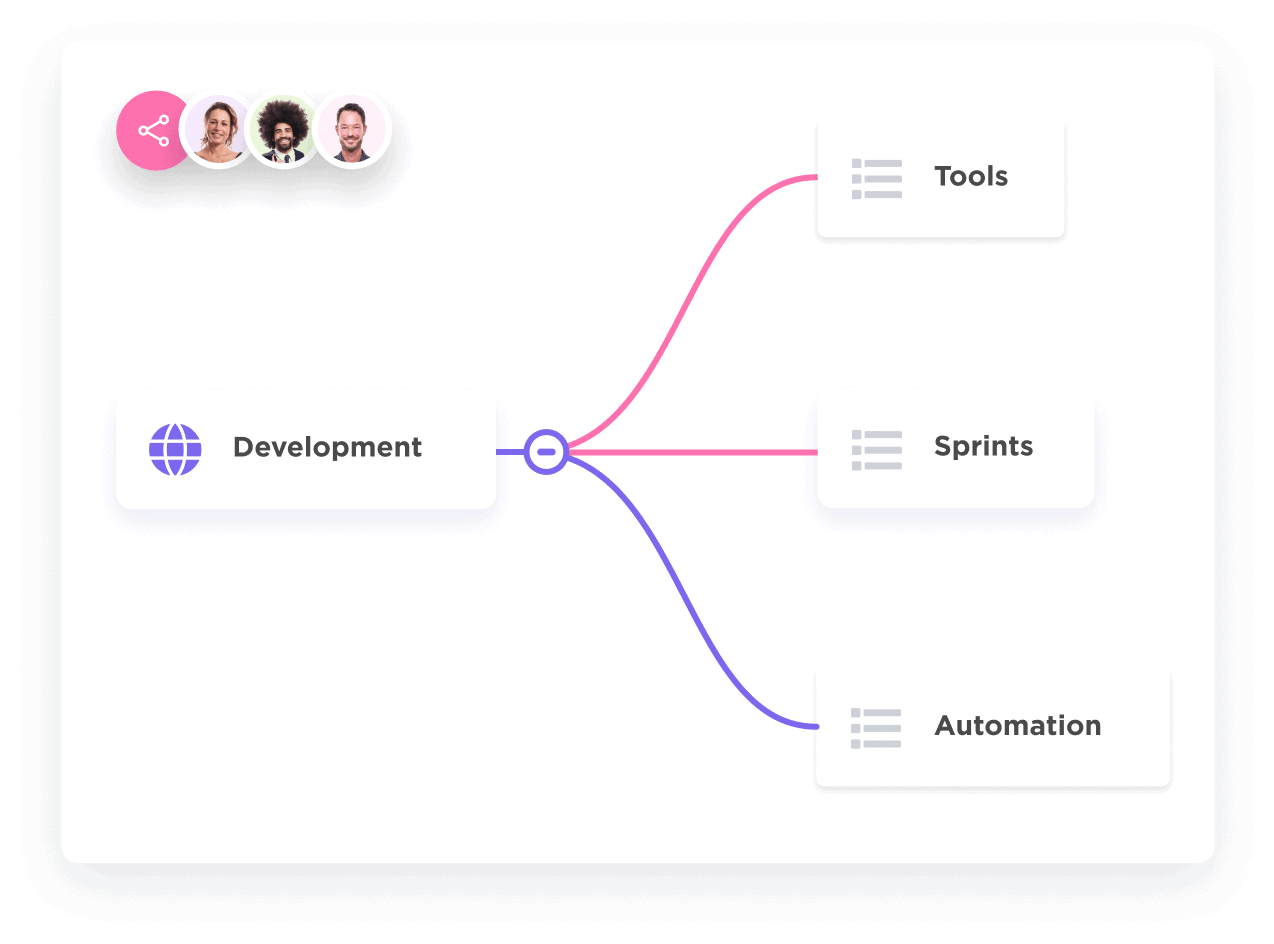 ClickUp users manage workflows using dashboards, mind maps, automations, and "sprints.'
Sprints are automated workflows that assign points for subtasks, enabling better resource management. Automations are available in all plans, but are limited from 100/month in the Free plan and 250,000 per month in the Enterprise plan. Actions and conditions can only be added for users with a Business plan subscription or higher.
Mind maps are available in all plans but are limited to 100 uses in the Free and Unlimited plans. Mind maps are visual representations showing the relationship between tasks and other items such as words or concepts. Mind maps are generally nonlinear and place related items around a central subject or idea.
Winner: ClickUp
As with task management, ClickUp and monday.com offer similar features in this category, but ClickUp has more functionality in lower priced plans than monday.com.
Portfolio Management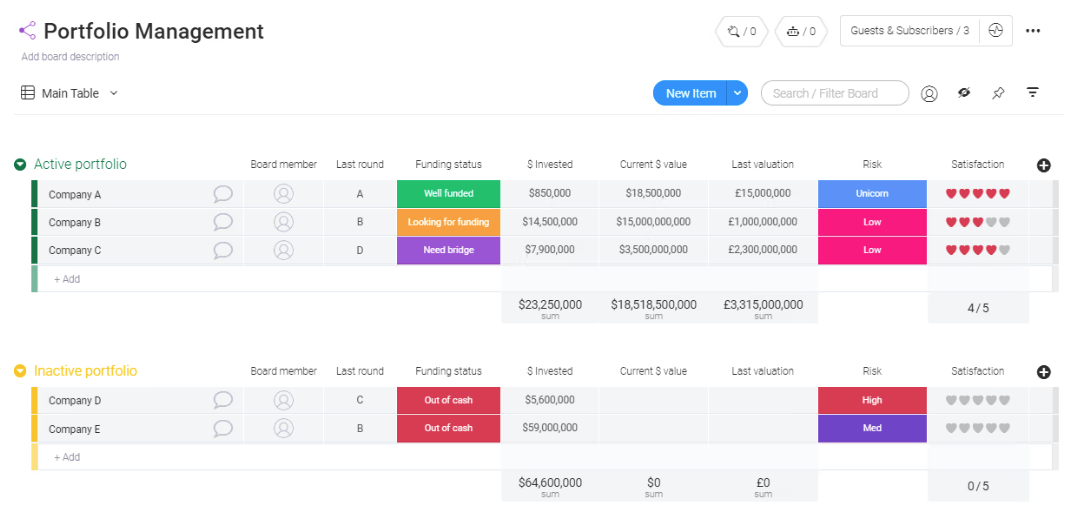 Monday.com users can manage portfolios using monday's portfolio management template. The portfolio template is explicitly designed to give a high-level overview of all current projects. The portfolio template can be personilized using custom fields (in the Basic plan and above) as well as formulas, dependencies, and time tracking (in the Pro plan and above).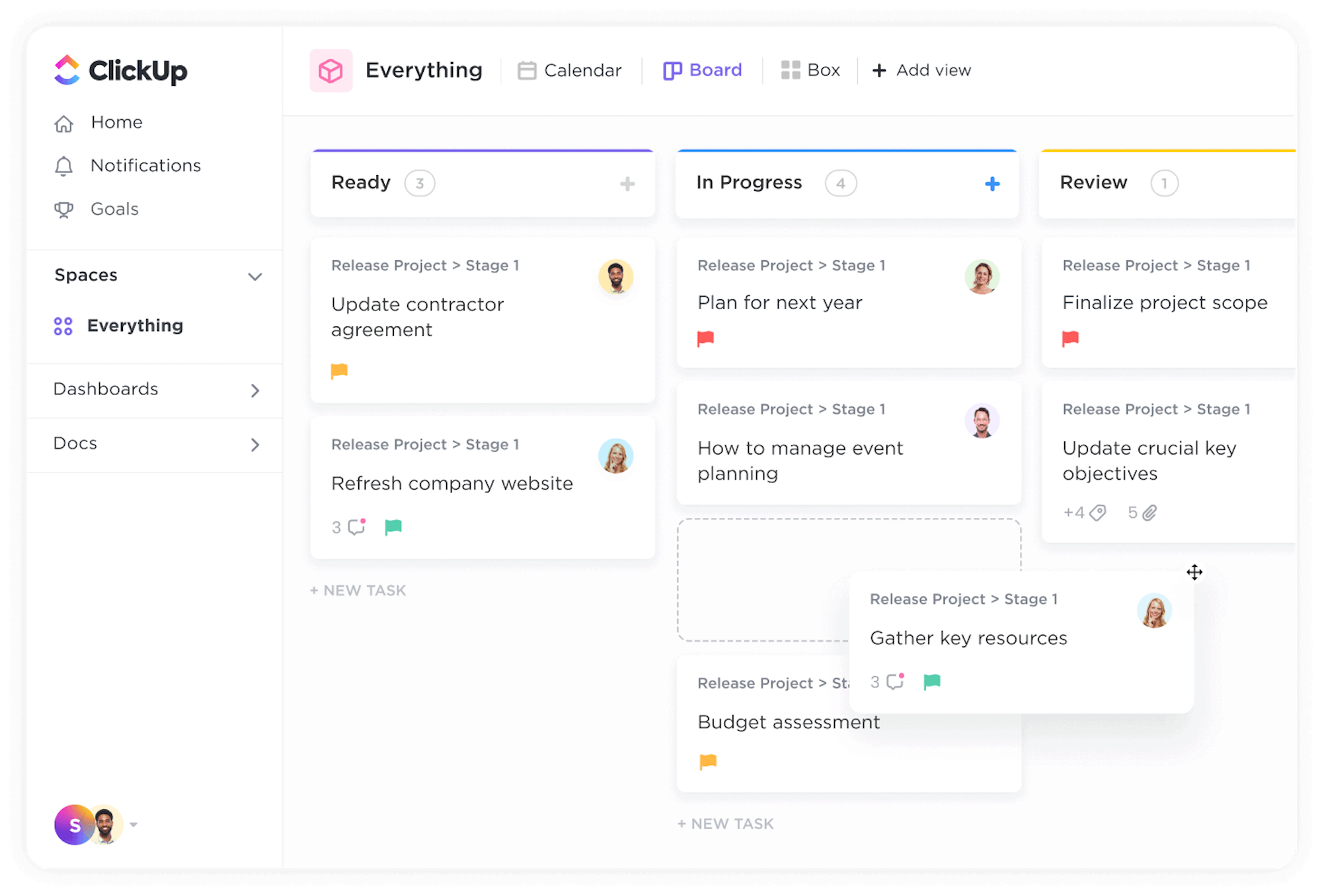 ClickUp portfolio management is achieved through the use of a portfolio widget, which can be added to a dashboard and is available in the Unlimited plan and above. The portfolio widget can be customized to include subtasks, customized calculations, status, priority, and more. ClickUp users can set goals and monitor progress and milestones with metrics such as total time tracked and an individual's capacity for delegation.
Winner: Draw
Monday.com and ClickUp have equally valuable tools for portfolio management.
Team Communication and Collaboration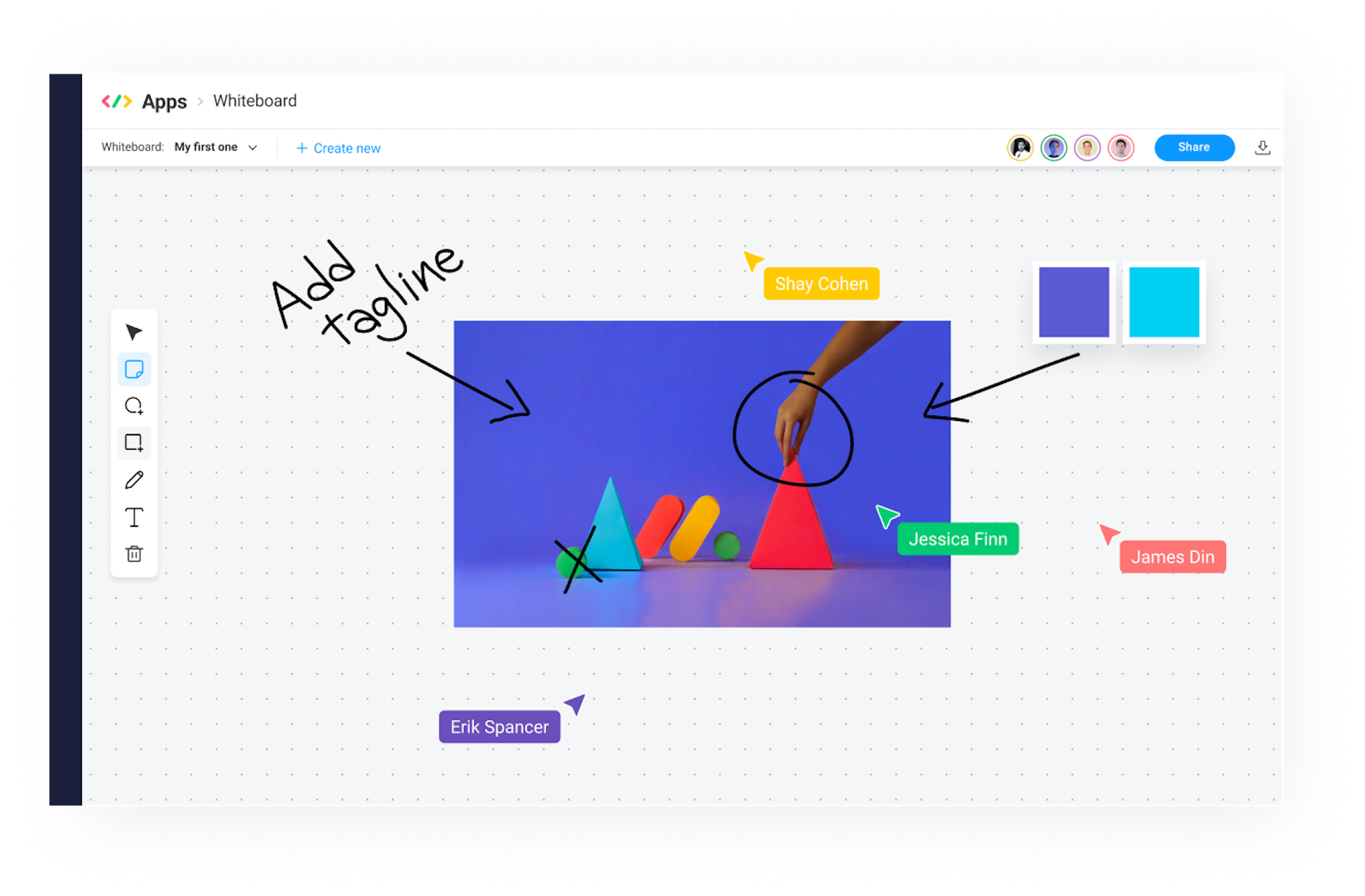 Monday.com users have several options when it comes to team collaboration. Brainstorming can be done using whiteboards which are available in all plans. Monday's workdocs feature is also perfect for teamwork as it includes features such as embedding, at mentioning colleagues, and creating action items from text. Monday's updates section allows users to comment directly on tasks and action items, at mention employees, format text however they like and attach images.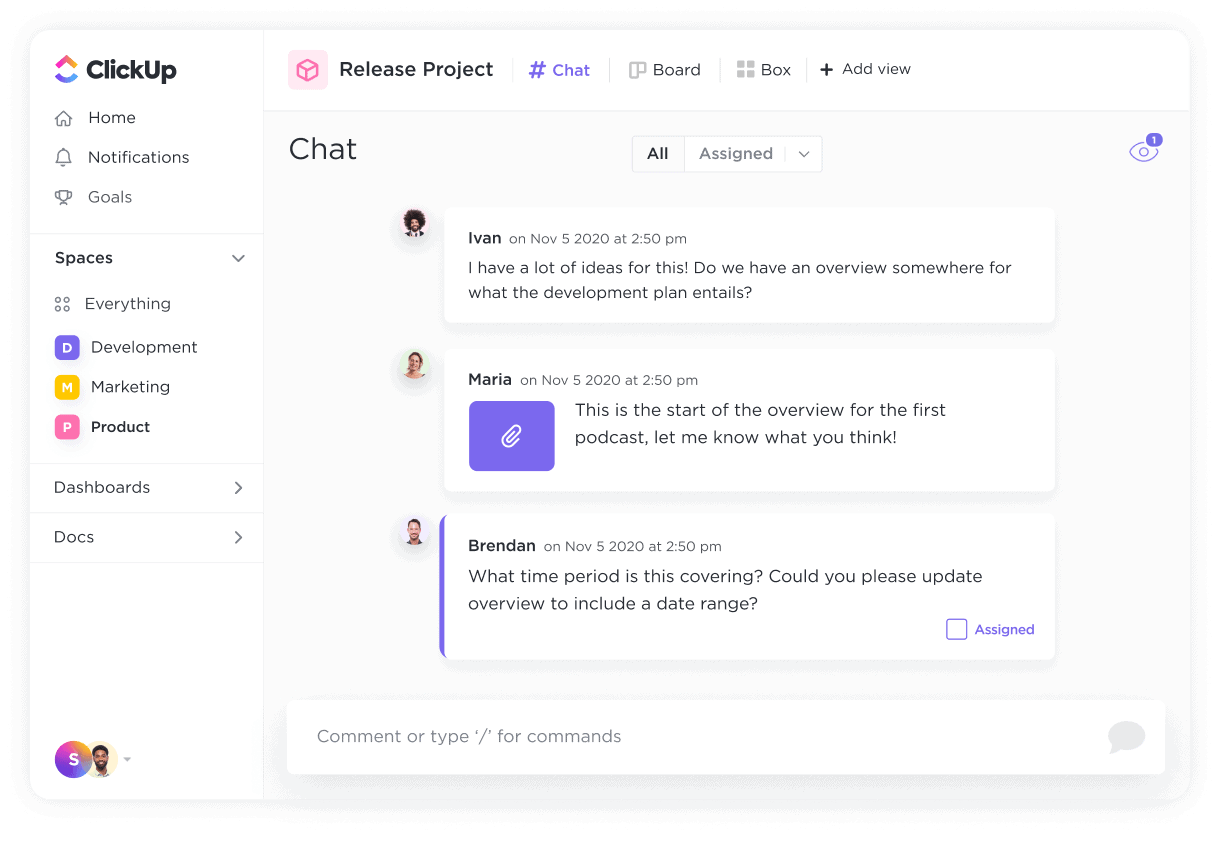 ClickUp users collaborate by using whiteboards, comments on tasks, and a real-time messaging space. ClickUp users can also send and receive emails directly in ClickUp. ClickUp's chat space is included in all plans and enables users to link tasks and documents, tag team members, share attachments, and add smart notifications. ClickUp's platform includes natural language processing that will recognize dates and times for quick task creation.
Winner: ClickUp
ClickUp includes a dedicated chat space, while monday.com does not.
Integrations
ClickUp includes over 50 native integrations in all pricing plans with productivity apps such as Google Drive and Dropbox, CRM apps such as Microsoft Teams and social media apps such as Youtube. ClickUp also offers an API for custom integrations.
Monday.com offers over 40 integrations with third-party apps such as Outlook, Salesforce, Jira, Zapier, and Twilio. While Integrations are included for Standard plan users and above, Standard users are limited to 250 actions/month. Pro plan users can access 25,000 actions/month and Enterprise plan users have unlimited integrated actions.
Winner: ClickUp
With over 50 native integrations in all plans and no limits on the number of actions, ClickUp is the clear winner here.
ClickUp vs monday.com: Pricing
Monday.com is more affordable than ClickUp in general, but monday.com does come with some limitations in features. For a comparison of monday and ClickUp pricing and plans, see below.
ClickUp Pricing
ClickUp's pricing model includes a free plan as well as four different paid pricing plans. Here is a breakdown:
Free Forever
Unlimited
Business
Business Plus
Enterprise
Annual Price
$0
$5 per user/mo.
$12 per user/mo.
$19 per user/mo.
Contact ClickUp
Monthly Price
$0
$9 per user/mo.
$19 per user/mo.
$29 per user/mo.
Contact ClickUp
Main Features

Unlimited tasks
100 MB Storage
Whiteboards

Unlimited dashboards, storage and integrations
Goals and portfolios
Guests with permissions

Automations
Time Tracking
Workload Management

Subtasks in multiple lists
Custom role creation
Priority customer support team

White labeling
MSA and HIPAA available
Dedicated success manager
monday.com Pricing
monday offers a free plan as well as four different paid pricing plans. Here is a breakdown:
Individual
Basic
Standard
Pro
Enterprise
Annual Price
$0
$8 per user/mo.
$10 per user/mo.
$16 per user/mo.
Contact monday
Monthly Price
$0
$10 per user/mo.
$12 per user/mo.
$20 per user/mo.
Contact monday
Main Features

Kanban boards
Embedded docs
200+ templates

Unlimited free viewers
Unlimited boards
Prioritized customer support

Zoom integration
Automations (250 per mo.)
Timeline, Calendar and Map views

Unlimited guest access
Formula and dependency column
Chart and Workload views

99.9% uptime SLA
HIPAA compliance
Work performance insights
Pros and Cons of ClickUp vs. monday.com
Here is an overview of the pros and cons of monday and ClickUp.
| | |
| --- | --- |
| What users like about ClickUp | What users dislike about ClickUp |
| Whiteboards in all plans | Free plan shows an activity log for just one day, unlimited plan displays just 7 days of activity |
| Unlimited storage in all paid plans | Whiteboards are limited to 3 in the free plan and 10 in the unlimited plan |
| In-app video recording for easy tutorial creation included in all plans | Two-factor authentication is only required in the Business plan and higher |
| | |
| --- | --- |
| What users like about monday | What users dislike about monday |
| Ease of use with drag and drop interface | HIPAA compliance and SLA only available in Enterprise plan |
| Affordable compared to competitors | Individual plan has a max of 2 users |
| Over 200 templates available in all plans | Individual and Basic plan limits the activity log to just one week |
Alternative Solutions to ClickUp and monday.com
There are many cloud-based collaboration and work management tools available. Here are some alternatives to monday.com and ClickUp.
Provider
Pricing
Features
Best For
Trello
$0-$17.50 per user/mo.

Advanced checklists
Calendar, Timeline and Map views
Custom fields

Small businesses and medium-sized remote and hybrid teams
Slack
$0-$12.50 per user/mo.

99.99% guaranteed uptime
Screen sharing
Audio and video clips

Large teams that need high levels of security and reliability
Asana
$0-$24.99 per user/mo.

Automated workflows
Unlimited free guests
Proofing and approvals

Medium to large remote teams
Smartsheet
$7-$32 per user/mo.

Gantt, Grid and Card view
Forms with conditional logic
Document builder

Teams that need a solution for project management as well as document and/or spreadsheet creation
Airtable
$0-$20 per user/mo.

Gantt and timeline views
Custom branded forms
Rich field types such as checkboxes, dropdowns, attachments, etc.

Marketing and product operations teams that need a customizable project management solution
ClickUp vs monday.com: Which is Right For You?
ClickUp and monday.com have similar platforms. Both providers offer a user-friendly interface with multiple views, mobile apps for android and iOS, whiteboards, and automations. The most apparent difference between the two platforms is price. Monday is a much more affordable option and is therefore better suited to startups and SMBs that need a low-price solution for work management.
On the other hand, ClickUp would work well for teams that often collaborate with external clients or freelancers due to its allowance for unlimited guest access with permissions in all paid plans. ClickUp is also a better choice for remote and global teams that need a centralized team chat space which monday doesn't currently offer.
To find the best option for you, it's important to make note of how your teams work and collaborate and then research the platforms that have the features you need and are within budget. User reviews are also incredibly helpful during this process. There is not a single project management platform that will work for every business but it is possible to find a solution that will work best for your business and your team.
FAQs
ClickUp and monday are both cloud-based project management platforms, but they are different products.

ClickUp does not include a native monday.com integration, however, monday boards can be imported to ClickUp.

Yes, monday.com has a free version that is free forever.