Everything from work, education, and even recreation often take place in a conference call nowadays.
That being the case, it's important that you have a webcam beyond a laptop webcam for Zoom Meetings that provides crisp video and clear audio to make the conferencing experience as seamless as possible. To help you with the buying decision, we've written up this comprehensive guide that will serve as your compass.
Here are our best webcams for Zoom Meetings:
Our #1 Pick for a Zoom Webcam
Our #1 Pick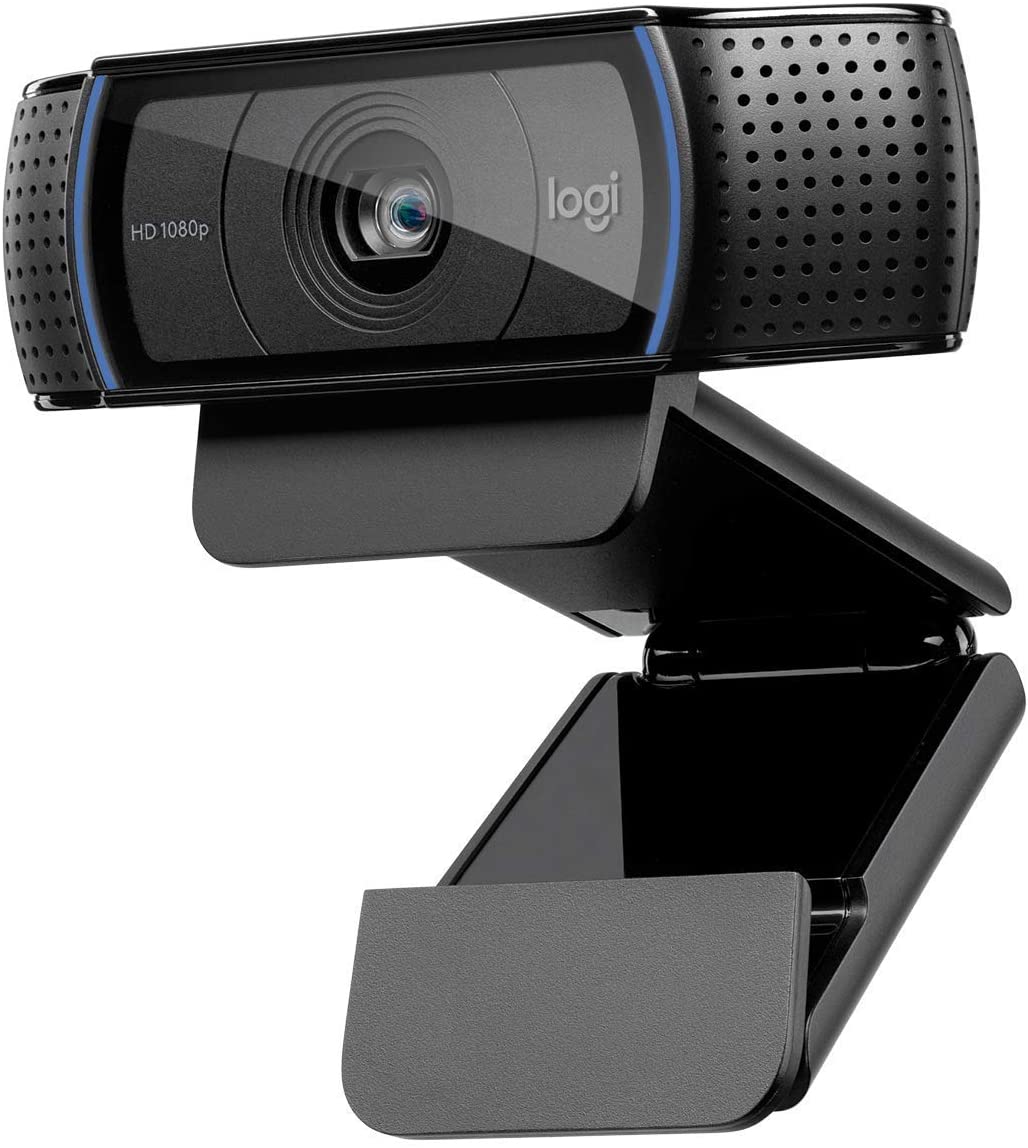 Reliable, Affordable, Best Value
In our opinion, the tried-and-tested Logitech C920 is the best overall pick if you're looking for a reliable webcam that will serve you well during Zoom calls. It's lightweight, affordable, and provides decent video and sound quality for your conferences without costing too much.
There are many factors that set webcams apart from one another. Whether this is their resolution, frame rate, price, or the audio quality from their built-in microphone it's important to balance all these specifications to get the right model for your Zoom Meetings. The devices we reviewed below are compatible with both Mac and PC.
11 Best Webcams for Zoom – Detailed Breakdown
We'll be comparing the best webcams against one another in categories like resolution, size, price, and unique benefits so you can make an informed buying decision.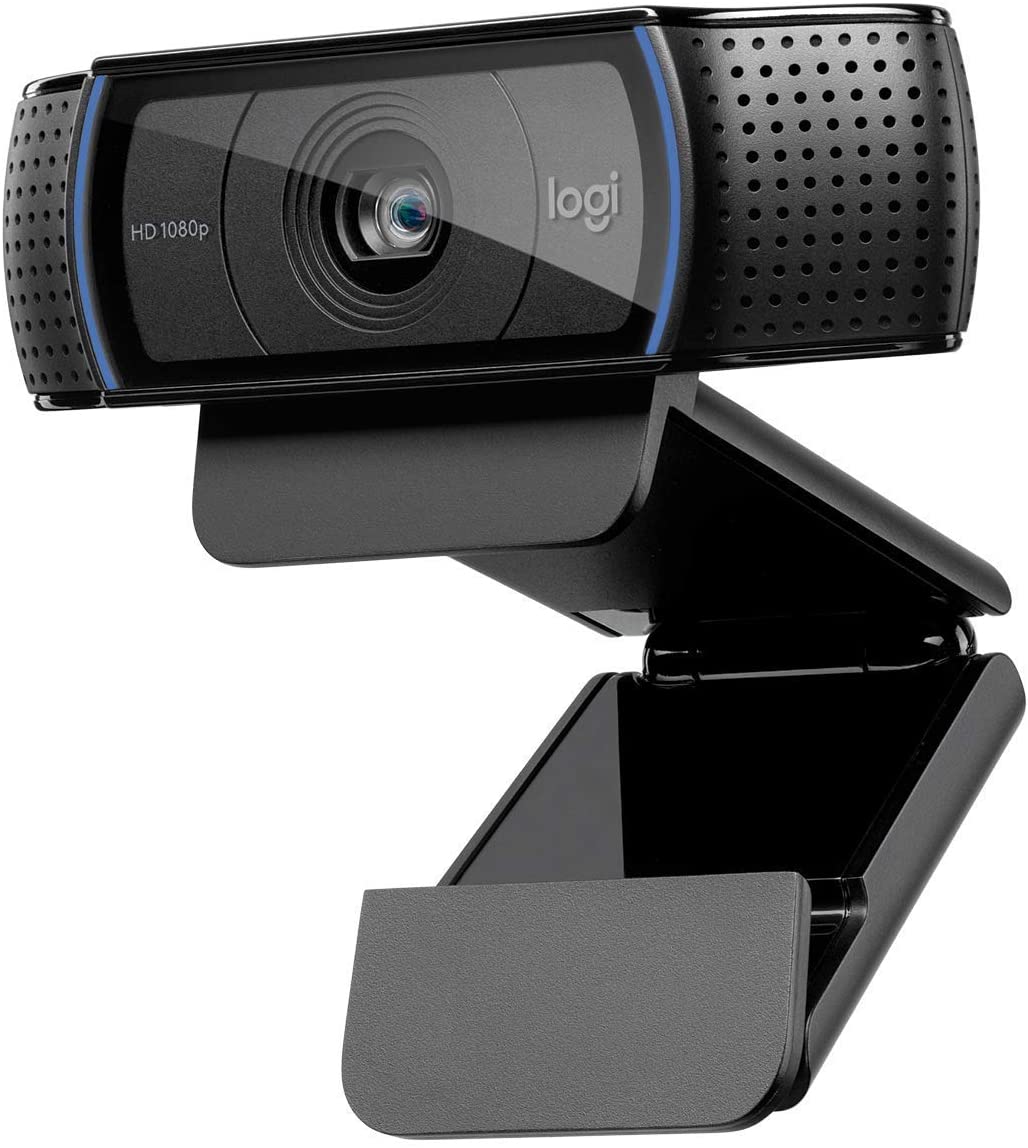 Our Review – The Logitech C920 is one of the older webcams on our list, yet it still outperforms its contemporary rivals in terms of price to performance or the colloquial "bang for your buck". There's no doubt in our minds that the Logitech C920 is the best choice overall for Zoom meetings. The only downsides to the product are its lower resolution, capped frame rate, and built-in microphone but these are all issues that can either be fixed with standalone hardware or don't matter in the context of video conferencing.
Resolution and Frame Rate – Captures video at 1080p rather than full HD. It's also capped at 30fps but this shouldn't be much of an issue if you're just joining Skype and Zoom calls rather than hosting a webinar or live streaming gameplay on Twitch.
Lens, Focus, and FOV – When it comes to FOV, the Logitech C920 excels thanks to its wide-angle lens with a 78-degree field of view. This is more than wide enough for most use cases since it will ensure that everyone is visible on the screen without having to shuffle back and forth. The C920 also has the best autofocus out of any webcam we've tested which is doubly impressive considering its age.
Built-in Microphone – This is perhaps the only chink in the armor of Logitech's C920. There have been tremendous leaps in built-in microphone technology over the past decade and the age of this mic definitely shows. If you buy the C920, we'd highly recommend getting a standalone microphone like the Blue Yeti Nano or Elgato Wave: 3.
Size and Weight – The C920 weighs 8.1 ounces which makes it light enough to stick on the top of any laptop or monitor without creating wobble. The product dimensions are 3.7 x 1.7 x 2.8 inches and this low profile ensures your webcam won't be pressing up against the wall even if you have your desk in a corner.
Price – Ranges from $69.99 to $80 on Amazon.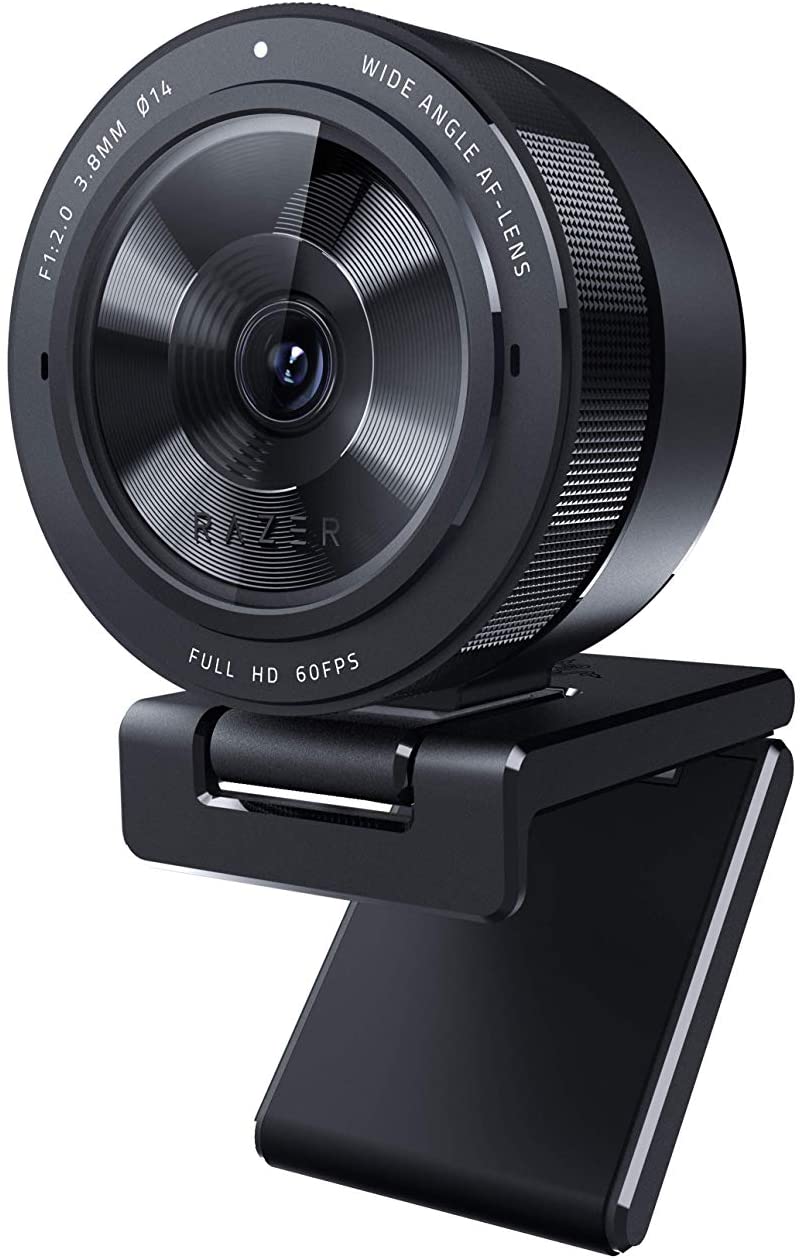 Our Review – This webcam is far from being a budget option but the fact that it comes with a two-point articulation mount and braided USB 3.0 cable helps justify the higher cost. The Razer Kiyo Pro makes up for its high price with some of the best quality video capturing on the market. It's sure to leave a dent in your wallet but there's no better option when it comes to finding quality on a high budget.
Resolution and Frame Rate – The Kiyo Pro boasts 1080p resolution at a frame rate of 60fps. This webcam makes video calls feel more like in-person meetings with its improved video quality and smoother frame rate, were clearly distinguishable during our testing.
Lens, Focus, and FOV – On paper, the Razer Kiyo Pro seems to beat out all competitors when it comes to the field of view. This is because they have an advertised max FOV of 103 degrees. This claim is technically true but it's worth noting that you get a very distracting fisheye lens effect when you max the FOV out so we'd recommend keeping it at 80. Finally, the Kiyo Pro does have autofocus but you'll want to steer clear of visually noisy environments that may confuse it.
Built-in Microphone – Audio is one area where the Kiyo Pro makes massive improvements over its predecessor. The built-in microphone on this webcam is far clearer than the muffled unit we got on the standard Kiyo model. If you have the old webcam but aren't satisfied with the audio quality then you may want to consider upgrading rather than spending your money on a standalone microphone.
Size and Weight – The Razer Kiyo Pro weighs 8.6 ounces which makes it lightweight enough for most use cases and mounting options. We tried mounting it on some of our slimmer laptops and there were no issues regarding wobble. The product's dimensions are 2.8 x 3.5 inches which makes it one of the smallest webcams on this list. Finally, its rounded design also makes it feel like it's taking up less space.
Price – Ranges from $120 to $130 on Amazon.
Our Review – The StreamCam has become one of the favorites for remote workers due to the crisp video, flexible mounting options, and first-party software that helps you tune your settings before going live. While the price of the StreamCam isn't for the faint of heart, this compact webcam is more than worth the cost considering the level of quality it provides in such a small package. Beyond clear video conferencing on Zoom, this webcam is perfect for recording content whether for automated webinars or onboarding videos on Loom.
Resolution and Frame Rate – Captures video at a resolution of 1080p and has a frame rate of 60fp. The result is a crystal clear feed that feels as smooth as a face-to-face meeting. Lastly, the Logitech Capture app lets you adjust various settings to get the best image quality during video conferences.
Lens, Focus, and FOV – The Logitech StreamCam have the same 78-degree field of view that you'd find on the C920. This is wide enough to get everyone on the screen in most conference rooms. We had no problems with the autofocus but you can disable it in the app.
Built-in Microphone – There are two microphones in the Logitech StreamCam which provides improved audio quality. You can also choose between stereo and mono depending on your preferences. The microphones are almost too good as they were picking up some background noise like me shifting in my seat.
Size and Weight – It's about as compact as it gets. The webcam's dense build has it at 11.9 ounces excluding the mount. Its cubic shape also lends itself to the overall compact design of the webcam with dimensions at 2.6 x 2.3 x 1.9 inches. We can confidently say that there's no webcam with comparable quality smaller than the StreamCam.
Price – Ranges from $120 to $150 on Amazon.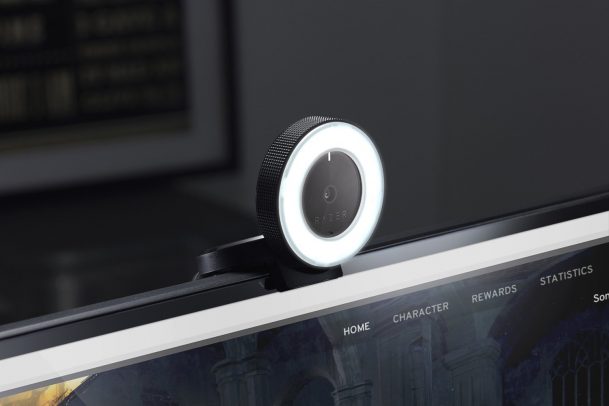 Our Review – If you like the Razer Kiyo Pro but it's out of the budget then you should consider the regular Kiyo as it's a cheaper alternative that still shares many of the same strengths. It even has a built-in ring-light like the pro which can make it a lot easier to record clear video in low-light environments. Those who attend conferences from darker rooms will benefit from the built-in lighting of the Razer Kiyo.
Resolution and Frame Rate – Unlike the Kiyo Pro, you'll need to choose between clarity or smoothness when using the Kiyo as its 1080p resolution capture mode is limited to 30fps. You'll need to lower your video quality to 720p if you want to achieve a more fluid 60fps. If Zoom conferences are all you'll be using this webcam for then the lower frame rate shouldn't be too much of an issue and the image quality is still very good.
Lens, Focus, and FOV – The Razer Kiyo has an 81.6-degree FOV which makes its maximum field of view more narrow than the Kiyo Pro. However, considering the fisheye effect on the pro version has us limiting the FOV to 80 degrees anyway there isn't much difference between the field of view on the two models when it comes to practical use. Razer's software lets you adjust the focal distance manually or use autofocus for a more hands-off experience.
Built-in Microphone – Audio quality is one area where the Razer Kiyo falls short which is disappointing considering its video quality is fantastic. The microphone makes your voice sound very muffled and soft. It's actually quite similar to the type of audio you'd get from a built-in laptop microphone if not worse. Either buy a standalone mic, a headset, or the Razer Kiyo Pro instead.
Size and Weight – It is lighter than its premium counterpart at only 7.1 ounces. It's also smaller in form factor at 2.72 x 2.72 x 1.89 inches. This makes it more portable.
Price – Ranges from $65 to $80 on Amazon.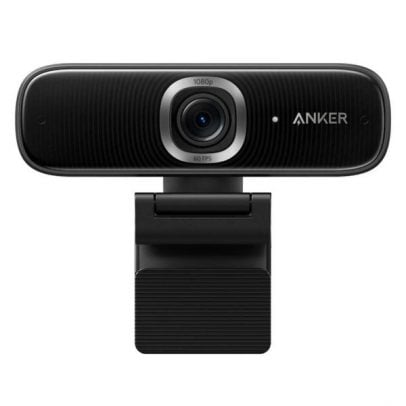 Expert Review -Anker's PowerConf C300 is the flagship camera of its video product line and the webcam actually has great video quality even in low-light settings. The drawback is on the software side as certain features like self-frame or anti-flicker were a bit buggy during our testing. The wide view with its 115-degree FOV is extremely useful for larger meetings. This webcam may not be as useful for solo users due to the advanced field of view.
Resolution and Frame Rate – The Anker PowerConf C300 can capture 1080p video at 60fps which is something that not all webcams provide at this price point. Those on a tight budget should consider the C300 since it doesn't make them choose between clarity and fluidity despite the reasonably affordable price.
Lens, Focus, and FOV – The C300 has a 115-degree lens which is significantly wider than the competition but that can be either a pro or a con depending on what you're using it for. In a conference room setting, it's adept at getting everyone in the frame. However, it's likely too wide for a single person to use unless they sit comically far from their desk. That said, we were quite impressed with how the autofocus performed under the wide-angle conditions.
Built-in Microphone – The built-in microphone performed solidly during our testing but that wasn't too much of a surprise considering the Anker PowerConf speakerphone had excellent audio quality and noise cancellation.
Size and Weight – Its slim design weighs 4.2 ounces and is measured at 3.8 x 1.3 x 1.3 inches making it flat enough to mount on a laptop without wobble.
Price – Ranges from $100 to $140 on Amazon.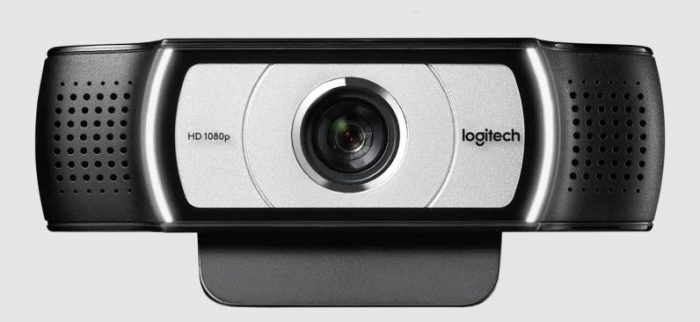 Our Review – The Logitech C930e provides a very well-rounded experience at a fair price. From video to audio and software, this webcam ticks a lot of our boxes. The only cons are the 30fps cap and lack of optical zoom. The C930e serves as a good middle ground for those who like the wide-angle capabilities but still want to be able to use the webcam solo when needed as well.
Resolution and Frame Rate – The Logitech C930e captures video at 1080p resolution. It's limited to 30fps though and you don't even have the option of raising the frame rate by lowering your resolution to 720p. The video is still clear, just not as smooth as with some of the other options on this list.
Lens, Focus, and FOV – The field of view you'll get with the Logitech C930e is certainly an improvement on the other webcams in this price range. Its 90-degree FOV gives you a wider angle that makes it possible for more people to fit in the frame. This webcam also features the RightLight system which combines light detection with autofocus to maintain clear quality across multiple distances.
Built-in Microphone – The built-in microphones on the C930e struck a good balance between keeping our voice clear during testing without picking up the background noise from the fan on the desk. We'd rank it as one of the better webcams in this price bracket when it comes to noise cancellation as it really complements the audio clarity.
Size and Weight – The Logitech C930e weighs 5.7 ounces but that includes the weight of the clip and cable so the overall package is relatively lightweight. Its product dimensions are 3.7 x 1.1 x 0.9 which is a bit larger than some of the webcams we've already gone over but still reasonably compact.
Price – Ranges from $120 to $130 on Amazon.

Expert Review – While the affordable C922 Pro may be targeted towards streamers with features like XSplit compatibility but its clear video quality and native dynamic background replacement feature still make it a good candidate for those who plan to join Zoom conferences. If you're looking for a budget webcam with good enough audio to skip buying a standalone microphone then the Logitech C922 Pro may be for you. It also comes with a tripod which could make it appealing to those who don't want to mount a webcam directly onto their monitor or laptop.
Resolution and Frame Rate – The Logitech C922 Pro captures video at 1080p resolution but is capped at 30fps. However, those who are intent on getting 60fps can lower the resolution to 720p. The image quality was acceptable on both settings during our testing so it comes down to how much you prioritize fluidity.
Lens, Focus, and FOV – With a 78-degree field of view, the C922 Pro stays competitive by matching the FOV of many other webcams in this price range. It also has automatic low-light correction which helps the autofocus and digital zoom keep the image sharp even under lighting conditions that are less than ideal. Other features include automatic low-light correction, autofocus, and two omnidirectional noise-canceling microphones.
Built-in Microphone – The Logitech C922 Pro has two omnidirectional microphones with noise-canceling capabilities. This provides one of the best user experiences in terms of audio for the price as many other webcams in the price bracket tend to have subpar audio. Our testing showed that the noise-canceling microphones were able to block out background noise while keeping the voice clear
Size and Weight – If you're looking for a lightweight microphone then you'll be glad to know that the C922 pro only weighs 5.7 ounces. Its product dimensions are 3.7 x 1.7 x 2.8 which, while not as compact as other webcams we've gone over, is still slim enough to mount on a laptop for Zoom conference calls.
Price – Ranges from $75 to $100 on Amazon.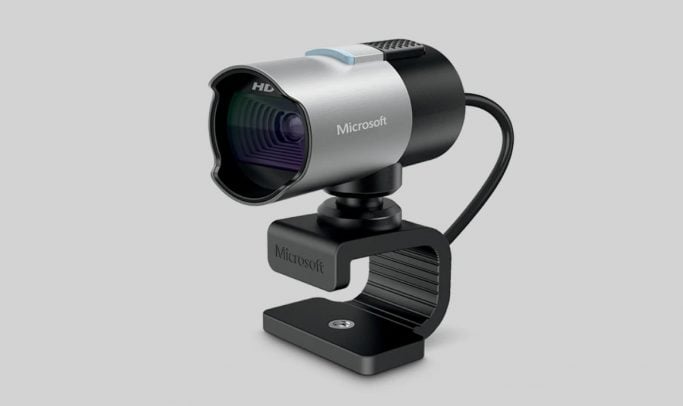 Our Review – The Microsoft LifeCam Studio is one of the cheapest 1080p webcams you can find and you're actually getting quite a lot for the price. The features that stood out to us were its augmented reality functionality and Truecolor technology that adjusts lighting/color to improve the video quality. Companies looking for a good webcam that provides high-fidelity audio at a bargain will definitely like the Studio. The only caveat is they'd need a quiet, echo-free room to make the most out of its built-in microphone but some soundproofing or a standalone microphone can solve the problem easily.
Resolution and Frame Rate – Captures video at either 1080p or 720p depending on which resolution you choose. Sadly, you won't be able to get past 30fps even if you lower the video quality so those who see fluidity as a must may be better off with another webcam.
Lens, Focus, and FOV – While the LifeCam Studio is limited to a 75-degree field of view, the FOV isn't as important considering it can rotate 360 degrees. The rotation may not be the ideal approach for every use case but it's a good option to have for when you need it.
Built-in Microphone – The microphone will be very hit or miss depending on where you're taking your Zoom calls. If you're in a soundproof room then the high-fidelity audio will be more than enough to satisfy your needs. However, it has a tendency to pick up way too much echo in other situations so you might want to consider where you'll be using the webcam before buying it.
Size and Weight – The LifeCam Studio weighs 4.52 ounces which certainly puts it on the lighter side of our lineup. In terms of size, the design has its dimensions at 2.4 x 1.8 x 4.5 inches — hardly the most compact build you can get in a webcam but nothing too bulky either.
Price – Ranges from $60 to $90 on Amazon.

Our Review – Despite being priced so low, the C310 still comes with the RightLight and RightSound technology that other Logitech webcams are so famous for. You'll even get one-click social media uploading as a bonus. However, anyone expecting 1080p video or 60fps will need to look elsewhere.
Resolution and Frame Rate – Seeing as this is a budget option, we can't really criticize the 720p resolution too harshly. The frame rate is capped at 30 fps as you'd expect but with the auto-fix lighting from Logitech, you still get decent video quality out of the C310.
Lens, Focus, and FOV – The field of view is a bit narrower than usual with the C310 at only 60 degrees. The difference between the FOV on the C310 and mid-ranged competitors is around 20-25% so it may not be a big issue if you plan to use the webcam exclusively for one-on-one meetings. There's no autofocus on this camera so you may have to practice with its focal distance.
Built-in Microphone – The microphone on the C310 is better than you'd expect at this price range. When we tested the audio, our voice was picked up until the 10-foot mark. It's likely the RightSound technology that improves the audio quality on this webcam by canceling out any ambient noise to make your speaking voice clearer.
Size and Weight – The Logitech C310 weighs 9.6 ounces which makes it heavier than you'd expect for its size but older models tend to have bulkier builds. The product dimensions are 6.0 x 3.0 x 8.25 inches, fairly standard for budget webcams.
Price – Ranges from $30 to $50 on Amazon.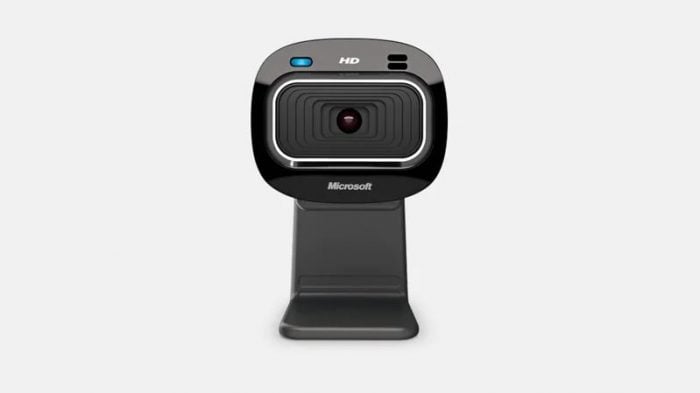 Our Review – The Microsoft LifeCam HD-3000 is nowhere close to the LifeCam Studio when it comes to video quality and general performance. That said, it's a fraction of the price so you can't really complain about the resolution. Perhaps more complain-worthy is the fact that the HD-3000 has compatibility issues on Windows 10 so it's only an option for older machines. Buyers who are looking for the absolute cheapest webcam from a mainstream manufacturer can't get anything cheaper than the HD-3000. However, its compatibility issues with Windows 10 — made by the same manufacturer — make this a turnoff for people running newer laptops with the latest OS.
Resolution and Frame Rate – Captures video at a resolution of 720p which is as good as it gets for all but one of our budget options. Its frame rate is also capped at 30fps but you can't really expect fluidity from a webcam that costs less than 10 frappucinos.
Lens, Focus, and FOV – Moving onto the field of view, the Microsoft LifeCam HD-3000 has a 68.5-degree FOV. There's no autofocus and you can't adjust the focus through software either. What you see is what you get with the HD-3000.
Built-in Microphone – While the built-in microphone does have noise cancellation, our voice sounded like it was recorded underwater so we'd definitely recommend that you get a standalone microphone if you plan to use this webcam.
Size and Weight – In addition to being the cheapest webcam on this list, it also happens to be the lightest at only 3.2 ounces. The product dimensions are 1.6 x 1.8 x 4.3 inches making it one of the smallest webcams covered as well.
Price – Costs $25 on Amazon.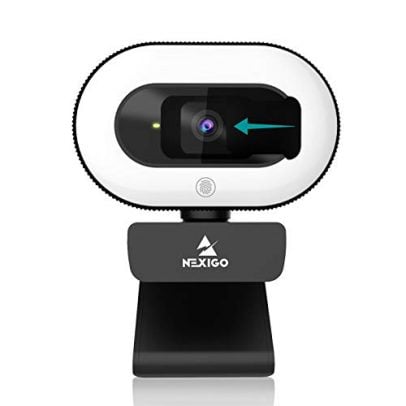 Our Review – If you're looking for full HD video capturing at the cheapest price, there's really no one else competing with the NexiGo. This plug-and-play webcam also offers built-in lighting which further adds to the value of this very affordable piece of hardware. If you're prepared to spend a bit more, you can also check out the NexiGo StreamCam N930E. Those who are dead set on getting 1080p resolution out of their budget webcam should turn to the NexiGo as it provides good video quality at an affordable price point. While this is likely the best budget option for Zoom calls, those with some extra cash on hand can go for one of NexiGo's pricier models or at the very least purchase a standalone microphone.
Resolution and Frame Rate – The NexiGo captures video at a resolution of 1080p which is a rare sight at this price range. 30fps is the maximum frame rate on this webcam but you can take a look at the NexiGo N960E if you're willing to pay a little extra to get that up to 60fps.
Lens, Focus, and FOV – This webcam has an 80-degree field of view which makes its FOV more competitive than other budget options. It also has autofocus which can save you from a lot of the focal distance pain that tends to come with cheaper webcams.
Built-in Microphone – The NexiGo has very impressive video quality for the price but it does fall short in the audio department. The two microphones don't produce the best audio quality so using the money you saved on this webcam to buy a standalone microphone would be wise.
Size and Weight – The NexiGo weighs in at 5 ounces but a lot of that weight can be attributed to its built-in lighting, dual-microphone setup, and six optical lenses. The product dimensions are 3.74 x 2.36 x 2.36 inches meaning this webcam is quite compact.
Price – Costs $50 on Amazon.
What to Consider When Choosing a Webcam
Your Use Case
The first thing to remember is that the needs of a remote worker are going to be very different from someone working in an office. For instance, a webcam with a wide field of view would be invaluable in a conference room but more of a nuisance in a home setting.
In the same way, those who plan on creating content for YouTube or gamers streaming gameplay on Twitch should focus more on high-quality audio and frame rate since this will make or break growth on their channel.
Budget
The next consideration should be your budget. The market is filled with webcams in every price range, each one having its own unique set of bells and whistles. It's essential that you don't get distracted by features you don't need as these often lead to overspending.
Instead, create a checklist of features that you objectively need to get your work done and set a target amount for how much you're willing to pay for those features. Whichever webcam comes closest to matching your list will be the best budget pick.
Video Quality & Resolution
Of course, video quality is always a key factor to consider when trying to make an informed buying decision for your webcam. However, it's important to realize that most people don't need to capture resolutions above 1080p.
While it may make more sense for webcams that will be used in large conference rooms, 4K resolution is overkill for the majority of use cases. In fact, it can be detrimental during one-on-one meetings since no one wants an HD feed of pores and zits.
Clear Audio 
Clear audio is another thing you should strive for when choosing a webcam. The caveat is that you shouldn't overpay just for the sake of getting impeccable audio quality from a built-in microphone.
In reality, there are many scenarios where it would actually be cheaper to buy a standalone microphone instead of purchasing a premium webcam solely because its built-in audio is crisper than the competition.
Features
Whether it's 360-degree rotation, two-point articulating mounts, automatic lighting adjustments, or reliable autofocus, there's a myriad of features that can improve your video conferencing experience during Zoom calls.
That said, not all features are created equal and some are far more useful than others. There's no one-size-fits-all answer on which features matter but it should be easy enough to tell which functions will have a positive impact on your specific use case.
Tips to Improve Video Quality in Zoom Meetings
Studio Lighting
Whether you're taking a picture on your smartphone or launching a Zoom conference call, lighting can make a sizeable difference in how good the quality will be. Combining bright and soft lights helps your webcam produce a clearer image with more accurate colors.
It'll also reduce the graininess you often see in low-light conditions. Soft lights like a ring light diffuse evenly across your entire face which eliminates glare or shadows but even a regular lamp will be enough to make some improvements during online meetings.
Lighting Placement
It doesn't matter if you're using a ring light, lamp, or even the sun — your video quality will still suffer if you don't get the placement right. Your light source should never be behind you or to the side as this will mess with the lighting.
To avoid situations where your video is too bright or too dark, keep your light source — whatever it may be — in front of you. If you're using natural light, rotate your desk so that you're facing the window. You'd be surprised at the results you can get by nailing the placement.
Pro tip: if your office is poorly lit then look for a camera with a built-in ring light or good auto-lighting functionality in its software.
Manual Settings
Sticking to the default video settings can only get you so far. We'd recommend downloading OBS so you can adjust the white balance, ISO, and exposure before starting up your next Zoom call.
Here are a few changes we'd recommend:
Get exposure as high as possible without frame rate drops or washed out colors
Keep ISO as low as possible to avoid grain
Move your white balance slider up and down until it matches what you see in real life
Alternatives to Webcams for Zoom
When you combine the global shift towards remote work with the simultaneous transition to distance learning, supply shortages in the webcam space are a given. There's simply too much demand weighing down an already-weakened supply chain.
If you don't want to overpay on a webcam due to the scarcity, you may want to consider alternatives. Smartphone cameras — especially those on flagship phones like the iPhone 12 Pro Max or Samsung Galaxy S21 Ultra — already outperform most webcams.
It may take a bit of time to adjust to the Zoom mobile app but the interface is just as intuitive as the desktop or browser version and it's even easier to join calls. Or, if you have a GoPro, why not put its 4K resolution and high frame rate to use during conference calls?
Conclusion
As you can see, there are seemingly endless options when it comes to choosing a webcam for all your Zoom needs. We've been spoiled for choice which is both a gift and a curse since the buying decision can get pretty complex.
If you stick to your budget, focus on the features you need, and factor in some of the specifications you've gotten in this article then you're sure to find the right webcam for your specific use case.
That's all for now, stay safe, and Zoom on!
Disclosure – The GetVoIP team writes about stuff we hope you'll like and strives to offer the best recommendations we can. Our team has affiliate partnerships and may collect a referral commission from your purchase based on our recommendations. This does not influence the content we publish, but only supports our honest efforts to offer you the best and most transparent information. All recommendations are based on our own independent research and hands-on experience.
FAQs:
Here, we've answered some of the most common questions about webcams.