Investing in live chat software means faster responses and resolutions to customer inquiries, the opportunity to increase sales, and more personalized customer service — when used correctly.
Though over 40% of today's consumers prefer live chat messaging to any other customer service channel, live chat support mistakes can cause your business's reputation and profits to take a serious hit.
Here, we outline and provide solutions for the 8 most common live chat customer service mistakes.
Mistake 1: Lack of Immediate Response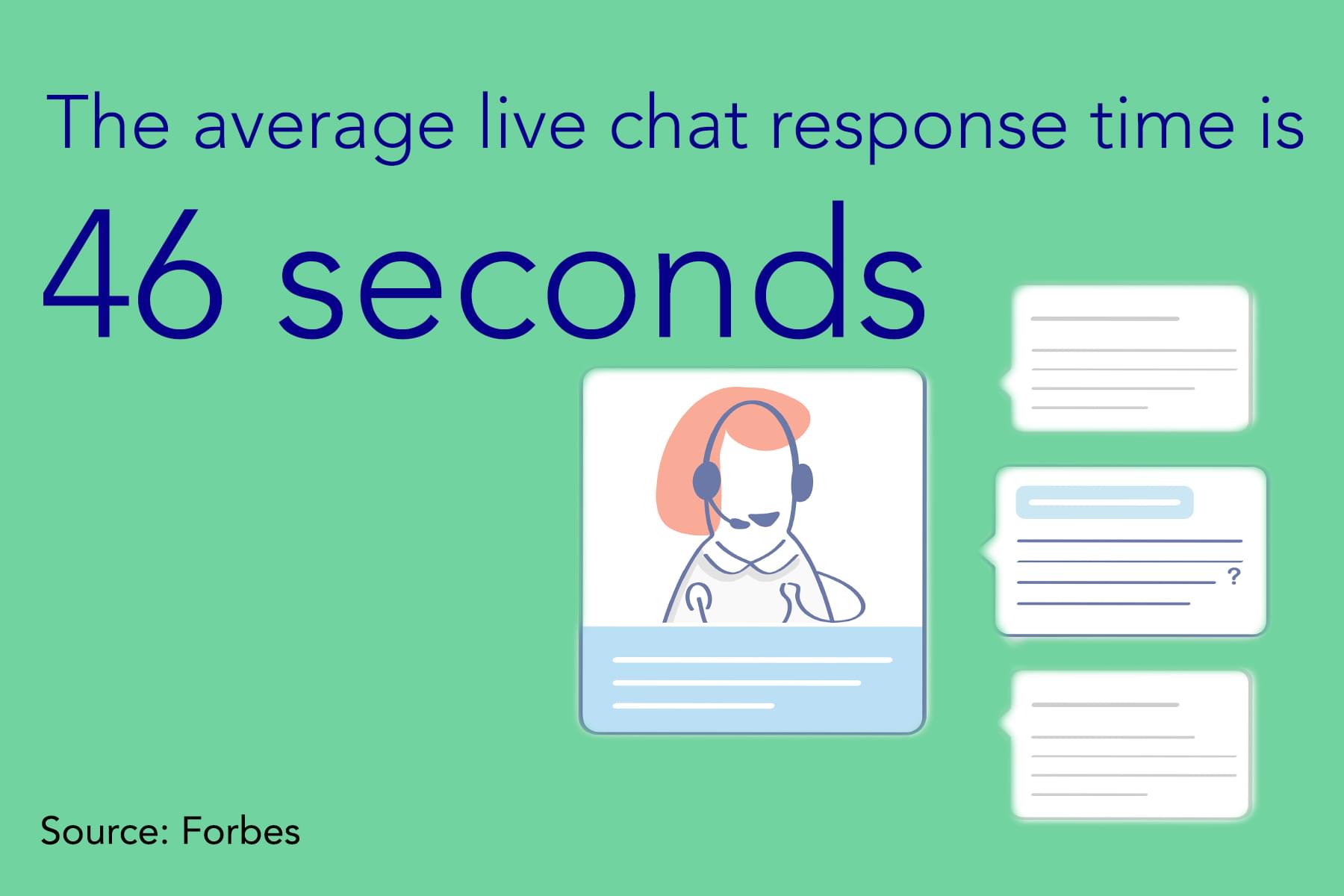 One of the most common customer service mistakes on any support channel is making the customer wait for a response.
How long of a wait time is too long?
Given that the average live chat response time is 46 seconds, anything over a minute will cause customer impatience.
Even if a support agent doesn't yet have a complete answer to an inquiry, just knowing that their message has been received — and providing an estimated response time — can put customers at ease.
But how can companies provide instant live chat responses and project the image of a successful business without taking on the expense of hiring and training extra agents?
Solution: Autoresponse Message
Autoresponse chat messages provide immediate responses to customer questions, assuring that support has received the request and is in the process of finding a solution.
Immediate responses are essential for customer retention and are often able to solve common problems without involving a live agent.
Canned responses, or one-size-fits-most bot messages, can include:
"Hello, how can I help you today?"
"Your support request has been received. An agent will contact you here within 10 minutes."
"Our live chat support hours are from 1:00 PM to 7:00 PM daily. Please try your request again then or call our customer service phone number."
While canned autoreply responses are convenient, they're not always the right solution. When overused, they can make clients feel like your customer service team is not listening.
Consider the made-up chat conversation below:
Customer: Hello, I placed an order on August 1st, but I see that it has not been shipped. It is now 4 days late. Can you please tell me the order status? My order number is 245-12784.
Bot: Hello, thank you for contacting our customer service department! What can we help you with today?
Here, the customer has already clearly outlined their issue and has even provided a specific order number. The above conversation is an example of a frustrating, unhelpful (and we're guessing, all too familiar) approach to customer service.
In addition to automated responses, use AI-powered chatbots to provide more targeted customer assistance. Artificial intelligence text analysis and Natural Language Processing (NLP) tools scan the customer's message and look for certain words that provide clues about the nature of the request.
The words "order number," "shipped," "late," and "order status" can be picked up by an AI bot, which could provide a much better response like:
Bot: Hello, thank you for contacting our customer service team. We are sorry to hear that your order is late. We are looking up your order status now.
In addition to the above scenario, familiarize yourself with other common customer service AI chatbot inquiries to allow for more effective self-service.
Mistake 2: Making Customers Repeat Their Problems
Over 30% of customers say that their biggest frustration with customer service is having to repeat themselves and the issues they're having to multiple agents.
Not only does this waste both the customer's and agent's time, but it also shows your business as disorganized and your representatives as employees who don't really care about customer satisfaction at all.
That's a quick way to lose business to your competitors, as it's clear your company isn't listening to customers' needs.
Additionally, good customer service means communicating with customers on the chat platform they prefer, whether that's social media messaging, website chat, or SMS messaging.
Agents need to be able to pick up exactly where they left off with a customer, regardless of the channel they're using.
What can you do to prevent this common mistake from happening, especially if the customer has contacted several team members?
Solution: Unified Agent Views and Stored Chat History
To prevent customers from having to repeat themselves, all support representatives who may handle the ticket request require unified real-time conversation updates and omnichannel communication.
This means that all agents will see the conversation's progression, alongside any additional ticket notes past reps have created. Therefore, no matter who is chatting with the customer or which platform they are on, they know exactly what previously happened, which methods have already been tried, and can even access the complete chat history for specific details.
Chat history should be stored in the cloud for a minimum of 31 days after the initial contact — because in addition to providing context, these transcripts allow managers to evaluate agent performance.
Customers, just like agents, use multiple channels throughout the day.
A support conversation that started on a mobile device may end on a desktop computer. Be certain that conversation updates are synced in real-time across every device in addition to multiple channels.
Mistake 3: Not Matching the Customer's Tone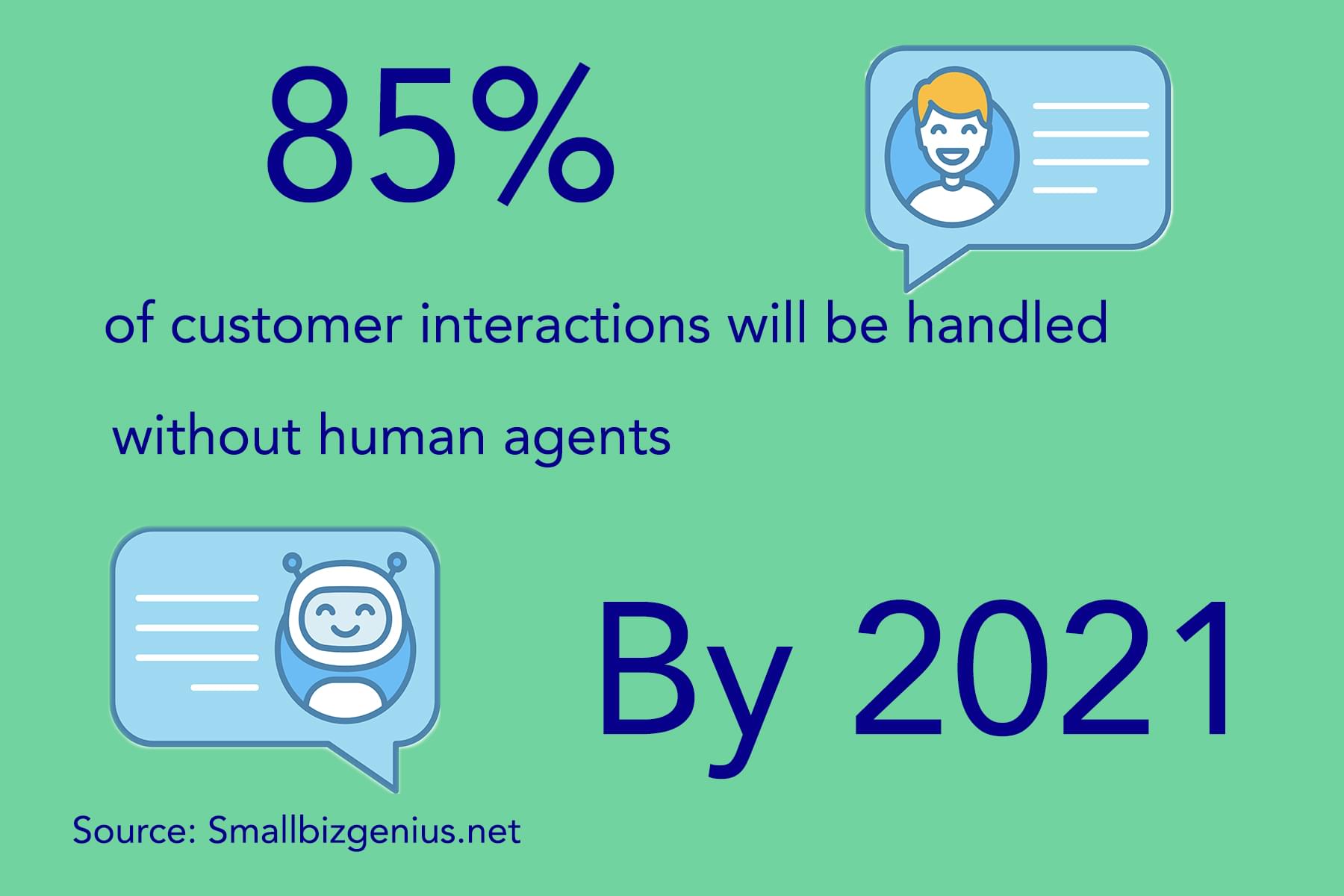 Imagine this support chat scenario:
Customer: I messaged your support team 2 days ago with no response. I'm frustrated, now I have to work over the weekend, and my boss is angry. Your support team is terrible. I'm thinking of telling management to cancel our service with you guys.
This customer is clearly angry, you're close to losing their business, and it's clear that the agent needs to understand that they'll be dealing with a prickly customer before they begin the live chat.
The last thing that customer needs to get is an automated response like:
Thanks for contacting customer support! Can you tell me a little more about how a member of our awesome support staff can help you today?
By the time they connect with a live agent, they'll be even angrier thanks to this all-too-chipper message — and ready to take it out on your team member.
Additionally, remember that chat messaging is more casual than phone or even email support.
An overly-formal tone wastes time, can make customers uncomfortable, and simply isn't necessary. This doesn't mean you can skip out on basic politeness — just that using more "straight-to-the-point" language is the more appropriate approach.
Solution: Sentiment Analysis
Sentiment analysis is a machine learning technique that scans chat histories and transcripts for mood-related words to understand a customer's current satisfaction level.
Not only does sentiment analysis help better prepare your support agents, but it also gives you a better understanding of the overall level of customer service satisfaction and common customer issues.
If sentiment analysis tools frequently pick up on words like, "awful," "terrible," or "unhappy," then their reports will make it clear there are things you need to improve.
In addition to analyzing customer emotions, sentiment analysis can also more accurately gauge a lead's current level of interest and provide aspect-based feedback on products or services (for example, "I keep getting dropped calls" or "I can't find my video recordings in the database.")
Mistake 4: Providing Unhelpful Recommendations
Live website chat support is designed to resolve problems as quickly as possible without having to speak to an agent over the phone. Happy customers are those that can solve problems without having to leave their homes to meet someone in person.
But when customers chat with agents who clearly don't know the answer to the question they're being asked or provide irrelevant product/service recommendations, things go downhill quickly.
While proper customer service training and continued coaching can certainly help, there are additional things you can do to ensure clients are getting exactly what they need every time they contact support.
Solution: Agent Scripting and Chat Routing
Agent scripting is the best way to ensure that your agents are providing the most helpful, relevant, and up-to-date information possible.
Your live chat software should have pre-written scripts/answers ready to go, so that when a customer contacts an agent, they can simply copy-paste the correct response or follow a predetermined script. Scripts can also indicate to agents when to initiate the escalation matrix, ensuring that the customer gets assistance from a higher-up when needed.
In addition to having scripts tailored to separate customer support scenarios in your wiki knowledge base, consider segmenting your support chat staff by channel.
One support channel could be for making product/service recommendations, while others could be for tracking order information, customer billing and contact information, and product problem-solving.
When a customer contacts chat support, they can then be routed to the agent who is the most likely to be able to solve their specific problem — instead of an agent who has no idea how to help them.
In addition to improved customer experience, this also prevents agents from getting overloaded and decreases the likelihood of having an agent copy-paste the incorrect information into the chat.
Mistake 5: Customers Can't Get Hold of a Real Person
Many beginner's guides to live chat software extoll the power of automation — how it frees up agents, saves time, improves your bottom line… the list goes on.
But while automation certainly has its benefits, there are times when all a customer wants is to chat with a real person, not a robot.
Over-using automation is one of the most common live chat support mistakes. Often, this over-reliance on automation can dramatically increase resolution times — and make it difficult to form genuine customer relationships.
In many cases, connecting a customer to a representative directly is the faster solution.
But how can businesses ensure that customers know they can always reach a real person when needed?
Solution: Dedicated Live Chat Support Team
The solution to improving a customer's experience is to stop looking at chat automation as a replacement for a conversation with a representative, and instead see it as a way to make live chats between agents and customers more efficient.
Chatbots collect essential customer information and provide a summary of the problem, so that the live agent knows the specific information a customer needs. (Our post on chatbots vs live agents further explains the differences and benefits of both options.)
Just as you have a dedicated phone customer service team, you'll also need a dedicated live chat support team.
If you're a young or small business, you may wish to have phone support agents also serve as live chat agents. Outsourcing chat-based customer support or setting specific hours for live chats are also a way to meet the needs of your customers without overwhelming your support staff.
No matter the size of your live chat team, make sure to enable concurrent chats. This allows representatives to chat with multiple customers simultaneously.
Mistake 6: Not Following Up With Customers
One of the biggest mistakes when it comes to chatbot customer service?
Not following up with your customers to see how they would rate the quality of their chat experience.
If the customer is unsatisfied, their feedback can help you determine exactly where your live chat agents fell short. This leads to improved employee training and implementation of automated response bots at previously overlooked customer journey touchpoints.
But more importantly, if the customer is satisfied with the support they received, you have a limited window in which to collect that positive feedback.
Solution: Follow-Up Surveys
The best way to follow-up with customers after support interactions is through post-chat customer satisfaction surveys.
Make these surveys as quick and easy to take as possible, allowing customers to rate the most important aspects on a scale of 1-5 or tiered "agree/disagree" statements. You could also ask open-ended questions, though be aware that those are less likely to be answered.
Make surveys convenient, automated, and simple. Always keep the post-chat survey in the same chat window as the customer interaction.
Important questions to ask include:
What is your overall satisfaction with the support you received?
How satisfied are you with the time it took to resolve your issue?
What could we do to improve your chat experience?
Agree or disagree: The agent(s) I spoke to was able to help me with my problem.
How likely are you to use live chat customer support again?
Another, even faster, feed option is to let customers assign their chat a star rating from 0-5, with the option to leave a brief comment.
Finally, when a customer leaves a low rating, be sure to follow-up with them personally to show you care and to learn firsthand where you went wrong.
Mistake 7: You're Not Available When Customers Need You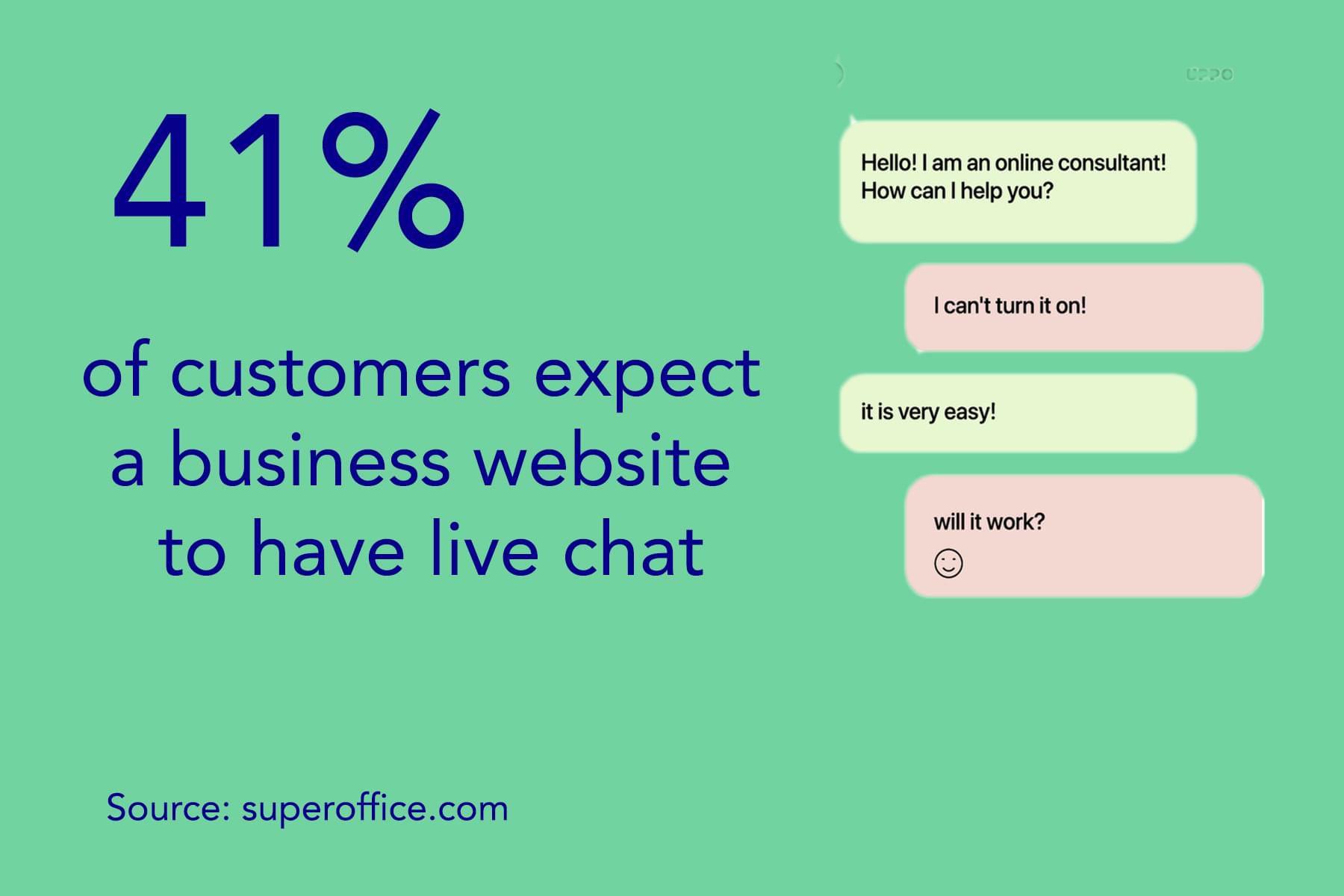 No one likes waiting around for a response, but it's especially frustrating when a customer contacts support about a time-sensitive issue and they get told that a live chat agent won't be able to speak to them for three days.
This is even more prominent when support hours aren't clearly listed, or when live support is supposed to be available but customers can't connect with an agent.
How can you prevent this from happening, and what should you do if you can't yet afford 24/7 or even 24/5 live support?
Solution: Adjust Support Availability
The first step is to run analysis that helps you understand the time of day and day of the week when your customers are the most likely to contact your live chat team. (Make sure that you also take different time zones into consideration.)
This way, you'll always have agents available to speak to customers during your busiest times.
You'll also need to research the specific chat channel that customers are the most likely to reach out to support on.
Once you know that information, set your live customer service department hours accordingly — and make sure that agents are both online and available. Implement agent status updates that clearly state when an agent is:
With a customer
Online
Idle
On a break/Away
Unavailable
Available and ready to chat
Mistake 8: Failure to Manage Support Tickets
Lost support tickets, late responses, and incorrect information make your business look scattered and leave customers hanging.
Making valuable leads repeat themselves or being unprepared for a scheduled session means lost sales.
In addition to using having a knowledge base for common customer problems and popular products/services, agents must be educated about individual customer histories — and ensure that all issues are resolved within the promised timeframe.
Solution: CRM Integrations
To better manage support tickets and customer complaints, ensure you select a live chat tool that integrates with your CRM software.
This will allow for real-time customer data syncing, provide information on prior support interactions, and allow you to transfer cases from your chat tool to your customer service software. It's also an effective way to onboard new customers.
When a customer reaches out, your CRM can display their order history, contact information, notes from other agents, and other details that will make the transaction go much more smoothly.
This means your agents jump through fewer hoops to get the information they need, allowing your team members to provide great customer service.
Plus, CRM systems and other integrated third-party tools make it easier to prioritize support tickets and view all open cases at-a-glance.
Look for live chat software that integrates with tools like:
Salesforce
Infusionsoft by Keap
Zendesk
Hubspot
Zoho
SugarCRM
HelpDesk
Dropbox
Google Analytics
Choosing the Right Live Chat Software
In addition to implementing the above best practices, the most effective way to prevent the above customer service issues is to choose the right live chat support software.
When evaluating these tools, look for features like:
Canned responses
Message automation
Chat tags
Chat routing
Multiple channel messaging (Facebook Messenger, chat widget, SMS, WhatsApp, etc.)
Chat history and transcripts
Multi-channel chat notifications
GIF/image uploading
File sharing
VIdeo messaging capabilities
Third-party/eCommerce integrations
Message previews
Chat ratings
Agent profiles
Work scheduling tools
Ticket and agent reports
Customizable dashboards
Stored customer data
Curious about whitepaper website chat solutions that improve customer loyalty? Unsure if chat-based support is the best fit for your company at all?
Our post on live chat vs phone support will help you to decide on the best customer service channel for your clients.