Popular webinar platforms have all the features and tools you need to host webinars, online employee training, and virtual events.
However, they also come with a hefty price tag — especially for new or small businesses.
The reality is that free webinar platforms aren't as easy to come by as you might expect, especially given the rise in other free remote work tools.
Many webinar apps that were once free have now switched to paid-only options. Our research also shows that apps claiming to be free webinar tools imposed strict limits on the number of guests who could attend. They often allow for as few as 5-10 people at the most.
This, of course, isn't ideal. Luckily, there are solutions.
The below webinar software allows business owners to experiment with hosting sales webinars and company-wide online events without having to commit to expensive contracts that are difficult to get out of.
Why Use Free Webinar Platforms?
While free collaboration tools like Google Hangouts and join.me improve internal communication without breaking your business's budget, free versions of team communication tools don't offer a webinar solution.
While collaboration tools assist with project scheduling and management, small online meetings, they're not suited to large-scale events.
Webinar platforms allow hosts to share presentations and screens, involve other panelists, and speak to a high volume of attendees inside and outside of their organization. But the best webinar software isn't cheap, costing businesses thousands of dollars per year.
How to Host a Webinar for Free
Our research shows that there are three main ways of hosting webinars for free.
The first option is to select webinar software with a free trial period and then decide whether or not you'd like to upgrade to a paid version.
The second way to host a free webinar is by using the free versions of web conferencing tools that place higher caps on video call attendees or VoIP dial-in access.
The third and final way you can host your webinar for free is by using free or open-source webinar platforms that you can tailor to suit your exact needs.
The free webinar platforms below include tools allowing for each of these options.
Which Solutions Offer a Trial Period?
Though many webinar platforms offer a limited free trial, the below options have longer trial periods than most and represent the top paid webinar tools.
For those who want to test out hosting a single webinar on a specific platform before committing to a paid plan, taking advantage of as many free trials as possible saves your company money and ensures you make the right choice.
GoToWebinar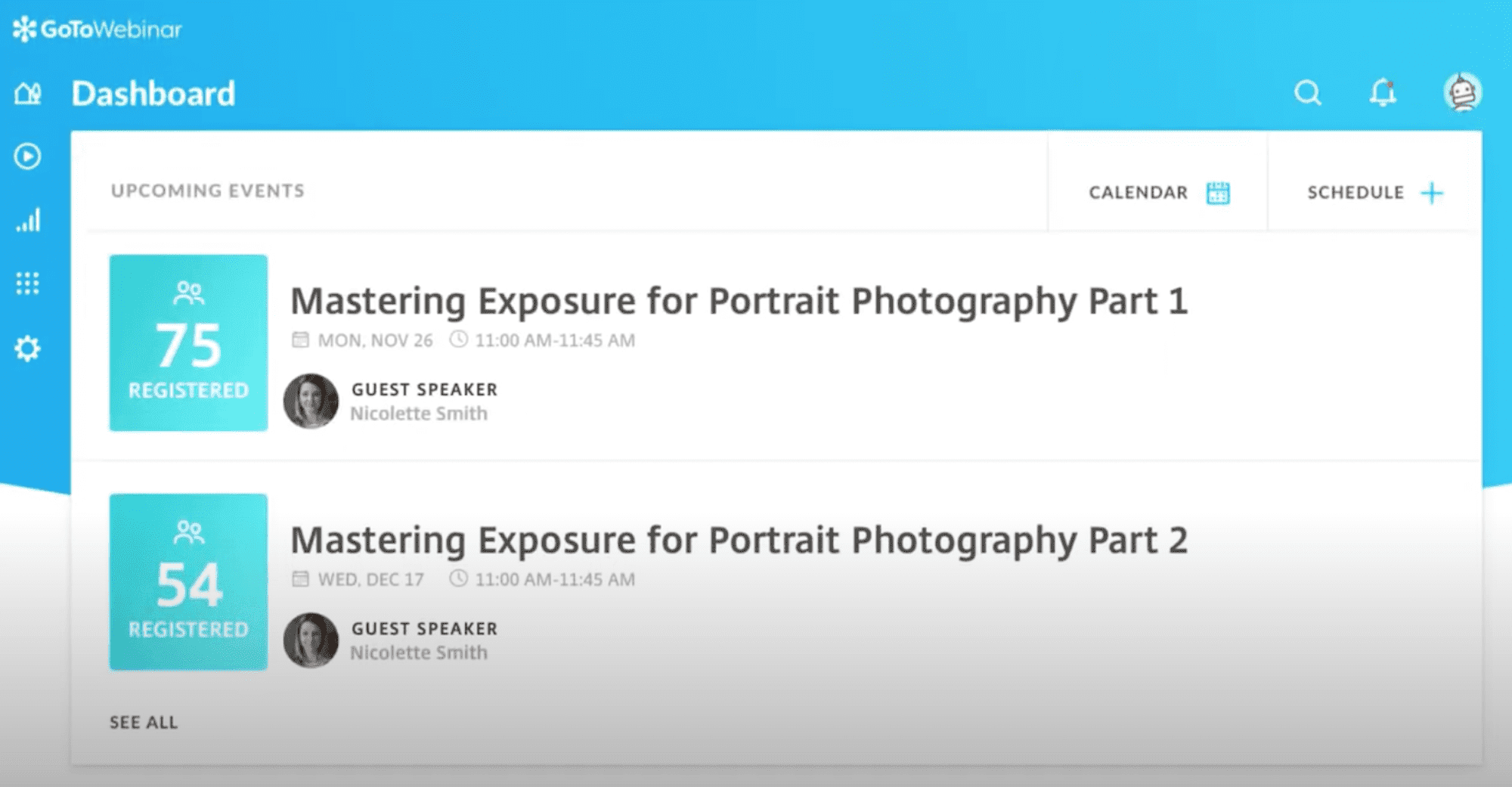 GoToWebinar is GoToMeeting's sister software, specifically designed for webinars with up to 3,000 guests as opposed to more limited video communication.
This tool is designed to assist hosts with every aspect of the webinar, including planning and promotion, audience engagement and analytics, and guest follow-up.
You can choose to host a one-time live webinar, on-demand webinars, pre-recorded events, and recurring webinars. GoToWebinar even allows you to create a series of online events, which makes larger projects like creating training webinars much more manageable for remote teams and new employees. Attendees can view the webinar without downloading the software, simply by clicking an emailed link.
GoToWebinar is a good choice for businesses that want to use webinars to attract/convert customers or who wish to sell their webinar content, as it saves your preferred and past webinar templates.
The tool also handles the challenges of webinar scheduling and promotion thanks to features like branded customizable templates and materials, a custom registration form, and automatic reminder emails for registered attendees. The registration page doesn't just collect guest contact information. It also allows you to pose specific questions to guests ahead of time, so you can gauge the content they're most interested in and plan accordingly.
You can record live video webinars for future use and easily send out the webinar recording to attendees.
In-webinar features like live polls, virtual hand-raising, surveys, and Q&A chat tools keep your audience engaged. GoToWebinar allows hosts to add/remove participants, mute/unmute guests, and has an audience spotlight feature so attendees asking questions are visible to everyone watching. Additional tools include a drawing board, live handouts, and file sharing, and the ability to share up to six presenter cameras simultaneously.
In addition to a mobile app that allows guests to attend webinars from anywhere, GoToWebinar integrates with popular tools like Salesforce, Zapier, Marketo, and Leadpages.
Just 15 minutes after the webinar is over, access attendee engagement reports and analytics that let you see the number of registrants vs attendees, how long attendees stayed in the webinar and where exactly they left, revenue generated, and additional data. You can even see which landing pages brought you the highest number of registrants.
GoToWebinar's free trial lasts for 7 days, with four different plans ranging from $49 per month to $399 per month. While it's not a free webinar platform, it might give you what you're looking for.
EasyWebinar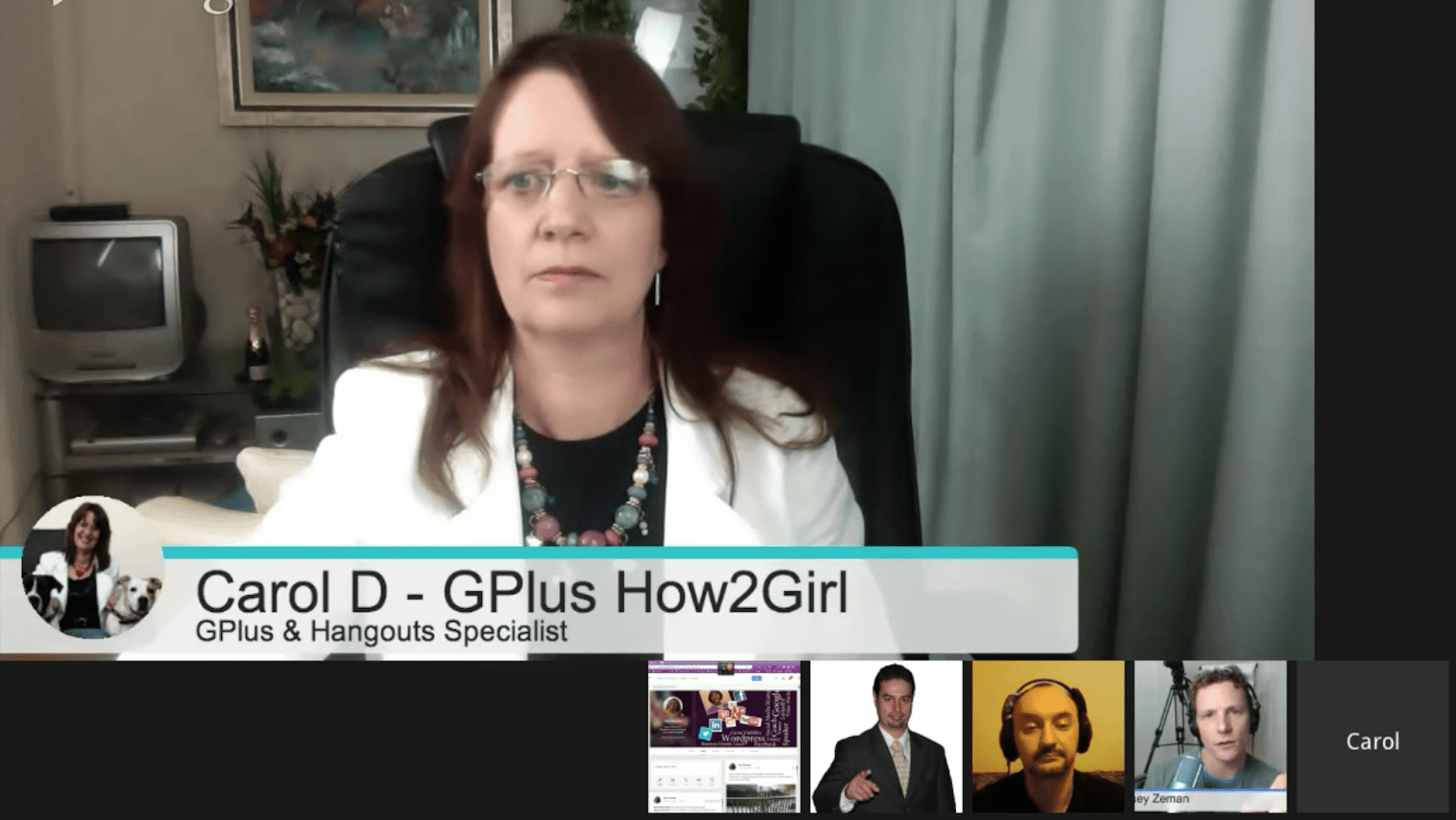 EasyWebinar lets users host both live events and pre-recorded automated webinars to up to 2,000 attendees.
Up to 4 presenters can live stream via webcam and share their screens simultaneously. EasyWebinar is particularly focused on audio and video quality, with HD video streaming, screen, and file sharing, no-delay streaming, and TrueVoice noise-reduction technology.
One-click registration forms that you can embed on your website and social media platforms make getting attendees hassle-free, and automated reminder notifications and autoresponders ensure they won't forget to attend.
EasyWebinar is best for companies that primarily use webinars to drive sales as opposed to hosting company-wide events or employee training. That's because it comes with an impressive set of real-time push notifications that hosts can deploy during the webinar. Offer buttons available throughout the entire webinar provide links to your sales pages, and "Scarcity Timers" show offer clock countdowns, the number of offers still available, and more.
The tool also has a live chat messenger tool, drag and drop file sharing, recording capabilities, Q&A sessions, and live polling. EasyWebinar integrates with popular communication software like the email marketing tool MailChimp, Constant Contact, WordPress, YouTube Live, screen sharing apps, Google Analytics, and more. Once the webinar is over, attendees can instantly replay it within the registration pays and complete follow-up surveys.
EasyWebinar includes analytics for both live and pre-recorded webinars. See the number attendees and offers clicked, replay views, questions asked/poll responses, length of stay, endpoint, and more.
EasyWebinar's trial lasts for 14 days, with three plans ranging from $78 per month to $499 per month.
BlueJeans Events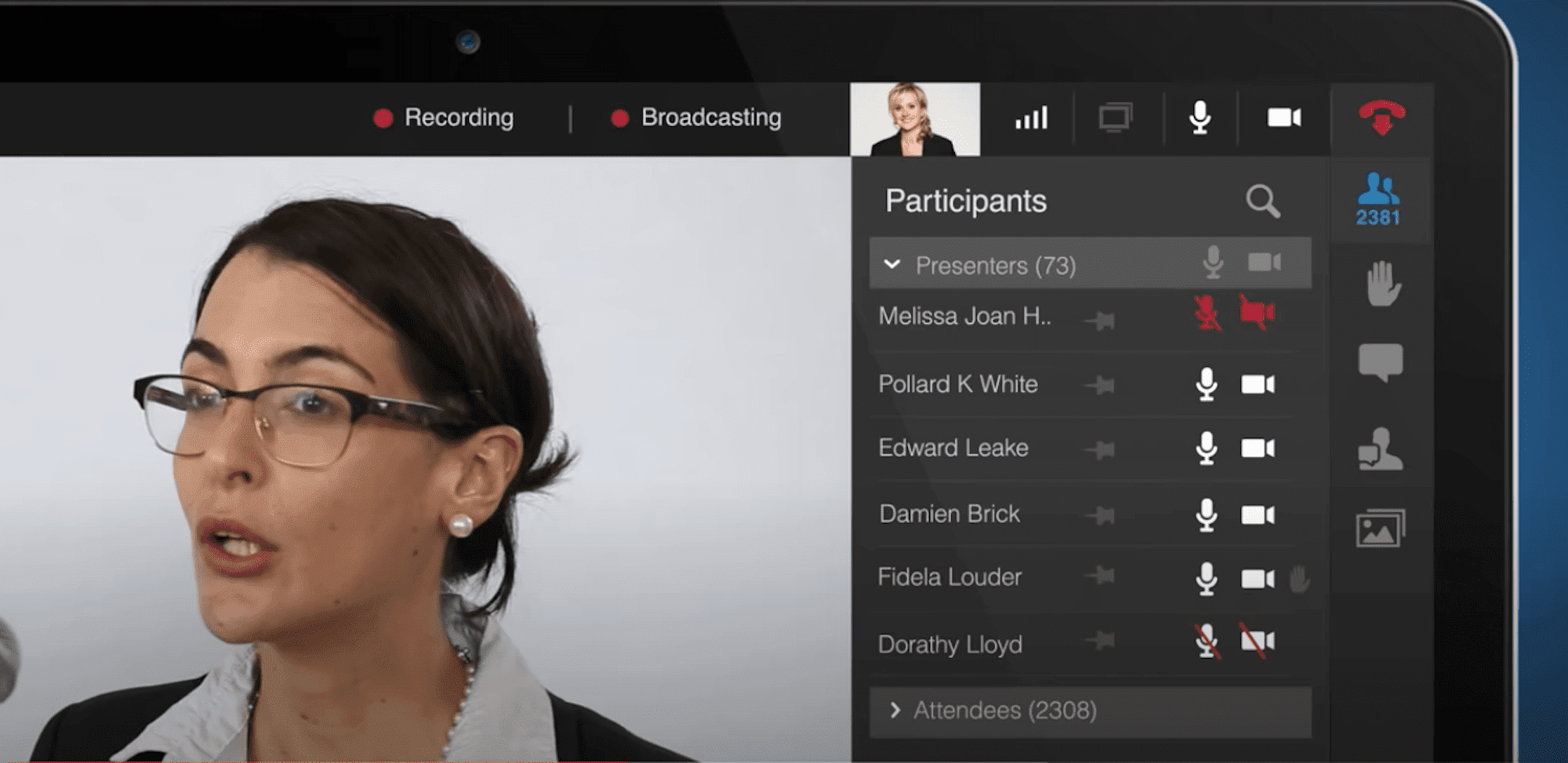 BlueJeans video conferencing also offers BlueJeans Events, a live webinar service for up to 50,000 guests. This means it's ideal for larger, company-wide events.
Though webinars can be recorded, as of this writing it's not possible to host on-demand, pre-recorded webinars on BlueJeans Events — meaning there is a bit of a trade-off for the higher attendee cap.
Event attendees can access the webinar via a mobile device or Internet browser without downloading the software. Up to 500 guests can dial in toll-free, and anyone can watch the webinar thanks to the Facebook Live integration. Social media, after all, is one of the top free marketing tools to use for advertising your webinar.
BlueJeans Events also allows hosts to practice in a virtual practice room ahead of time, especially helpful for beginners.
Live screen share, file sharing, chat messenger tools, and a maximum of 100 simultaneous live streaming screens for panelists/moderators make it easy for guests to stay engaged. In BlueJeans Events, guests only have the ability to hear and see hosts, meaning that audience engagement is only possible within the chat feature. Live polling, surveys, and Q&A tools can also be deployed.
Analytics are available after the event has ended and encluded engagement rates, revenue, number of attendees, and information about when attendees joined and left the meeting. Events integrates with Outlook, GSuite, Salesforce, Skype, Marketo, and offers several more plugin options.
BlueJeans Events offers a free trial of up to 30 days.
What's especially valuable about BlueJeans events is its unique pricing structure. Companies can use the tool to host a one-time webinar for $499 or opt for an unlimited number of webinars for an undisclosed price.
Using a Video Conferencing Tool for Webinars
Popular Zoom alternatives can also be used to host free webinars — usually of up to 100 attendees.
This option is ideal for small businesses and teams, as well as those who can't decide if they can continue to rely solely on a video conferencing platform or if they should add on webinar software.
Cisco WebEx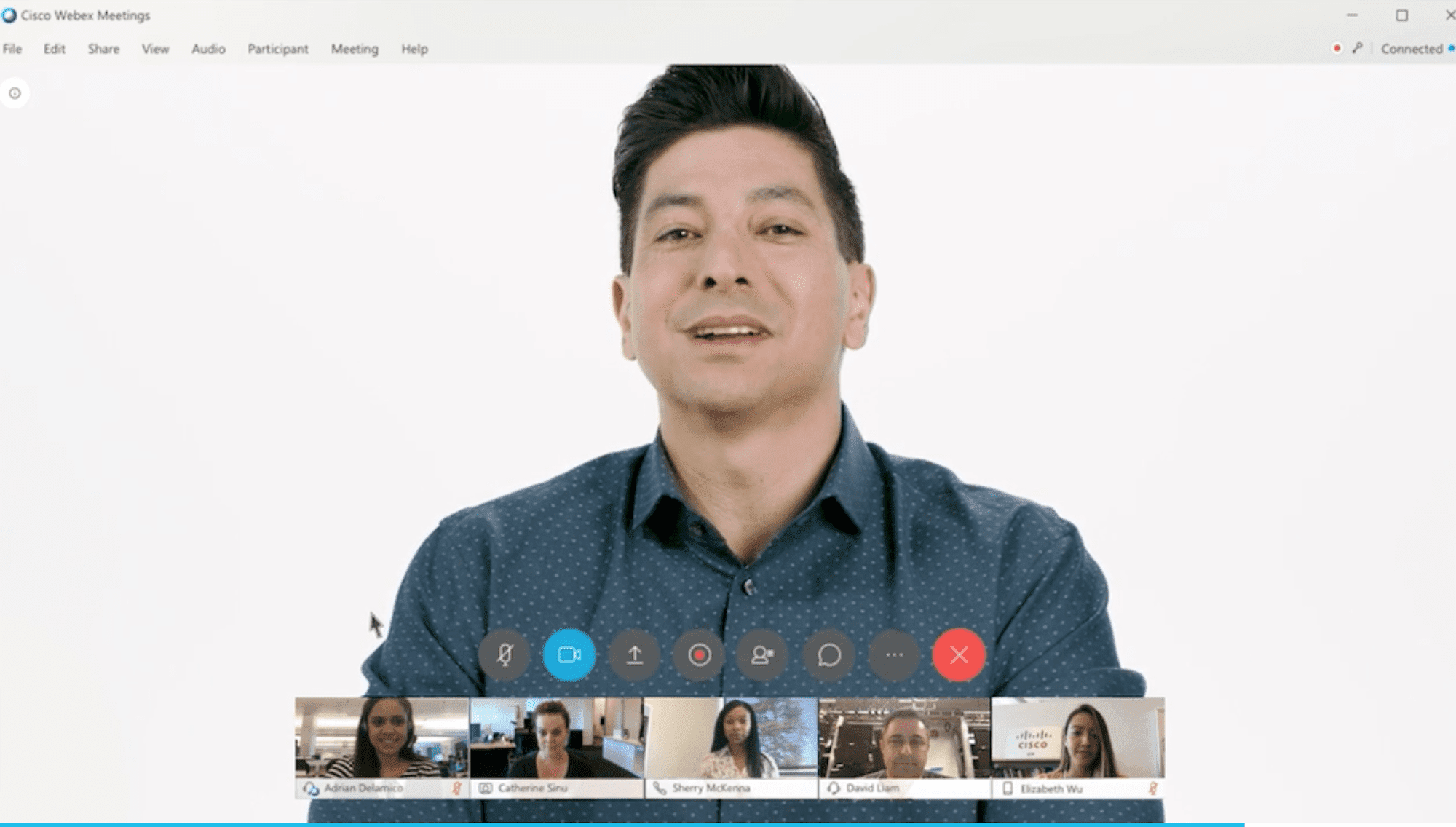 Cisco WebEx is a web conferencing tool offering a free plan that makes it especially ideal for hosting smaller-scale webinars.
In addition to features like HD video, active speaker view, and in-app file-sharing/editing, WebEx's free plan allows you to host up to 100 guests for an unlimited amount of time. It's compatible with both desktop and mobile devices, and there is no limit to the number of webinars you can host.
Attendees can view up to 25 simultaneous screens, and the free version offers both desktop and mobile screen sharing.
Additionally, WebEx's free plan offers real-time whiteboarding capabilities, a waiting room, the ability to mute/unmute and add/remove guests, and unlimited chat messaging tools with a searchable chat history.
Webinar attendees can take advantage of tools like in-app file annotations, virtual hand raising, and live polling tools. The only downside here is that the free version does not offer meeting recordings, so its best used for one-time online events or webinars.
Note that Cisco WebEx also has a specific paid webinar tool, WebEx Events, for those needing to host up to 3,000 simultaneous attendees. The price is not listed on the WebEx website. If you're considering upgrading to a WebEx paid plan, our review of Zoom vs WebEx can help you see how it stacks up against other popular video calling tools.
Microsoft Teams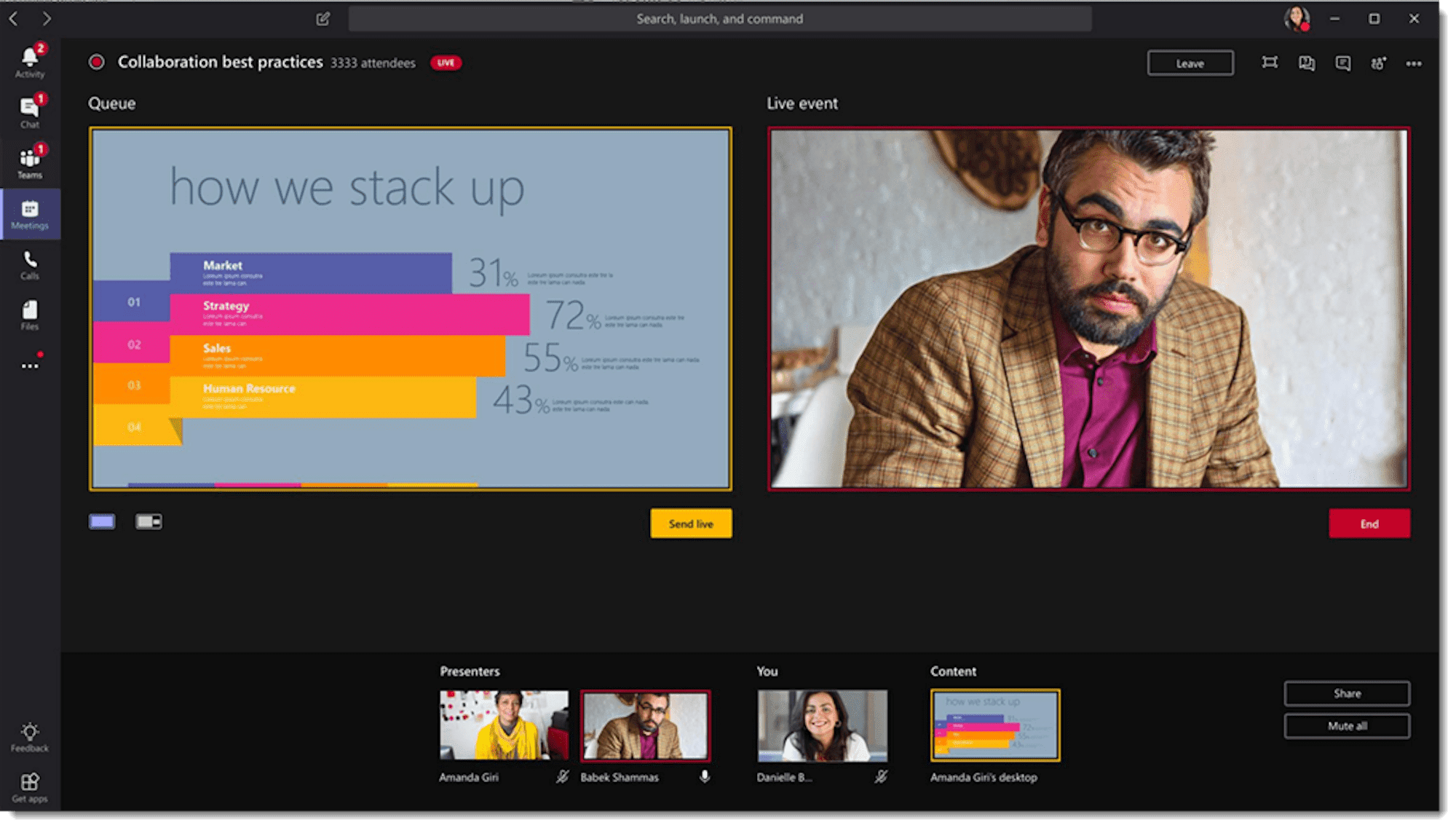 Microsoft Teams is the ultimate free webinar tool for those who need to host larger live conferences, as its free version allows for up to 300 guests.
It offers up to 10GB of storage, unlimited searchable chat messaging, screen sharing capabilities, and even background blurring for those who wish to keep things a bit more private. Guests can share and even annotate files in real-time, and can join webinars just by clicking a link.
Microsoft Teams integrates with over 250 popular communication and collaboration tools, like Mailchimp, Trello, Adobe Creative Cloud, GitHub, and more.
Though free features are a bit limited (for example, there is no recording ability in the free version of Teams) the higher user limit makes it worthwhile.
The Best Completely Free Platforms
The reality is that there simply aren't many free webinar software options out there — so your options are severely limited.
The two tools below represent the best free webinar software that meet the definitions of both "free" and "webinar tool."
FreeConferenceCall.com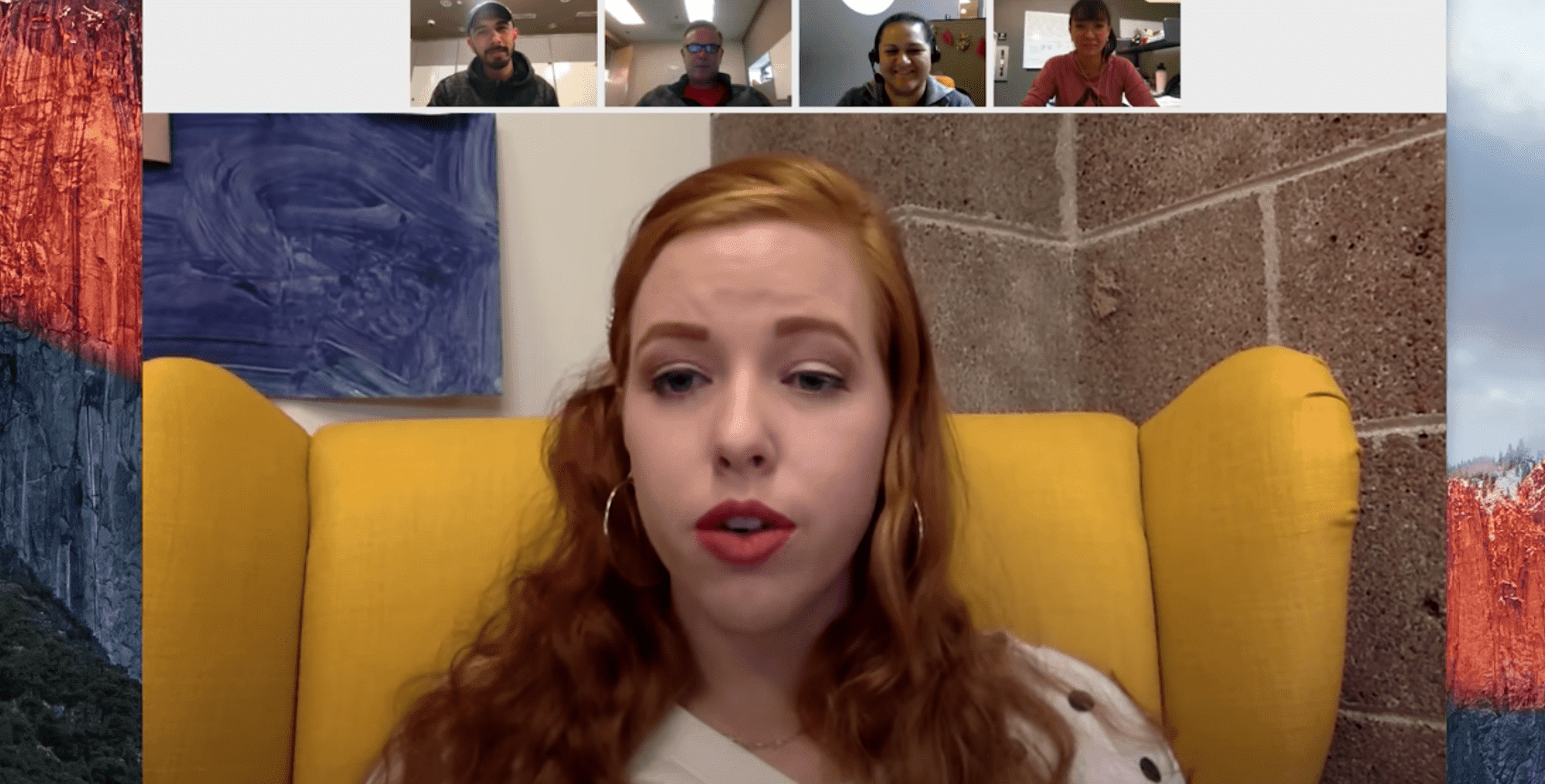 FreeConferenceCall.com is one of the rare free webinar platforms, allowing you to broadcast live streams to up to 1,000 guests.
It's a browser-based tool that's also compatible with Mac Apple and Android mobile devices, meaning it's the ideal solution for communicating with others who don't use the same webinar platform your company does.
It offers 1GB of storage, comes with HD audio and video, and allows you to host as many webinars as you'd like for free. FreeConferenceCall.com doesn't have quite as many features as the paid tools on this list, and does not allow users to broadcast pre-recorded webinars.
However, for those who don't require tons of analytics or standalone entrepreneurs who use webinars to make sales and network, it's tough to beat.
In addition to an active speaker view, FreeConferenceCall.com also offers a live chat messenger tool, one-click recording, screen and file sharing, and remote desktop control.
Though FreeConferenceCall.com offers its service entirely for free, there are optional paid donation subscriptions if you're feeling charitable.
Riot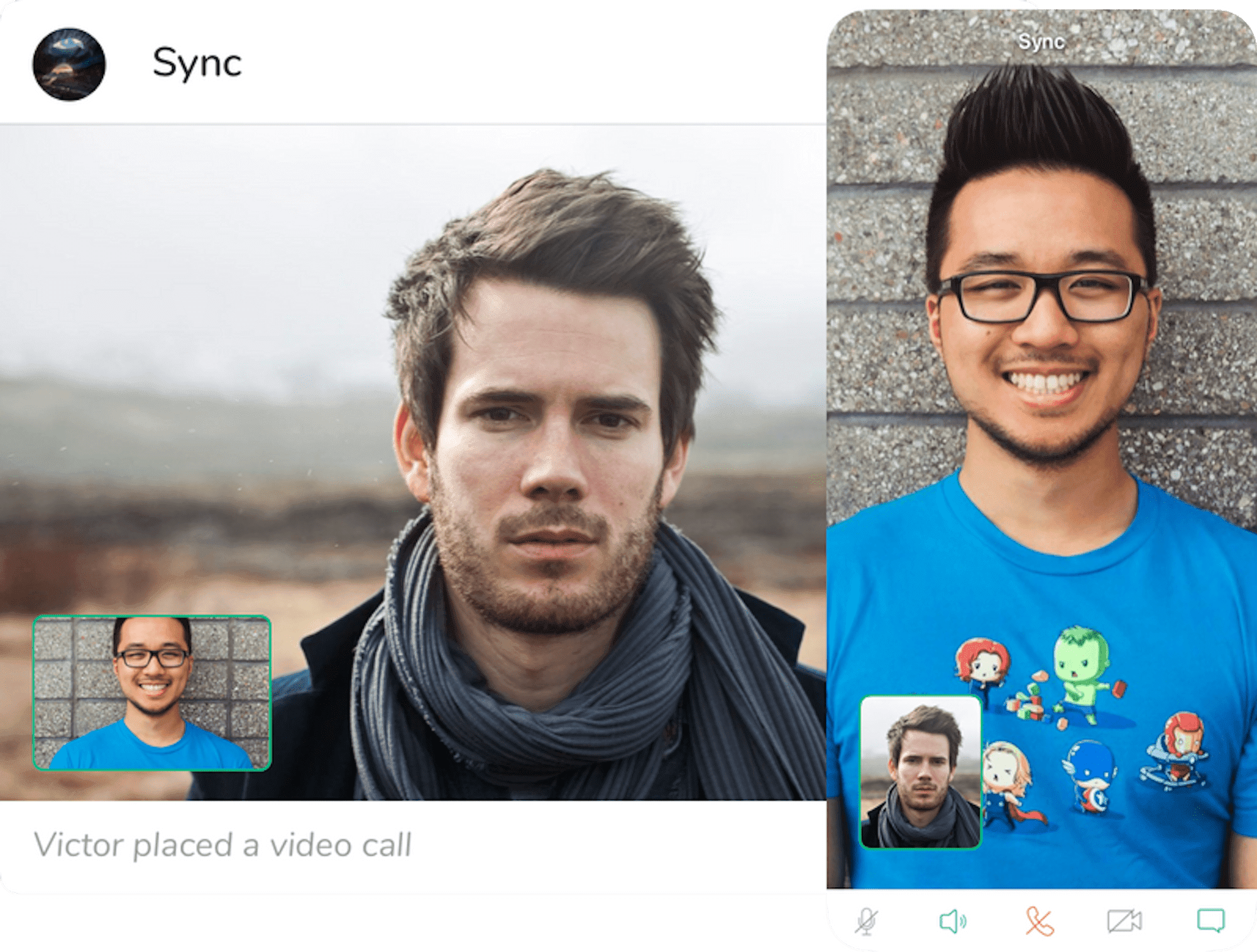 Riot is a browser-based free open source webinar platform that also works with Apple and Android mobile devices.
It's an excellent choice for those who have strict compliance requirements or who simply have concerns about user and data privacy. It offers end to end encryption and even allows you to select your own server. Especially given the rise of Zoombombing and other security issues, this is a major selling point for Riot.
It has HD video and audio, and allows guests to send, receive, and even annotate files during a presentation. Riot also includes an especially robust chat messenger tool, which makes it easy to ask questions and share ideas during a webinar.
Because Riot is an open-source tool, you're able to customize it completely to suit your needs and access countless integrations created by other webinar hosts and developers.
It is entirely free and is run through the Matrix open standard.
Consider Alternatives to Free Webinar Platforms
While the webinar platforms in this post help to save your company money and offer a surprisingly comprehensive set of features, as your webinar needs expand, you'll need to switch to a paid webinar software.
In addition to what we covered in our WebinarJam pricing guide, we've also developed step-by-step guides on how to create a webinar that drives sales and engagement.
Once you've decided what you want to speak about and who your target audience is, you'll know exactly the features you need to look for in webinar software.