Whether you're hosting an online team meeting or a video call with a single employee, it's much easier to get your point across clearly when you can share your screen.
Free screen sharing apps allow project managers to give presentations and collaborate with team members on specific files in real-time.
In addition to being able to see another person's screen, team leaders need to annotate and edit files, make notes on a whiteboard, or control an employee's desktop remotely.
Depending on your workflow, remote employees may be better served by free online collaboration tools that offer free screen sharing, or by a free screen sharing app compatible with desktop and mobile devices.
Is Screen Sharing Safe?
Zoombombing and remote desktop hacking are two of the top security flaws in screen sharing and team communication software.
To prevent these problems, select tools offering end-to-end encryption, two-step authentication, and brute force protection. The best free screen sharing apps should also have password protection, access control, and code signing security.
In addition to security, consider user privacy while using screen sharing apps.
Look for tools that allow users to share single applications or documents as opposed to an entire desktop.
Restrict who can access your screen remotely by limiting or selecting the specific users who can request to control or share your screen. You can also enable settings that require users to ask for permission before you begin sharing your screen with them, or password protect screen sharing capabilities.
If you have privacy compliance requirements, ensure the tools encrypt HIPAA and HITECH data to comply with legal privacy regulations.
How Can I Share My Screen for Free?
When evaluating free screen sharing apps, consider whether you simply need to share your screen with others, or if you also want to be able to operate another team member's screen as you would your own.
While screen sharing gives users the ability to show other employees their desktop screens in real-time, remote management/remote control allows another user to actively control the screen and mouse.
To either share your screen or give another user remote control of your desktop, download any of the top ten free screen sharing tools below. While some options are exclusively screen sharing apps, others are free online meeting apps that include screen sharing as one of many team collaboration features.
AnyDesk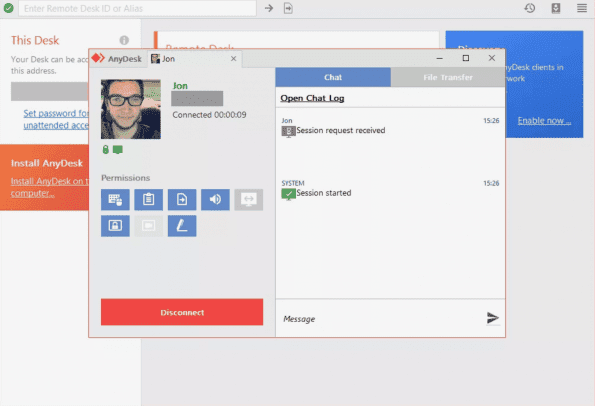 AnyDesk is a remote desktop software that works across multiple platforms like iOS, Chrome, Windows, macOS, and Android — meaning it has for both desktop and mobile screen sharing apps.
This remote work tool has somewhat of a limited free version and is mostly for screen sharing along. However, it offers paid plans that you can upgrade to at any time to access more features.
It allows users to whitelist users for unattended access, which means that anyone they've given their password to can access their screen remotely at any time. Unattended access is especially helpful for IT departments who need to resolve in-house software problems.  Another AnyDesk use case is a customer service representative who needs to be able to assist clients as quickly as possible.
AnyDesk has a drop-down menu bar for specific features, preventing user screens from becoming cluttered by a complicated interface. It also stores a list of any past devices you've established connections with, which makes connecting to them again in the future incredibly easy.
It is seen as one of the best screen sharing apps thanks to its low latency, high frame rates, and compatibility even with low bandwidth.
Strong host controls provide excellent security and user limitations. Hosts can grant or deny specific permissions like remote mouse control, audio access, and remote keyboard control.
Top features include:
Remote printing
File transfer
End-to-end encryption
Automatic updates
Personalized user names
Clipboard content syncing
Auto-discovery of users on the same network
Session screen recording
Chat messenger tools
Supports keyboard shortcuts in desktop sharing
Mobile to desktop connections
Best For:
Businesses with a remote workforce that relies heavily on mobile devices to connect with team members. Also ideal for businesses who will need more screen sharing features in the future and are willing to upgrade to a paid plan.
Screenleap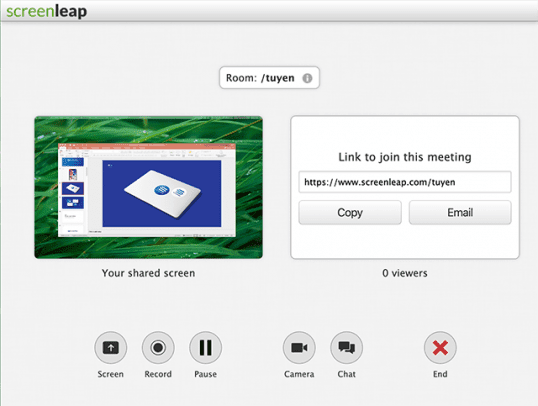 Screenleap is a stripped-down free screen sharing app compatible with mobile and desktop devices. Users can download and install the app to share their screens with others. This tool is primarily built for screen sharing, not for complete team collaboration.
Those who prefer installation-free access or don't need to share their screens simply enter another user's share code to get access to the other person's screen.
Screenleap works with Mac, Windows, Chrome, iOS, and Android operating systems, and its free plan allows up to 8 users to meet for a maximum of 40 minutes per day. Free users can schedule up to two meetings and swap presenters, but they cannot share remote access to their screen or access audio. Recording is also not available on the free version, but can be accessed on the paid Basic, Pro, or Premium plans.
Best For:
Small businesses who only need occasional screen sharing capabilities and want other users to have view-only access to the broadcasted screen.
Chrome Remote Desktop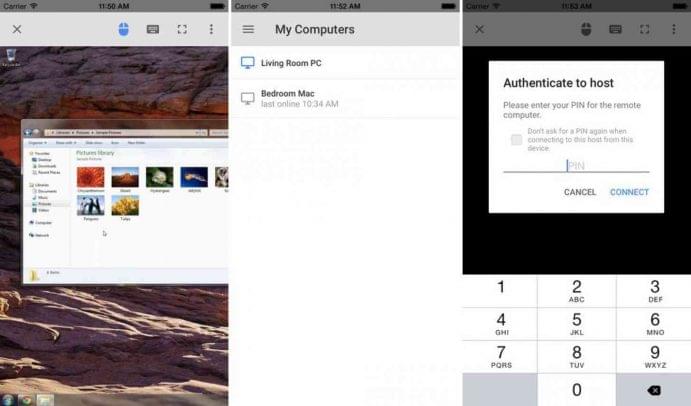 Chrome Remote Desktop is a free screen sharing and remote control app compatible with Windows, Linux, OS X, Mac iOS, and Android operating systems. It does not offer any additional features besides screen sharing.
It's an extension of the Google Chrome browser, meaning that both the host and viewers will need to download Google Chrome to use the tool. Though it doesn't have remote printing capabilities, it does allow for unattended access, audio sharing, and clipboard syncing.
Users select a 6-digit pin to enable remote access, and can then provide a one-time access code to allow others to see their screen and have remote control privileges. It also saves devices you've connected with in the past for easy future access.
Though it's quick to install and user-friendly, many users complain of screen and audio lag time and frequent problems with establishing a stable connection.
Best For:
Businesses with relatively few screen sharing needs that prioritize instant screen access and user-friendliness.
MingleView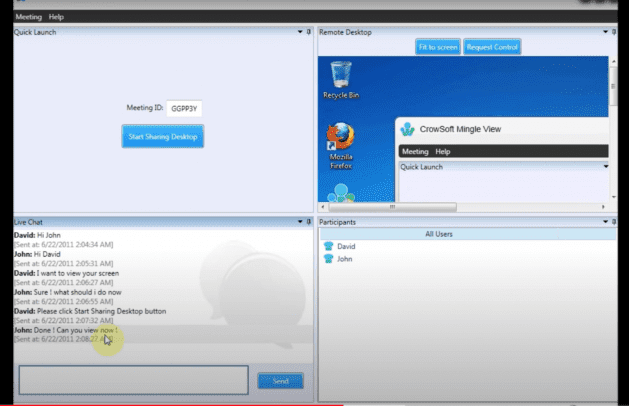 MingleView is a free desktop screen sharing app that allows for an unlimited number of meetings without additional team collaboration features.
It doesn't require installation, instead allowing users to share screens via a six-digit access code. It also includes remote control access, live chat, and a list of meeting room participants.
However, it doesn't support keyboard shortcuts or offer audio, and as of this writing, it is available only on Windows desktop computers.
Best For:
Companies that, though they may use screen sharing and remote access frequently, often use screen sharing for IT support and troubleshooting as opposed to team collaboration.
GoToMeeting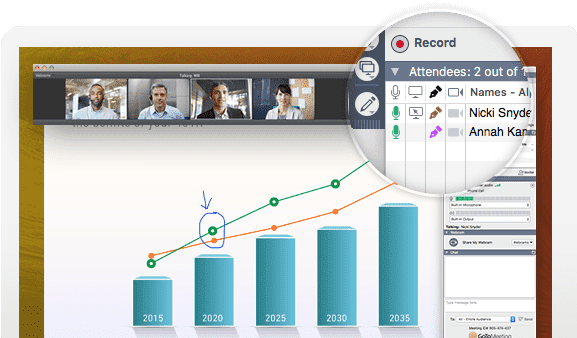 GoToMeeting is a web conferencing software whose robust set of features include screen sharing and excellent team collaboration tools.
GoToMeeting is compatible with both desktop and mobile devices, has a chat messenger tool, and allows up to three participants to meet via video or audio calling for a maximum of 40 minutes.
While its paid plan is the ideal tool for those needing to share screens during webinars, its free plan includes screen sharing capabilities and remote access control. Users can share singular applications or their entire screens with other team members, and can access the shared screen via the GoToMeeting app or in Google Chrome. Though GoToMeeting can record meetings where screen sharing was used, users must upgrade to a paid plan to access the recording feature.
GoToMeeting's free screen sharing tool also includes:
Live bandwidth adjustment
HD video
Pass presenter feature
Mobile to desktop transition
Laser pointer and drawing tools
Shared screen annotation
Best For:
Smaller companies looking for Zoom alternatives due to security concerns or feature limitations.
USE Together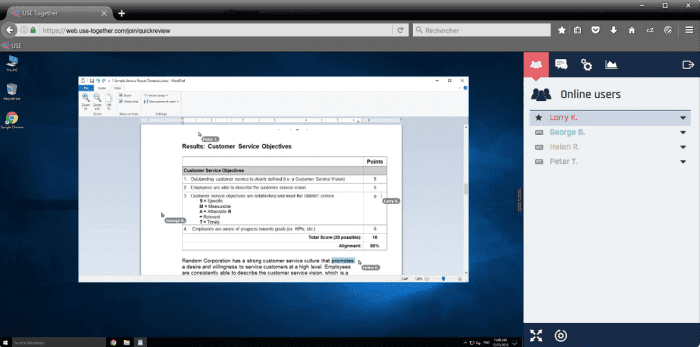 USE Together is a desktop-only screen sharing and remote control app with both free and paid versions compatible with Windows and macOS.
It's differentiating feature is its multiple mouse cursors, meaning that everyone on your team controls their mouse when screen sharing. It is a tool primarily for screen sharing, not team communication. Guests that don't plan to share their screens don't need to download or install the software, as it's accessible from a web browser.
USE Together's free version includes:
Unlimited screen sharing
Voice chat
Maximum of 4 participants
30 minutes of remote control per day
One-click meeting invitations
Pass presenter feature
Best For:
Companies that want team members to have unique mouse control when running software/programming tutorials or those who want a screen sharing tool for personal use.
TeamViewer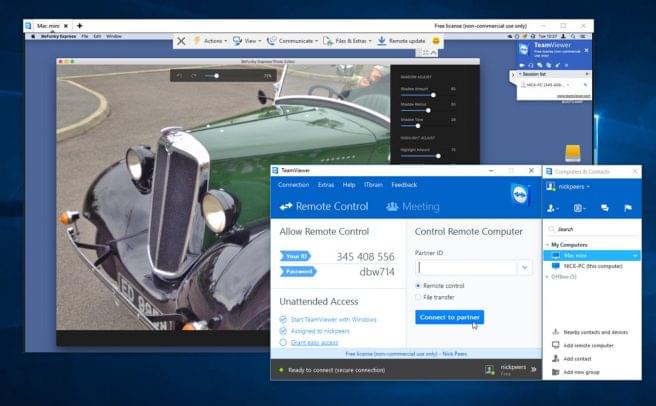 TeamViewer is a mobile and desktop monitoring and management remote access tool with a unique focus on IoT device control in addition to screen sharing. It is especially celebrated for its fast file transfer capabilities, its ability to distinguish between file types, and wide cross-platform coverage. Note that mobile screen sharing and remote access is available only with a paid add-on.
Top free features include:
Video conferencing
Instant messaging
Whiteboard feature
VoIP calls
Door-lock meeting security
Two-factor authentication
HIPAA/HITECH compliance
GDPR compliance
File transfer
Unattended access
Remote printing
VPN alternative
Best For:
Customer service/IT representatives who frequently need to share and remotely control clients' or employees' screens, or businesses with industry compliance requirements.
Cisco WebEx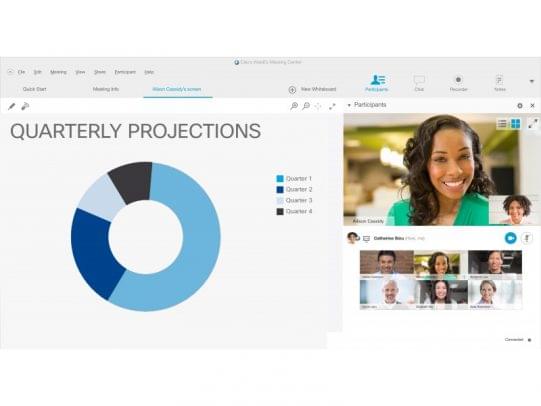 Cisco WebEx, like Zoom, is a team collaboration software that offers free screen sharing in addition to numerous other communication tools, such as video conferencing and app integration.
The main difference between Zoom vs. WebEx is that while Zoom's free plan does not include recording capabilities, WebEx does. Therefore, for teams that plan on recording meetings to use for onboarding or HR training, WebEx is the clear winner.
Additionally, WebEx does not place a time limit on user meetings, and allows for up to 100 meeting attendees.
You can opt to share your entire desktop or a singular app or file in WebEx, enable remote control access, edit files in-app and in real-time, and create, share, and save whiteboards. WebEx even allows users to share web pages and videos and provides a chat messenger tool.
WebEx screen sharing is compatible with Android and iOS mobile devices in addition to Microsoft and Mac desktop computers. WebEx is also HIPAA/BAA compliant.
Best For:
Larger teams that frequently share screens and edit files during video conference calls, and businesses that are required to use HIPAA compliant software.
Mikogo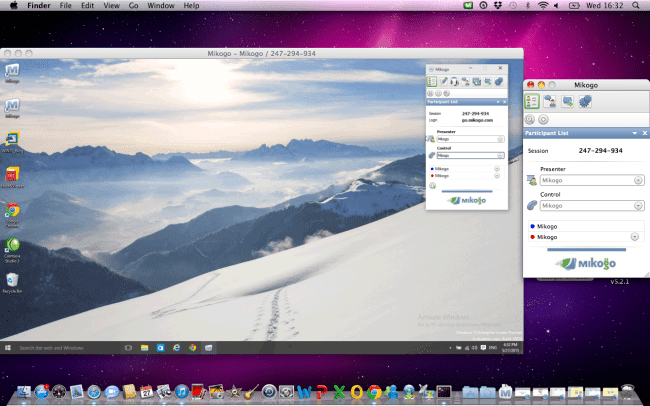 Mikogo is a free cross-platform screen sharing and remote control app compatible with mobile and desktop devices.
Meeting participants can join via browser, meaning that only those who intend to share their screens will need to download and install the app. Users can show a single application on their screens or their entire desktop.
The free version only allows for one-on-one sessions, but users can download a 14-day free trial that allows up to 25 people to meet at once.
Mikogo also keeps a history of all past sessions, which include information on the meeting's date, duration, and participants — a feature that few other screen sharing tools on this list offer.
Additional features include:
Automatic language detection
256-bit AES encryption and SSL security
Mac and Windows accessibility
Pass presenter features
Mouse and keyboard control
Voice conferencing
Session recording
File transfer
Chat messager
Session scheduler
Whiteboard tool
 Annotation tool
Best For:
Teams that want a screen sharing tool offering more team collaboration features than standard options, and companies that want project managers to meet with employees on a one-to-one basis.
Zoom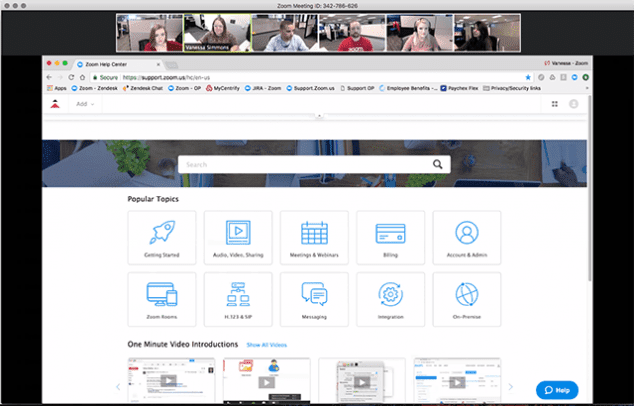 Zoom is a popular video conferencing software that also comes with numerous team collaboration features including chat messaging, whiteboarding, and screen sharing.
Its screen sharing features are ideal for those looking to use Zoom for education purposes, to connect with a remote team, or to train employees in real-time. Its free plan allows for an unlimited number of one-on-one meetings, and places a 40-minute cap on meetings between 3 or more team members.
Zoom allows users to share their entire desktops or specific files and applications with other users and offers free co-annotation, Slack integration, plugins, whiteboarding capabilities, and in-app file editing via screen share. Users can share their screen or view the screens of others on both desktop and mobile devices.
The free plan also includes keyboard and mouse remote control features and audio/video streams, making it one of the most comprehensive free screen sharing apps on our list.
Best For:
Teams looking for a video conferencing software with screen sharing and remote control features available on its free plan.
What is the Best Free Screen Sharing App for Desktop?
Because WebEx offers not only free screen sharing and remote access control, but also unlimited meetings, whiteboard features, and video conferencing recording, it's easily the top screen sharing tool on our list.
WebEx provides users with much more than simply screen sharing, which helps companies better identify current gaps in the way they approach employee communication. It's an especially useful tool for teams that are transitioning to remote work for the first time.
What is the Best Free Screen Sharing Mobile App?
Mikogo is at the top of our list for the best screen sharing mobile apps.
It's compatible with an iPhone, iPad, and Android mobile devices. It also includes meeting recording and remote screen access control, and has an intuitive interface.
Since it offers audio conferencing capabilities but not video calls, it avoids draining mobile device battery and allows users to better focus on the screen being shared — not on the other faces in the meeting.
Are Free Screen Sharing Apps Better Than Team Collaboration Software?
If the sudden switch to remote work due to the outbreak of COVID-19 in 2020 compromised the way your team members connect, then screen sharing apps alone may not be enough to ensure everyone is on the same page.
If you've decided that a more complete team collaboration tool is a better fit for your business than a screen sharing app, our head-to-head comparisons of popular options like Zoom vs GoToMeeting make it easier to evaluate the pros and cons of each tool.
Our interactive comparison table of top team collaboration software includes information on pricing, features, and user reviews.