Every single business that is selling a product or service, and markets that product or service to potential customers, should always be looking for new ways to maximize their reach. A lot of time should be spent researching and following up on leads — but this can be an incredibly time-consuming process. What if your business had a better way to capture, qualify and connect with only the strongest leads?
That's exactly where the likes of Intercom and Drift will come into play. Both of these solutions offer what can be considered conversational marketing and sales platforms. These tools enable your business to take control of the sales funnel like never before, drastically shrinking the time it takes to hold a meaningful conversation with a lead, and eventually turn that lead into a prospect.
Now, if you're unsure of which solution would work better for your business, Intercom or Drift, then you're not alone. At a quick glance, these two providers can seem incredibly similar, as they both offer a relatively similar solution. However, there is more to a software comparison than simply looking for the most affordable option — and that's exactly where we come in.
We're going to take a long and close look at both Intercom and Drift's product offerings, in order to help your business, reach an informed decision on the best live chat software solution for your needs.
Click on an option to jump to that section:
Now, before we really dig deep into the nitty-gritty of it all, I want to take a step back and lay down a foundation of our comparison. Without even looking at pricing, specific features offered, or how the solution operates, I want to offer a brief breakdown of who each provider is, what their strong points are, and what their overall goal is.
This information can help your business best decide which solution fits into their similar culture and values and offers the right focus for their industry.
Intercom
Founded in 2011, Intercom is one of the largest players in the Customer Messaging platform industry. With their services broken down into three individual solutions, Messages, Inbox and Knowledgebase, Intercom provides businesses with the tools they need to revolutionize their sales funnel and even customer support. While the platform consists of these three unique solutions, users can individually subscribe to one, two or even all three offerings to built their own unique platform.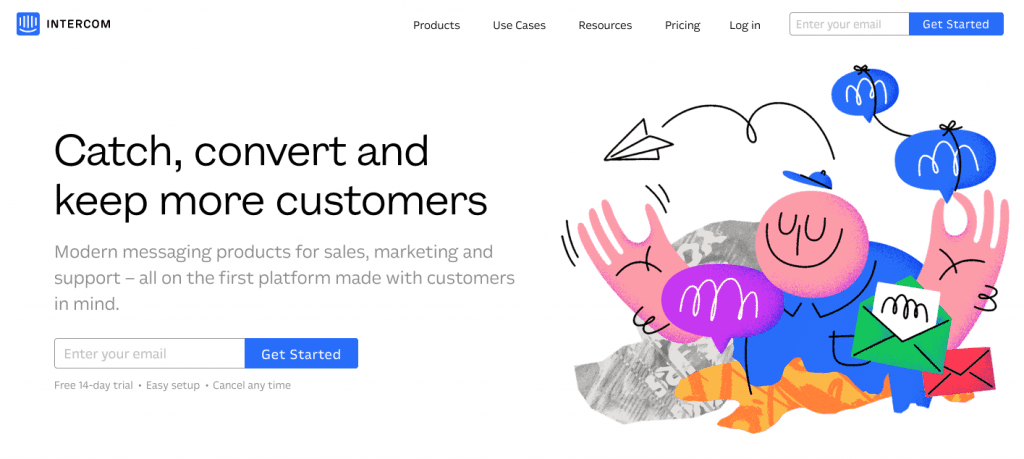 At its core, Intercom provides an advanced Messenger that can be embedded directly onto your business' website or even mobile app to enable customers and sales reps a new way to connect with each other, in real-time. This solution is packed with features such as file sharing, or gif and emoji reactions, that enable your company to provide the best experience, whether that be sales or support, possible.
Beyond their messenger, Intercom also offers a Team Inbox to help your organization manage conversations from different leads from one single location. A Knowledgebase solution is also available, enabling your business to support customers with a self-service database of tutorials, how-to's and frequently asked questions — a popular contact center trend. For the purpose of this comparisons, we will be focusing directly on the Messages and Inbox solutions specifically.
Drift
Founded just a few short years after Intercom, in 2014, Drift is a close competitor to the advanced messaging platform. Drift also offers what can be considered a customer messaging platform, providing your business with a new way to connect with customers and potential sales leads directly from your website or mobile app. Of course, this should sound familiar to our description of Intercom.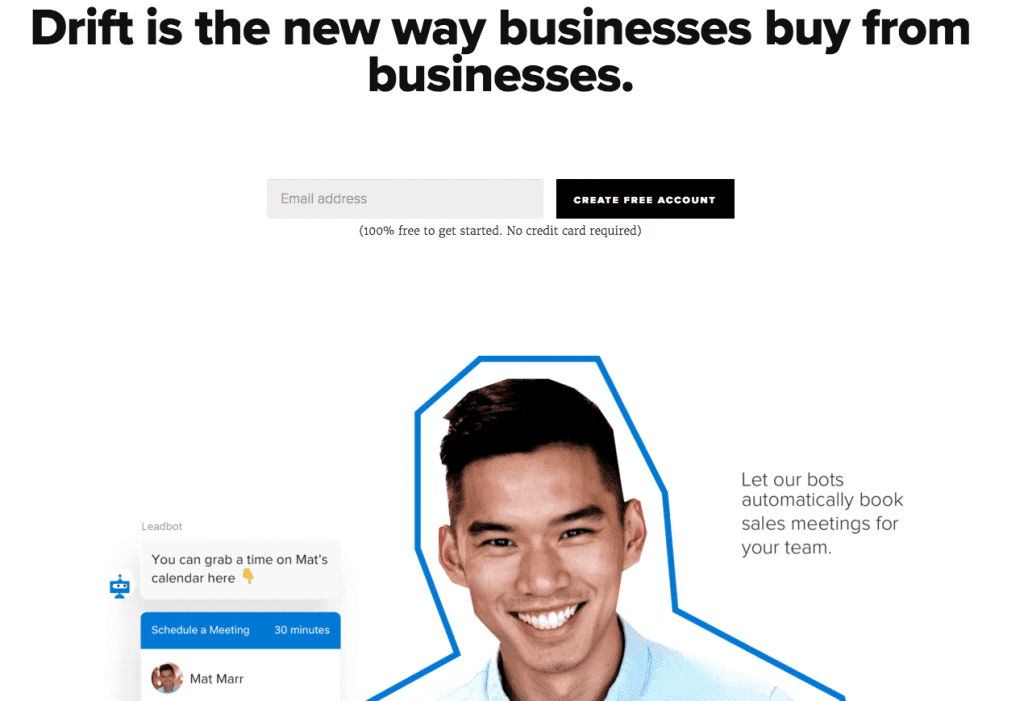 However, there is a fairly big distinction between the two providers in how their solutions are tiered, priced and offered. While Intercom provides three independent services that businesses can pick and choose between, Drift instead only offers one main solution: their entire platform. What's important to note is that Drift's solution is comparable to the Messages and Inbox offerings from Intercom, and the provider lacks a comparable Knowledgebase solution.
So, for the sake of comparison, we are going to focus directly on the ability for these solutions to capture, qualify, and interact with strong leads. What's a bit more unique about Drift's solutions is that along with an advanced messenger, the solution provides individual agents with their own unique profiles, enabling visitors to schedule meetings with specific agents and specific times. But we'll get a bit further into the functionality of these platforms later.
You'd be correct in assuming that both Intercom and Drift offer the same functionality. However, while the two providers are comparable competitors, their products are handled a bit differently. While Intercom offers three distinct products, Messages, Inbox and Knowledgebase, we're only going to focus on Messages and Inbox for the sake of this comparison.
Drift's solution offers comparable features to both Messages and Inbox but does not offer their own unique Knowledgebase solution. What's interesting is that Intercom allows customers to purchase just one, both, or all three solutions, enabling organizations to create a more customized platform. So, for the sake of this comparison, we will be focusing on Intercom's Messages and Inbox features, compared to Drift's entire platform.
Intercom
1. Messages
Messages is what enables your business to encourage leads and users to take action by sending very targeted messages. This could be emails, or even push notifications and in-app messages triggered by specific behavior on your website. The idea is to qualify leads based on their specific activity on your website or within your app, and then send direct, targeted, personalized messages to engage those leads and nurture them into customers.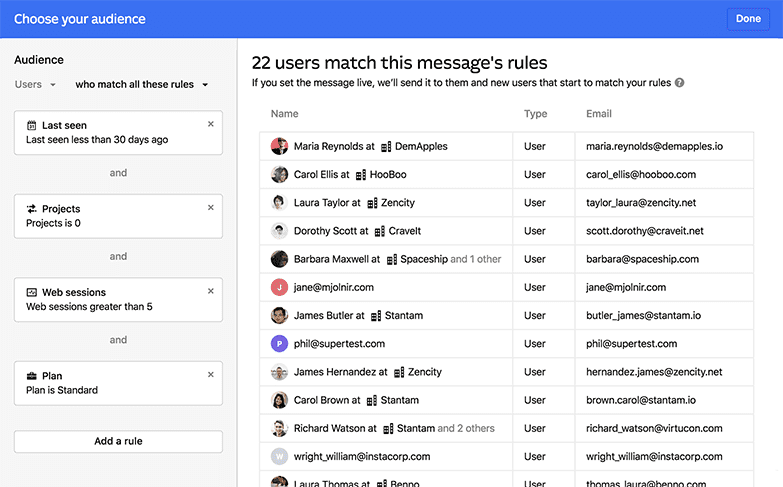 For example, if you want to attempt to capture leads that are interesting in purchasing your solution, you could set up a rule that sends a chat message to any visitor that has browsed your "pricing" page more than two times. These unique rules are what make the Messenger so powerful, as your business can specifically target the strongest leads that are most interested in your services.
Your business can also proactively reach out to customers by sending a welcome message when they visit your website. The Messenger can be installed on any website or directly inside your business' app and can be customized by color to fully integrate into your product and overall design.
2. Inbox
While Intercom's Messages solution enables your business to send targeted, one-off messages to leads at specific points of the sales funnel, their Inbox solution enables your business to assign, reply, and close conversations across your website. With the Inbox solution, your business gains a multi-channel inbox to manage and respond to conversations with leads.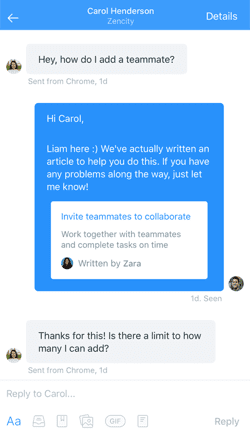 So, while Messages lets you send a reminder or notification to a potential lead, Inbox enables your team to interact with, and manage every singe interaction with, those potential leads. The multi-channel nature of the Inbox allows your team to manage conversations from leads no matter where they are, whether that be your website, mobile app or even social media.
Inbox includes a multitude of useful features, including automated workflows that enable agents to reduce the amount of time spent on redundant tasks, and a helpful Operator Bot, which can discover the intent of a lead and suggest self-service options like useful articles, or even schedule a meeting.
Drift
While their approach might differ, the first thing to recognize is that Intercom and Drift enable your business to achieve the same goal: capture and convert better leads on your website and mobile app. Just like Intercom, Drift offers a Messaging application that lets your business talk to and interact with visitors and customers in real-time.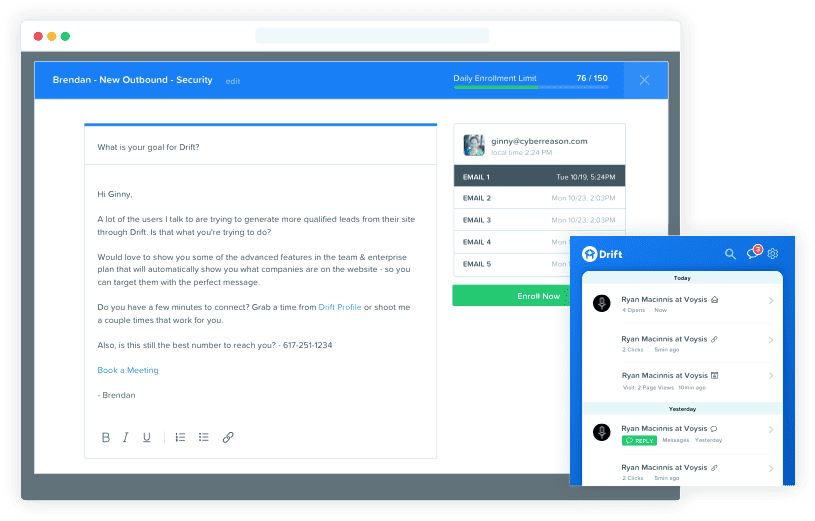 Overall, Drift can be used for in-app messages, embedded live website chat, for surveys or even email support. What's unique about Drift is how it handles your contacts. Every single agent on your team is given their own unique Personal profile page. This profile creates a "hub" for each one of your agents, providing customers and leads with an easy way to schedule a meeting or even chat live with a representative.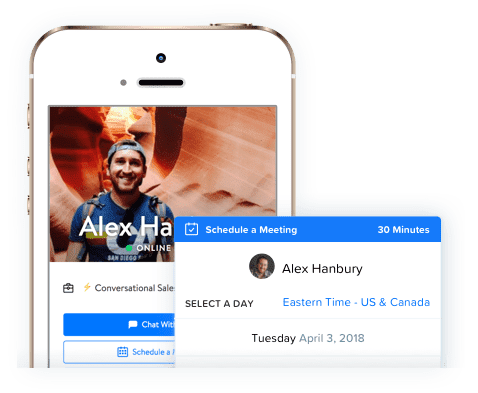 So, at its most basic, Drift offers a messaging app that can be embedded into your website. Just like with Intercom, Drift allows your business to send targeted messages to users based no specific criteria, for example of a user visited your pricing page more than three times. Just like Intercom, Drift also has a conversational bot that will engage visitors to qualify leads and schedule meetings with agents.
At the end of the day, Drift and Intercom can complete the same functions: but they way they go about doing so is what differs. Drift's personalized agent Profiles are truly unique to their platform, and offer a more personalized, human aspect to your organization's support team.
Verdict: Drift— While both providers offer what is essentially a very comparable platform, the way the platforms are served is vastly different. For the sake of simplicity, Drift offers the same functionality but doesn't separate its features into different solutions.
While some may enjoy this pick and choose paradigm from Intercom, managing multiple products can get confusing. When it comes to bang for your buck and simplicity Drift has a bit of an edge here.
Now the first, and most obvious, place to compare these providers is to take a very close look at their products offered, features included, and pricing structure. A cheaper provider doesn't always win this category: instead we look for the best value, the best bang for your buck.
What's important to note is how the providers break down their pricing structures. They may place limitations on the number of users per plan, or they may place a limitation on specific features, and reserve them for higher paid plans.
For this specific comparison, I want to make a note that we will be looking at two products from Intercom, and only one offering from Drift. To offer the closest apples to apples comparison possible, we need to combine Intercom's Team Inbox and Messenger solutions, and Drift does not segment their products in the same way.
Intercom
As I already mentioned, Intercom's overall platform is broken down into three offerings: Messages, Team Inbox and Knowledgebase. Since Drift does not offer a comparable Knowledgebase solution, we are going to focus on the Messages and Team Inbox product offerings.
Pricing is slightly unique for Intercom, charged based on the number of monthly active users of your website or app, and is then further broken down into an Essential or Pro plan. The Pro plan receives more features, including smart campaigns, A/B testing, even more integrations like Salesforce, and even more.
1. Messages
As you can see, Intercom offers two distinct pricing structures: Essential and Pro, and then continues to segment their pricing based on the number of Active Users your website or mobile app sees each month. This is a bit unique, instead of charging based on the number of agents or seats within your business.
| | | |
| --- | --- | --- |
| Monthly Active People | Essential | Pro |
| Up to 100 People | $29/mo | $49/mo |
| 101-250 People | $49/mo | $79/mo |
| 251-1000 People | $70/mo | $110/mo |
| 1000-2000 People | $95/mo | $150/mo |
| 2001-5000 People | $170/mo | $270/mo |
| 5000-10000 People | $290/mo | $450/mo |
| Over 10000 People? | Chat with Sales | |
Essential Features
Pro Features

Auto and Manual messages
Audience targeting
Message scheduling
Trigger times
Message insights
CSV export
Intercom messenger
Message customization
Email collector

All Essential features, plus
Smart campaigns
A/B Testing
Message reactions
Premium integrations
Salesforce integrations
Clearbit Reveal integrations
Custom email templates
Email delivery windows
Unbranded messaging
DKIM
Permissions
What's really interesting is the distinction between Essential and Pro plans, enabling your business to pick and choose a simple or advanced feature set, as well as the specific number of users your business serves. This pricing structure enables your organization to really fine-tune and pay for only what you need. Now, its important to mention that some important features are limited to the Pro offerings, like a Salesforce integration — that's generally something included in even the lower pricing tiers.
2. Inbox
Again, Intercom's pricing is broken up between Essential and Pro features: but this time with Inbox, your business is charged based on the number of seats required. This means your business is being charged for the number of agents that will be using the software on your end, with 2 seats being the smallest plan offered. Beyond that, each additional seat is charged at $19 per month, and a 15+ seat plan will require a special plan and pricing from Intercom's Sales team.
This is actually a bit of a benefit, because $19 a month per seat could get very expensive, so chances are a customized plan will benefit your organization greatly.
| | | |
| --- | --- | --- |
| Priced on Seats | Essential | Pro |
| 2 Seats | $38/Mo | $78/Mo |
| Each Additional Seat | $19/Mo | $39/Mo |
| More than 15 Seats? | Chat with Sales | |
Essential Features
Pro Features

Intercom Messenger
Operator bot
Email forwarding
Team inboxes
Assign conversations
Notes and mentions
Conversation tagging
Saved replies
Lead and customer profiles
Conversation snooze
Office hours
Response times
Away mode
Message customization
Slack integration
Twitter integration
Facebook integration
Smart suggestions
Aticle search
Reports
iOS and Android app
Operator lead qualification

All Essential features, plus
Round robin assignment
Assignment rules
Salesforce integration
Github integration
Zendesk integration
CSAT Surveys
Messenger visibility
Unbranded messaging
Permissions
Overall, limitations are pretty much the same as with the Messages solution, but this time a lot more features are included in the Essential offering. However, its still a bit discouraging to see some basic integrations including Salesforce, Github and Zendesk limited to the Pro feature plan. However, it is important to note that the Essentials plan does include common social media integrations, and even a Slack integration, as well as mobile apps.
Drift
So, while Intercom separates their solutions into three different products, Drift instead offers their entire solution as a single, integrated platform. One major benefit of this for Drift customers is simplified pricing: instead of combining and paying for two products, Drift only charges users once for their entire platform.
Building off this distinction: Drift offers their pricing in a much more straight forward scheme, with the higher plans offering your business more users, and more features. What's important to distinguish is that Drift offers two different pricing structures: Drift for Teams and Drift for Enterprise.
Drift for Teams
Drift for Enterprise
Free – $0

Chat with prospects, profiles, mobile apps

1 Seat included
100 Active Contacts
Live Chat
Email Chat Fallback
150 Emails/month Sales Sequence
Drift Profiles for Meetings
Block IP for CRM
Slack Integration
Vidyard Integration
Conversation Reporting
Help Docs
Live Chat Support

Company – Starting at $1000/mo

+One-time $2,000 onboarding fee

Roll out the red carpet

Closed Loop ABM
Advanced Integrations
Single Sign-On
Dedicated Customer Success Manager
30 Day Kickoff Strategy
Technical Integration Setup
Playbook Creation & Optimization

Standard: $50 per month

Custom greetings, Live view of site visitors, email sequences

All free features, plus
2 Seats included
Additional seats for $25/mo
1,000 Active Contacts
Additional active contacts for $10/mo
Saved Replies for Live Chat
Marketing Email
Calendar Integration for Agent Profile
Calendar drop for Agent Profile
Playbook Custom Greeting
Email Playbooks
CRM Live View
CRM Data Enrichment
Zapier integration
Knowledgebase integration

Enterprise – Starting at $5,000/mo

+One time $10,000 Onboarding Fee

For 100k+ Visitors

Closed Loop ABM
Advanced Integrations
Single Sign-on
Multiple Workspaces
Separate Sandbox Environment
Dedicated Customer Success Manager
60 day Kickoff Strategy
Technical Integration Setup
Playbook Creation & Optimization
Advanced Training
Executive ROI Review

Pro: $500 per month

Bot Playbooks, Automated meetings, Push activity to CRM

All Standard features, plus
5 seats included
$50/mo for additional seats
Custom Branding for live chat
Bots for live chat
Automated Booking for Agent Meetings
Bots for Playbooks
Segment integration
Hubspot integration
Salesforce integration
Advanced Revenue Reporting
Onboarding + training support
So, credit where its due: Drift offers a very strong Free plan for small businesses to take advantage of. Even if your team requires more than 2 seats, the Free plan can be used as an extended trial. What's interesting is that Drift places limitations on both Seats included as well as Active Users, but does not separate these like Intercom does, meaning if you only need 2 seat, but require more than 100 Active Contacts, you will be forced to pay for a more expensive plan.
Verdict: Draw – This one is honestly a bit of a difficult toss-up. Both providers have their pros and cons when it comes to their pricing structures and depending on the needs of your business this could go either way. For example, Drift makes it easy with all featured under one solution, and pricing based on the number of seats/users. Simple pricing like this might be a large benefit to smaller teams.
However, on the other hand, Intercom enables a much more tailored approach to their pricing. Users can choose between two different feature sets, as well as the number of users/seats needed, enabling a new level of fine-tuning. Now, separating products into different offerings can make things confusing, and end up costing your business more. In the end, either solution could benefit your business in different ways.
Quickly becoming an incredibly critical aspect of any business solution, integrations can absolutely make or break a provider in a head to head comparison. Integrations are incredibly useful because of how much time they can save users, simplifying our lives by seamlessly connecting together multiple platforms.
When it comes to customer service, sales and lead capturing, integrations are even more critical, enabling your business to tie together multiple tools to provide the best support possible. For example, any platform that enables your business to interact with customers should always, always integrate with a CRM solution. This way all of your interactions can be logged, and agents can utilize relevant information from the CRM.
Now, with Intercom and Drift, integrations are just as critical — since these platforms are about revolutionizing how your business interacts with clients and potential leads, it's important that they integrate with the other tools your business is utilizing to capture leads and improve service.
Intercom
Right off the bat, Intercom has an impressive catalogue of provided integrations, around 60 or so. This list of course includes the standard CRM integrations like Salesforce and Zendesk. But there are some other impressive integrations as well including social media, WordPress, collaboration tools like HipChat, Slack and Microsoft Teams, Automation integrations like Automate.io and of course much more.
Facebook
Github
 Twitter
Clearbit Reveal
WordPress
Stripe
Zapier
Facebook Lead Ads
HipChat
Zendesk
Mixpanel
MailChimp
Marketo
Trello
ChargeDesk
FullStory
Shopify
Statbot
StatisMeter
Aircall
AskNicely
Productboard
Wootric
AddCharts
Hull
Survicate
Landingi
NomNom
Privy
Front
Tray.io
Microsoft Teams
AdEspresso

Geckoboard
Meya
Notion
PieSync
Stamplay
DataHero
Chameleon
JustCall
Toky
LeadsBridge
Automate.io
Blendo
Smartlook
SalesSeek
Insycle
CloudApp
Upscope
DropIr
FiveTran
Median
Jira
Stitch
Driftrock
Grow
Natero
LogRocket
WooCommerce
Wistia
Woopra
Now, its important to note again that there are limitations placed on integrations depending on the services you subscribe to from Intercom. Specifically, Salesforce, Github and Zendesk integrations are limited to the "Essentials" plan, forcing your business to upgrade to a costlier tier of service.
Drift
Now on the other end of the spectrum, Drift's integration list is unfortunately dwarfed by Intercom's. With roughly 28, Drift does manage to include some of the more critical integrations, including popular CRMs like Salesforce and Zendesk, as well as Go CRM and Desk.com.
Clearbit
Demandbase
Salesforce
Drip
Slack
FullStory
Knowledgebase
Marketo
MadKudu
Shopify
HubSpot
Google Analytics
Zapier
CloudCart
Zendesk
Stripe
Google Sheets
Poptin
Gro CRM
Front
Mautic
com
Privy
HipChat
BubbleIQ
NomNom
Support Hero
HelpDocs
Drift also covers your collaboration with Slack and HipChat. What's also interesting is an integration with Knowledgebase and HelpDocs, potentially filling in a solution gap that Intercom can otherwise cover with their own products.
Verdict: Intercom — Simply due to the sheer size of Intercom's integration database, we have to award them the integration comparison. Credit where its due, Drift does include the crucial integrations you would expect, however Intercom's selection simply goes above and beyond.
Now this is incredibly subject to change, new integrations pop up regularly and this is one category you should be sure to double check before purchasing. Of course, what's more important than volume is that the provider has the integrations your business specifically needs — volume just increases the chances.
It's a bit silly to be discussing the support provided by support platforms, but just as with any other cloud delivered service, customer service and support is an incredibly critical aspect of the service. When, not if, but when something goes wrong with the service, the issue is entirely in the hands of the provider, and your business will be left waiting until everything is solved.
That's why its incredibly crucial to ensure the service provider of your choosing employs solid support and customer service. When things do go wrong, you want that peace of mind knowing that the provider will do everything they can to make things right, and as soon as possible.
| | | |
| --- | --- | --- |
| Support Type | Intercom | Drift |
| Hours | N/A | 8AM–6PM EST |
| Phone? | No | No |
| Web Chat? | Yes | Yes |
| Online Ticket? | No | No |
| Email? | team@intercom.io | No |
| Online Guides/Tutorials/How-To's? | Yes | Yes |
| Online Status Page | Yes | Yes |
| Onboarding and Training? | No | Yes |
Now, both providers seem to be at roughly a similar spot when it comes to providing support for their own customers. Unfortunately, the options aren't too abundant — for example Intercom does not seem to provide phone-based support, Drift doesn't support email it seems, and neither allow for online ticket submission.
Of course, both providers make it possible to engage in a live chat with representatives right on their website, which should be expected as that's the exact product they are selling. Both providers also include Online Guides, Tutorials, FAQs and How-To's for users to solve issues on their own.
Both providers also include an Online Status page, enabling users to see the current status of all services from each provider, including how long services have been up, any issues with services, API response times, and much more. These are incredibly handy for helping to diagnose any issues, allowing users to see if the problem is on their end, or the provider's end.
Verdict: Drift – Now this is a fairly close comparison, as both providers offer basic web chat support, online guides, status pages, and at least one other alternative support option. However, when you look closely, Drift wins out by a hair: their online guides seem to include much more information with specific categories and organization, a contrast to Intercom's approach.
Drift also offers onboarding and training support, helping your business get started, while Intercom doesn't seem to provide this option. Information on Intercom's support options was also bit harder to obtain — so if it's hard for us, it will be hard for customers.
In this day and age, Mobile apps are a must have for any cloud-based solution. Most of us are always on the go, and with a tiny computer in our pocket, there's no reason we shouldn't be able to access our tools even when we're not in the office. The same rings true for both Intercom and Drift, as both services provide a mobile app for your business to utilize the platforms on-the-go.
| | | |
| --- | --- | --- |
| Mobile App Features | Intercom | Drift |
| Team Inbox | Yes | No |
| Notes and Mentions | Yes | Yes |
| Tagging | Yes | Yes |
| Real-Time Messaging | Yes | Yes |
| Saved Replies | Yes | No |
| Live Profiles of Leads/Customers | Yes | Yes |
| Search leads/users | Yes | No |
| Start New Conversations | Yes | Yes |
While the goal of a mobile app is carry over the same functionality of the platform onto your phone or tablet, that isn't always necessarily the case. We wanted to take a look at some standard functionality for both Intercom and Drift, and then compare both provider's mobile apps from there.
Intercom
Right off the bat, it seems that Intercom has a stronger mobile focus for their application. Drift states that you can send in-app messages through the platform, but Intercom makes a point to explain how you can integrate the platform directly into your own mobile app. This provides a strong mobile DNA for the solution.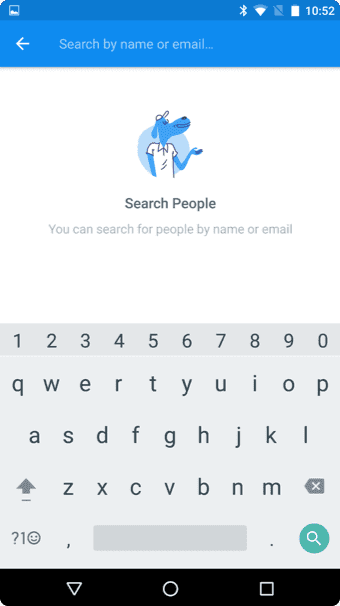 When it comes to their own mobile application, Intercom offers very strong functionality, with access to your entire Team Inbox. Similar to the features and functionality you may find with popular team collaboration tools, with Intercom you're able to easily view conversations, see where you are mentioned, and even collaborate with your colleagues via internal notes, saved replies and assignment control.
Users can start or continue conversations from their mobile app, so if you have to step out of the office, you can ensure that no inquiry from a lead goes unanswered. Users can also search through leads and other users within the mobile app to gain even more context. Agents can also even see live profiles of customers and leads, as well as their website activity, conversation history and more.
Drift
While Drift also includes a mobile app with their solution, the functionality does not seem to be as wide as Intercom's — or at least it is not advertised as such. Just basing our comparison off of information listed from each provider's website, Drift's mobile app pales a bit in comparison to Intercom.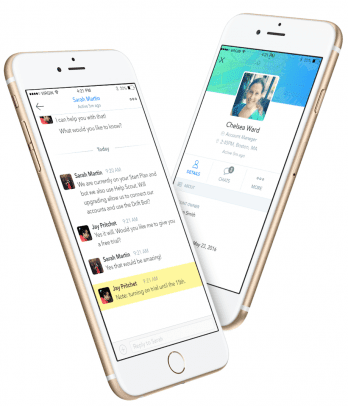 Users still have the ability to interact with leads and customers and start new conversations or continue existing ones, as well as view live profiles of leads and customers. The app also enables for real-time messaging with your team, as well as notes and mentions to collaborate even more.
However, Drift does not seem to include saved replies enabling your agents to save time and automate responses, and users do not seem to be able to search through leads and other users within the mobile app.
Verdict: Intercom — At the end of the day, Intercom seems to place a stronger focus on mobile applications, both their own mobile app, and the ability to integrate Intercom into your own mobile application. This isn't to say Drift's app isn't up to the job, it just doesn't seem to be as strong as an offering when compared to Intercom.
Simply put, both Drift and Intercom will supply your business with a comprehensive platform enabling your team to convert more leads into sales and customers. These solutions are leveraging the latest technologies and trends to offer your business an entirely new way of managing interactions with prospects.
It can be really difficult to declare one provider a direct winner over another. Generally, what works well for one business may not be a perfect fit for another business. Different providers will work better for different scenarios.
We try out best to make a surface level, apples to apples comparison, but at the end of the day deciding between one of these providers will fall back on a number of factors that your business needs to recognize, identity and prioritize.
Intercom would make sense for your business if:
You are looking for a solution that can be custom tailored in multiple ways to fit your business exactly. Intercom offers a wide variety of pricing and plan options, and allows your business to purchase, one, two or all three of their products to create your own unique platform.
You will be placing a large focus on utilizing the mobile application. Intercom's mobile app, and mobile app integration, is great for a business with a strong mobile presence.
If integrations are absolutely critical, then Intercom will be a better choice with their extensive list of existing integrations.
Drift would make sense for your business if:
You are looking for a simple platform that includes everything your business needs. Drift doesn't separate its features into different products, providing your business with a simpler pricing scheme. One service, one bill.
You are looking for a provider that support your business with an onboarding and training period, to learn how to best utilize and leverage the solution being purchased. This is absolutely key for Enterprise shoppers.
If you want to keep costs down, chances are Drift will be leaning towards the cheaper end of the spectrum with only one product, as opposed to combining multiple products to receive the full platform and its functionality.