Cisco has announced their WebEx Meeting Center software will now include video conferencing at no additional to all subscribers. A blog post by Jens Meggers, the company's Vice President and General Manager, explained how Cisco is trying to expand the use of video conferencing.
The company noticed WebEx customers were not previously taking advantage of the video capabilities hidden behind an additional pay wall, Meggers said in his post. "Our bad," he wrote."If we want people to experience the power of video, and how it can improve meetings and the way you run your business, we have to change the paradigm."
Cisco's WebEx Meeting Center lets users host their own virtual office room, clients or coworkers can join to hold virtual meetings and manage collaboration with voice chat and file sharing. The goal is to allow for virtual collaboration similar to face to face meetings, but from almost anywhere on any device. While always supported, video conferencing was limited to an additional subscription.
New subscribers can take now advantage of the free video conferencing tools immediately, while existing users will have to renew their contract with Cisco. Because the software supports any standard video-enabled device, users can video conference from their phones, desktop computers, soft-client or room-based video systems, and even Microsoft Lync or Skype for Business.
"Everyone can have the same conferencing experience with integrated voice, video, and content sharing," Meggers wrote. "You no longer need to be concerned about separate video and web conferencing. Or think about what type of meeting to have or which one will require video interoperability. It's just one meeting. Simple. Easy. Personal."
Additionally, Cisco has updated the platform with a new user interface to better represent a personal meeting room "that feels like your physical office," Meggers wrote.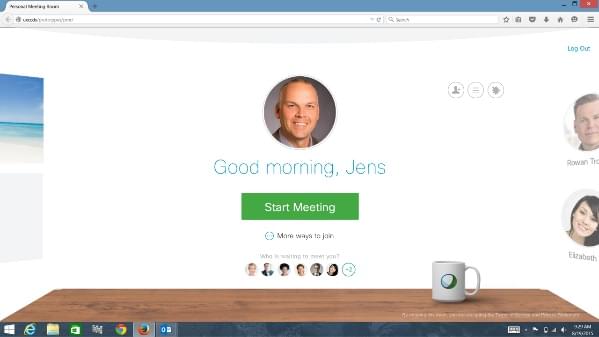 Designed to mimic a real office room; with the new interface you can post pictures on your wall or on the virtual desktop, and even a virtual beverage of your choosing. Now you can show off your favorite coffee mug or family pictures to everyone, even if they're not in the same physical office. The interface also adds a large green Start Meeting button so visitors can easily get in touch, and Cisco even optimized the software to load meetings in less than 5 seconds, down from 20.
"This WebEx has a modern, interactive design with avatars for all participants. No more interchangeable gray blobs. We aligned the icons with our portfolio," Meggers wrote. "We created a fluid, flexible, responsive layout that lets you have your WebEx meeting how you want it; maximize shared content or show video only. Everything about this update is faster. And the design is more beautiful than ever."
Cisco has also included a unique new feature for WebEx video conferencing, "video dial-back." Instead of dialing out for calls, you can have WebEx call you to easily join any meeting, both on premise or in the cloud.