Our verdict: Vonage is an out of the box, complete UCaaS phone system that specializes in flexibility and customization, while Google Voice is meant to integrate with Google Workspace to add voice calling capabilities to Google's suite of productivity tools.
Vonage vs. Google Voice: Summary
Category
Vonage Business Communications
Google Voice
Pricing
3 plans (annual pricing):

Mobile Plan for $13.99/line/month
Premium for $20.99/line/month
Advanced Plan for $27.99/line/month

Standalone: 3 plans from $10-$30/user/month
Google Workspace: 4 plans from $6-$12+/user/month (Google Voice is a paid Workspace add-on)

Scalability
Companies can easily add additional phone numbers, users and features
Companies can quickly add users and phone numbers
Channel Flexibility
Channels include voice, video, SMS/MMS texting and social media messaging
Channels include voice, texting, and video conferencing
Phone System

Includes toll free or local numbers
50+ phone features including call recording, follow me, auto attendant, etc.

Includes local numbers only
Phone features include auto attendant, ring groups, voicemail transcription

Video Conferencing

Available on Premium and Advanced Plans
Unlimited meetings for up to 200 meeting participants

Available via Google Meet in Google Workspace
24-hour meeting lengths, up to 500 participants

Analytics+Reporting
Historical reporting included in all plans
Provides cross platform usage reports and call logs to Premier plan users
Integrations
Includes 24+ integrations along with APIs
Google Workspace includes 200+ pre-built integrations
Security

SSO included in the Advanced plan
Calls encrypted in transit and at rest
HIPAA compliance
99.999% uptime

Two factor authentication
Calls encrypted in transit and at rest
99.9% uptime
SSO and HIPAA available for Google Workspace users

Customer Support

Self service knowledge base and community
Phone support (business hours)
24/7 live chat and email support
Personalized support available as an add on

Self service knowledge base and community
Live chat for Google Workspace users
24/7 email and phone support for priority cases
Add on enhanced support available

User Experience
Platform is flexible and customizable but can have a steep learning curve
Platform is minimalistic, intuitive and easy to use
We Recommend Vonage if You Need:
A customizable business phone system: Vonage offers advanced VoIP features as individual add-ons and has open APIs for building custom integrations
A full-featured mobile platform: Vonage's mobile plan includes features such as call blocking, auto attendant, simultaneous ring, and on hold music
To communicate with customers on multiple channels: Vonage enables business communications via voice, video, text, or Facebook Messenger, streamlining omnichannel conversations into a unified Business Inbox (add-on)
We Recommend Google Voice if You Need:
An international presence: Google Voice Premier Plan users have access to unlimited international locations with affordable pricing
Voicemail transcription: Google Voice offers some of the best transcription technology in the UCaaS space, and includes voicemail transcription in all plans
A solution for teams comfortable using other Google products: Google Voice seamlessly integrates with Google Worksapce applications to provide an intuitive unified communications solution
Learn more about
Google Voice
Research Methodology
In comparing Google Voice vs Vonage, we compared:
Pricing: How much it really costs to use each system–including add-ons and hidden fees
Features: The capabilities that make each provider stand out, especially analytics and video conferencing
Customer Service: How accessible each provider's customer support is, plus the quality of each platform's customer service experience
Reliability: Each system's overall call quality, network uptime, and the likelihood of users experiencing VoIP problems like latency and jitter
Security: The security features and compliance certificates each provider offers
User Experience: Each platform's user interface, ease of use, intuitiveness, agent/admin dashboards, etc.
Integrations: The number of types of third-party integrations available
What is Vonage?
Vonage's flagship product Vonage Business Communications (VBC) combines voice, messaging, SMS, and video capabilities under one pane of glass, enabling seamless collaboration and communication.
Plans are affordable, include 50+ standard phone features, and offer more advanced features like call recording and AI virtual assistants as individual add-ons.
What is Google Voice?
Google Voice is a virtual phone system that lets users make voice calls on desktops, desk phones, laptops, smart phones, and other mobile devices. PSTN users can easily transition to Google Voice using a SIP link.
Google Voice is available as a standalone tool or as an add-on to Google Workspace, which includes team collaboration and productivity tools like Google Meet, Google Calendar, Google Drive, and Google Chat.
Pricing Overview
Google Voice offers three pricing plans and is usually purchased as an add-on to an existing Google Workspace plan ($6-$18+ per user/month)
Starter plan ($10 per user/month): Includes up to 10 users, voicemail transcription, call forwarding, and unlimited SMS texting
Standard plan ($20 per user/month): Adds multi-level auto attendant, ring groups, and unlimited users
Premier plan ($30 per user/month): Adds automatic call recording
Google Workspace offers four pricing plans:
Business Starter plan ($6 per user/month): Includes business email, video meetings (up to 100 participants) and 30GB of pooled storage per user.
Business Standard plan ($12 per user/month): Includes video meetings with up to 150 participants and added video features such as meeting recording, noise cancellation and breakout rooms. Includes 2TB of pooled storage per user.
Business Plus plan ($18 per user/month): Video meeting participant limit increased to 500 participants. Storage increased to 5TB of pooled storage per user. Additional security features include secure LDAP and advanced endpoint management.
Enterprise plan: Video meeting participant limit increased to 1,000 participants. Enhanced customer support and enhanced security (data loss prevention, S/MIME encryption, etc.)
Vonage offers three plans and volume discounts for its Business Communications UCaaS product:
Mobile plan ($10.49-$13.99 per user/month): Includes unlimited domestic calling and SMS/MMS messaging
Premium plan ($17.49-$20.99 per user/month): Adds unlimited video meetings with up to 200 participants, reporting+analytics, and virtual receptionists
Advanced plan ($24.49-$27.99 per user/month): Adds single sign on, voicemail transcription, on-demand call recording, and call groups
Feature Comparison
Here, we've compared Vonage and Google Voice head to head in a number of categories:
Phone System Features
Summary: Google Voice provides only the most basic voice calling features and offers limited call path management, while Vonage includes over 50 standard VoIP call capabilities with available add-ons such as toll-free phone numbers.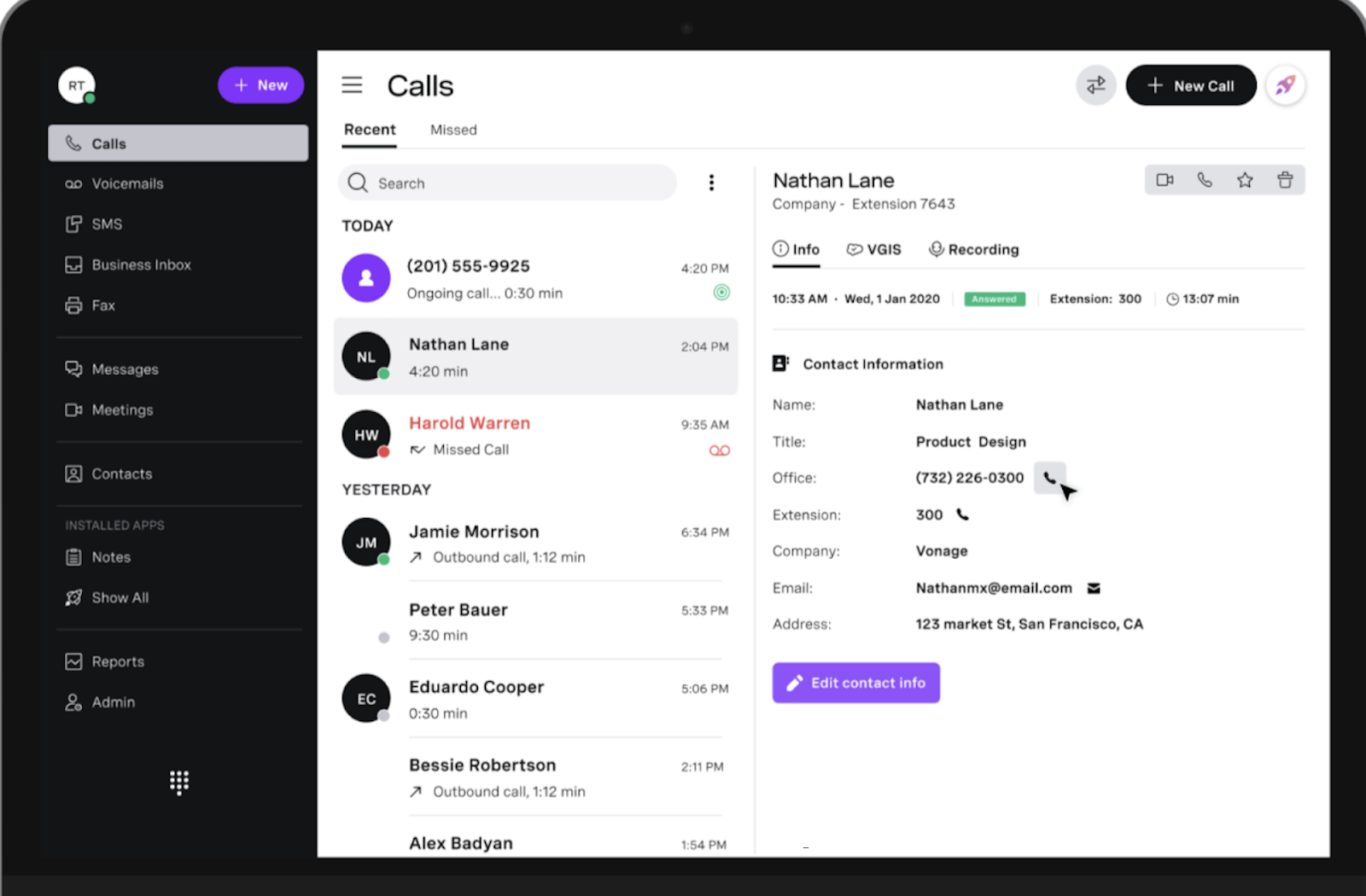 Comparing Key Shared Features
Both providers offer desktop and mobile apps for Android/iOS, encrypted unlimited domestic calling, and international phone numbers. Both are also HIPAA-compliant and provide internal/external call forwarding.
We compare other shared features below:
Call Recording: Vonage offers on-demand call recording+15 hours of recording storage in its Advanced Plan, or automatic/on-demand call recording with 500 hours of storage as a paid add-on for $49.99/month. Google Voice includes on-demand call recording in its Standard Plan, and adds automatic call recording to its Premier Plan.
Ring Groups: Google Voice Standard and Premier users can create ring groups with up to 25 members while Vonage users can purchase a call group add-on that will ring up to 25 extensions either in sequence or simultaneously.
Multi-level Auto Attendant: Both providers offer a multi-level auto attendant that allows user to set up call forwarding rules.
Voicemail Transcription:  Google Voice includes voicemail transcription for all users, while Vonage only includes voicemail transcription in its highest pricing tier plan
Uptime SLA: Vonage has a 99.999% SLA uptime, while Google Voice offers a 99.9% uptime
Differences
SIP Link: Google Voice gives users the option to utilize a SIP Link, giving them access to Google Voice features, such as voicemail transcription, ring groups, and call forwarding, while maintaining their existing carrier and telephony routing solutions.
AI virtual assistant: Vonage offers an AI-powered virtual assistant as an add-on business phone system feature, automating 2/47 customer self-service
Toll-free numbers: Only Vonage offers toll-free numbers for an additional fee
Team Messaging and SMS Features
Summary: Both providers enable users to text customers and teammates from their business phone number and on their preferred desktop/mobile device.
Vonage's Business Inbox add-on allows users to keep all text based communication organized across channels, while Google provides AI tools to assist users with writing texts.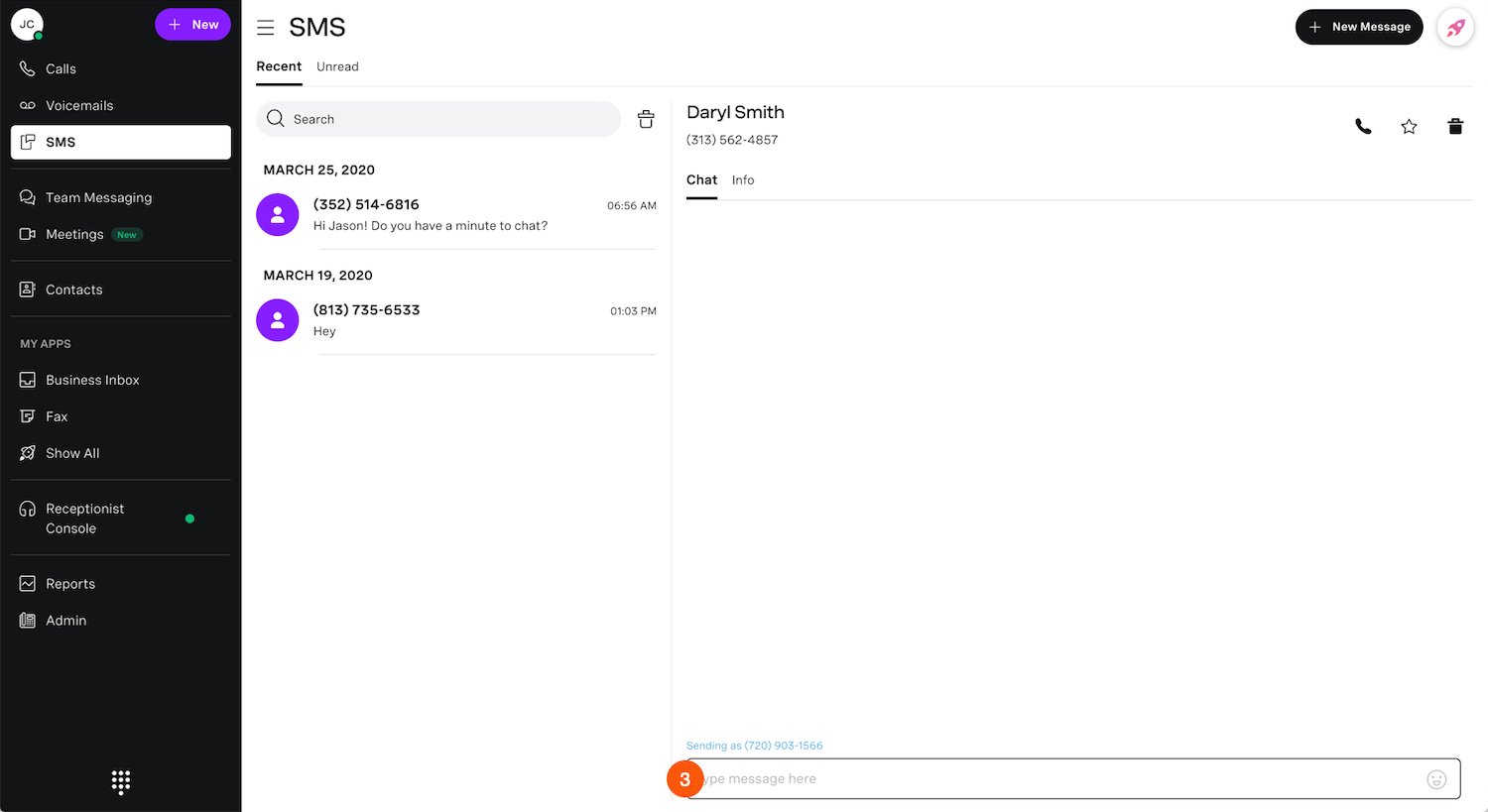 Comparing Key Shared Features
Both providers enable users to share files and utilize emojis, reactions and inline GIFs within team messaging applications. Both Vonage and Google users have access to 1:1 and group chat.
Other shared features include:
Business SMS and MMS: Both phone systems include unlimited SMS and MMS texting from the company's business phone numbers within the U.S. and Canada.
File and character limits: Both providers have a 2GB limit on MMS files and a 160 character limit per SMS.
Topic based team messaging: Vonage's team messaging and chat app is included for all users while Google Workspace users have access to Google Chat, a workspace for team members to connect and collaborate.
Differences
Business Inbox: Only Vonage offers this feature, which enables users to view SMS, MMS and social media messages in one inbox
Intelligent features: Google Chat, which is included with Google Workspace, provides AI-powered tools such as smart compose and summarization
MMS file format: Google Voice only allows files in .jpg, .gif or .png format, while Vonage also accepts .mp3, mp4, and .vcf
Video Conferencing Features
Summary:  Google Meet, included in the Google Workspace suite, allows users to host video meetings with up to 500 participants and includes advanced features such as appointing meeting co-hosts, breakout rooms, and live closed captioning while Vonage Meetings is a simpler video solution that allows up to 200 video participants, but has added security features such as waiting room.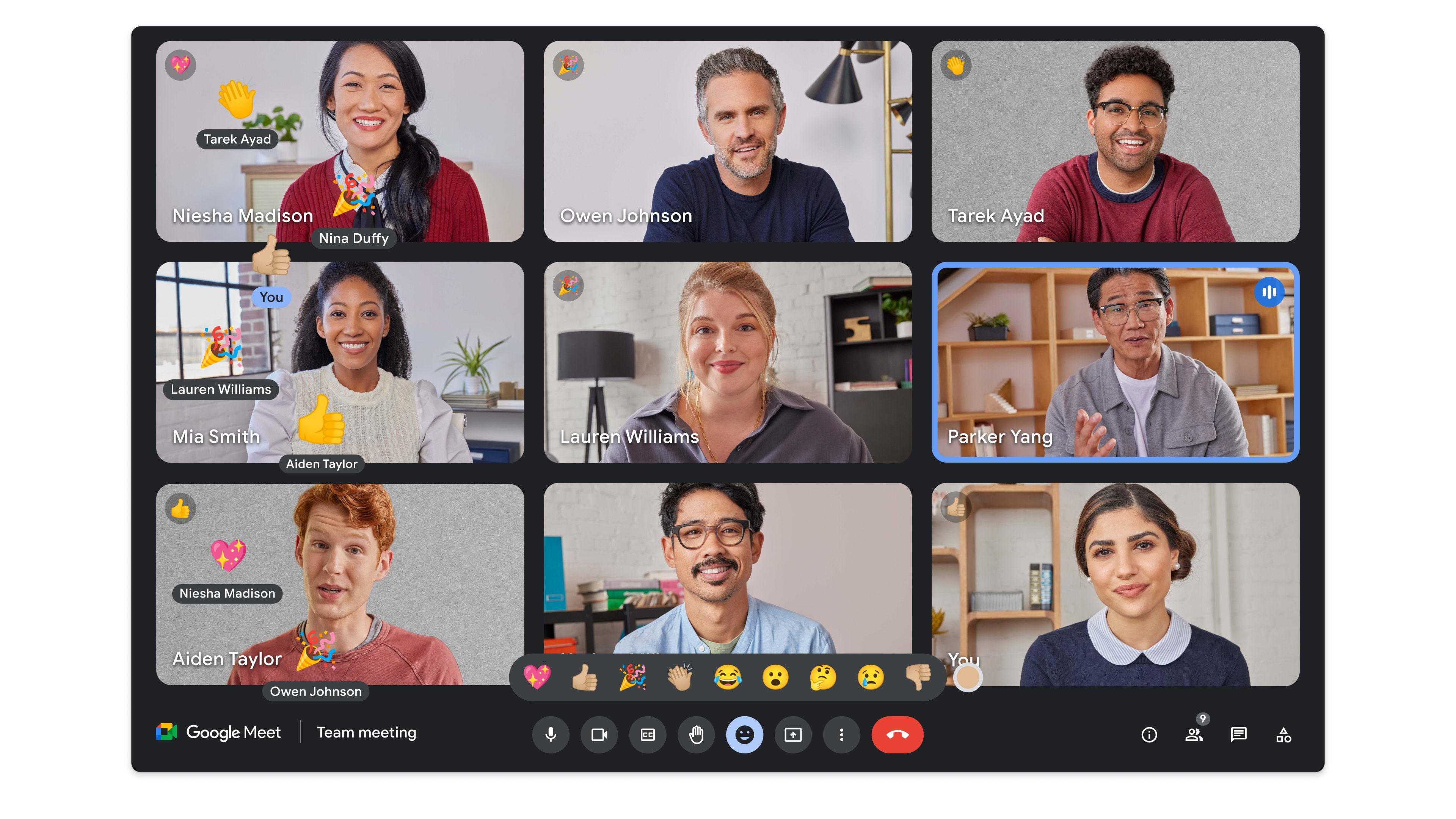 Comparing Key Shared Features
Vonage Meetings and Google Meet both allow participants to join by desktop, mobile app, or dial-in and include essential video conferencing features such as meeting lock, usage and activity reporting, and scheduled meetings.
Other shared features include:
In-Meeting chat: Both providers offer an in-meeting chat function that allows all participants to send and view text messages visible to everyone on the video call.
Meeting recording: Vonage and Google both allow hosts to record video meetings along with the in-meeting chat. Google Meet also gives hosts the option to record captions.
Screen sharing: Both Vonage and Google allow participants to share their entire screen, a window, or a tab. Additionally, Vonage Meetings' "Watch Together" feature allows participants to share a YouTube video with everyone on the video call while Google Meet's "Present" feature allows users to share Google docs, sheets, or slides.
Differences
Breakout rooms: Google Meet, included in Google Workspace plans, provides up to 100 breakout rooms. Vonage Meetings does not have breakout rooms
Participants: Vonage allows up to 200 participants, while Google Meet allows up to 500 participants
Whiteboard: Vonage Meetings includes a whiteboard tool for up to 20 participants, Google is discontinuing its whiteboard tool (Google Jamboard) in 2024
Waiting room: Only Vonage offers a waiting room feature for added security
International dial-in: Vonage allows companies to offer dedicated dial-in numbers from 60 different countries
Analytics and Reporting Features
Summary: Vonage includes historical reporting and call logs with metrics such as call duration for all users, while Google provides usage reports and call logs only in its highest pricing tier (Premier plan).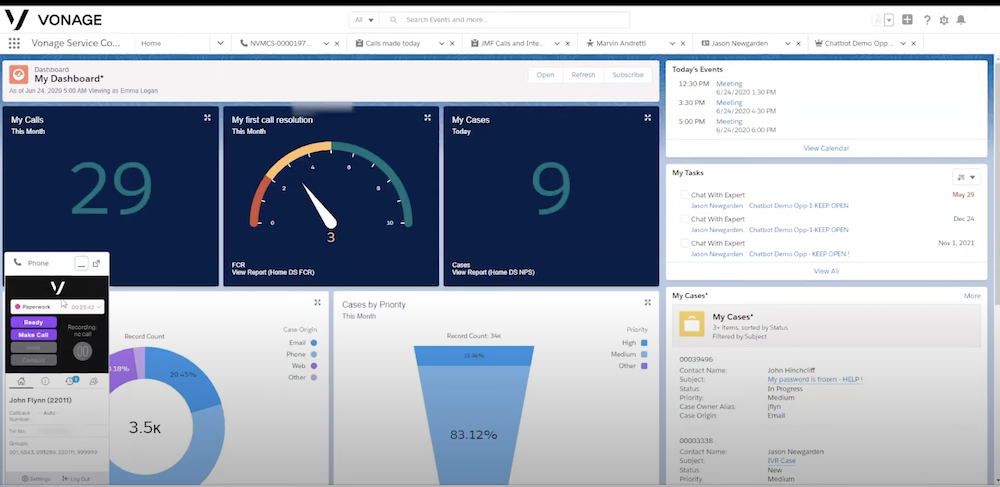 Comparing Key Shared Features
Vonage Meetings and Google Meet both include the ability to export files in .pdf or excel format, and download, email, or print reports.
Other shared features include:
Call recording: Google Voice allows for both on-demand or automatic call recording and will play an announcement to all parties on recorded calls. Vonage offers on demand call recording as an add-on that records calls with options to email or download recordings with 15 hours of recording time per extension.
Call logs search: Google and Vonage allow users to search call, text, or voicemail history by contact name, phone number, date, keyword, or destination number.
Differences
Usage reports: Google Premier plan includes usage reports and tables tracking app usage across the Google Workspace platform
Availability: Vonage includes call logs and contact history in all plans, but Google Voice only includes historical reporting for Premier plan users.
Company call recording: This add-on feature offered by Vonage enables admins to record incoming and outgoing calls by setting rules.
Integrations
Summary: Google Workspace offers over 200 pre-built integrations while Vonage only offers 24. However, many of Google's integrations aren't usable with Google Voice, as Google Voice was built to integrate with other Google products.
Shared Features
CRM integrations (Zendesk, Microsoft Teams, etc.)
Team collaboration integrations (Slack)
Differences
APIs: Only Vonage gives users the option to build custom integrations using APIs
Pre-built integrations: Google offers over 200 while Vonage offers 24 (14 free and 10 paid)
Pros & Cons
Vonage Pros
Flexible: Affordable, companies pay for necessary add-on advanced features individually, lowering the costs of monthly bundled plans
Reliable: 99.999% uptime guarantee, Single Sign On, HIPAA compliance, data encryption, and GDPR compliance
Mobile App: Extremely intuitive and user-friendly
Vonage Cons
Video conferencing: Vonage Meetings is not included in the lowest pricing tier and the video platform is not as robust as many of Vonage's competitors
Steep learning curve: Vonage's platform is meant to combine the flexibility of APIs with an out-of-the-box experience, meaning the system is customizable but also complex
Customer service: Some user reviews complain customer service is difficult to reach
Google Voice Pros
Unlimited SMS: While many competitors limit the number of texts per month/user, Google Voice users have unlimited SMS in the US and Canada
Video conferencing: Google Meet has a high participant limit and many advanced features like breakout rooms
Team Collaboration: Google Chat is a robust team collaboration tool that includes real-time huddles, AI-powered smart compose, and support for up to 500,000 contacts.
Google Voice Cons
Lack of whiteboard: Google is discontinuing its whiteboard feature in 2024
Lack of integrations: Although Google Workspace has 200 pre-built integrations, it is unclear whether those integrations will work with Google Voice specifically
Lack of advanced features: Google Voice only includes essential calling features such as call forwarding, not key features like real-time analytics or more advanced call routing strategies
Picking the Right Phone System for Your Business
Google Voice and Vonage are similar in that they are best for SMBs that need an affordable and reliable phone system that doesn't have a lot of extra bells and whistles.
Vonage is best for small businesses that are planning to scale quickly and may need to quickly add on users and features, or even CCaaS capabilities. Google Voice is better for entrepreneurs, startups and micro-businesses that need an easy to use, low cost communication system, especially if they are already using other Google products like Google Docs.