Modern dental practices are responsible for maintaining patient records, scheduling appointments, billing insurance companies, growing their practice, and more–all on top of providing quality care.
Dental phone systems are designed to address all these concerns in one unified digital space. But what exactly is a dental office phone system, and how is it different from other business communication tools?
Compare VoIP phone systems
for dental offices
Quick links:
What Is A Dental Office Phone System?
A dental office phone system is a cloud-based platform combining omnichannel business communication, marketing tools, and industry-specific dental applications in a unified interface. 
Dental office phone systems generally include standard VoIP voice calling, live chat, SMS texting, eFax, video conferencing, and social media messaging tools to improve the patient experience and automate basic business processes.
Many systems also include integrations with third-party dental practice applications like Open Dental, Curve Dental, Dentrix, XLDent, CareStack, and Denticon eliminate constant app switching and communication silos.
Additional dental office phone system functionalities include:
Appointment Scheduling and Preparation: Omnichannel appointment/follow-up scheduling and automated reminders, cancel or reschedule appointments, patient forms to complete pre-appointment or in-Appointment
Marketing Campaigns and Reputation Management: Responding to online reviews, claiming business listings, monitoring social media mentions, SMS and email mass marketing
Billing and Insurance: Setting up monthly payment plans, bill payment online/over the phone, automated payment reminders, insurance verification, account balance updates
Telehealth and Virtual Care: Online patient portals, HIPAA-compliant medical record storage/access control, video appointments, patient care team meetings, remote patient monitoring via IoT devices
How Are Dental Phone Systems Different From Other Phone Systems?
The main difference between standard and dental phone systems is that standard VoIP platforms include general features to meet business needs across industries, while dental phone systems include niche capabilities and integrations specific to dental practices.
Dental industry phone systems are designed for service providers and medical professionals–not call center sales agents or customer support teams. Therefore, dental phone systems don't offer features like real-time activity analytics, knowledge base integration, agent scripting, and auto dialers.
Additionally, because patient care is provided in a physical dentist's office, most dental phone systems don't include advanced team collaboration and WFO tools like call monitoring, performance gamification, in-call coaching, or schedule forecasting.
Dentist phone systems focus almost exclusively on features/integrations unique to dental and medical practices, such as HIPAA-compliant communication, perio charting, and dental exam templates. 
How to Choose a Phone System for a Dental Office?
When selecting a phone service for your dental office, first consider your practice's needs, budget, and business goals.
Dental providers focused on growth should select platforms with campaigning tools like review collection, bulk email/SMS, and social listening.
Practices wanting to improve operational efficiency should look for providers offering features like pre-filled patient forms or patient self-service portals to automate data collection and routine business processes.
Those needing to improve customer satisfaction and the overall customer experience should choose a dentistry platform offering video telehealth options, two-way doctor-patient SMS, and automated appointment reminders.
Above all, ensure the platform you choose integrates with any software your office wants to continue to use.
Best Dental Office Phone Systems
Below are some of the best phone systems for dental offices.
Weave
Weave is a voice over internet protocol (VoIP) provider that caters specifically to businesses that offer professional services such as dental and medical organizations. Weave's platform includes voice, text/SMS, and efax functionality as well as specific features to help dental offices expand their outreach and improve customer service.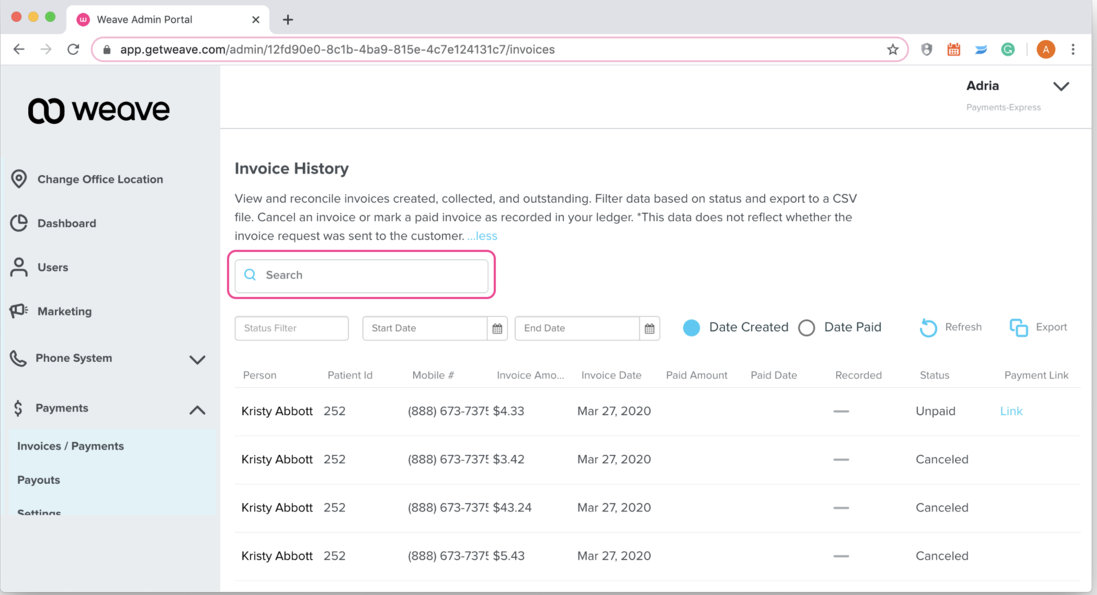 Key Features
Here are some of the key features that Weave offers to benefit Dental offices:
Automatic Appointment Confirmation
Weave's automatic appointment confirmation features lets patients confirm their own appointments by responding to simple, automated texts.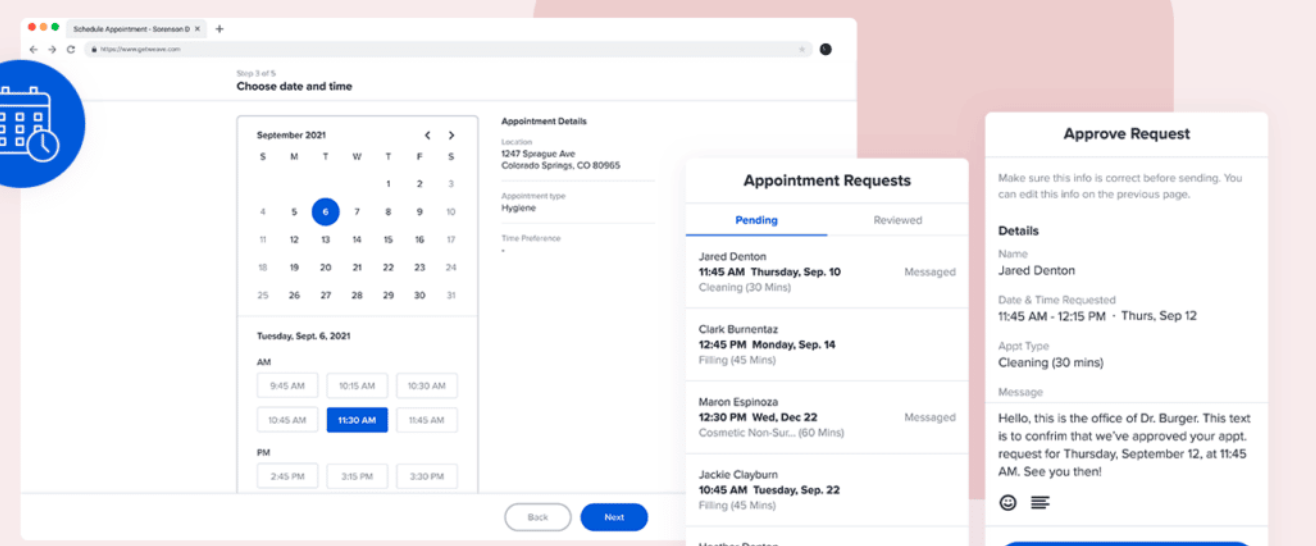 Weave users are also able to send out automatic appointment reminders to patients. Reminder messages can be customized and sent automatically hours, days, or weeks ahead of scheduled appointments.
Payment Processing
Weave's platform includes payments processing functionality that enables users to collect payments from clients via payment terminals, text to pay, or manual card entry. This feature also enables users to automatically issue refunds when necessary.
Other payment processing features include:
Buy Now, Pay-over-time Through Sunbit
Online bill pay
Card on file
Payment and invoice history
Payout transaction list
Refund payments
Insurance Verification
Weave's insurance verification enables users to verify a patient's insurance either automatically or on the spot. At this time the insurance verification feature is only available for dental offices.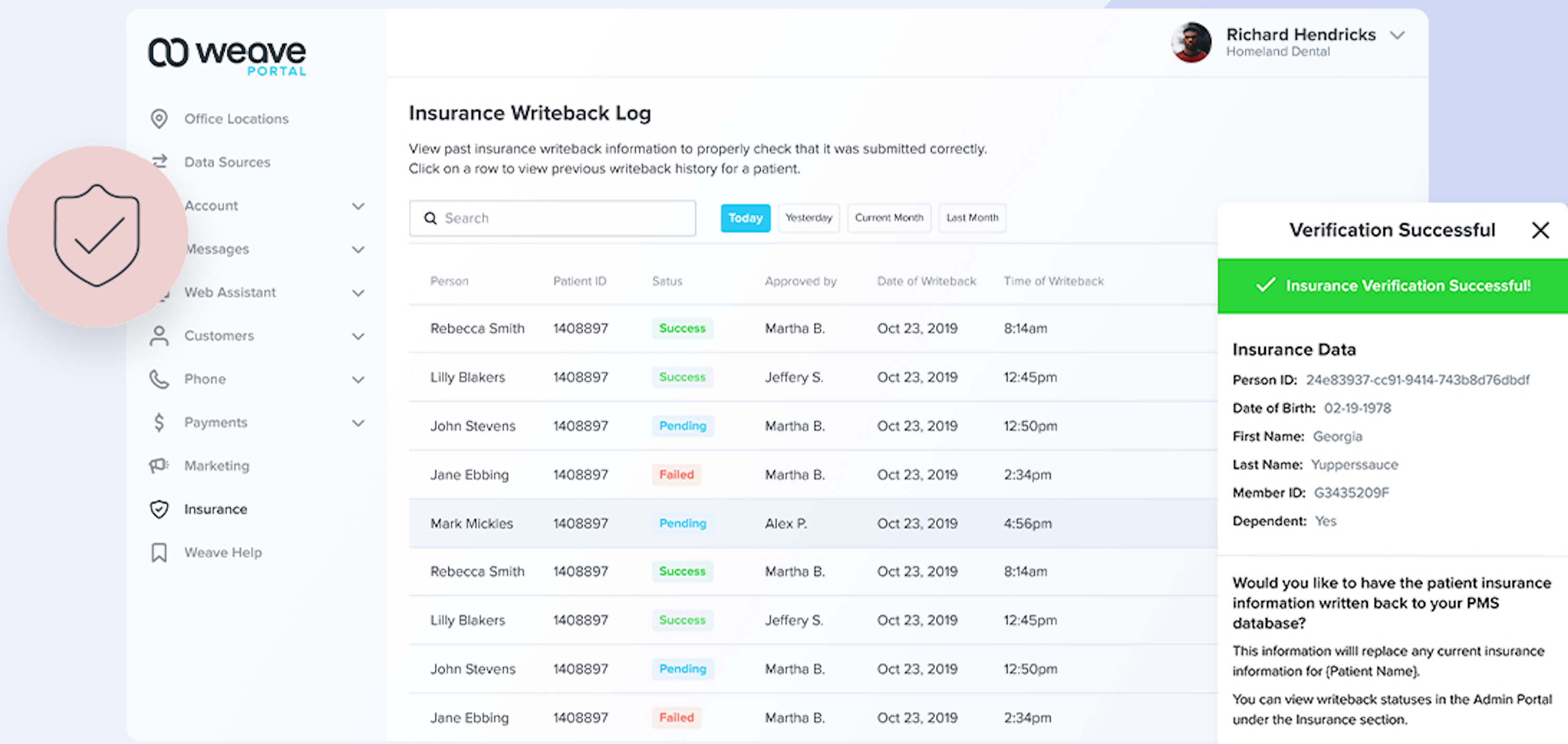 Automatic verifications are run 24 hours before a patient's upcoming appointment. Weave users can view insurance status directly in the scheduling app and re-run verifications for individual patients if necessary.
Pricing & Plans
Weave offers three different pricing plans. All plans come with five free Yealink voip phones (rentals). Additional phones can be rented with a $4 service charge per phone. All plans are month to month and there are no contracts. There are also no usage or per user fees. All plans are flat monthly rates. There is also a one-time implementation fee of $500. Here is a breakdown of Weave pricing.
Essentials
Pro
Elite
$279/month
$349/month
Contact Weave

Bulk texting (500 per month)
Appointment reminders
eFax
Call POP
Text to pay
Weave mobile app

Bulk texting (1500 per month)
Missed call texting
ASAP/QuickFill
Email marketing
Reviews
Recall

Bulk texting (3000 per month)
Online scheduling
Digital forms
Insurance verification
Reliability & Security
Weave does not offer a guaranteed uptime SLA, but it does offer several security features including HIPAA compliance, data encryption and multi-factor authentication.
Best for
Weave is best for small businesses that are looking to expand their outreach, improve customer service and streamline operations. As a young provider without a guaranteed uptime, Weave is not suitable for large enterprises or remote/hybrid teams. It should also be noted that Weave does not offer video conferencing so it is not an option for practices looking to implement telehealth.
RevenueWell
RevenueWell is an all-in-one business communication and marketing platform built specifically for dental offices.  RevenueWell combines basic VoIP features such as two-way text and voicemail-to-email, customer service features such as online scheduling and marketing features such as review collection and social media listening so that dental organizations can improve operations, find new patients and serve customers better under one pane of glass.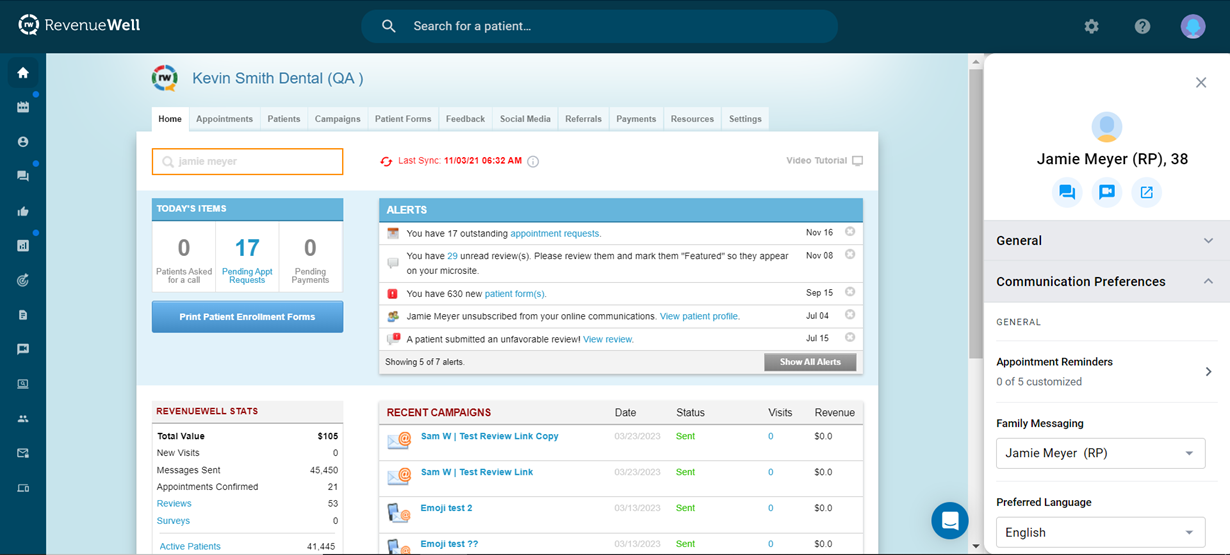 Key Features
Here are some of RevenueWell's key features:
Reputation Management
RevenueWell includes several tools to help businesses track and improve their online reputation. RevenueWell's platform will continuously monitor major search engines for reviews of the business.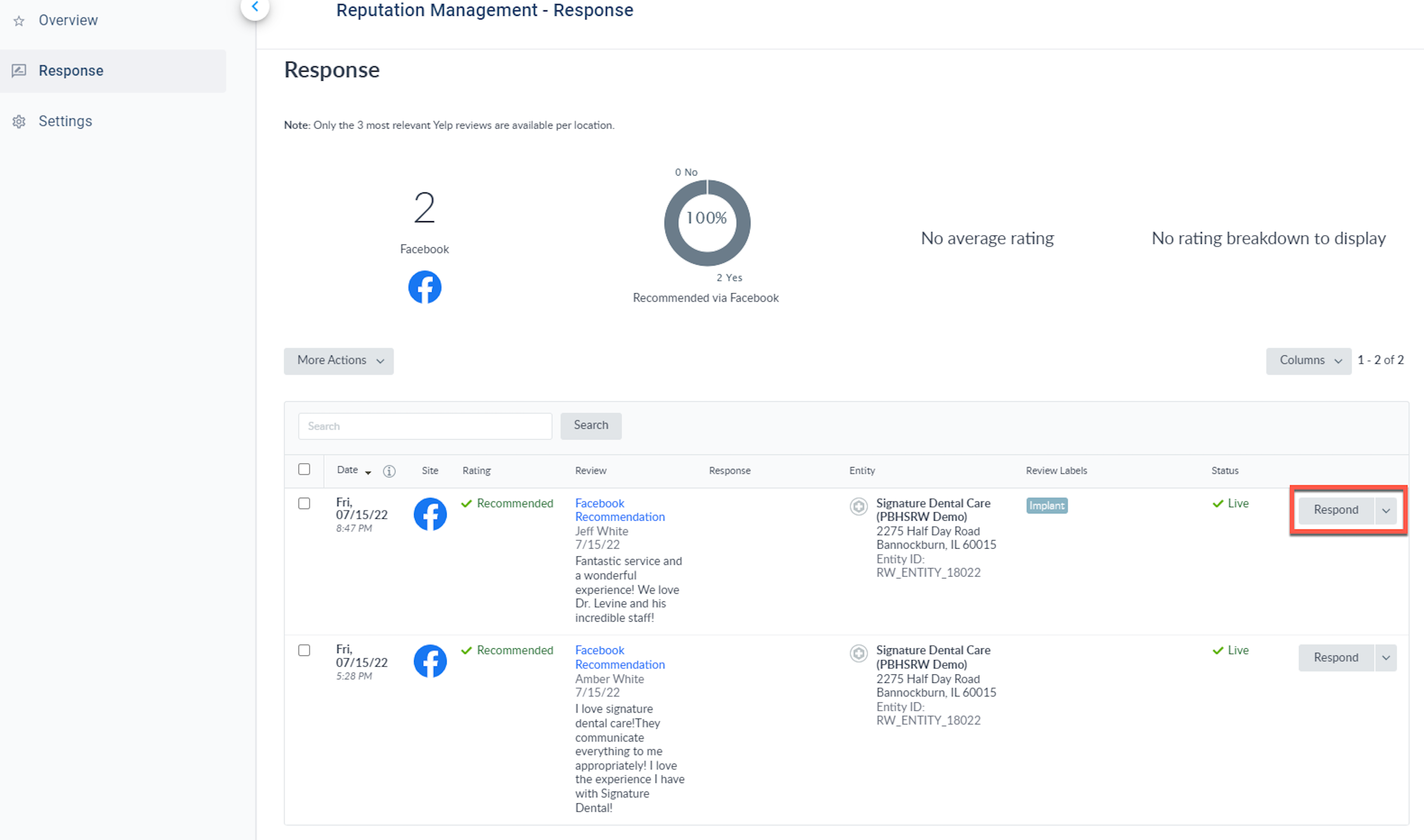 Additionally, RevenueWell users can send automated requests by text or email to patients to leave a review or fill out a survey. Once a review is submitted, users can feature or respond publicly to the review.
Automatic Communications
RevenueWell's automatic communications feature enables users to create custom messages such as welcome packets that are sent to all patients in accordance with predetermined rules.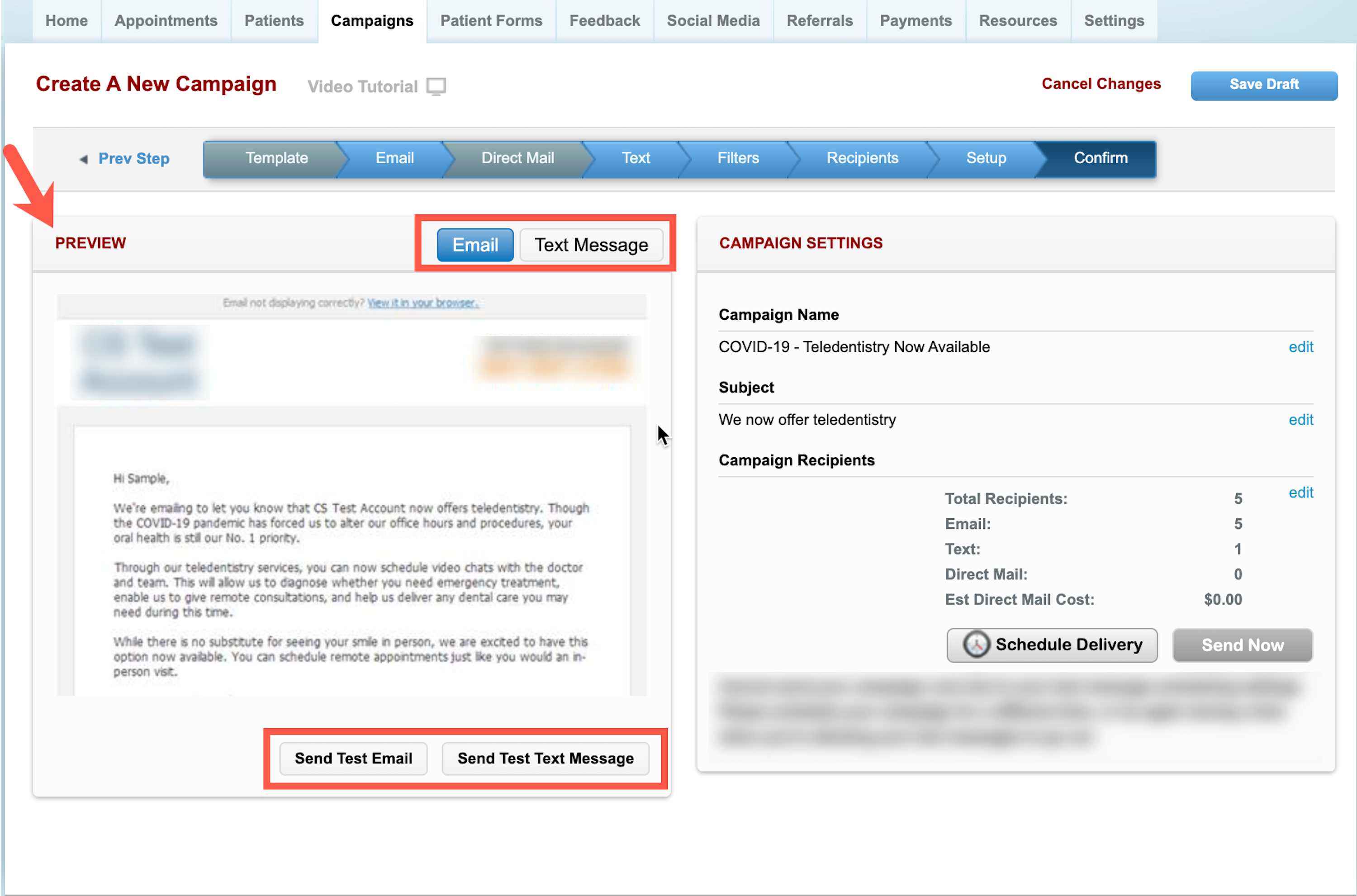 RevenueWell's platform includes 11 customizable templates. Users can change the wording and settings and add images or video to the content with an easy to use drag and drop editor.
Automatic communication templates include:
Collections notices
Welcome packet
Birthday/holiday cards
Post-op instructions
Recalls
Treatment plan follow ups
Messenger
RevenueWell Messenger allows users to send and receive texts via their main business phone number. Short codes appear in the "from" section on text messages while appointment confirmations always come from a dedicated 10-digit number that is unique to the practice.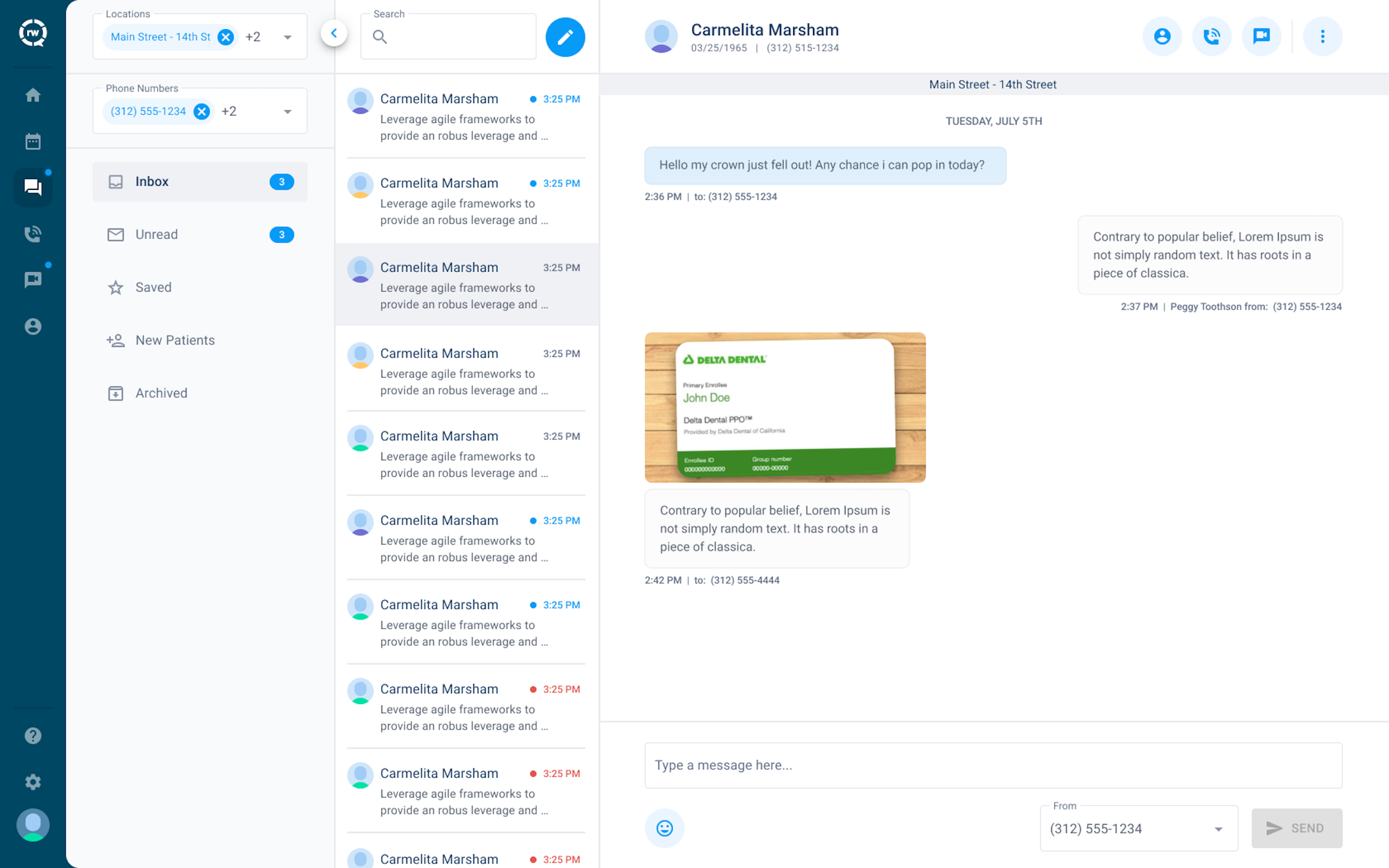 The business name and phone number are always included within the body of the text message. RevenueWell also provides editable text templates to get users started. RevenueWell Messenger is available via both web browser & desktop app (currently for Microsoft Windows users only).
Virtual Visits
RevenueWell's platform includes videoconferencing software that enables users to host virtual dental visits. Video meetings are HIPAA compliant, can be launched directly from a patient's profile, and are supported by all major browsers and mobile phones.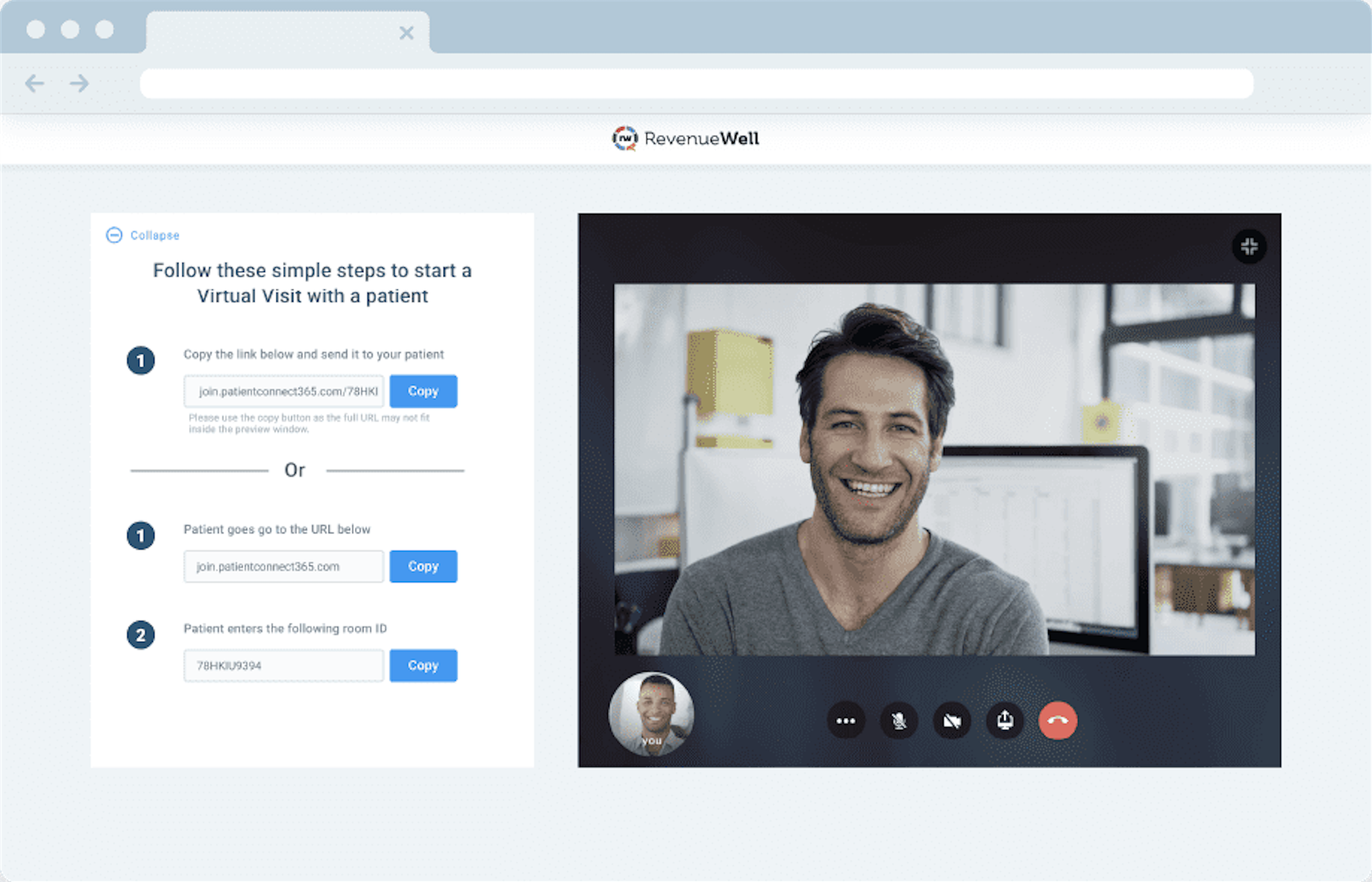 During the Virtual Visit, both parties have the option to mute and turn their camera on or off. Once the meeting is over, the room can be rejoined for a period of five minutes before it will be terminated.
Forms
RevenueWell forms allows users to create digital forms using a simple drag and drop builder. Once created, a link to the digital form can be included in the welcome packet or on the practice's website. Alternatively, patients can complete forms on an iPad in the office.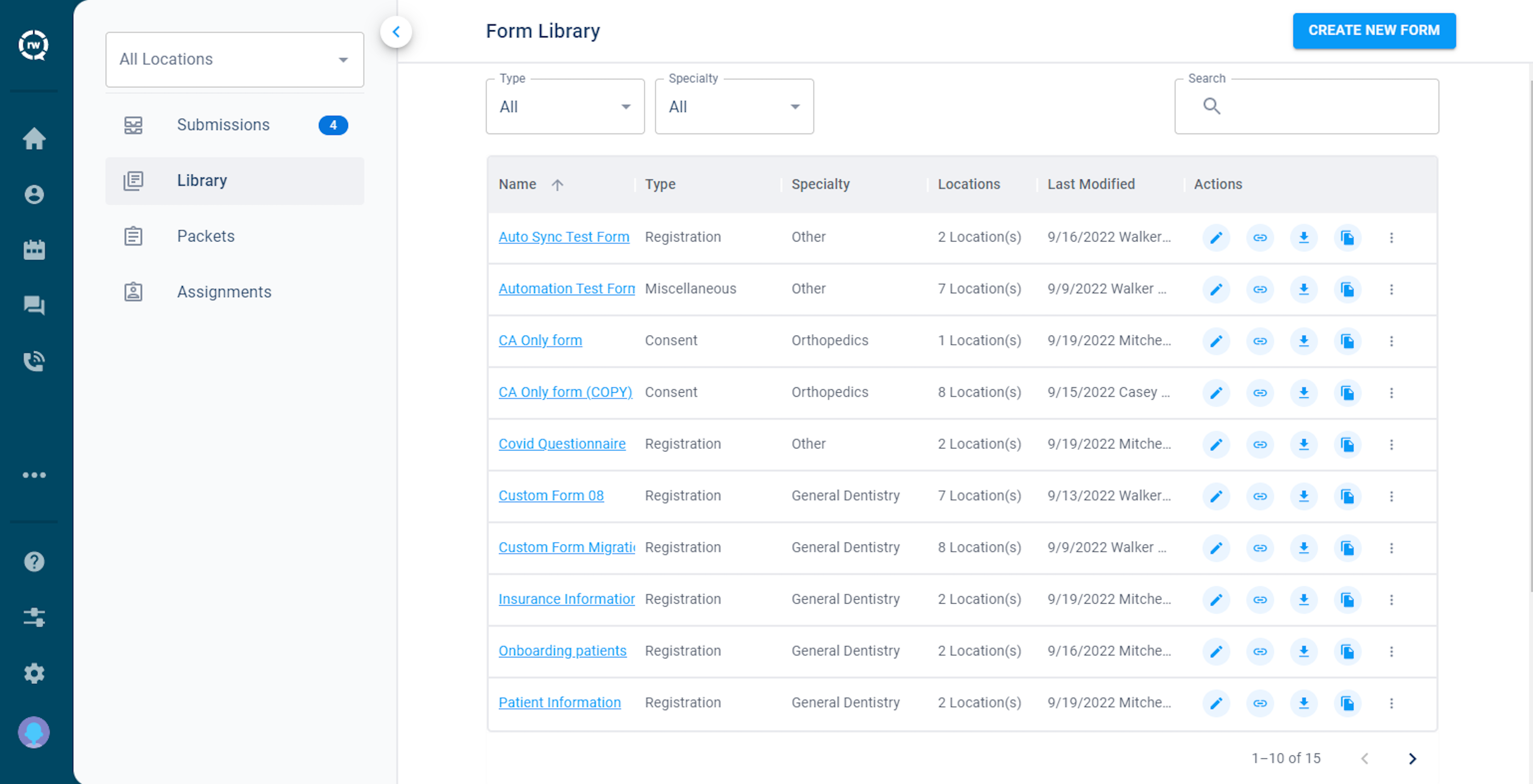 RevenueWell includes three editable built-in forms for gathering patient information, insurance information and health history. Users can choose whether digital forms will only be displayed to new patients, and whether forms will be auto-populated with existing patient information.
Pricing & Plans
Unfortunately, RevenueWell does not include pricing information on their website and they must be contacted for a custom quote.
RevenueWell's dental marketing and patient communication solution offers the following features: 
Patient campaigns
Two-way Texting
Practice analytics
Online scheduling
Patient portal
Payment processing
Review collection and monitoring
Electronic forms
Screen pop
Mobile app
PMS integration
Voicemail to Email
Teledentistry video conferencing
Team Chat
PBHS digital marketing
Reliability & Security
RevenueWell does not offer an uptime guarantee but has a fairly consistent uptime of 99.88%. There were some incidents reported with RevenueWell messenger in April 2023 as well as a major outage in March 2023. RevenueWell also does not offer much information about security measures beyond that its platform is HIPAA compliant including file sharing and video conferencing. 
Best for
Startups and small dental practices that want to use digital forms and teledentistry, as well as build their business via social media listening and review monitoring/collection.
RingCentral
RingCentral is one of the oldest providers in the unified communications space. RingCentral's VoIP phone system is a great choice for dentist offices because it offers a high level of call quality and security. RingCentral also offers many integrations and features that are useful to dentist practices in particular such as telehealth and toll free numbers.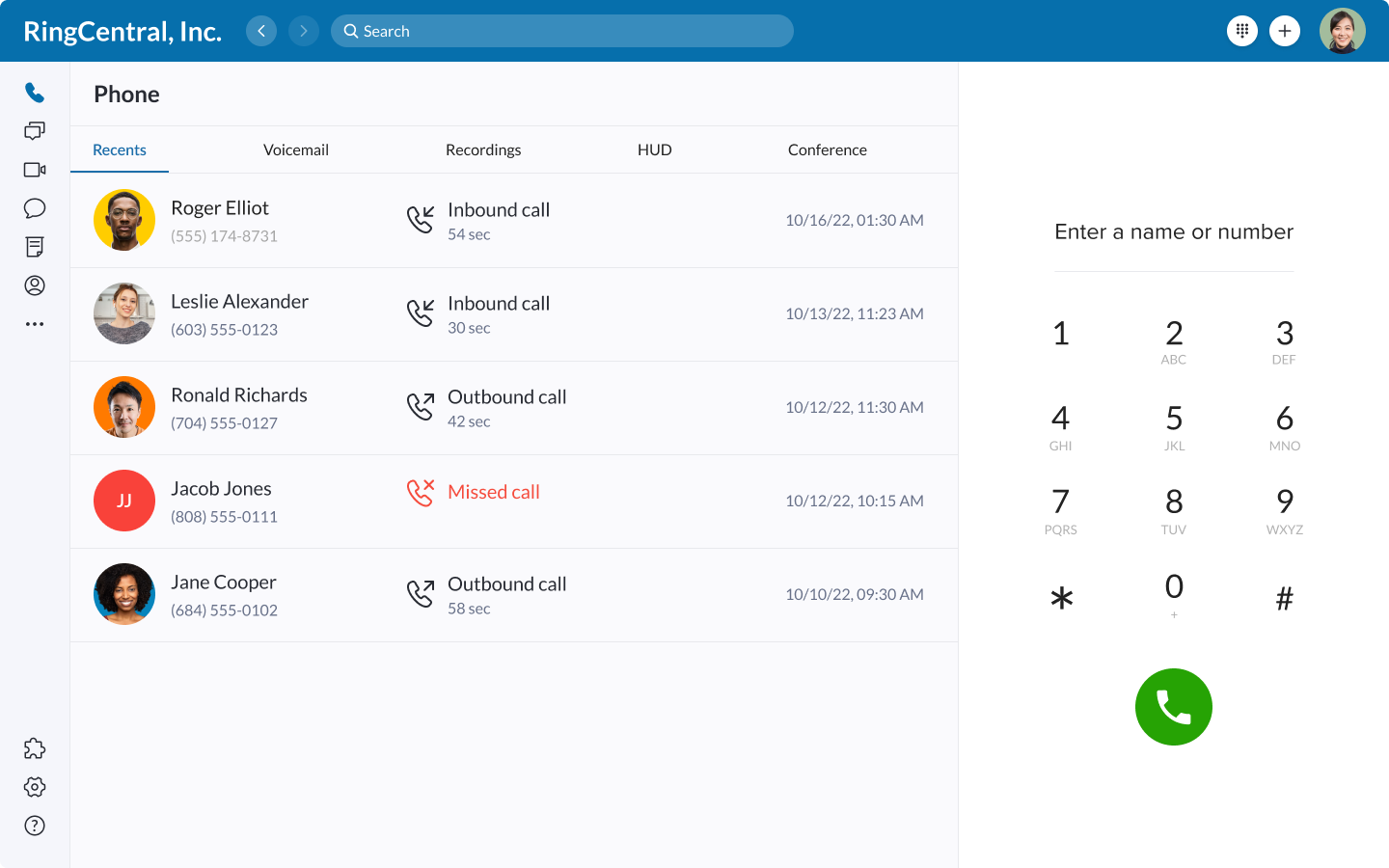 Key Features
Here are some of RingCentral's key features:
Telehealth
RingCentral offers HD video conferencing with enterprise grade VoIP security (including end-to-end encryption), powerful AI capabilities, and HIPAA compliance.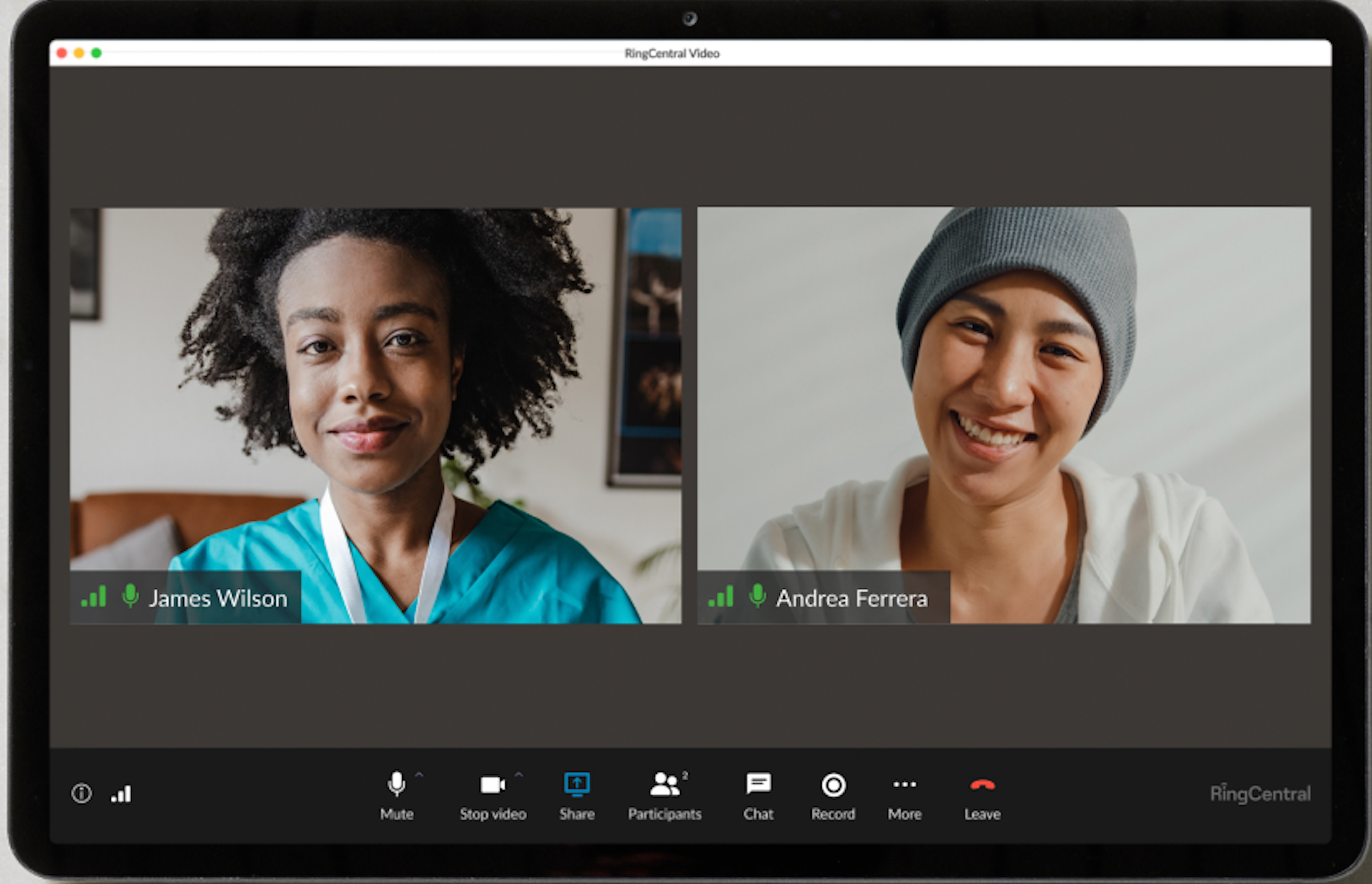 Patients are invited to scheduled telehealth appointments through an email or private code for RingCentral video.
RingCentral's video conferencing platform is robust and includes features such as:
Live transcription
AI-powered noise reduction
Participant reactions
In-app chat
Screen sharing
Breakout rooms
Team Messaging
For large organizations, multi-site practices and offices with hybrid/remote workers, RingCentral's messaging feature can help keep team members on the same page. Meant for internal communication as well as communication with stakeholders, RingCentral's team chat platform allows for instant messaging, file sharing, group messaging and task assignment.
Team messaging features include:
Group chat
Task assignment
Live video chat rooms
Bookmarking
Search with filters
File sharing
Interactive Voice Response (IVR)
RingCentral's IVR feature is an excellent way for busy dental offices to reduce wait times and improve service. RingCentral users set up a custom IVR menu that will determine the purpose of a caller through a series of automated questions and choices, such as "billing inquiry" or "scheduling an appointment". Users can add a greeting and prompts using audio files or text-to-speech. Custom rules direct where patient calls should go such as voicemail, a specific extension, or a dial-by-name directory. 
Dentistry Integrations
RingCentral has one of the largest integration marketplaces in the UCaaS space with over 250 integrations. Dentist practices can integrate with AppointmentReminder, for example, to send automatic confirmations and timed reminders while allowing patients to confirm or cancel appointments. Other dentistry integrations include Flex Dental, YAPI, and Sikka call optimizer.
Pricing & Plans
RingCentral offers three pricing options for its platform. Below is a breakdown:
Core
Advanced
Ultra
Annual pricing
$20 user/mo.
$25 user/mo.
$35 user/mo.
Monthly pricing
$30 user/mo.
$35 user/mo.
$45 user/mo.
Main features

Multi-level auto attendant and IVR
Team messaging
HD video conferencing/Telehealth
Caller ID

Unlimited internet fax
Multi-site management
Custom roles and permissions

End-to-end encryption for video
Device analytics and alerts
Unlimited storage
Reliability & Security
RingCentral is known for its high level of security and reliability. Security measures include single sign on, AI-powered spam blocking, and end to end encryption. Compliance includes HIPAA, HITRUST, and GDPR. RingCentral has a guaranteed 99.999% uptime.
Best for
RingCentral is a reliable, secure and robust platform that is best for large organizations and dental practices that have multiple locations and a high call volume.
Zoom
Zoom is a cloud-based phone system that combines video meetings with VoIP features and team chat. Zoom offers a comprehensive telehealth package that is aimed at helping practices connect with patients, increase global collaboration, and improve customer service. Zoom can also be helpful for community outreach with its Events and Webinars solutions which can be used to create continuing education courses, patient events, or industry seminars.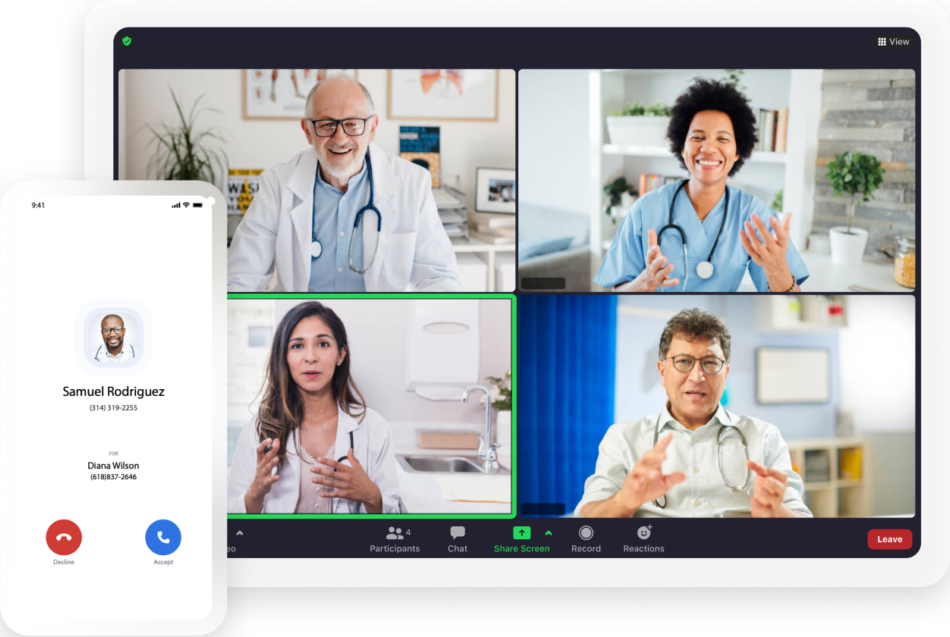 Key Features
Here are some of the key features that Zoom offers for dentistry practices:
Zoom TeleHealth 
Zoom started out as a video conferencing solution, and its platform is one of the best in the space. It is highly secure with E2EE, admin controls, and HIPAA compliance. Zoom offers a number of workflows that allow healthcare professionals to easily implement telehealth services with Zoom.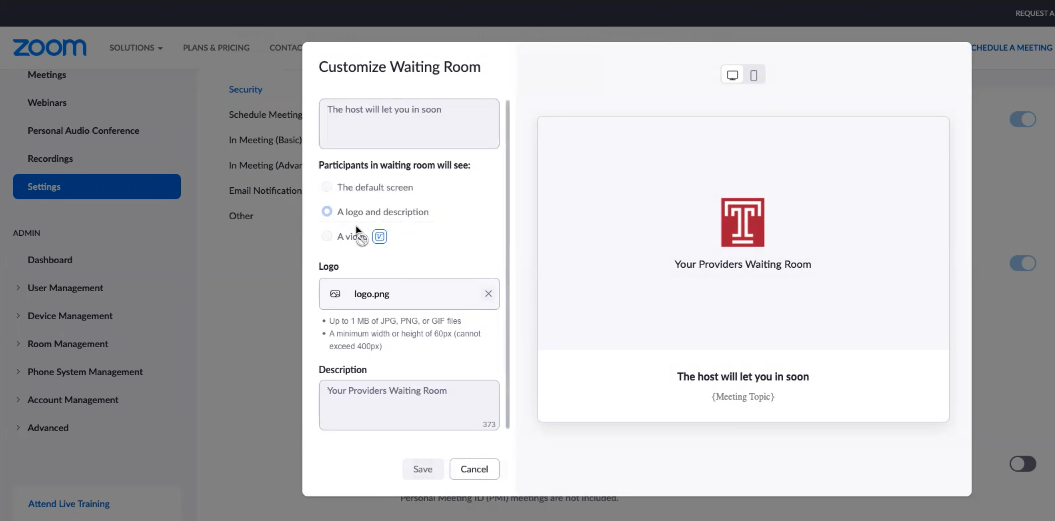 Telehealth workflows include:
Patient check-in
Creating a virtual clinic
One-on-one virtual patient visits
Inpatient/outpatient workflows
Rural patient/doctor workflows
Zoom's platform offers a number of advanced video features. Video features that are particularly beneficial for dentist practices include:
Waiting Room (users can customize the waiting room to include a logo and even a welcome video)
Concurrent meetings
Breakout Rooms
Language interpretation
Scheduling privilege
Zoom Rooms
Zoom Rooms is a software-based room system allowing users to bring HD video meetings into any space such as patient rooms, administrative offices or a front desk reception area.  Devices can be set up in a permanent room or on a mobile cart.
Patients can join meetings using one touch and receive a consistent experience across devices. A scheduling display lets staff book rooms and see when virtual exams or meetings are scheduled.
"Kiosk mode" enables users to create a perpetual virtual meeting and use the device as a virtual receptionist in the waiting area/lobby to greet patients.
Users can start, join or leave a meeting using voice commands.
SMS/Texting
Zoom's SMS functionality allows dentist offices to communicate with patients via text. This is a great way to send appointment reminders, get confirmations and receive cancellation requests. Text messages can be 1:1 or group messages of up to 10 phone numbers.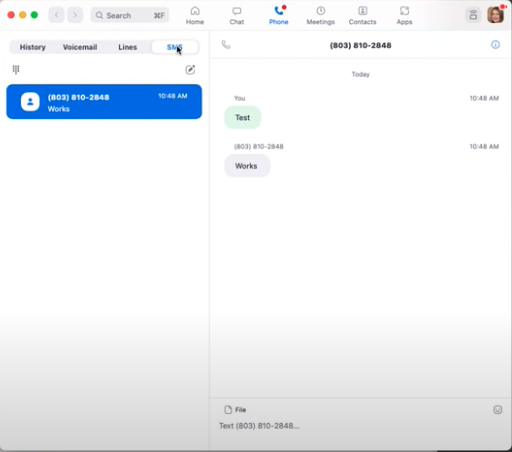 Zoom users can send and receive text messages using a cell phone, desktop, or laptop. SMS can also be used with a call queue or auto receptionist.
Zoom SMS features include:
Push notifications
Block number
Add to Google/Outlook contact
Meet with Video
Send images (jpg, png, gif)
EHR Integrations
Zoom integrates with EHRs like Epic and Cerner for seamless workflows as well as patient intake apps such as Phreesia. Zoom also allows for custom integrations with other vendors using APIs.
Pricing & Plans
Zoom offers two plans for healthcare providers, below is a breakdown:
Zoom One Pro
Price: $149.90 per year per user
Monthly Price: $15.99 per month per user
Video participants: Up to 100
Other features: Team chat, automated captions, whiteboard
Zoom One Business
Annual Price: $199.90 per year per user
Monthly Price: $19.99 per month per user
Video participants: Up to 300
Other features: Language Interpretations for patient equity, Integrations with EHRs, Far-end camera control
Reliability & Security
Zoom Phone is encrypted with 256-bit AES-GCM encryption, and can integrate with paging systems, emergency broadcast systems, and physical phone devices from a variety of manufacturers. Zoom Phone also includes nomadic E911 which allows users to contact emergency services from any location while simultaneously alerting an internal safety team. Zoom is HIPAA, GDPR and PIPEDA/PHIPA compliant.
Best for
Zoom is best for small practices and SMBs that are mostly interested in implementing telehealth/teledentistry. Unlike solutions such as Weave and RevenueWell, Zoom does not have any native marketing or dental practice management software. Zoom is very affordable compared to competitors and it therefore a great choice for smaller practices that need to keep overhead costs low but need a reliable and secure business phone system with text and video capabilities.
Nextiva
Nextiva is a top VoIP provider that offers a secure and reliable platform. It caters to a wide variety of industries including healthcare. Nextiva's healthcare clients include AllianceMed, DeLaTorre, and Standards Home Health. Nextiva's platform is HIPAA compliant and includes many features that are beneficial to dental practices such as video conferencing and auto attendant. Nextiva also offers 24/7 live customer service to all users.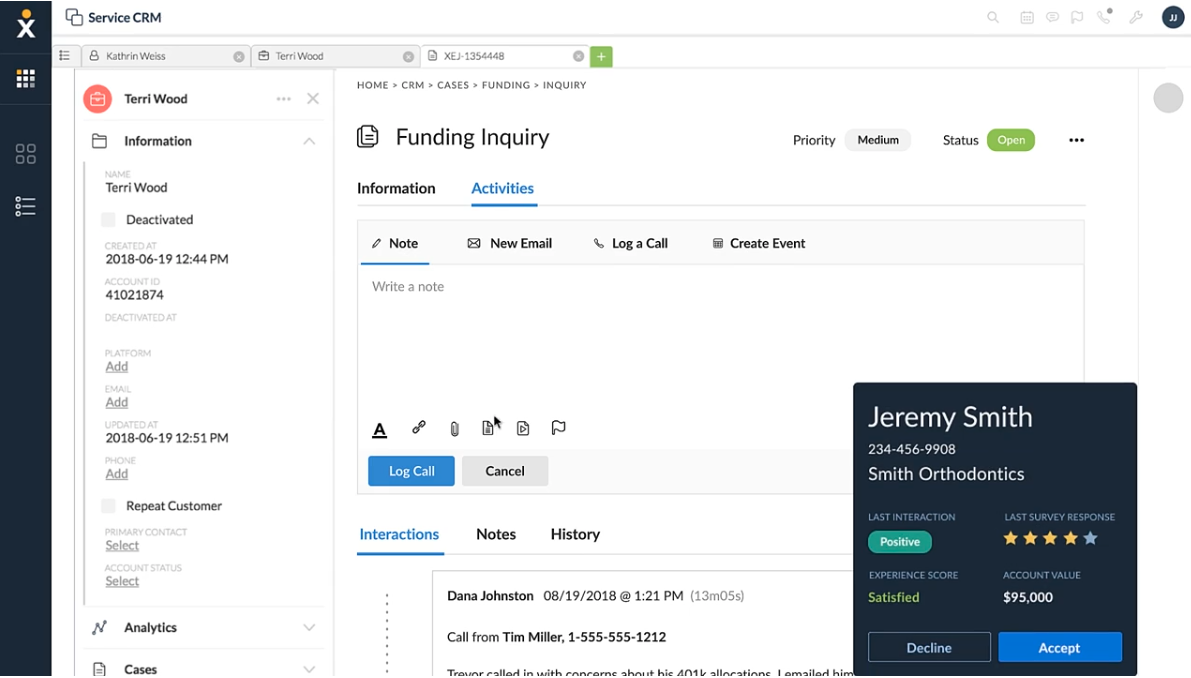 Key Features
Here are some of the key features that Nextiva offers which are helpful for dental offices:
Video Conferencing
Nextiva's HD quality video conferencing platform is HIPPA compliant, simple to use, and includes many features that make it a great option for virtual office visits or internal meetings with remote workers. Video meetings of up to 45 minutes per meeting are included in all plans.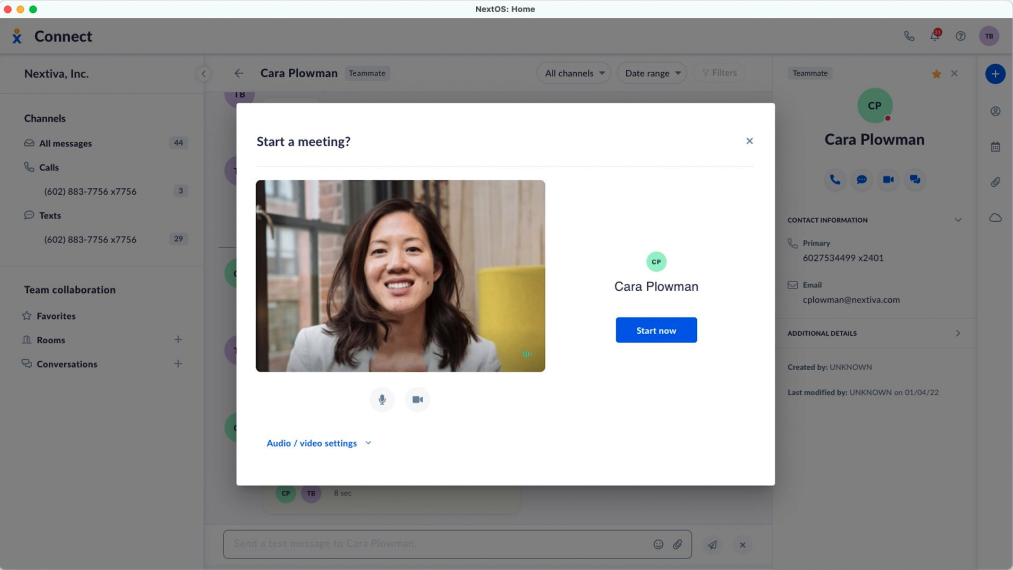 Video conferencing features include: 
Video recording
Calendar and meeting scheduling
Screen sharing
File sharing
Built-in live stream capability
Auto Attendant
Nextiva's auto attendant is a great tool for dental practices as it enables the practice to create customized greetings giving patients important information about the practice, prioritize certain incoming calls, and route calls to the right employee in order to reduce hold-times and abandoned phone calls. Nextiva's auto attendant feature is included in the professional and enterprise plans.
Call Recording
Call recording is an important feature for dental offices to have access to in order to ensure that calls are handled professionally.
Nextiva's call recording feature has several options. Users are able to choose whether calls are recorded always, always with pause/resume, on demand, on demand with user initiated start, or never. Users can also set up call recording announcements to play automatically or on demand and save recordings. Call recording is only available in Nextiva's enterprise plan.
Automated Conversations
Nextiva automations enable users to send appointment reminders, follow up surveys and welcome messages using conditions and rules. Nextiva's software is powered by artificial intelligence and can automatically detect subjects related to the conversation and make real-time suggestions.
For example, if a patient sends a text message with the word "cancel", a suggestion would pop up to send the patient a link to reschedule their appointment. Conversation automations can be used for text or email.
Pricing & Plans
Nextiva offers three pricing plans, outlined below.
Essential
Professional
Enterprise
Annual Price
$17.95-$23.95 per user/mo.
$21.95-$27.95 per user/mo.
$31.95-$37.95 per user/mo.
Monthly Price
$24.95-$30.95 per user/mo.
$29.95-$35.95 per user/mo.
$39.95-$45.95 per user/mo.
Key Features

Unlimited US/Canada calling
Video conferencing (max. 45 minutes/call, max. 250 participants)
Toll free numbers
Call forwarding
Voicemail-to-email
Calll groups
Team chat messaging

Audio conference calls (max. 40 participants/call)
Screen sharing
Multi-level auto attendant
Mobile SMS/MMS
CRM integrations (Nextiva CRM, Salesforce, Zendesk, HubSpot, etc.)

Unlimited conference calls
12,500 toll-free minutes/month
Call recording
Salesforce Lightning and Service Cloud, MS Teams, Oracle integrations
Voicemail transcription
Single Sign On
Reliability & Security
Nextiva's platform is highly reliable with a 99.999% uptime guarantee and 8 points of presence across the U.S. The platform is also highly secure with (TLS) and Secure Real-Time Transport Protocol (SRTP) encryption between all endpoints. Nextiva is SOC-2, HIPAA and PCI compliant. 
Best for
Nextiva is a solid and affordable communication solution that is best for SMBs that need voice, video and texting functionality primarily. Nextiva does not offer any native marketing or billing tools or anything specific to dentistry such as insurance verification.
Which Phone System Is Right For Your Dental Office?
To find the best phone system for your business, it's important to consider what features you need and want in addition to how many phone lines you'll need and what your budget is.
For smaller offices and startups that are looking to expand, Weave or RevenueWell are both great options with lots of marketing and outreach tools. For SMBs that just need the basics, Zoom is an affordable and reliable platform. For larger practices that need a high level of security, reliability and advanced communication features, RingCentral is a great choice.
If your office needs a toll free number, you will want to go with either Nextiva or RingCentral, which both offer toll free numbers to customers. If none of these providers seem like the right fit, some other options to consider are Mango Voice, Aircall, and 8×8.
At the end of the day, there is no perfect phone system that will work for every business, but you can find a perfect solution for your practice if you put in the research.