Twilio is a platform that has a fully editable application program interface (API) so that you add communications functionality like voice or SMS to an app. It's designed to make adding channels to your customer outreach easy so that you communicate with your customers on their desired platform. Twilio rarely experiences outages and call quality is consistently high.
Do your customers prefer outreach by SMS, voice, or email? Twilio makes this easy with a few lines of code in the editable API. Any Twilio alternatives would have to include an easy to alter API structure that will seamlessly tackle any new or upcoming enterprise VoIP tools.
Features of the Best Twilio Alternatives
One of the best features of Twilio is its Lego-like software connectors that are granted by its messaging API. The solution is easy to build upon and add functionality so that a company creates all of the features they need for their communications efforts. Twilio provides this communications platform as a service (CPaaS) performance without sacrificing security or compatibility with existing carriers like Panterra Networks or NetFortris. Twilio even provides developer credentials so that your team alters keys on the backend without having to change the short code associated with the app.
Twilio has APIs for voice, messaging, and adding video communication through the web or mobile apps. Brands like Airbnb, Uber, and Lyft all use text messaging powered by Twilio, but the voice and messaging service has its weaknesses. Some consistent issues are a relatively high cost per month and the use of aggregators rather than directly connecting businesses to carriers.
Twilio is best known for its ability to help organizations connect to their clients on their favorite platform, but they are far from the only company doing this. To be a valuable Twilio alternative, a company must have:
coverage in many countries.
features that Twilio lacks, including free SMS messaging, reduced costs compared to Twilio, and a better support system.
in-app calling and texting.
messaging personalization.
scalable software to grow as the company grows.
The Top Five Twilio Alternatives
So, which are the best CPaaS solutions that meet these criteria? In this guide, we're going to highlight five Twilio alternatives and show you their pros and cons so that you find the ideal platform for your developers.
The providers that we've identified are Vonage's Nexmo solution, Plivo, Voxbone, Sinch, and Telnyx. Each is easy to build on and has a good support structure. Twilio may be the current market leader, but each of these alternatives delivers useful features. This is especially true if you're looking for a communications solution that provides a voice and SMS API. that is fully editable by your team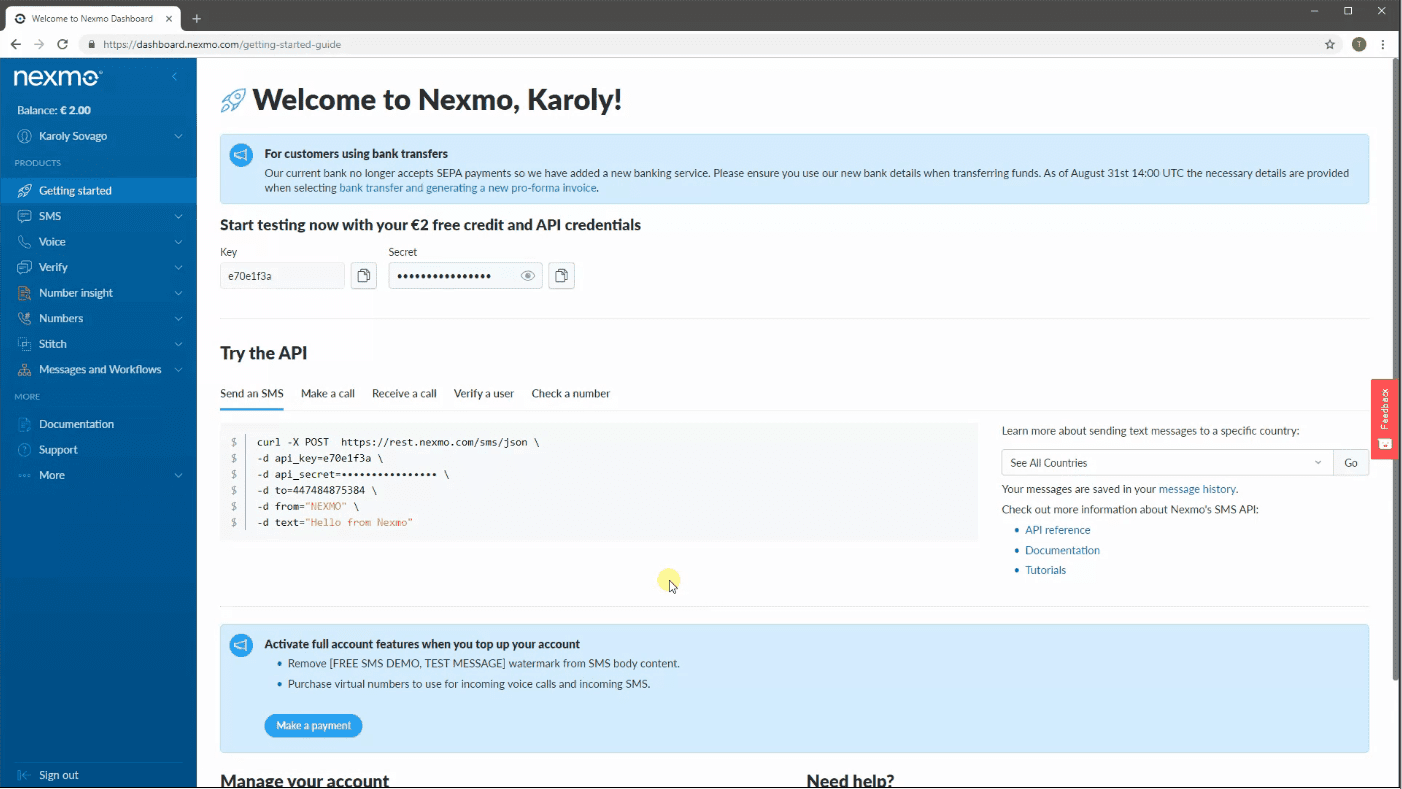 This is the go-to comparison in this space. We even compared Twilio versus Nexmo a few years back. Nexmo is Vonage's SMS API that the company purchased in 2016. Nexmo offers standard and bulk SMS, programmable voice functionality, live website chat, and the ability to manage virtual numbers. With 650 carriers available around the world, Nexmo is a great option if you need a reliable network.
There are only four territories where you can't send Nexmo messages. These are Svalbard, Western Sahara, North Korea, and Myanmar. Most other territories allow you to send messages with ease. In some territories like NMEA, North America, South Africa, and Australia, you'll be able to assign virtual numbers. Nexmo even delivers to some satellite phones.
From a business perspective, Nexmo enables a more direct connection methodology; you skip the step of your app connecting to an aggregator before reaching the carrier. Instead, your app connects directly from Nexmo to the carrier. In some cases, Nexmo IS the carrier. Compared to Twilio, Nexmo has some big-name clients like Viber. Some clients use both Twilio and Nexmo – a good example of this is Airbnb.
What Makes Nexmo a Great Alternative to Twilio?
Nexmo's connects your phone calls and messages to carriers in a direct manner. Twilio connects via SMS gateways to providers, which are called aggregators. These aggregators tend to sell to others, so messages bounce around continuously before landing at the carrier. This is very redundant, so if you're looking for the best route with lower costs, Nexmo is a provider that you need to consider.
The API is also very easy to use and intuitive. The API for Nexmo uses a representational state transfer (REST) architecture. This relies on a stateless protocol, which is typically HTTP. Any server object created in REST can be created, edited, or deleted as needs arise.
Many developers consider this to be one of the most editable architectures available, so creating new connections for your web or mobile apps will be easy for your developers. Twilio, on the other hand, uses a RESTful API, which has a lot of the same functionality and is stateless, but it's also much harder for new developers to learn.
Nexmo has free incoming SMS services, while Twilio charges $0.0075 for incoming messages. Additionally, Nexmo's dedicated number pricing is $0.25 less than Twilio every month. For companies that receive a lot of SMS messages from customers and employees, this will be a major savings. Additionally, with significantly lower dedicated number pricing, your company will save thousands every month with Nexmo.
| | |
| --- | --- |
| Pros | Cons |
| Nexmo has technology to determine if signals need to be rerouted for best communications performance. | Nexmo's user experience is more abrupt, so your developers will have to learn on the fly. |
| Nexmo covers 1,600 carriers in almost 200 countries. | Nexmo doesn't have video support. |
| Nexmo has plans that charge per second, which is a savings for many businesses. | There are only two plans with Nexmo – Free and Premium, so there's less customization for your organization. |
Best for: Businesses that are looking to connect directly to carriers so that they can save and have consistent connections. Nexmo also has extensive coverage that is only unavailable in four territories worldwide.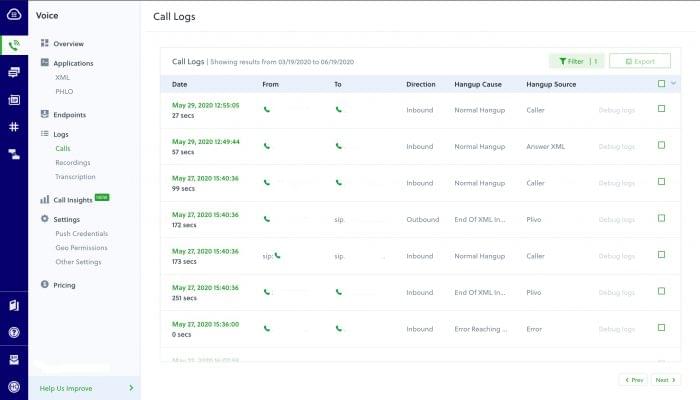 Plivo is a communication provider that is a good alternative for Twilio because it offers both call storage and call recording for free. Also, they boast the ability to turn your CRM into an omnichannel platform using their API features.
What Makes Plivo a Great Alternative to Twilio?
Like Twilio, Plivo provides support for long message concatenation, which means that longer messages will be split up to account for text message character limits. Also like Twilio, Plivo allows for a maximum message size of 1,600 characters that will be split up on the smart device's SMS screen. In a few ways, Plivo compares well to Twilio, which is a significantly larger company.
Plivo does trail behind Nexmo for reach, but it does serve 190 countries worldwide leaving it to be a competitive enterprise VoIP option. In these countries, there should be at least two carriers to handle your SMS and voice calls. Unlike Twilio, you're going to be connected directly with providers, which will provide a better quality of service for both SMS and voice and, in most of cases, will also decrease the cost of communication. Plivo claims that it has the best SMS delivery rates, and consistency is certainly a stat that any Twilio alternative will have to have in spades.
The support experience at Plivo is somewhat unconventional. When you call in a support issue, you're routed and prescribed a priority level, and since the company doesn't utilize a live agent chat for all users, this can vary the support turnaround rate. Minor issues take as long as 24 hours to find resolution while more critical issues may experience a six-hour turnaround.
Out of all of the providers covered here, Plivo is the only one granting free access to call recording and storage. Inbound SMS is also completely free with Plivo. It's also very noteworthy that Twilio's outgoing SMS costs are almost double the cost of Plivo.
| | |
| --- | --- |
| Pros | Cons |
| Plivo provides access to virtual numbers in 65 countries. | Plivo's text-to-speech engine only supports 16 languages compared to Twilio's 25. |
| Plivo asks for user feedback on each call. | Unless you're a premium subscriber, Plivo doesn't have a live support call-in system – you'll have to contact them through a contact support form. |
| Plivo allows for users to send up to 40 SMS texts per second. | Plivo's API isn't as flexible as wider-known offerings like Twilio and Nexmo. |
Best for: Businesses that want powerful features like call routing, caller ID, call waiting, redial, and three-way calling. Plivo is very inexpensive compared to Twilio, so it's friendly for small businesses.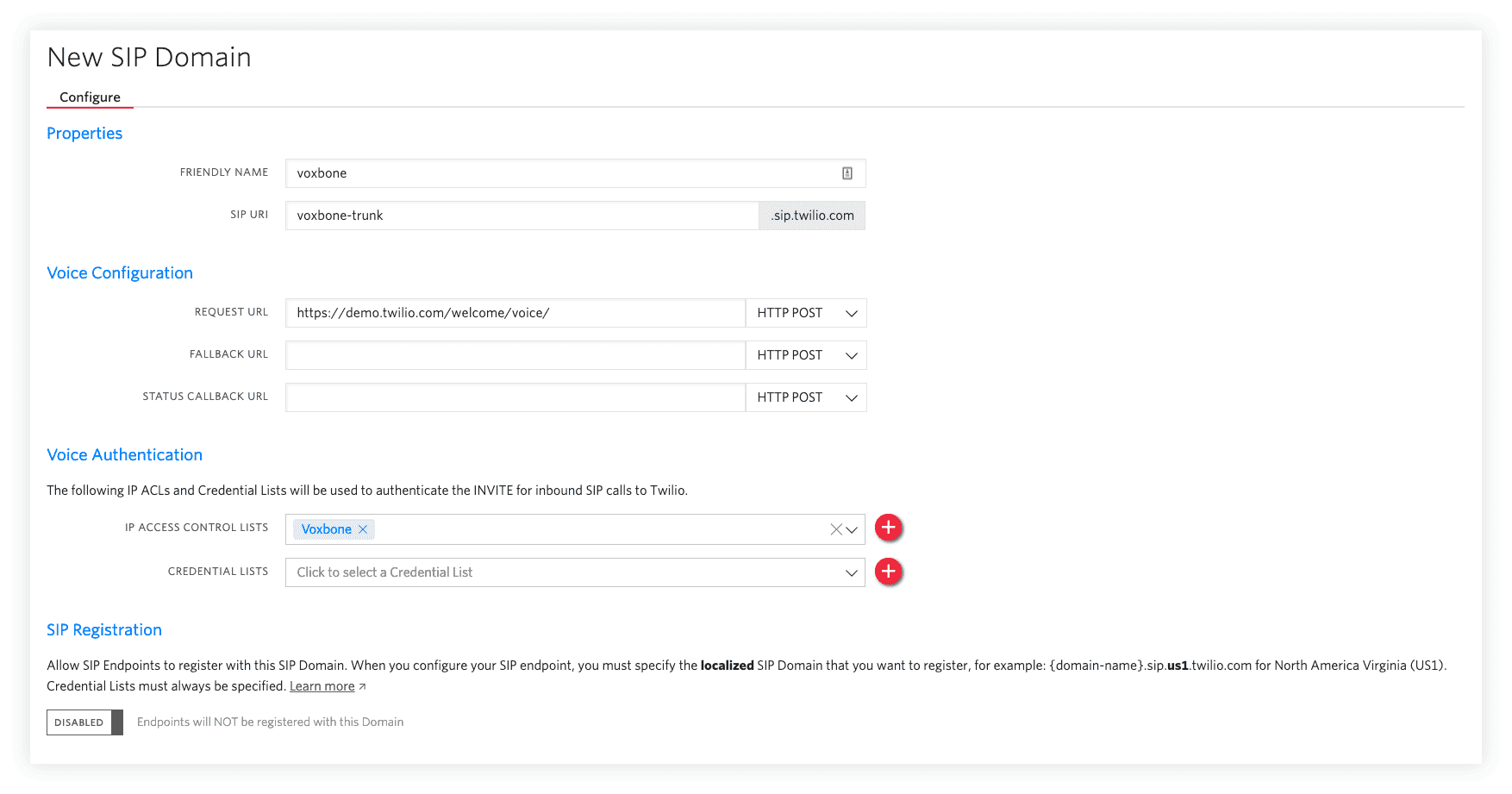 Voxbone is another SMS API utilized by large companies like Uber to enhance their communications capabilities. The company has also supported business VoIP services like 8×8 Inc, NICE InContact, and Zoom. Recently, the company has been pushing for more name recognition because, despite having some big-name clients, outside of the industry, they are still relatively unknown.
Despite this, they are a noteworthy Twilio alternative for communication integration because they have a very nimble API that will work with just about any solution. You'll be able to even integrate Voxbone with Twilio if you want.
Voxbone has networks and coverage in the countries that it serves. They've even done their own negotiations in those countries so that a Voxbone contract is all-encompassing, which means that there won't be hidden international charges or additional compliance steps when entering new territory.
What Makes Voxbone a Great Alternative to Twilio?
As you may have noticed by now, Twilio falters a bit since it deals with aggregators, which adds complexity to the communications process at best and adds additional calling costs at worse. Voxbone connects it to the carriers in the country that you're dialing, and the service is a tier-1 carrier in multiple territories.
Voxbone is designed to work with any SIP-capable platform that allows you to Bring Your Own Carrier (BYOC). This means that the provider will allow you to integrate the platform with multiple other carriers, including Twilio and Nexmo. This can open up your options if you would like to get into the nitty-gritty of the code and add enterprise VoIP communications.
| | |
| --- | --- |
| Pros | Cons |
| In many markets, Voxbone itself is a Tier-1 provider. | The user interface for Voxbone could be a bit more intuitive. |
| Voxbone has a huge footprint with the ability to call or text more than 30 markets. All of this is accessible through a single SIP trunk. | The monthly minimum contract (MMC) for the company isn't flexible, which means companies that scale back can overpay. |
| The company is fully licensed in every market, and a single contract with Voxbone spans the globe. | Some assigned virtual numbers fail, but Voxbone is quick to fix these issues. |
Best for: Businesses that want to integrate multiple solutions using APIs. Voxbone is very integration-friendly and will even integrate with Twilio.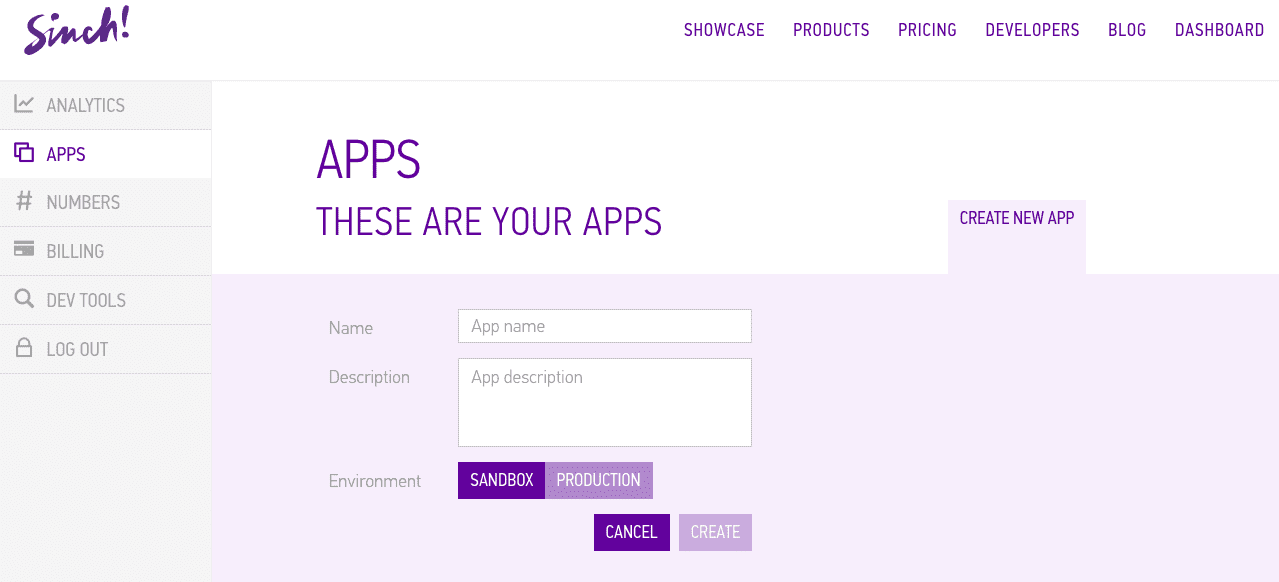 Sinch, as a provider of communication integration, has developer-friendly features that make adding calling and messaging features fairly simplistic. This is thanks to a REST-supported API that's very easy to develop for iOS and Android.
Sinch stands out because it not only allows developers to create connections using the API but it also serves as a communications SDK solution. APIs provide for providing singular functionality, whereas SDKs allow developers to integrate full libraries and will allow the inclusion of deeper-dive functionality. SDKs are often used by developers to better implement APIs and provide end-users with enhanced features.
What Makes Sinch a Great Alternative to Twilio?
Since Sinch allows for SDK development, features like external integrations and multi-user support are built into the platform. These are features that aren't included with Twilio. Also, like many of the Twilio alternatives that you see here, Sinch has free incoming SMS messaging.
Also, the SDK features will allow developers to add verification, video, and instant messaging features to apps and web services. Unlike Twilio, Sinch doesn't offer features like outgoing toll-free calling, and they utilize aggregators to connect communications with carriers. Also, they are somewhat vague when they list the carriers that they use in each country. Sinch does have communications inroads with 220 countries around the world, so users won't be limited.
Finally, Sinch stands out because it has a free instant messaging feature that will support up to 25k users a month.
| | |
| --- | --- |
| Pros | Cons |
| The communications SDK for Sinch is powerful, and API development has REST support. | Their customer support structure doesn't support live calling. Users will have to connect through email. |
| Outgoing calls on Sinch are very cheap at $0.01 per minute. | Features like toll-free numbers and call recording are missing from Sinch. |
| Google Android users have access to Flash Call Technology, and the Sinch Voice SDK allows for video calling. | Sinch doesn't provide enough information about their "Tier-1" carriers. |
Best for: Businesses that want more development options than are available with an editable API. Sinch allows for SDK development options.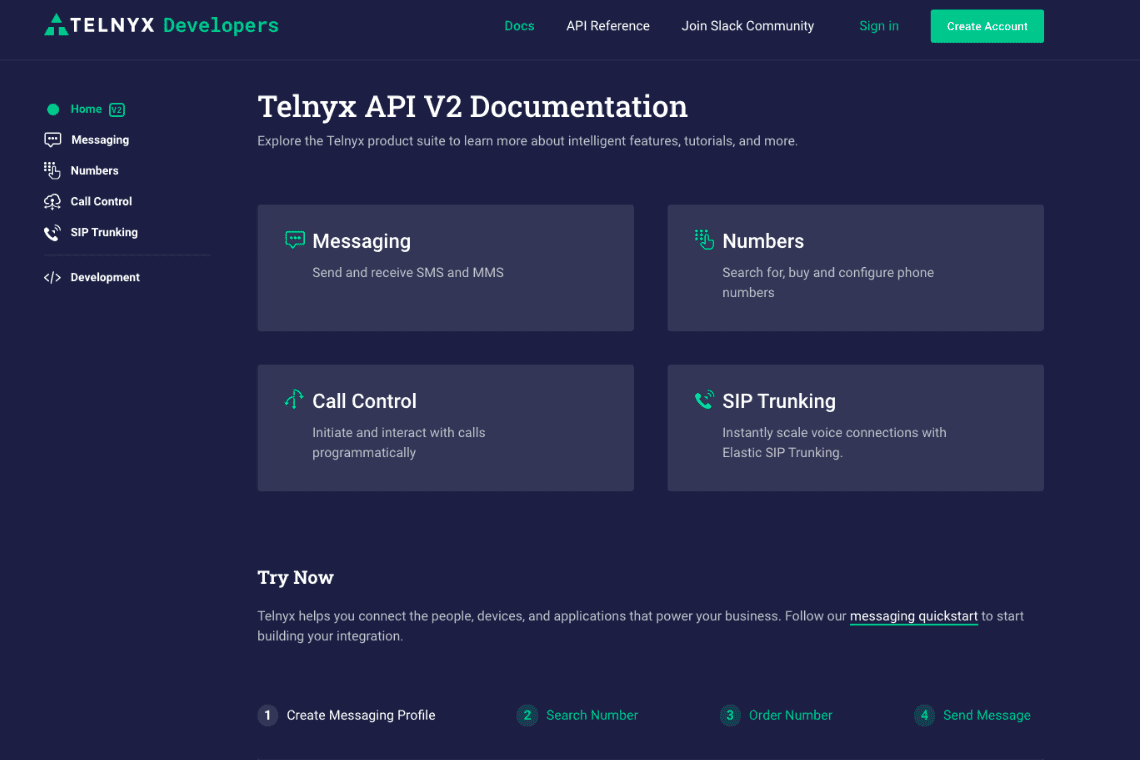 Telnyx is another provider that avoids the aggregator connection and connects your communications efforts directly to the carriers. Telnyx's calls are managed in a private network environment, so this means that you'll experience a higher call quality with the service. This is also a more secure means of communications, since cutting out the aggregator middle-man means that your data will have less chance of being exposed to malicious individuals.
This is also a good means of avoiding telecom markups; Telnyx also has a very reasonable pricing structure that is affordable by SMBs. They also offer their FastPort service, which expedites the number porting experience, which is a notoriously slow process for many carriers. FastPort segments numbers before a port request, which shaves time off of the switchover, even when the previous provider is being slow.
Another useful tech offered by Telnyx is their Call Control feature. Call Control is an API that virtually automates many of the call features that companies require. The software helps you incorporate voice workflows into any of your organization's custom applications. Since it is presented at the API level, developers can create new channels of communication on the fly thanks to webhooks. The workflows that Telnyx's Call Control enables include IVR branches, specified dial tone responses, conferencing, and call recording.
Telnyx even allows for media forking. This allows you to create midcall branches for both audio and video. You can then send streams of this data to different destinations. This is useful for real-time audio processing. This provides a tool for you to analyze audio data mid-call and even duplicate this information.
What Makes Telnyx a Great Alternative to Twilio?
Like many of the other service providers in this guide, Telnyx doesn't charge for inbound text, and unlike Twilio, it doesn't connect to aggregators before connecting calls and texts to carriers. Their FastPort feature is very useful for those companies looking to switch over to their service and don't want to have their old numbers in extended limbo.
When it comes to the support experience, Telnyx is also a great alternative to Twilio because live voice support is available at all tiers. With Twilio, you're going to be paying thousands of dollars to not simply be shunted to their email support system. It's also really nice that the provider has a dedicated developer's page at developers.telnyx.com.
Telnyx's ability to create complex IVR systems is also a major advantage that isn't available with Twilio. Twilio Studio is fairly agile, but Call Control allows for a more fine-tuned experience that incorporates entire workflows for your communications systems.
| | |
| --- | --- |
| Pros | Cons |
| Call Control is a system that grants developers a lot of fine-tuned control. | Despite the FastPort technology, Telnyx charges a fee for porting phone numbers away from the service. |
| Customer support is 24/7 and free to customers. | There's no method for exporting direct inward dialing (DID) lists. |
| Telnyx uses JSON, which is a favored API language for developers. | Unlike Twilio, Telnyx doesn't have call routing or contact management functionality. |
Best for: Businesses that need 24/7 live support. Also, call control is beneficial for any organization that wants more fine-tuned communications channels.
Twilio Has Strong Alternatives With Advanced Features
Twilio is the market leader in a growing space, but it has its very palpable weaknesses. First, it is a solution that's very pricey for SMBs that are trying to establish international communications using SMS and voice APIs. Secondly, the solution is missing some features like free incoming SMS, and you'll be spending big money on their top-tier live support team.
All of the messaging solutions that we have selected have some great alternative features. For example, each allows for free SMS incoming messages, and all also connect directly with carriers rather than hooking you through a bevy of aggregators. Each of these also uses development APIs that are a little more newbie-friendly than Twilio's RESTful API. These are all also much cheaper than Twilio and have good uptime thanks to cloud communications architecture.
The world of customer service and call center software is growing exponentially every year, and technologies with editable APIs for your apps will maintain growth in communications channels.