This funding round, led with investment by Salesforce Ventures with others like ServiceNow Ventures and Zoom Video Communications, also joining – they say, will: 
"Strengthen Genesys leadership in the 'experience as a Service(SM) market."
If the name Salesforce Ventures sounds new to you, you likely know the first part of the investment firm's name, "Salesforce." They have already made sizable investments in more than 400 companies, including DocuSign, GoCardless, Guild Education, nCino, Twilio, Zoom, etc. 
The CX-centric organization has witnessed a tremendous amount of evolution over the past two years. Since the beginning of the pandemic, Genesys has undergone leadership changes, business model shifts, solution portfolio enhancements, and overall reshaped the company's culture and approach to CX. All those refreshers resulted in what most would consider (considerable) growth.
In a statement, Genesys elaborated, noting:
"The company's cloud and subscription bookings, which make up more than 90% of total new bookings, grew more than 100% year-over-year in the first half of the fiscal year 2022 (February 1, 2021, to July 31, 2021)."
A mere two years after joining the team, CEO Tony Bates noted in its most recent earnings report; that the company has nearly completed its business model transition. 
Cloud Subscriptions, For the Win
Today, cloud and subscription bookings make up more than 90% of total new bookings, a number that's risen from nearly 75% in the fiscal year 2021 and 53% in the calendar year 2019. 
"This, mostly driven by Genesys Cloud CX and Genesys Multicloud CX success, and in the first six months of the fiscal year 2022, Genesys Cloud CX and Genesys Multicloud CX drove a combined growth of 125% in the number of deals over $2.5 million annual recurring revenue compared to the first half of (fiscal year) 2021." 
Genesys added notable US fashion retailers, a well-known vacation rental company, a global auto loan financer, and a national healthcare company to its roster of customers. That alone boosted the adoption of its technology by 18,000 more contact center agents who use now leverage Genesys Cloud CX. It even contributed handsomely to the more than 400,000 agents who now use the platform.
Also, during this period, the company delivered hundreds of product innovations across its customer experience platforms. It released a new workforce engagement solution and launched the Genesys DXTM solution, a conversational artificial intelligence (AI) and digital experience solution geared toward those who want to enhance sales and marketing efforts using cutting-edge AI. 
How did Genesys Get Here? 
One pivotal part of the firm's strategy has remained acquisitions, which Genesys made several of in 2021. Genesys now owns Pointillist and Exceed.ai, giving the vendor – significantly more CX clout. The acquisitions of both Pointillist, an AI-driven customer journey orchestration/analytics solution, and Exceed.ai, a cloud-based conversational AI platform for sales and marketing, are somewhat responsible for where they stand today. 
But there is more.
With the promise of elevated customer experiences, seamless ones, and some automated ones – offerings like the kinds Genesys extend are attractive to customers seeking ease of deployment and use. Not to mention – organizations have and will gain; a ton of new ways to understand customer behaviors, learn from them, and enact new policies, along with new automation tools, further enhancing CX and UX (user experience).
The Genesys of 2021, has quite the robust contact center offering, one that provides tons of data, too, so companies can visualize customer sentiment. John Somorjai, EVP of Corporate Development and Salesforce Ventures at Salesforce, wrote in a statement: 
"Customer expectations continue to rise exponentially around personalized, empathetic, and connected experiences. We believe our investment in Genesys will not only help accelerate the company's success but the success of our joint customers."
The most sizable advantage, how the firm enables real-time insights to prevent dissatisfied customers; and extends the ability to track, measure, and analyze customer behaviors to understand the next best step for agents. Genesys has been recognized for its leadership in the cloud industry, most notably, being named a leader in the Contact Center as a Service Gartner Magic Quadrant report for 2021. 
It was also named a Visionary in Workforce Engagement Management as well. Genesys even ranked number one in 2020 – leading the market share for Worldwide Contact Center Applications, according to analysts at IDC. And Genesys got named "Growth and Innovation Leader" by Frost and Sullivan along with being named a leader in conversational intelligence by Opus Research.  
According to Genesys, nearly 7,000 organizations globally – including 17 of the top 20 Fortune 500 companies, now leverage CX tools developed by the firm. And every year, according to Genesys, they facilitate more than 70 billion customer experiences in more than 100 countries. 
Building out a Superior CC/CX Portfolio
Genesys, in this respect, is not unique, as others in the industry have, too, made many strategic acquisitions to build out their CC/CX portfolios in response to the coronavirus pandemic and rising customer expectations. And others have raised a ton of capital as well. 
Five9: one of the largest global CCaaS providers, has solid financials and a history of strong and quite positive revenue growth. It has had 20+ quarters of increased revenue since 2015. The firm has a strong market cap – one valued at nearly $9 billion, according to Yahoo! Finance.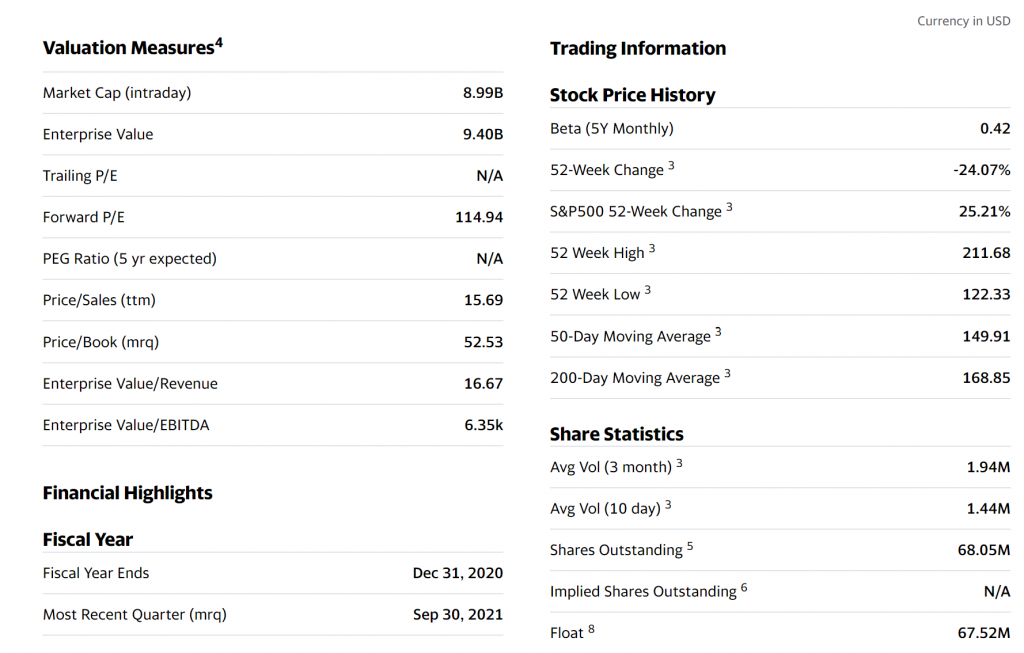 It is this vigorous revenue growth and sense of "which companies we need to enhance our portfolio;" that makes vendors like Genesys and Five9 stick out and makes me wonder: Will one of them get acquired next? Following a (botched) attempted acquisition by Zoom, Five9 is a free agent. As is Genesys. And they both have the stats to assure nearly any potential buyer – a deal would be worthwhile for them.
Five9 appears in Gartner's CCaaS Magic Quadrant, similarly, as a CC leader for the Five9 Virtual Contact Center (VCC). Additionally, the cloud contact center provider got rated the highest "overall vendor satisfaction" among customers surveyed by Industry Analysts, DMG Consulting.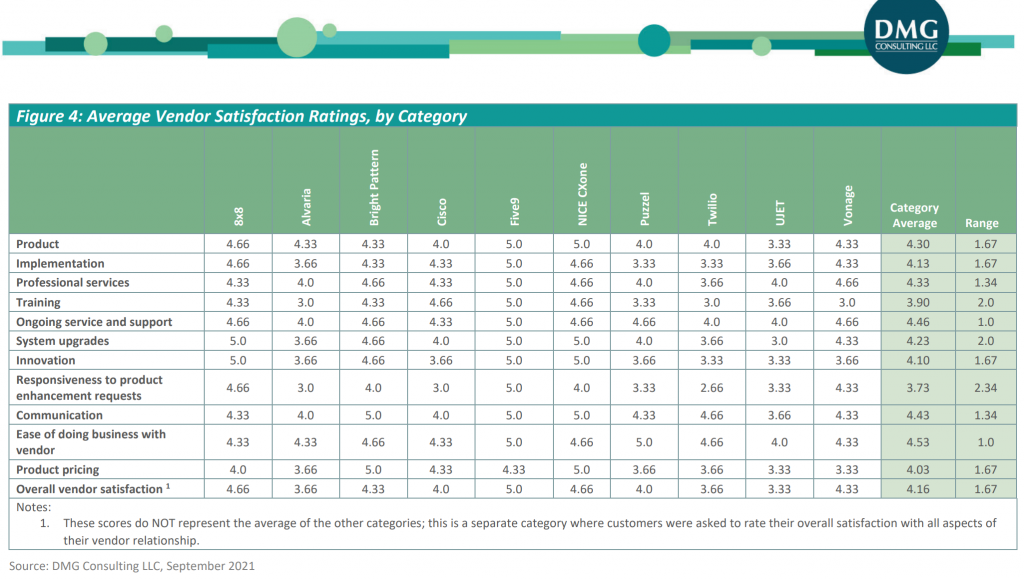 Five9 scored a near-perfect score, earning a 33 out of a possible 34. According to DMG Consulting, Five9 got high scores in nearly every aspect possible, including vendor satisfaction, product features, platform features, and Workforce Optimization (WFO) / Workforce Engagement Management (WEM) capabilities. 
The cloud contact provider will also soon enable contact center users to access high-fidelity synthetic voices – ones they call "virtually indistinguishable from human voices," thanks to the acquisition of WellSaid Labs.