At the top of the year, Five9 received Glassdoor's Employee Choice Award, which recognized the cloud contact center provider as the best place to work in 2022. Since then, the firm has been on a sort of winning streak. The company won the Brandon Hall Group Excellence in Technology Award for best AI for business – along with countless other accolades; since the start of 2022. 
It even announced a brand ambassador partnership with professional golfer Max Homa; and got recognized as a; 'certified transparent company.' That is only a portion of why I can say Five9 is killing it; today. The firm, along with Deloitte Canada: teamed up to deliver cloud-based contact center solutions to the Canadian market. 
And just a few weeks ago, Five9; announced it would open two new data centers in Frankfurt, Germany, and Amsterdam, Netherlands – pointing at further European expansion. The firm said that these data centers: are set to serve Five9 customers in the European Union (EU), Europe, the Middle East, and Africa. 
I'll chronicle how the firm has continued its momentum in global growth and its plans for the future when it comes to its advanced automation and contact center capabilities in the sections below.
Five9 Helps PGA with Automation, Modernization
Five9 won a multi-year contract with the European Tour Group, becoming the European Golf Tour's official "customer-contact center software provider." The terms of the deal have (not been) disclosed but what we do know is what Five9 plans to offer Europe's premier PGA Tour.
The cloud contact center provider will extend its fleet of industry-leading cloud contact center solutions in hopes of helping the Tour modernize its communications with innovative IVA (intelligent virtual agents), online chat functionality, and even a digital concierge for players, corporate partners, and Tour fans. 
The Tour hopes to emphasize greater (use of) automation, which eventually helps streamline the complex communication and logistics processes that keep operations in full swing. Five9; is available in six European countries as of now, and it has also made (additional) progress toward establishing itself across the pond over the years. 
Now, Five9 is in the United Kingdom, Germany, Spain, France, the Netherlands, and Portugal. You may also recall the firm's expansion into its northern neighbor back in 2020 when it crossed the border into Canada, opening two new offices in Toronto, Canada. 
Expansion, Expansion, Expansion
Five9 further explored its options in Canada; having reached a deal with Deloitte Canada. The firm of forecasters will feature leverage Five9's Intelligent Cloud Contact Center. 
The move will bring Deloitte Canada into the 21st century; and likey more than please its clients, too, lending them access to digital channels, contact center analytics, workflow automation, workforce optimization, and all sorts of use-cases for AI. Because of the plug-and-play nature of Five9 software, wherever Five9 goes, the firm gets embraced with open arms.
Canada is not the only place Five9 is expanding, as Europe is now a considerable push for the firm. Back in 2021, "Frost Radar," an annual report published by Frost and Sullivan, recognized the cloud contact provider for its inroads into the European crowd. It cited the cloud contact center provider's 'advantageous' product development roadmap, noting that it: 
"Should allow the company to become a formidable cloud leader in the European market over the coming five years."
Not to mention, it had fairly solid financials this past quarter: 
According to analysts at Frost and Sullivan: Five9 makes consistent progress and registers consistent growth with a strong focus on innovation and a prominent position in the market. The report praises Five9's efforts on the AI (artificial intelligence) front, noting that the company's efforts in that area – have not gone unnoticed. 
Its European customers love that they can leverage tools that are (not only) intuitive: but that extend a lot of insight. All this: (primarily) thanks to rich data capabilities and the software's ability to lend recommendations/responses to agents during customer service interactions. 
The software even lends a hand in changing-up processes deemed redundant or unnecessary to perform manually. Five9 CEO, Rowan Trollope, told Reuters in a recent interview about the company's ambitions in Europe, noting: 
"Around 10% of our revenue today comes from Europe, we are looking to at least double our European contribution in the near term."
Scoring a High-Dollar HealthCare Deal
Scoring a massive deal, Five9 won the business of a significant player in the healthcare industry, an unnamed healthcare conglomerate slated to roll out its platform. It will, therefore, add tens of thousands of new seats to the company roster in a deal set to generate a massive annual recurring revenue of over $40 million in software subscriptions alone, according to Five9. 
The deal is one of the most sizable deals in the history of CCaaS, at least so far – giving the company decent street credibility among its competitors, who must be thinking to themselves about how to top this one. 
What is Next for Five9? 
It (appears) that the answer to that is international growth and growth fueled by the expansion of its product line. For some time, I have covered the ins and outs of the company, which mostly tends to focus on deals that enhance the customer experience (CX).
We saw the cloud contact center provider shift its focus to authentication and security; back in February. In a deal with Pindrop, it reached an agreement that gave its customers access to enhanced authentication and fraud protection. I believe this will be a major future area of focus for the firm, expressly as it continues to adapt its stack to fit the needs of a modern organization and the various use cases they require, like the one shown below: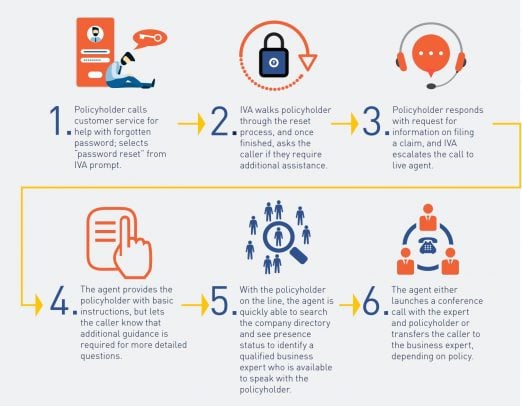 With the firm aligning with Pindrop on many fronts, it seems (about) time for the duo to start delivering on its partnership. It has a lot of work to do if it wants to get the majority of contact centers that remain non-compliant with measures that might see it get infiltrated by bad actors. 
According to Neustar's 2021 State of Call Center Autnentaiation report, 90 percent of contact centers remain non-compliant. No matter which direction Five9 goes in, you can almost guarantee that it will include AI to enhance some portion of the customer/user experience, as its push since the onset of the Pandemic has remained as much.