In a blog post, Cisco recently announced the launch of a new piece of hardware built for where most now find themselves, working from home. Its new video conferencing bar; is deemed the Webex Room Bar. The meeting room device addresses many newfound challenges of the remote/hybrid work lifestyle, which only continues to gain traction all over the United States. 
As more companies consider how to ensure employees feel happier and safer in the workplace, they realize that one way to achieve such an undertaking is to enable a four-day workweek. Today, there are even more options to work from home, citing reasons like rising concerns over employee well-being. 
Nonetheless, it remains paramount for employees to have the tools to perform the duties of their respective trades. Enter the various tools designed to make remote/hybrid workplace collaboration less of a burden and, in some cases, more inclusive for remote employees.
Webex touts its new Room Bar as "raising the bar for sustainable room conferencing." Not only because it is catchy, but because of its features, which I will break down below. The most fundamental selling point of the piece of hardware is that it is lighter, thinner, and disassembly and recycling – more so than other Webex hardware. 
In a blog post announcing the arrival of its latest video conferencing device, which is also is most sustainable so far, so it seems, Webex wrote: 
"The device and its packaging use significantly fewer materials: no box-in-the-box packaging, single-use foam containers, or redundant parts."
Deployable at scale, the new device features five times digital zoom, stereo speakers, dual-screen support, and a 12-megapixel wide-lens camera.
Fostering Immersive Collaboration Experiences
It acts as a first-row seat experience (of sorts) for those who cannot attend in person, as it can automatically detect participants and frame them accordingly. Its "smart" speak tracking feature ensures that speakers stay within view. 
And with a 120-degree field-of-view – it can capture everyone in a meeting, even those far away. Hoping to cancel any distractions in the background, Webex built-in noise-canceling microphones that can filter out any distracting background noise. Artificial intelligence does the job; of helping meeting attendees to get heard louder and more clearly. 
Several external ports enable users to connect the device to various devices they deem fit for workplace collaboration. That includes USB-C passthrough, which lets users extend their laptop to 4K displays via USB-C for instant content sharing and video meetings on most major video conferencing platforms. 
More on that later. 
The device also enables things like 4K content sharing. It even has advanced room controls that let users control their video conferences, book meeting rooms, manage room peripherals, and leverage third-party apps from a single pane of glass in (the form of a) 10-inch touchscreen panel.
Finally, in true Webex style, the new Webex Room Bar automatically wakes up as folks enter the room – enabling users to join meetings in seconds by tapping the device. And more futuristically, via voice command. 
According to Cisco: the device further leverages AI-powered face recognition to identify meeting participants and ultrasound technology to provide real-time metrics for workspace optimization and in-office well-being. Finally, there is even advanced whiteboarding from a Webex Board, Webex Desk Pro, or the Webex app.
The Webex Room, Desk, and Board series now supports Airplay content sharing through RoomOS 11 and (support for) Miracast wireless content sharing from Windows devices and retails for $1,799 in carbon and light colors, according to the website. 
New Device Puts Inclusion on Full Display
On top of all the features we have explored thus far, users can plug the device natively into the Webex Desk Hub, the collaboration giant's new Cisco Desk Camera 1080p, which features omnidirectional microphones and face-detection.
"That helps us deliver best in class auto-exposure, auto-focus, and white balance. That way: whatever happens behind you at the office, your team can hear and see you," Cisco wrote.

In line with the idea of workplace inclusion, Cisco also announced the arrival of real-time translation, now available on Webex Devices. "Translation interprets your meeting in more than 100 languages as on-screen text," the company notes. 
Cisco further announced that it now enables simultaneous interpretation on all its devices, adding: "With this incredible feature, meetings get translated by a live interpreter, and enterprises can overcome geographical and language barriers."
Not to Forget Interoperability/Customization
Cisco is no stranger to enabling interoperability. It has made that abundantly clear for years now but has made no more obvious gesture showcasing its support over the years than that of its investment in Mio. The UCC company has made its entire mission to enable cross-platform cooperation. 
Last year, Cisco and Zoom gave $8.7M to the cause; in a Series A Funding Round hoping to enable cross-platform functionality with ease while simultaneously signifying to the industry that it is just easier if "we play together." Others like Five9 and Dialpad had also carried this mentality since inception. What makes Cisco different in this case is its ability to put its money where its mouth is. 
Cisco's latest is compatible with most major collaboration platforms, including Microsoft Teams, Zoom, Google Meet, etc.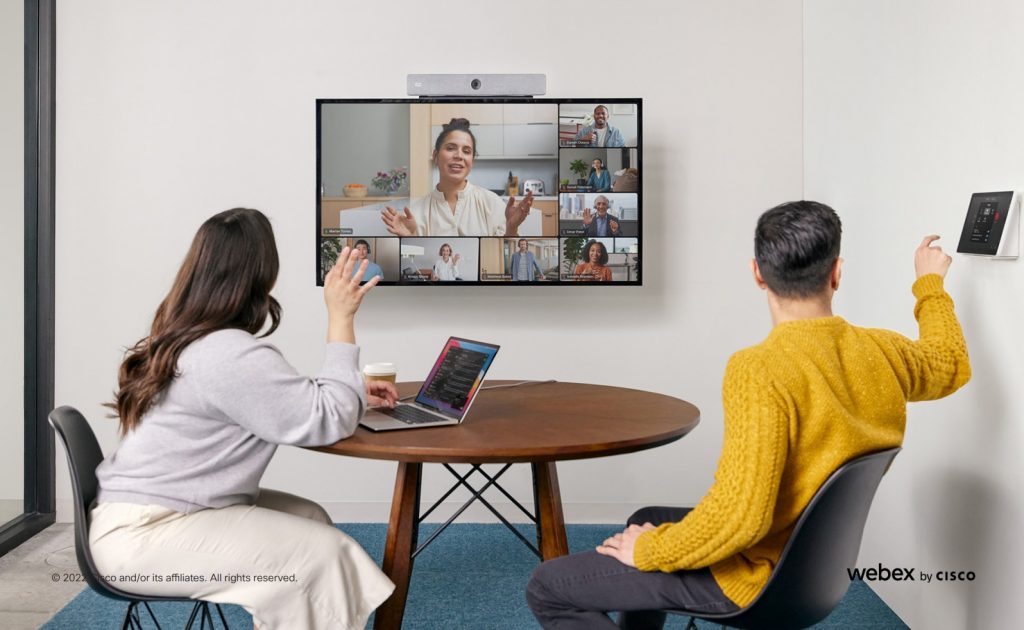 Lastly, with a focus on customization, device users can now customize the user interface UI of their devices. "Webex Desk series devices will support Kiosk Mode- a feature that allows the enterprise to replace the native UI with their customized web app:" according to the collaboration giant. 
That means users can do things like place calls to a receptionist, a help desk, or a subject-matter expert – all from the web app. All this might in such a compact device once more showcases the lengths that Cisco will go to in hopes of enabling the kinds of collaboration experiences sought after in the workplace in a post-Pandemic world. 
That is to say: one in which hybrid work is indeed the new 'normal' and where days of everyone being in the physical office reside far behind us. Webex remains on the forefront of innovation in the space, and that is increasingly evident following the launch of its latest video-conferencing device.