In a recent announcement, enterprise cloud communications company, Bandwidth said it partnered with Alianza Inc., a cloud-native communications platform designed for service providers. The alliance announced this week looks to accelerate cloud migration for communications service providers (CSPs) in the United States and Canada. 
Bandwidth offers quite a unique network platform and APIs to accompany. Alianza boasts a full-stack CSP platform, with the duo promising to enable CSPs to transform their legacy infrastructure with cloud-based voice, messaging, and video conferencing services. 
According to a statement released by the two: The partnership already supports more than 50 CSPs in the U.S. and Canada. Hinting at a massive opportunity for higher revenue, Bandwidth estimates that the market has more than 2,000 telecom carriers, cable companies, and fiber and wireless broadband operators that own their networks.
"This means they have strong: long-standing relationships with local businesses and residential customers. However, they face increasing threats from over-the-top providers eroding their customer base by selling direct," Bandwidth wrote in a statement.
The pair contend that for CSPs to stay competitive and differentiate their retail offerings, they must migrate legacy soft switches and other end-of-life infrastructure to the cloud. Quickly acknowledging that challenges remain ahead, Bandwidth said the process is "complex."
It further noted that Alianza and Bandwidth can extend a solution for CSPs that is "practical, cost-effective, and eliminates the complexity and expense of maintaining existing legacy systems." 
Why this Market Segment? 
The duo says they will go to market with a "sell with" model, where they will garner the attention of new customers both together and independently. According to Sandy Preizler, Bandwidth's Chief Revenue Officer: The CSP space is paramount for additional growth and the strategy the pair have developed. Preizler was appointed to this position back in March 2022. 
He further noted that: "Alianza has been visionary in giving CSPs a new way to remain competitive through a speed-to-market with new cloud-based services. We are excited to strengthen our long-time relationship through this partnership to enable CSPs to deliver mission-critical cloud communications with "very-attractive" economics."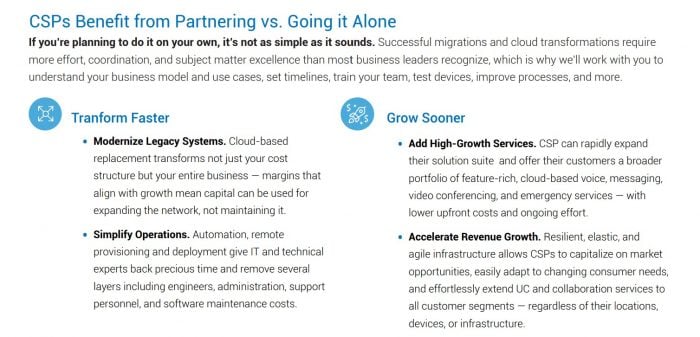 Regarding service providers and their legacy communications networks, Brian Beutler, Alianza's Chief Executive Officer, added: "They are some of the last bastions of old-school software yet to migrate to the cloud." 
According to Beutler, that's changing in real-time. And for over a decade, Alianza made its central focus to cater to CSPs. During that time, it built the industry's only cloud-native, carrier-grade communications platform specifically for CSPs, giving Bandwidth a great deal of incentive for the partnership. 
Already, Bandwidth said that the duo has integrated Alianza into its universal platform and APIs. Honestly, the move makes sense when (you consider) that Bandwidth tech has a network that reaches 60+ countries. Bandwidth also covers 90 percent of global GDP, with customers like Cisco, Google, Microsoft, RingCentral, Uber, and Zoom.
The State of Cloud Migration
In a 2022 study on Cloud Computing, Foundry, Formerly IDG Communications, found that the Coronavirus Pandemic acted as massive motivation to shift to remote work. It also kicked cloud migration into overtime. According to Foundry, the majority (69%) of companies have accelerated cloud migration over the past 12 months. 
The same report notes that 41% of companies today will grow to 63% in the next 18 months who say they will shift most or all IT infrastructure to the cloud should. It further found that 60% of companies agree that cloud capabilities helped them achieve increased and sustainable revenue in the last year. 
"It is no surprise that next year, organizations plan to allocate an average of 32% of their IT budgets to cloud strategy," Foundry added in the report.
The top cloud growth areas are as follows, according to Foundry's repot are Software-as-a-Service, Platform-as-a-Service, Security-as-a-Service, Infrastructure-as-a-Service, and Cloud-based analytics. Those making the shift to the cloud say they need help, with 41% noting they can leverage the security expertise of cloud vendors. 
Forty percent of respondents said they seek better cloud management capabilities, and 38% said cost management capabilities remain top of mind. 
What's the Deal with Legacy Technology?
For any number of reasons, some companies remain hesitant to move to the cloud, and they continue leveraging legacy technology. For starters, when they made the initial investment, it was not a cheap one. They are often concerned they will lose money if they get rid of expensive physical hardware. 
In most instances: this may seem like the case, but it is not a reality. There can be a lot of money to be made in the cloud, especially when you compare legacy technology to the cloud. It is often a lot more agile and able to save organizations moolah; as a result.
A 2022 ISG Provider Lens Report on Hybrid Cloud; found that cloud cost management drives vendor selection. There is still some work to do when it comes to persuading companies they'd be better off with cloud-based communications in the cloud rather than on-premises. 
Newly-Tapped Innovation Officer on Full Display
Early in June, Bandwidth tapped Karl Perkins to become its next Chief Innovation Officer. Perkins, a native of the United Kingdom, is a cloud communications expert, having worked with the likes of Cisco, Avaya, and Tata Communications. Most recently, Perkins served as Chief Technology Officer at Avaya, where, according to a statement: 
"He helped define the company's transition to a SaaS-based business model." 
Perkins worked for Tata Communications, too, where he served as Vice President and Chief Technology Officer of Business Collaboration, Mobility, and IoT Solutions. He was Group Technical Director at video collaboration software provider UCi2i and even served in product and solution roles in the office of the CTO at Cisco Systems.
Now, it seems that he will pull off one of his (most difficult) roles so far. It also seems that he is up for the challenge; given his previous work in the space. And Bandwdith's latest move to partner with Alianza is innovative. We shall see what else he has in store on the innovation front and what else the duo can manage to pull off for those they hope to move to the cloud in record numbers.