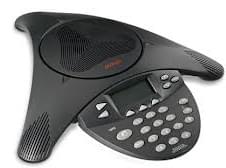 IP Conference phones allow users to communicate with business partners, vendors, and remote workers and teams in a meeting style setting over the phone. In doing this, these phones allow for all users (present) to spontaneously and simultaneously participate in any conversation(s). These devices are designed to optimize voice quality to better allow collaboration in a number of settings that range from small conference rooms to executive offices. By delivering higher voice quality, advanced audio processing, and a host of features, these phones deliver a more holistic solution that speaker phones and other modes cannot and do not typically account for.
In regards to functionality, IP Conference phones typically account for three key features: clear voice quality, seamless conversation, and 360 degree microphone pickup and group voice capabilities. With these features accounted for, these devices are more able to boost productivity while shortening meeting time. Typically, Conference phones are able to pick up sounds from all directions. While this sounds as if it can produce muddled voices (especially if more than one person is speaking), the device's speakers are usually pointed up. This allows the speakers to pick up voices from the room evenly as opposed to mashing them together. Aside from speakers, the body of the phone usually features a keypad—which can be used to dial out—or more commonly, an LCD screen that displays the status of the call.
Much like IP Phones, IP Conference Phones have tools geared towards allowing them to connect to a network– directly over the internet. For example, IP Conference phones require a conference bridge—a specialized piece of equipment that links telephone lines. While Conference calls are generally designed to route participants towards a concurrent call, this bridge helps users call into the conference by dialing a telephone number and connecting to the bridge. These tools are essential in ensuring these devices work; therefore, users should seek out the best quality option. In this regard, users should seek out quality manufacturers (i.e. leading VoIP manufacturers) to fit their needs.
See Also:
– What is Telepresence