IP Conference phones allow users to communicate with business partners, vendors, and remote workers and teams in a meeting style setting over the phone. In doing this, these phones allow for all users (present) to spontaneously and simultaneously participate in any conversation(s). These devices are designed to optimize voice quality to better allow collaboration in a number of settings that range from small conference rooms to executive offices. By delivering higher voice quality, advanced audio processing, and a host of features, these phones deliver a more holistic solution that speaker phones and other modes cannot and do not typically account for.
In regards to functionality, IP Conference phones typically account for three key features: clear voice quality, seamless conversation, and 360 degree microphone pickup and group voice capabilities. With these features accounted for, these devices are more able to boost productivity while shortening meeting time. Typically, Conference phones are able to pick up sounds from all directions. While this sounds as if it can produce muddled voices (especially if more than one person is speaking), the device's speakers are usually pointed up. This allows the speakers to pick up voices from the room evenly as opposed to mashing them together. Aside from speakers, the body of the phone usually features a keypad—which can be used to dial out—or more commonly, an LCD screen that displays the status of the call.
Much like IP Phones, IP Conference Phones have tools geared towards allowing them to connect to a network– directly over the internet. For example, IP Conference phones require a conference bridge—a specialized piece of equipment that links telephone lines. While Conference calls are generally designed to route participants towards a concurrent call, this bridge helps users call into the conference by dialing a telephone number and connecting to the bridge. These tools are essential in ensuring these devices work; therefore, users should seek out the best quality option. In this regard, users should seek out quality manufacturers (i.e. leading VoIP manufacturers) to fit their needs.
Types of IP Conference Phones:
Conference IP Hardphones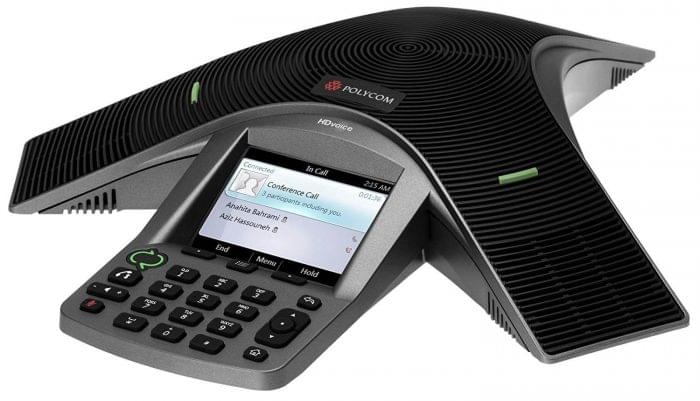 Instead of having a receiver that lifts off the base, conference IP hardphones tend to have a flat tripod-like body with a built-in microphone and speakers that can be used to share a call with an entire room of people. Similarly, you can also find speakerphone IP hardphones that have the same design concept but may not have as many conference-oriented features and may not emit audio in such an omnidirectional way.
Conference IP Video Phones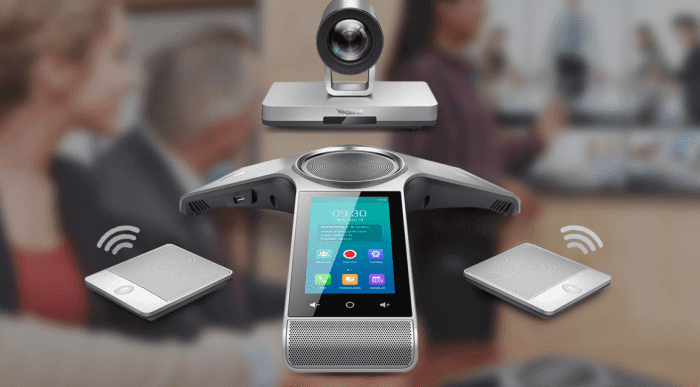 Conference IP Video phones combine the audio quality features of conference IP phones with video cameras.  Generally, the cameras are connected to a PoE via ethernet cables to allow participants to communicate face-to-face.  Many video conferencing systems allow for several cameras to be connected which can then be controlled through the main user interface.
Softphones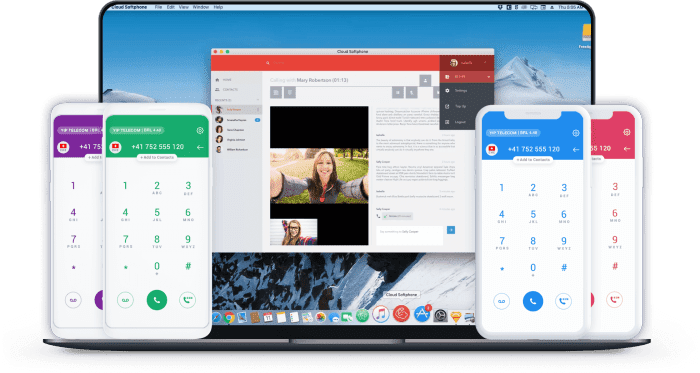 Softphones provide similar functionality as hardphones but exist as a piece of software installed on a computer, tablet or smartphone, thus giving these devices the capabilities of a VoIP phone. This application will generally include all the features you'd expect from a VoIP phone except that it's a software package with graphical user interface (GUI) elements for the interface, such as a software dial pad comprised of buttons you click on a screen.
Most Popular Conference Phones:
Polycom RealPresence Trio 8800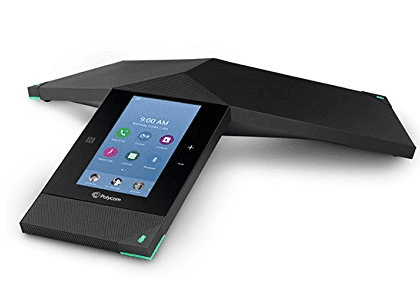 One of Polycom's most advanced offerings, the RealPresence Trio 8800 is a great option to outfit your medium or large sized conference rooms. Two ethernet switches, wi-fi and Bluetooth connectivity make it easy to setup the 8800 and seamlessly link to multiple devices. The 5 inch touch screen makes for simple call controls and some pretty advanced functionality. In fact, the 8800 phone is even capable of working directly with a Polycom video conferencing solution.
But as just a phone, the 8800 is equipped with a 20-foot pickup range, Polycom Noiseblock to help reduce background interference, and even Skype for Business or Microsoft Exchange integration. This phone is also packed with not one but three cardioid microphones as well as a loudspeaker capable of 92 dB — way more than enough to hear across the room.
VTech VCS704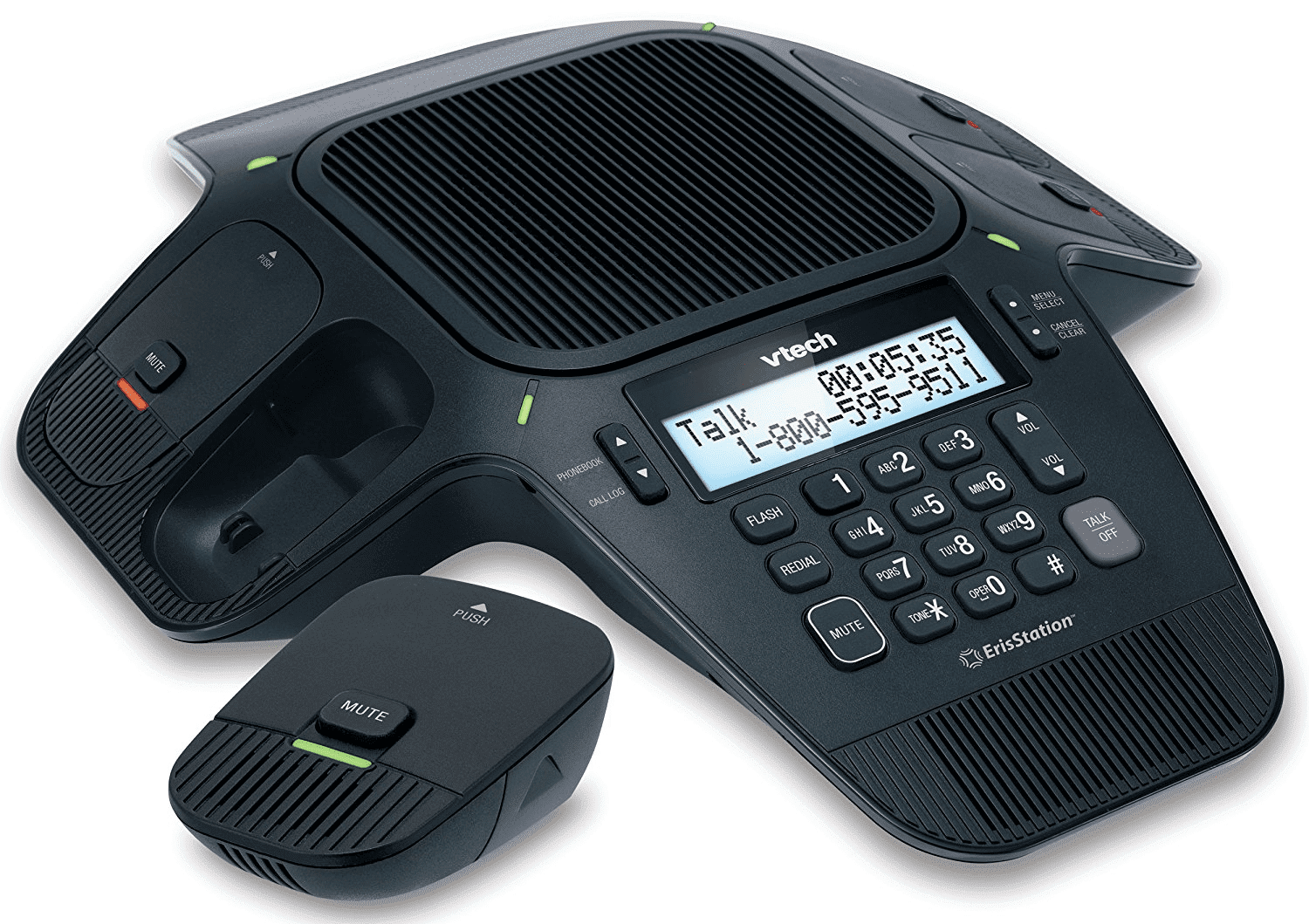 VTech offers some of the most cost effective solutions when it comes to conference phones and similar hardware. Coming in at under $300, the VCS704 also sports a bit of a unique party piece — four wireless DECT microphones along with 2 central fixed microphones in the base unit. With multiple wireless microphones, the VCS704 works great for medium to large conference room, enabling users to extend voice coverage by placing the microphones around the room, or in front of specific speakers to ensure they're heard well.
The microphones also have up to 70 hours of battery life, with 8 hours of talk time, so you don't have to worry about losing connection mid call all the time. Now to prevent any annoying feedback from the wireless mics, VTech built in Echo Cancellation to cut out any overlap, as well as Dynamic Background Noise Reduction to keep things quiet.
Yealink CP960 IP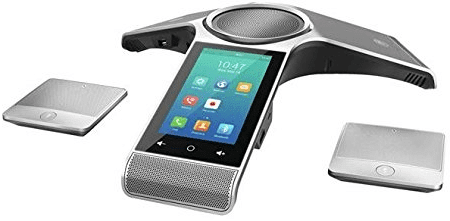 If your team is searching for a conference phone equipped with a touch screen, yet the Polycom 8800 is a little too much of an investment, then the Yealink CP960 might do the job. While still on the costly side, this conference station also includes a 5 inch color touch screen, as well as wireless pairing with Bluetooth, and even USB ports. In fact, what's truly unique about the CP960 is that the phone runs the Android mobile operating system.
The CP960 also supports the addition of two wireless microphones to extend range even further to cover a large area, and has a built in speakerphone. The 5inch, high resolution 720×1280 touch screen makes it simple to navigate and access call controls, and the 20 foot microphone range and the ability to expand the system with speakerphones and other devices makes the CP960 a very capable offering.
Polycom SoundStation IP 5000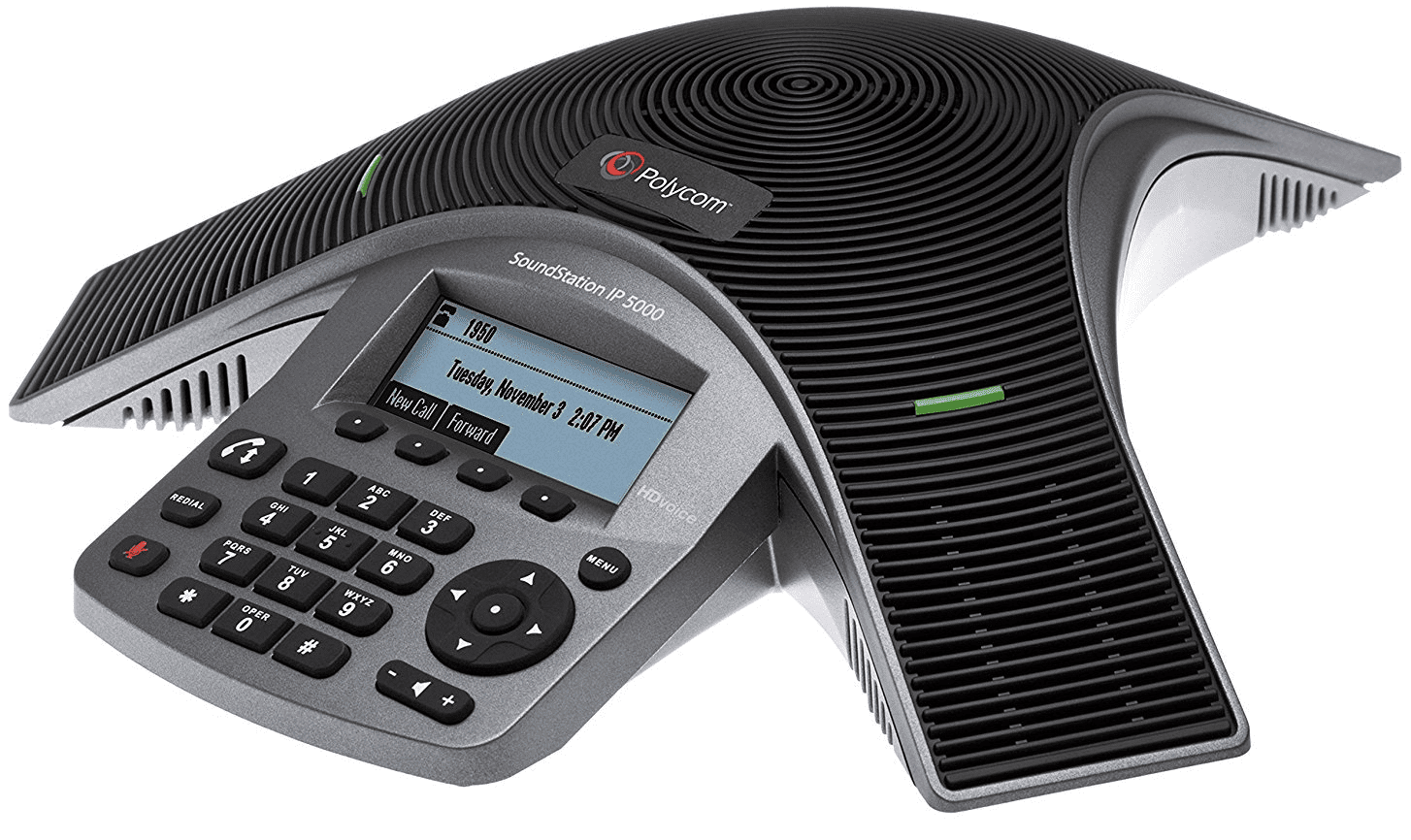 Now if you're looking to stay with the known Polycom name, but don't quite need the extra features and touch screen of the 8800, then look no further than the tried and true SoundStation IP 5000. Without a touch screen, the SoundStation 5000 still provides the great call quality and experience one would expect from a Polycom solution. While the microphone's range might not be the most impressive on our list, this conference phone was designed with smaller spaces in mind, and focuses on providing great sound quality for up to six participants.
Standard feature are of course included, and even some more advanced functions like Power over Ethernet, Polycom HD Voice technology, advanced call handling, security and provisioning features, as well as a high-resolution display. If your team is looking for a basic conference phone with a proven track record, then its hard to go wrong with a Polycom device.
Avaya B149 Conference Phone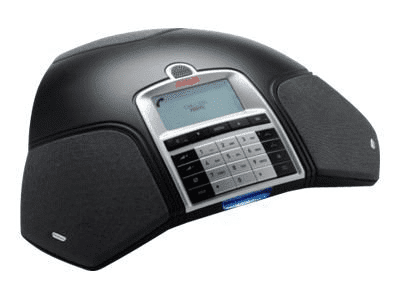 A simple yet sophisticated solution, Avaya's B149 provides great voice quality and compatibility with the industry leading VoIP provider's solutions. As a plug and play solution, the B149 can get your conference room up and running in just a few minutes. Capable of fitting in smaller to large conference rooms, Avaya's standard conference phone includes 360° surround sound, powerful speakers, and of course noise suppression to help keep background noise to a minimum.
As a bit of a unique feature, the B149 also offers call recording right on the device itself. The phone supports an SD memory card to save your recordings on, making it easy to transfer to a computer when necessary. The system has a standard range of 320 square feet, and can also be expanded to an increased range of up to 750 square feet with expansion microphones, like other options on the market.
Grandstream GAC2500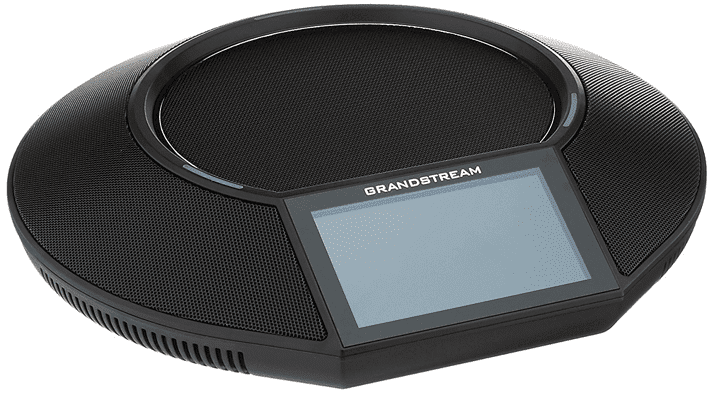 Right off the bat, the GAC2500's party piece has to be the Android operating system the device runs on. With the full Android mobile OS, users gain access to the Google Play app store. This means you can download different applications onto your Grandstream conference phone, or even go ahead and create your own applications to run on the phone. So, even if this phone is missing an important feature, chances are an app exists or your team can simply create one.
For example, instead of using a different solution for call recording, just download an Android app right onto the conference phone. Looking beyond the Android OS, this conference phone is capable of supporting up to 6 SIP accounts, 7-way conferencing, has a 4.3 inch touch screen, and of course supports Wi-Fi and Bluetooth as well as Power over Ethernet. The system also allows for users to daisy-chain multiple phones together to expand the system.
Cisco 8831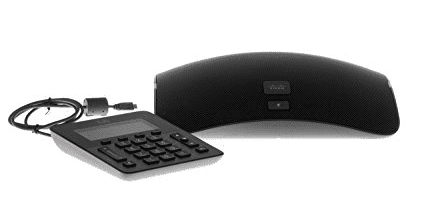 One of Cisco's more recent offerings is their 8831 setup. While an untraditional configuration, Cisco's unique set up actually offers some extra expandability not found on standard conference phones. With an independent control unit, independent speaker and independent microphones, users can customize the setup to fit their exact conference room needs. For a large conference room, expand with more microphones and a speaker phone to reach across the room.
The 8831 is also a wireless setup, allowing for even more flexibility. The display can even be moved around the room separately from the rest of the unit. Cisco claims the device provides an "audiophile sound experience" with its "full-duplex two-way wideband audio hands free speaker." At the end of the day, this is a simple yet scalable solution that can fit the needs of almost any size conference room, from small to large.
Avaya B189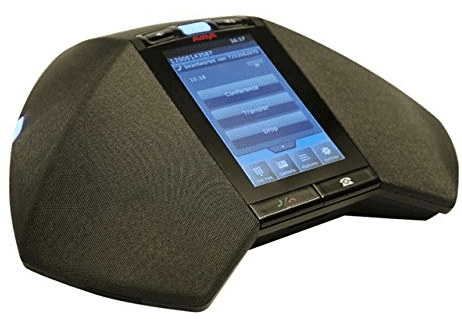 Alongside Polycom and Yealink, Avaya also offers an advanced conference phone with a 5 inch capacitive touch screen to make, setup and control calls. However, unlike the other devices, Avaya's offering is built around their Aura software platform, as opposed to an Android operating system. This enables existing Avaya customers to take full advantage of the platform and other existing Avaya phones. However, that doesn't mean the B189 is only compatible with Avaya service — instead, it supports both H.323 and SIP trunking solutions.
With a large conference speaker, four microphones and "Avaya OmniSound technology," the B189 ensures that everyone is heard, and can be heard no matter where they are in the conference room. At home in medium to larger sized conference rooms, the B189 can pick up voices from a 20-foot radius, and the impressive 96 dBs speaker can be heard from much further.
Additional Reading
What is Telepresence
Hardphones vs. Softphones – Everything You Need To Know
The Best Conference Room Phone Systems and Hardware