Our Verdict: Microsoft Teams is an ideal choice for remote/in-house teams needing a complete collaboration app with video calling, file sharing and live co-editing, whiteboards, and the option to add a business phone system. Slack is a great option for smaller, fully remote teams looking for a free chat app with basic file-sharing capabilities and high-level integrations–especially with their existing video calling software.
Choose Slack If:
You want to replace internal emails with real-time instant messaging capabilities that offer custom push notifications across devices, eliminating communication silos and cutting down on missed information
You use several third-party platforms (file sharing apps, video calling tools, CRM systems, marketing software, etc.) and want to streamline them within a single collaborative workspace
You're a small or new business with mostly remote team members and are looking for a feature-rich and intuitive free chat app
Choose Microsoft Teams If:
You use other apps in the Microsoft 365 ecosystem (PowerPoint, Excel, Word, OneDrive, etc.) and need compatible team chat messaging and video conferencing capabilities
You need a free online meeting platform with native features like screen sharing, in-meeting chat, and file sharing/collaboration to increase employee engagement
You plan to add business phone system functionality in the future
Slack vs. Teams: Summary Table
Category
Winner
Price+Value
Teams: Offers more scalable and complete solutions, including the option to bundle voice calling via Teams Phone
Free Version
Teams: Includes free 1-hour video calls for 100 participants in addition to instant messaging, screen/file sharing, and web versions of Microsoft 365 apps

Team Chat Messaging

Slack: Slack team chat offers user presence, messaging threading, and advanced capabilities like Slack Connect, audio/video clip sharing, and custom workflows
Video Conferencing
 Teams: Teams has advanced native online meeting and webinar tools, whereas Slack offers only on-demand Huddles or video clip recording/sharing
Virtual Whiteboarding
 Teams: Teams offers unlimited whiteboards with simultaneous live co-editing, file sharing, pre-made templates, and advanced collaboration tools
File Sharing+Storage
 Teams:

Teams offers live file co-authoring via Word, Excel, PowerPoint, and other Microsoft 365 apps, plus file storage/organization and in-meeting/in-chat file sharing

Third-Party Integrations+APIs
Slack: Slack offers 2600+ integrations, APIs, bots, and shortcuts that make combining third-party platforms and customizing workflows simple
Customer Support+Network Reliability
Draw: Both providers have limited information about support channels and available support hours, and neither offers the coveted 99.999% uptime
Security+Host Controls
Slack: Slack Connect enables secure guest access, has robust compliance certifications, and provides Enterprise Key Management
What Is Slack?
Slack is a cloud-based instant messaging and productivity platform that streamlines business communications by replacing endless emails with real-time team chat.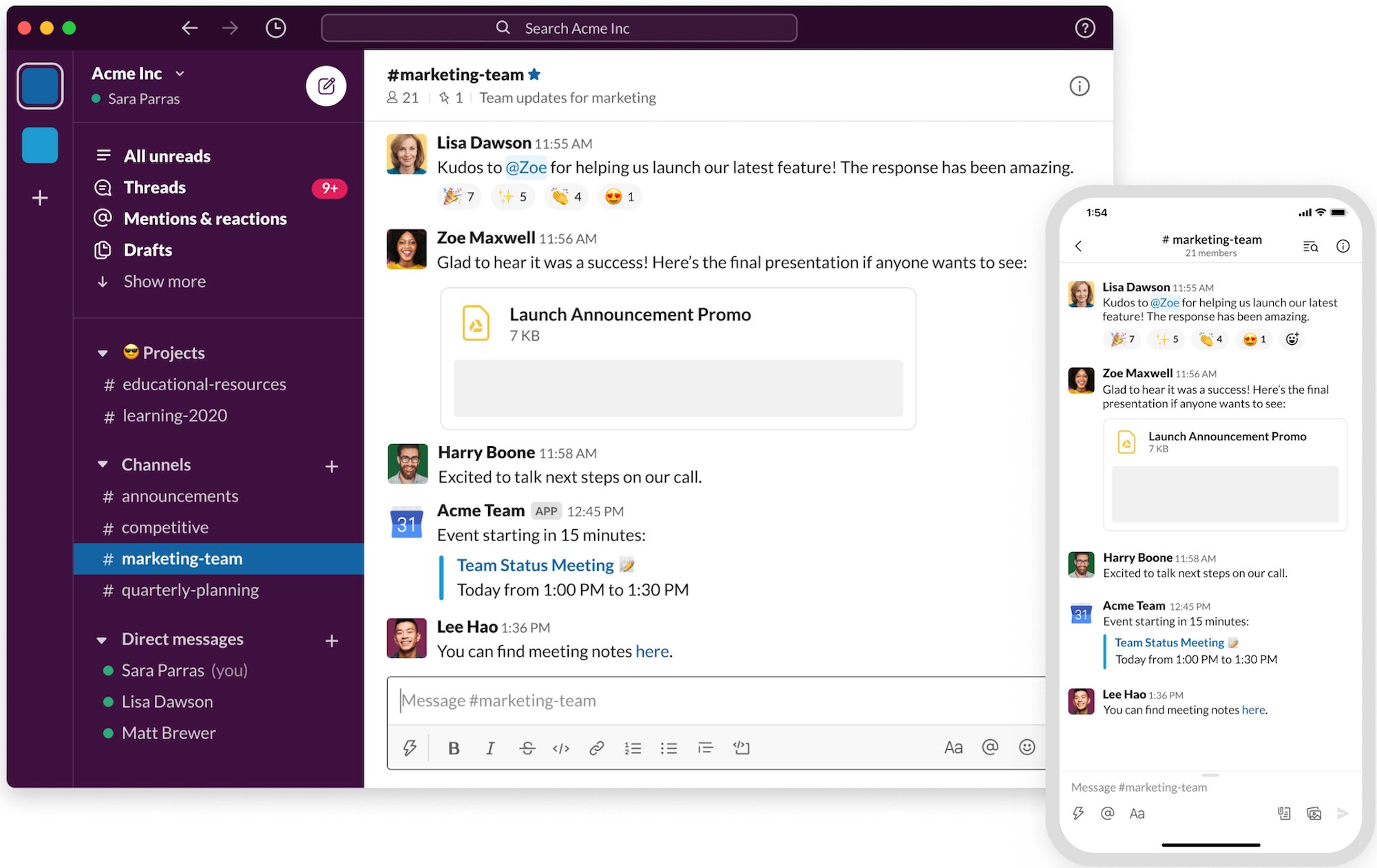 Slack users can create or join public/private channels (messaging workspaces) where they can update their user presence, share files, reply and react to other messages, and elevate chats into one-click voice or video calls in Slack Huddles.
Slack integrates with popular third-party team collaboration and communication tools, lets teams create automated workflows and shortcuts, and enables direct and group chat messaging across desktop and mobile devices.
What Is Microsoft Teams?
Microsoft Teams (Teams) is a voice/video calling, instant messaging, and team collaboration tool available as a standalone application or as a part of the Microsoft 365 Suite (which includes PowerPoint, Excel, Outlook, Word, OneDrive, etc.)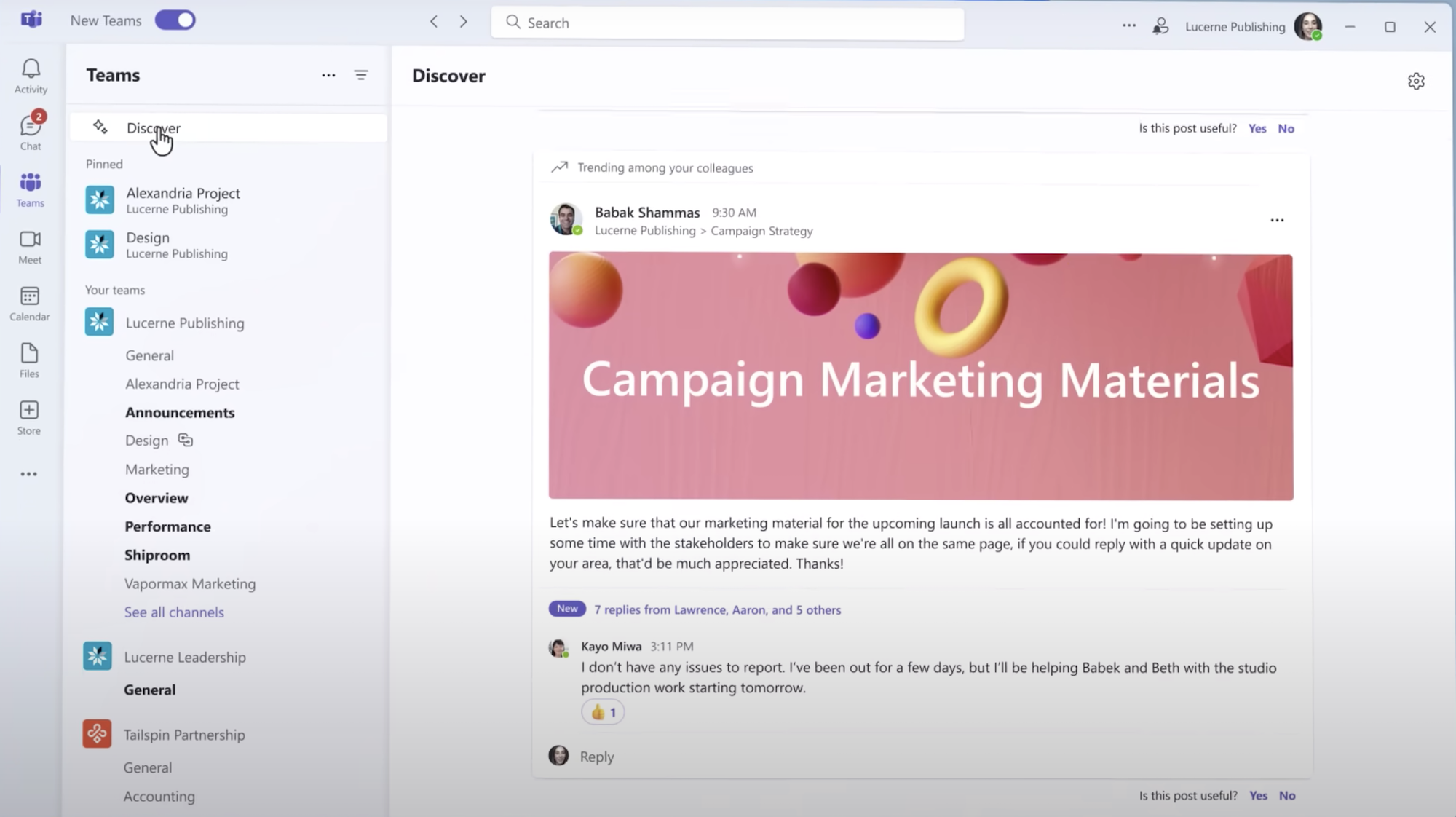 Designed to eliminate the need for most third-party applications, Teams is best known for its web conferencing capabilities, which include breakout rooms, live captions in 30+ languages, screen sharing, virtual whiteboards, and basic webinar functionality.
The default Skype for Business replacement, Teams users can bundle the Essentials Plane with Microsoft Teams Phone, a cloud-based business phone system. Note that Teams is accessible on both Mac and Windows devices.
Slack vs. Microsoft Teams Pricing and Plans
Summary: Both Teams and Slack offer a Free Plan, but the Teams Free version comes out on top by including hour-long video meetings for 100 users in addition to unlimited chat messaging, Together Mode, and screen sharing. Teams also offers scalable bundles of Teams Essentials and Teams Phone, while Slack doesn't offer a native business phone system. However, the Slack Free Plan allows for 10 third-party integrations, while the Teams Free Plan only offers web versions of some Microsoft 365 (formerly Microsoft Office) tools.
Microsoft Teams Pricing
Users can get Microsoft Teams as a standalone application or as a part of the Microsoft 365 Suite. It offers a free plan and a free 1-month trial of its 4 paid plans, which range from $4-$22/user/month when paid annually.
Microsoft Teams Free Plan: Includes 30-hour 1:1 meetings and 60-minute 100-participant meetings, unlimited chat messaging for 100 users, screen sharing, Together Mode, on-demand/scheduled meetings, live meeting closed captions, noise suppression and custom backgrounds,  5GB total file storage and file sharing up to 2GB/user, Word/PowerPoint/Excel Web Versions, Outlook contact importing
Microsoft Teams Essentials Plan ($4/user/month): Adds 24/7 web/phone support, 30-hour meetings for 300 participants, 300 chat users and guest access, Microsoft Whiteboard, breakout rooms, 10GB file storage, 250+ app integrations, meeting recording/transcription, SSO
Microsoft 365 Business Basic Plan ($6/user/month): Adds 99.9% uptime guarantee, Microsoft 365 app access, live meeting captions in 30+ languages, 1TB storage, advanced reporting, multi-factor authentication, collaborative annotations, Microsoft Bookings
Microsoft 365 Business Standard Plan ($12.50/user/month): Adds Versions of Word/PowerPoint/Excel/Outlook/Publisher/Access,  webinar hosting with registration, reporting, and email confirmation
Microsoft 365 Business Premium Plan ($22/user/month): Adds cyber threat protection, access control, and additional security features
Teams Phone Bundles
In addition to standalone Teams pricing, users can save 33% by bundling Teams Essentials with Teams Phone. Bundled pricing is available in 4 tiers from $8-$32/user/month when paid annually, and varies according to available calling features and call type.
All Teams Phone bundled plans include VoIP features like call queues, auto attendants, hold music, simultaneous ring, call forwarding, Caller ID, call transfer, call park, voicemail, call flip, presence-based call routing, and call blocking.
Microsoft Teams Essentials+Phone Plan ($8/user/month): Unlimited inbound calling, requires a calling plan for outbound calls
Pay-As-You-Go Essentials+Phone Plan ($10/user/month, For Country Zone 1 US): Unlimited inbound calling, metered outbound calling
Domestic Calling Essentials+Phone Plan ($16/user/month): Unlimited inbound calling, outbound domestic calling minutes are included in the monthly plan
International Calling Essentials+Phone Plan ($32/user/month): Unlimited inbound calling, outbound international calling minutes included in the monthly plan
Slack Pricing
Slack offers one free plan and 3 paid plans from $7.25-$12.50+/person/month when billed annually (monthly pricing is also available.) A 90-day free trial is available, making it an ideal choice for startups and SMBs on a tight budget.
Free Plan: Slack's Free Plan includes 1 workspace, direct/group chat messaging with public/private channels and a 90-day retention period with searchable message history, file sharing, audio/video clips, 1:1 Slack Huddles, external direct messages, integrations for up to 10 tools, canvases for channels/DMs, custom #general channel permissions, E2EE, 2FA, standard customer support, access to the Slack app for mobile devices
Pro Plan ($7.25/person/month): Adds group Slack Huddles and group messaging with external users, Custom User Groups, unlimited canvas access with 30-day version history, custom sidebar, access to unlimited integrations with 2600+ apps, custom functions, automated Standard Workflow Builder for unlimited published workflows, 1,000 Premium Workflow runs/month, custom retention period, OAuth with Google, 24/7 customer support
Business+ Plan ($12.50/person/month): Adds 99.99% SLA uptime, unlimited channel posting permissions, 2,000 Premium Workflow runs/month, SSO, message data exporting and SCIM user provisioning, four-hour first response time for customer support
Enterprise Grid Plan (Quote-based pricing): Adds unlimited Workspaces, HIPAA Compliance, 5,000 Premium Workflow runs/month, Enterprise Mobility Management (EMM) Integration, Enterprise Key Management add-on, Custom Terms of Service, domain claiming, offline backup and Data Loss Prevention
Slack vs. Teams: Feature Comparison
Below is our Slack vs. Teams head-to-head comparison of the top features.
Team Chat Messaging
Summary: Slack is a team chat application above all else, so it easily surpasses Teams thanks to Workflow automation, shortcuts and slash commands, guest access control, and high-level in-chat integrations. However, Teams has some strong messaging features, including pre-made chat templates and loop components.
Shared Features
Both Slack and Teams offer:
Persistent, always-on chat messaging on desktop/mobile devices
1:1 and group chat messaging with public/private channel creation
Chat pinning, chat bookmarks, chat search bar
Direct replies/message threading
Custom/premade live user presence/status updates
Formatting options (Bold, Italic, adjust font size/color, add lists/numbered lists, etc.)
User tagging, @mentions, favorite contacts
File sharing/storage in-chat
Custom message notifications
Emoji reactions, GIFs, etc.
Slack is known for its intuitive user interface and ease of use–but it also offers some lesser-known advanced features that optimize workflows, enable guest access, and allow for in-chat collaboration.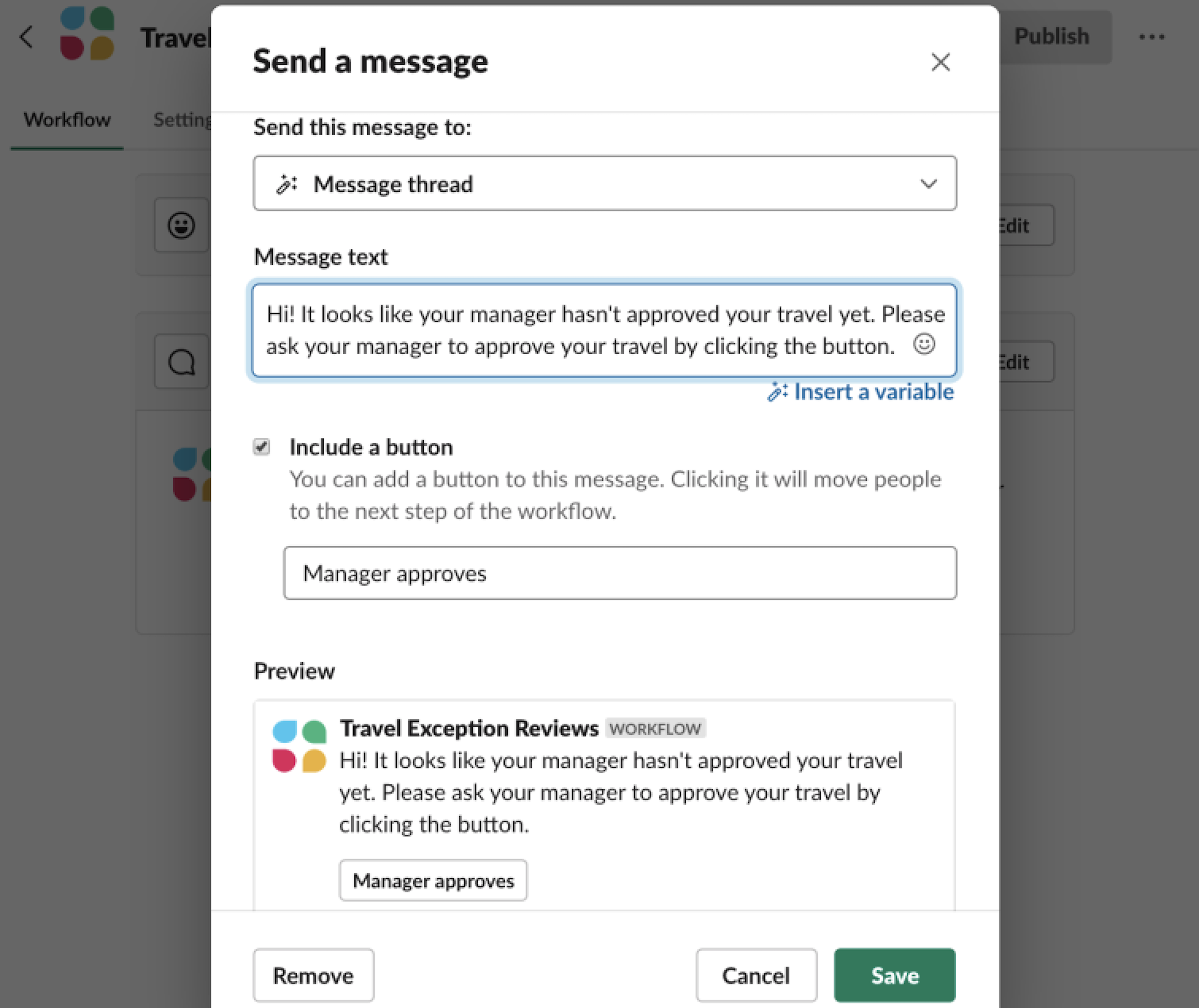 Top Slack chat features are:
Slack Connect: Grant external users controlled, permission-based access to only specific channels and conversations, not entire workspaces
Workflows: Custom and template-based business 1 or 2-step process automation for daily tasks like helpdesk requests, time off management, recurring reminders, forms, etc.
Audio/Video Clips: Users can record and upload video and audio-only clips to Slack messages from their desktop and iOS and Android mobile devices
Shortcuts: Advanced keyboard shortcuts for message formatting, editing, replying, and searching, use slash commands to locate integrated apps and initiate actions, add Slackbots
Teams chat messaging enables real-time team communication and comes pre-loaded with standard chat features. However, its interface is overcrowded by message previews that make it hard to keep track of conversations.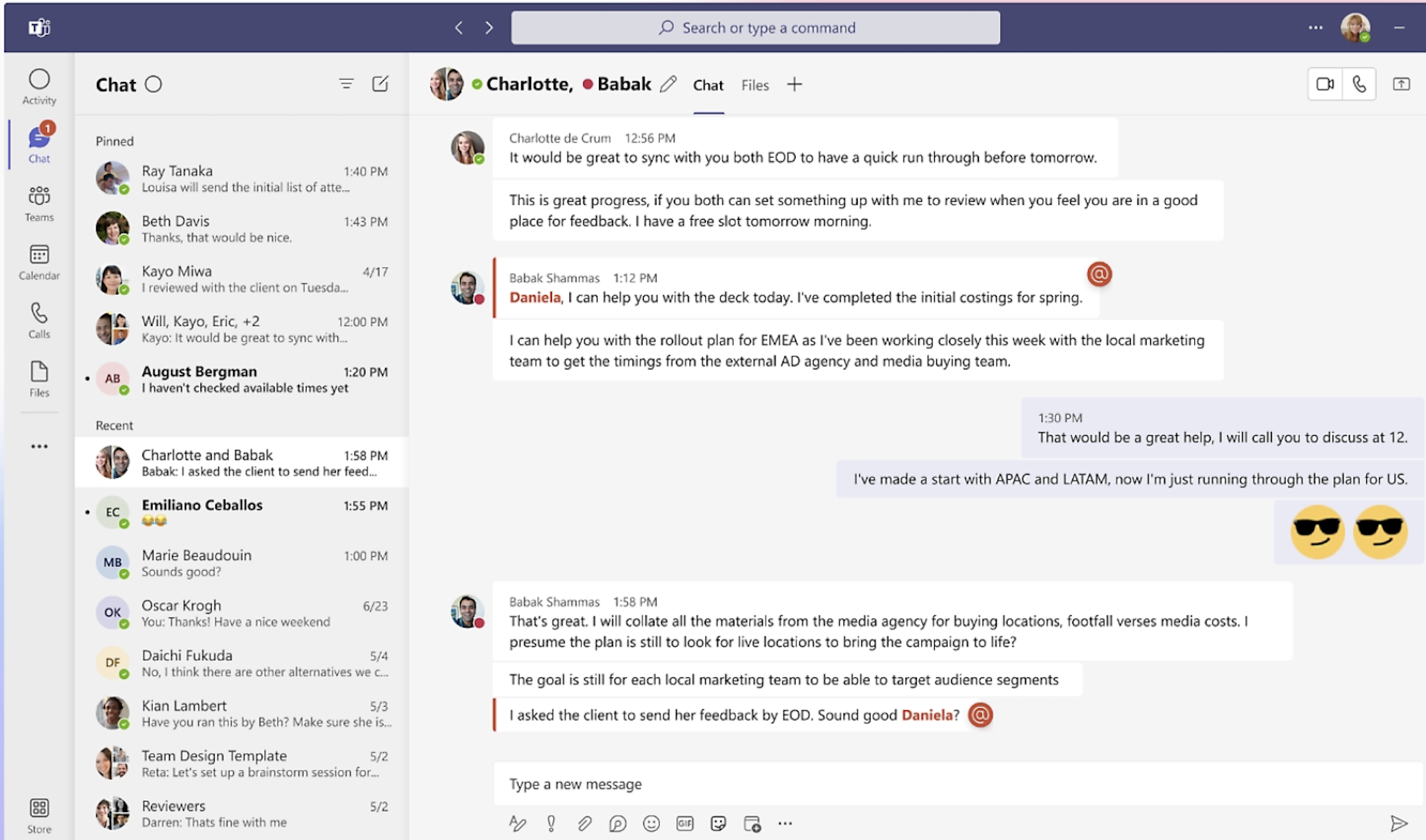 Additional Teams chat features include:  
Loop Components: In-chat formatting options let users insert a table, task list, paragraph, checklist, or agenda with real-time co-editing
One-Click Calling: Because Teams offers native voice calling and video conferencing capabilities, users can instantly upgrade from a chat to a voice/video call with one click
Team Templates: Choose from pre-made templates for event management, project management, employee onboarding, incident response, or industry-specific templates for banks, hospitals, etc.
Video Conferencing
Summary: Video conferencing capabilities are vastly different in Slack vs Teams, as Slack lacks a full-fledged web conferencing feature and encourages users to integrate third-party platforms or meet via a quick Huddle. Microsoft Teams offers on-demand and scheduled meetings for up 300 participants to meet for 30 hours. Teams includes in-meeting features like chat, screen sharing, meeting recording/transcription, breakout rooms, Together Mode, and more. Businesses needing a true, feature-rich video meeting tool should choose Teams over Slack.
Slack
In Slack, users can access video calling via:
Third-party integration with a preferred video conferencing app
The on-demand Huddle feature
Recording/sharing a video or audio clip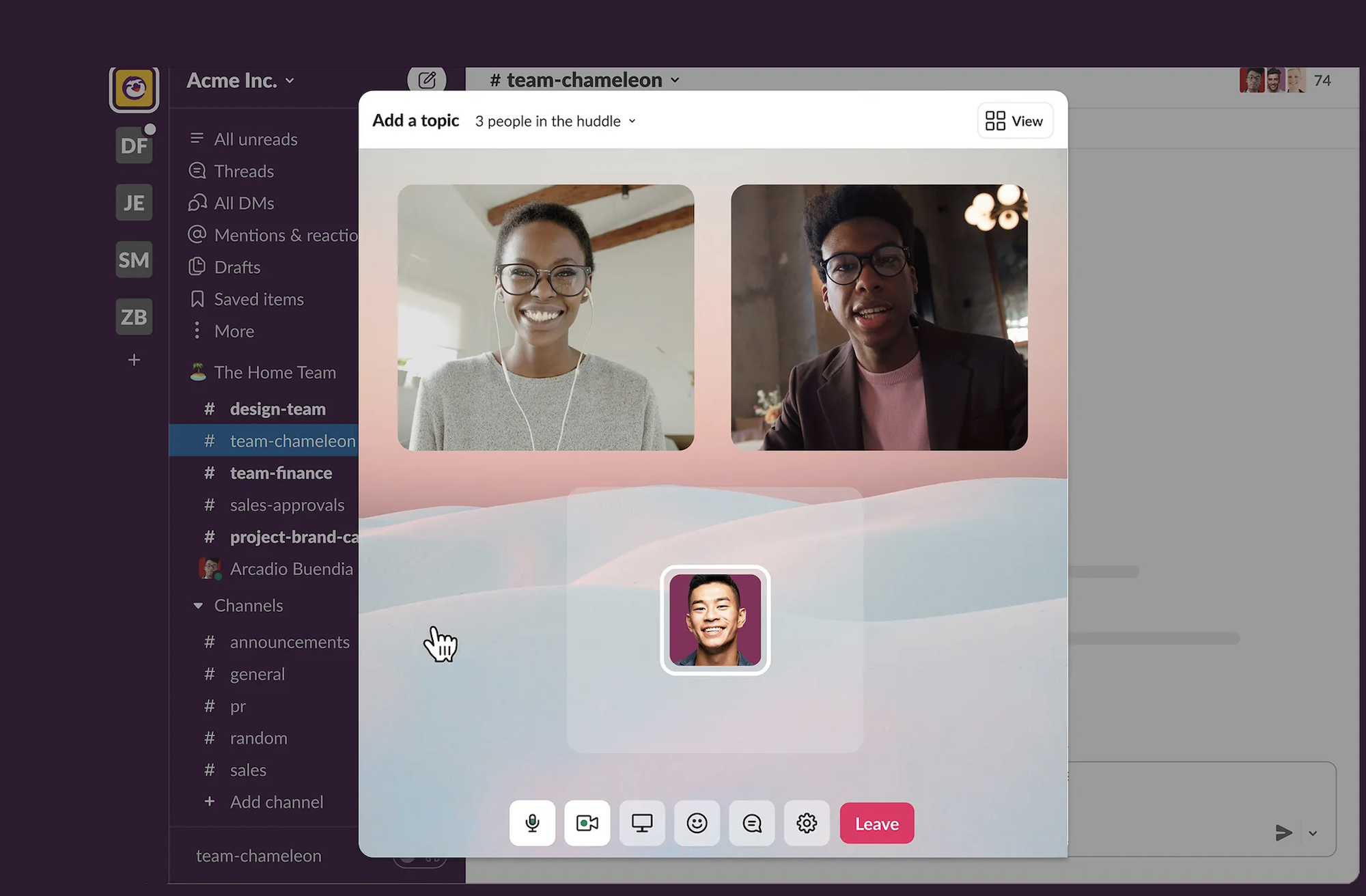 A Slack Huddle is an audio-first, real-time voice and video collaboration tool, but not a true video conferencing feature since it only allows for on-demand, unscheduled meetings. Huddles are always-on virtual meeting spaces for quick check-ins of no more than 5 minutes–not for hosting full-fledged team meetings.
Within a Huddle, Slack users can:
Set Huddle topics and enable/disable video streaming
Chat, react with emojis, send/share attachments, make presentations
Enable screen sharing
Teams
Microsoft Teams includes ad hoc and scheduled video meetings of up to 30 hours for a maximum of 300 participants.
Top Teams Meeting features are:
Together Mode: Creates a virtual shared meeting space via AI mapping with automated cropping and custom backgrounds
Speaker Coach: Personalized insight into total talk time, pace, repetitiveness, filler words, monologue, intonation, inclusiveness, etc.
Teams Premium: Includes AI Meeting Recap with automatically generated notes, highlights, suggested tasks, speaker markers/meeting chapters, custom meeting templates and themes, Virtual Appointments with email and SMS confirmations, appointment management, and forms integration for pre-appointment data collection
Webinar Capabilities: Webinar registration, branded themes, presenter bios, advanced reports, polling, presentations, etc.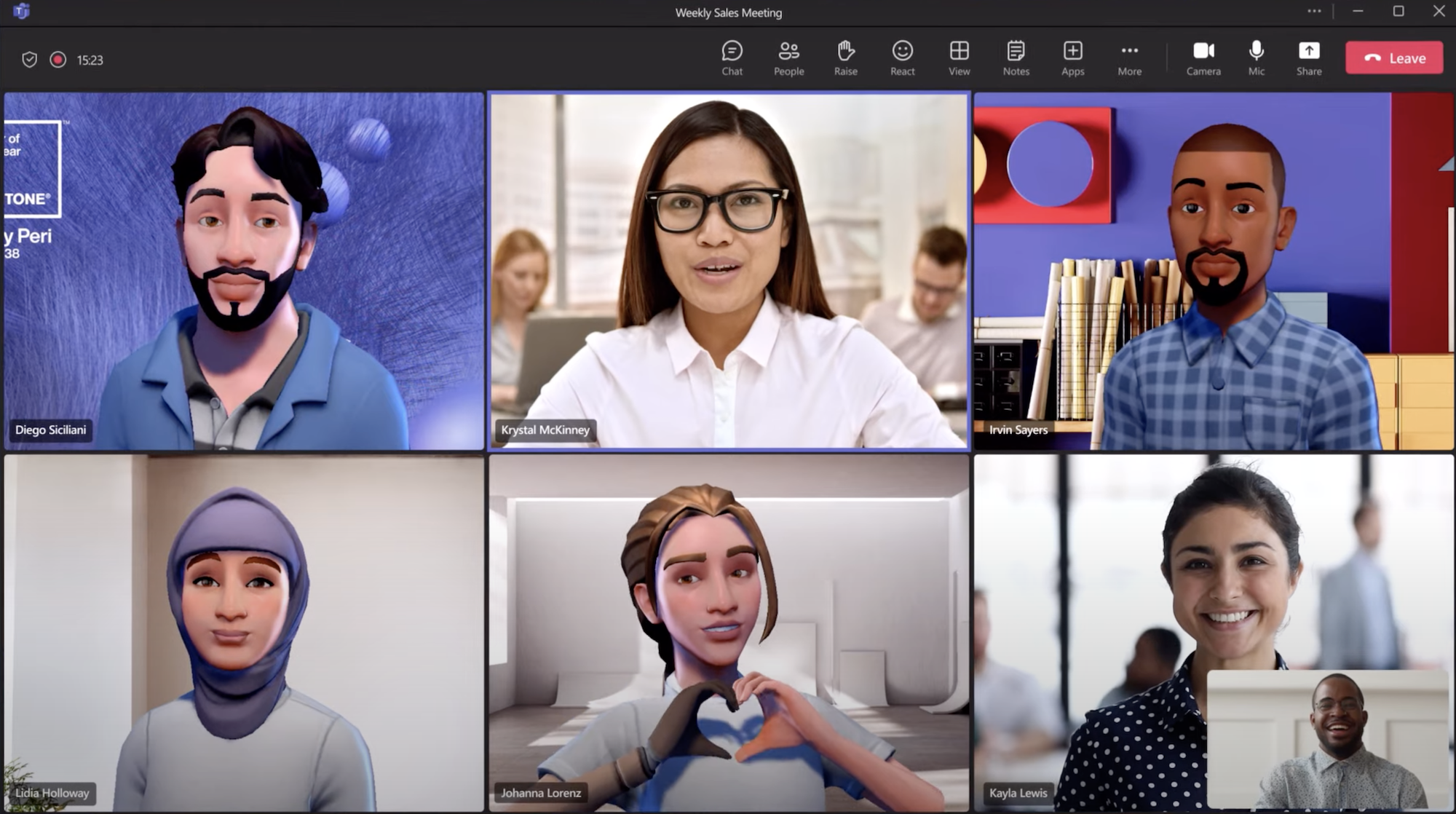 Additional Teams in-meeting features include: 
Screen sharing, presentation mode, whiteboarding, collaborative note-taking
Live chat, virtual hand-raising, emoji reactions
Audio-only meetings
AI-powered closed captioning/translations in 30+ languages
Custom avatars, backgrounds, and filters
View/download participant list
Virtual Whiteboarding
Summary: Teams gives users access to Microsoft Whiteboard, a much more traditional whiteboard tool than Slack's Canvas. Slack's Canvas tool is best for taking meeting notes, making quick to-do lists, and storing project-specific files–not real-time collaboration. Microsoft Whiteboard includes pre-made templates, custom drawing/text tools, and simultaneous collaboration for all meeting participants inside and outside of Teams Meetings.
Slack
Instead of a traditional whiteboard, Slack offers the native Canvas feature on all free and paid plans.
The Canvas feature is a completely blank slate designed to serve as a single source of truth for more long-form project management and team collaboration.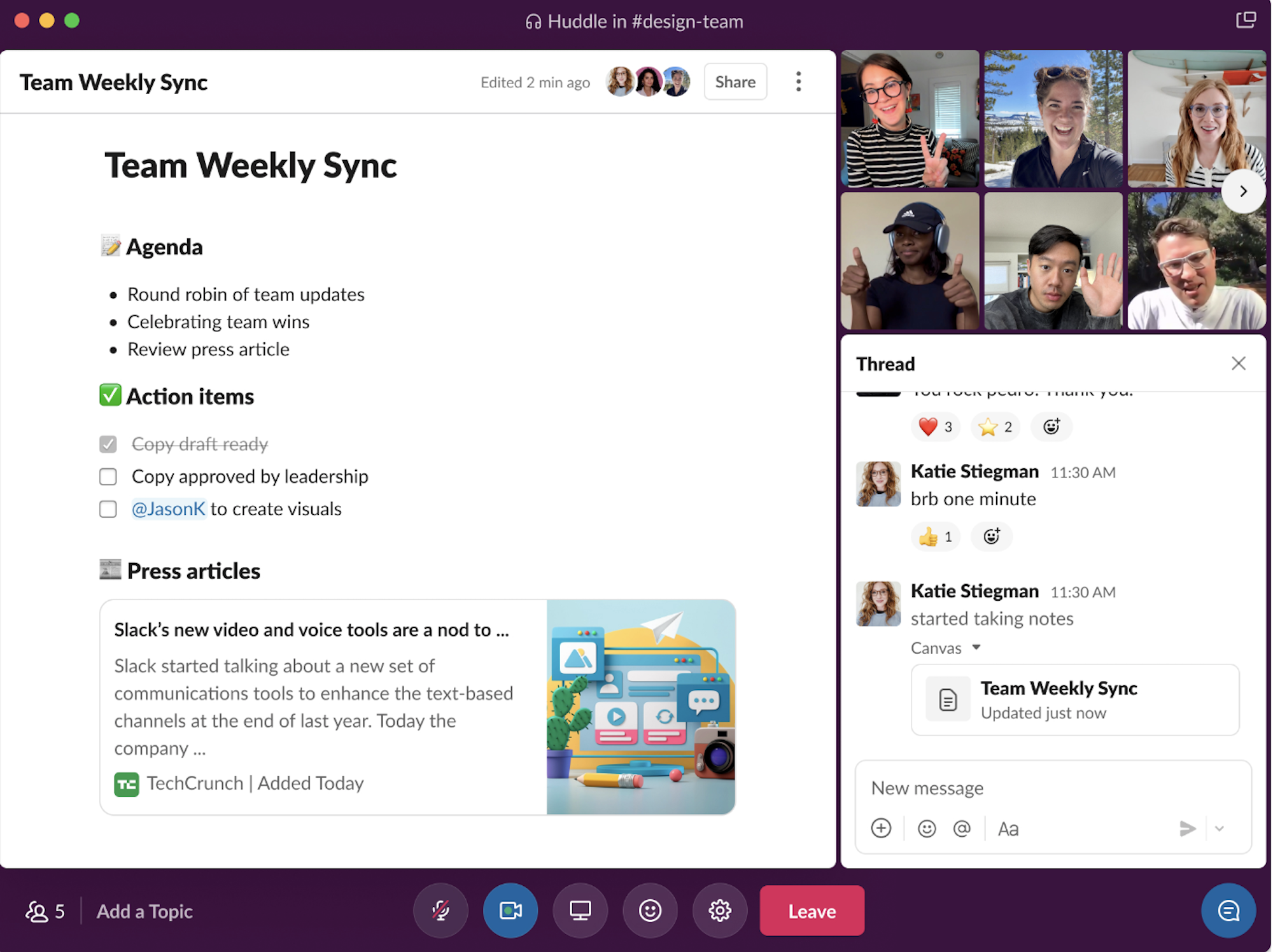 Users can create a Canvas in a channel or from scratch outside of a specific conversation (anyone can also make their own Canvas to store personal notes/reminders.) They're especially useful when used as note-taking tools in a Huddle, during a brainstorming session, or when creating project to-do lists.
Canvas creators can add anyone to a Canvas, enable live co-editing, mention/tag other users, and use additional tools like:
Drag-and-drop files, link previews, and images onto a Canvas
Add comments and emoji reactions to Canvas content
Access Canvases on desktop and mobile devices
Checklist and task management formats
Teams
Teams offers unlimited access to Microsoft Whiteboard in and outside of video meetings. Users can enable simultaneous whiteboard collaboration and co-editing, choose from one of 40 pre-made whiteboard templates, and share whiteboards with other users.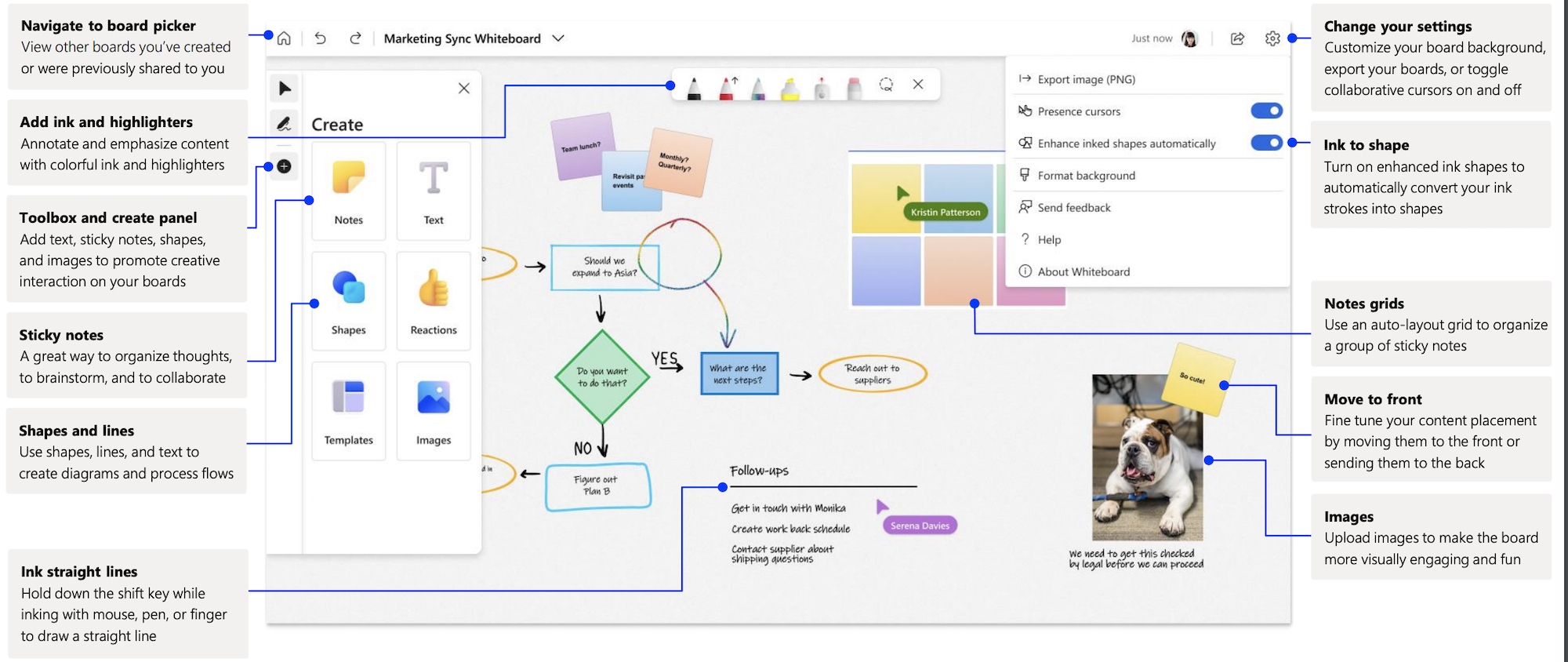 Additional Microsoft Whiteboard features include: 
Unlimited simultaneous co-editing with collaborative cursors, "last modified by" data, and version control
Add images, files, sticky notes, grids,
Draw, highlight, stamp, add text, line, laser pointer, and shape tools
Undo/redo buttons
File Sharing+Storage
Summary: Teams provides in-meeting and in-chat file sharing, live co-editing in compatible Microsoft 365 apps, and advanced file organization and storage. Slack doesn't offer native co-editing but integrates with third-party cloud storage apps.
Slack
Slack users can share files (up to 1GB each) to specific channels, and access stored files in the Files tab. However, Slack does not offer native simultaneous file co-editing capabilities on its platform. Instead, users can create conversation "threads" directly under files with comments, suggested edits, and other relevant discussions.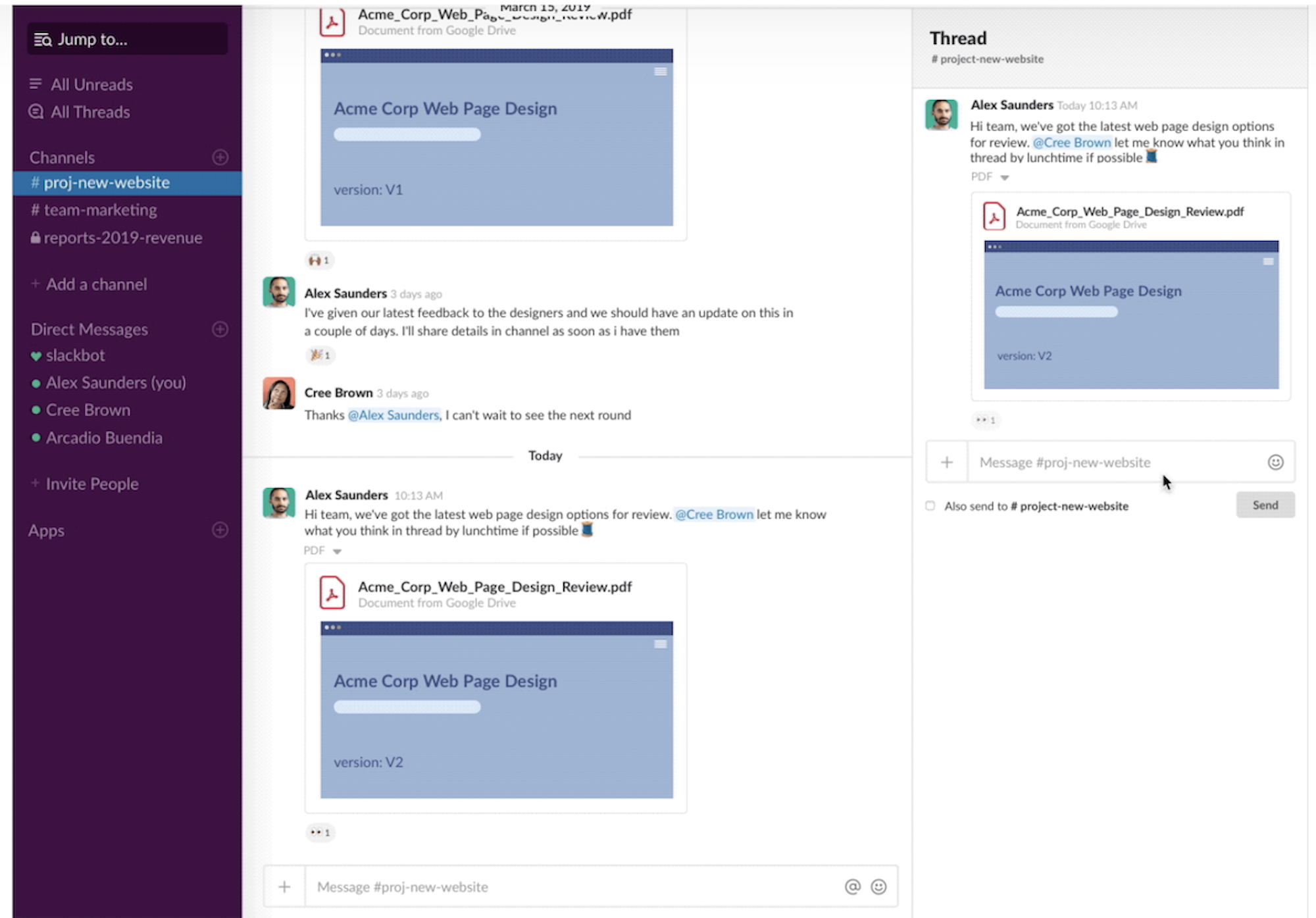 In Slack, users can share files by: 
Using drag-and-drop to attach desktop files/share file links directly in chat messages
Integrating third-party file management tools like Google Drive, OneDrive, OneNote, SharePoint, box, Adobe Creative Cloud, and more to upload/share files in the Slack interface
Users can access shared files by clicking the Files tab in their sidebar, filter files, or locate files via the Slack message search bar. Slack automatically syncs files between devices, but only allows members of the channel where the file was shared to view/edit that file. Files are stored in accordance with your custom or 90-day message retention policy.
Additional Slack file sharing/storage features are:
Add file/image description
Share up to 10 files per message
Image/file previews
Download/delete files
Mention users when sharing files
Create conversation threads under files
Add Slash commands (shortcuts) for file searches
Teams
Teams offers robust file sharing, storage, and co-authoring capabilities with the native Microsoft 365 file management tools Word, PowerPoint, and Excel.
Users can share files directly from Microsoft 365 apps like OneDrive, drag-and-drop files from a desktop to the Teams chat interface, and copy-paste file links. Files are stored in the Files tab, and can be organized into folders or found using the search bar.
Best of all, Teams users can co-edit files in real-time, add comments/notes, make direct or suggested edits, tag other users, and more directly in Word, PowerPoint, Excel, Visio, and other Microsoft 365 tools–no need for app switching.
Teams users can also share files and set file permissions for external guests.
Third-Party Integrations+APIs
Summary: Slack easily outperforms Microsoft Teams in terms of both ease and availability of third-party integrations, bots, and APIs. Slack has never billed itself as an "all-in-one" UCaaS and collaboration tool, and is designed to alongside 2,600 of your preferred business software applications, not replace them. Teams offers only about 250 third-party integrations and actively encourages the exclusive use of tools within the Microsoft 365 suite.
Slack
Slack integrates with over 2,600 third-party applications and even allows Free Plan users to integrate up to 10 tools (unlimited integrations are available for all paid Slack users.)
Users can type in shortcuts or add bots to immediately access third-party integrations directly in the Slack chat interface. Slack APIs allow for both custom applications and custom workflow designs.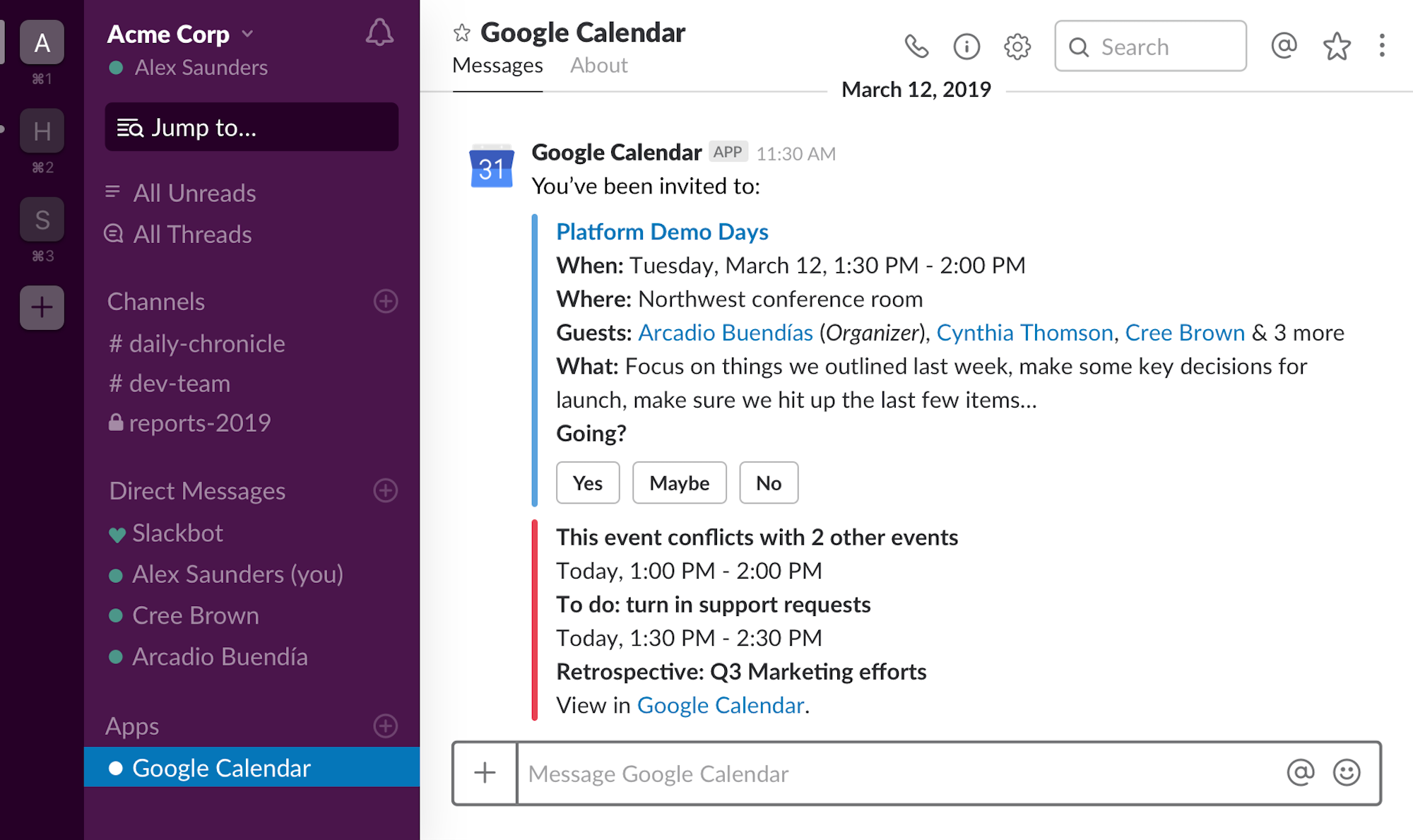 Slack integrates with third-party apps like:
Office 365, Google Workspace, Zoom, Webex
Asana, HubSpot, Calendly, Trello, Mailchimp, Monday.com
Miro, Dropbox, box
Salesforce, Zoho CRM, Pipedrive
Teams
Microsoft Teams is designed to be used as a part of the Microsoft 365 suite of business software, so its third-party integrations aren't as robust as Slack's.
However, Teams does provide seamless integrations with Microsoft tools like Word, PowerPoint, OneDrive, Excel, etc., combining key apps into an easy-to-use, streamlined interface.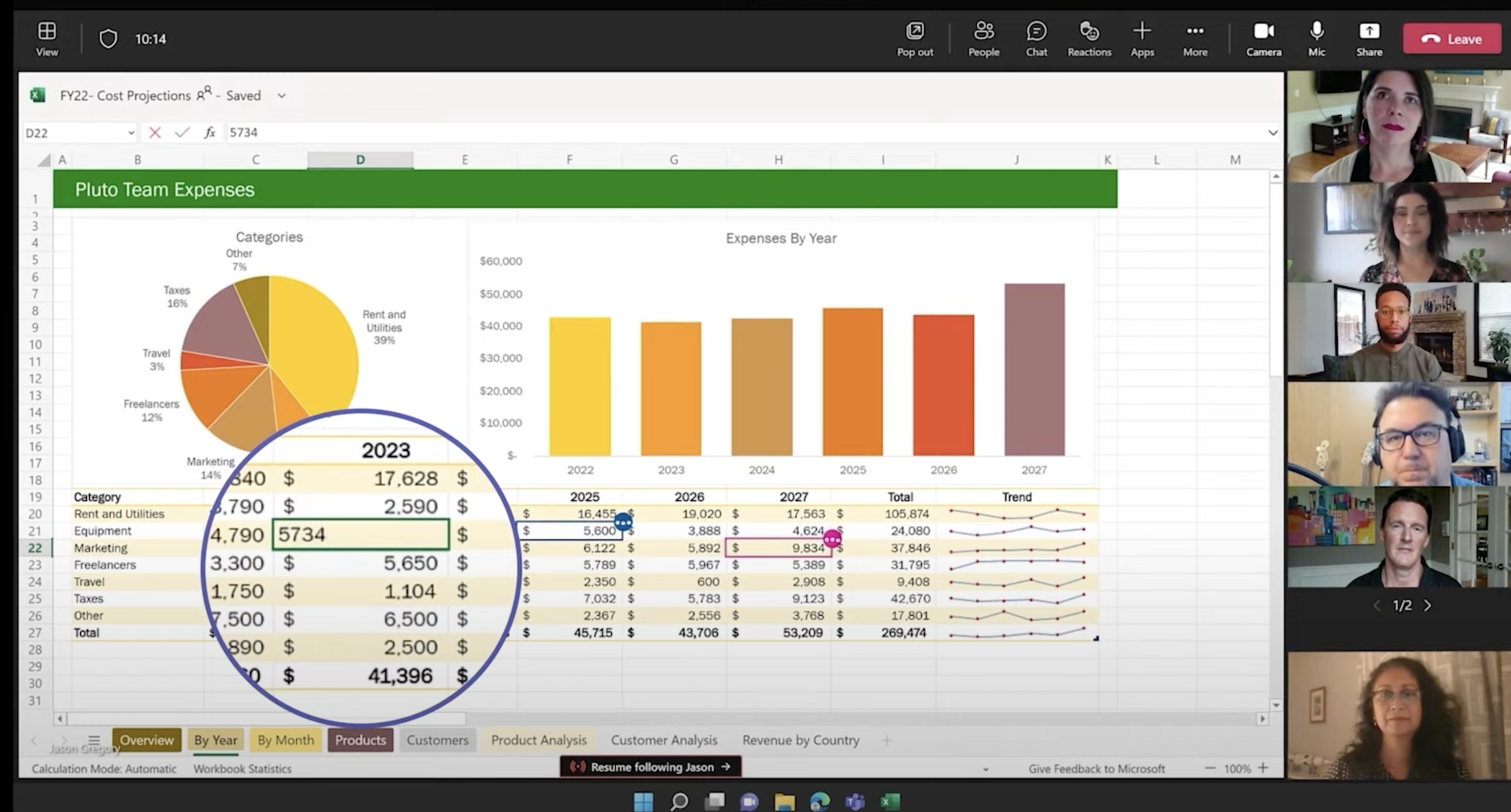 Teams and Microsoft 365 APIs are available, as are integrations with popular platforms like: 
Zoom, Webex, Slack, Wrike
Salesforce, Freshdesk, Zendesk, Zoho Desk
Dialpad, ServiceNow, RingCentral
Customer Support+Network Reliability
Summary: Slack provides limited information about available support channels and network reliability, but does include a 99.99% SLA uptime on top-tier plans. Teams offers only a 99.9% uptime for top plans, but phone and web support is included on all plans. Slack and Teams both have lackluster onboarding and ongoing customer service, and neither offers paid priority customer support.
Slack
Unfortunately, Slack provides little transparency into its support process–especially for free users who are promised only vague "Standard Support."
Slack does offer all users access to an online user knowledge base with video tutorials, email support, online form submissions, and limited support via an online chatbot. Pro Plan users and above gain access to 24/7 support, but there is no information about which support channels are offered. Business+ and Enterprise Grid users are upgraded to a four-hour first response time.
Slack offers a 99.99% guaranteed SLA on Business+ and Enterprise Grid Plans only.
Teams
Teams offers much more robust customer service and support options than Slack, including live chat messaging, phone support, online training and tutorials, user forums, and an online portal in all plans.
However, little information about operating hours and availability by plan is available.
Teams offers a 99.9% uptime for Microsoft 365 Business Basic and Standard users–surprisingly low for such an established company.
Security+Host Controls
Summary: Though Teams offers advanced host controls for video meetings, Slack offers better overall security features and compliance certifications including Enterprise Key Management, Data Loss Prevention, eDiscovery, and SCIM guest provisioning. To access more advanced security features, Teams users must purchase Microsoft Defender.
Shared Features
Slack and Teams both offer:
End-to-end encryption
HIPAA Compliance
Custom Retention Policies
SSO and two-factor authentication
Audit Logs
Teams
Additional Teams security features include:
Sensitivity Labels: Apply to confidential/sensitive video meetings to automate advanced security settings
Meeting Lobby: Meeting waiting room with custom access settings
In-Meeting Hosts Controls: Define meeting roles, add co-hosts,  enable/disable automatic recordings, meeting chat, presenter permissions and video feed, mute/unmute, announce when participants join/leave meeting, manage attendee/presenter views, announce when people leave/join, enable anonymous poll responses
Green Room: Hosts and presenters can join a meeting before participants are allowed in, ideal for practicing/last-minute coordination
File Control: Enable/disable copying and forwarding in meetings, watermark shared content
Slack
Slack provides a much more transparent look into its security policies than Teams. It offers FedRAMP,  SOC 3, FINRA, CSA, ISO/IEC 27701, 27018, 27017, and 27001 certifications.
Slack also offers risk-management features like global retention policies and customized Terms of Service that let owners and admins set clear rules for Slack workspace and channel access. Additional Slack security features include custom data residency policies, GDPR compliance, and Enterprise Key Management.
Slack Connect provides more secure guest access to your Slack Workspaces, verifying businesses and partner organizations, and advanced message access and permission control.
User Experience
Below, we'll explore the pros and cons of Slack and Microsoft Teams.
Slack Pros and Cons
Slack Pros
Intuitive, easy-to-use interface with customizable notifications on desktop and mobile windows via the mobile app
Superior third-party integrations and bots let teams access their favorite business apps directly in Slack channels and conversations
Slack Connect feature enables secure collaboration with external users, allowing team members to invite up to 250 guest users to join specific channels only. Team members can set custom permissions for Slack Connect guests, revoke invitations/remove members, and view member profiles
Slack Cons
Doesn't include native video conferencing features, and the Huddle tool cannot successfully replicate the true online meeting experience. This requires Slack users to integrate a third-party web conferencing tool like Zoom, Teams, or GoTo Meeting
Lacks essential native team collaboration features like file storage, virtual whiteboards, calendars, task management tools, and file co-annotation, meaning it may not be right for large organizations
Limited customer support information, live chat support is not really live/reroutes support questions to email, no available information on whether or not Slack offers live phone or support at all (there is no toll-free support phone number for Slack)
Microsoft Teams Pros and Cons
Teams Pros
Full-featured Free Plan with 100-participant 60-minute video calling, team chat, screen and file sharing, live closed captioning, and more
Seamless integration with Microsoft 365 apps means access to a complete desktop/web-based collaboration suite with file sharing and co-editing, cloud storage, spreadsheet and slide presentation tools, etc.
Available Phone+Teams bundles provide cost-effective cloud communications and collaboration tools on one platform
Teams Cons
Limited third-party integrations compared to competitors, users pressured to switch over to Microsoft 365 software
The over-crowded chat interface is less intuitive and can lead to overlooked messages without well-configured notification settings
The lack of simultaneous screen sharing is a glaring omission in a feature-rich video calling tool
Alternatives to Slack and Teams
The web conferencing and UCaaS providers outlined below are some of the best alternatives to Microsoft Teams and Slack.
| | | | |
| --- | --- | --- | --- |
| Provider | Pricing+Plans | Top Features | Best For |
| RingCentral | 1 free video meeting plan, 1 paid Video Pro+ Plan, 3 MVP plans from $20-$35/user/mont | AI Meeting Insights, Collaborative Notes, 24-hour meetings for up to 200 meeting participants (large meeting add-on available) | Blended SMBs needing a complete and scalable unified communications tool offering team chat, voice calling, video meetings, SMS, and virtual faxing |
| GoTo Meeting | 3 paid plans from $12-$16+/user/month | 24/7 support on all plans, Smart Assistant, Slide to PDF, Unlimited meeting lengths for up to 250 participants | Small businesses needing a basic video calling tool mostly for presentations and brainstorming sessions, or teams using additional GoTo tools |
| Webex | 1 free plan, 3 paid plans from $14.50-$25+/user/month | Live polling/Q&A by Slido, Webex Assistant with in-meeting voice commands, 24-hour meetings for up to 1,000 participants | Teams needing a robust free video calling tool with unlimited whiteboard and local meeting recording, SMBs planning to scale up to a complete business phone system in the future |
| Zoom | 1 free plan, 4 paid plans from $15.99-$25+/user/month | 30-hour meetings for up to 1000 participants, Zoom Phone integration, AI Assistant | Remote teams needing access to a combined business phone system and web conferencing tool with advanced in-meeting collaboration and engagement tools |
| Google Meet | 1 free plan, 4 paid plans from $6-$18+/user/month | Digital whiteboarding, 24-hour meetings for up to 1000 participants | Current Gmail or other Google app users that want to add video calling to their communications stack, any team looking for a free and user-friendly video calling app |