Automatic dialing is an essential part of any call center software stack. In saturated markets where customer demands are high, wasted minutes and misdialed numbers lead to missed sales opportunities, frustrated agents, and poor customer relationships.
Predictive dialers like ReadyMode use artificial intelligence to dial multiple phone numbers at once, ensuring a connected call makes it to a ready agent. Auto dialers help agents to streamline workflows, letting them spend more time talking and less time on manual dialing and redialing.
Jump to ↓
What is ReadyMode?
ReadyMode is a cloud-based predictive dialer software provider for inbound and outbound call centers and sales teams. Formerly known as Xencall, ReadyMode's platform blends VoIP features such as conference calling and analytics with a powerful dialer that includes features such as prioritized dialing lists, unlimited inbound queues and customizable dialer speed.
ReadyMode is known for its ease-of-use and customizability.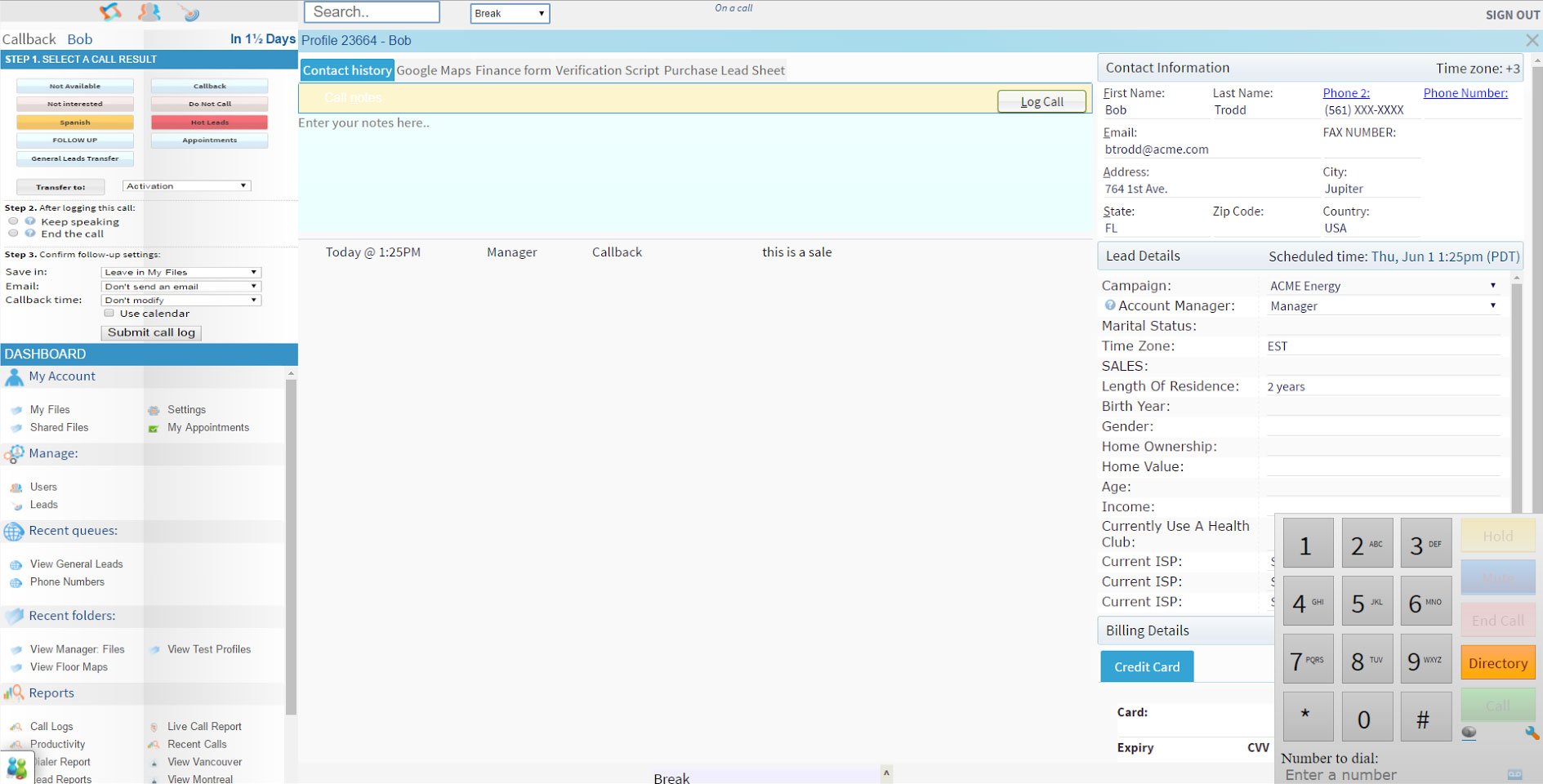 ReadyMode Pricing & Plans
ReadyMode has a traditional monthly pricing model and offers three different pricing plans. All of ReadyMode's features are included in all plans, so the difference comes down to the level of customer support, number of licenses, and integrations needed.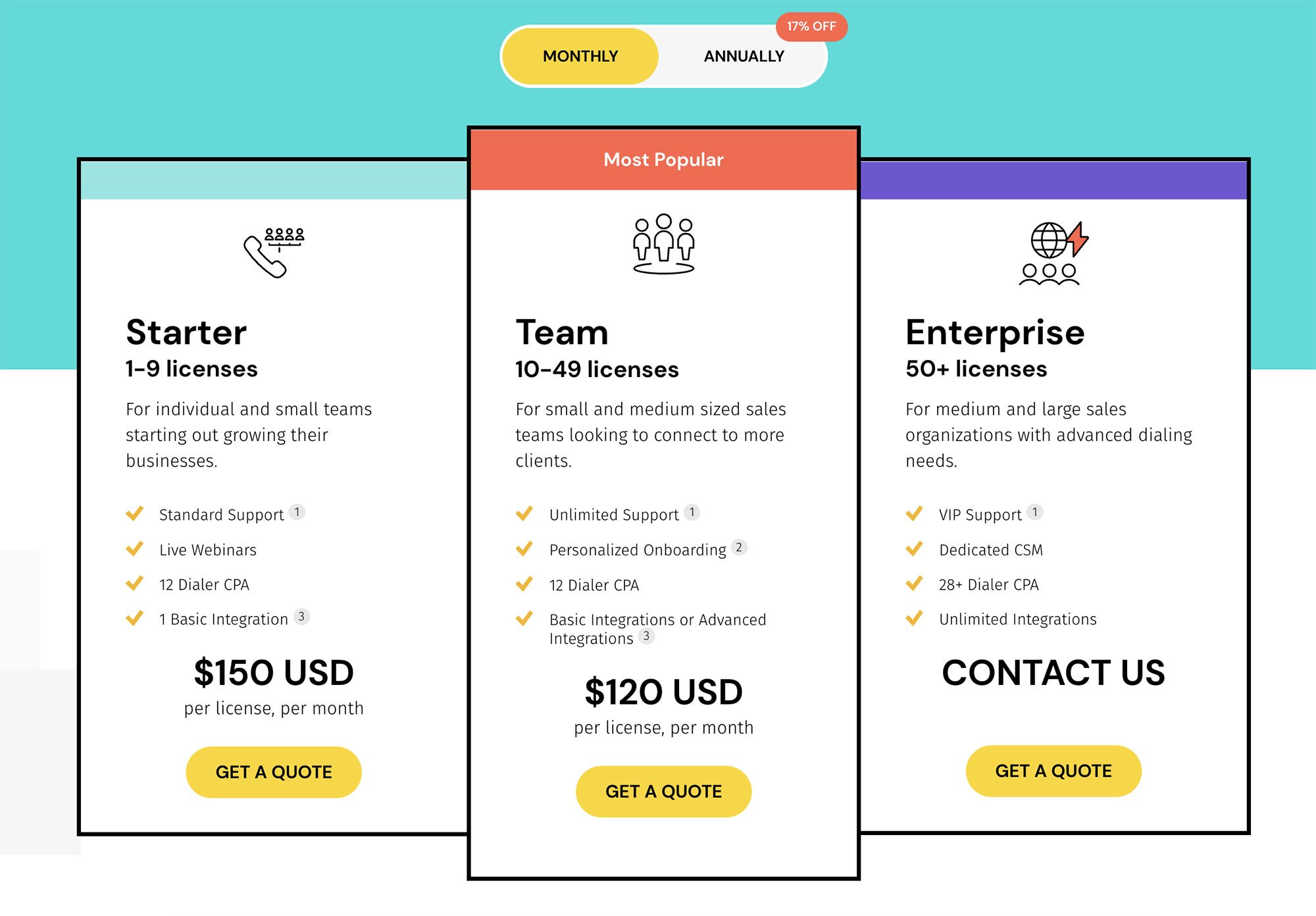 Starter
The Starter plan is for individuals and small businesses that only need 1-9 licenses. The annual cost is $125 per month/license and the monthly cost is $150 per month/license.
The Starter plan includes up to 12 lines per agent, standard support including live webinars, and 1 basic integration. All other features are included. The Starter plan is ideal for new or small contact centers with fewer than 10 agents.
Team
The Team plan is for SMBs that need 10-49 licenses. The annual cost is $100 per month/license and the monthly cost is $120 per month/license.
The Team plan is great for companies that have over ten agents and require more customer support.
The Team plan comes with unlimited customer support by phone or email and includes personalized onboarding. As with the Starter plan, the Team plan includes up to 12 lines per agent. The Team plan also includes basic or advanced integrations. Basic integrations can be implemented in one hour or less, while advanced integrations take longer.
Enterprise
The Enterprise plan is for large businesses that need 50 or more licenses. ReadyMode does not list pricing for its Enterprise plan as it determines pricing based on a case-by-case basis. The Enterprise plan includes VIP customer support, a dedicated customer success manager, 28+ lines per agent, and unlimited integrations.
ReadyMode Features
ReadyMode's auto dialer software is able to dial 12-28 numbers simultaneously. The dialer speed can be customized to a company's specific needs. Dialing lists and email reports can be automated to avoid time consuming data entry.
ReadyMode offers 30 VoIP features, making it an all-in-one predictive dialer. These features are included in all pricing plans.
Here is a quick look at ReadyMode's features.
Inbound-Queue Strategy
ReadyMode enables users to create an unlimited number of inbound queues, prioritize them, and select ring configurations to ensure that every incoming call goes to the best agent for the job.
Dynamic Scripts
ReadyMode includes several scripts that can be customized and used to guide agents through different types of calls. Scripts can be modified or connected to CRM fields. Script display can be restricted to only appear on certain campaigns or to certain users. Admins can change the appearance of scripts by adding formatting, links, and images.

Reporting & Analytics
ReadyMode's reports and analytics feature allows users to monitor KPIs such as calls per agent and total talk time as well as create, filter and export reports.  Reports can be customized from scratch or users can use a template such as call logging, agent report or dialer report. Reports can be filtered by time range, call type, source, campaign, and more.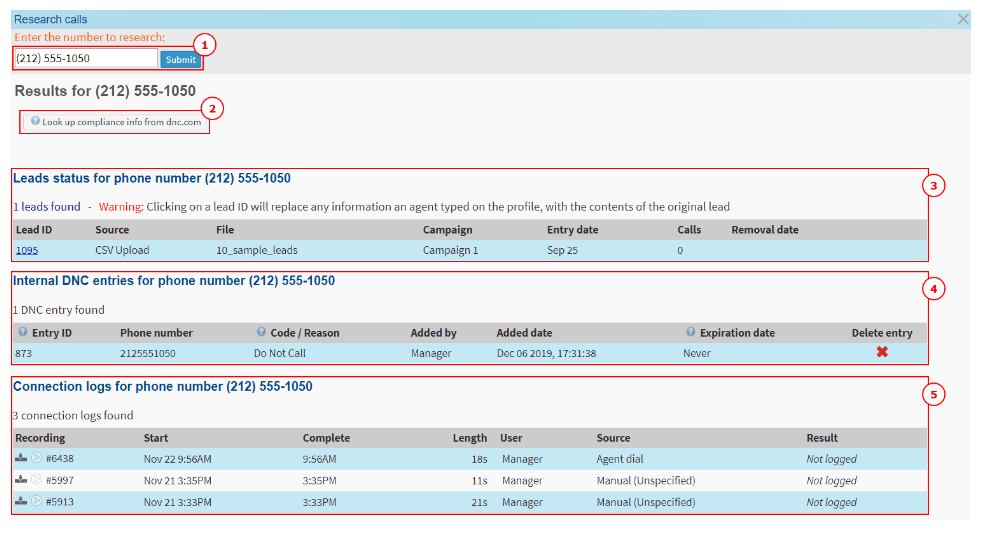 Inbound-Queue Voicemail
This feature enables ReadyMode users to create a voicemail greeting for inbound call queues. Different greetings can be created for different queues. Only those with permission will be able to access the voicemail box.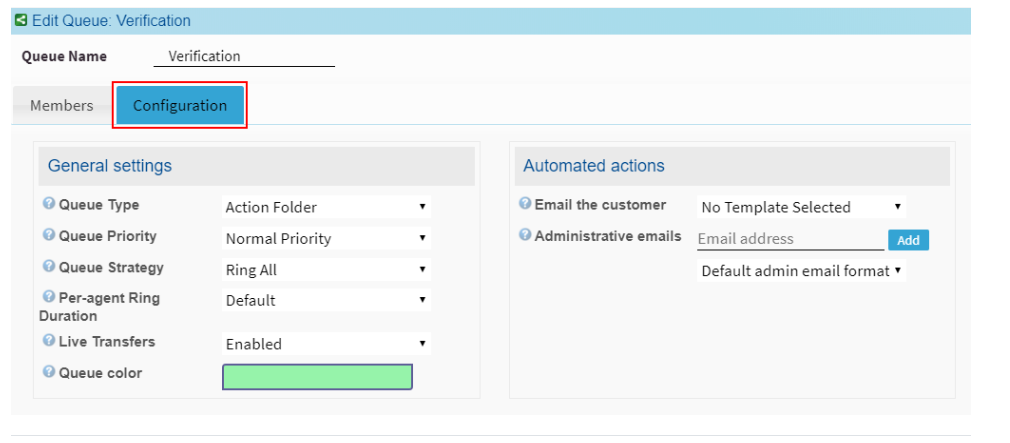 There are four voicemail greeting settings:
Do not use
Activate voicemail if no queue members are ready
Activate voicemail if no queue members are ready or all queue members are busy
Activate voicemail after a 15-30 second ring duration
Do-Not-Call Lists
ReadyMode users have the option to create a Do Not Call (DNC) list for simplified VoIP regulation compliance.
Numbers on this list will never be called by the AI dialer, but can be dialed manually. A DNC announcement can be enabled that will alert agents when they manually dial a number on the DNC list. Numbers can be added to the DNC list as permanent or temporary. The DNC list can be filtered and exported. This feature is particularly helpful for telemarketing call centers.
Call Recording
ReadyMode's call recording feature can automatically record all calls, or supervisors can manually select which calls they wish to monitor in real-time.
If call recording is not automatic, agents will see when a call is being monitored on a display. Admins can choose whether the name of the monitoring agent appears on the display or whether they remain anonymous.
Call recordings are accessible within call logs and other reports.
Other ReadyMode features include:
Custom Dispositions & Queues
Speed Configuration
Dialer and Webphone Built In
Blended Inbound and Outbound
Caller-ID Proximity Matching
Agent & Dial-List Prioritization
Conference Calling
Extensions
Voicemail
Automated Tasks
Live Floor Monitoring
Agent Callback Calendar
Appointment Calendars
Inbound-Agent Intercept
Third-Party Lead Posting
Custom Profile Fields
Firewall Security
Native CRM
API Functionality
Custom Agent Statuses
ReadyMode Integrations
ReadyMode has integrations with 35 third-party apps including CRM platforms such as Salesforce, Zoho and Zapier, productivity apps such as Airtable, and marketing apps such as Hubspot and MailChimp. The number of integrations is limited to one in the Starter and Team plans but are unlimited in the Enterprise plan.
The Starter plan also only allows for a "basic integration", which is defined by ReadyMode as an integration that can be implemented in under an hour. ReadyMode does not have a built-in CRM.
Pros and Cons of ReadyMode
Here are some of the pros and cons of ReadyMode's platform.
| | |
| --- | --- |
| What users like about ReadyMode | What users dislike about ReadyMode |
| User-friendly platform with all features included in all plans | Not a huge selection of integrations, limit on the number of integrations that can be implemented |
| Plenty of options for reporting and analytics | Expensive compared with competitors |
| High level of customer support including 24/7 access by phone and email plus personalized onboarding | Does not include omnichannel contact center features or advanced SaaS features such as call distribution and IVR |
Who is ReadyMode Best For?
ReadyMode is best for medium to large call centers that have a high volume of voice calls, whether those calls are incoming, outgoing or both. For contact centers that deal more with other channels such as email, text and social media and are looking for an all-in-one solution, ReadyMode may not be the best choice because it does include native omnichannel features. ReadyMode could be used with other apps but they would have to be integrated and ReadyMode does limit the number of integrations on its platform. For smaller call centers such as help desks, the price of ReadyMode might be cost prohibitive. For companies with 50-100+ agents that need a high quality automatic dialer and not much else, however, it could be the perfect solution.
No, it is completely legal to use an automatic dialer, however, the Telephone Consumer Protection Act (TCPA) restricts unwanted automatic calls with pre-recorded messages. 

To use ReadyMode's auto dialer, simply switch availability to "ready". When a call connects you will hear a beep and see a lead profile appear on the screen you can then answer the call. 

Most auto dialers range in price from about $19 per month/user to about $30 per month/user