Slack is the go-to team messaging app and one of the most popular collaboration tools, boasting over 12 million active daily users.
Slack has a user-friendly interface, provides public and private channels, and sends out real-time notifications so no one misses essential information. Best of all, it has a robust free version that allows for limited file sharing and searchable history of up to 10,000 messages.
While Slack streamlines internal communication, many feel that the constant messages can disrupt office productivity. Plus, it's no secret that working from home makes it hard for some to stay focused and communicate with team members as quickly as they could in the office.
The following integrations, also known as Slack Apps, keep employees productive and on schedule, while also preventing miscommunications that further delay deliverables.
Essential Remote Work Productivity Slack Integrations

Project management platforms, scheduling tools, and note-taking apps certainly help boost employee accountability and productivity.
But when users must leave Slack, open another app, find the specific information they need, make edits or updates, then re-share that information to their Slack channels, the time saved is instantly negated.
Integrating the top productivity tools found in the Slack app directory means users will be able to access essential features of the other platforms they use without having to jump from app to app.
Note that, when integrating the Slack app versions of some of the platforms below, features may be limited (especially if you opt for the free plans of these tools.) In order to access all of the software's features, you may need to leave Slack and use the other tool's interface.
The below list exclusively outlines features that are available when using Slack.
Asana
Asana is a work management app that combines longer-term task management with the instant communication capabilities of Slack.
Once integrated, users can create, assign, comment on, and complete tasks within the Slack workspace. Users will also get notifications in Slack whenever project status is updated, decreasing the need to constantly switch back and forth between apps.
Asana even lets users automatically create new tasks based on messages exchanged in Slack.
For example, a project manager and an employee can brainstorm ideas (even using those all-important emojis) for upcoming blog posts in a private Slack chat.
Then, the manager can create blog writing tasks for Asana within Slack, assign those tasks to employees, and copy-paste important parts of the conversation into the task description box. Then, they'll be able to set a task deadline and create a project-specific channel for future communication about the blog posts.
Monday.com
Monday.com is somewhat similar to Asana but is a better fit for teams that have highly-detailed tasks and projects that require more team-based collaboration.
Users can create and assign tasks to one another, send public channel project notifications, and sync conversations within Monday.com's chat feature to Slack.
The most distinct feature of Slack for Monday.com is the opportunity to create teamwide Kanban boards. Individual tasks can be "pinned" to each board, and tasks can be color-coded for easier visual organization.
Monday allows users to prioritize certain tasks and update project timelines within the Slack interface.
It also provides in-app links to pages, timelines, and project files that can be accessed only within Monday.com, which means there's no need to lose time digging for documents during a conversation.
Trello
Trello is a visual collaboration tool that operates primarily in a board-based format. Users can add cards (tasks) to each board (project) for a more streamlined project organization.
The Trello Power-Up for Slack is an ideal workflow management integration for Slack teams that operate primarily within a visually-based format, such as designers or architectural firms.
Within Slack, users can add new boards and cards, invite members to join and collaborate on these boards, and add real-time comments to boards.
Users will also receive Slack notifications when tasks are updated, completed, or when a due date is shifted in Trello. They can also set individual or team-wide reminders about certain cards, subscribe to new cards without collaborating on them, and even share conversations held in Slack to Trello boards.
Users can also place relevant Google Docs, screenshots, and other files on cards.
Clockwise
Clockwise is a calendar assistant tool that services primarily as an employee status notification tool.
While Slack has some limited status update options on its own, Clockwise automatically updates employee status based on their work calendar. Not only does this save time, but it also lets employees know the best times to contact each other.
Clockwise syncs employee Google Calendars to Slack daily, and automatically changes the status to "Focus Mode," "Do Not Disturb," "In Meeting," and more.
Every morning, Clockwise provides users with an update of their tasks, meetings, and overall responsibilities for the day. Once the day is over, Clockwise displays the amount of time an employee spent in Focus Mode or meetings, allowing them to better optimize their time in the future. It also provides one-click meeting links in Slack.
Clockwise also has an "Autopilot" feature that automatically adjusts meetings to better fit a team's overall schedule, displays conflict resolutions, and shows the amount of additional "Focus Time" created by making these changes.
Zapier
Zapier is one of the most popular workflow automation tools and is also among the most robust integrations on this list.
Zapier for Slack integrates with thousands of other apps and social media profiles, allowing users to streamline automated workflows across all of the business communication and collaboration tools they're using.
This means that when someone mentions your company on social media, adds an event to a Google Calendar, or even when new lead profiles are created, you receive an update in Slack. You can create a to-do list based on these notifications, comment, and tag other channel members, or move them into the relevant app for later.
Zapier "zaps" let users set automation triggers and responses with ease, and also allows them to see a complete task history.
For example, when an employee updates sales numbers on a spreadsheet, an automated zap response will send a message to the accounting department for verification.
@Must-Read
Because it's so easy to send messages in Slack, the most important ones often end up getting buried.
@Must-Read is a Slack bot that automatically turns essential messages into a task assigned to channels or specific users, ensuring that everyone sees it even if they've left their desk for hours.
It's also an excellent way to send out company announcements, bookmark and save conversations or links to review later, or even to set reminders for yourself.
Best of all, it lets the task creator see which members have or have not yet seen the essential messages. Users can mark messages as "read" or postpone them for later.
It's ideal for those who don't want to use a more robust project management app like Trello or Asana, but who want to be able to keep track of small but still important tasks within Slack.
TimeBot
Especially when transitioning to a remote workforce, tasks and projects aren't always the things that slow teams down the most.
Sometimes, HR issues like time-off requests and employee scheduling can cost managers hours of time every day.
TimeBot for Slack makes managing PTO much easier.
Users can organize employees into teams to compare, approve, or deny requests for time off in Slack. TimeBot also provides a history of all previous time-off requests, allows HR to set PTO limits, and keeps track of employee personal/vacation/sick days taken and remaining.
It also lets managers make company-wide announcements in Slack about upcoming holidays or changes to PTO policy. Automated approval for sick days is also possible, and employees can see how many PTO days they have left.
TimeBot automatically updates the Slack status of anyone who is out of the office, sends notifications when employees are working remotely, and lets employees request days off in Slack.
It even lets users schedule messages for later, which is ideal for remote teams working in a variety of time zones and hours.
GeckoBoard
GeckBoard is an integration that automatically collects and posts a daily overview of metrics and KPIs within Slack.
It analyzes metrics from your company's most-used tools, breaking them down into charts, graphs, and percentages.
It's especially beneficial for newer companies who want to closely monitor their website and campaign traffic. Geckoboard tracks website visitor metrics, CTR, social mentions, newsletter opens, and sign-ups.
Marketing teams can access the most important daily data in Slack, then immediately start a chat conversion about what is and isn't working, referring back to the data in front of them.
GeckoBoard also allows users to:
Monitor growth and marketing campaigns
Track revenue and ROI
Monitor social metrics and customer satisfaction
Share metrics across departments and channels
ZenDesk
ZenDesk helps to shorten support ticket turnaround time by allowing members to create, notate, and update ticket requests within Slack. It has a huge variety of use cases across multiple industries.
Each notification provides a brief overview of the issue at hand, information on who made the request and allows users to assign support personnel to resolve the issue. This allows support staff to not only better understand the issue, but also to collaborate on requests they may need assistance with.
It also helps keep ticket information up-to-date, preventing employees from losing time on outdated information.
Thanks to webhooks, users get real-time notifications when a ticket is updated or solved and can create new tickets with a keyboard shortcut or slash commands.
TrackingTime
TrackingTime is a workflow monitoring bot that lets users track how long certain tasks take, allowing for improved work allocation and more accurate deadline predictions.
It provides live data on employee activities and time management, keeps teams up-to-date on task dependencies and overall project progress, and displays current automated timesheets.
It's ideal for companies that frequently work with outside freelancers, as well as those looking for better payroll management solutions.
Loom
While employee training webinars are an excellent way to onboard new employees or teach them how to navigate a new software, it can be difficult — not to mention time-consuming — to find an effective way to quickly explain a smaller software feature or concept.
That's where the Loom app comes in.
Loom allows users to create videos of their screens as well as front-facing cameras to show clients or other employees exactly how to solve an issue or to better highlight a data point.
Videos come with audio and are shared via a link within Slack.
Making a video is much easier than having to write thousands of words explaining how to resolve a small, lower-stakes issue. Note, however, that Loom is not an app for video calls.
Yala
Productivity tips and analysis point out that employees spend far too much of their workdays on social media — but what happens when constant posting on social is a part of the job requirement?
Yala is a social media automated posting app that saves serious time by allowing social media managers to plan daily or weekly posts within Slack. This allows users to post top content at the ideal time of day for their target market without having to leave meetings or drop current tasks.
Yala also supports multi-channel posting and uses machine-learning and algorithms to determine the best time to post.
Users can upload post previews for approval within Slack, and Yala sends reminders to social media management teams to create additional posts.
Workast
Workast is a project management app and form creation tool ideal for teams that operate primarily within a calendar view format.
In addition to task creation, assignment, and progress reporting, Workast also lets users create subtasks and task topic tags for improved organization.
Workast forms speed up the internal team request process for IT issues and customer service, allowing users to summarize the issue, set a deadline and category, and send the form to the relevant coworker.
Additional features include:
Turn Slack messages into tasks
Live notifications in Slack
Task commenting and tagging
2-way calendar syncing
Task templates
Kanban board views
Doodle Bot
While the cost of inefficient meetings is as high as $37 billion each year, planning and scheduling meetings is another huge time-waster.
Doodle Bot is a personal scheduling assistant that solves this issue. It suggests ideal meeting dates and times by comparing coworker calendars and polling employees. It speeds up the meeting invite process by automatically inviting entire Slack channels or individuals.
The Doodle Bot "Book It" feature allows managers to select and create meetings without team member approval.
Meeting descriptions, participant lists, and status updates are also available, and users outside of Slack can receive meeting invitations via a shareable link.
Outlook and Google Calendar
Outlook and Google Calendar integrations allow Slack users to create, invite, and respond to meeting and event requests.
These integrations automatically sync user status updates to let employees know the best time to reach you, and they provide users with a daily schedule to ensure everyone stays on track.
This is especially good when working from home, as remote workers can join a Zoom, WebEx, Teams, or Hangouts meeting scheduled in Outlook or Google Calendars on Slack.
These integrations also send automated notifications when a meeting is about to begin.
Additional meeting participants, meeting location, and meeting organizers and itineraries are also available.
Standuply
Waiting for team members to respond to emails in Outlook or Gmail is time-consuming and quickly overloads workplace inboxes, burying important information.
Standuply is a daily async meeting bot trusted by Adobe, IBM, and other top companies. Best of all, it's designed to primarily assist remote teams, which is essential given that COVID-19 has rendered much of the workforce remote for an unknown length of time.
Standuply is an all-in-one Scrum Master, meeting scheduling and project management tool that automates agile processes to save time.
Its most unique feature allows users to answer questions posed in Slack via SMS, direct messages, voice recording, or video messages.
Additional features include:
Integration with JIRA, Hubspot, Asana, Github, and Google Analytics
Data extraction from Wrike, MySQL, and Basecamp
Multilingual functionality
Project status tracking and notifications
Task automation
Wrike
Wrike's integration is a task management app designed to improve collaboration and allow for instantaneous communication among project assignees.
Users receive task inbox updates and notifications within Slack, and project members can share task previews in Slack channels for faster navigation.
Note that task creation and assignment can take place in Slack, file sharing and live collaborative editing can only happen within the Wrike interface.
Todoist
Todoist lets users create and share digital to-do lists within Slack — and it's one of the only Slack apps that allows users to switch task assignees if needed.
With space for both work-related and personal tasks, Todoist lets users create custom labels for tasks that show how long the project might take, the department it relates to, priority level, and more.
Once a task is complete, simply check it off the to-do list.
Additional features include:
Due dates
Subtask creation
Calendar view
Meeting agendas
Unlimited project creation
Task notifications
Turn Slack messages into tasks
2-way automatic synching
EverNote
EverNote is a notetaking app that integrates with Slack to help users avoid endless searching through emails and files to find meeting notes.
Take notes while still using Slack to host video meetings or conference calls. Afterward, send these to relevant users or tag people — or keep them private.
EverNote for Slack also allows users to:
Search for and share EverNotes in Slack
Transform Slack conversations into EverNotes
Automatically sync notes to Slack and EverNote
Create tasks and set reminders
Share EverNote images in Slack
Additional Integrations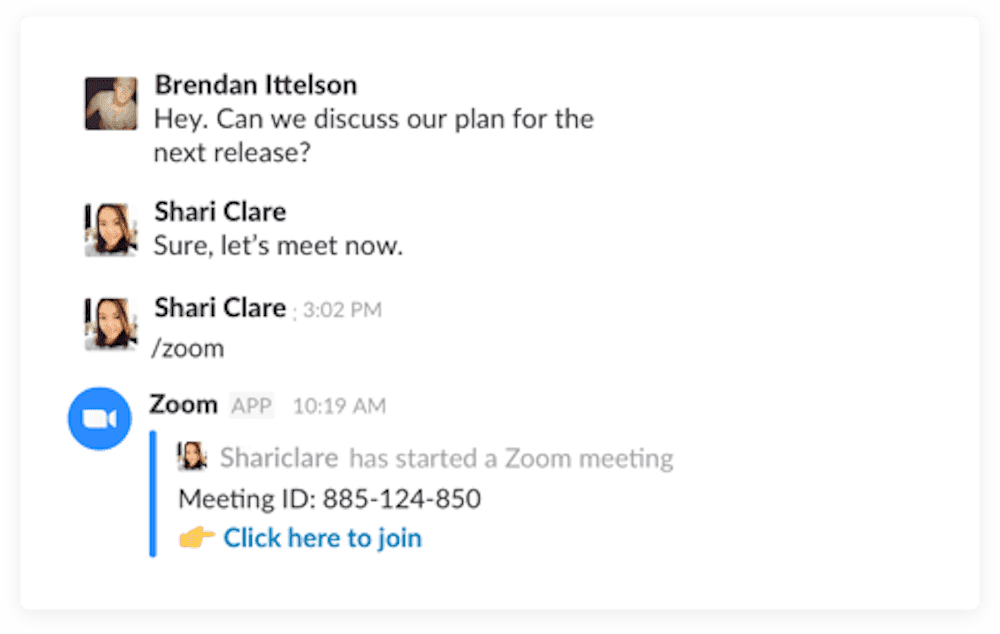 As of this writing, Slack has over 2,000 available integrations in addition to the productivity tools mentioned above.
The following integrations, while not specifically focused on increasing productivity, are just as valuable.
Zoom, Google Hangouts, and Cisco WebEx
These popular web conferencing software options all integrate with Slack, making it easy to schedule instant or future meetings. They also offer features like screen sharing, meeting recording, and breakout rooms for better communication.
Dropbox, Microsoft OneDrive, and Google Drive Files
These integrations make file sharing, in-app simultaneous editing, and version control within Slack possible.
Twitter
Especially essential for news outlets and online retailers, the Twitter integration for Slack allows users to share and upload complete tweets and URLs in Slack channels.
Mailchimp
Create and monitor email marketing campaigns within Slack to ensure that the whole team can contribute to effective ad copy and check for potential editing errors. All track opens, unsubscribes, link clicks, and more.
Gif Keyboard/Giphy
These tools allow users to upload or create their own GIFs in Slack — because a little levity from time-to-time is important.
Integrations for Slack: FAQs
Though Slack is a competitive communication platform, it does have limitations.
The below FAQs address common issues that mean some companies will need to rely on SaaS platforms in addition to or instead of Slack.
Q: How many integrations does Slack's free version allow for?
A: Free plan users can have up to 10 integrations, while paid account users can have an unlimited amount. This means that free plan users may need to rely on additional collaboration tools or top Slack alternatives that have more of the communication features they need.
Q: Can I make my own apps?
A: Slack API allows users to build their own apps and integrations.
Users can select if they want to build a public app, or if they want to create one that's for a specific workspace only.
Q: If I'm on Slack's free plan, are there other limitations to my integration capabilities?
Note that not all Slack apps are available with a free account. Some require users to upgrade to a paid account, while others offer individual pricing plans according to the specific integration.
Top Team Collaboration Tools to Use With Slack
In addition to the productivity apps covered in this post, the majority of popular team collaboration tools offer Slack integration.
Platforms like RingCentral, Microsoft Teams, and Redbooth offer more standard collaboration features than Slack's free plan does.
Team collaboration software that integrates with Slack means employees can still work within a platform they are familiar with, as opposed to having to learn how to use an entirely new chat application.
Our interactive tables and user reviews make it easier to decide which collaboration platform is the best fit for your team, as well as which integrations are worth paying for.