Recent studies on team collaboration tools show that over 80% of companies use collaboration software in both the remote and in-office workplace.
With over 12 million active daily users and counting, Slack is among the most popular of these messaging apps. However, with the remote workforce rising steadily, most companies use more than one team communication and collaboration platform.
Instead of losing time constantly switching back and forth between platforms, use the below Slack integrations to streamline office communication and combine several business tools within the familiar Slack interface.
Table of Contents: 
Task Management Slack Integrations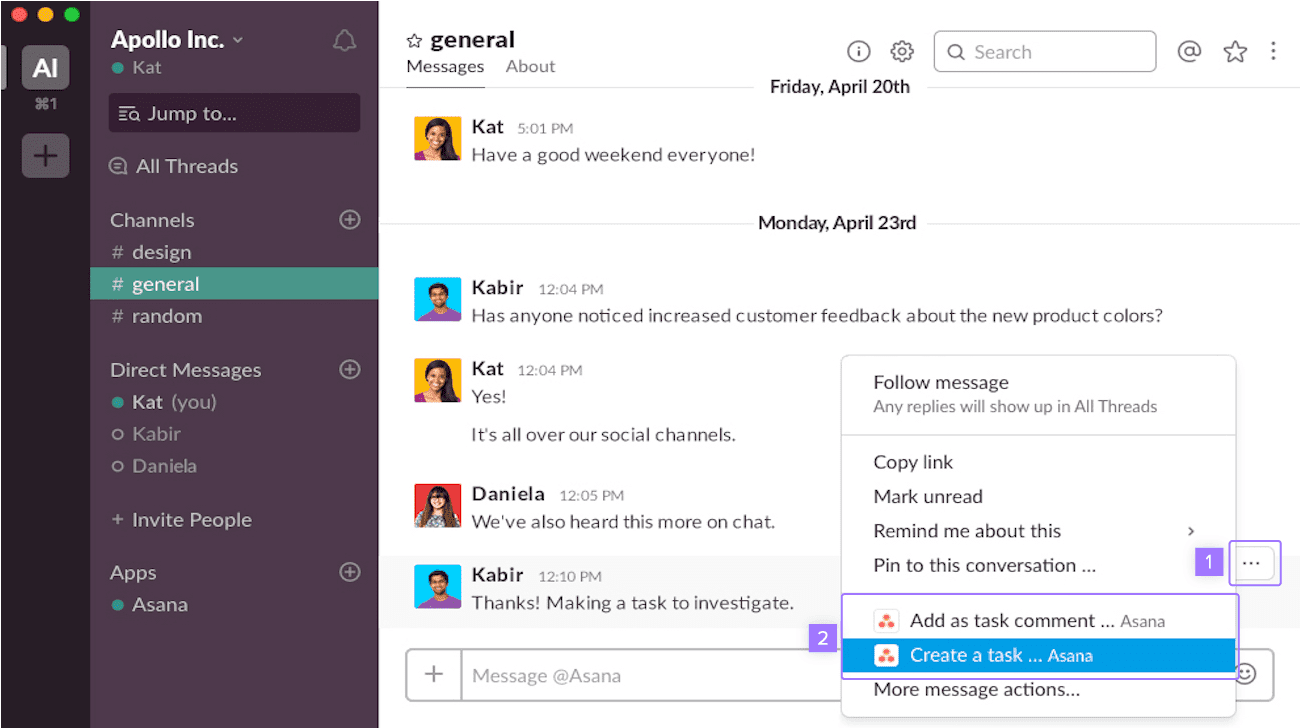 The below project management platforms boost employee productivity and prevent miscommunications when integrated with an existing Slack account by providing features like:
Task creation and assignment
Project status updates
Deadline setting
Automate basic tasks
Asana
Asana is a work management app that combines longer-term task management with the instant communication capabilities of Slack.
Once integrated, users can create, assign, comment on, and complete tasks within the Slack workspace. Users will also be able to:
Get Slack notifications for project status updates
Use Task automation based on Slack messages
Create Asana tasks and projects in Slack chats
Link multiple Asana projects to Slack
Set and change project deadlines
See a list of all upcoming projects/tasks in Slack
Asana has a free version that can be integrated with Slack, and three paid plans from $10.99/user per month to $24.99+/user per month.
Monday.com
Monday.com is a project management app for companies with highly-detailed tasks and projects requiring a higher level of more team-based collaboration.
Users can create and assign tasks to one another, send channel-wide project notifications, and sync conversations within Monday.com's chat feature to Slack.
Additional features include:
Teamwide Kanban boards with pinned tasks
Task color-coding
Task prioritization
Update task timelines in Slack
In-app links to files accessible in Monday.com
There is no free version of Monday.com, which users must have an account with, in order to access the integration. Paid plans range in price from $8.00/user per month to $16.00+/user per month.
Trello
Trello is a visual collaboration tool that operates primarily in a board-based format. Users can add Trello cards (tasks or relevant files) to each board (project) for a more streamlined project organization.
The Trello Power-Up is an ideal workflow management integration for Slack teams that operate primarily within a visually-based format, such as designers or architectural firms.
Within Slack, Trello users can:
Add new boards and cards
Invite members to join and collaborate on boards
Add comments to boards
Receive Slack notifications when tasks are updated/completed
Set and revise task due dates
Set individual or team-wide reminders
Subscribe to new cards
Share conversations held in Slack to Trello boards
Trello has one free plan and two paid plans for $9.99/user per month and $17.50/user per month.
Wrike
Wrike is a task management app designed to improve team collaboration and allow for instantaneous communication among project assignees.
Users can:
Share task previews
Create tasks in a Slack popup
Get live task update notifications in Slack
Set task deadlines, assignees, and descriptions
Note that while task creation and assignment can take place in Slack, file sharing and live collaborative editing can only happen within the Wrike interface.
Wrike is free for up to five users and has paid plans ranging in price from $9.80/user per month to $24.80+/user per month.
@Must-Read
@Must-Read is a bot that automatically turns essential messages into a task assigned to channels or specific users, ensuring that everyone sees it, even if they've left their desk for hours.
Users can also:
Send out company announcements
Bookmark and save links/conversations for later
Set reminders
Show which users have and have not yet read essential messages
Allow users to mark messages as "read" or postpone them for later
@Must-Read is completely free to use.
Workast
Workast is a project management app and form creation tool ideal for teams that operate primarily within a calendar view format.
In addition to task creation, assignment, and progress reporting, Workast also lets users create subtasks and task topic tags for improved organization.
Additional features include:
Turn Slack messages into tasks
Deadline setting
Task categorization
Form forwarding
Push notifications in Slack
Task commenting and tagging
Task notes/summaries
2-way calendar synching
Task templates
Kanban board views
Workast has one free version and paid plans ranging in price from $4.95/user per month to $9.95+/user per month.
Todoist
Todoist lets users create and share digital to-do lists within Slack — and it's one of the only Slack apps that allows users to switch task assignees if needed.
Top features include:
Custom task labels
Task time estimation
Task priority
Deadlines
Subtask creation
Calendar view
Meeting agendas
Unlimited project creation
Task notifications
Turn Slack messages into tasks
2-way automatic synching
Todoist has one free version and paid plans from $4.00/user per month to $6.00/user per month.
HubSpot
HubSpot for Slack allows users to add tasks and support tickets, tagging relevant companies, employees, or specific clients and deals.
It also uses slash commands to make searching for and posting for contacts, deals, KPIs, tickets, tasks, and knowledge base articles possible directly in the Slack interface. Slack also integrates with HubSpot conversations, meaning users are notified in Slack when a chat from their website comes in.
Additional features include:
Respond to website chats in Slack or be redirected to your website
View conversation statuses
Post HubSpot notes to Slack
Live notifications
Two-factor authentication
Voice and video calls
Channel posting permissions
Create a new channel in Slack based on HubSpot Workflows
HubSpot for Slack offers one free plan and a paid plan for $8.00/month per user.
JIRA Cloud
JIRA Cloud for Slack makes it easier to keep teams in sync by connecting relevant JIRA projects to corresponding channels in Slack.
Receive live notifications when new issues are created, prioritize and comment on them, and even filter by ticket or project type.
Additional features include:
Ability to create new JIRA Issues within Slack from messages
Slash commands to subscribe to JIRA events
Customize and update project statuses
Event logs
Add conversations/replies to an Issue in Slack
Label and categorize Issues
Assign tasks and set due dates
View relevant attachments
In order to use the Cloud integration, you'll need to have an existing JIRA plan. There is a free plan available, and paid plans range in price from $7.00/user per month to $14.00/user per month.
Kyber
Kyber is a set of Slack apps designed to increase productivity and manage tasks.
Users can create, add collaborators to, update and follow up with tasks.
It also comes with its own native calendar app and scheduling features that allow users to accept or decline meeting invitations and create meeting agendas and action items.
Users can also schedule messages to ensure that each employee receives them at the best time, included messages imported from Gmail and Outlook. It works with Siri and Alexa to provide NLP features.
Additional features include:
Task file attachments
Multiple assignees per project
Recurring reminders
Comment on tasks
Filter projects by status, employee, date, or calendar view
Messages with bullet lists, in video format
Anonymous, public, and recurring polls and surveys
Asynchronous meeting scheduling
Personal reminders and daily task list
Kyber offers a 14-day free trial, one free plan for up to 5 team members, and two paid plans for $3.00/user per month and $9.00/user per month.
Calendar and Scheduling Slack Integrations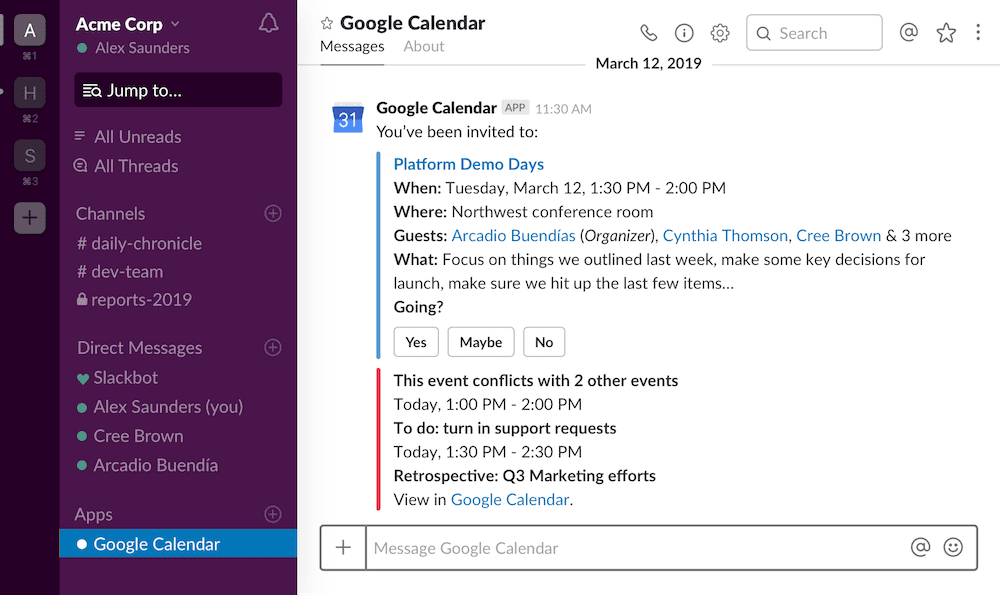 These integrations allow teams to continue to access and update their preferred calendar tool within Slack.
Features often include:
Scheduling meetings
RSVPs
Invitations/meeting itineraries
One-click video meeting access
Google Calendar
The Google Calendar integration allows users to access and update their preferred calendar app within Slack.
Features include:
Schedule Google Calendar meetings, create itineraries and invite guests in Slack
Automatic user status updates based on scheduled events
Event reminders in Slack
Daily schedule rundown
Slash commands
RSVP to Google invites in Slack
Join video meetings with one-click from Google Hangouts
Google Calendar is available for free, but it is also a part of a paid Google Workspace (formerly GSuite) plan. These plans range in price from $6.00/user per month to $18.00+/user per month.
Microsoft Outlook Calendar
The Outlook Calendar integration allows users to schedule, update, and invite guests to upcoming meetings within the Slack interface.
Features include:
Notifications and reminders
Automatic Slack status updates based on calendar
RSVP to calendar invitations
Update RSVP
Join meetings in one click via Zoom, Skype for Business, or WebEx
Microsoft Outlook is available for free or as a part of the Microsoft 365 app suite, which ranges in price from $5.00/user per month to $8.25/user per month.
Doodle Bot
Doodle Bot is a personal scheduling assistant.  It suggests ideal meeting dates and times by comparing team member calendars and polling employees, or by automatically inviting entire Slack channels or individuals to meetings.
The Doodle Bot "Book It" feature allows managers to select and create meetings without team member approval.
Additional features include:
Participant lists
Status updates
Meeting descriptions
Sharable meeting invite link for users outside Slack
A free plan is available, and paid premium plans range in price from $4.49/user per month to $30.00+/month for five users.
Clockwise
Clockwise is a calendar assistant tool that services primarily as an employee status notification tool.
Clockwise synchs with your calendar tool and automatically updates your employee status based on your work calendar. Not only does this save time, but it also lets users know the best time to contact each other.
Clockwise synchs employee Google Calendars to Slack daily, and automatically changes the status to "Focus Mode," "Do Not Disturb," "In Meeting," and more.
Additional features include:
Daily tasks and meetings updates
Displays daily time spent in meetings vs. in "Focus Mode"
"Autopilot" feature that automatically adjusts meetings to better fit your schedule
Displays conflict resolution scheduling options and shows amount of additional "Focus Time" created by making these changes
Clockwise has one free plan, and paid plans available for $5.00/month and $7.00/month for at least 15 users.
Slack Scheduler
Slack Scheduler lets users schedule upcoming Slack messages, especially ideal for those with geographically diverse teams, fully remote teams, or frequent business travelers.
Messages can be scheduled using a slash command in Slack and can be sent to individuals or entire channels.
Additional features include:
User tagging
Repeat messaging
Set user timezone
Add links to messages
Multi-channel messaging
Mass message deletion
It has a free 14-day trial but no free plan. Paid plans are available for $7.00/month for 10 users or $20.00/month for unlimited users.
Human Resources Slack Integrations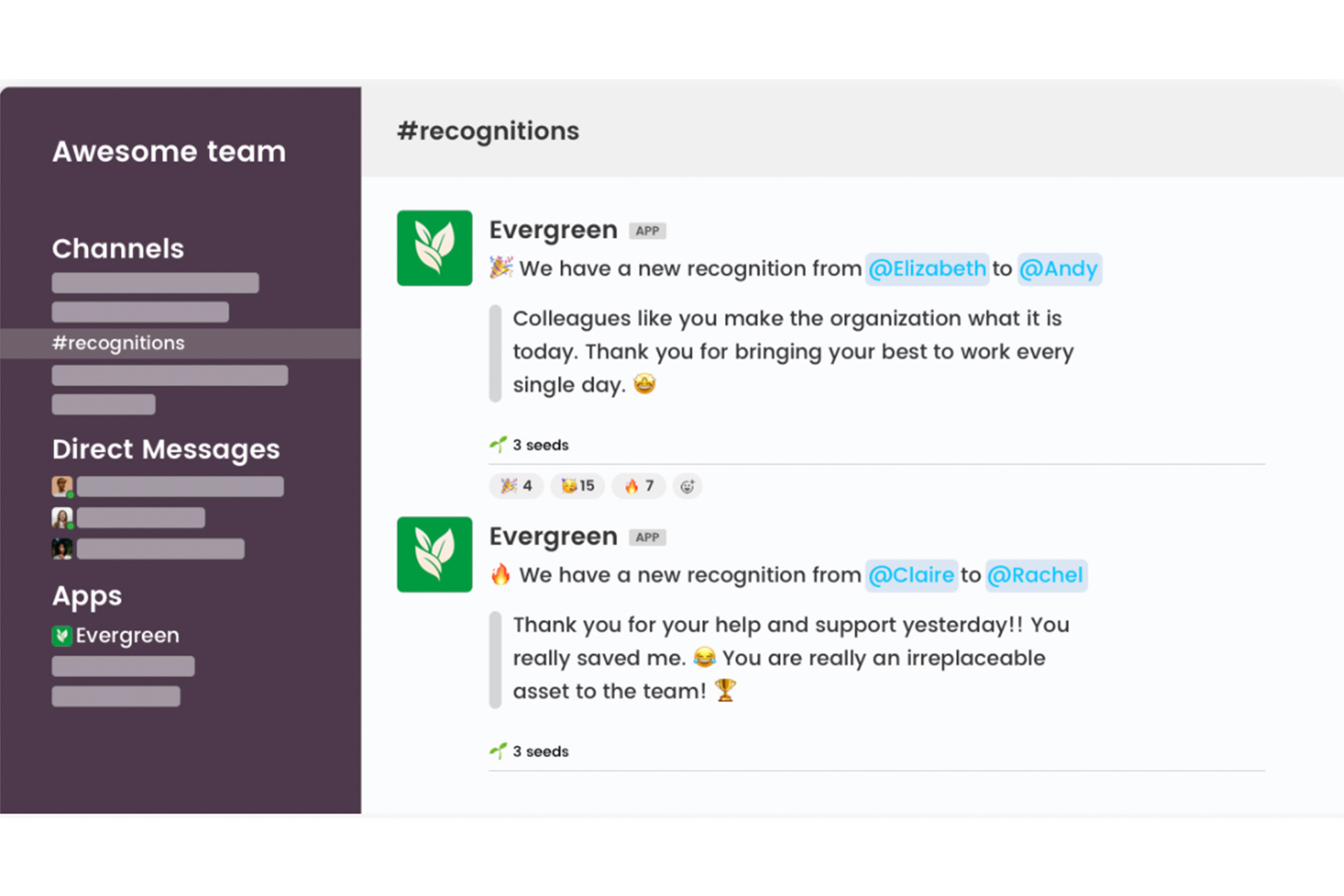 Below, we've outlined the top HR integrations and bots.
These integrations allow users to:
Request PTO
View available remaining time off
Access PTO and HR policies in Slack
Automated sick day approval
Automatic user status updates when out of the office
TimeBot
TimeBot for Slack makes managing PTO much easier.
Users organize employees into teams to compare, approve or deny requests for time off in Slack. TimeBot also provides a history of all previous time-off requests, allows HR to set PTO limits, and keeps track of employee personal/vacation/sick days taken and remaining.
It also:
Lets managers make company-wide announcements in Slack about upcoming holidays or changes to PTO policy
Automates sick day approval
Allows employees to view available sick time and days off
Automatically updates the Slack status of anyone who is out of the office
Sends notifications when employees are working remotely
Lets employees request days off in Slack
Lets users schedule messages for later
TimeBot offers a free plan for up to 20 time-off requests per month and paid plans for $1.00/user per month and $2.00/user per month for unlimited requests.
Greetbot
GreetBot is an onboarding assistant allowing users to share essential documents and websites with new clients or employees.
It also allows admins to assign specific employees to welcome the new hires and guide them through the welcome process. Users can send pre-scheduled, follow-up direct messages and keep track of their activity with message logs.
Additional features include:
Up to 15 pre-scheduled direct messages
Up to 20 unique onboarding channels
Full message history
Greetbot has one free plan and one paid plan for $12.00/workspace per month.
Evergreen
Evergreen is a peer-to-peer recognition tool based primarily in gamification.
Every time a user sends another team member a recognition (a customized message or shout-out that the entire channel can see) they're awarded virtual "seeds." Each user can give out 3 seeds every week to their teammates.
Best of all?
Eco-conscious companies will love that the company plants real trees based on the "seed" rewards. They've planted over 1,750 so far.
It offers a free 14-day trial and is available only via a paid plan for $2.99/user per month.
CRM and Customer Support Integrations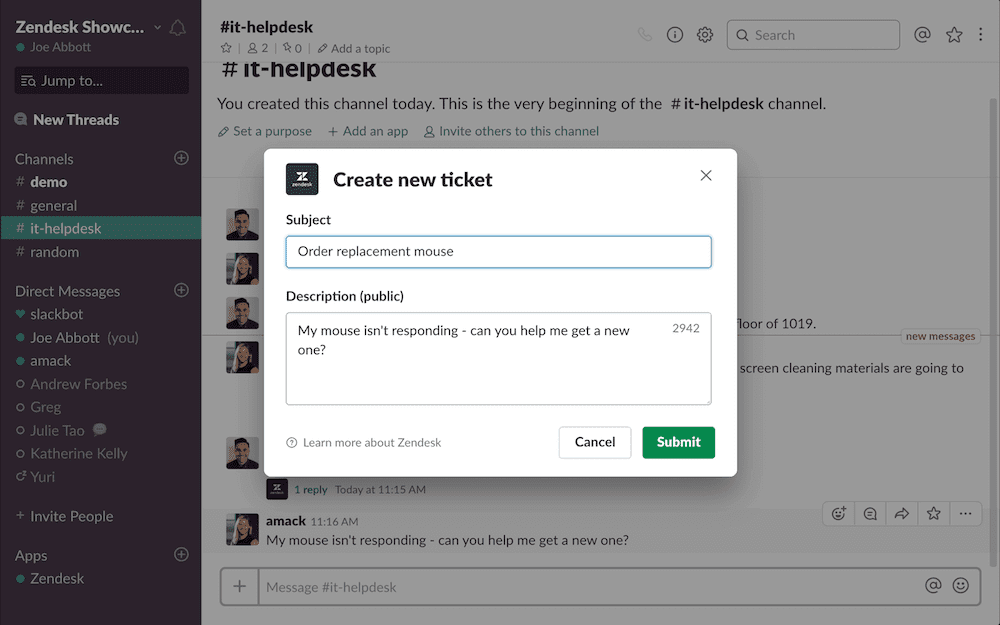 CRM integrations provide essential client information, order history, and past notes needed to provide superior customer service.
Support and CRM integrations include features like:
Ticket assignment and updates
Ability to add ticket notes in Slack
Live notifications on case updates
Meeting scheduling
Zendesk
Zendesk helps to shorten support ticket turnaround time by allowing users to create, notate, and update ticket requests within Slack.
Each notification provides an overview of the issue and customer contact information. Users can also assign specific support team personnel to each ticket.
Users can also:
Get live notifications when a ticket is updated or solved
Create new tickets with a keyboard shortcut
Add internal ticket notes in Slack
Zendesk does not have a free plan, but paid plans range in price from $5.00/user per month to $99.00+/user per month.
Salesforce
The Salesforce integration allows users to view and add new support cases, categorize them, and send them to specific users.
Users can also preview and search through accounts, cases, and more in Slack, and anyone can send specific cases directly to Slack from their Salesforce interface. Add record numbers, the specific channel the case should go in, define the Salesforce Object, and add additional notes.
Other features include:
Two-way message sharing
Share leads and KPIs
Slash commands
Update case status
Notifications
Salesforce pricing begins at $25.00/user per month.
Zoho CRM
Zoho CRM lets users share lead information, customer support requests, and notes within Slack.
Additional features include:
Automated sales updates
View sales records via slash commands
Create specific channels for customer service representatives
Upload screenshots of customer data
Notifications and reminders
Schedule and update future meetings/calls
The Zoho CRM free plan can host up to 3 users, and paid plans range in price from $12.00/user per month to $45.00/user per month.
Time Tracking Integrations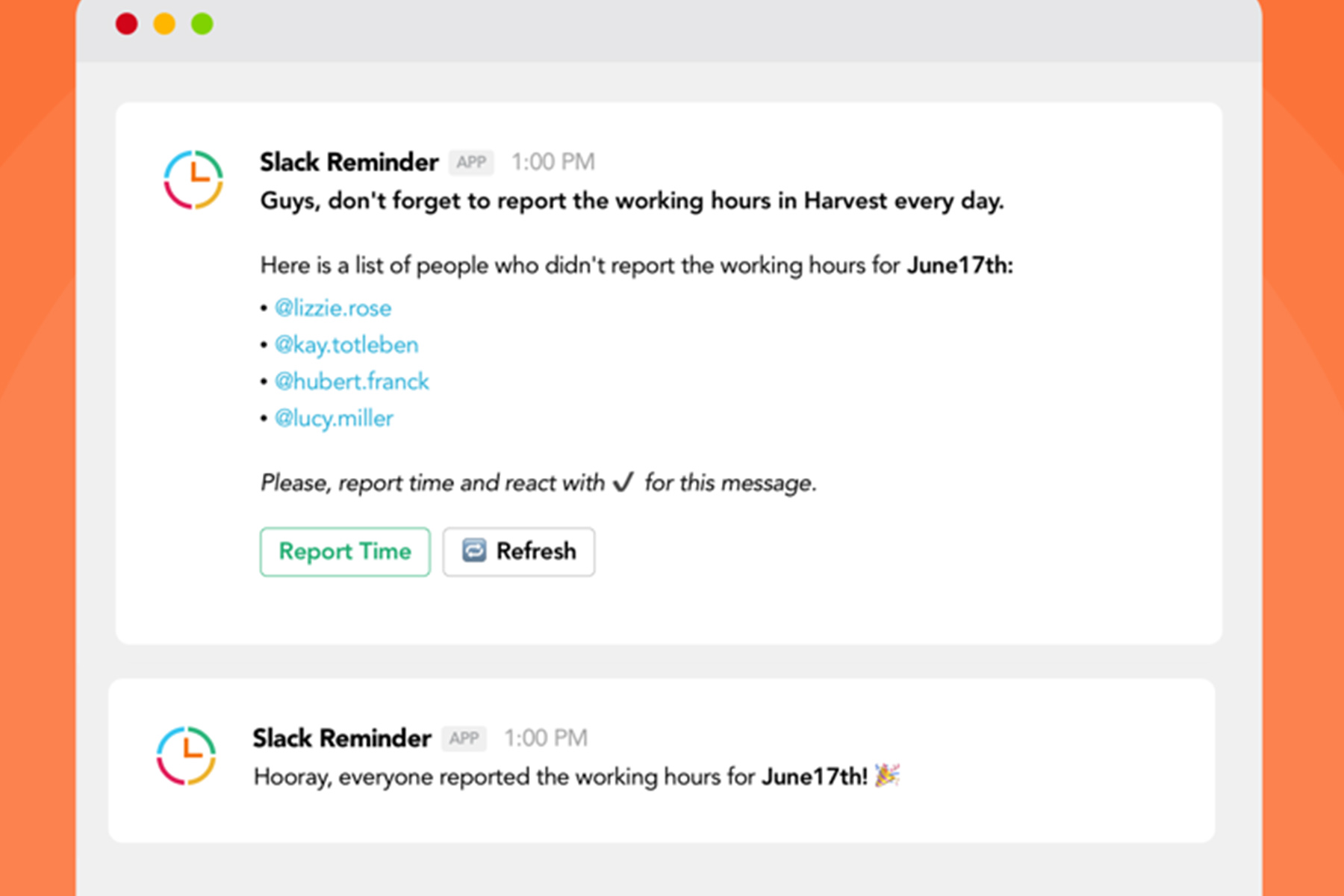 Time tracking integrations make it easier to estimate the length projects will take to complete and keep track of billable hours.
Features include:
Clocking in and clocking out capabilities
Project status updates
Automated alerts
Calendar integrations
Automated timesheets
Productivity reports
TrackingTime
TrackingTime is a workflow monitoring Slackbot that tracks how long certain tasks take, allowing for improved work allocation and more accurate deadline predictions.
It offers:
Real-time data on employee activities and time management
Task dependency settings
Project status updates
Automated timesheets
Basic payroll management assistance
TrackingTime has a free plan, and the $4.99/user per month paid plan offers a free 14-day trial.
Attendance Bot
AttendanceBot helps remote teams understand who is available at what time, and allows managers to get more insight into what employees are working on.
It comes with clock-in and clock-out capabilities, creates timesheet reports, and automatically keeps track of billable hours for clients.
It also offers absence management, which lets users request shifts and days off. It integrates with your preferred calendar to automatically enter your time off. Configure entire team-wide automatic announcements to let everyone know when you're out of the office.
AttendanceBot is free for up to 5 users and has paid plans from $2.00/user per month to $6.00/user per month. A free trial is available.
Harvest
Harvest provides timers for users to accurately track their hours and determine exactly how long specific tasks or projects took to complete.
Users can see the total hours of a project, estimated hours remaining, the budget, and even a graphical representation of productivity. All of this information can be shared in a single graphic to any Slack channel.
Before starting a timer, users specify which project or new task within a project they're currently working on. Slash commands start and stop timers.
Users can make their time tracker visible to one another for accountability, monitoring, or simply so others know not to disturb them.
There is one free plan for one user and two projects, and one paid plan for $12.00/user per month.
Video Communication Integrations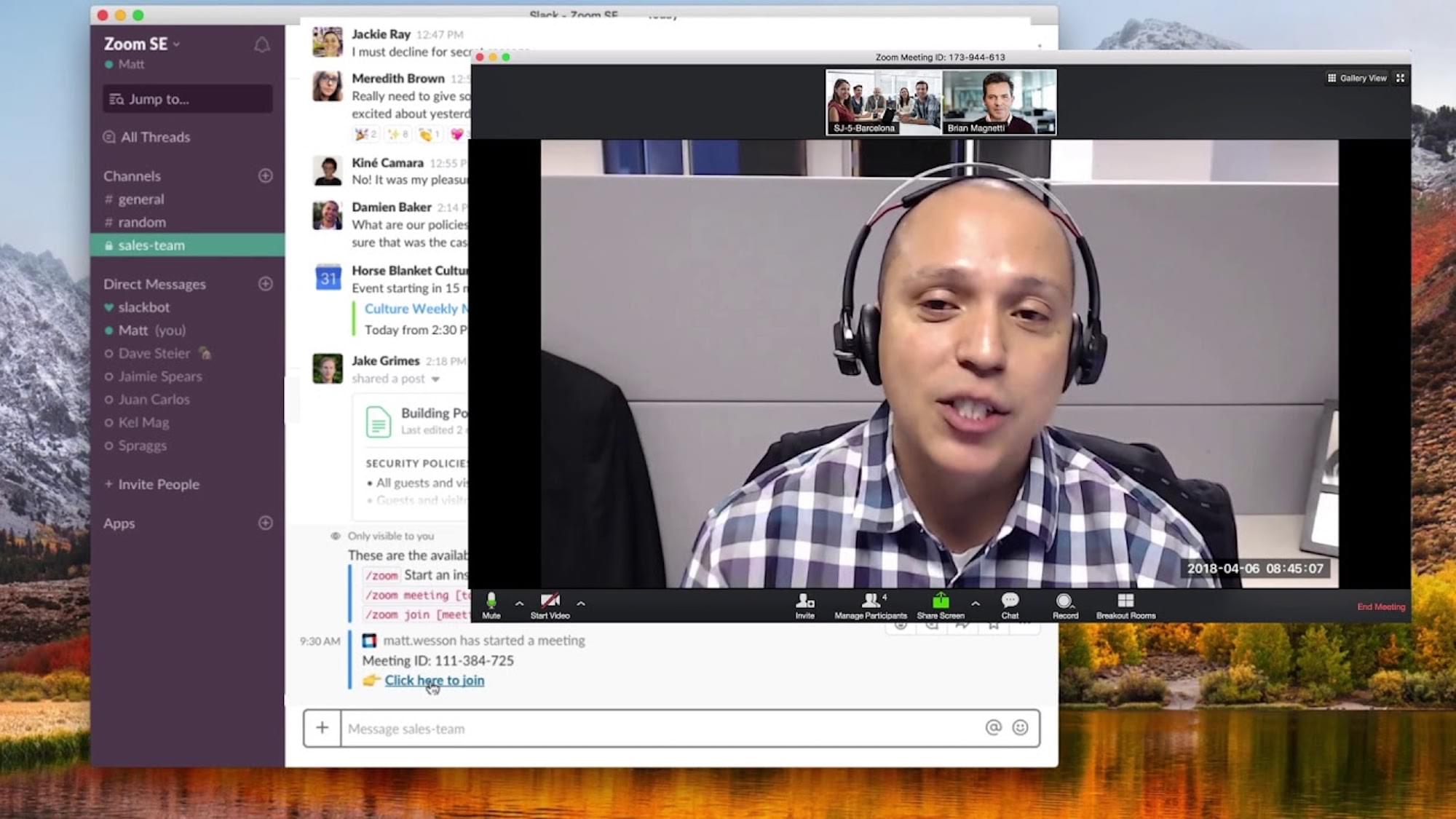 Though Slack does not have a native video communication tool, most popular web conferencing platforms integrate with it.
Features include:
Screen sharing
Whiteboarding
Passwords and meeting locks
File sharing and co-annotation
Meeting recordings
Zoom
The Zoom integration lets users host and join video meetings within the Slack interface.
Users can turn any chat message into a one-on-one or group video or audio-only call with one click. You'll also have access to meeting summaries in Slack, including the attendee list, a meeting description, and the date and length of the meeting.
Zoom offers features like:
Screen sharing
Whiteboard tool
Live co-annotation and file sharing
Meeting records and transcripts
Virtual hand-raising and polling
Meeting locks and password protection
Zoom video conferencing offers a free plan for meetings of up to 40 minutes and has paid plans from $149.90/license per year to $199.90/license per year.
Cisco WebEx
Cisco WebEx also allows users to create and join pre-scheduled or instant video meetings from Slack.
Send meeting links in Slack, see and respond to upcoming meetings invitations, and access meeting recordings.
Additional features include:
Personal meeting rooms
Screen sharing and whiteboarding tools
Multiple screen layouts
Mute, remove and ban participants
Polling, virtual hand raise, notes
Virtual backgrounds
WebEx has one free version allowing 100 people to meet for a maximum of 50 minutes. Paid plans range in price from $13.50/host per month to $26.95+/host per month.
Microsoft Teams
Microsoft Teams Calls lets you launch or join video calls in Slack, even if those meetings are already in progress. You can see who else is on the call, when it started, and a meeting description.
Additional features include:
Automatic status updates when in meeting
Meeting reminders/notifications
One-click meetings
File sharing and live co-annotation
Screen sharing and meeting recordings
Microsoft Teams offers a free version for up to 100 participants to meet for an hour and paid plans from $5.00/user per month to $20.00/user per month.
Google Hangouts
The Google Hangouts integration lets users make audio and video calls within Slack. Create channel-wide or one-on-one meetings, schedule upcoming ones, and respond to any current invitations.
Top features include:
Automatic screen focus
Screen sharing
Mute participants
File preview and sharing
It's a more basic video conferring tool than others on this list but is available completely for free to anyone with a Gmail account.
RingCentral Meetings
RingCentral Meetings lets users attend or start video calls with one-click or via slash commands in Slack.
Top features include:
HIPAA compliance
Real-time meeting analytics
Screen sharing and host control
HD voice and video
File sharing
99.999% uptime
Meeting recording
Meeting reminders
RingCentral Meetings offers a free plan for unlimited 1:1 meetings and group meetings of up to 40 minutes with 100 participants. Paid plans range in price from $14.99/user per month to $19.00/user per month.
BlueJeans Meetings
BlueJeans for Slack lets users start or join videos via a slash command or a BlueJeans call button within the Slack interface. Users can join as participants or moderators to access additional host controls.
Top features include:
Personal meeting room
Unlimited single-use rooms
HD video
Active speaker view
Whiteboarding
Remote desktop control
Breakout sessions
BlueJeans Meetings has no free version, and paid versions range in price from $9.99/user per month to $13.99+/host per month.
Jitsi Meet
Jitsi Meet is one of the most secure video conferencing tools on the market today. It's an open-source tool that lets you completely customize your video call experience.
Features include:
Automatic meeting room name generation
Up to 50 participants
POTS audio calling
Stream meetings to YouTube
Live document editing
End-to-End encryption
Presenter mode
Jitsi is completely free to use.
GoToMeeting
GoToMeeting for Slack is another video conferencing tool allowing you to start an instant meeting or preschedule one.
Features include:
Drawing tools
Screen sharing
Up to 250 participants
Meeting recording
Custom backgrounds
Keyboard and mouse sharing
Presenter control
Dedicated meeting rooms
HIPAA compliance
GoToMeeting does not have a free plan, and paid plans range in price from $10.00/user per month to $13.60/user per month.
Loom
While employee training webinars are an excellent way to onboard new employees or teach users how to navigate a new software, it can be difficult to find an effective way to quickly explain a smaller software feature or concept.
Loom is a video recording tool that allows users to create shorter videos of their screens or through front-facing cameras which can then be shared in a public channel or a private channel via direct message.
It also offers:
Ability to send messages with video
Video link
Comment on videos
Add video timestamps to highlight essential information
Tag users in videos on Slack
Loom is free for up to 25 users, and paid plans start at $10.00/user per month.
Social Media Integrations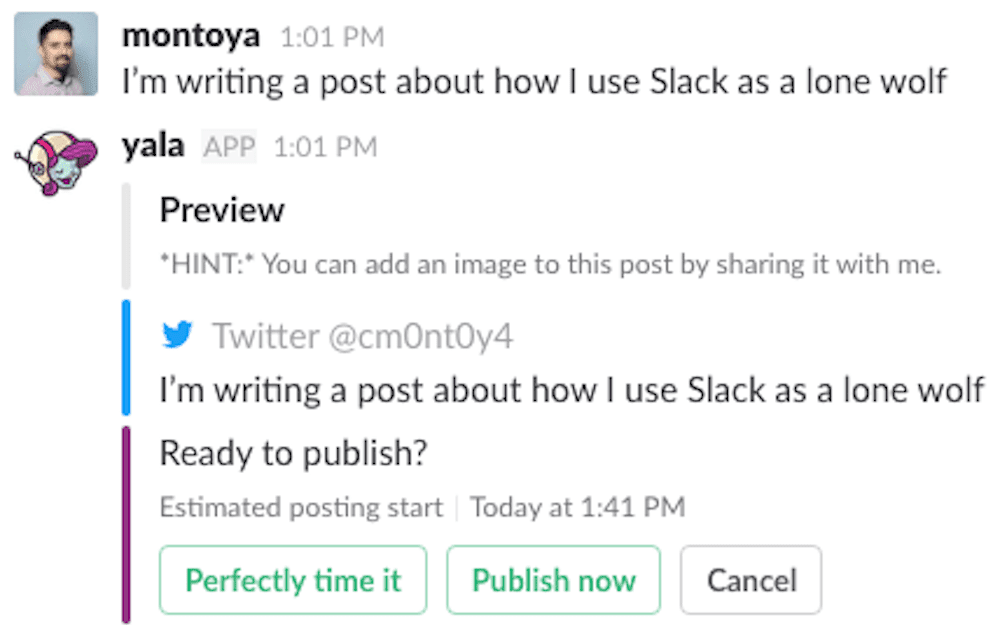 Integration with popular social media tools allows for features like:
Post previewing
Post scheduling
Hashtag creation
Multi-channel posting
Live notifications for comments, likes, and shares
Post commenting
Yala
Yala is an automated social media post app that saves serious time that allows social media managers to plan daily or weekly posts within Slack.
Users can:
Choose which social media platform to post to (including multi-channel posts)
Set posting times
Understand ideal posting times through machine-learning and algorithms
Approve/decline preview posts
Send reminders to social media management teams to create posts
Automatically format links, images, and text
Yala has a free plan, with paid plans starting at $10.00/user per month.
Twitter
Especially essential for news outlets and online retailers, the Twitter integration for Slack allows users to share and post tweets and URLs in Slack channels.
Additional features include:
User tagging
Retweeting
Emoji reactions
Sharing tweet replies
Tweet notifications to channels in Slack
Search tweets in Slack
Twitter is completely free to use.
Influencer Bot
Influencer Bot provides recommendations for relevant influencers and allows you to track popular posts, profiles, and hashtags.
Additional features include:
Multi-influencer management
Hourly analytics in Google Sheets
Updates on follower gains/losses, likes, and comments
Engagement management and analysis
Keyword identification
Notifications in Slack
As of this writing, Influencer Bot is free to use for tracking 5 influencers. A paid plan is coming soon.
HootSuite
HootSuite sends social media posts directly to Slack and lets users like and comment on them.
It also provides multi-channel management options, including scheduled posts.
Additional features include:
Unlimited posting
Bulk post scheduling
Publishing calendar
Campaign reports
Social media ad management
Social inbox
Live notifications
Message tagging
Post commenting
HootSuite's free plan allows for up to 30 scheduled messages and 3 profiles for one user. Paid plans range in price from $29.00/month to $599.00+/month.
Automation Integrations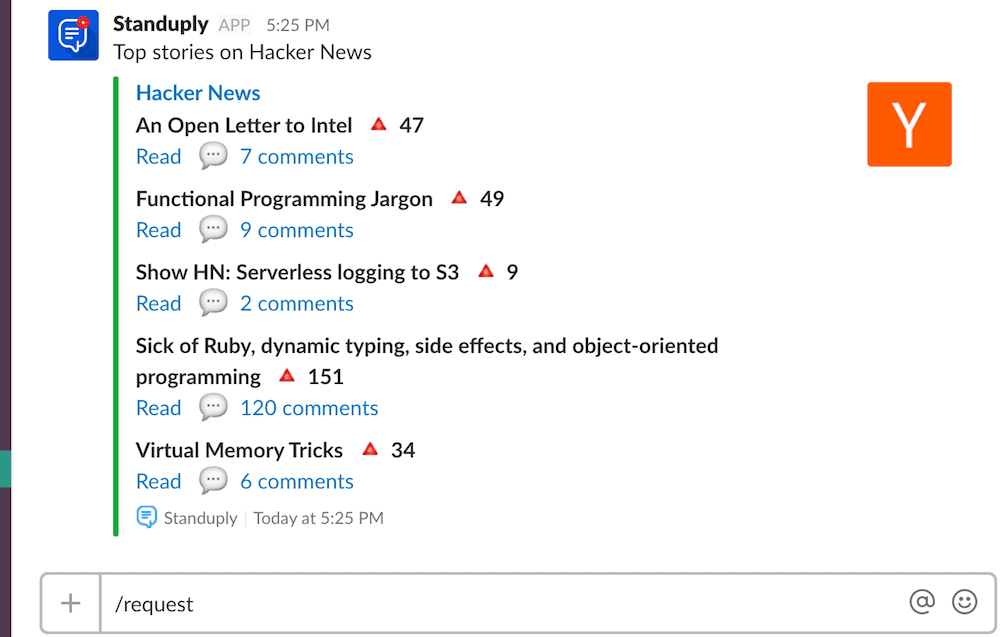 Automation saves time, improves overall workflows, and often ingrates with other apps.
Features include:
Task history and updates
Automation verification
Recurring tasks
Zapier
Zapier for Slack is a task management and workflow automation tool that integrates with thousands of other apps and social media profiles, allowing users to streamline workflows across all of the business tools they're using.
You can create a to-do list based on Slack notifications, comment and tag other users, or move them into the relevant app for later.
Zapier also:
Uses "zaps" to set automated triggers
Shows complete task history
Sends task and calendar update notifications
Provides automated verification for task updates
Makes Slack messages into a to-do list
Shows Twitter mentions in Slack
Zapier has one free plan and paid plans from $19.99 per month to $599.00 per month.
Standuply
Standuply is an all-in-one Scrum Master, meeting scheduling and project management tool that automates agile processes to save time. It also lets users run asynchronous meetings.
Its most unique feature allows users to answer questions posed in Slack via SMS, chat messaging, voice recording, or video messages.
Additional features include:
Integration with JIRA, Asana, Github, and Google Analytics
Data extraction from Wrike, MySQL, and Basecamp
Multilingual functionality
Project status tracking and notifications
Task automation
File Storage Integrations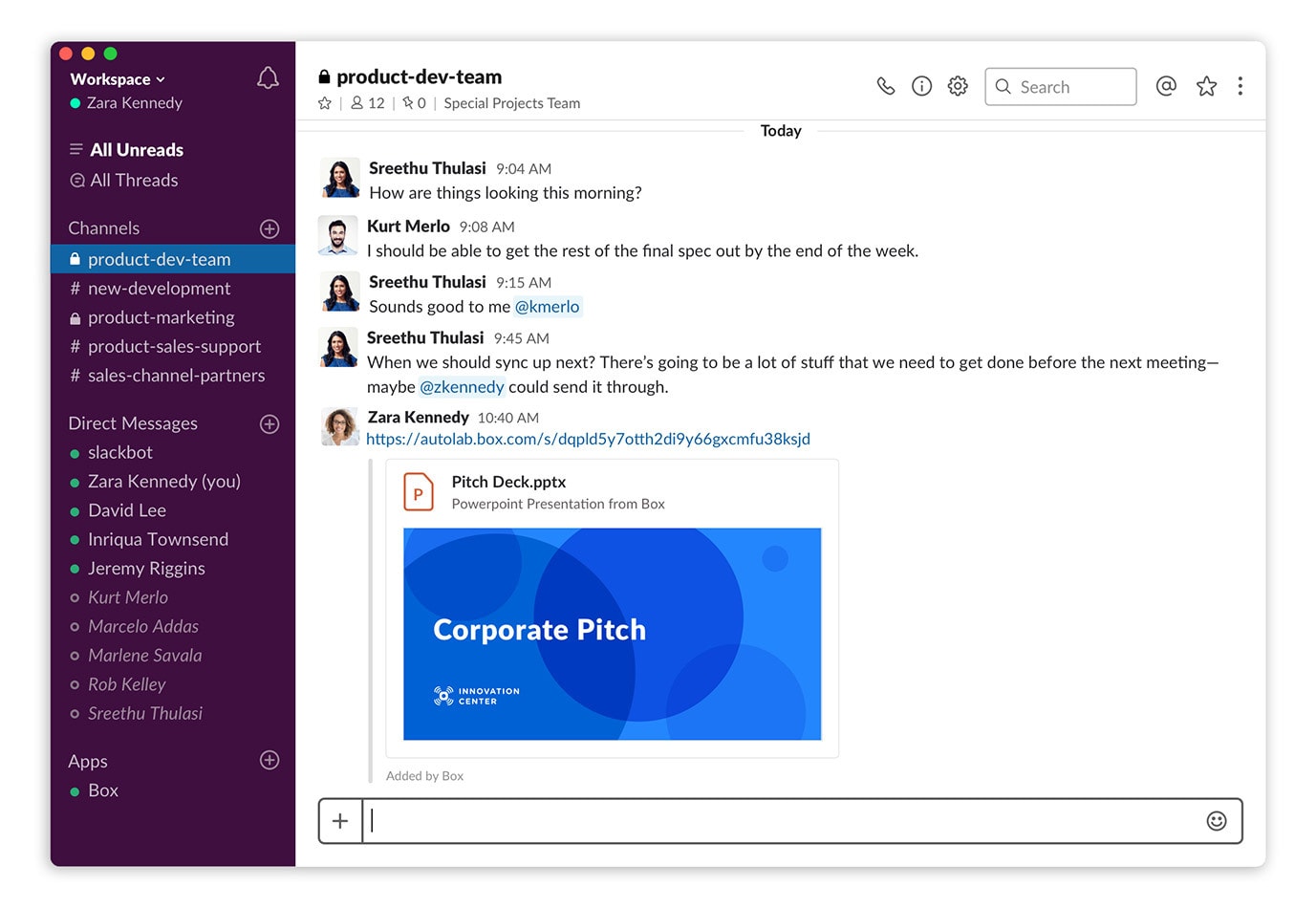 File storage apps let users access and edit work-related files in real-time within Slack.
Features will include:
Co-annotation and live editing
Automatic file synching
File access permissions
User tagging
Commenting
Dropbox
Dropbox lets users access, edit, and sync important documents and other files from Slack. Send files to entre channels or individuals, and receive updates in Dropbox about file activity that happened in Slack.
Create, edit, and collaborate on Dropbox Paper docs instantly.
Other features include:
Live file synching
File commenting and user tagging
Create shared folders
See recent file activity
Dropbox has a free plan and paid plans ranging in price from $19.99/user per month to $25.00/month for three or more users.
Google Drive
Google Drive lets users access essential existing files within Slack, create new ones, and add and reply to comments. Users can edit Google Drive files in real-time and make file access requests.
Additional features include:
Live file synching
User tagging
File previews
Give instant file access and set editing privileges
Notifications for file sharing or updating
Search files within Slack
View Slack activity in Google Drive
Google Drive is available for free or for $8.00/user per month as part of the Google Workspace Essentials suite.
Box
Box for Slack lets users share and manage files within Slack. There are two Box Slack apps, Box File Picker and Box for Slack. Users should install both for the best results.
Features include:
File editing and tagging
Commenting
Instant file synching
File previews
File access requests/permissions
File search
Recent files list
Note that Box for Slack is only available with a paid Box account. Paid accounts range in price from $7.00/user per month to $35.00/user per month.
Marketing Integrations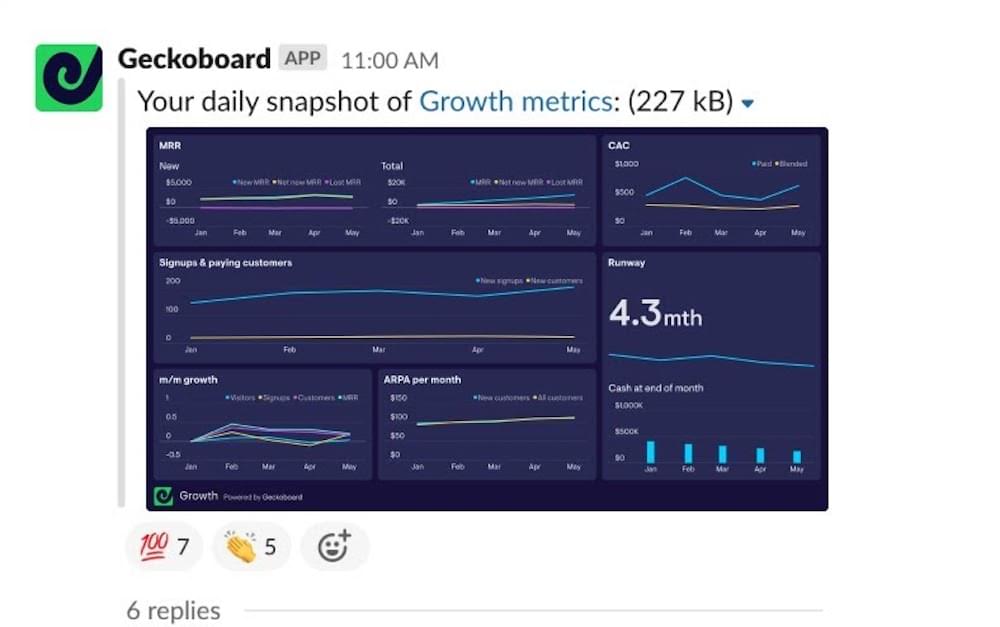 Marketing tools for Slack help users to:
Monitor subscriber lists
Review ad campaign and email marketing copy
Review key KPIs
Conduct market and competitor research
MailChimp
With MailChimp, create and monitor email marketing campaigns within Slack to ensure that all employees contribute to effective ad copy and check for potential editing errors.
Receive notifications when someone subscribes or unsubscribes to a mailing list, and receive updates about when your campaign email has been successfully sent.
Additional features include:
Turn Slack users into MailChimp subscribers
Send notifications for subscriber contact information updates
Get Slack direct messages regarding campaign template spelling/grammar errors
MailChimp offers a free plan, with paid plans ranging in price from $9.00/license per month to $299.00/license per month.
GeckoBoard
GeckBoard automatically collects and posts a daily overview of essential metrics and KPIs within Slack.
It analyzes metrics from your company's most-used tools and campaigns, breaking them down into charts, graphs, and percentages.
Geckoboard also tracks:
Website visitor metrics
CTR
Social media mentions
Newsletter opens
Email sign ups
GeckoBoard allows users to:
Monitor growth and marketing campaigns
Track revenue and ROI
Monitor social media metrics and customer satisfaction
Share metrics across departments and channels
There is no free plan, and pricing ranges from $28.00/user per month to $219.00/month for 20 users.
GrowthBot
GrowthBot is a sales and marketing chatbot designed to help with keyword and company research, SEO, and lead research.
Users type a basic marketing question into Slack, and GrowthBot provides answers that provide information on competitors and target markets. It connects with HubSpot, Google Analytics, and even your MailChimp account to provide actionable insights.
GrowthBot is free to use.
Other Top Slack Integrations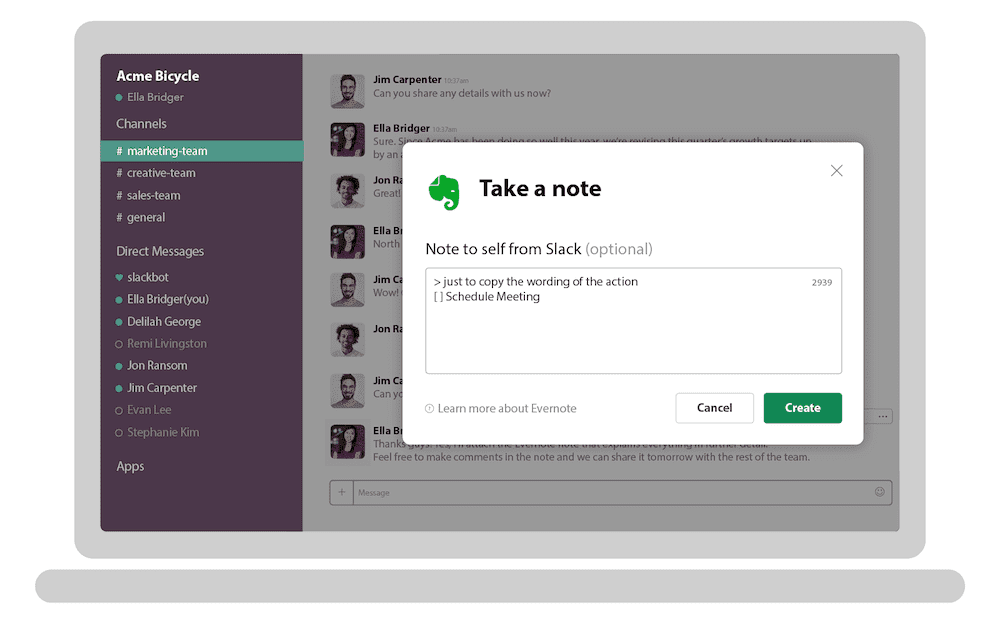 Whether you want to take notes in Slack, conduct polls, or even upload GIFs, the below tools make it possible — while adding better collaboration and more fun into the digital workspace.
Simple Poll
Simple Poll creates multi-question surveys and basic polls in the Slack interface.
Polls and votes can be public, completely anonymous, or can display the number of votes per option only. The poll creator can limit votes to ensure fair results and set recurring polls for their teams.
Simple Poll has one free plan for up to 100 votes and 10 decisions each month. Paid plans allow for unlimited votes. Pricing starts at  $49.00/month.
Range
Range simplifies the employee and project check-in status by providing a bird's eye view of which employees have checked in for the day, who hasn't yet, and a quick overview of their current tasks/projects.
Check-ins are made fun with Range's 300+ question bank, which employees answer to demonstrate their presence. Users can also rate their daily moods with check-in emojis, so you know who to avoid that day.
Additional features include:
Team directory
Retro feature to look back at past check-ins
Ability to share check-ins
Share daily "Plan" and result ("What Happened") updates
Range has a free plan for up to 10 accounts, and paid accounts offer 100 users at $6.00/user per month and 1,000 users at $12.00/user per month.
EverNote
EverNote is a notetaking app that integrates with Slack to help users avoid endless searching through emails and files to find meeting notes.
Take notes while still using Slack to host video meetings or conference calls. Afterward, send these to relevant users or tag other users — or keep them private.
EverNote for Slack also allows users to:
Search for and share EverNotes in Slack
Transform Slack conversations into EverNotes
Automatic note synching to Slack and EverNote
Create tasks and set reminders
Share EverNote images in Slack
EverNote has one free plan, with paid plans ranging from $7.99/user per month to $14.99/user per month.
Giphy
Giphy might just be the most fun Slack app, as it lets users share their favorite reaction GIFS in any channel.
Look for the perfect GIF in the search bar, or simply browse pre-determined GIF categories.
Giphy is free to use and adds much more color to office conversations.
Dead Simple Screen Sharing
Dead Simple Screen Sharing is a screen sharing application that can be used on its own or in conjunction with an audio/video call. Up to four users can share their entire screen or select applications on their desktops.
Top features include:
Chat messaging
Pass presenter
Multi-participant screen sharing
Audio conferencing
Scheduled meetings
It is free to use.
Markup Hero
Markup Hero allows users to easily annotate and markup screenshots and PDF files within Slack. It automatically saves all past uploads, lets you share them with other users, and lets you tag categories.
Draw on screenshots with multiple colors and writing tools, add typed text, highlight sections, and insert additional images.
Additional features include:
Shape drawing tools (oval, rectangle, arrow)
Line tool
Multicolor pen and text tools
Sharable links
Redo/undo edits
Copy text to clipboard
 Download and duplicate images
Markup Hero has two free plans allowing for up to 30 file uploads per month, and a paid plan for $4.00/month for unlimited uploads.
Tettra
Tettra is a wiki knowledge base app accessible within Slack.
Users can quickly access the information they need through slash commands. Users get updates when pages are edited, commented on, or published. Users can suggest Tettra pages to one another and even create new wiki pages.
Tettra offers a free plan for up to 5 users and has paid plans starting at $99.00/month per 10 users.
GitHub
GitHub is an open-source integration providing code options and updates for projects.
It lets users:
Close and reopen pull requests in Slack
Use Slack dialog boxes to open new issues
Provide more detail on links regarding pull requests, issues, linked comments, and more
Get updates/notifications about new issues, pull requests, payment status, and more
GitHub is completely free to use.
Frequently asked questions
Free plan users can have up to 10 integrations, while paid account users can have an unlimited amount. This means that free plan users may need to rely on additional team collaboration tools or 
top Slack alternatives
 that have more of the communication features they need.
Slack API
 allows users to build their own apps and integrations. Users can select if they want to build a public Slack app, or if they want to create one that's for a specific workspace only.
Note that not all Slack apps are available with a free account. Some require users to upgrade to a paid account, while others offer individual pricing plans according to the specific integration.