Team collaboration apps and workspaces like Slack can improve workplace productivity by 30%.
But without the right integrations and apps, Slack can quickly become a time suck as opposed to a time saver.
By integrating additional business collaboration and communication tools into the Slack interface, users will avoid having to constantly switch in between apps to access key information and updates.
Instead, your team can harness the power of all your favorite apps in one place.
In this post, we'll introduce you to the best Slack integrations to help your team increase productivity, cut down on miscommunication, and boost team collaboration.
What is a Slack Integration?
A Slack integration allows users to combine the team chat messaging power of Slack with other popular business team communication software and applications.
The Slack App Directory currently contains over 2,400 available integrations that make it possible to use CRM tools, web conferencing solutions, social media platforms, task management applications, and much more directly within the Slack interface.
Thanks to Slack integrations, there is no need to switch back and forth between several apps when accessing different team communication and collaboration tools.
Given that the average business has installed close to 140 unique SaaS apps, these integrations will save serious time, prevent miscommunications, and help to increase productivity.
In fact, Slack's own State of Work Report found that 64% of top team members can lose up to 30 minutes per day — or 130 hours per year — switching between apps.
Note that Slack applications are free to install/add to a workspace, but that users may need to have the paid version of some business software in order to be able to integrate it with Slack. The pricing information for specific apps is available in the app directory.
Slack APIs are also available to allow for a higher level of customization and app creation.
How to Add a Slack Integration
Anyone can add an app to a Slack channel/workspace, but admins can turn on app approval if needed.
To add a Slack integration to a workspace, start by visiting the Slack App Directory, which provides a list of essential, featured, and categorized applications (as well as a search bar.) Find the desired app, click it, then sign in to your Slack account and click "install."
Users can also add apps directly from the Slack workspace by clicking the "Apps" button on the left sidebar, searching for and selecting the desired app, and then clicking, "Add to Slack" or "Connect an Account."
For more detailed information, check out Slack's guide to adding integrations and apps.
What is a Slack Bot?
A Slack Bot is a type of programmable Slack application that lets users automate messages, responses, tasks, and more based on user-defined triggers (slash commands, specific words, etc.)
Slack Bots essentially act like any other Slack user in that they can be mentioned by other users, added to channels and directories, post new messages and share files, and even receive direct messages.
Users program what they want the bot to do, whether that's post automated reminders, share polls or surveys, let users schedule PTO, send automatic website uptime data, and more directly in the Slack message interface.
Click here to learn more about how to build a bot.
The Best Slack Apps To Increase Productivity
Slack has 19 different app categories to choose from, including Customer Support, Project Management, Sales, Communication, Analytics, Office Management, Marketing, and many more.
Below, we'll feature the best apps in Slack's most popular integration categories, and explain how they can improve your overall workflow and make both in-house and remote teams more productive than ever.
Our app categories are:
Video Meeting Apps
Since Slack does not have native video communications, video meeting applications allow users to turn any chat into a video call with one click or schedule future video conferences in Slack.
Today's video calling tools offer much more than just the ability to chat face-to-face from anywhere. They also come with advanced team collaboration features like screen sharing and remote screen control, whiteboard, file sharing and editing, and meeting recording.
Zoom
Start and join Zoom video meetings, make calls from Zoom Phone, and view meeting participants in Slack.

The Zoom integration lets users make or join Zoom Phone calls and video calls without leaving the Slack interface. To join a meeting, users just click the Zoom link in the channel, which also displays the Meeting ID and meeting hosts.
After the meeting, users can post the meeting recording, attendees, length and date of the meeting, and a brief meeting summary in Slack.
Standout Zoom features include screen sharing, whiteboard, meeting transcripts and recordings, breakout rooms, virtual hand raising, and live co-annotation.
How It Boosts Productivity: Prevents team members from having to search through email inboxes to find a meeting link, provides a quick way to clear up confusion with a video call as opposed to endless messaging threads.
Cisco WebEx
Schedule WebEx meetings, view upcoming meetings, and instantly start a WebEx Personal Room meeting directly in Slack.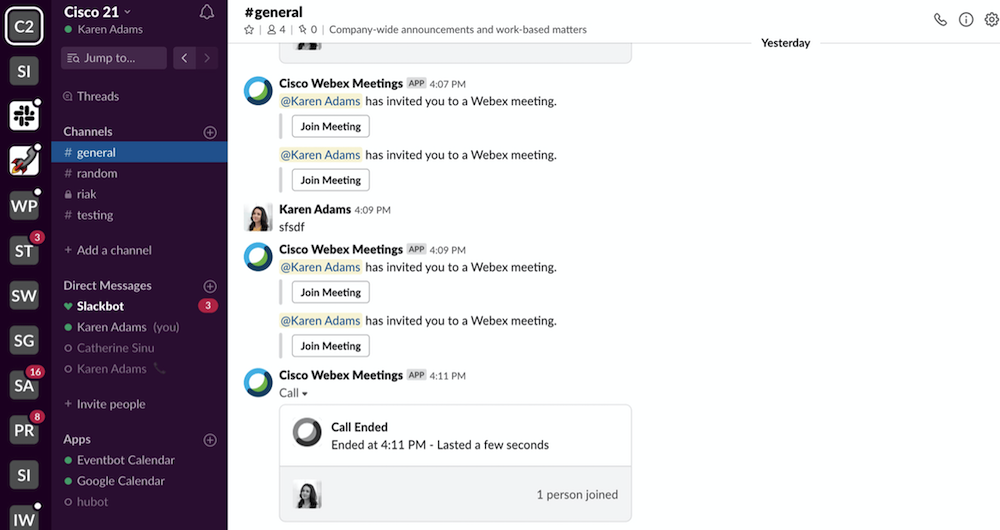 The WebEx integration allows users to host or join instant or scheduled audio/video calls in the Slack interface. Users can also cancel upcoming meetings, set meeting reminders and send in-progress notifications, and see which other Slack users are currency in a WebEx meeting.
Cisco WebEx also lets users create slash command meeting shortcuts to use within Slack to make sharing or editing meeting links or rooms even easier. Users can access the past 10 meeting recordings, instantly schedule a 30-minute meeting, and view a list of upcoming meetings for the next 7 days via slash commands.
WebEx provides each user with their own personal meeting room, offers whiteboard and screen sharing, virtual backgrounds and multiple screen layouts, breakout sessions, and in-meeting polling.
How It Boosts Productivity: Allows users to schedule future meetings – not just meet instantly – meaning that important topics brought up in a Slack channel aren't forgotten about. Instead, a user can schedule a meeting to cover the issue at hand and go back to working on current tasks.
RingCentral
Access the RingCentral softphone dial pad from Slack, make audio and video calls, and share meeting cards.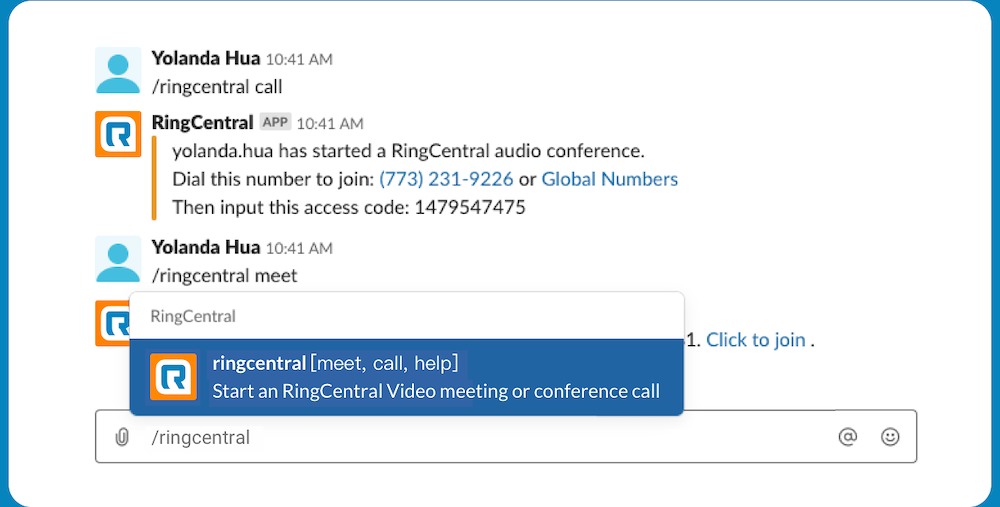 The RingCentral integration lets users not only instantly start video meetings and share meeting links in Slack channels, but also make phone calls using the RingCentral softphone – meaning users can accept/reject calls, mute, hold, and record calls without leaving Slack.
RingCentral also offers Slack shortcuts, including instant video or audio conference calling, specific phone number dialing in the Slack message box, and more.
Users can also see meeting or call duration, as well as attendees in Slack once the call has ended.
RingCentral is HIPAA compliant, provides real-time meeting analytics, sends out meeting reminders, and offers file editing, screen sharing, meeting recordings, and more.
How It Boosts Productivity: By including RingCentral's native softphone in the Slack interface, users can make and receive calls by phone number or username without leaving Slack.
Microsoft Teams Calls
Join in-progress Teams video calls, see meeting attendees, and receive meeting reminders in Slack.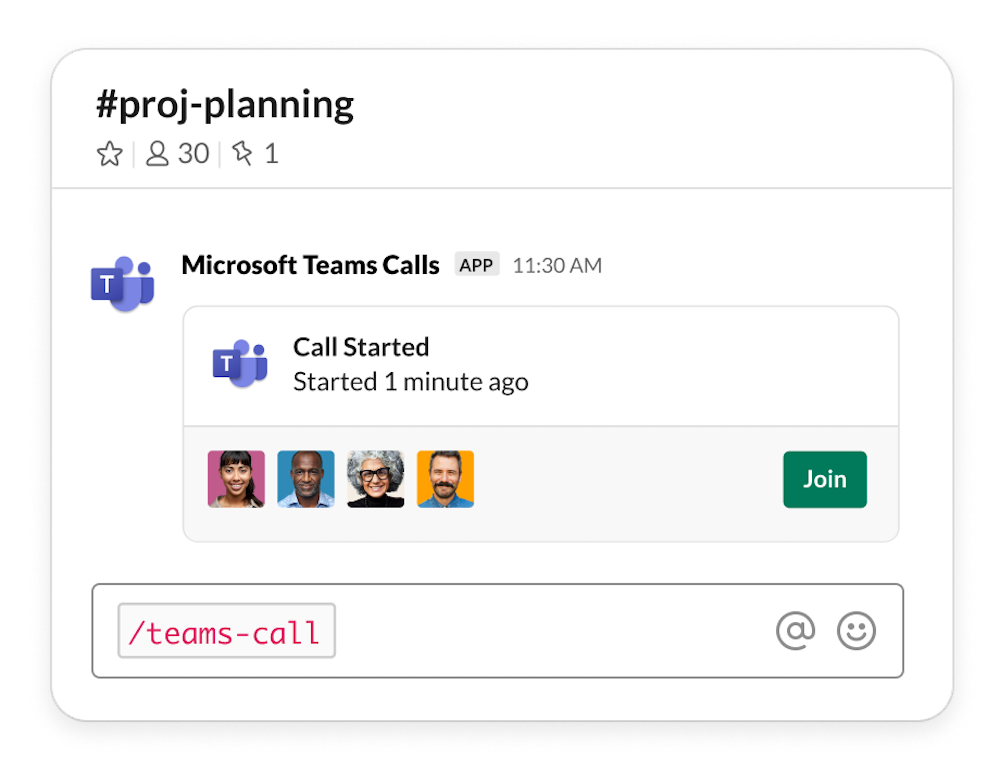 Microsoft Teams Calls lets users RSVP to and make video calls in Teams directly from Slack.
Meeting reminders include the location, date and time, a brief meeting description, and a guest list. If a meeting has already started, other Slack channel members can see how long it has been in progress and who is on the call.
A user's Slack status is automatically updated when in a Teams meeting, and program shortcut buttons.
Microsoft Teams offers unlimited message history, screen sharing and whiteboarding, file editing, sharing, and storage, exportable messages, and meetings for up to 250 attendees.
How It Boosts Productivity: In addition to letting users start instant video meetings, Teams Calls also display calendar reminders from Outlook or Google Calendar in Slack to prevent needless app switching.
Google Hangouts
Make audio and video calls and invite additional members to join current calls in an easy-to-use, familiar interface.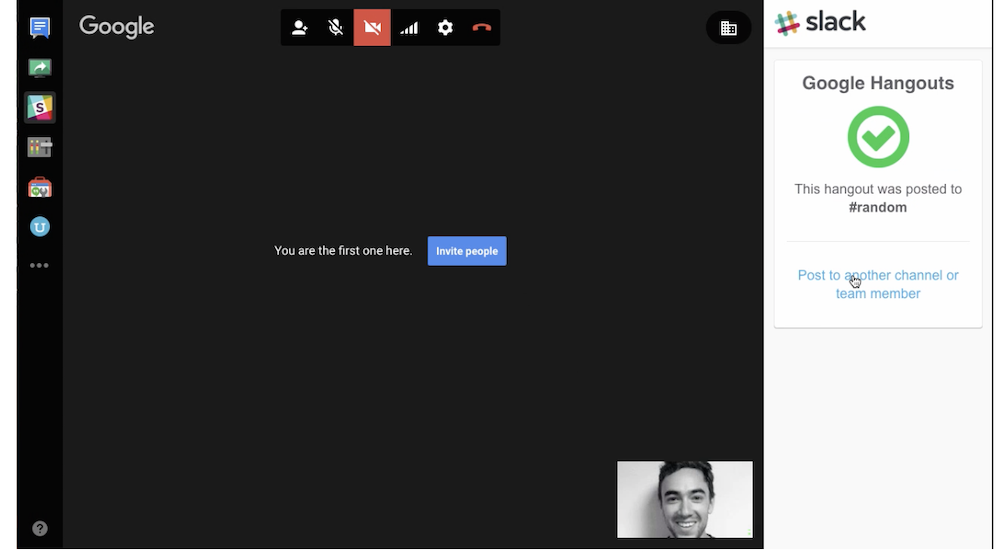 The Google Hangouts integration lets users make audio and video calls within Slack. Create channel-wide or one-on-one meetings, schedule upcoming ones, and respond to any current invitations.
Users will benefit from screen sharing, file preview and file sharing, and automatic screen focusing.
How It Boosts Productivity: Google Hangouts is a much more basic video calling tool than many others listed here, and one that many team members will already be familiar with from social use. Make video calls without the need to learn how to use a complicated web conferencing tool.
Jackfruit
Access an always-on video conferencing room directly in Slack.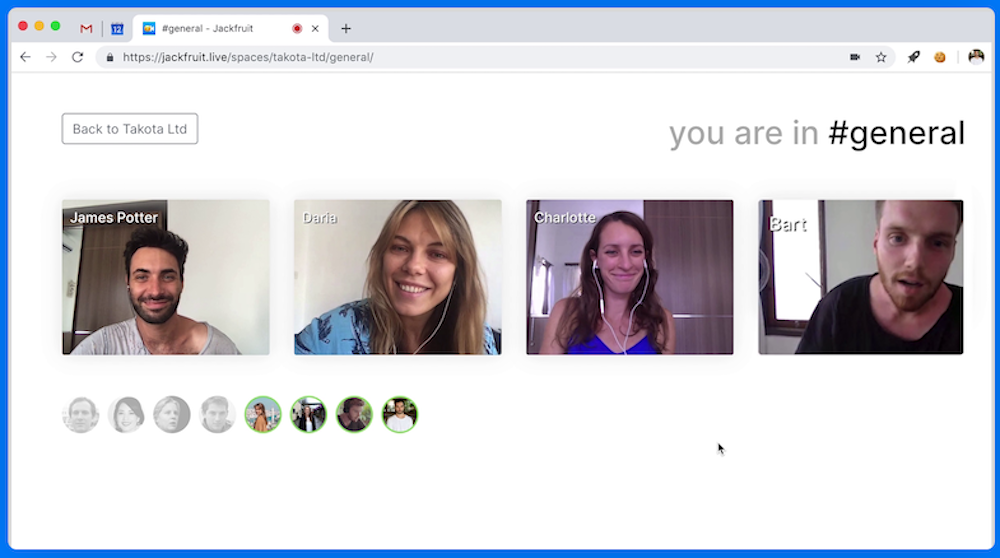 Jackfruit is an always-on video call that anyone in a Slack workspace can join or leave at any time. There's no need to send a video link or meeting reminders because the room is always available.
Plus, users will automatically receive a Slack notification when someone joins the Jackfruit room.
How It Boosts Productivity: Remote teams can join the Jackfruit meeting room to ask for work advice, take a quick break, or simply get a little encouragement from their coworkers. Plus, when people can see other team members working from home, they're much more likely to stay focused on the task at hand for longer.
Loom
Record and share screen-facing or front-facing video messages, then share them in public or private Slack channels.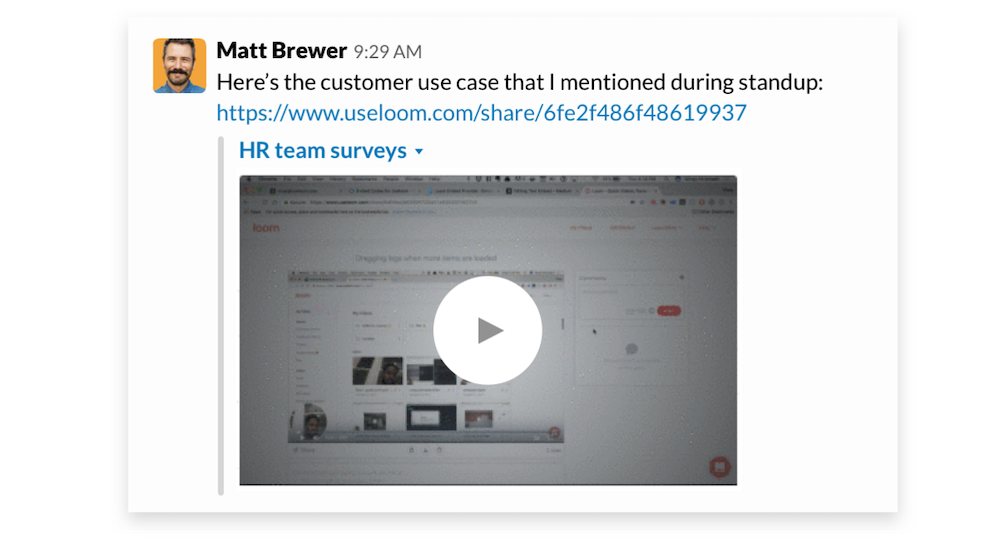 Loom is a video recording tool that lets users record and narrate video messages (including screen recordings) to share with colleagues.
Once a video is recorded, users can share it inline or as a link in Slack. Video commenting, timestamps and user tagging are also available within the Slack interface.
Even better?
Loom is free for up to 25 users.
How It Boosts Productivity: Make quick video tutorials for team members, freelancers, and clients without having to resort to longer video meetings. Users can also keep the videos to refer back to later if needed.
Customer Support Apps
Customer support integrations allow users to access their preferred CRM systems within the Slack interface.
Not only can users view customer history and information, they can also create support tickets from Slack messages, update ticket status, and chat with website visitors in real-time within Slack.
Zendesk Support
Create Zendesk support tickets from Slack, add internal notes, and receive real-time ticket status update notifications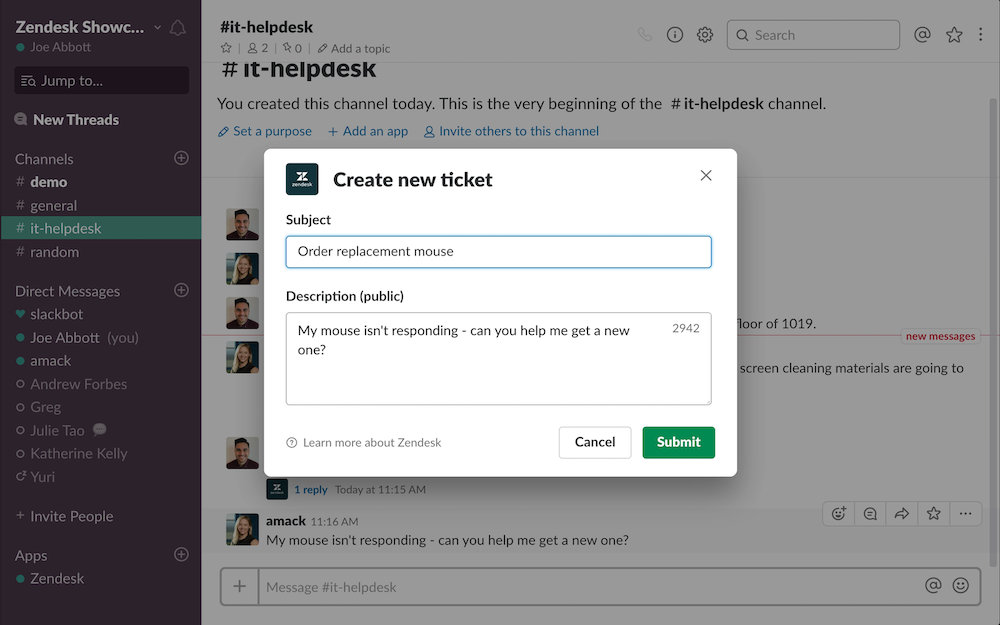 Zendesk is a customer service software that lets customers request support across multiple channels, including live chat, social media, email, and voice calls. It also empowers automated customer support, customer self-service, and collects essential customer information to reduce data entry.
The Zendesk Slack integration also provides brief ticket descriptions and notes, includes customer contact information, and lets managers assign specific support agents to individual tickets.
How It Boosts Productivity: Shortens ticket turnaround time, provides a central location for customer support tickets and ensures support requests are evenly distributed among agents.
Roby
Automate customer support responses, turn Slack messages into tickets, and track and respond to omnichannel support requests directly in Slack.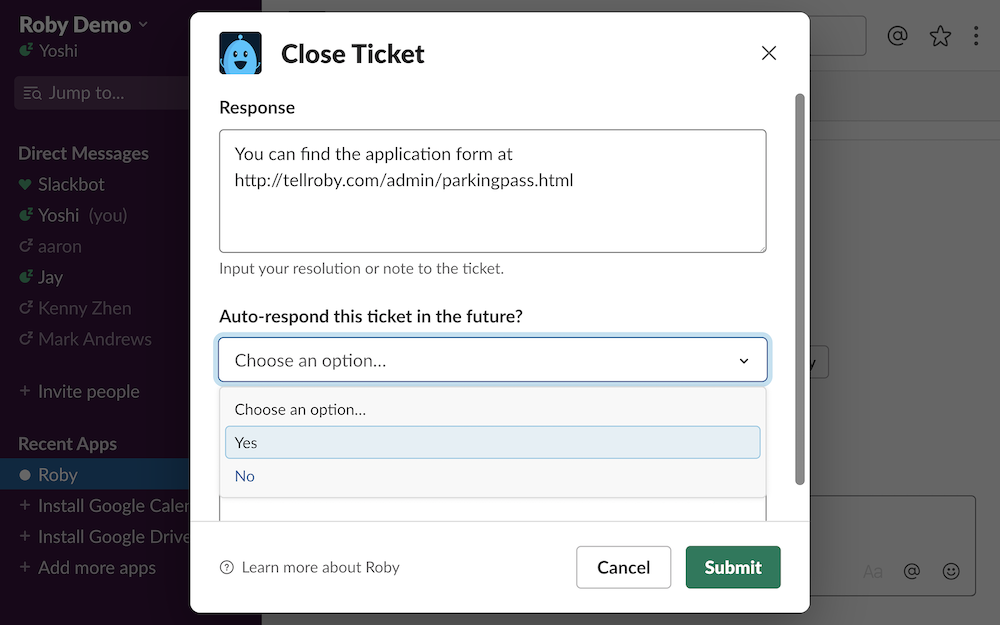 Roby for Slack is an AI-powered helpdesk tool that lets users turn Slack messages into tickets and automatically sends support message requests to Slack.
Assign tickets to agents, or tag multiple agents or admins in a ticket request if additional support is needed. Set ticket priorities, due dates, write ticket descriptions and update ticket status directly in Slack.
When users respond to a ticket in Slack, they have the option to turn their response into an automated answer if the question arises again.
How It Boosts Productivity: In addition to speeding up the resolution process, Roby also provides a Slack-accessible FAQ wiki that lets support agents find and share the answers to common customer support issues.
Intercom
Access two-way communication with customers and leads directly in Slack, whether those leads come from your website, app, or email inbox.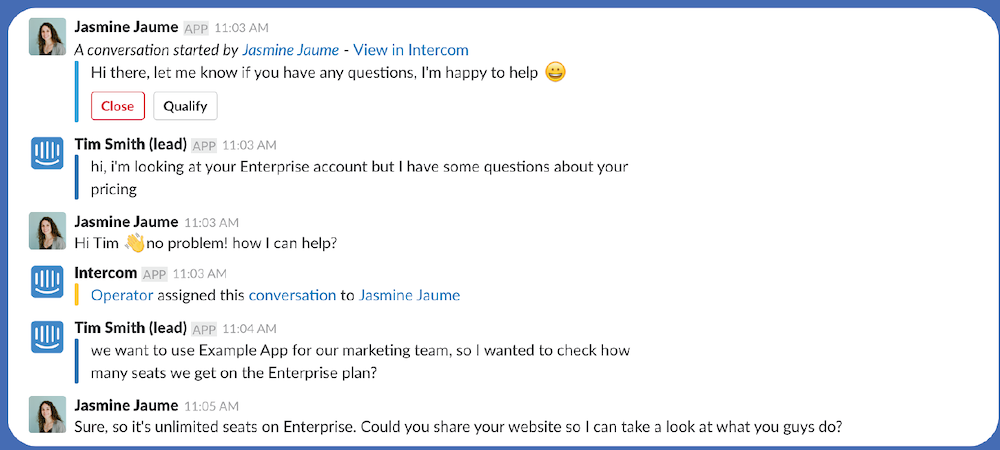 Intercom is a customer relationship builder that lets users communicate with leads in real-time via an omnichannel, unified inbox that's available in Slack. It allows agents to respond to customer support or sales requests and creates automated ticketing workflows according to priority, configure rules, and more.
Users can respond to customer messages directly in Slack as opposed to having to navigate to another tool. They can also update lead qualifications and actions taken as a result of the conversation.
All conversations are automatically synced and saved.
How It Boosts Productivity: Users can specify the Slack channels they want to send Intercom conversations to, speeding up resolution times and connecting customers to the most qualified agents. It also increases conversion rates, while automated support rules prevent agents from having to answer the same questions over and over again.
Salesforce
Connect Slack and Salesforce Chatter for improved team communication, search the Salesforce database from Slack, and get channel-wide alerts to changes or updates to Salesforce records. 
Salesforce, arguably the most popular CRM software, offers an integration that lets users view, manage, and share all Salesforce objects within Slack.
One of the biggest benefits is two-way message syncing between Salesforce Chatter and Slack, ensuring all conversations related to sales or support are synched. Users can also view and add new support cases, categorize them, update them, or send them to specific users.
How It Boosts Productivity: Provides easy access to essential customer data, ensures no key conversation points are missed, prevents constant app-switching between Salesfroce and Slack.
Hubspot
Receive customer support notifications and reminders on Slack, find and share HubSpot contacts and customer history, and get task status updates.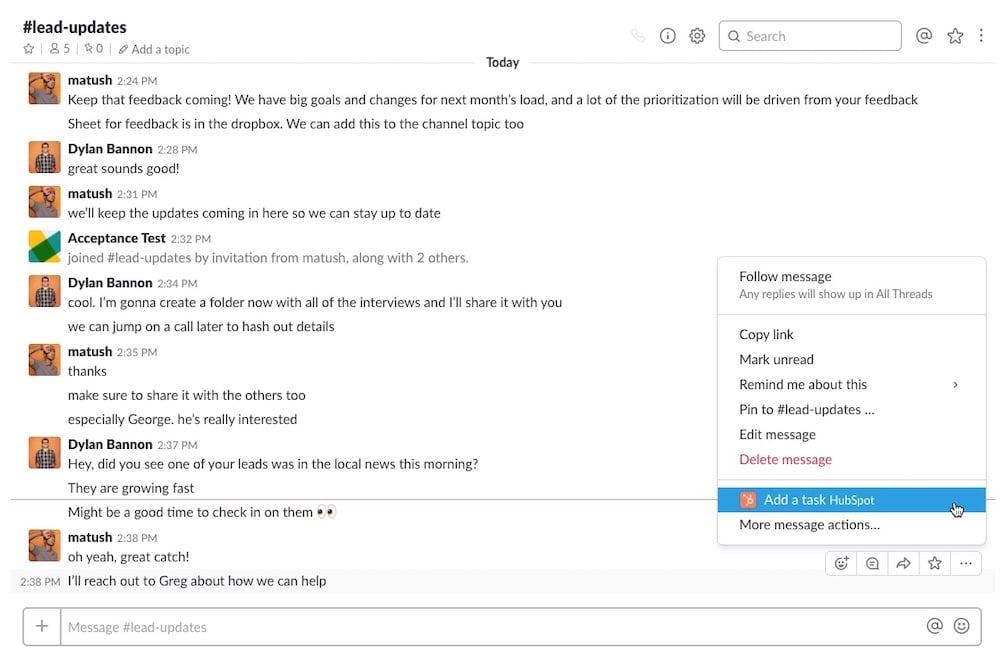 HubSpot for Slack allows users to create new tasks,  turn Slack messages into support tickets, and tag relevant companies, employees, or specific clients and deals.
Enable slash commands to search for contacts, conversation status, deals, KPIs, tickets, tasks, and knowledge base articles possible directly in the Slack interface.
Slack also integrates with HubSpot conversations, meaning users are notified of website chat requests and can respond to them either on Slack or on their website.
Users can also post HubSpot notes to Slack, create new Slack channels based on HubSpot workflows, and set channel posting permissions.
How It Boosts Productivity: Prevents excessive data entry, lets users access customer contacts and support history in Slack, and view the company knowledge base.
Zoho CRM
Share automated lead and sales updates, access customer support and sales history, and receive reminders for events, client phone calls, internal meetings, and more directly in Slack.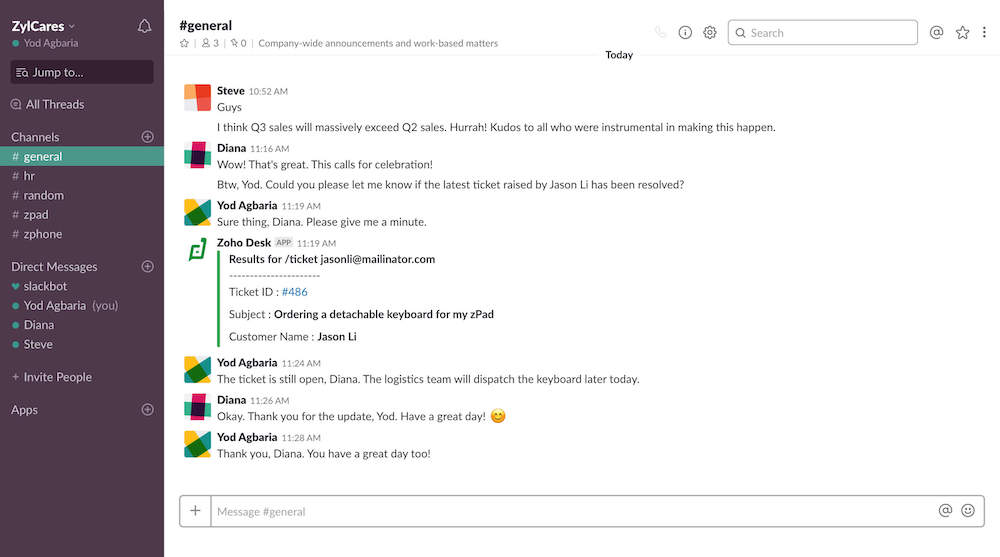 Zoho CRM is a customer relationship management platform with a Slack integration designed for more collaborative, team-based support and sales.
Users can share essential customer and deal updates like the owner, deal value, lead stage, the probability of closing, and more based on information from Zoho CRM directly in Slack. They can also share deal reports and analytics and create instant, automated workflow rules for channel-wide notifications.
Zoho also reminds Slack users of all the upcoming events in their Zoho calendars. Users can opt to receive these reminder notifications daily, hourly, or even more frequently.
How It Boosts Productivity: Users don't need to take screenshots of customer data to share in Slack, cuts down on missed meetings, and ensures entire sales or support teams are aware of important updates in real-time — eliminating the need for an in-person conversation.
Project Management Apps
By integrating project management platforms into Slack, users can clearly outline company expectations, see who is working on a project to prevent overburdening employees, and better optimize their workforce.
Popular project management features include:
Multiple task views (Gantt, Kanban, checklist, calendar, etc.)
Task status updates and task priority
Add multiple assignees to one task
Deadline setting
Basic task automation
Attach relevant files, documents, and comments to tasks
Asana
Create, assign, and update the status of tasks and subtasks within Slack.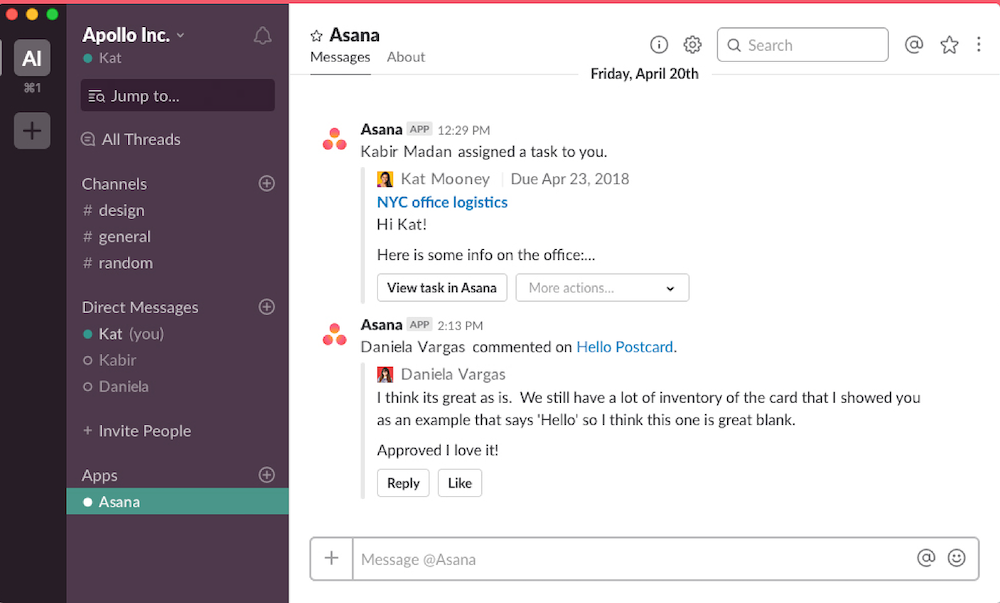 Asana for Slack lets users assign, comment on, and set deadlines for tasks and subtasks. They can also upload relevant files to tasks, and add task collaborators if input from others is needed. Asana includes task management calendar views, list views, and file views.
In Slack, Asana provides automated updates when a task status is changed, lets users assign and create tasks, add tasks to an existing project, and lists all current tasks in the Slack workspace. Users can also see a brief summary of the project title, owner, members, due date, and how much of the project is finished.
How It Boosts Productivity: Asana clearly outlines expectations, provides a central location for relevant documents, keeps everyone on schedule, and provides a birds-eye-view of company-wide project management workflow.
Monday.com
Create tasks, boards, groups, and make project status updates in Slack.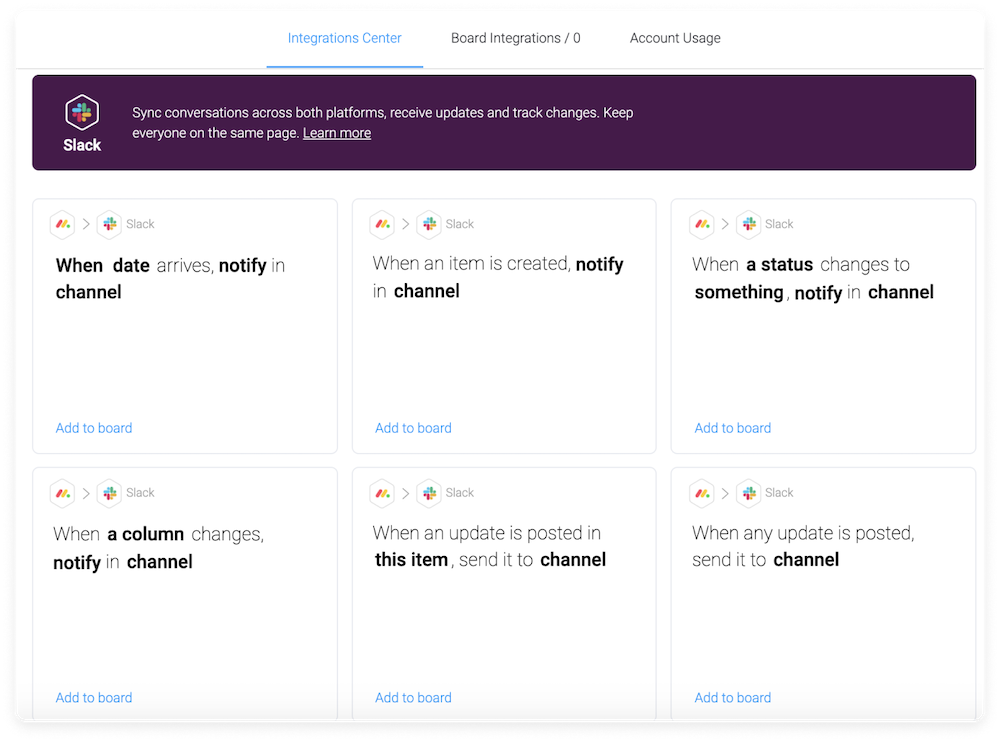 Monday.com is a project management tool offering Kanban, Gantt, calendar, checklist, and file views. Additionally, column views let users filter and organize tasks by keywords, assignees, task priority rating, due date, and status.
Color-coding, subtasks, and the ability to add multiple users to a single task are also available.
Users can choose to receive Slack notifications when a status changes, updates are posted, when a due date arrives or is missed, or when a new task is created or finished. Users can make these notifications company-wide or set them to specific channels or other team members only.
How It Boosts Productivity: Monday.com provides a highly visual task management interface with Slack notifications to prevent missed deadlines and the ability to time tasks to estimate the time projects will take to complete with more accuracy.
ClickUp
Turn Slack messages into tasks, comment on tasks in Slack, and make adjustments to task deadlines, and more in Slack.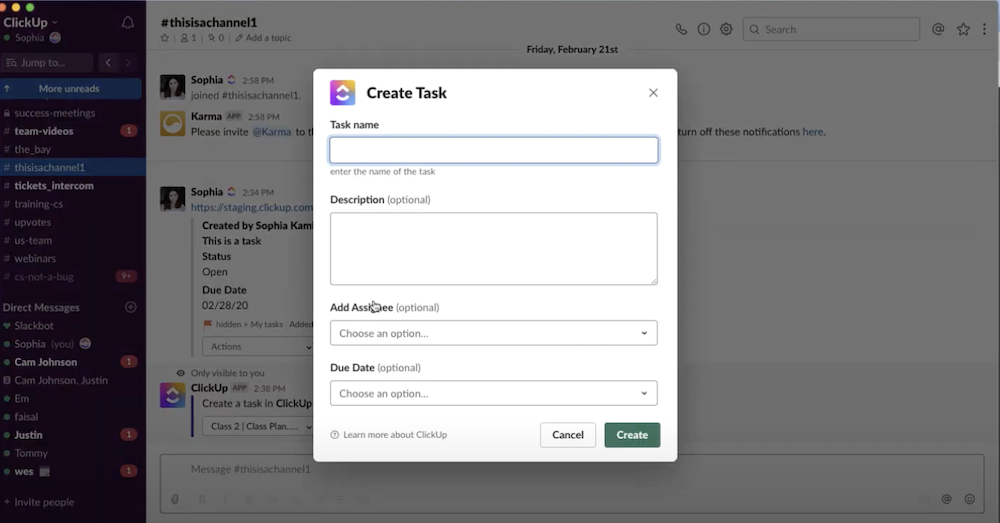 ClickUp is a project management tool that allows users to turn Slack messages directly into tasks by adding project templates, attachments, assignees, due dates, and more to existing Slack messages.
Users can subscribe to the specific task updates they'd like to receive notifications on, in order to prevent information overload. Available task update options in Slack include task creation, new attachment or comment, or a change in the assignee.
Task "unfurling" lets Slack users copy-paste a link to a ClickUp task in their message box, so they can see details including status, due date, priority level, and more. Additionally, users can switch assignees, update status, and more directly in Slack.
How It Boosts Productivity: Especially if a team frequently needs to make adjustments to in-progress tasks, ClickUp ensures all assignees are aware of updates and lets them ask clarifying questions related to the task directly in Slack.
Workast
Enjoy 2-way calendar synching with Microsoft 365, Google Calendar, and more to streamlined task management notifications in Slack.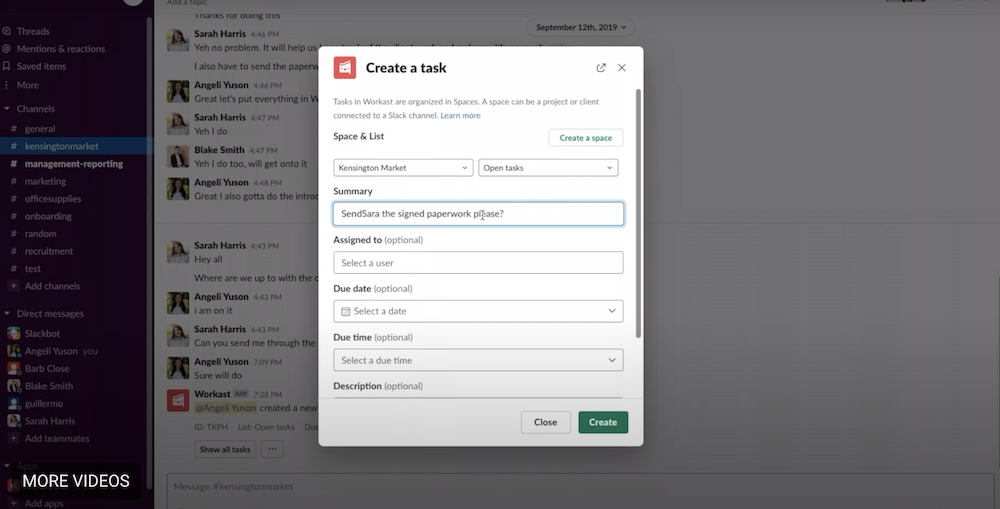 Workast is a Slack-first project management tool that lets users create tasks from Slack conversations, update tasks in Slack, and receive specific task notifications. Users can also see their current Workast task lists in a unique Slack channel.
Users can also use slash commands to create/assign tasks, create personal tasks and reminders, and create and submit forms in Slack.
How It Boosts Productivity: 2-way calendar synching ensures nothing is overlooked and cuts down on excessive notifications.
Trello
Create and manage new task boards in Slack and add Slack conversations to relevant Trello boards.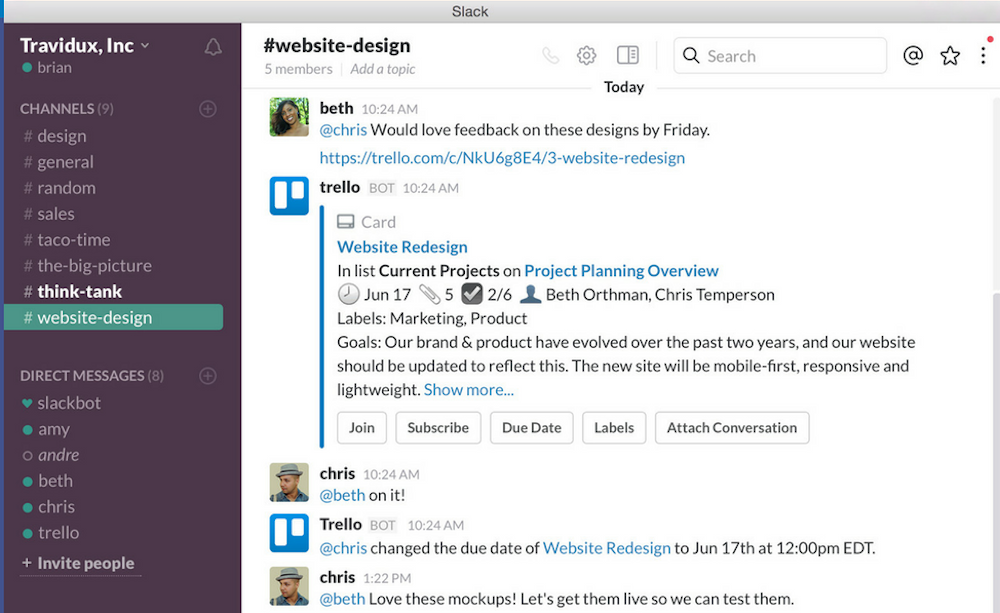 Trello is a visual collaboration tool that operates primarily in a board-based format. Users can add Trello cards (tasks or relevant files) to each board (project) for a more streamlined project organization.
The Trello Power-Up is an ideal workflow management integration for Slack teams that operate primarily within a visually-based format.
In Slack, users can add new boards and cards, invite others to collaborate on boards, add board comments, and even share Slack conversations to Trello cards. Users can also select to receive board-specific Slack notifications.
How It Boosts Productivity: Provides visually-based task management and ensures that team members who were not using Slack when relevant conversations were held don't miss out on important information.
JIRA Cloud
Create new JIRA commands from Slack messages, subscribe to Slack notifications for specific JIRA events, and view relevant Slack conversations within JIRA.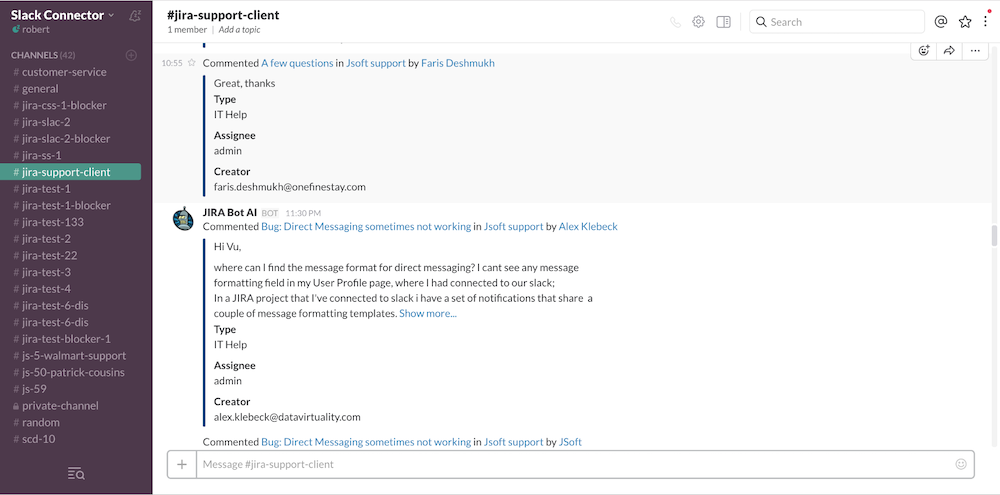 JIRA Cloud for Slack makes it easier to keep teams in sync by connecting relevant JIRA projects to corresponding channels in Slack.
Receive live notifications when new issues are created, prioritize and comment on them, and even filter by ticket or project type. Users can also opt to subscribe to or limit notifications on specific JIRA events.
JIRA issues can be labeled, categorized, updated, and contain relevant attachments.
How It Boosts Productivity: Cuts down on unnecessary notifications and allows users to monitor specific projects or instances from start to finish in Slack.
Poll and Survey Apps
Slack polls and surveys let poll creators access quick team input, making it easier to schedule events, prioritize tasks, and even get workplace feedback.
Additional polling apps are available for customer feedback.
Simple Poll
Create public, anonymous, or recurring native polls within Slack.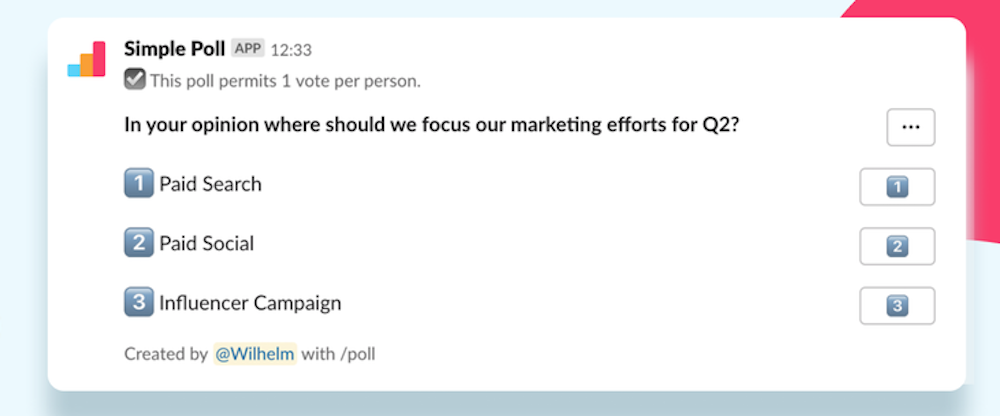 Simple Poll is a user-friendly Slack app that lets users create polls and share them in Slack channels. Users can vote anonymously or using their names, and all participants can see which poll answers are leading.
If needed, poll creators can limit votes so users can't vote for more than one option. Users can set recurring polls, as well.
How It Boosts Productivity: Simplifies meeting scheduling, ends massive email chains, and quickly involves the entire team in the decision-making process.
Polly
Use shortcut slash commands to create Slack polls, view results in real-time, or ask open-ended questions.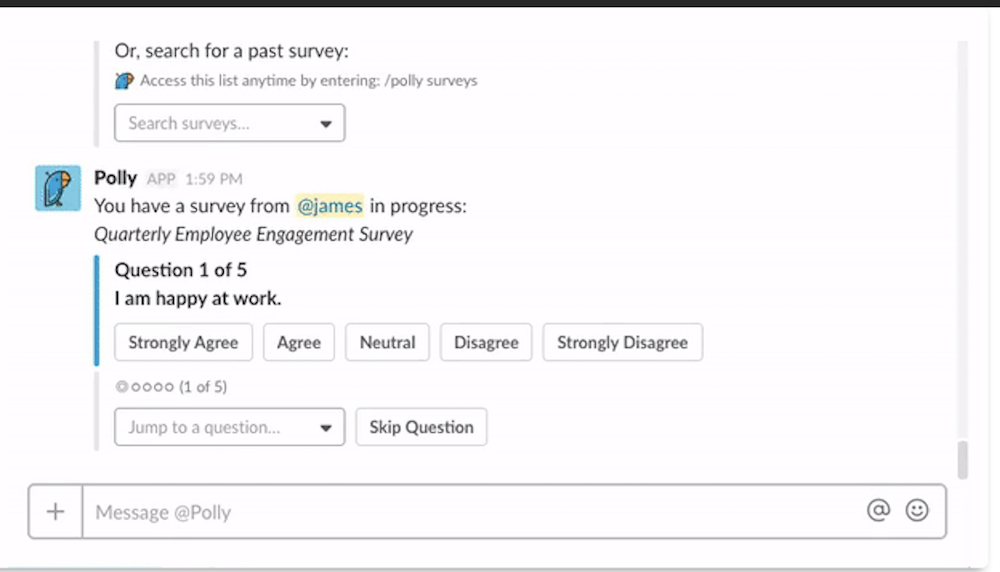 Polly is a team-based Slack poll app that lets users make public, channel-specific, or anonymous polls and open-ended question surveys.
Poll creators can control if they'd like to allow multiple votes, if they'd like responses to be public or private, edit and delete poll choice options, and add up to 8 different responses. Additionally, the poll creator can give the audience the option to add responses.
How It Boosts Productivity: A quick way to gauge employee satisfaction, schedule meetings, and get more detailed poll answers with open-ended questions.
Standup.ly
Automate agile processes, host daily asynchronous standup meetings, and schedule daily check-ins, polls and surveys that can be answered via voice, text, or video.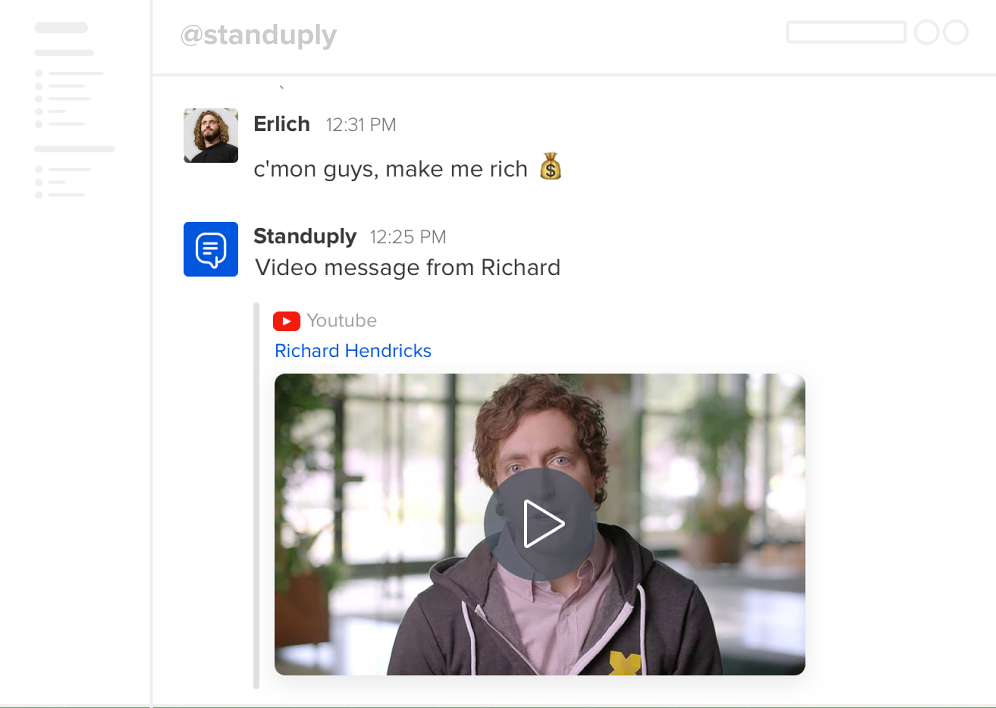 Standup.ly is an all-in-one Scrum Master, standup meeting scheduler, and project management tool that automates agile processes to save time. It also lets users run asynchronous text standup meetings.
Its most unique feature allows users to answer questions posed in Slack via SMS, chat messaging, voice recording, or video messages. Additional features include Integration with JIRA, Asana, Github, and Google Analytics, task automation, and data extraction from Wrike, MySQL, and Basecamp.
How It Boosts Productivity: Brings together remote teams for daily check-ins, allows admins to get big picture updates from geographically diverse team members, and automates agile processes.
Customer Thermometer
Get customer feedback updates in Slack by adding the Customer Thermometer rating button to email blasts and embedded surveys sent with Salesforce, Zendesk, Outlook, and more.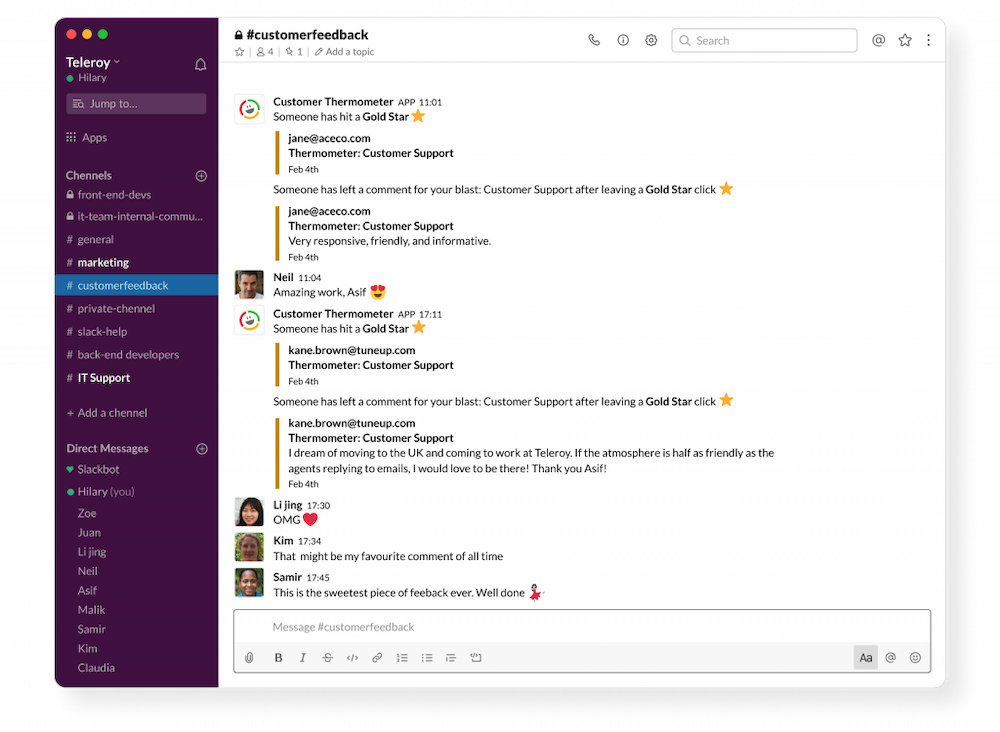 Customer Thermometer is a 1-click survey tool with a button that teams can add to email blasts to collect customer feedback. Customers can leave Gold Stars, comments, and ratings as feedback, and each response is color-coded in Slack to make issues easy to identify.
Customer Thermometer includes the name and contact information of the customer who left the feedback in addition to displaying customer service feedback comments in Slack.
How It Boosts Productivity: Users can get real-time customer feedback to resolve issues faster and identify common problem areas without digging through analytics. Additionally, users can set notification preferences to receive feedback updates in Slack only in the event of a problem.
Customer.guru
Measure current customer loyalty and satisfaction with the Net Promoter Score.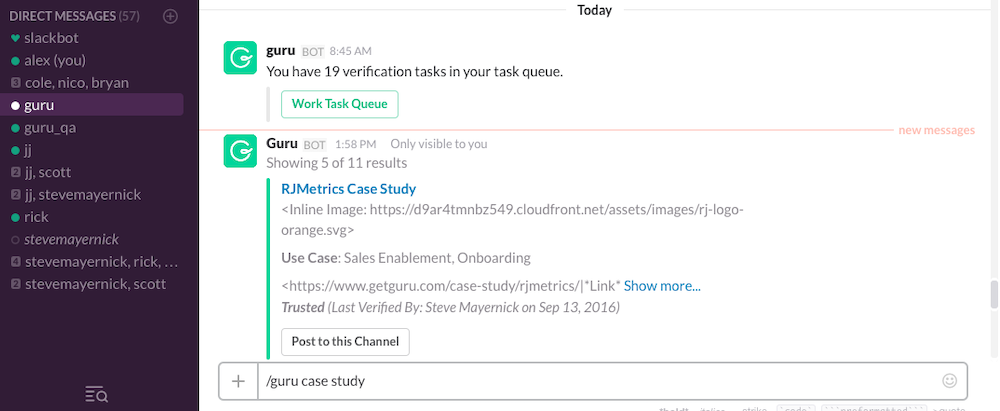 Customer.guru is a customer survey with just one central question, "How likely are you to recommend our products or services to a friend, on a scale of 1 to 10?"
Customers that vote 9 or above are identified as potential "Promoters," and their emails are automatically added to a list. Users can access current ratings and averages in real-time in Slack, upload customer emails, automatically schedule new surveys, and customize their own NPS survey.
How It Boosts Productivity: Helps identify loyal customers, provides survey results in real-time in Slack.
Calendar and Scheduling Apps
Calendar and scheduling integrations allow teams to continue to access and update their preferred calendar and scheduling tool within Slack.
Features often include:
Scheduling meetings
RSVPs
Invitations/meeting itineraries
One-click video meeting access
Google Calendar
Access, update and receive reminder notifications for Google Calendar events.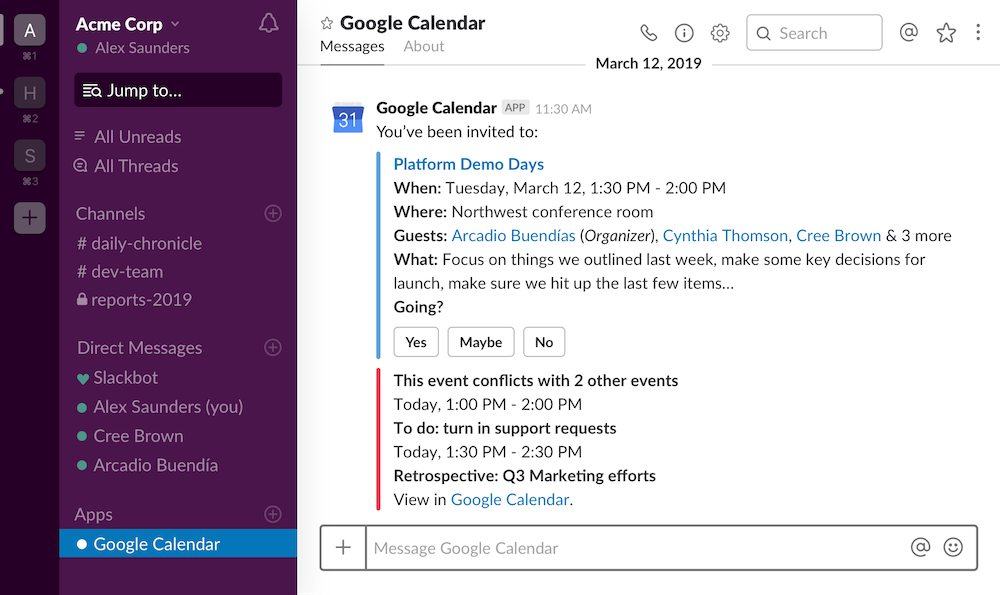 The Google Calendar integration lets users schedule meetings, respond to invitations, access Gmail accounts, create meeting itineraries, and invite guests to meetings in Slack. Users will also receive daily schedule rundowns in the morning, can set up event reminders, and join a Google Hangouts meeting in one click.
How It Boosts Productivity: Ensures users don't miss meetings, automatically updates status when a user is in a meeting to ensure other teammates don't end up waiting on a response for them.
Microsoft Outlook Calendar
Schedule, respond to, update, and invite others to, and sync events or meetings between Slack and Microsoft Outlook Calendar.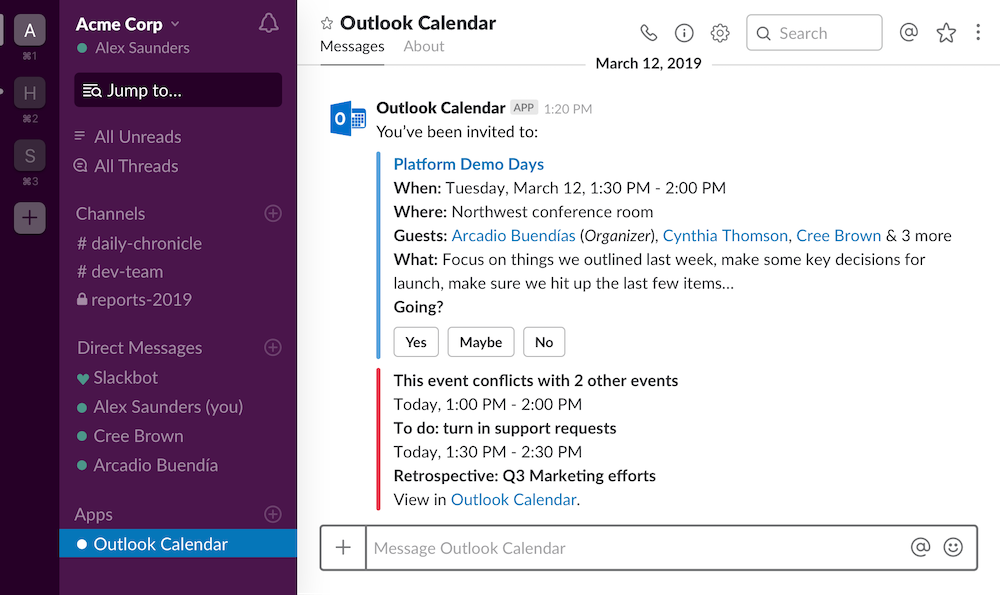 The Microsoft Outlook Calendar integration lets users streamline events, RSVPs, and invitations into the Slack interface. Users will receive event reminders and can join WebEx and Zoom meetings with one click.
How It Boosts Productivity: Lets users join several video conferencing platforms in one click.
Doodle Bot
Get suggestions about the best times and dates for teams to meet by comparing team member calendars and schedules.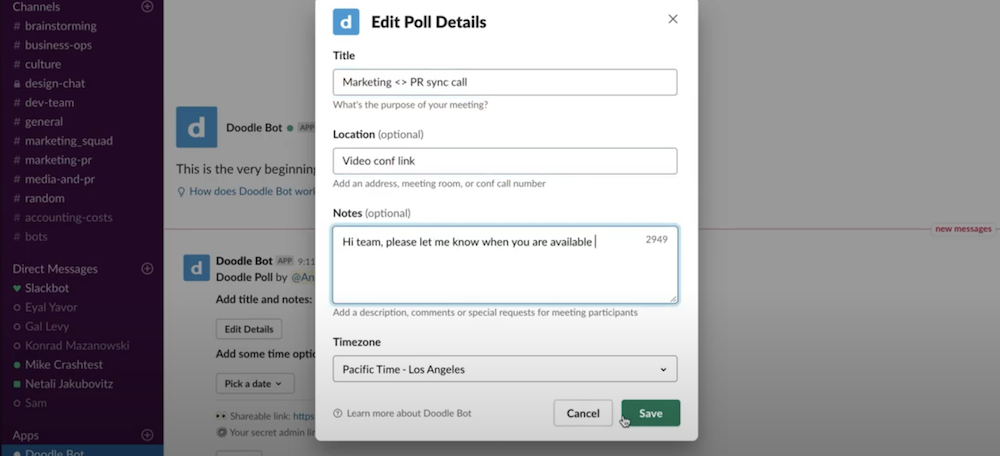 Doodle Bot is a personal scheduling assistant that, via calendar comparisons and polls, finds the ideal time for groups to meet, making suggestions in Slack. Users can also opt to automatically invite entire channels to upcoming meetings.
The "Book It" feature lets managers create and schedule meetings without team member approval. It also offers meeting participant lists, automatically updates user status when in meetings, offers meeting descriptions, and generates a sharable meeting link for new users outside of Slack.
How It Boosts Productivity: Makes the nightmare of finding a meeting time that works for everyone much easier.
Clockwise
Automatically sync calendar tools to Slack and update user status so team members know when to contact one another.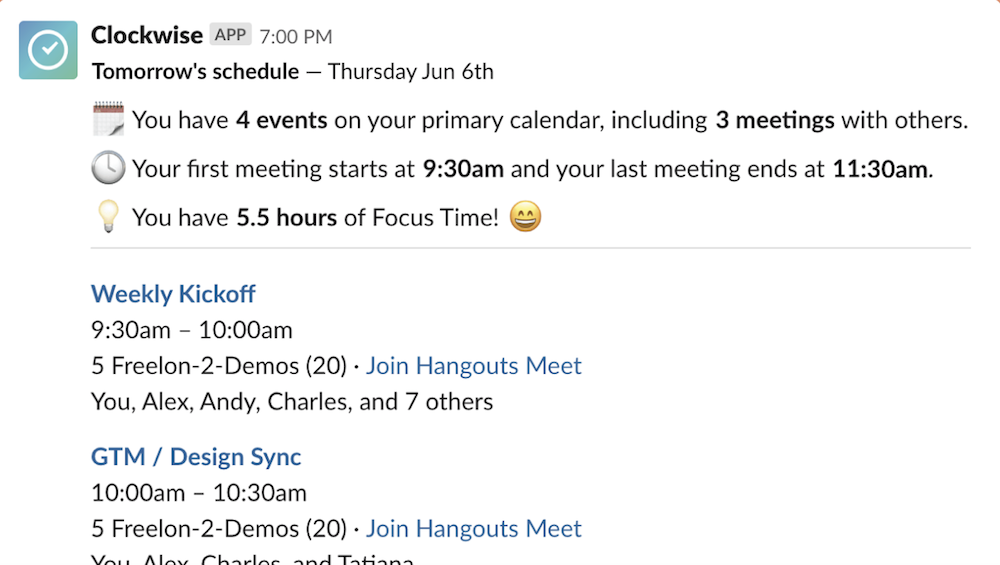 Clockwise is a calendar assistant tool that services primarily as an employee status notification tool. Clockwise synchs employee Google Calendars to Slack daily, and automatically changes the status to "Focus Mode," "Do Not Disturb," "In Meeting," and more.
It can also display daily meetings and tasks and features an "autopilot" mode that automatically adjusts meeting times to better fit team member schedules.
How It Boosts Productivity: Includes a "Focus Mode" that displays the amount of time users were able to spend working vs. how much time they spent in meetings. It also displays how much additional "focus time" could be added to the workday if schedule suggestions are accepted.
Harvest
A time tracking tool that provides estimated hours remaining before project completion based on past task and project lengths.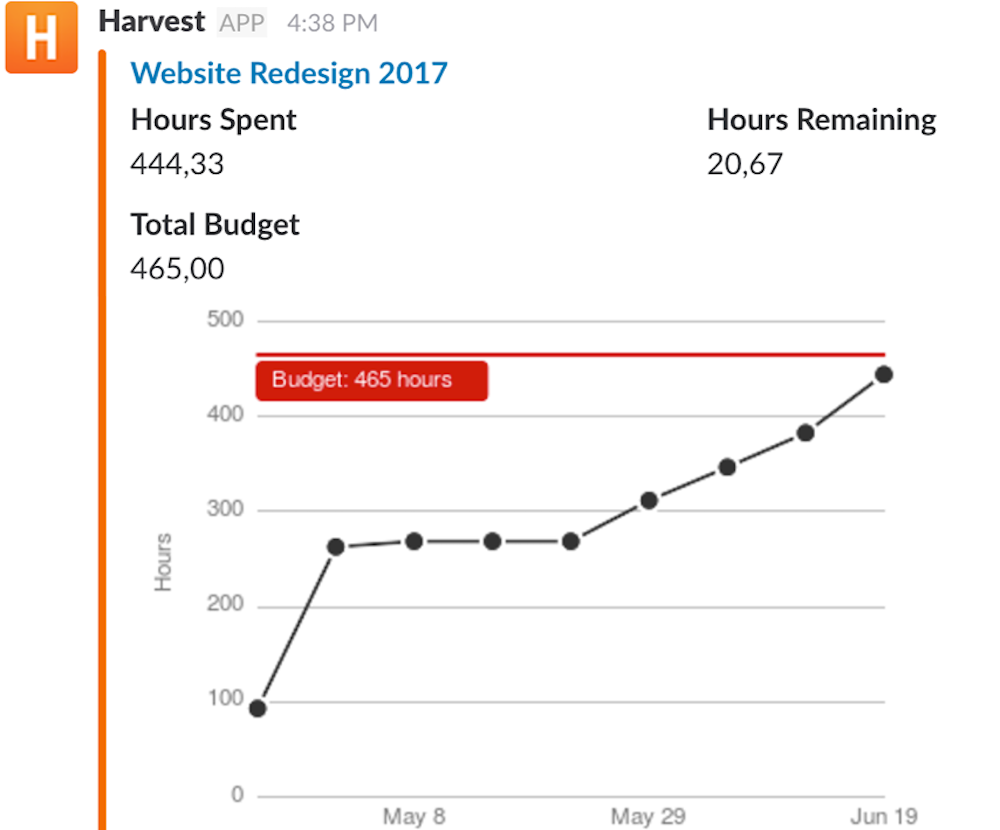 Harvest provides timers for users to accurately track their hours and determine exactly how long specific tasks or projects took to complete.
Users can see the total hours of a project, estimated hours remaining, the budget, and even a graphical representation of productivity. All of this information can be shared in a single graphic to any Slack channel.
Before starting a timer, users specify which project or new task within a project they're currently working on. Slash commands start and stop timers.
Users can make their time tracker visible to one another for accountability, monitoring, or so others know not to disturb them.
How It Boosts Productivity: Provides insight into the length of projects and single tasks, optimizes team productivity, and ensures accurate payment. Prevents busy team members from getting bombarded with messages when on a tight deadline.
Time
A time-tracking app that allows users to take breaks and provides detailed time management reports to team leaders.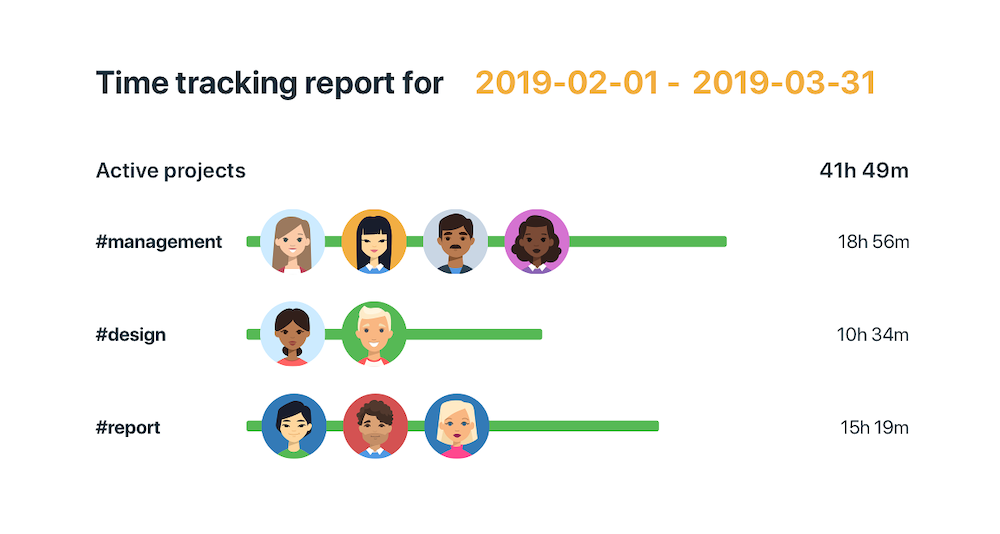 Time is a basic time-tracking app with slash commands to easily pause for a break, a call, or a meeting. Users can also see who else is online.
How It Boosts Productivity: Allows managers and team leaders to more accurately plan schedules and due dates in the future, and provides insight into how individual team members are using their time.
Attendance Bot
Assist with PTO, shift assignment, sick days, and remote work scheduling and allow team members to punch in and out on a virtual timesheet in Slack.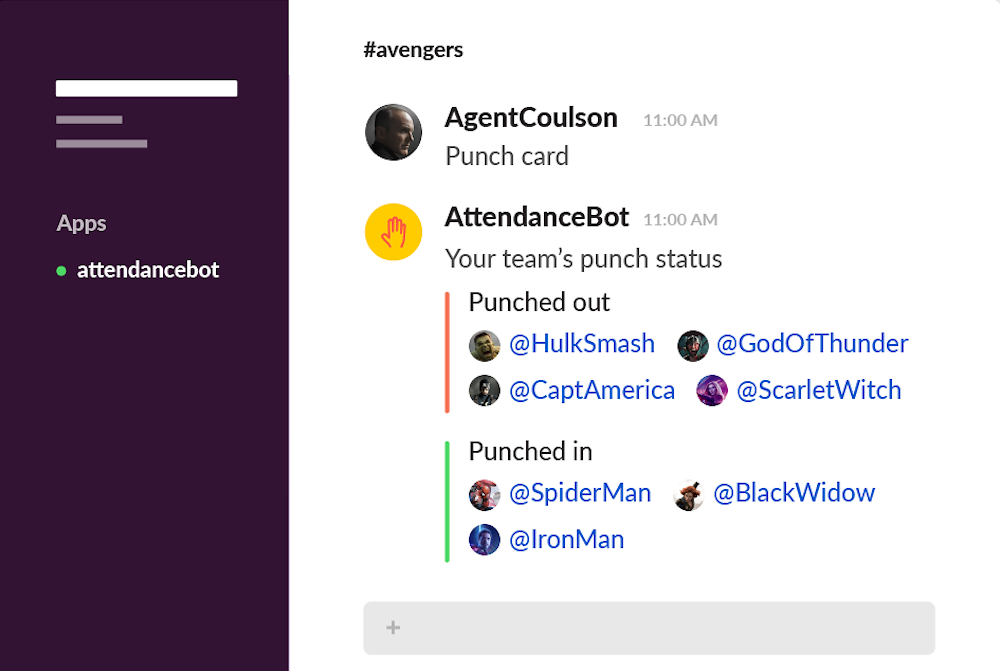 Attendance Bot lets users clock in and clock out on Slack every day to increase timesheet accuracy. Users can also track how long specific tasks or projects take to complete. Every team member is also notified of when someone they work with closely will be out of the office, and managers can approve PTO requests directly in Slack.
Users can also schedule team member shifts, receive reminders about upcoming shifts, and update their shift availability.
How It Boosts Productivity: Makes shift scheduling and PTO planning much easier, and ensures that team members can plan ahead when key players are out of the office.
Human Resources and Office Management Apps
The following Slack apps provide assistance with onboarding new hires, recruiting the best talent, and personal time off management and approval.
Greetbot
Provide onboarding support to new team members, introduce them to key employees, and deliver segmented onboarding information with scheduled messages.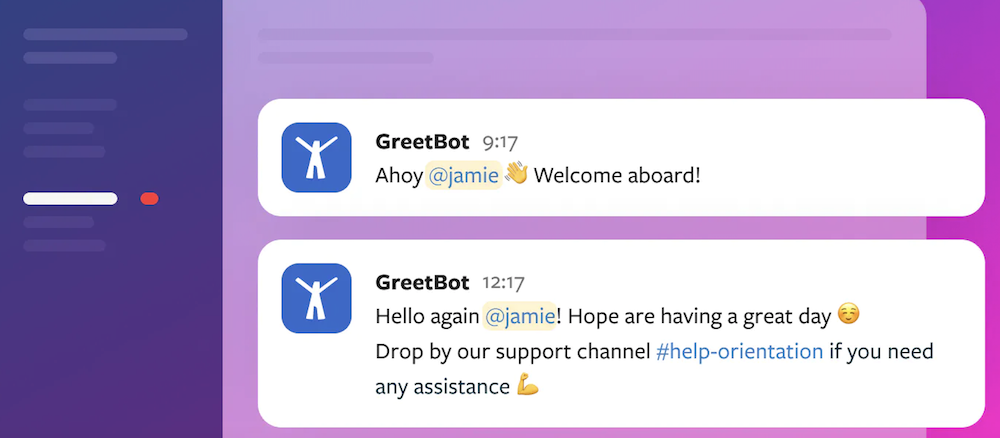 GreetBot is an onboarding assistant allowing users to share essential documents and websites with new clients or employees.
It also allows admins to assign specific employees to welcome new hires and guide them through the welcome process. Users can send pre-scheduled, follow-up direct messages and keep track of their activity with message logs.
How It Boosts Productivity: Prevents new team members from getting overwhelmed by too much information, reminds existing employees to assist new hires to avoid mistakes from inexperience.
Timebot
Manage PTO requests, view PTO history, automate sick day approval and employee status in Slack when out of the office.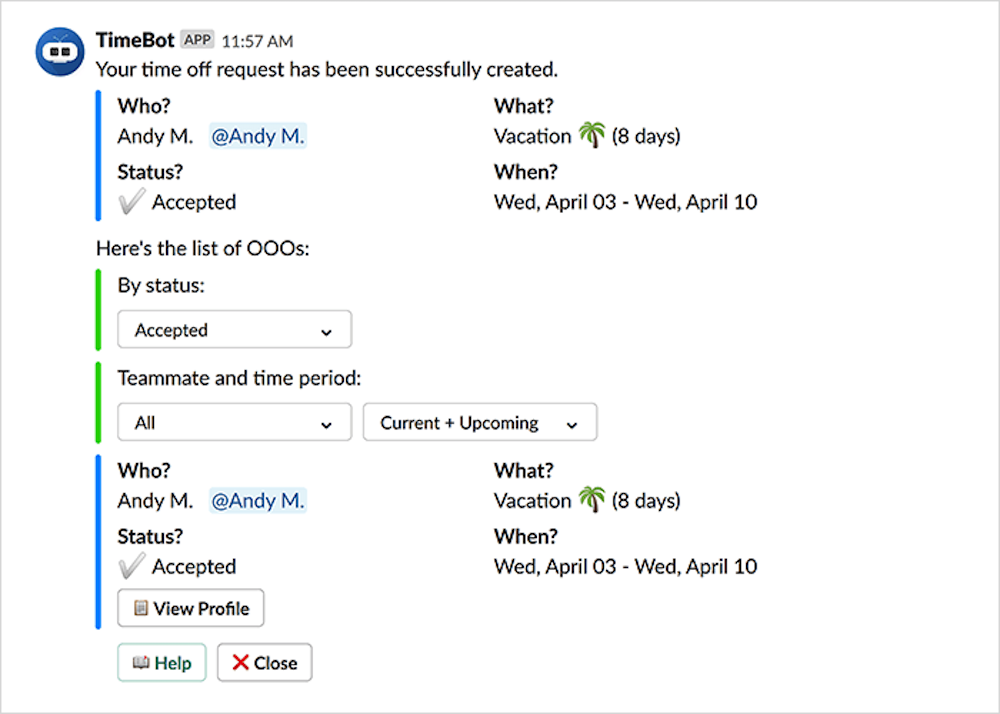 TimeBot for Slack makes managing PTO much easier.
Users organize employees into teams to compare, approve or deny requests for time off in Slack. TimeBot also provides a history of all previous time-off requests, allows HR to set PTO limits, and keeps track of employee personal/vacation/sick days taken and remaining.
Team members can also schedule messages for later, request time off, and view company-wide messages and notifications about any changes in company policy.
How It Boosts Productivity: Ensures that several team members are not taking PTO at the same time, preventing an empty office and overworked employees.
Greenhouse
Find, interview, and onboard the right candidates for open positions, send automated recruiting notifications and approve other Slack users to recruit new talent. 

Greenhouse is a recruitment tool that notifies Slack users whenever a new applicant has submitted an application, when a current employee has submitted an application for a higher position, or when a recruitment agency has submitted possible new hires.
Users also receive reminder notifications about upcoming candidate interviews, can approve new hires directly in Slack, and create official job offer packages to be sent to candidates.
How It Boosts Productivity: Especially for startups or companies with a high employee turnover rate, Greenhouse makes filling vacant positions simple and far less time-consuming.
Team Collaboration Apps
The apps below streamline communication, provide additional channels, and make editing and sharing files simple.
Evernote
Access all meeting notes in a single repository, search past notes, and share meeting notes with team members, all directly within Slack.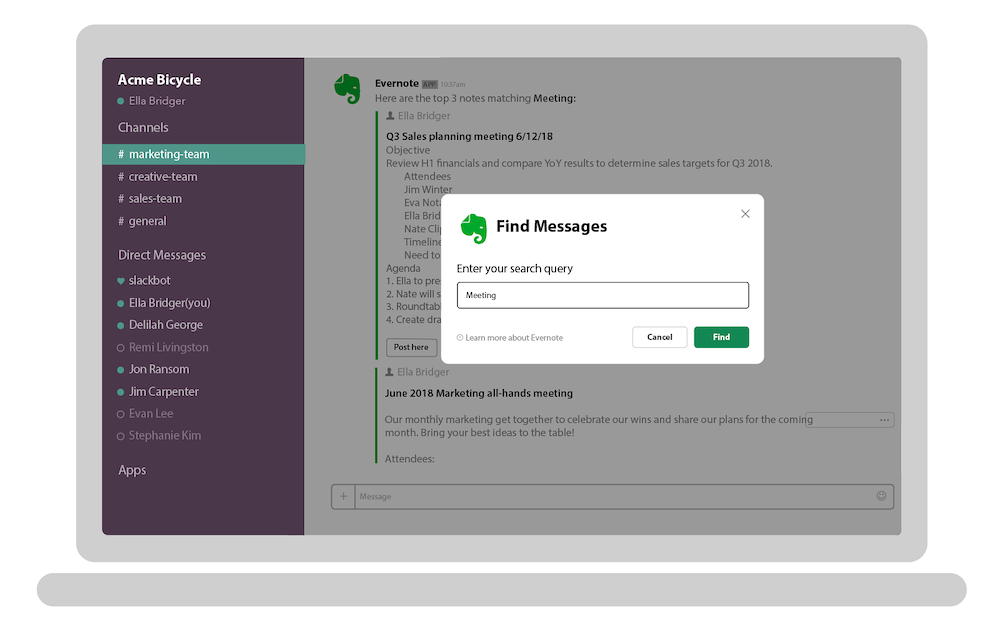 Evernote is a notetaking app that integrates with Slack to help users avoid endless searching through emails and files to find meeting notes.
Take notes while still using Slack to host video meetings or conference calls. Afterward, send these to relevant users or tag other users — or keep them private.
Users can also turn Slack messages into meeting notes, search and share past Evernotes, and create tasks and set reminders from notes.
How It Boosts Productivity: Ensures that essential meeting notes are not lost and allows users to compare meeting notes to prevent miscommunications.
Mio
Communicate with WebEx and Microsoft Teams users on a universal chat messaging channel in Slack.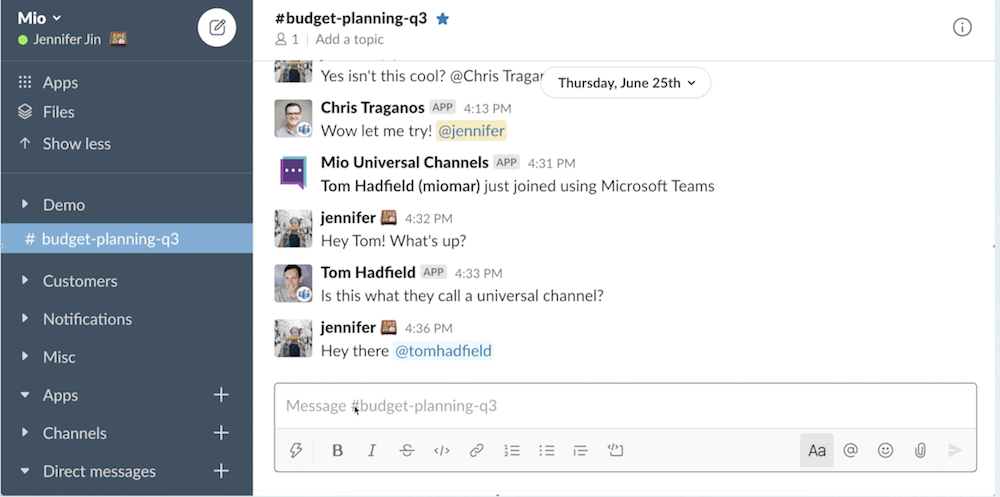 Team chat messaging is one of the most popular ways to stay in touch with team members throughout the day – but what if a team communicates across multiple chat platforms?
That's where Mio comes in.
Mio lets Slack users communicate seamlessly and in real-time with Microsoft Teams and WebEx users – within the Slack interface. Users can also send DMs, invite users to channels, edit and delete messages, and more in universal channels.
How It Boosts Productivity: Eliminate the need to switch between and keep track of conversations happening across multiple chat applications, relying on a universal chat tool instead.
Markup Hero
Annotate, edit, and share screenshots, images, and PDFS directly in Slack.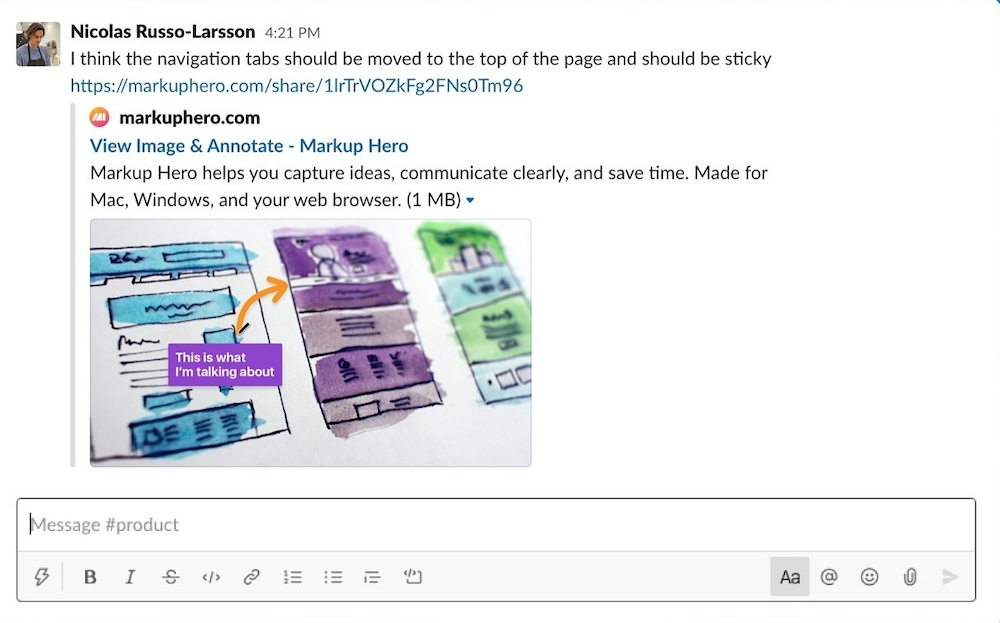 Markup Hero lets users annotate and edit PDFs, whiteboards, and other images in Slack by adding arrows, texts, rectangles, oval, and pen shapes directly on the image. Additionally, users can edit the image and annotation font size, color, line thickness, direction, and location.
Once the image is complete, users can create and share a unique new image link to share in Slack, copy the image, or duplicate past markups for other team members to add to.
Users can also see a sidebar list of all previously edited or saved images, along with their creation date, owner, and last edit time.
How It Boosts Productivity: Prevents miscommunication by Slack users explain their points clearly, suggest edits to team members, or provide quick product mockups directly in Slack.
Voice Message
Record and send audio messages in Slack.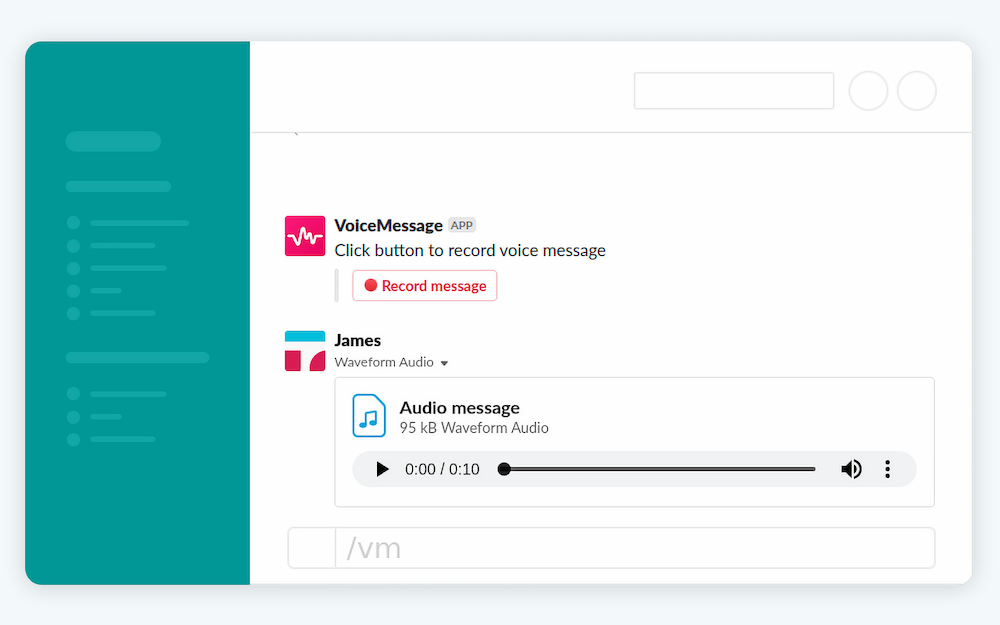 Voice Message is an app for recording voice messages and memos within Slack, helping users communicate more clearly and efficiently.
Voice Message also allows the message recipient to respond directly with a prompted "Respond with Voice Message" reply button.
How It Boosts Productivity: Completely eliminates the need for meetings, phone calls, or lengthy typed-out chat messages by letting users record, share, and save voice messages instead.
Social Media Apps
Social media Slack apps let users draft and share social media posts with channels, and send out alters whenever a new social comment or mention of the company is posted.
Shield
Manage Instagram and Facebook comments directly in Slack.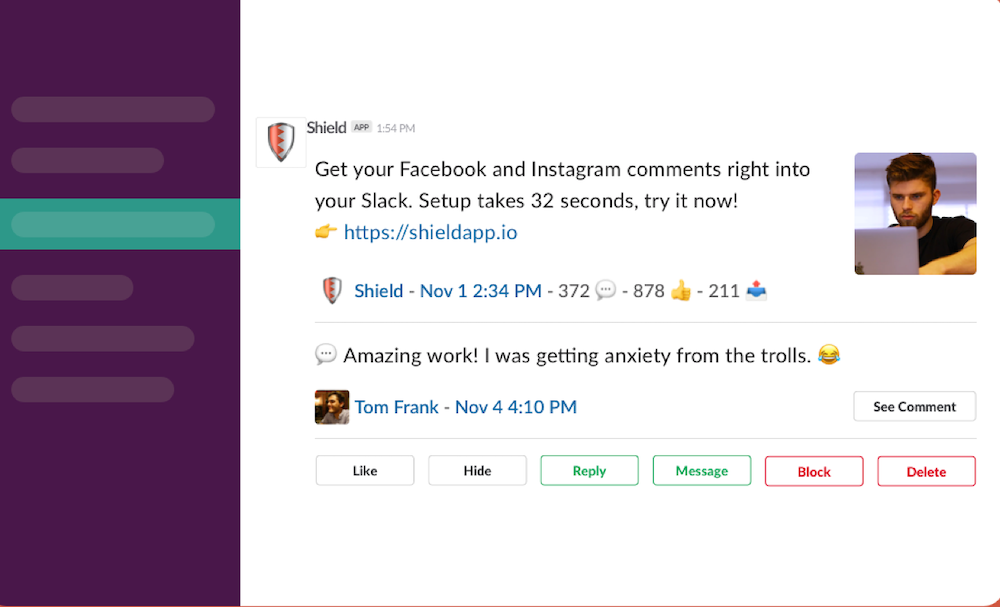 Shield lets Slack users like, hide, reply, or entirely delete social media comments on Facebook and Instagram. Users can also send a direct message to the commenter via Slack. Basically, it's a turnkey solution for Facebook comment moderation, as well as Instagram.
In extreme cases, Shield also gives users the option to completely block social media profiles within Slack.
How It Boosts Productivity: Prevents team members from constantly having to check social media pages, ensures that any comments are responded to quickly to boost customer engagement and loyalty.
Twitter
Share and post tweets and Twitter URLs into Slack, and get notifications when the company account is mentioned on Twitter. 

Automatically send newly-posted company tweets to public or smaller Slack channels, search tweets in Slack, and get updates when the company account is tagged with Twitter for Slack.
How It Boosts Productivity: Prevents team members from getting distracted by social media, reminds team members to share tweets, and allows for quick responses to negative comments or mentions.
Yala
Plan daily and weekly social media posts within Slack.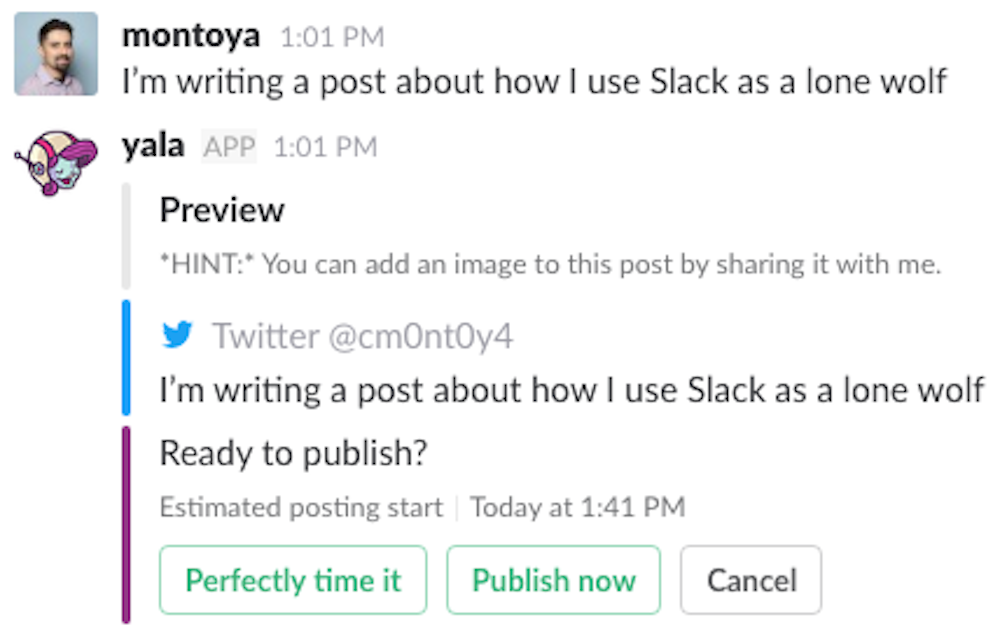 Yala is an automated social media posting app that lets social media managers plan, create, and schedule daily or weekly social media updates across multiple channels.
Users can set posting times, use machine-learning algorithms to understand the best time to post, preview, review, and accept or decline posts, and post to multiple channels at once.
Yala also automatically formats links, images, and texts, and sends automated post reminders out to social media teams.
How It Boosts Productivity: Allows companies to plan ahead with their social media strategy and automates posting.
File Management Apps
File storage apps let users access and edit work-related files in real-time within Slack. Features usually include automatic file syncing, co-annotation, user tagging and commenting, and access management.
Dropbox
Access, edit, share, and view editing history of important workplace files.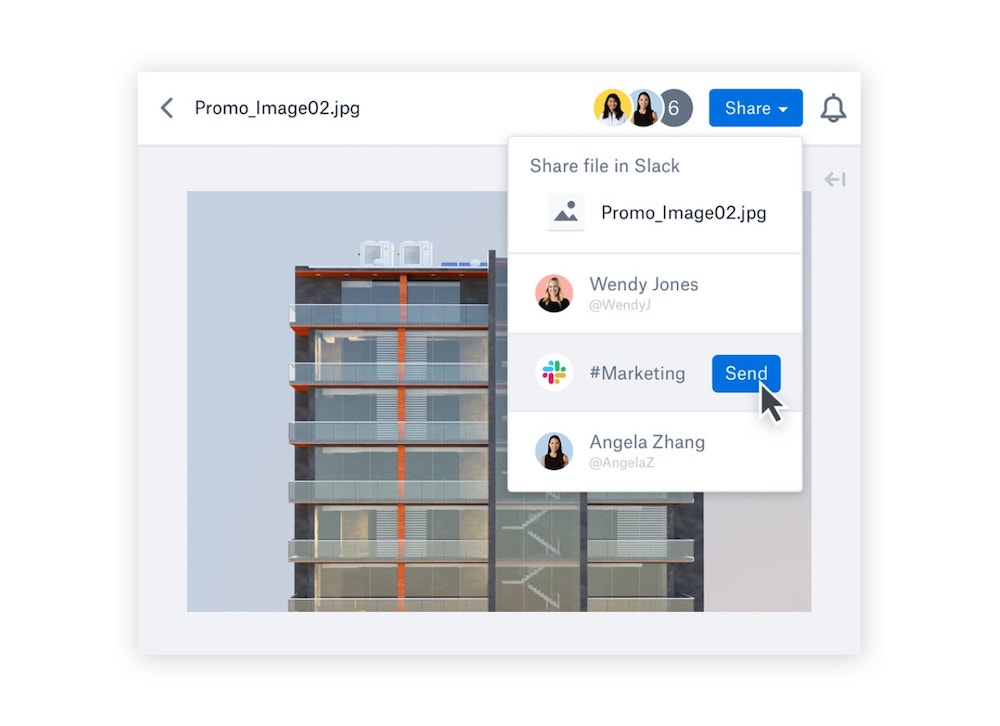 Dropbox lets users access, edit, and sync important documents and other files from Slack. Send files to entire channels or individuals, and receive updates in Dropbox about file activity that happened in Slack.
Create, edit, and collaborate on Dropbox Paper docs instantly. Users can also create shared folders, tag other team members in comments or within files, and access recent file activity.
How It Boosts Productivity: Provides a central location for all company files and ensures that team members are working on the most current file version.
Google Drive
Create, share, and edit new and past Google Drive files in Slack.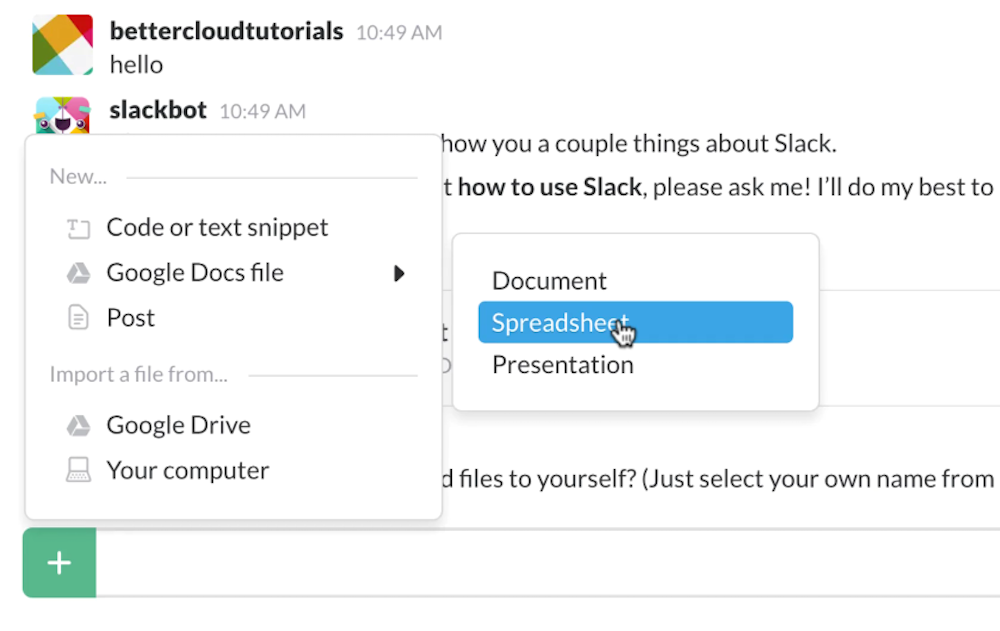 Google Drive lets users access essential existing files within Slack, create new ones, and add and reply to comments. Users can edit Google Drive files in real-time and make file access requests.
Live file syncing, user tagging, file previews, editing privilege management, and file searching in Slack are all additional Drive functionalities.
How It Boosts Productivity: Lets users view edit history, make editing suggestions, and comment on files for better team collaboration.
Box
View recent files, manage file access, edit, and share Box files in Slack.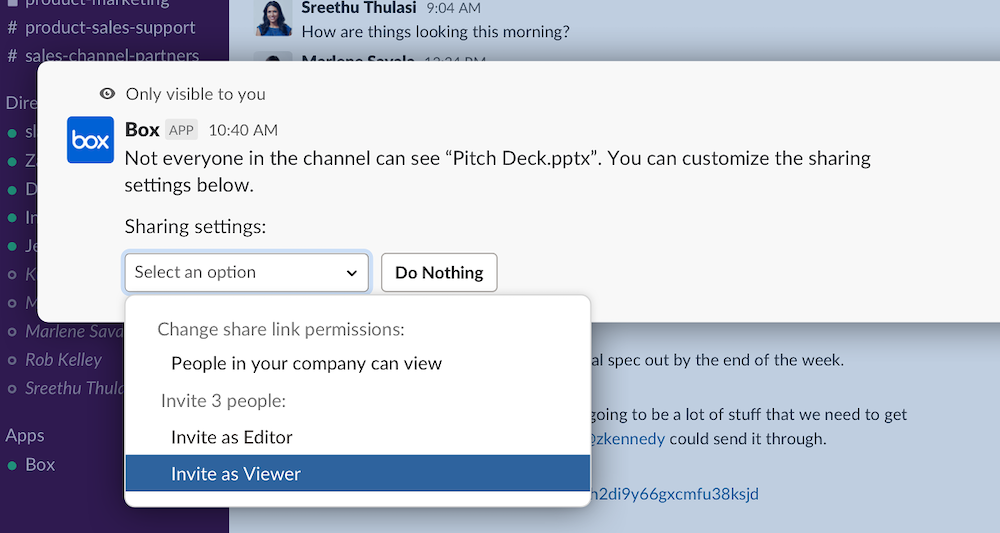 Box for Slack lets users share and manage files within Slack. There are two Box Slack apps, Box File Picker and Box for Slack. Users should install both for the best results.
In addition to file editing, commenting, user tagging, and file search, users can also view file previews, request editing permissions, and view a recent files list.
How It Boosts Productivity: Ensures that only selected users can edit and access files.
Office 365
Connect essential Microsoft Office 365 tools like Outlook, OneDrive, and SharePoint to Slack.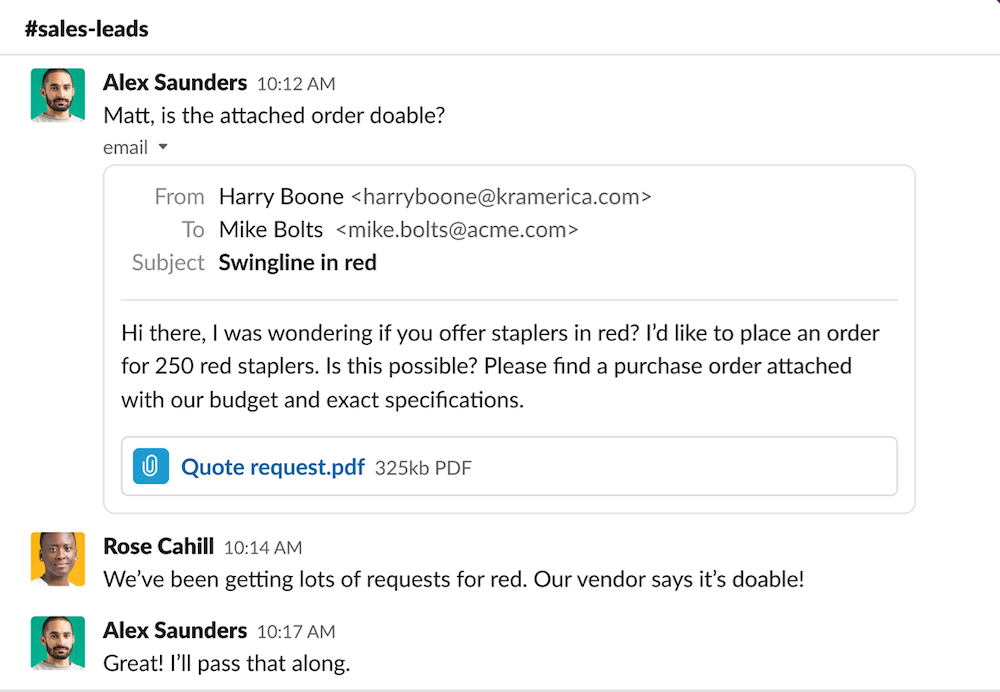 The Office 365 integration lets users share Outlook emails in Slack conversations, allows for seamless file collaboration, and makes it easy to access work calendars and sync schedule updates in Slack.
Office 365 Users can also automatically update their status, respond to meeting invitations, join video calls, and share/preview OneDrive files.
How It Boosts Productivity: Ensures no schedule mix-ups and lets users read entire Outlook emails in Slack.
Marketing and Sales Apps
Marketing and sales integrations help Slack users get automatic updates about sales pipelines, current leads, and the success of current marketing campaigns.
Users can also communicate with website visitors directly in Slack, connect with other third-party applications, and get alerts when eCommerce sales are made or deals are closed.
Drift
Get clearer insight into company sales cycles, learn when leads and customers are ready to make a purchase and respond to customer inquiries on a company website within Slack.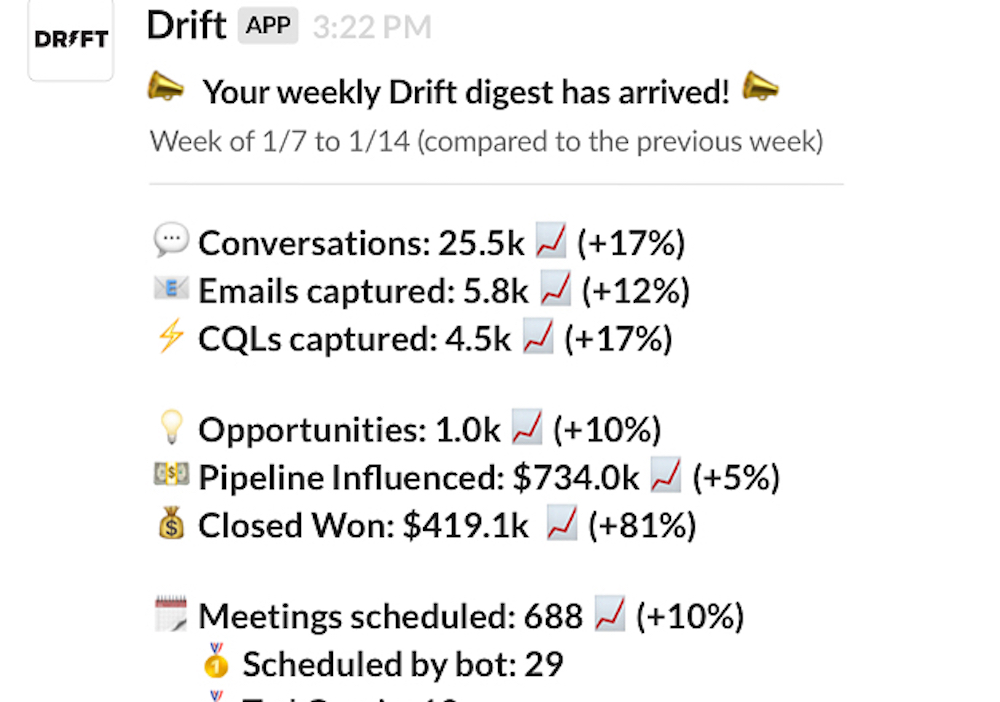 Drift is a conversational sales app that allows Slack users to chat with website visitors in real-time directly from the Slack interface. Additionally, Drift displays essential sales data from the past 30 days, including the number of conversations, the number of new emails captured, the number of opportunities collected, the number of meetings scheduled, and the value of all deals closed in the past month.
Drift also sends users notifications when a customer reaches out via chat to ensure they don't miss anything.
How It Boosts Productivity: Allows users to connect with website visitors within Slack, and provides an insightful sales data snapshot to teams.
Zapier
Zapier integrations (Zaps) help to connect Slack to over 3,000 other third-party integrations.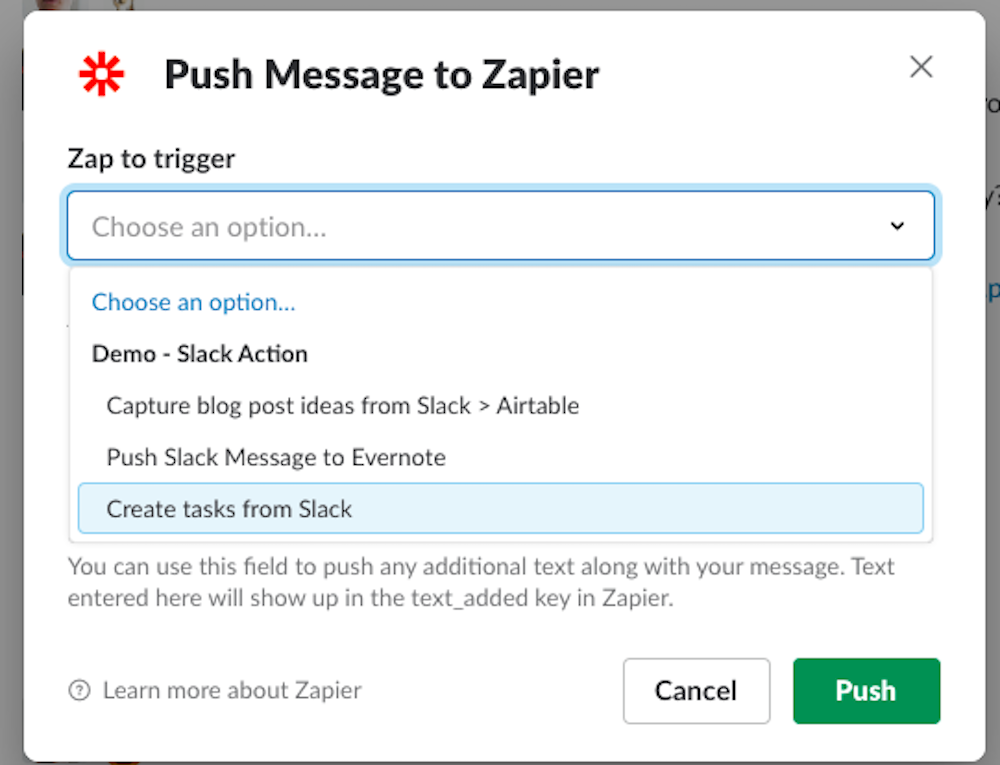 Zapier for Slack is a task management and workflow automation tool that integrates with thousands of other apps and social media profiles, allowing users to streamline workflows across all of the business tools they're using.
Create a to-do list based on Slack notifications, comment and tag other users, or move them into the relevant app for later. Users can also access complete task history, show Twitter mentions in Slack, access calendar updates, and set automation triggers.
How It Boosts Productivity: Simplifies the integration process for third-party apps.
Shopify Sales Alerts
Receive Slack updates every time a purchase is made on a company's online Shopify shop.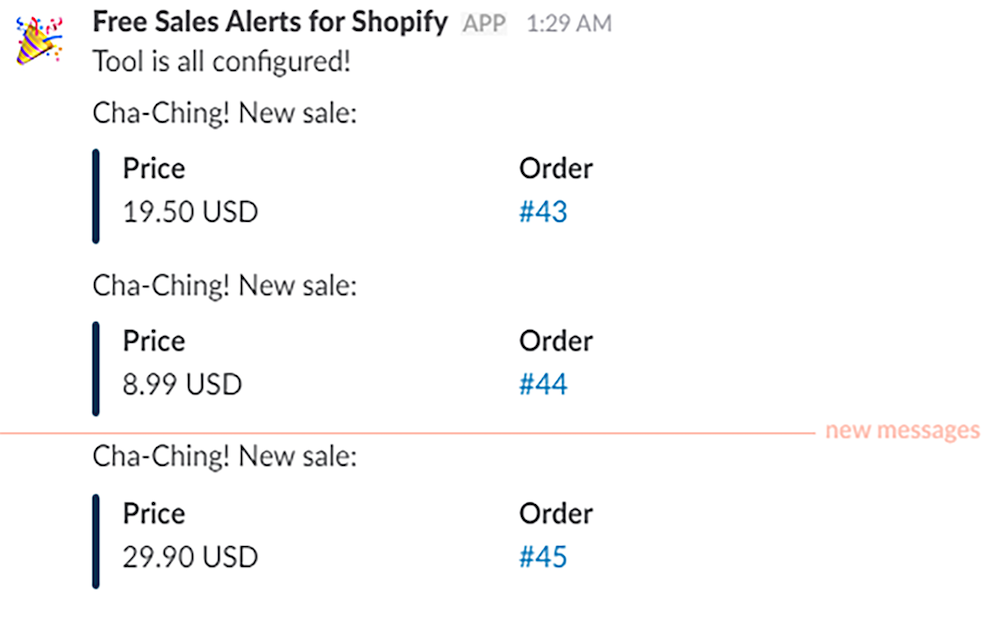 In addition to standard order notifications, Shopify for Slack users can enable custom notifications according to order type to be sent to specific channels only. The notifications will also show any customer notes, customer name, products ordered, and the shipping address.
How It Boosts Productivity: Prevents team members from having to constantly check their email or Shopify applications for sales alerts, ensures orders are fulfilled and helps to identify popular products and selling times.
MailChimp
Access email marketing updates in the Slack interface. 
MailChimp is an email marketing tool that provides premade and customizable email campaign templates, lets users create email marketing lists, and provides analytics about open rates, click rates, and more.
With the MailChimp Slack integration, users can monitor email campaigns, check for editing errors, and receive notifications when anyone subscribes or unsubscribes to a mailing list. Slack users can also be turned into MailChimp subscribers, and users can get updates when email contact information has changed.
How It Boosts Productivity: Lets users monitor the success of campaigns and subscriber rates directly in Slack, as well as edit and optimize campaigns with other team members.
Analytics and Monitoring Apps
The below analytics and monitoring apps let users access real-time and historical insights about website visitor behavior, visitor acquisition and SEO, conversion rates, and more in Slack.
Google Analytics Insights
Receive Google Analytics notifications related to website visitor behavior and visitor acquisition in Slack.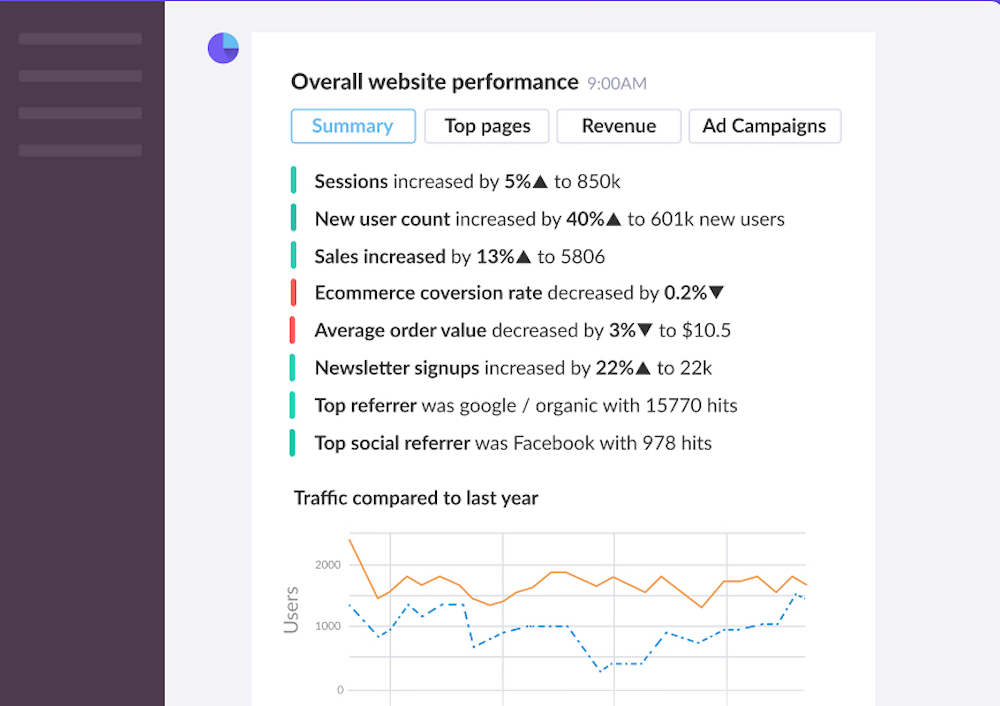 Many companies use Slack Google Analytics Insights to keep track of website visitors and search engine optimization data. Now, users can receive real-time and historical updates on a predetermined schedule.
Adjust ad spending in Slack, study Google Ads data, and get updates about the length of time, the number of sessions, and events on the company website as they happen.
How It Boosts Productivity: Allows users to compare both real-time and historical data to gauge website and SEO performance and better optimize their website.
Geckoboard
Share Geckoboard analytic dashboards with data on social media growth, marketing campaigns, customer service satisfaction, sales targets, and more directly in Slack.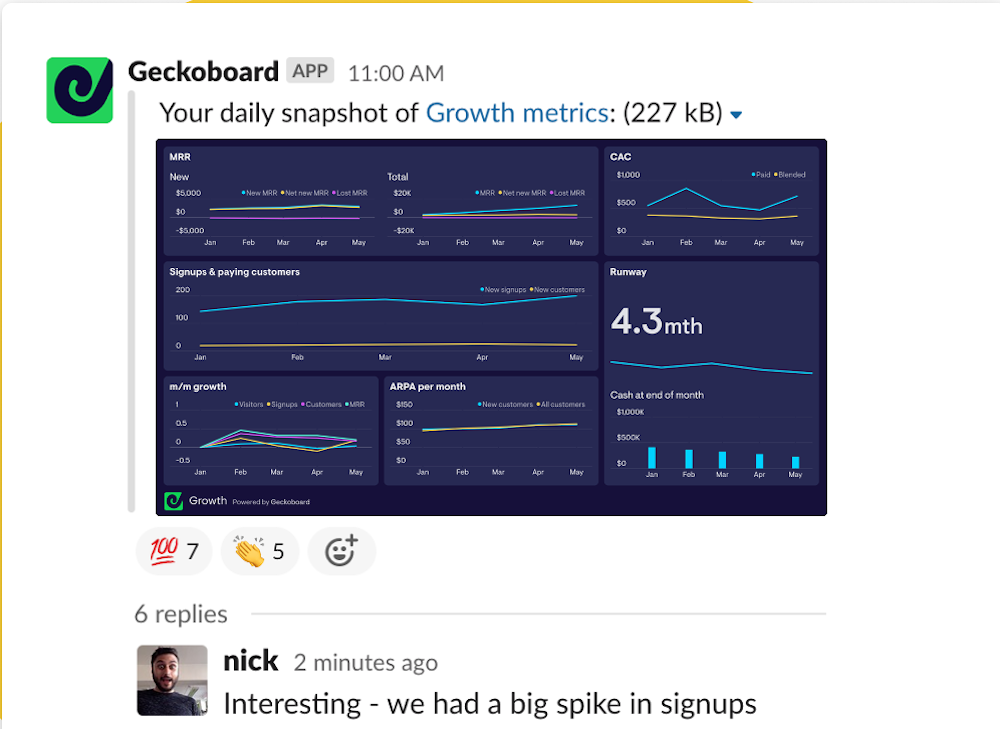 Geckoboard is an analytics application that lets users share key metrics to Slack in a single snapshot. Users can customize dashboards to show specific metrics, auto-schedule dashboard delivery, and access data from over 60 sources.
How It Boosts Productivity: Presents KPIs in a clear way for the entire team to see, ensuring that any problem areas are addressed quickly. Also saves time by eliminating the necessity for manual data entry.
Misc. Apps
This last handful of Slack apps will all improve the workplace in different ways.
Team building apps, company spending tracking tools, and media monitoring solutions are among the applications featured below.
Giphy
Add GIFs to your Slack conversations. 
Giphy might just be the most fun Slack app, as it lets users share their favorite reaction GIFS in any channel – a major upgrade from the simple emoji.
Look for the perfect GIF in the search bar, or simply browse pre-determined GIF categories.
How It Boosts Productivity: It doesn't. It just lets yout team have fun.
DocuSign
Provide an electronic signature for key documents in Slack.
DocuSign is a Slack integration that lets users sign important files electronically.  In addition to getting notifications when an online signature is needed, users can also select from several premade agreement templates.
How It Boosts Productivity: Eliminates the need to print out and sign documents, saves user signatures for future use, moves along deals and contracts much faster.
Donut
Connect remote teams, new employees, and create mentorship programs around a virtual water cooler.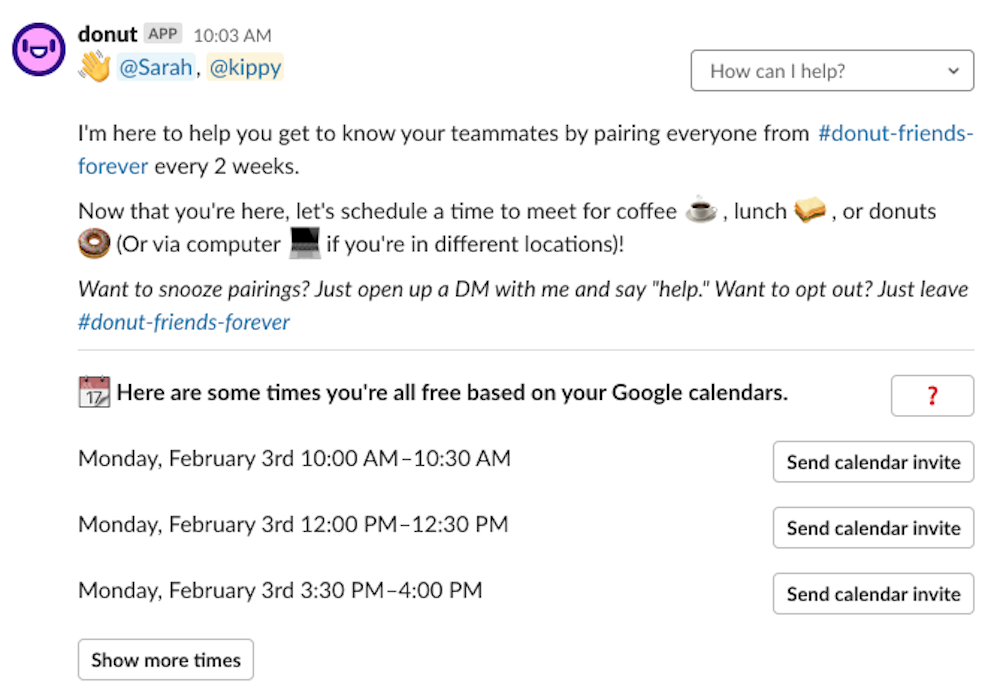 Donut is a Slack app that provides daily conversation prompts, matches employees up for remote coffees, and gives workers the chance to meet with higher-ups thanks to features like CEO coffee roulette.
Remote team lunches, onboarding and training buddies, job shadowing, and sales demo groups are also available. Users can customize group size, create their own ice breaker questions, and automatically introduce new teammates.
How It Boosts Productivity: By uniting remote teams, employees can foster relationships, understand who they can go to for advice, and feel more connected to the workplace.
Nightowl
Send scheduled Slack messages to one or multiple recipients, set recurring messages, and create custom recipient groups.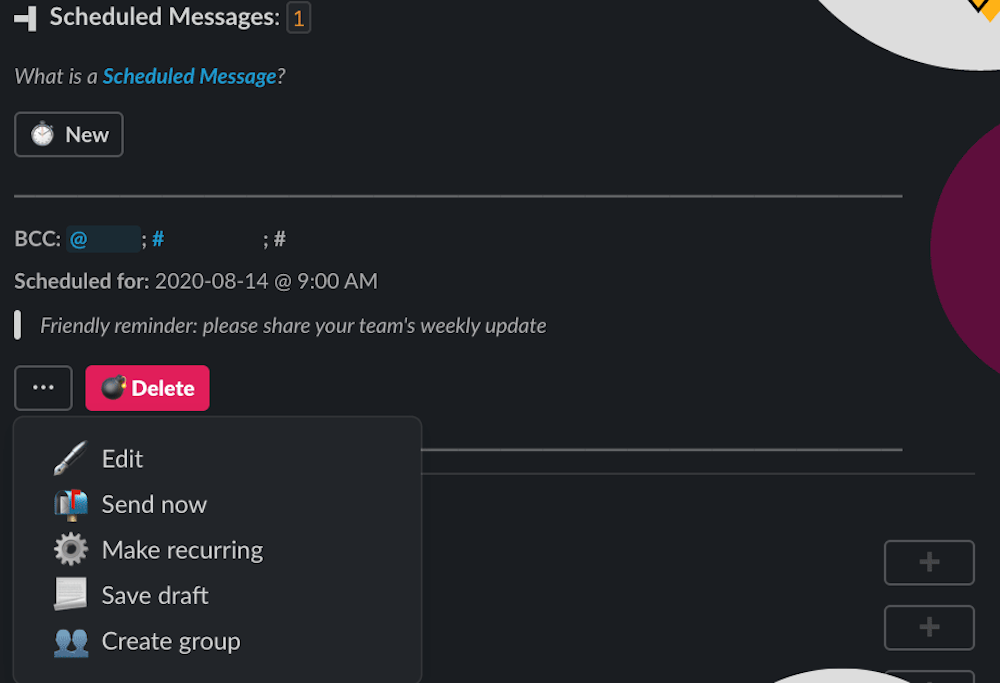 Nightowl lets users schedule and send future Slack messages in an interface similar to an email inbox. Users can send individual messages, group messages, or BCC Slack messages to multiple recipients. Users can also set recurring messages, and save message drafts in Slack for later to convert into different message types.
Best of all, Nightowl automatically adjusts sending times to the recipient's timezone.
How It Boosts Productivity: Allows team members across multiple timezones to communicate, maximizing working hours for each employee.
Mediatoolkit
Get real-time Slack notifications when a company is mentioned on the web or on social media.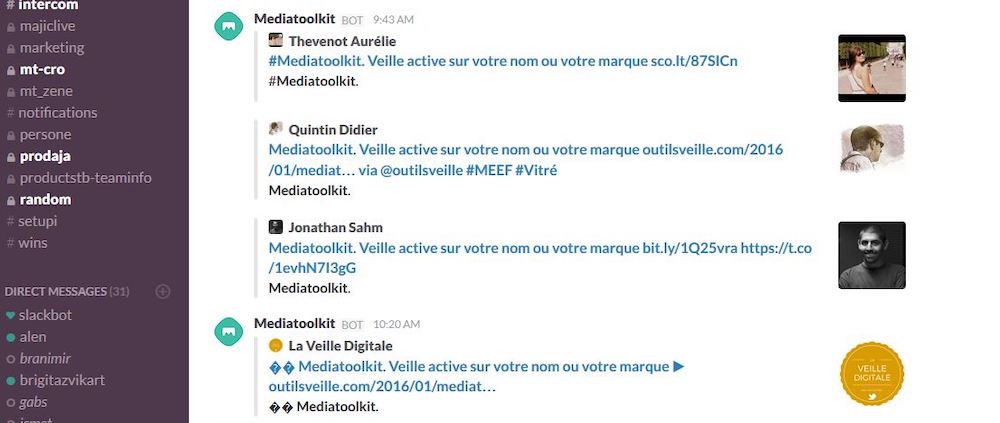 Mediatoolkit tracks all the web and social media mentions and tags for a brand or business, sending real-time alerts to Slack.
How It Boosts Productivity: Allows media and social team members to get notified of mentions instead of having to constantly check the platforms, makes faster responses possible.
TeamPay
Approve, manage, or request company spending.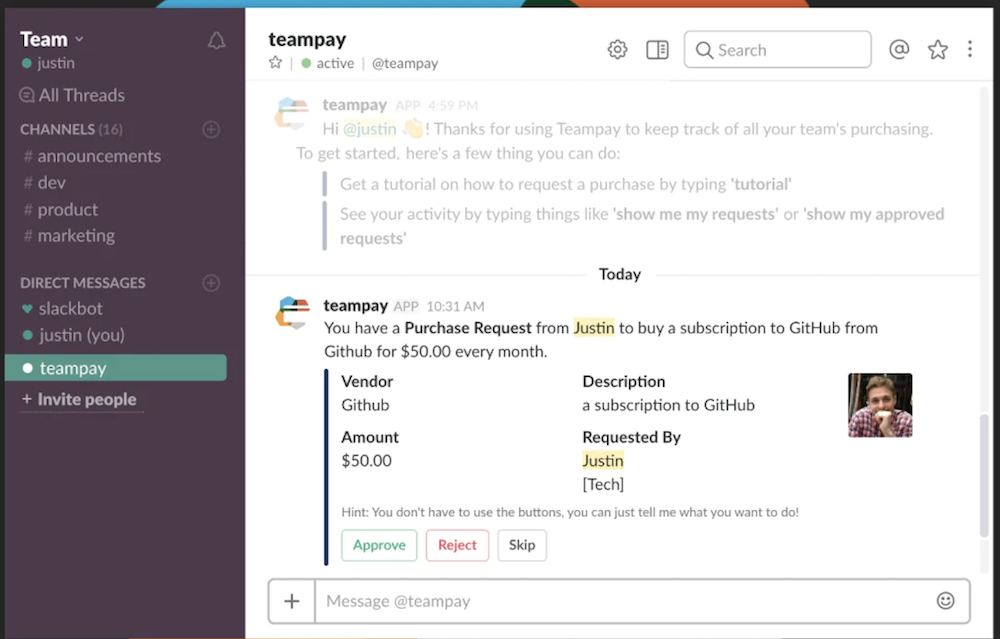 TeamPay makes it easy to keep track of company spending through notifications allowing account managers to approve/deny company spending, see who made the request, and what they plan on using the item or service for.
Users can also see when subscriptions have risen in price, get real-time purchasing updates, create and set spending "rules" to automate purchase requests, and require employees to code purchases and send receipt uploads.
Users state the product they want to purchase, the vendor they're purchasing it from, and the cost in Slack. Then, TeamPay automatically notifies the corporate account "Approver," who approves or denies the purchase. If approved, TeamPay sends an image of the corporate credit card for even easier spending.
How It Boosts Productivity: TeamPay saves hours of time by making tracking and approving company spending easy to manage – no more studying corporate card transactions and tracking down employees for receipts. Users will also be able to get approval for spending much more quickly, meaning more time back at the office. Plus, TeamPay can also integrate with the office accounting system for better, faster expense reports.
Discover Additional Team Collaboration Tools
Looking to learn more about some of the team collaboration and communication software that integrates with Slack?
If you're interested in any of the above platforms as a standalone product, check out our interactive table of the top team collaboration tools your business needs to not only increase productivity but also to keep employees engaged and happy in the workplace.
FAQs
Below, we've answered some of the most common questions about Slack Apps.
Free plan users can have up to 10 integrations, while paid account users can have an unlimited amount. This means that free plan users may need to rely on additional team collaboration tools or 
top Slack alternatives
 that have more of the communication features they need.
Slack API
 allows users to build their own apps and integrations. Users can select if they want to build a public Slack app, or if they want to create one that's for a specific workspace only.
Note that not all Slack apps are available with a free account. Some require users to upgrade to a paid account, while others offer individual pricing plans according to the specific integration.