With nearly half of all business meetings now happening via conference calls, having the right solution is essential.
Built by the team behind Google Voice, UberConference is meant to be a pain-free way to schedule and host audio conferences. UberConference simplifies the process in part by eliminating the hassle of having to enter dial-in numbers and PIN codes when joining a conference. The software is designed to start or schedule calls on the go – you can launch calls instantly with one click and scheduling calls brings of ease of use that's only requires you select a contact and choosing a meeting time.
Here's everything you need to know about UberConference pricing and plans including the UberConference free conference calling options.
What is UberConference?
UberConference is a cloud-based conferencing solution produced by Switch Communications out of San Francisco.  UberConference offers a simple solution for teams looking to schedule and run their audio conferences with no PINs or logins to remember.
They employ a user-friendly visual system that integrates with your contacts. Attendees can be invited and automatically authenticated via contact information. There are even tools for taking notes, logging action items, and tracking the tone of each meeting.
Using UberConference is Simple
UberConference pricing starts with a free tier of service that may be sufficient if you only need basic features for relatively short conference calls. However, as we'll discuss shortly, features such as not requiring a PIN are limited to paid "business" accounts, members of which include notable customers such as Dropbox, Netflix, Fitbit, HubSpot, The Atlantic and The New York Times. UberConference reviews are positive across the board.
UberConference is available through most Internet-connected devices that have a web browser as well as through Chrome, Android and iOS apps, which the company recommends for better controls and the best overall experience.
How Much Does UberConference Cost?
While the UberConference free option provides access to the most essential parts of the service, it's limited to 10 participants speaking for up to 45 minutes. An UberConference free account also still requires the use of a PIN whereas this hassle is eliminated with the business class account, which gives you a local phone number so you never need a PIN when placing outbound calls to participants, recurring conferences, international dial-ins and more.
This is among the many capabilities that are exclusive to paid UberConference members. Note that all UberConference users may dial into any conference from anywhere in the world but only business accounts can have international access numbers. While it has its limits, an UberConference free account includes the ability to record calls as well as screen and document sharing.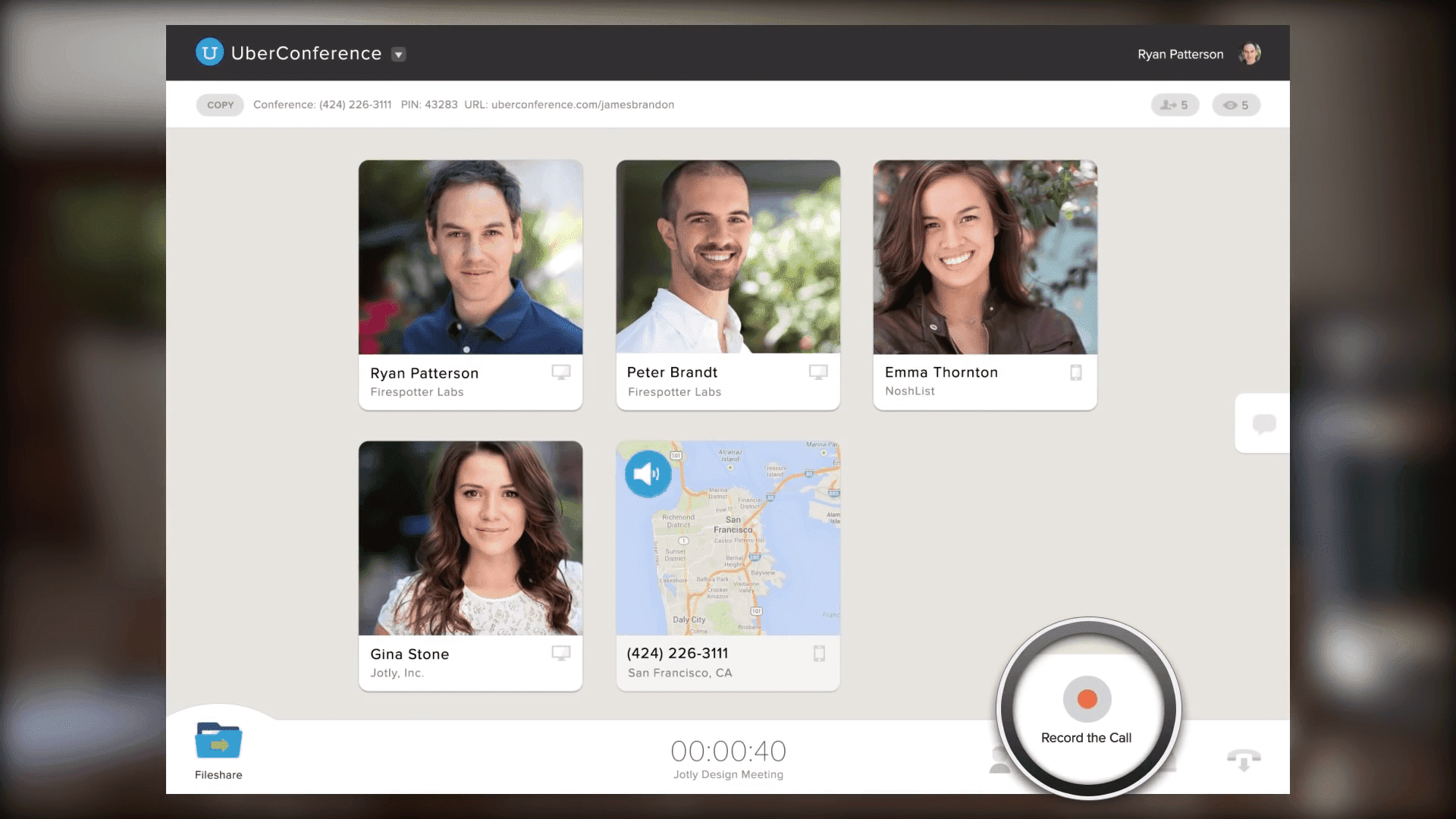 UberConference Free

UberConference Business

UberConference Pricing

$0 / user / month

$15 / user / mo (monthly billing)

$10 / user / mo (yearly billing)

PINs Required

Yes

No

Number of Participants

Up to 10

Up to 100

Max Conference Duration

45 minutes

Unlimited

Screen & Document Sharing

Yes

Yes

Call Recording

Yes

Yes

HD Quality Audio

Yes

Yes

Mobile Apps

Yes

Yes

Custom Call-In Number (US & CAN)

No

Yes

Analytics

No

Yes

International Access (Over 50 Countries)

No

Yes

Dial Out to Add Guests to a Call

No

Yes

Upload Custom Hold Music

No

Yes

Toll-free Number ($10 more)

No

Yes

Team Management Portal

No

Yes
UberConference Features
UberConference touts itself as the most feature-rich teleconferencing system available. As with pricing, UberConference features vary depending on your account type. The UberConference free version has just a few features while the  UberConference Business version includes everything the free version does and more.
All Users Receive
Web Conferences – Anyone can call in from their computer with HD audio. You get up to 10 users for the free version and 100 with UberConference Business.
Document Sharing – Easily share from your computer, Google Drive, Box, Dropbox, and Evernote.
Screen Sharing – Easy organizer setup, no install required for participants.
Free Call Recording – Save conferences as MP3s for easy storage and playback.
Mobile Apps – The entire UberConference experience, available on your smartphone.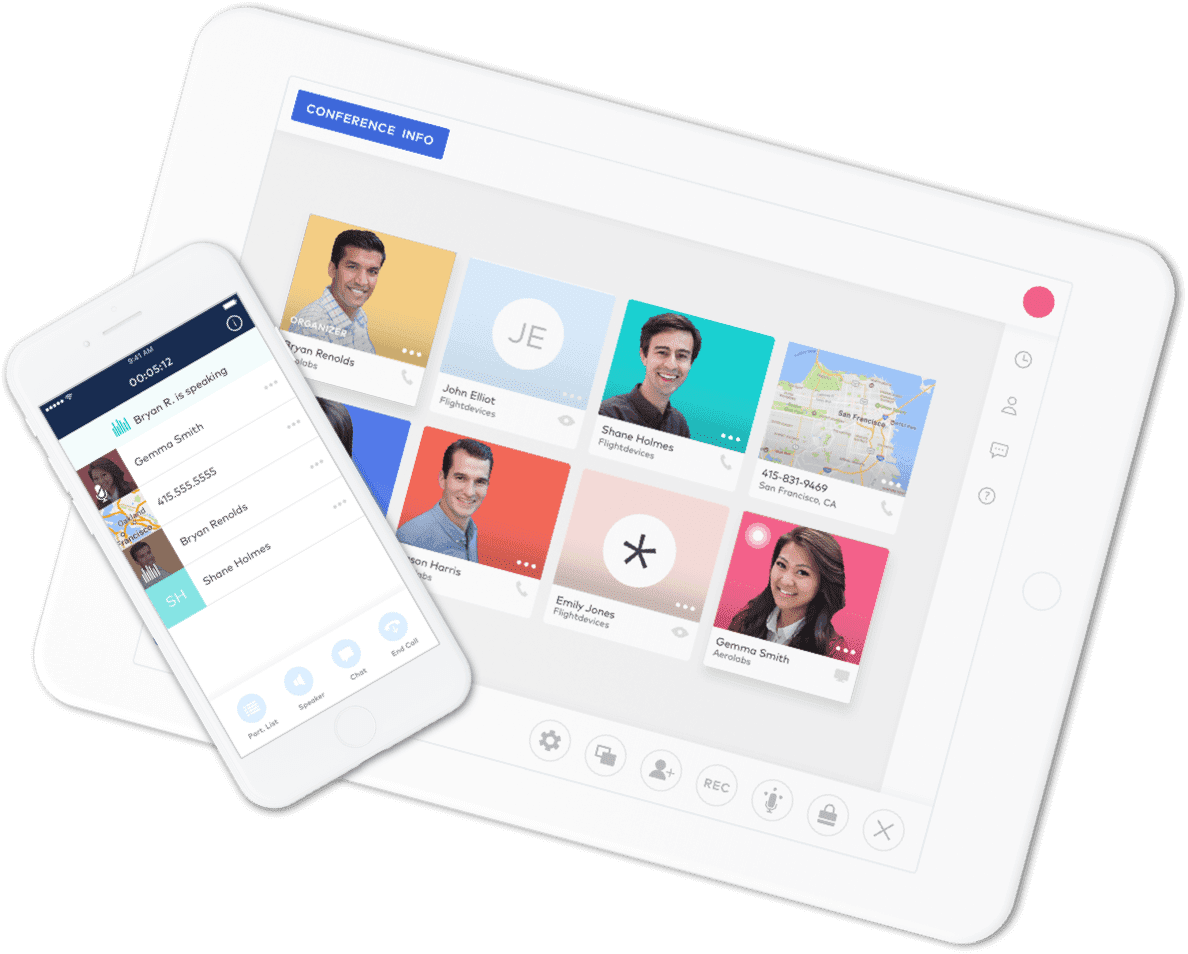 UberConference Business Users Receive
Custom Dial-in Number – Select a number from virtually any area code in the US and Canada.
Custom Hold Music – Select the perfect song to reflect your business's personality.
Free Conference Calls – Unlimited free conferencing. Make as many calls as you like.
No PINs – UberConference makes joining calls ridiculously easy.
International Calling – Dial in from over 50 countries around the world.
UberConference for Business – Manage accounts for your whole team in one place.
Toll-Free Conference Calls – Unlimited calls with a toll-free conference number.
Analytics – Gain actionable insights into your business communications.
Dial Out to Add Callers – Easily add participants mid-call and don't miss a word.
Instant Conference Calls – Start conference calls any time just by dialing in.
Recurring Conference Calls – Set up conferences to start at the same time every week.
UberConference & Salesforce – Better customer insights with Salesforce integrated with UberConference.
UberConference Chrome App – Receive notifications and make calls from your desktop.
Google Calendar Integration – Instantaneously add your conference details to a calendar invite.
Outlook Conference Call Add-in – Add conference call invites to Microsoft Outlook with a click.
Slack Integration – Instantly add UberConference details to a group chat room.
HipChat Integration – Start a conference in seconds right within HipChat.
HubSpot Integration – Schedule conference calls right within HubSpot CRM.
Cirrus Insight Integration – Start conference calls right from Gmail.
Integrated Social Profiles – Single-click access to LinkedIn and Google+ profiles.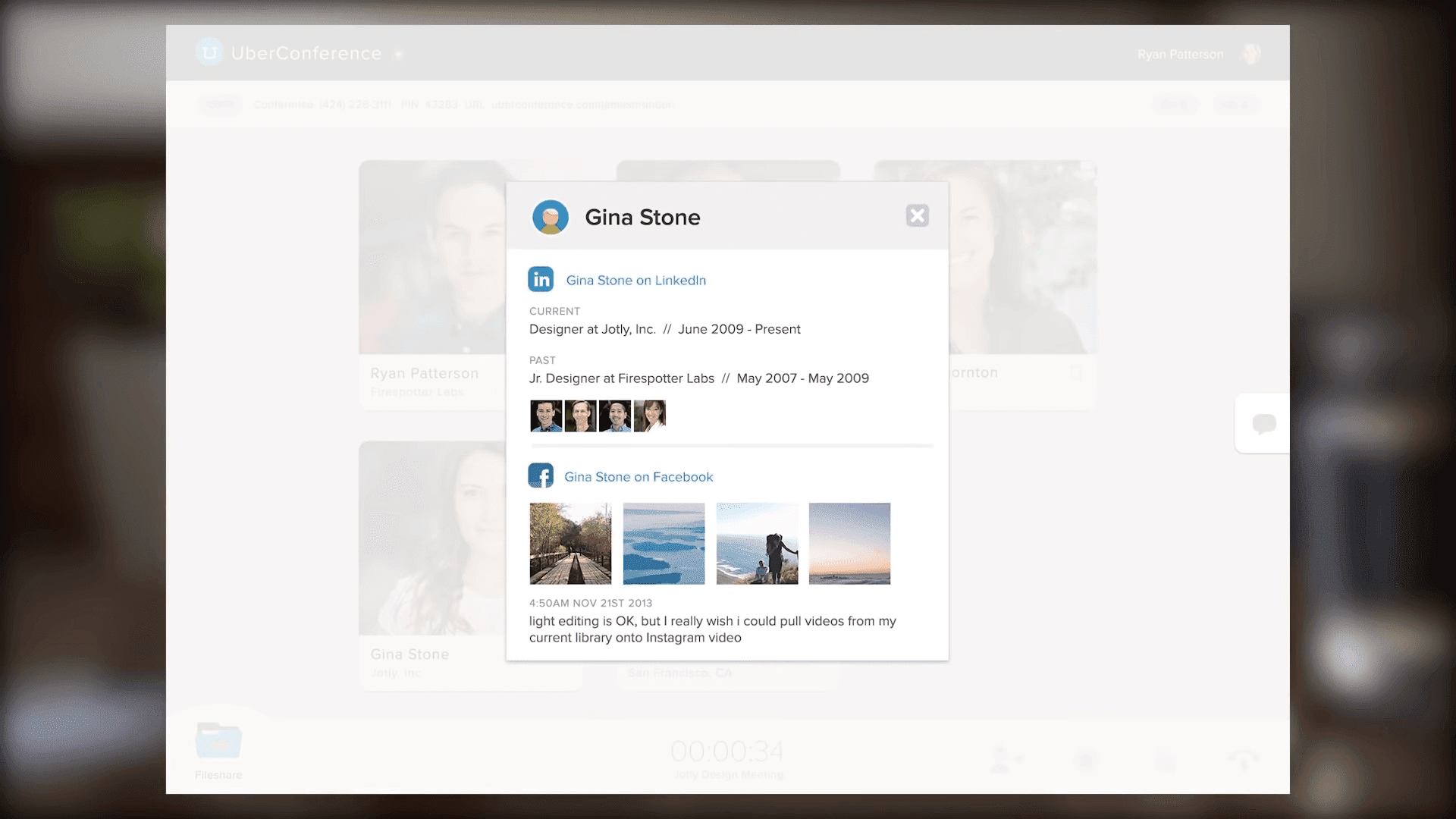 Group Chat – Send instant chat messages to everyone on the call.
Conference Call Summaries – Access recordings, shared files, and call statistics at the end of each call.
Mute Conference Participants – Control who can speak during the conference call.
Administrator Login – Allow someone else to manage your conference calls.
Visual Conference Calls – Always know who is on the call and who is talking.
Powerful Call Controls – Run conference calls smoothly with management controls.
Private Conference Calls – Make sure only invited people can dial into the call.
Group Call Invites – Invite whole groups to conferences with a click.
UberConference for Google Apps – Easily set up accounts for your business through Google Apps.
UberConference Support and Requirements
UberConference has several avenues to answer any questions or address any problems that you may have:
A list of frequently asked questions.

Customer support topics for both admins and users, including video guides, walkthroughs for starting or joining a conference and so on.
A contact form to address inquiries that aren't covered by the company's FAQ or guides.
A direct email address for any questions or concerns.
A sales number:

1-888-205-2045

And a service status page that informs customers about the occurrence of any network issues.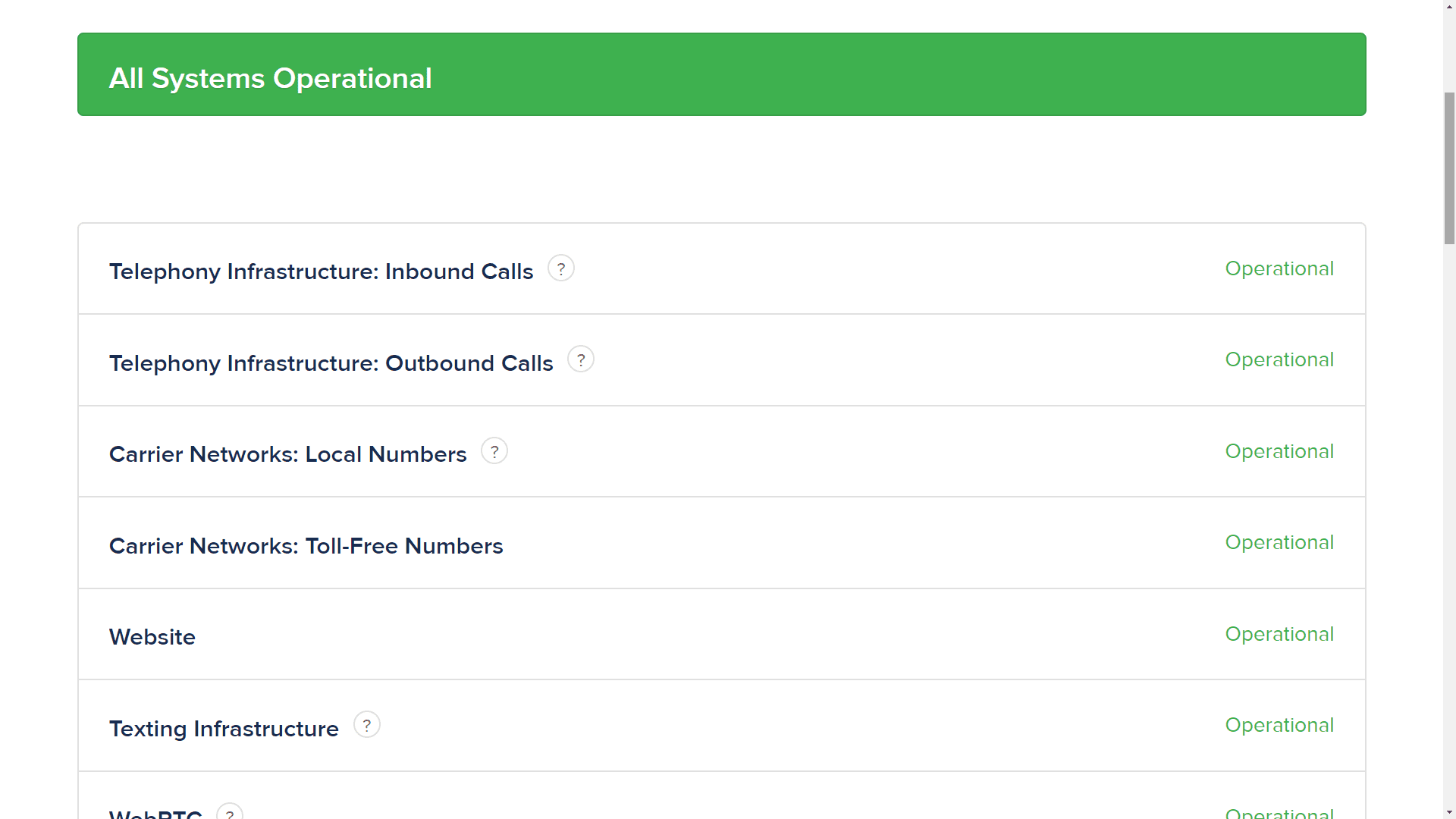 UberConference System Requirements
UberConference works with most browser types and Internet speeds. No download is required, but the company's service does have some requirements:
100kbps Internet connection speed (both upload and download speeds)
To host screen sharing, you need the latest Chrome browser (no canary or developer versions)
If you're only viewing a screen share, you can use the following browsers: Google Chrome Mozilla Firefox, Internet Explorer, Safari, Opera, Microsoft Edge
A microphone and speakers or headphones. If your computer doesn't have built-in mic and speakers, UberConference recommends using a headset, which also reduces background noise and any chance of echo.
The service offers a troubleshooting helper that can pinpoint issues that need to be corrected. This is listed as "Test Computer Audio" on your conference dashboard. Clicking this will test the following elements and if anything's wrong, the software will tell you the problem give you the steps to fix it:
Audio Playback
Network Connectivity
Data Transfer
Audio Input
You'll want to make sure your router has SIP ALG disabled and that you've opened the following ports on your firewall. Note that UberConference suggests that the quality of service (QoS) feature on routers isn't necessary unless your network has thousands of users.
| | | |
| --- | --- | --- |
| Protocol | Ports | Direction |
| TCP | 80/443 (Websockets to communicate with company servers) | Out |
| TCP | 6800/5222/5223/7060 (Outbound calls) | Out |
| UDP | 5060/5061/7060/11000/16600 to 16998/19305 (Outbound calls) | Out |
| UDP | stun.l.google.com/19302 (ICE protocol to determine public address) | UDP outbound |
| | | UDP bidirectional |
| UDP | 16384 to 32768 (Only open this if your network isn't D-NAT) | Out |
UberConference Pricing Offers the Best Video Conferencing Tool
As Dialpad's web conferencing software, UberConference with video conferencing allows businesses to hold meetings online with features such as screen sharing, international access, PIN-free dial-in access and more. For paid business accounts, the software supports up to 100 webinar participants, unlimited video conferences, and a lengthy list of features, while the UberConference free plans are limited to 10 participants speaking for 45 minutes.
Free accounts come with great capabilities such as call recording as well as screen and document sharing. However, non-paying customers ultimately miss out on the core benefits that UberConference boasts about, such as HD video and PIN-free access to web conferencing.
To make the most value for money in conferencing, check out our guide to efficient business communication.