The war among office collaboration platforms is just getting started. Although Slack prevailed in early battles with rivals such as HipChat and Stride, which Slack acquired from Atlassian in 2018, the company faces an increasing amount of pressure from industry veterans including Microsoft and Cisco, who are vying for a dominant position in the rapidly growing market for workplace communication software.
While Cisco's WebEx platform is highly regarded and growing rapidly, Microsoft Teams may currently be Slack's most immediate threat. This wasn't the case when Teams first launched in March 2017, but Microsoft has doubled down on its development efforts, added Office 365 Business integration with Skype, and quickly closed the gap between its offering and the leading competition, both in terms of native features as well as overall value, and perhaps even usage numbers.
Part of what makes Teams so appealing, as compared with other Slack alternatives, is that it's bundled with Microsoft's Office 365 productivity suite, which many organizations are already subscribed to and thus gain access to Microsoft Teams at no extra cost, whereas Slack would be a separate subscription for them. Microsoft Teams offers enterprise-class tools as opposed to focusing on small businesses.
For all their similarities as workplace communication and collaboration platforms, the comparison between Slack and Microsoft Teams isn't quite apples to apples. Nevertheless, we've compiled a detailed overview of each product, including the features that they share in common, the ones that make them unique, as well as who might prefer which software and why.
Slack vs. Microsoft Teams: Core Similarities & Differences
Being that they both provide persistent chat and collaboration tools in one location, allowing groups of people to coordinate on the fly and stay in the loop about ongoing happenings within their organization, Slack and Teams have as much in common as they do in contrast.
For starters, the overall layout of each interface is familiar: the left column lists channels, teams, direct messages and group conversations, the middle of the application shows which channel or message you have selected, and the right column is generally collapsed but opens when you need more details from a selected channel or message, such as seeking a file that has been shared or viewing someone's profile information.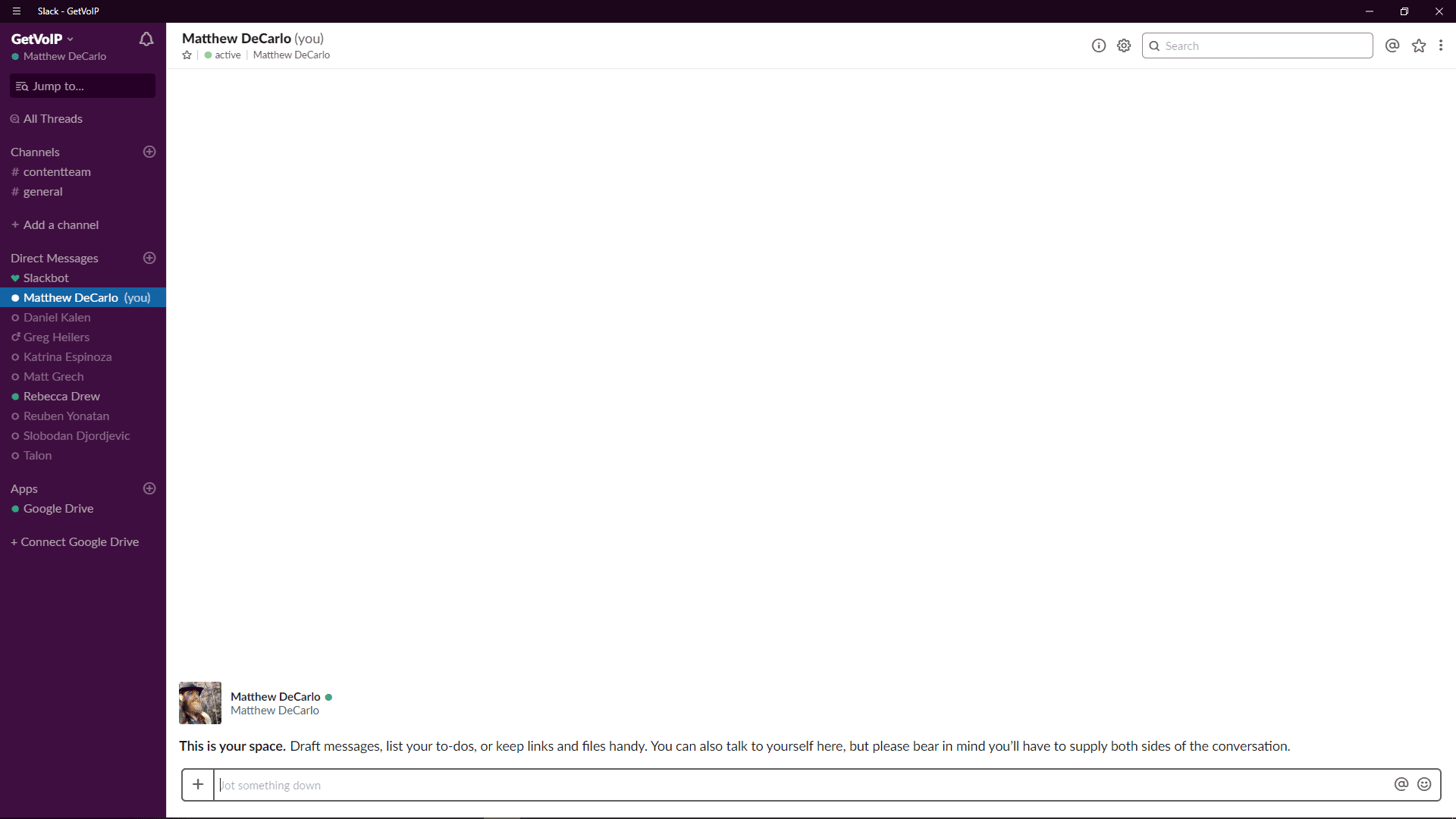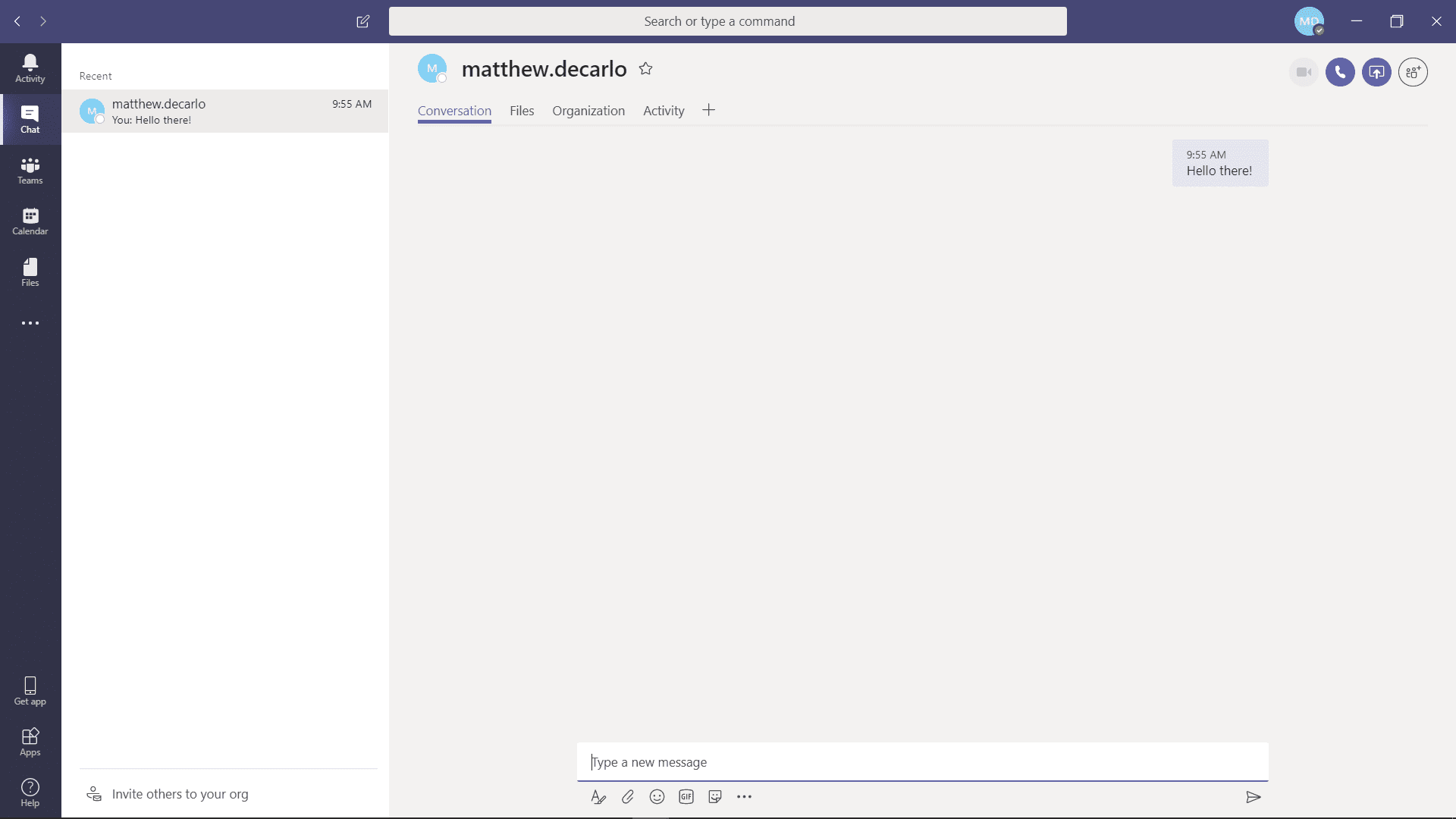 Likewise, the overarching feature-sets on each platform are similar. They offer instant messaging in formats that span from private one-on-ones to group chat rooms to spontaneous conversation threads spawned from a specific message where people can converse about that item and keep their topic-specific messages organized. Both applications provide customizable notifications, file sharing, the ability to search through history (searches include the content of a file instead of only the file name), as well as options for voice or video calls.
However, the underlying capabilities within those features often vary between Slack and Teams.
Pricing

Free with limitations

$6.67 per user (annual)

$8 per user (monthly)

$12.50 per user (annual)

$15 per user (monthly)

Free with limitations

$12.50 per user (annual)

$15 per user (monthly)

$20 per user (annual)

Message history

10k searchable message history on free, unlimited on paid

Unlimited searchable message history for all tiers

Voice/video calls

One-on-one for free, up to 15 participants on paid

Meetings with up to 250 participants on all tiers

Record meetings

No native capability

Available on paid tiers

Screen sharing

None on free, only on paid

Available on all tiers

Integrations

10 integrations on free, unlimited integrations on paid

Unlimited integrations on all tiers, but less integrations offered

File storage limits

5GB total on free

10GB per user on mid-tier

20GB per user on highest tier

2GB per user + 10GB shared on free

1TB per user on paid tiers

Guest users

None on free, only on paid

Available on all tiers

Custom interfaces

Many color schemes available

Three color schemes available

Data encryption

At rest and in transit

At rest and in transit

Exportable messages

Only on most expensive tier

Can be exported by admins

Support

$12.50 for 99.99% uptime + 24/7 support & 4hr response

$12.50 for 99.99% uptime but $20 for 24/7 support

Core differences

Significantly more third-party app integrations

More native features, admin control & security compliance

Platform availability

Windows, macOS, Linux, iOS, Android, Web client
Windows, macOS, iOS, Android, Web client
Pricing Comparision
Microsoft began offering a free version of Teams in 2018 and this unpaid version competes strongly against Slack's free service, generally having fewer limitations. Slack for instance caps your history at 10,000 messages and you have to become a paid member to search through anything beyond that (the service continues to work after 10k messages you simply lose access to that content). Microsoft Teams has no such restrictions and is more lenient across the board as you can see from the table above.
Along with providing more features in its freemium version, Microsft Teams tends to look like the better value when comparing paid options, not least because Microsoft's subscriptions are bundled with Microsoft Office 365, granting access to Outlook, Word, Excel, PowerPoint, Access, Exchange, OneDrive and SharePoint. Disregarding the perk of receiving Office 365, the paid tiers of Teams still tend to come with more generous account limitations than Slack, such as 1TB storage per user compared to 20GB at most on Slack.
While the most expensive option for Teams is pricier than Slack, this is aimed at enterprises who need an unlimited number of active users, more security and 24/7 support, though Teams has more built-in admin tools and seems more expectant of companies handling complications in-house. To Slack's credit, it bundles 24/7 support at a less expensive tier, though this isn't quite enough to come out on top when considering both platforms strictly from the perspective of which one offers the best value.
Deploying Slack vs Microsoft Teams
Setting up Slack requires less effort than Microsoft Teams, which not only calls for a Microsoft account to get started but asks for more information during the initial account creation. Creating a Slack account is quicker and easier, simply requiring confirmation from any email address.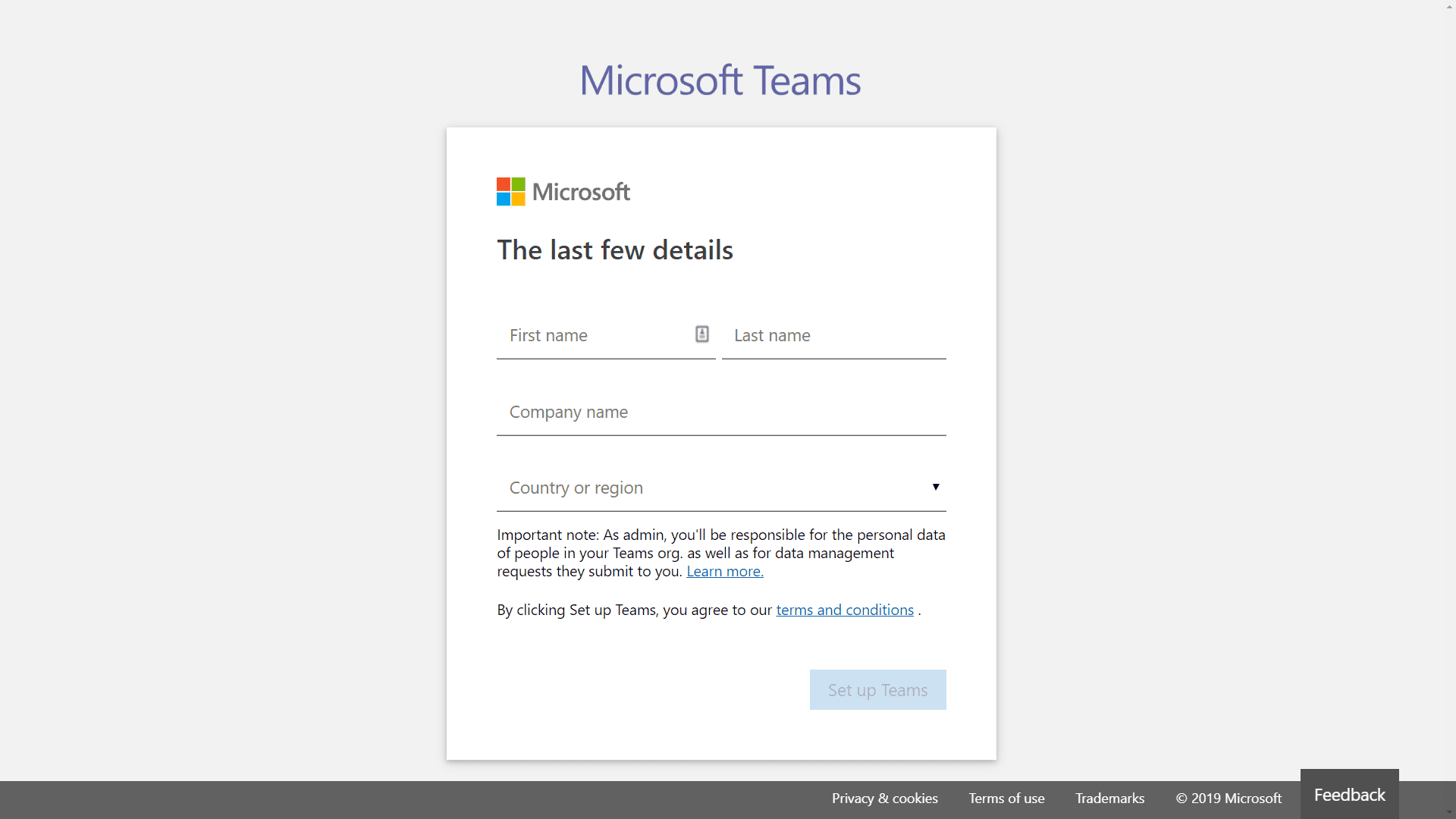 Slack can also be less involved with configuration afterward as it has less admin options, though this isn't necessarily a perk and will depend on your use case. Larger organizations with experienced IT staff may prefer the additional configuration options of Teams, while those who are less tech-savvy might benefit from Slack's simplicity.
Slack vs Microsoft Teams Interface
This is a relatively minor comparison to make and is unlikely to sway anyone's decision, but nevertheless there are differences between the way these two programs look. When comparing application themes, Slack provides around 10 different color themes for its interface whereas Teams only offers three: default, dark and high contrast.
In terms of layout, Slack is busier and sometimes criticized for being too congested, whereas Teams isn't as busy but is sometimes criticized for being less intuitive. When it comes down to it, you can't please all the people all the time and in our experience, both application interfaces are well designed. It's apparent that Teams simply put its own spin on Slack's interface.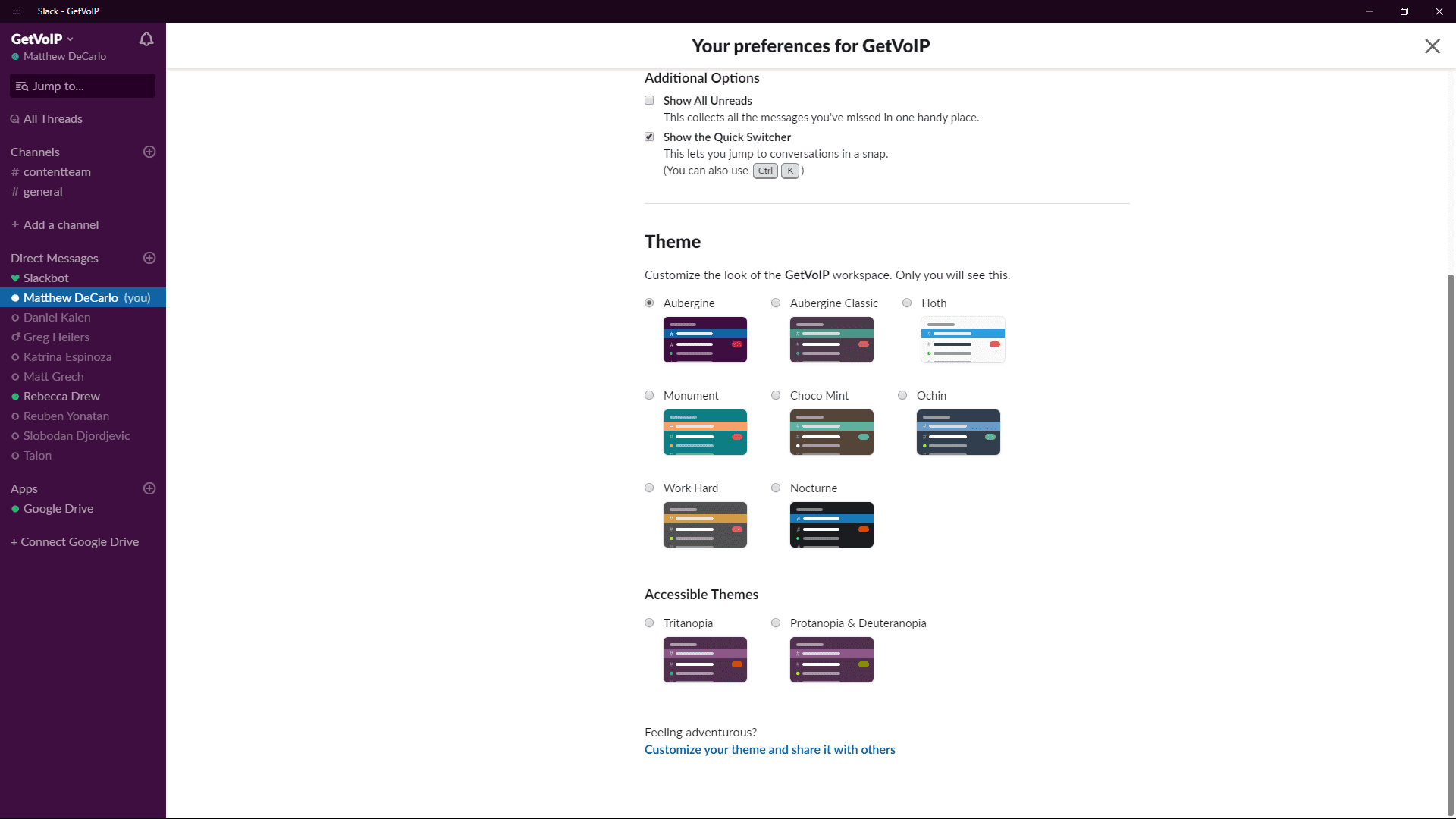 Slack vs Microsoft Teams Integrations
Microsoft has a ways to go before catching up with Slack on the total number of third-party integrations available. Teams currently offers 140+ integrated apps and services according to its product page, whereas Slack has somewhere around 1,000 add-ons available.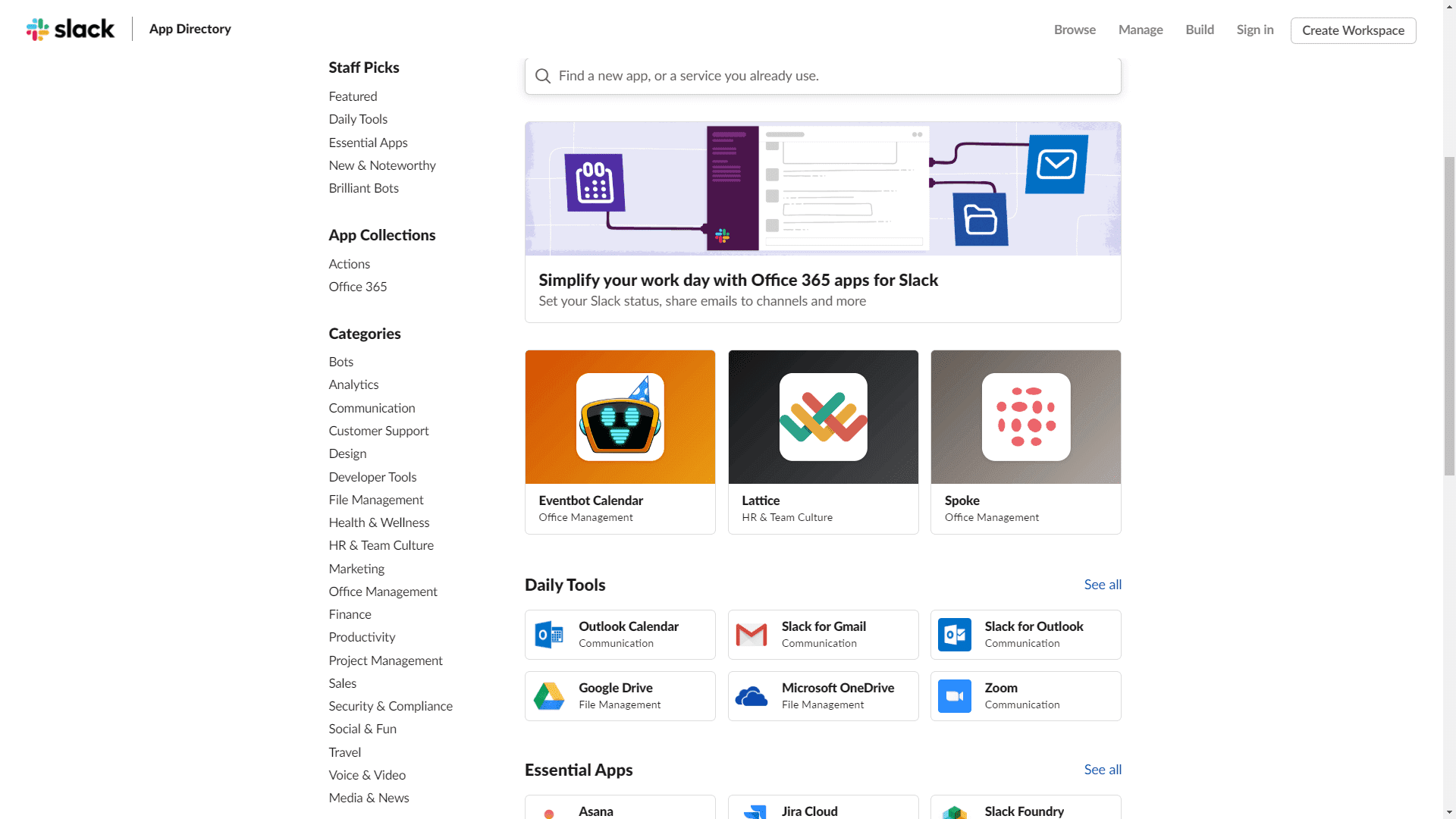 There are a few ways to think about this. Granted, most people would likely appreciate having access to more integrations because it enables the most flexibility for interoperability and a greater range of overall capabilities.
That said, Slack's free plan limits you to 10 Slack integrations (Teams is unlimited) and Slack generally has less built-in features than Teams, which requires third-party add-ons to close this gap (we'll cover some of these features next).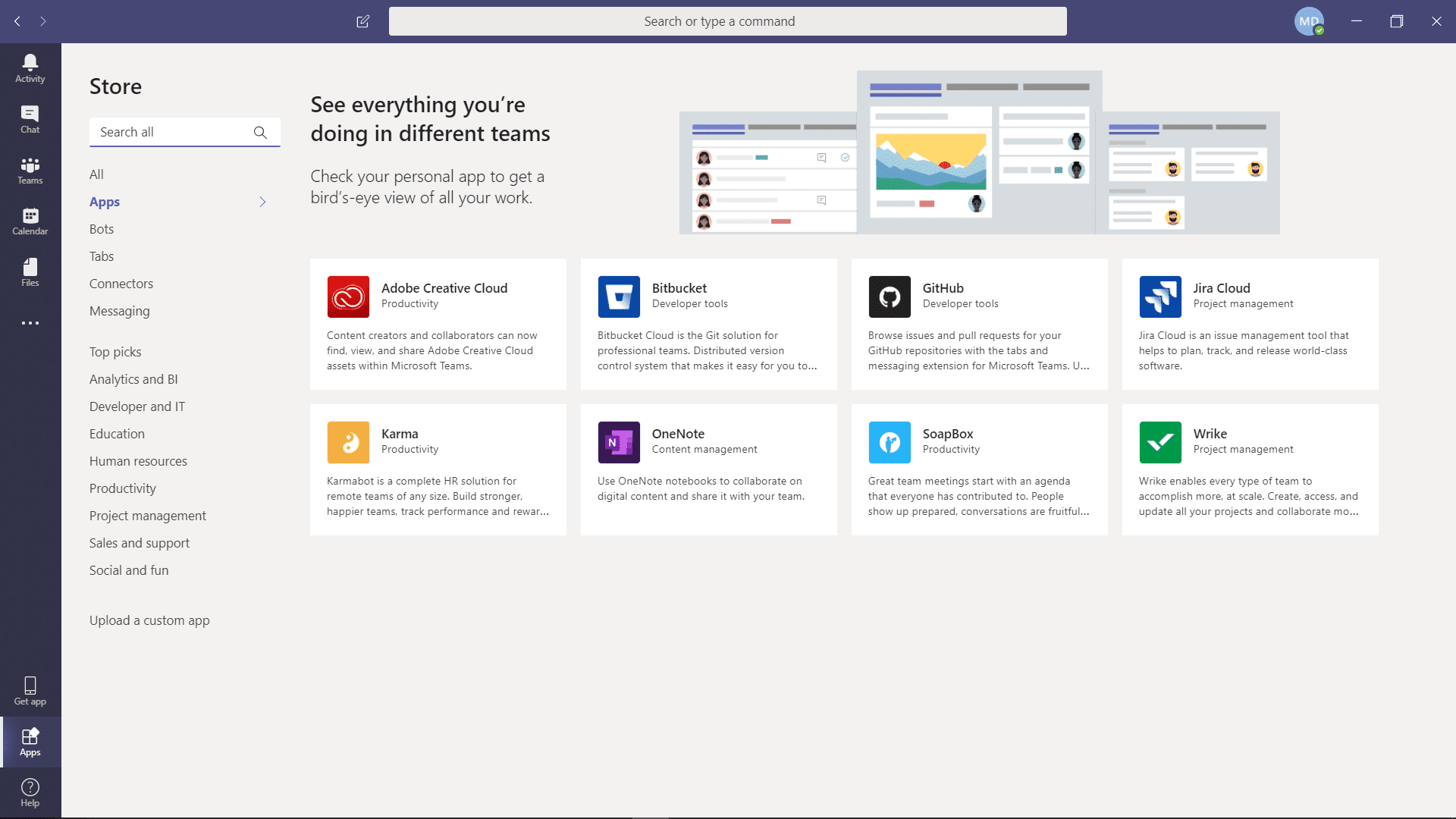 Beyond the hassle of having to find an add-on that supports a specific feature, there is the potential for these services to require separate subscription fees. Additionally, relying on a large number of third-party connectors can be seen as a greater security risk.
Top Features of Slack vs Microsoft Teams
Microsoft Teams has more native features, beginning with Office 365 integrations, such as team collaboration on Office or OneDrive documents directly within Teams instead of having to download the document outside the app.
Slack recently announced some limited capabilities for previewing 365 documents in-app and plans to continue developing 365 integrations. However, if your organization already relies heavily on other Microsoft products, it might make sense to opt for Microsoft Teams over Slack specifically for the 365-related tie-ins. Conversely, if you rely heavily on G Suite, Slack might make more sense.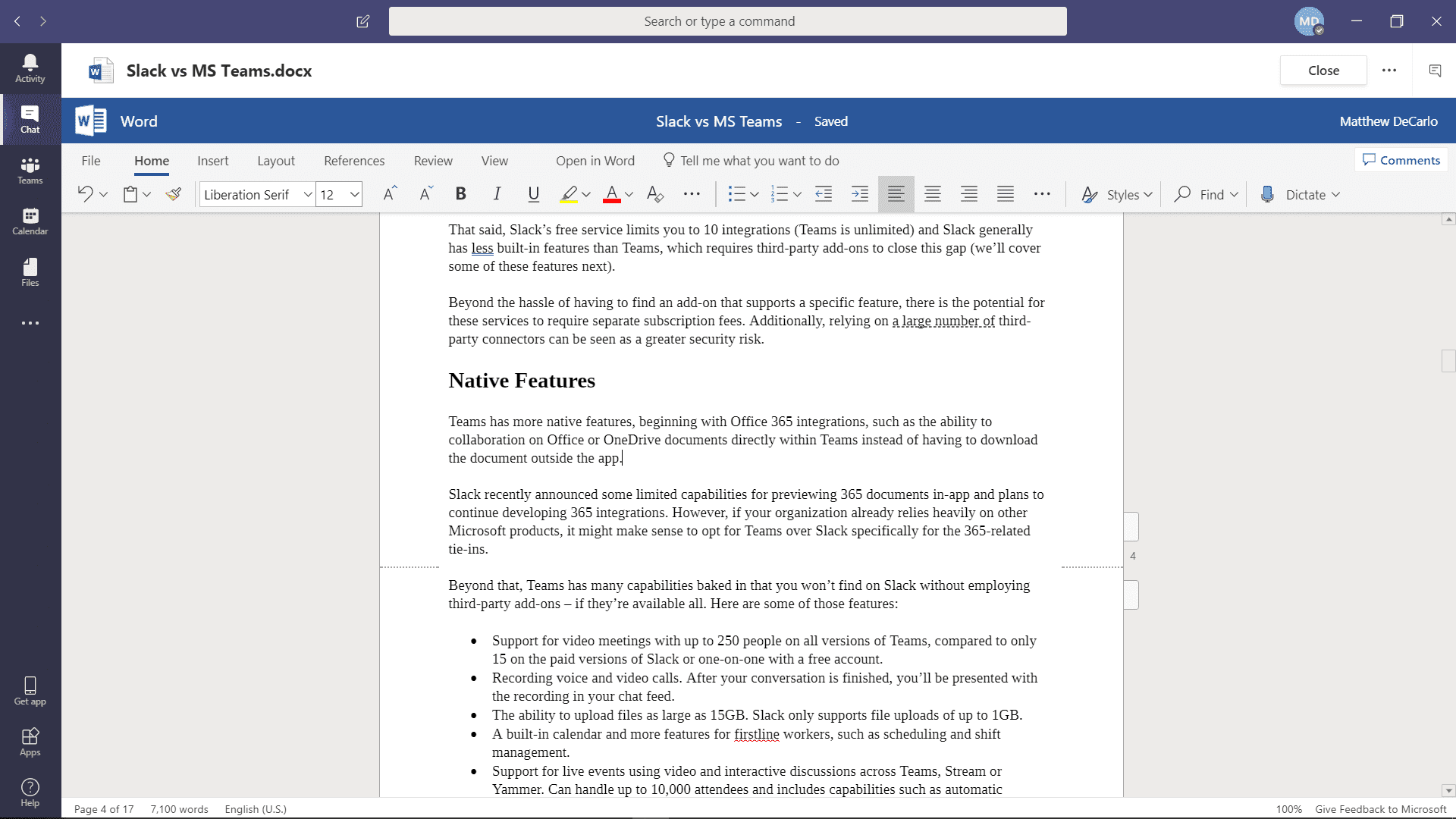 Beyond that, Teams has many capabilities baked in that you won't find on Slack without employing third-party add-ons – if they're available all. Here are some of those features:
Support for video conferencing with up to 250 people on all versions of Teams, compared to only 15 on the paid versions of Slack or one-on-one with a free account.
Recording voice and video calls. After your conversation is finished, you'll be presented with the recording in your chat feed.
The ability to upload files as large as 15GB. Slack only supports file uploads of up to 1GB.
Each channel receives a unique email address so it's easy to forward emails into a chat space for discussion among your team members.
A built-in calendar and more features for first-line workers, such as scheduling and shift management.
Support for live events using video and interactive discussions across Microsoft Teams, Stream or Yammer. Can handle up to 10,000 attendees and includes capabilities such as automatic transcription.
More text formatting options. When messaging someone on Teams, you have access to custom text formatting options such as bold, italics, underline, highlight, font color and size, bullet and number lists, quotes and code snippets, sub-headings, table insertions and more.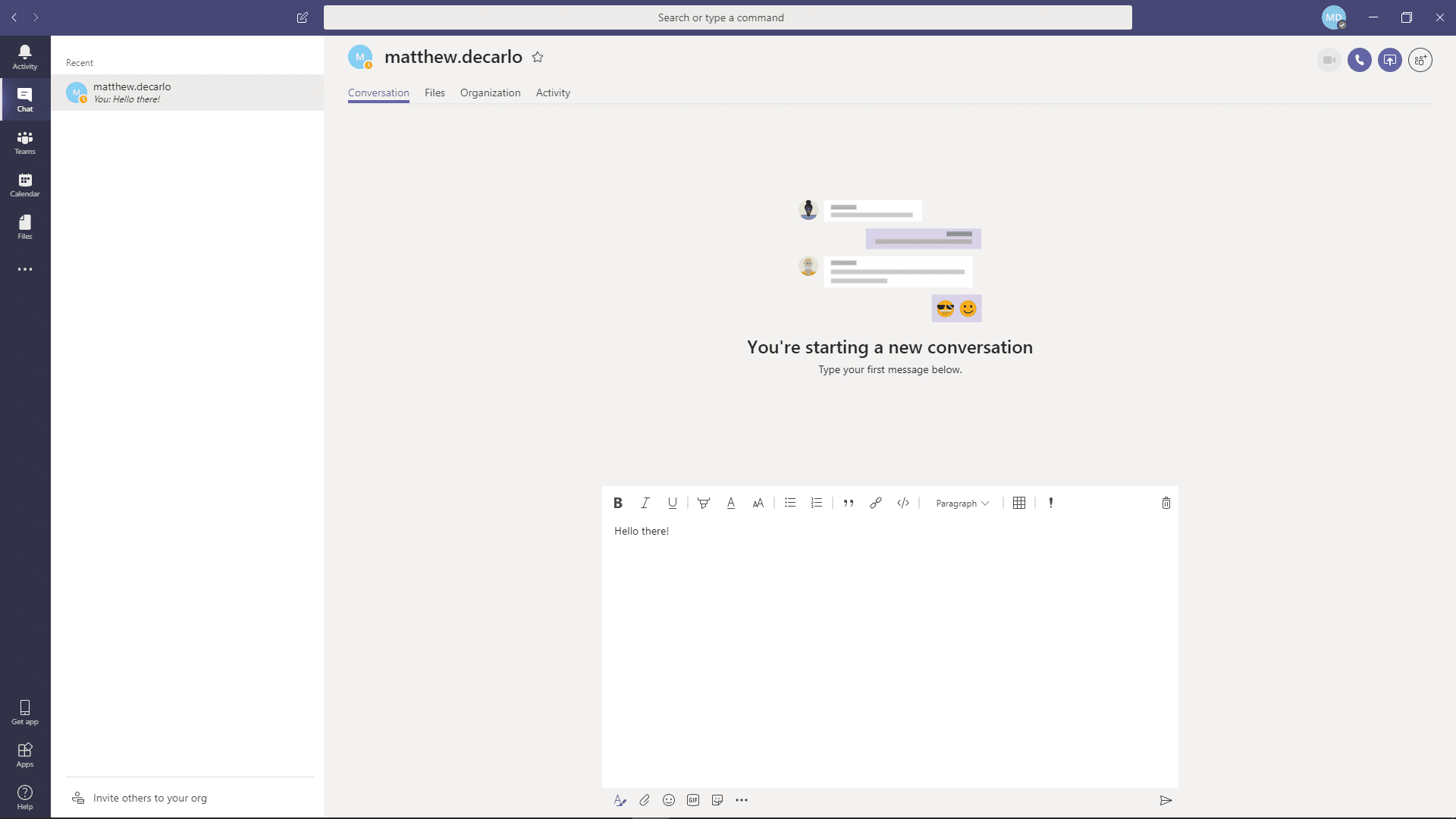 More features Teams is slated to receive in 2019:
Live captions and subtitles. Allows meeting participants to read speaker captions in real-time. Great for people who have poor hearing or are in loud environments.
The ability to blur your background on video calls or to apply a custom background. Great for times when other people behind you don't want to be on camera, or when your surroundings are busy enough to be distracting, or simply too messy or unprofessional for the nature of your call.
Whiteboard masking. When someone is drawing on a whiteboard, Teams can capture the whiteboard and make the presenter's body translucent so you can see what's on the whiteboard with them standing in the way, instead of having them block your view of the board.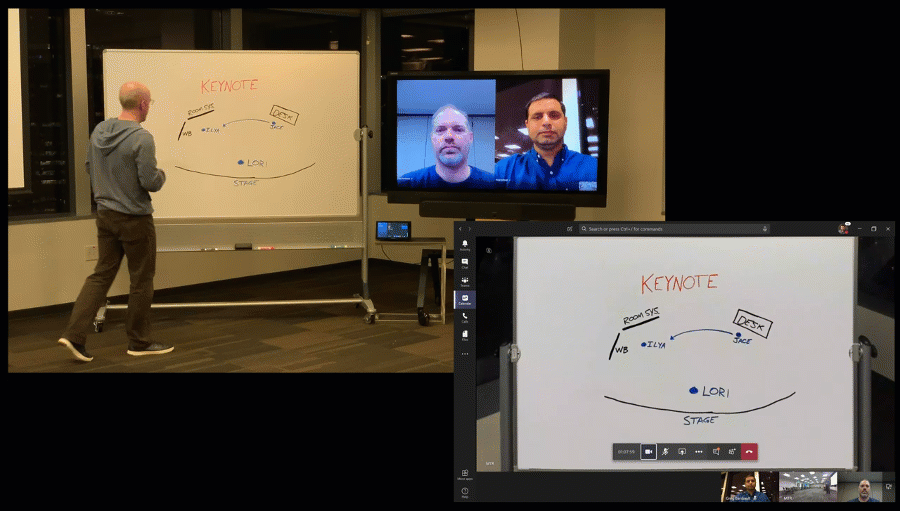 Slack doesn't have as many unique features that set it apart from Teams, again, except a greater availability of third-party integrations, which are ultimately necessary to provide the same range of capabilities.
Slack vs Microsoft Teams Admin Controls
In addition to distinguishing itself with more built-in features, Microsoft Teams has a greater number of administrator controls through the Office 365 admin portal. For instance, Teams allows organizations to specify what content is allowed on the platform, including the ability to set limitations on stickers, memes or animated images (which can be restricted by content ratings). Slack offers an admin panel without the same degree of granular control, though this simplicity might be preferred for less IT-savvy groups.
Teams has also been praised for having a greater number of security options and certifications. However, when we recently compared the security for each platform, they listed a similar degree of compliance with standards including ISO 27001, ISO 27018, SSAE16 SOC1 & SOC 2, HIPAA, and EU specs being mentioned for both services. Slack has also recently announced Enterprise Key Management to boost its options for built-in encryption, putting it more on part with Teams in this category.
Slack Aids Team Collaboration While Microsoft Teams Aims for Enterprises
Microsoft has made great strides to close the distance that once separated Teams from being on par with Slack, and depending on your priorities, you might even say Teams is now the better office communication and team collaboration tool when comparing native features, admin controls, the limits on free accounts and the overall value of paid plans.
That isn't to say we have a lack of appreciation for Slack, which is what GetVoIP itself uses for a majority of the communication that occurs between staff members. Nor is it to say that Slack is a "loser" in this comparison by any means. With a rising demand for collaboration apps, there's plenty of room for Teams, Slack (and others – WebEx, Glip by RingCentral etc.), which are likely to carve out different niches for themselves.
Microsoft is targeting larger enterprise customers with Teams, which inevitably has more appeal to an organization who is already using Office 365 and thus may have access to Teams with their existing subscription – having everything bundled in one product license is hugely appealing. Teams is probably also the better choice for those who can benefit from the deeper 365 integrations, greater capabilities for video meetings and broadcasting events, or again, the broader array of admin options.
Meanwhile, Slack is likely to be more attractive among smaller organizations who don't need as many admin controls, would prefer a tool that's easier to deploy and manage, and who might benefit more from Slack's extensive third-party mobile app library than from the extra features Teams has built in. While Teams is working to catch up on third-party integrations, it has a long way to go and this will presumably remain a key differentiator for Slack, which has even started rolling out Office 365 integrations, albeit not with the same degree of functionality you'd get from Teams.
Who wins? With the amount of competition between companies who are seeking to stake their claim in this space, it's the users of these platforms who ultimately win, as they can look forward to rapid innovation and in some cases a better value.