Just last week we took a close look at the growing term of "Enterprise Communications," with a hands-on review of Webex Teams. To help further round out this discussion (and to prepare for our Ultimate Showdown head-to-head article: Microsoft Teams vs WebEx Teams), we wanted to offer another close look at what is arguably the largest contender for the Enterprise UC&C gold medal: Microsoft Teams.
This isn't our fist time looking closely at Microsoft Teams, but of course as time as passed a number of things have changed. As Enterprise focused UC solutions are picking up steam, we're seeing organizations quickly replace the more standard communication solutions with these complete and robust collaboration platforms.
Without a doubt, these Enterprise capable collaboration platforms are quickly taking hold of the market, branching their capabilities far beyond persistent chat into critical capabilities like enhanced visual collaboration, and even the latest tech like Artificial Intelligence.
In order to better understand the current options that exist, and just why these solutions are quickly taking over the market, we wanted to offer a close look at the latest version of Microsoft Teams.
A Stand-Alone Collaboration Expansion to Office 365
Without focusing too much on the how and why, Microsoft developed their own take on the collaboration market, one that would sit nicely inside the Office 365 ecosystem. Its pretty much as simple as that. Now, that really doesn't tell the whole story: Teams is an incredibly capable platform that expands collaboration beyond just one-to-one or group chats.
"Microsoft Teams is a collaboration app that helps your team stay organized and have conversations—all in one place. Here's a quick look at the left hand side of Teams."
And, with such a powerful cloud platform increasing the accessibility of the already popular Microsoft portfolio, Microsoft saw an opening to grab onto this new collaboration paradigm.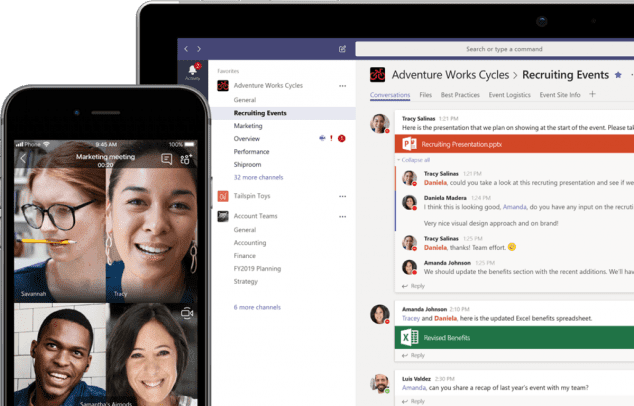 Of course, they're no strangers to communication with the acquisition and continued development of Skype, among other tools. But, as I said in the past, Microsoft Teams is "not just another messaging app you download on your desktop and phone like Slack."
Instead, Teams is all about being part of the Office 365 ecosystem. With Microsoft Teams, users gain access to a number of functions separated into four categories:
Teams – Find and create channels to hold "on-the-spot meetings, have conversations and share files"
Meetings – See everything you've got lined up for the day or week. Or, schedule a meeting. This calendar syncs with Outlook, an example of the deep Office 365 integration.
Calls – Organizations can expand teams to include VoIP calling beyond just chat and collaboration
Activity – Catch up on all your unread messages, @mentions, replies and more
A little bit has changed since my last look at Teams; Microsoft now offers a free version of Teams, enabling organizations to leverage Teams without the need for an entire Office 365 subscription. But, the option to upgrade and gain the entire platform is there for those who choose to do so.
And honestly, this highlights a fairly large selling point for Microsoft's Teams platform — the deep integration with the rest of the Office 365 ecosystem. Lets face it, Microsoft's apps have been, and probably always will be, the go-to enterprise solutions for a number of tasks. We can't really imagine a world without Word, Excel and PowerPoint — or at least their influence.
Using Microsoft Teams: The User Interface
Just like with almost every other UC&C application, Microsoft manages to make the navigation fairly simply with a main content window front and center, and navigation set off to the left. No one is trying to reinvent the wheel here, just make it more comfortable.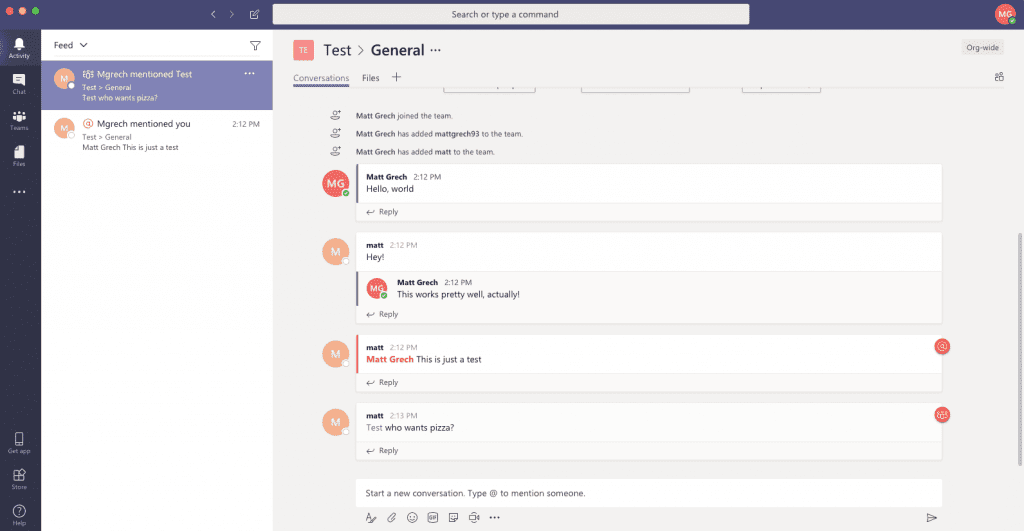 Just like on most other UC or collaboration apps, there are four icons along the left panel for major navigation, but this time with a little text label to go along with the icon, just in case you can't figure out what that picture of a chat bubble means.
But Microsoft has taken a bit of a unique twist in the design of Teams, focusing more specifically on the team aspect of the platform. The main view one sees right when they open the app is the Activity feed, where users can see everything that their entire organization is up to.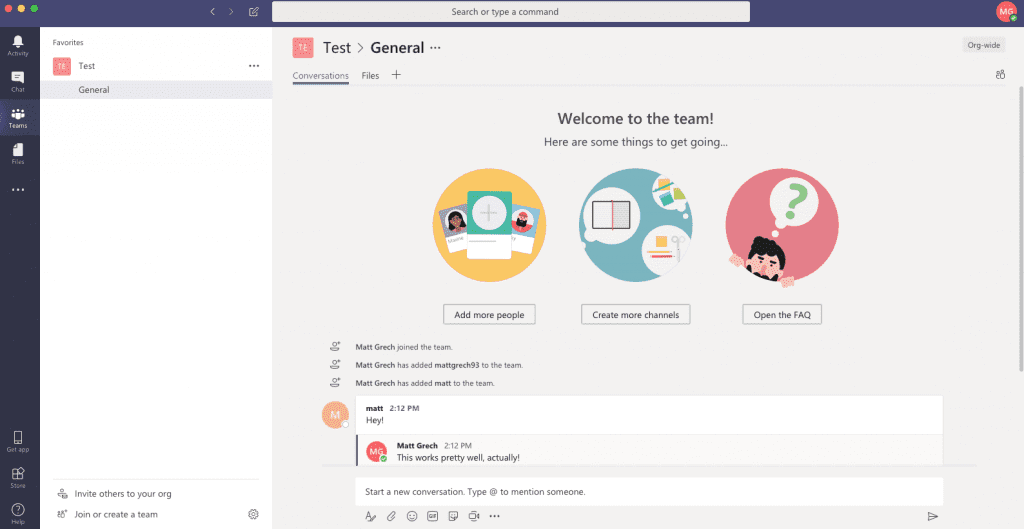 This includes conversations, files, and quite frankly almost anything you want to add ranging from Microsoft applications, to third party integrations. The breakdown continues with more granular level focus, as the next icons on the navigation menu enable users to jump directly to one on one Chats, or focus instead on Teams — think of teams just like shared chatrooms.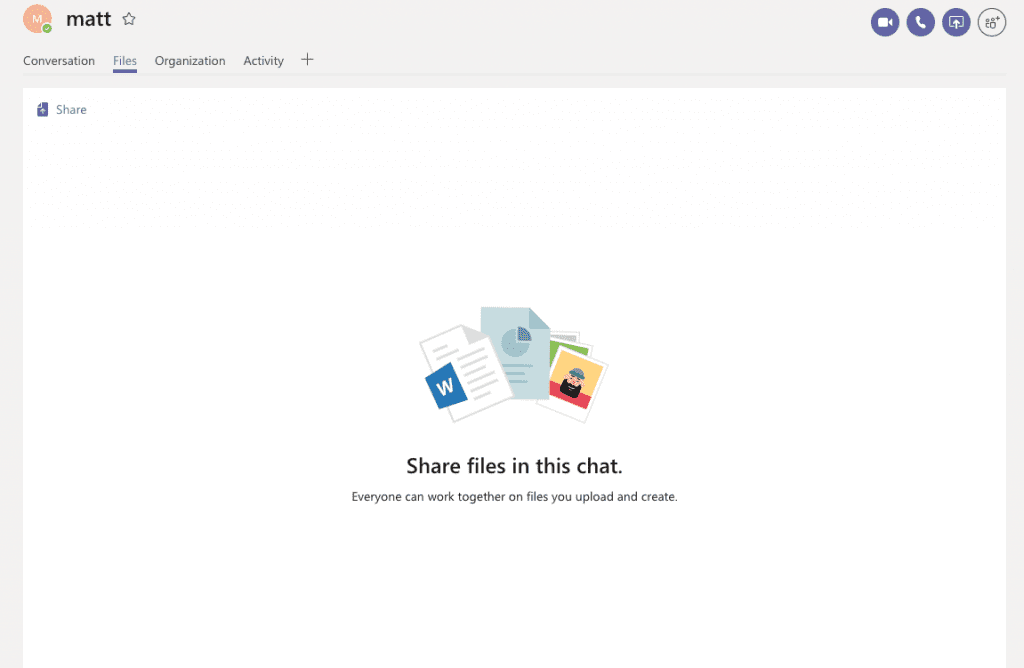 At the end of the day, Teams are where most of your collaboration will be happening. These are groups of people brought together for work, projects or common interests. Teams are made up of channels.
Each channel is then built around a specific topic, for example "content production" or "marketing optimization. Within the channels are where users will converse, hold meetings, collaborate and share files or documents.
Users can also access files directly within the files tab, and have another menu button to expand their functionality even further with other Microsoft apps and services.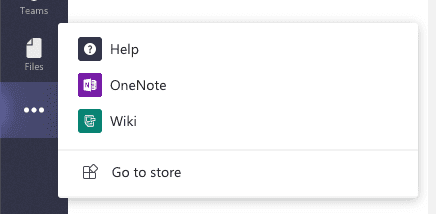 Overall the design is simple and navigation is easy, however I can't help but feel a redundancy here, with the option to look at a Department wide activity (which will usually include your teams), or another look closer at teams themselves.
On a large scale this would make sense, enabling departments to further expand into smaller teams, but can also be too many options for smaller teams — hence why these platforms are geared towards the larger Enterprise organizations.
Collaborating in Microsoft Teams: The UX

Microsoft teams of course enables a high level of collaboration through the use of Office 365 solutions and applications. Users can co-edit documents in real-time, something that has already been possible with 365 in general.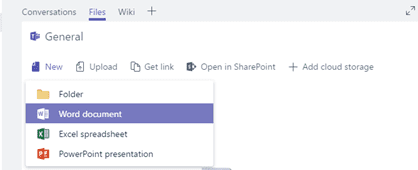 Users can choose which application they want to specifically highlight, and add that to their view with the tab buttons. These tabs allow individuals to jump between windows quickly and access relevant files or documents, for example that word document that you and the rest of the PR team is co-editing. As the conversation about the changes unfolds, each user can see the individual changes being placed, as well.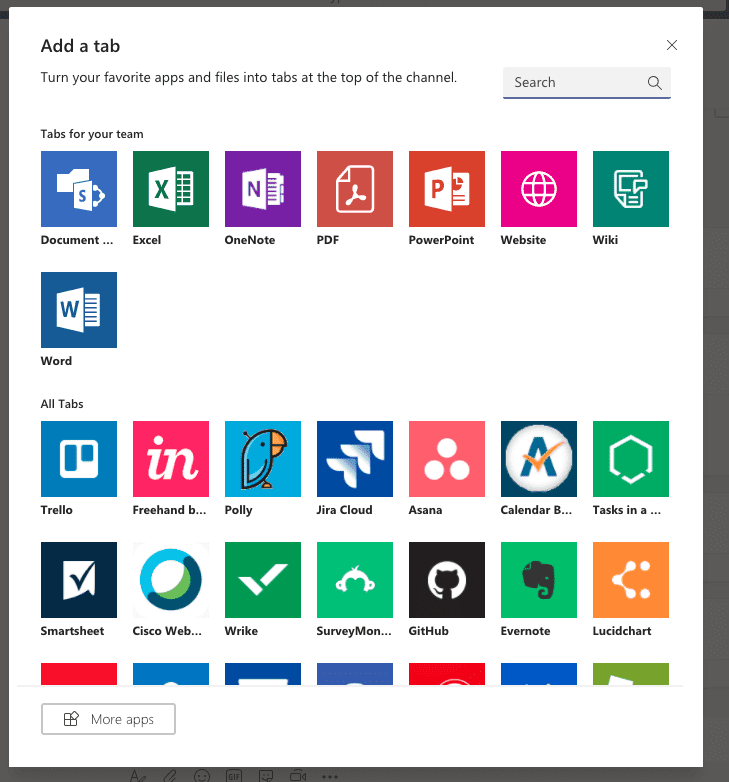 But collaboration also involves communication; which must ultimately be as simple as possible. We cannot have these large roadblocks in the way, slowing us down, and effectively slowing our rate of production down at the same time.
A successful communication and collaborations platform removes these roadblocks, and makes it even easier to communicate, not harder. Microsoft Teams manages to do this by enabling an intense, granular level of communication customization. What I mean by that is users can free to really break down and hone in on what they want their conversations to be about, through organization.
There are two distinct options:
Teams – these are the groups, like departments or teams, within an organization. You need to construct teams and then add people to them.
Channels – Beyond Teams, users can divide their conversations up even further with specific and dedicated channels. Each individual team automatically starts with its own dedicated channel called "General," but users can expand with more channels for specific projects or topics as necessary.
Of course once channels are setup, users are then free to join these group chats (as long as they are within the Team) to begin collaborating — think of these channels as the communal chat rooms for each specific project or meeting.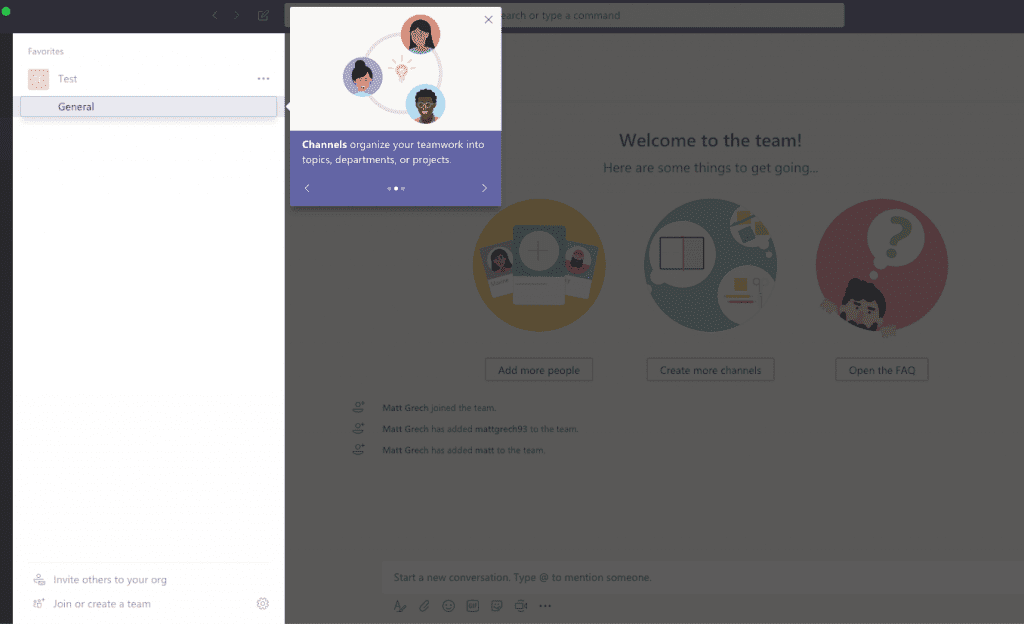 Teams will be dedicated  to specific departments, for example the Content Team. Within the Content Team there can be further organization with channels, like "In-House Content," "Free-lance Content," "Guest Post Content," and so-on.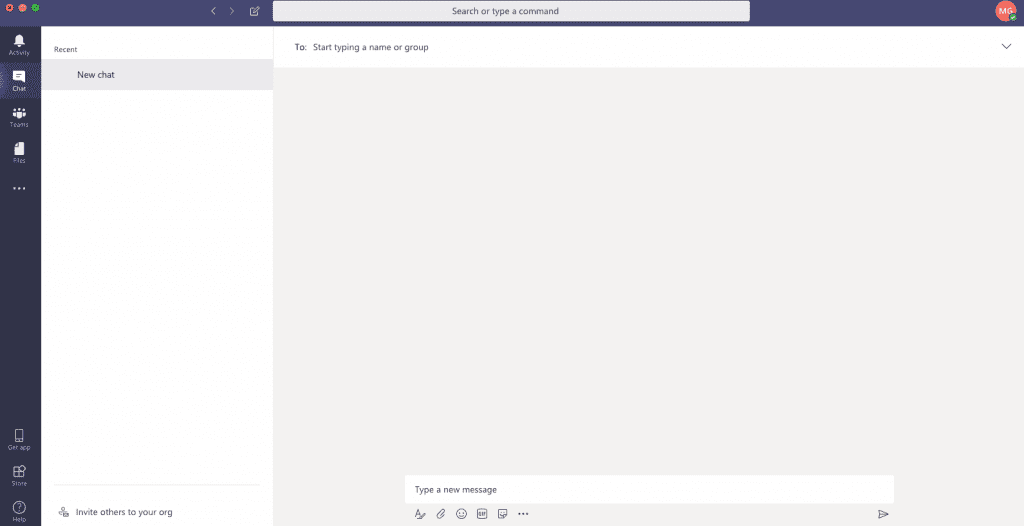 This level of organization configuration should go a long way in providing a clean, easy to understand and consistent experience. The biggest benefit is the ability to juggle multiple dedicated channels within a Team.
In other platforms, like Slack, users can create as many channels as they want, and can dedicate specific channels to specific projects like listed above, but this will just create a long list of disorganized channels. But, to help keeps things organized, I do like the inclusion of an Activity tab at the top of every channel to capture the important parts of a conversation.

The concept moves further into the realm of "Enterprise communications" when users are much more capable of organizing their communications, and have the option to jump between Teams or departments, and even further organize efforts (if need be) with specific and dedicated channels inside those Teams.
This way, if an individual is part of more than one team, they do not need to juggle more than one Slack account or Slack room, but they instead have the option to jump between different Teams.
Microsoft's Approach to AI in UC

Back in Sept of 2017, Lori Wright explained that Microsoft had "a new vision for intelligent communications," which she said would transform "calling and meeting experiences for people and organizations around the world."
The overall idea was that this new paradigm of intelligent communications goes beyond "traditional unified communications" by including more intelligent and proactive capabilities.
This announcement was primarily surrounding a strategy shift from Microsoft, placing a heavier focus on Teams as the collaboration solution responsible for pushing this concept of intelligent communications.
It seems that the plan is to allow Teams to slowly but surely phase out Skype for Business — whether or not this is the future for Microsoft is yet to be seen, but the focus on intelligent communications is absolutely still a core component of the platform. What is interesting to see, though, is some of Microsoft's latest releases being worked into both Skype and Teams, without a mention of Skype for Business at all.
For example, just look at Microsoft's recent announcement of a Background Blurring capability within Skype and Teams. Leveraging AI, users can choose to blur out their background in a video conference to hide the clutter.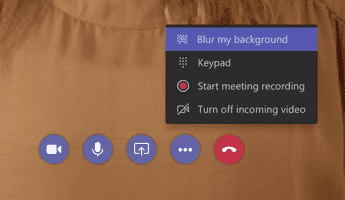 On one hand the term "Intelligent Communications" can be used to describe the overall enhanced collaboration provided by a solution like Teams, mainly live editing and file sharing along with persistent chat.
But in reality the term goes a bit further, and Microsoft highlights some interesting functionalities made possible by this new idea of intelligent collaboration:
Before the start of a meeting, Teams will locate and "surface" what it considers to be relevant information or documents that will assist in the collaboration effort.
Within a meeting, Teams will capture and transcribe the conversation along with time-coded, closed captioning and even voice recognition to attribute remarks to specific speakers.
After the meeting, Teams will automatically dump the recording and transcript of that meeting into any relevant channels or conversations on the platform. This enables anyone within the organization to then search through and review the content of the meeting.
This whole idea, as mentioned above, is about simplifying the work process — now this is a bit of a dead horse at this point, that is the whole concept beyond AI and automations.
But, I think it is important to see this concept being put into action in reality, and Microsoft for example has some very interesting real world beginnings to the AI revolution.
What is particularly interesting, of course, is that major concept of "Intelligent Communications," which signifies a clear focus and priority, from Microsoft within the Teams platform, being placed on not only introducing new features, but drastically innovating the way work is done.
The Bottom Line: Leveraging Office 365
These Enterprise level solutions are clearly making a case for themselves, and are on the way up to replacing some of our more beloved solutions. For example, Microsoft Teams is doing very well in particular, and is actually gaining quite a bit of ground on Slack. As of December 2018, Computer World reported that MS Teams "is now the second most popular business chat apps."
They noted that on results from a recent Spiceworks survey 21% of respondents were using Teams now, up from a mere 3% back in 2016. While we can't count our chickens before they hatch quite yet, and this is just one survey with limited scope, I think there is a clear indication of a reaction to existing business needs. Slack really introduced the idea of persistent chat working to replace email, and enabling real-time always-on communications and collaboration.
But these platforms like Webex Teams and Microsoft Teams have recognized that team collaboration software is much more than a fancy IRC chat room — otherwise IRC wouldn't have been replaced by prettier and shiner applications. The ability to collaborate not only through text, but through video, whiteboarding and even co-editing of documents is so powerful that there's no reason we shouldn't make it possible.
That's where Microsoft Teams shines pretty strong in particular as well, the deep inclusion and integration of existing Microsoft Office and Office 365 tools and products.  It's an understatement to say that the Office suite has been revolutionary, and continues to be so (at least in some way, even if just spawning better competitors).
The ability to simply grab a hold of an easy to use, and even free, solution that not only works with but specifically leverages some of the most common tools we are already using on a daily-basis is a bit of a no-brainer, instead of piecing together other tools. After all, ins't that the point behind Unified Communications?