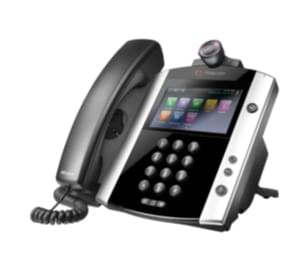 Telecommunications hardware leader Polycom will be releasing the Polycom VVX 600 in November, 2012. The VVX line, already renowned for its touch screen interface, improves on the previous model, the Polycom VVX 500. "The Polycom VVX 600 represents a new generation of solutions that merge consumer-like simplicity with enterprise-class reliability, performance and UC&C integration," said Jim Kruger, Senior Vice President of Solutions Marketing at Polycom.
The Polycom VVX 600 has a new, larger multi-touch screen that, at 4.3 inches, is 23% larger than other business media phones. Users can swipe, slide, and touch, just like on their favorite smartphones and tablets. The touch screen has a familiar menu interface, and information about a caller, contact, or meeting is automatically made into a soft key on the screen.
The VVX 600 supports up to 16 line appearances, and can access corporate directories and use IM with a soft QWERTY keyboard on the touch screen. Using the screen, an operator can scroll through up to 16 calls, and then transfer the calls as needed.
The VVX also has gigabit Ethernet in and out ports, so that if an office only has one Ethernet jack, the phone can be used to pass through the data. The phone can be used as an extension of your computer screen, including your computer's keyboard and mouse, making adding contacts a snap. The VVX 600 has a USB port and Bluetooth capabilities, making it easy to add video to conference calls.
The biggest change is in the inclusion of the new Polycom UX software, which delivers the industry's best video collaboration platform. The included software features a number of innovations and features, including higher-quality video at lower bandwidth, content sharing, and Wideband Audio. The VVX 600 is designed to be easy to for IT managers to deploy, and easy for non-tech savvy users to use.
Polycom will be officially unveiling the phone at Astricon 2012 in Atlanta, GA, and at the Broadsoft Connections 2012 convention in Scottsdale, AZ.
Source: Polycom Press Release
Related Articles:
– True Data Technology Partners with Polycom to Offer Advanced Voice and Video Solutions
– Forbes Interviews Polycom CEO Andrew Miller
– Polycom, Inc. Rings The NASDAQ Stock Market Opening Bell