After years of being off from business travel, the world seems to be back to some sense of whatever normalcy is now. There was no better indication of that than this year's Cisco Live conference, where I learned that about 15,000 attendees from across the globe attended – including myself. 
This year, the conference takes place in Las Vegas; with thousands descending upon the upscale Mandalay Bay Convention Center, hoping to (gain relief) from the ultra-hot Nevada sweltering heat toward the end of the famous Las Vegas strip. Cisco showcased all its might in an opening keynote that featured Cisco Chair and CEO Chuck Robbins. 
It was a time for the collaboration and networking giant to showcase its latest and what it hoped would be received as some of its "greatest" innovations to date. The updates all showcase Cisco's versatility which spans the firm's networking, security, collaboration, and optimized applications portfolio.
After two years of hosting an all-digital interaction of "Cisco Live" – we remain aware of the potential dangers of COVID-19 on society. As such, Cisco offered a way for attendees to "tune in" (so to speak) from anywhere in the world – leveraging its very own technology to do so. It is not too late to watch all the goings-on at Cisco Live: and to do so virtually. 
Now, I want to catch you up on the latest Cisco innovations. Robbins acknowledged as he took to the stage; that the past few years have not been easy, adding: "Through the challenges and unpredictability of the past few years, I believe we've seen the true power of technology." 
He proceeded to talk about digital transformation, which accelerated many companies into the future of work and gave them access to technologies they hadn't previously imagined using. "Digital transformation remains core to every business as we navigate this complex world alongside our incredible customers and partners," Robbins added.
Cisco Intros News Technologies for Modern Enterprises
Having been a part of the Cisco Live Press and Analyst portion of the conference, we gained a lot of additional and valuable insight to share with readers, learning that Cisco would release a slew of features designed to do a few things. 
For starters, there's a new unified experience, a feature that Cisco describes as a cloud management capability that will give users access to a unified experience across its Cisco Meraki, Cisco Catalyst, and Cisco Nexus portfolios. The firm further announced a fresh Cisco ThousandEyes product for advanced optimization of WAN performance. 
In considering security resilience, Cisco's focus there seems to be massive. As such, it unveiled its new strategy for a global, cloud-delivered, integrated platform – one set to deliver secure access and connectivity for organizations, no matter the size.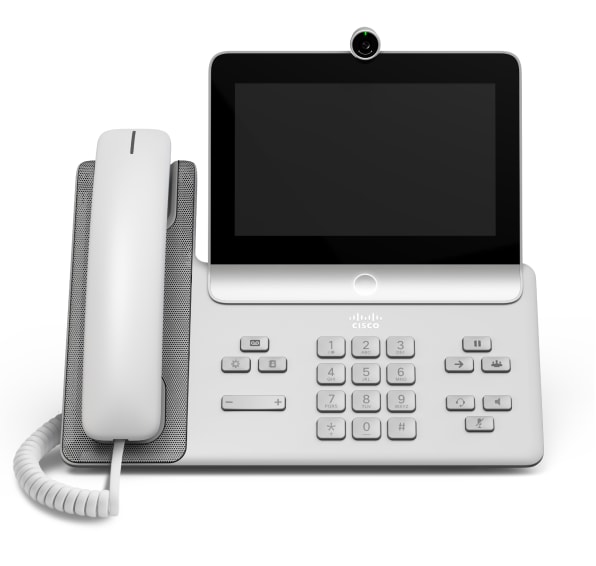 Early last week, Cisco introduced the industry's first phone for hybrid work – the Cisco Video Phone 8875. They say the phone will maximize productivity and reduce meeting fatigue, especially as hot-desking appears to be picking up steam as the new normal. 
Cisco further made countless advancements to Webex Calling, a part of the Webex Suite. Those enhancements promise to improve work flexibility, reliability, and audio, according to a statement released by the firm. 
Vital Partnerships Proving "Good" to Cisco
Back in August 2020, Cisco acquired ThousandEyes, a California-based tech firm that monitors network infrastructure, troubleshoots application delivery, and maps 'Internet' performance; via of its SaaS platform.
Today, the Webex Control Hub even gained new superpowers in the form of an integration that Cisco says will lead to: "Better experiences for Webex Suite users." The integration aims to arm IT, admins, with the tools (to proactively) monitor application performance and detect any performance issues. 
Salesforce and Oracle Eloqua are also (as of now) fully integrated into Webex Webinars, a feature that extends benefits like seamless lead management via Webex Webinars and Salesforce. 
Reimagining the App Experience and More
Cisco is often at the forefront of differentiating its app experiences, and this time appears to be no different. With the launch of AppDynamics Cloud. The cloud-native observability platform, they say, is for the modern application – the kind based on what Cisco calls
"Increasingly complex, distributed architectures and services."
That's where AppDynamics Cloud comes into play, as it was developed for a few purposes. According to Cisco, that's for simplicity, usability, and intuitiveness. They further note that it hopes to empower IT teams to deliver: "The exceptional digital experiences today's businesses, consumers, and end-users, demand."
Cisco dropped several new and practical tools built for the developer crowd – even making some fairly sizable contributions to the world of open-source, too. Cisco introduced a new and free open-source, API-first developer solution. 
"Available today, Cisco's Panoptica app and Calisti app, the latest additions to Cisco's suite of cloud-native, API-first tools," Cisco wrote in a statement announcing the launch. 
And our group of international reporters and analysts got a first-hand look at how it works. It is a practical tool for developers – the kind of tool that can save them a lot of time and ultimately result in faster application development cycles with considerably less overall complication. 
While I feel this is a massive understatement, I understand the gravity of what Cisco has introduced, a toolset looking to extend more developer transparency, the monitoring of mission-critical applications, and the eventual optimization of any deteriorating applications. 
Previewing Cisco's More Futuristic Applications
We also got a look into some of the more futuristic aspects of Cisco's portfolio. I had the chance to sit inside the new Ford Mustang Mach-E, which objectively; doesn't look much like a traditional Mustang. If you may recall, I briefly wrote about the collaboration giant offering a full-fledged collaboration experience from the comfort of the vehicle – something that extends the boundaries of what we know as "work from anywhere." 
A few important things to point out, there are a ton of built-in safety features that will ensure that folks aren't operating video conferences as they drive. What users can access is high-quality audio meetings on the go – but not video conferencing while driving. 
We also got a preview of Cisco's efforts on the 3D immersive collaboration front; with Webex Hologram. I saw first-hand the industry's only real-time meeting solution that leverages the power of augmented reality headsets to combine feature-rich Webex meeting functionality.
Finally, Cisco showcased its asynchronous video messaging capabilities with a feature hoping to help users avoid things like burnout. "Vidcast, part of the Webex Suite, enables users to easily record, edit and share video messages — all without waiting for calendars to align to meet "live," according to a statement.
And for the first time, Cisco previewed AI-powered editing features that, according to it: "Will make it even easier for users to create polished videos – with the ability to use the transcript to clip/edit the video, remove filler words, and in the near term, leverage custom text-to-speech models for insertions or overdubbing." 
Stay tuned for more news and headlines coming out of the conference. 
In full transparency, my trip was sponsored by Cisco. Nonetheless, that does not impact the integrity of my reporting. Often news organizations lack the resources to send reporters on such an excursion so we can bring you the facts on the ground.
As always, it is my job to provide unbiased coverage of industry news, and I intend to continue doing so.