Rising customer expectations have made call center software an essential tool for businesses that wish to remain competitive in oversaturated markets. CallTools' software is designed to help businesses improve customer support, increase efficiency, and streamline call center operations. User reviews consistently describe the platform as intuitive and easy to use. Read on to learn about CallTools pricing, plans, and key features.
Compare call center software from
top providers
What is CallTools?
CallTools is a cloud-based call center software solution with a suite of essential communication tools including inbound and outbound call routing, IVR (Interactive Voice Response) systems, call recording and monitoring, and analytics.
With an accessible customer support team, helpful FAQs and user training modules, and customizable plans, CallTools is an ideal solution for small teams, startups, and SMBs.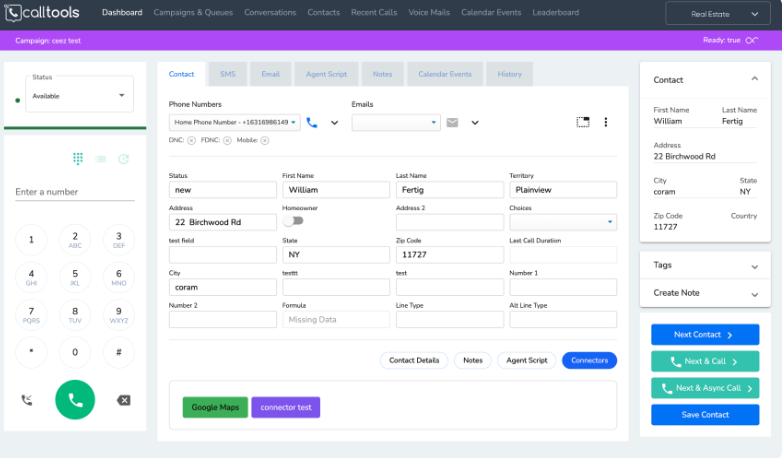 CallTools Pricing and Plans Overview
CallTools pricing begins at $101.99 per agent, per month for a complete inbound/outbound call center software including built-in CRM, IVR, and simultaneous dialing (up to 10 numbers per agent.) 
CallTools offers two pricing plans: 
Month to month: $119.99 per agent/month
12 month term paid monthly: $101.99 per agent/month
Both plans include unlimited inbound and outbound minutes but SMS messages are charged at $0.015 per message.
Additional features include:
Predictive, power, and preview dialing
Intelligent dialing algorithms
SMS and Email with Templates
Integrations, APIs and Webhooks
Contact management built-in
Call recording
Smart call distribution
Advanced IVR
Rules-based queues
Callback
Agent scripts
Preconnect and first caller announcements
DID matching
Live Agent Monitoring (listen, whisper, barge)
Real Time Reporting
CallTools Key Features
CallTools specializes in features that increase agent productivity, streamline operations, and decrease caller wait times–all important for creating a stellar customer experience.
Here is a look at some key CallTools features:
Outbound Call Center Features
CallTools includes several features to assist call centers with outbound call campaigns, including dialers, email templates and campaign management tools. Here is a closer look at CallTools' outbound calling features.
Predictive Dialer
CallTools' predictive dialer places simultaneous outbound calls, only connects agents to live prospects, and automatically filters out voicemail machines and busy signals.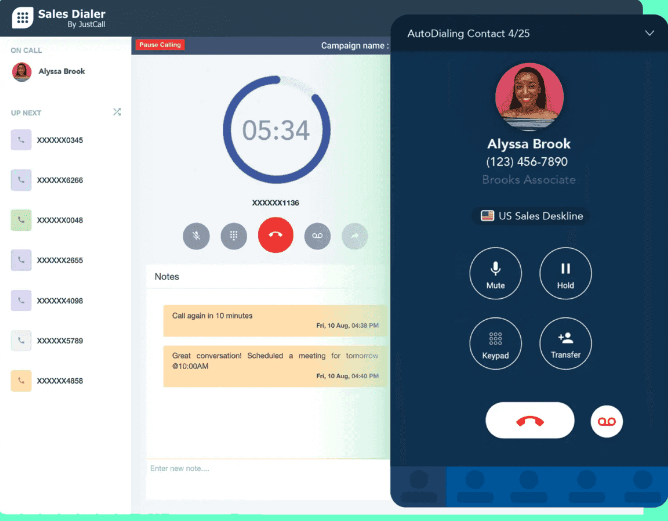 Additionally, predictive dialing allows users to drop a pre-recorded message as a voicemail message (Voicemail Drop), lets admins upload contact lists to instantly create campaigns, and integrates with popular CRM systems like Salesforce, Zoho, Hubspot, pipedrive, and Zendesk.
The predictive dialer improves lead list penetration, increases agent talk time, and is best for call centers with a high outbound call volume. 
Preview Dialer
CallTools' cloud-based preview auto dialer places calls one at a time, automatically displaying CRM data on agent screens so they can review key customer details before or during live calls.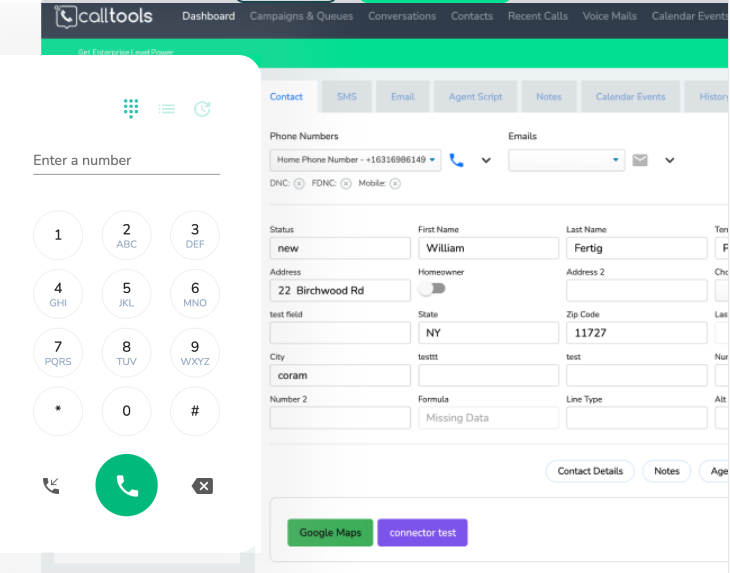 CallTools' preview dialer is different from the predictive dialer as it gives agents some "breathing space" in-between calls to research the next customer in line and optimize their sales techniques. Additionally, calls made with preview dialers are less likely to be mislabeled as spam. 
CallTools preview dialer enables users to create lists that limit dialing based on:
Business Hours
Time Zones
State
Area Code
Using the CallTools' preview dialer takes more time than its predictive dialer, but gives agents more control to navigate IVRs, correctly identify voicemail boxes, or skip a number and dial the next one. Preview dialers are therefore best for small call centers and SMBs with low to medium call volume.
Call Dispositioning and After-Call Work 
CallTools includes a number of features to simplify after call work for agents and ensure that call dispositions are accurately and consistently recorded.
The CallTools platform allows users to enter custom notes from the call and select an appropriate disposition. Admins can create color coded buttons for dispositions and choose the order in which dispositions will appear on the post call wrap up menu.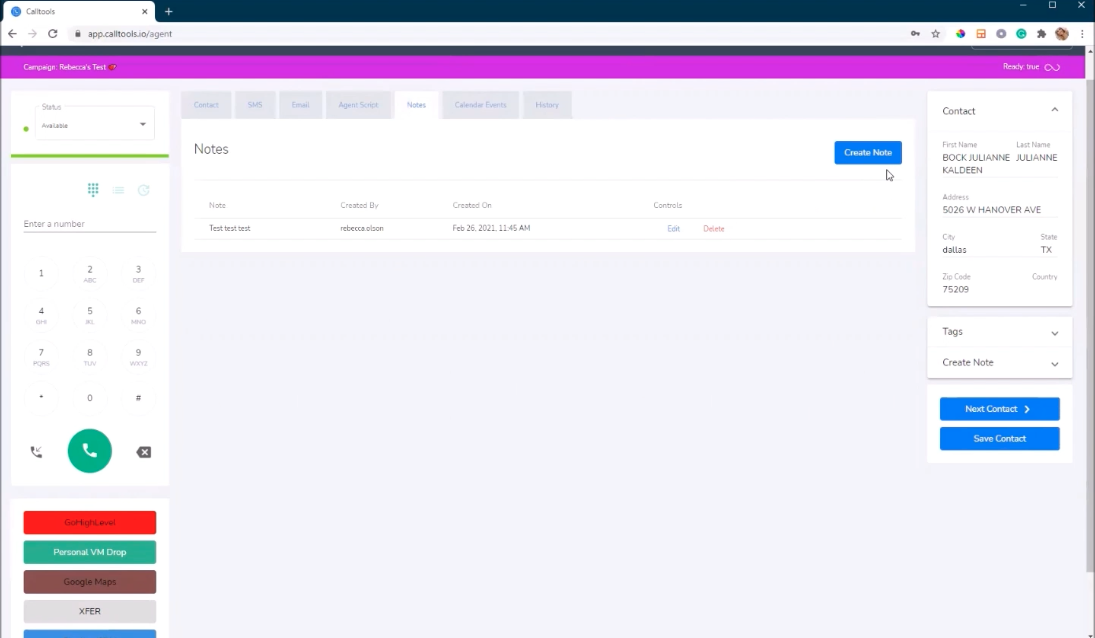 CallTools includes several automation features which can be enabled to simplify the after call work process:
Auto hang up: Simultaneously disconnects and dispositions a call with one click
No contact made: The system will continue to dial any associated phone numbers if there is no contact.
Delete phone number: Auto-deletes the associated phone number from the contact
Set Contact Do Not Contact: Sets the contact to "Do Not Contact"
Campaign Features
CallTools campaigns allow admins to input a list of contacts to be autodialed (only live answers will be connected to agents) and choose custom settings that will determine exactly how the campaign is run.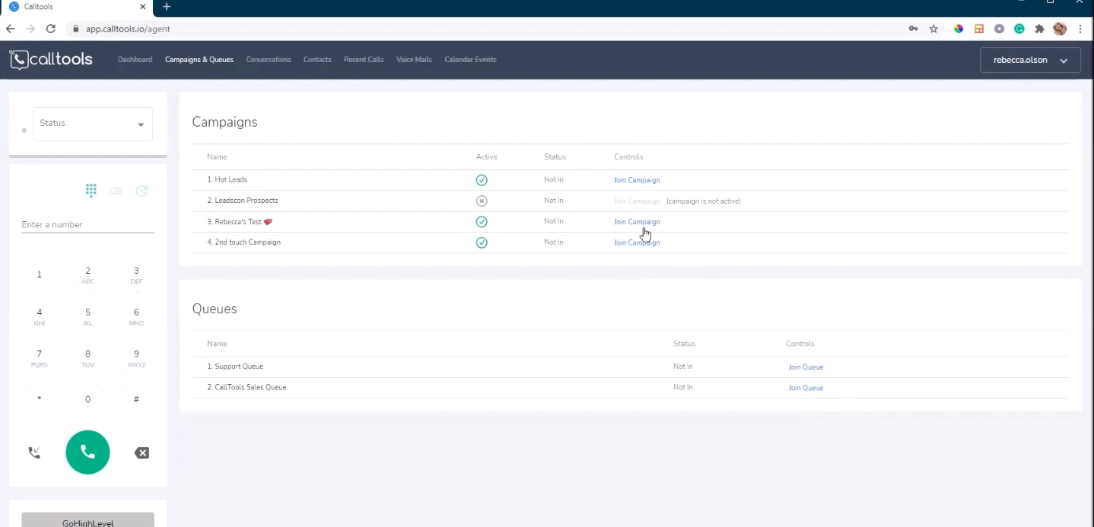 Campaign options include:
Dashboard color (different colors can be selected for different campaigns/queues)
Agent connect speed
Max daily dials
Force post call (requires agents to disposition each call before getting new calls)
Power Dialing
Auto Pilot (automatically adjusts the channels per agent based on agent wait time stats)
Phone number field preference
Ring time (sets the number of seconds to ring and wait for a connection)
Answering machine detection settings
Abandoned call options (hang up or find another agent to connect the call to)
Targeting
The targeting section of a CallTools campaign allows admins to set the dialing parameters. Users first select the method in which to add contacts–live filters or buckets.
Buckets are used to section-off large contact lists for dialing. The CallTools system will pull data from one "bucket" at a time. Once a contact has been dialed, it's removed from the bucket. New contacts can be added to buckets manually or uploaded from a CRM or API. A "hot lead bucket", which is used to call contacts immediately as they are added, can also be created.
Live Filters allow for conditional dialing based and custom rules set by the company. Each campaign can have up to 20 active live filters.
Conditions for live filters include:
Call disposition
DNC suppression (excludes contacts that have been set Do Not Contact)
System activity suppression
Local time start or local end time (ensures contacts are not dialed within certain calling hours)
Recent activity suppression (contacts can be excluded based on recent activity such as sending an email)
Respect suppress until (will not call a contact for a certain period of time)
Companies can run buckets and live filters simultaneously. For example, contacts in a bucket are dialed first and, based on the outcome and filter conditions, those contacts are then funneled into a different campaign, auto-replenishing live filters.
Sales Funnels
CallTools includes a sales funnel feature which is a collection of one or more custom automations, each consisting of a trigger (such as a certain number of outbound attempts) and an action. Conditions can also be placed on triggers (such as certain words being present in an SMS message).
Sales funnel actions include:
Call After: Adds contact to a campaign after a specified amount of time
Do Not Call: Marks a contact "do not call"
Tag: Adds a specific tag that you select to the contact
Remove Tag: Removes a tag from a contact if it has one
Bucket: Adds contact to a bucket
Update Contact Disposition: Updates a contact's disposition
SMS and Email
CallTools allows users to send and receive SMS messages and MMS images.
Agents will receive SMS alerts on their dashboard for any contacts they have texted.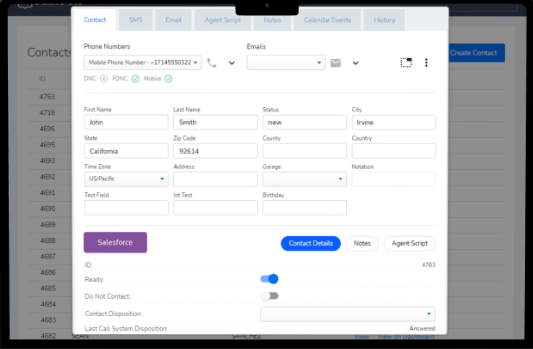 Customizable SMS Templates allow users to draft texts that can be used and sent directly from the dashboard. Macros are embedded in the body to personalize the text by auto-populating available contact field data. Customer opt-out messages are sent with initial business text messages to ensure companies adhere to compliance regulations.
Customizable email templates allow users to create an email that will be sent directly from the agent's dashboard. As with SMS templates, macros are embedded in the body to auto-populate available contact field data.
Inbound Call Center Features
CallTools is most well known for its outbound call center features such as autodialing, however, it has plenty of tools to streamline inbound calling operations as well. Below are some of the key inbound call center features that CallTools offers.
Custom IVR
CallTools' IVR (Interactive Voice Response) is a call management and customer self-service tool that routes and distributes calls according to pre-recorded call menu prompts and greeting audio files, business rules, and customer input via touch-tone responses.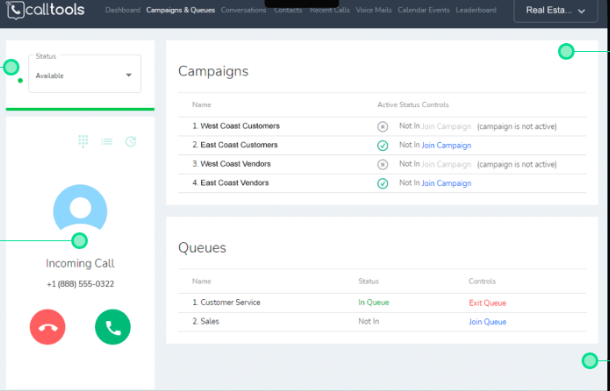 CallTools users can record and/or upload a .WAV audio file to be used as a greeting along with a listing of the destinations with their corresponding digit. Keys 0-9, * and # are available for IVR programming. There is also an option to create an extension that leads to the IVR.
Callers can enter an agent's extension and use Direct Inward Dialing (DID) to bypass the IVR selections.
Call Management
CallTools includes a suite of call management features designed to increase agent efficiency and reduce wait times.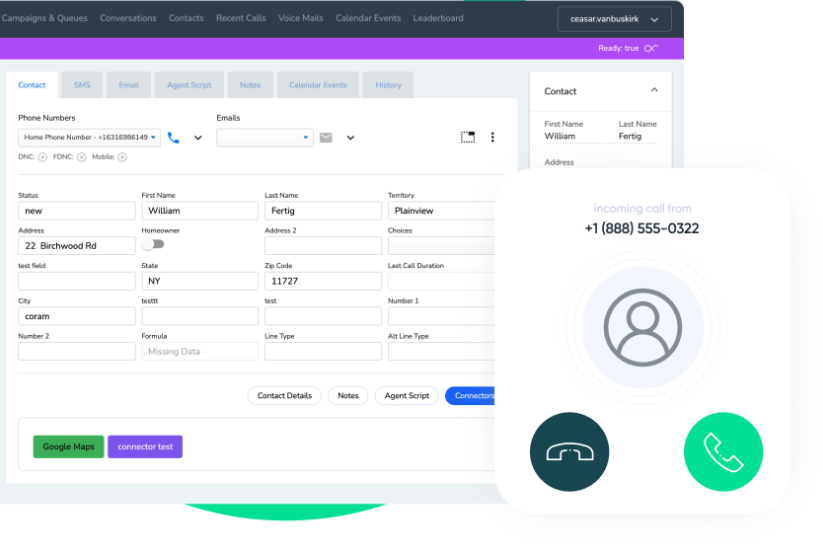 Call management features include:
Call routing options (round robin, longest wait time, fewest calls, and all agents at once)
Call waiting features (callback queue, position/hold time announcements and break-out IVR)
Call waiting options (select announcement frequency, set position limits and choose hold music)
Find me follow me
Agent scripts
Call recording
Call Queuing 
CallTools queues enable call centers to distribute calls to a group of agents and/or external phone numbers. The queue is the destination where calls are distributed based on caller IVR selections. CallTools queues are extremely customizable with a number of call distribution options and settings.
Queue settings include:
Extension: Agent can transfer the call by entering the queue's extension
Dashboard Color: By checking this box and choosing a color, when a call from this queue is connected a strip with the chosen color will appear
Agent Script: Scripts can be created for agents assigned to the queue
Agent Pre Connect Announcement: An audio announcement will play to the agent before connecting a queue call
Announce to First Caller: A pre-recorded system announcement will play to the first caller in the queue
Agent Connect Delay: Delays connecting the call to allow the agent to prepare
Agent Timeout: Adjustable amount of time for the queue to ring to an agent before it rings the next agent in the queue.
Queue Timeout: Overall queue ring time before the call is redirected to its failover destination
Ring In-Use Phones: Rings agents whose phone status is in use (on a call)
Allow Follow Me Calling: Allows the agent's Follow Me Calling feature to be utilized
Queue Priority: If agents are members of multiple queues, priorities can be set.
Maximum Callers: Caps the number of callers waiting in the queue
Post Call Time: Amount of time before another call can potentially ring to the agent
Calendar Events
CallTools calendar events are reminders and alerts for scheduled tasks. Agents and supervisors can use the calendar events function to schedule call backs, sending an SMS, emailing contacts or any other task. For each event, users can choose an event type, an associated campaign, a start and end date, and notifications. Agents can view, filter, edit, and delete events in the dashboard.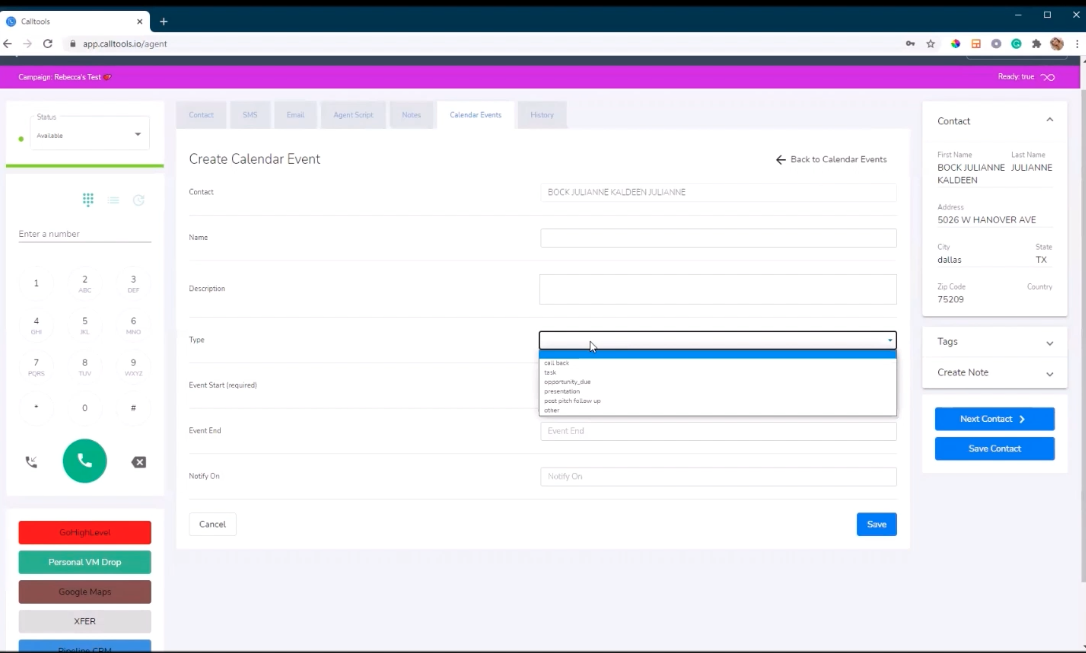 CallTools Analytics and Performance Monitoring
CallTools comes with essential reporting and analytics tools that enable call centers to monitor agents in real time, track vital KPIs, diagnose inefficiencies quickly and accurately and take action to improve. Below is a closer look at CallTools analytics and performance monitoring features.
Live Agent Monitoring
CallTools' platform includes live agent monitoring functionality which enables managers to remotely ensure all agents stay productive. A section of the CallTools manager dashboard lists information about each agent including who is signed into the system, whether they are on a call, and a live timer showing the amount of time spent in their current status.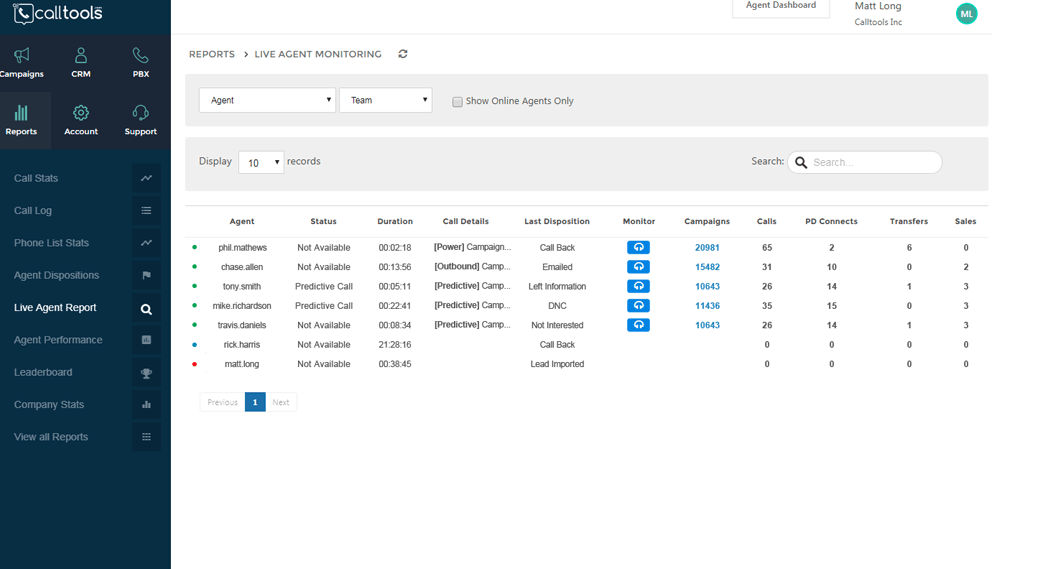 Additional information listed in the Live Agent Monitoring dashboard includes:
Number of sales
Number of calls made
Number of transfers
Last call disposition made
CallTools live agent monitoring also allows supervisors to listen in on agent calls without either the agent nor the caller knowing using the "spy" feature. In addition to listening in, supervisors can use the "whisper" feature to speak to agents without the caller hearing. This is an excellent tool for training.
Finally, supervisors can take over the call entirely using the "barge" feature. This is a powerful feature if an agent is losing a lead or customer.
Real-Time Performance Analytics
CallTools' real time reporting is a call management tool that displays both numerical and visual data, providing an overall view of call center performance.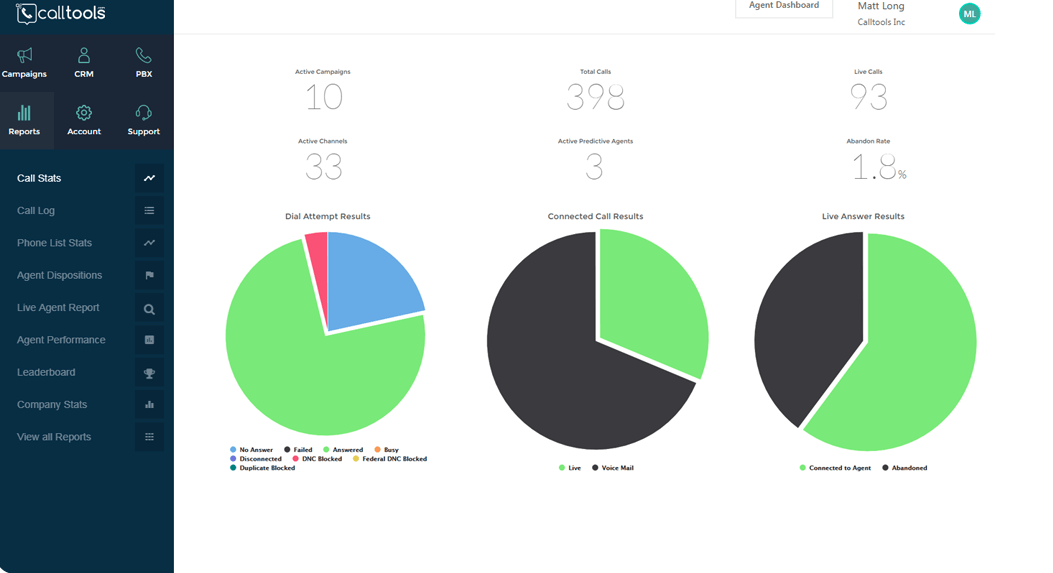 Key numerical calling statistics sit atop the dashboard, monitoring:
Total calls
Live calls
Active channels
Active predictive dialer agents
Abandonment rate
In addition to the numerical metrics, pie charts display:
Attempted dials
Connected dials
Live answers
Agent performance reports provide an accumulative report based on date range and agent activity. This page reports activities such as: log in time, statuses, call times, disposition selections, emails, and SMS.
The Agent leaderboard shows agent activity and rank statistics based on date range and the number of agents. Benchmarks include: inbound/outbound calls, sent SMS, sent emails, calls transferred, calls over 3 and 5 minutes, calendar events, and goals achieved. Agents shift in rank according to the benchmark performance values that add to a total score.
Custom CSV Reports can be generated based on report type and data query parameters. There are 40 report types such as: campaign performance, agent performance, agent status events, queue call & activity stats, historic call dispositions, and user activity. Custom CSV reports can also be auto generated based on date/time parameters.
CallTools offers both Live Agent Monitoring and Real Time Reporting as a part of the Predictive Dialer software.
Who Should Use CallTools?
CallTools is best for small businesses, startups, and SMBs with medium to high call volumes.
With several auto dialing modes to choose from, advanced campaign management tools, and its Contact Targeting feature, CallTools is an excellent option for outbound call centers with sales teams in the telemarketing, real estate, and collections. 
Its user-friendly platform, consistently praised in CallTools reviews, includes built-in agent tools like call scripts, CRM call pops, and in-call coaching–ideal for optimizing agent performance and improving customer service quality. 
However, CallTools' lack of high security standards and advanced features like video conferencing, AI-powered sentiment analysis, and workforce engagement mean it's not suitable for enterprises or especially regulated industries like healthcare.
CallTools Alternatives to Consider 
Here are some of our favorite CallTools alternatives to consider when exploring call center software:
Provider
Price
Top Features
Best For
Five9
5 bundled plans from $149 to $229 per user/mo

Workflow automation
Email, SMS/MMS, social messaging
5 types of dialers (predictive, preview, power, progressive and TCPA manual touch)
Call recording
Real-time analytics
Gamification tools

Large contact centers and enterprises that need a workforce management solution as well as a contact center solution
CloudTalk
3 bundled plans from $25 to $50 per user/mo

Click-to-call
Smart queueing
International numbers in 160+ countries
Intelligent call routing
Call monitoring (barge, whisper)
Speech-to-text
Power and smart dialer

SMBs and International call centers with a high call volume
JustCall
Two bundled plans from $24 to $48 per user/mo when paid annually

IVR
100+ integrations
Call and SMS analytics
SMS automations, triggers and bulk campaigns
Sales and predictive dialers

Small businesses and call centers that need inbound call tools as well as the ability to conduct outbound campaigns
RingCentral
Contact RingCentral for custom pricing

IVR
Call recording
30+ digital channels and advanced omnichannel analytics
Screen recording
Workforce management
4 types of dialers (progressive, predictive, preview and TCPA safe)

Large businesses and contact centers that need a secure and robust omnichannel platform
Genesys
3 bundled plans from $75 to $150 per user/mo

Speech enabled IVR
Voicebots and chatbots
Voice and digital outbound campaigns
Real-time and historical reporting and performance analytics
Workforce management and engagement

SMBs and enterprises that need a workforce management solution as well as call center software