Project management and team collaboration solutions like Asana and Trello help businesses stay organized, increase productivity, facilitate teamwork, and save time with features including task assignment, project-based comments, due date alerts, and workflow automations.
With the rise in both remote work and highly collaborative, complex projects, tools like Asana and Trello have become essential for business growth.
In this comparison of Asana vs Trello, we'll take an in-depth look at how these two popular project management tools stack up when it comes to price, features, integrations, and more. We'll also give a quick overview of top Trello and Asana alternatives.
Jump to ↓
Asana vs Trello: Overview
Here is an overview of the Asana and Trello platforms:
Asana
Trello
Pricing
1 free plan and 2 paid plans from $10.99 to $30.49 per user/mo.
1 free plan and 2 paid plans from $5.00 to $17.50 per user/mo.
Free Trial
No, but they have a free version
Yes, Trello offers a free version as well as a free trial of its Premium plan
Most popular plan
Business ($24.99-$30.49 per user/mo.)
Premium ($10-$12.50 per user/mo.)
Key Features

Automated workflows with custom rules
Advanced reporting with custom fields and advanced search
Goals and portfolios

Custom backgrounds & stickers
Advanced checklists
Organization-wide permissions

Collaboration Tools

Task assignments
Unlimited comments
Unlimited messages

Collaboration board template
Task Assignees

Unique Integrations
Tableau, Power BI, Zapier, Jira and Salesforce
Google Calendar, Evernote, Twitter, Miro
Custom Dashboards
Yes
Yes
Templates
Yes
Yes
Security & Privacy Features
SOC 2 Type II compliance and multi-factor authentication in all plans, SSO, SAML, and SCIM available in some paid plans
2 Factor Authentication in all plans and SSO included in Enterprise plan (available for purchase in all plans)
Apps Marketplace
Yes
Yes
Best for
Medium-sized businesses and enterprises
Startups and small businesses
What is Asana?
Asana is a project management and team collaboration solution that lets users organize work into projects and tasks.
Tasks can have multiple assignees and/or followers with permission to comment, tag, and attach files directly to tasks to prevent key details from getting lost.
Paid users get access to the Asana workflow builder, which includes advanced workflow automations and features available in premium pricing plans.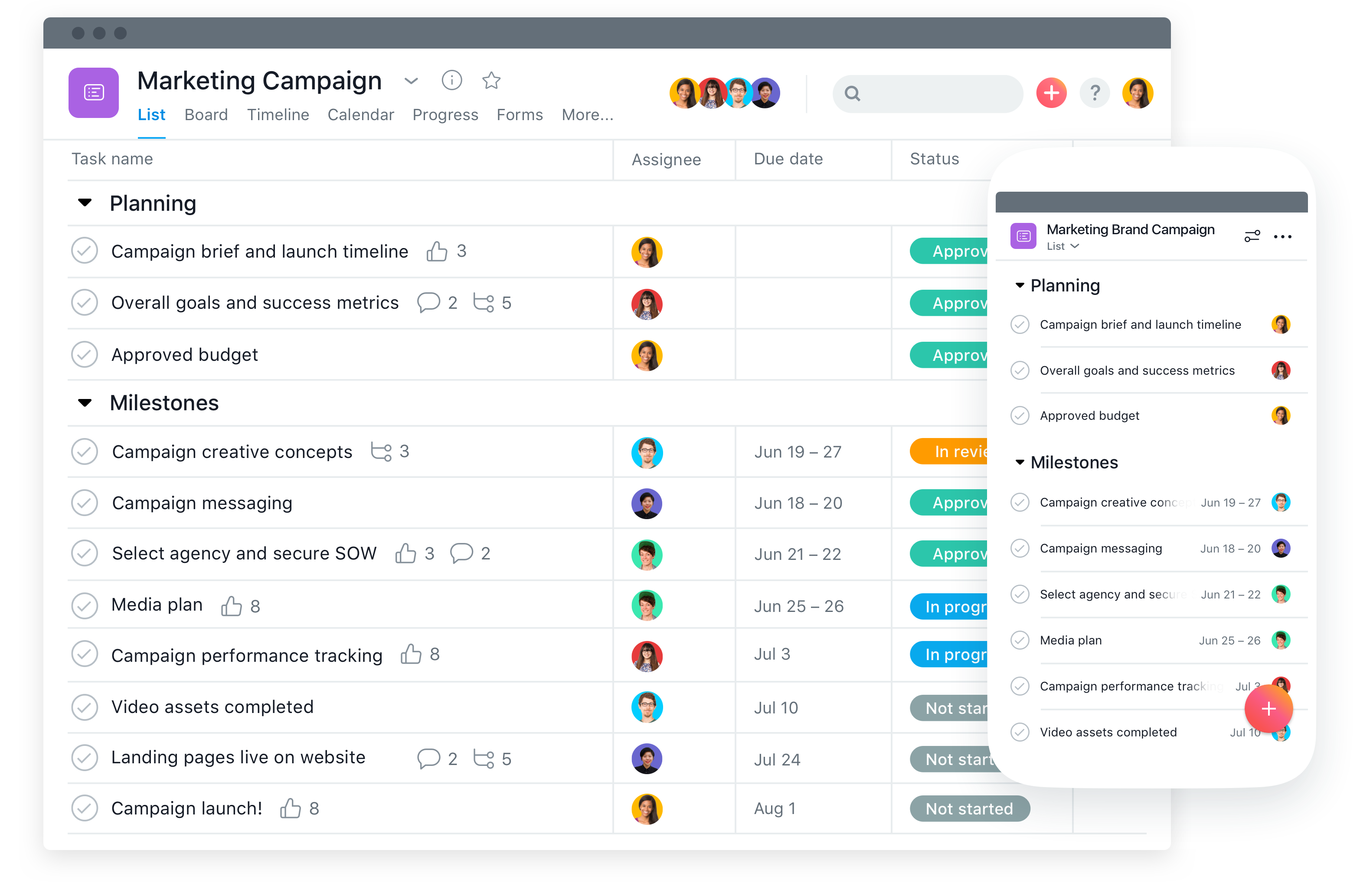 What is Trello?
Trello is a popular and affordable project management software solution that enables users to manage tasks and build workflows using colorful Trello Boards, lists and cards.
Although Trello offers a number of different views such as calendar, timeline and list, most users organize projects and tasks on Trello's signature kanban Board.
Cards, which are attached to Boards, display tasks and ideas and each card flows across the board through three columns (usually "to-do", "in progress", and "done", although this can be customized).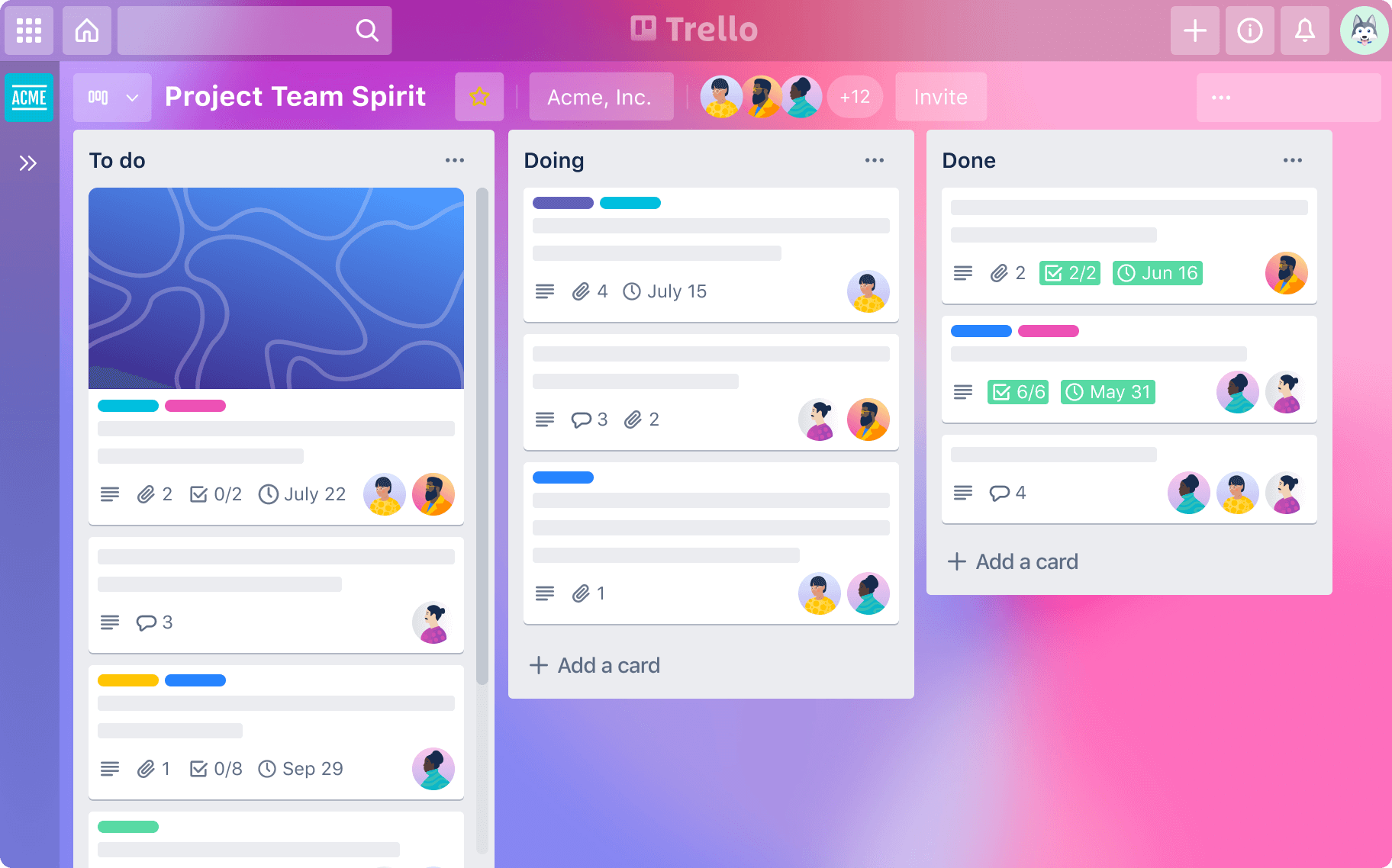 Asana vs Trello: Feature Comparison
Here is a look at how Trello and Asana compare in five important feature categories:
Task Management
Asana task management goes far beyond standard to-do lists to provide insights, reminders, and updates through each phase of a project.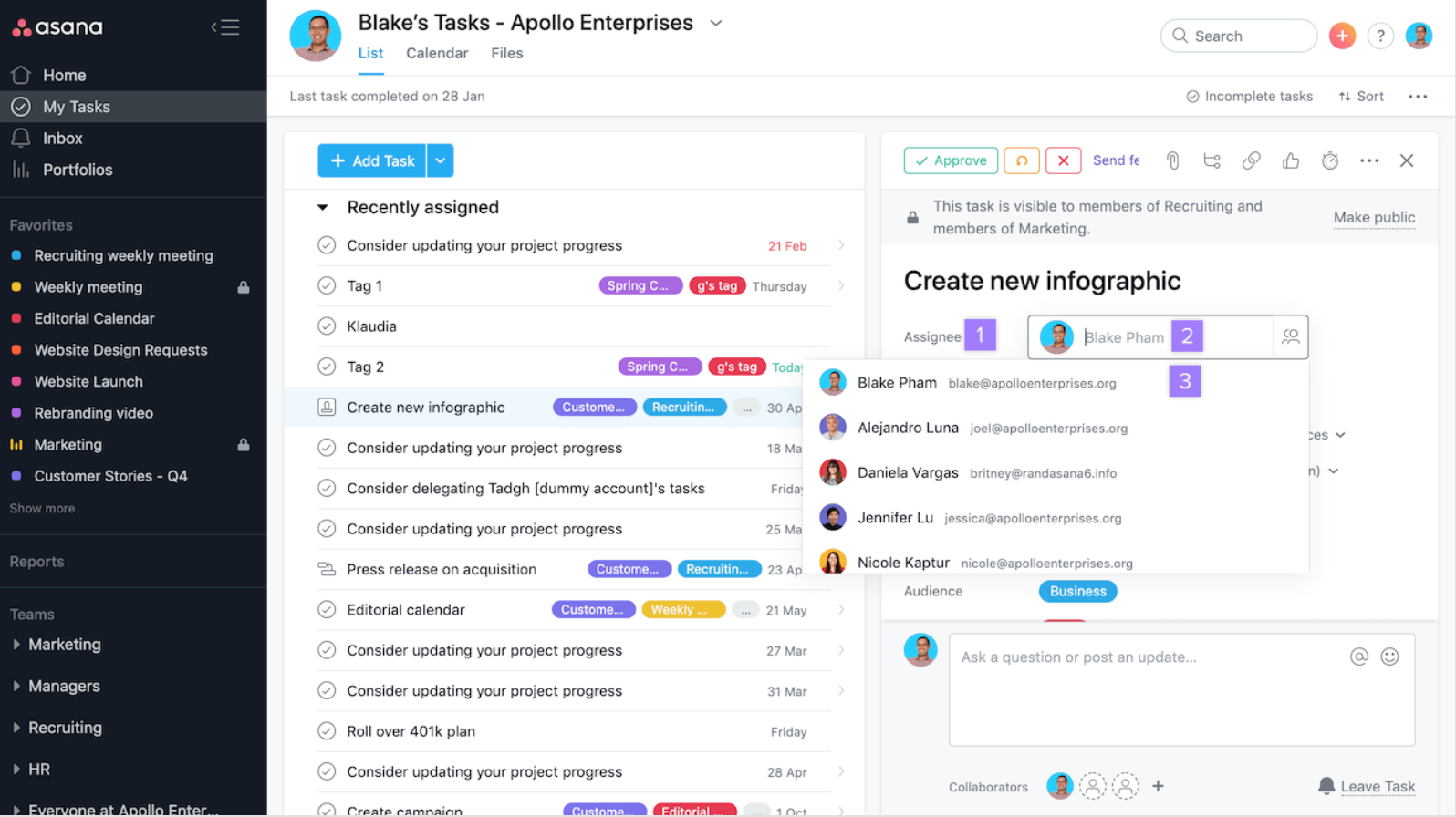 Asana's task management capabilities include:
Task and subtask creation and assignment
In-task file attachments
Customizable project status updates
Task dependencies
Add task collaborators
Task commenting and user tagging
Task prioritization
Task categorization and filtering
Asana users can easily switch between popular project views like list, calendar, timeline, and Kanban boards. Tasks can also be accessed and updated on Asana's mobile app for Android or iOS.
Trello users manage tasks with advanced checklists, priority labels, and calendar view. Advanced checklists allow users to create tasks, assign team members, and add due dates.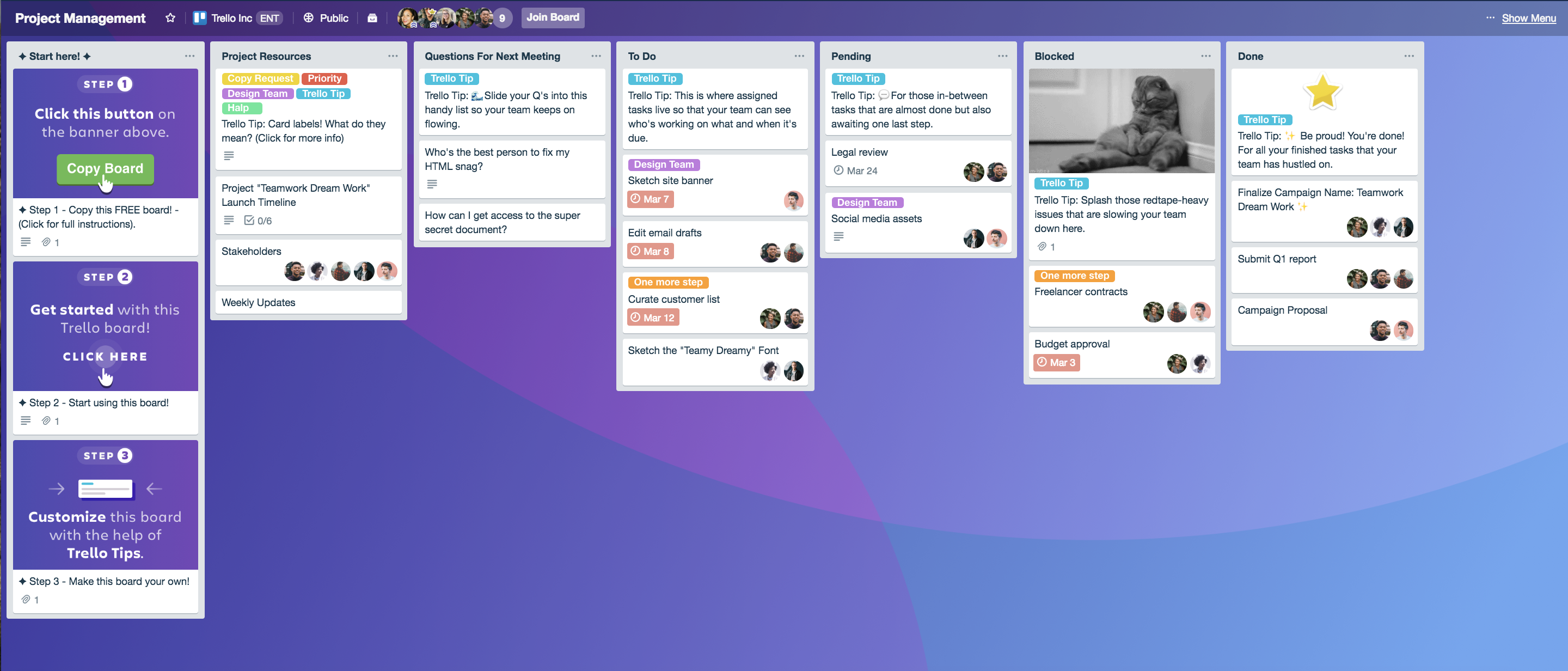 Tasks show up automatically in calendar view and can be labeled as low, medium, or high priority. Advanced checklists are included in the Standard plan and up.
Winner: Draw
Asana and Trello have similar task management features. Asana may have slightly more functionality, but charges a higher price for it.
Workflow Management
Asana Workflows can take the form of a list, board, or timeline to keep everyone on the same page. Asana users can also divide and organize task lists within a project based on priority, category, or progress stage.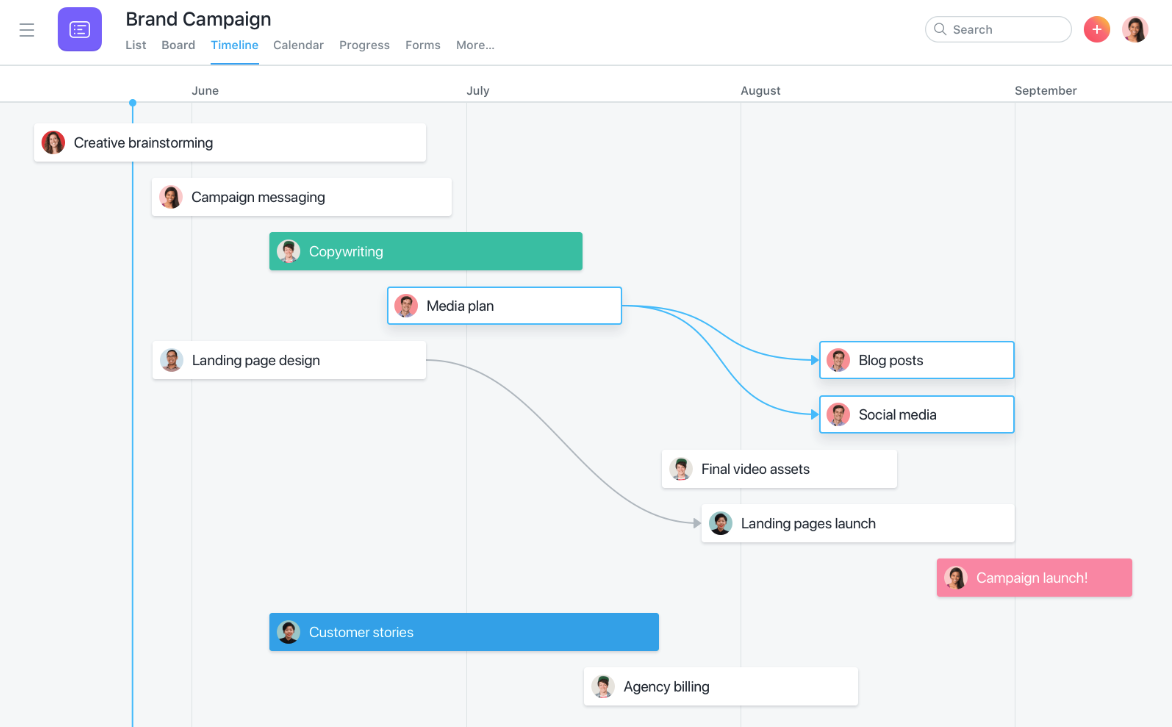 Asana enables users to set start and due dates for tasks, helping teams stay focused and keeping timelines manageable. Asana's Premium plan includes the workflow builder feature with automated workflows, forms, limited pre-set rules, and templates. Asana's Business plan includes automated workflows with unlimited dependencies and custom rules.
All Trello users have access to no-code, drag-and-drop automation, which simplifies the workflow process.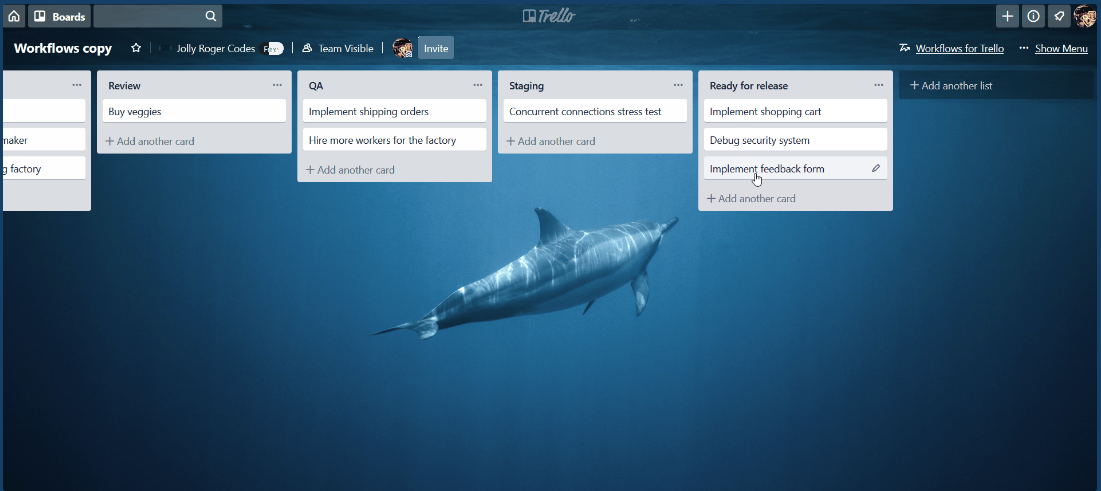 Automations are added by defining out a trigger and its corresponding action. Users can also add custom card or board buttons that will perform a series of actions with a single click.
For more workflow functionality, Workflows for Trello can be purchased as an add-on. Workflows for Trello enables users to create an automated workflow schema to ensure tasks move to the correct stage and nothing falls through the cracks.
Winner: Asana
Although Asana's workflow builder is only available for paid plans, with advanced features only available on premium plans, it is far superior to Trello's workflow capabilities.
Portfolio Management
Asana enables users to track multiple projects in a single view for seamless portfolio management.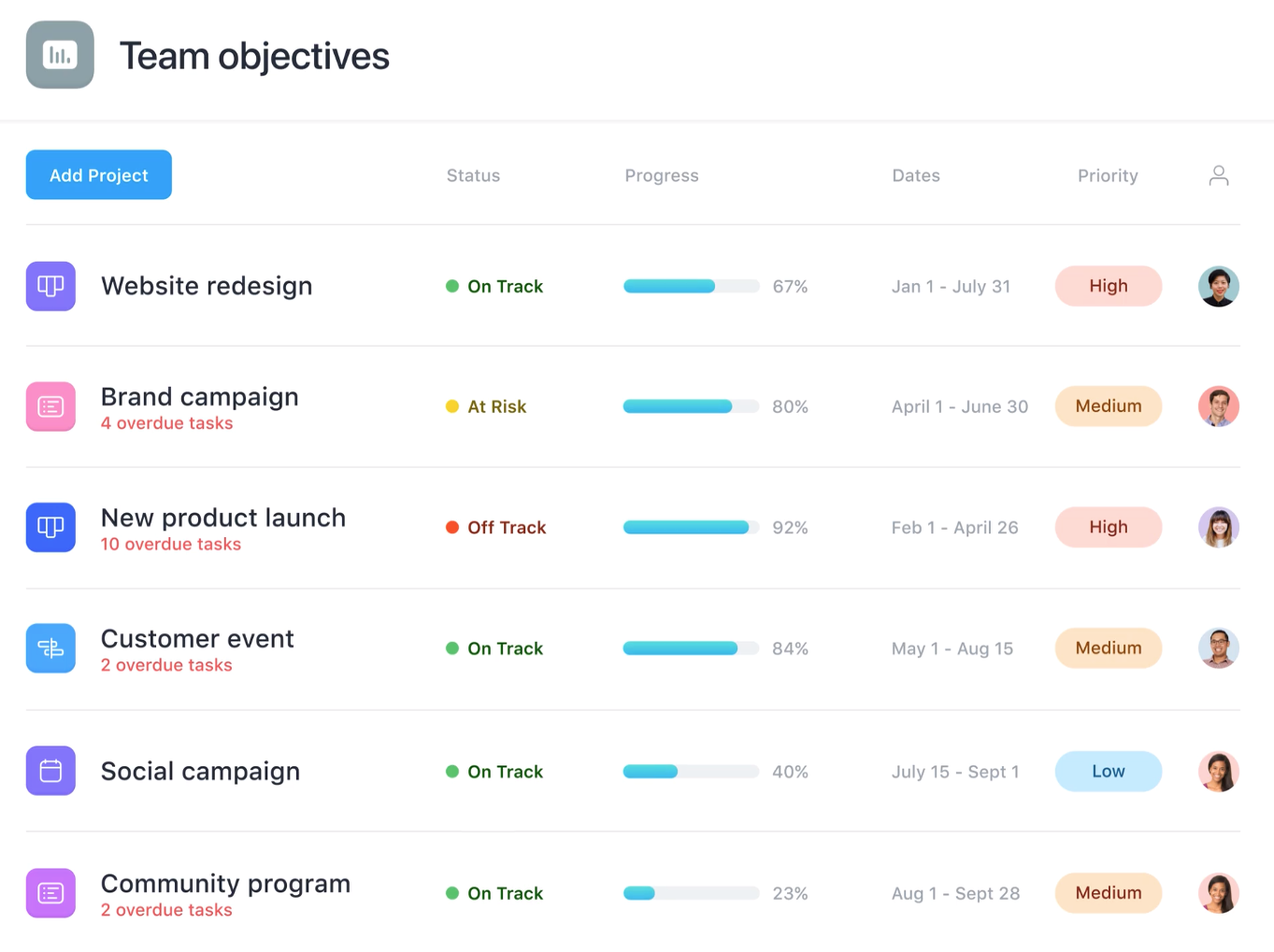 Managers can set company objectives, get a birds'-eye view of all project progress in real-time, and see who has been assigned to specific tasks.
Asana users can click on any project in the overview to drill down for more details, like the total number of complete and incomplete tasks. Portfolios can be organized and shared with stakeholders. Portfolios are only available in the Asana Business plan (starting at $24.99 per user/mo.) and above.
Trello's kanban style work management is made for small team that handle one single project at a time. However, portfolio management is available with the workspace view or via Trello add-ons to provide a birds-eye-view of multiple projects.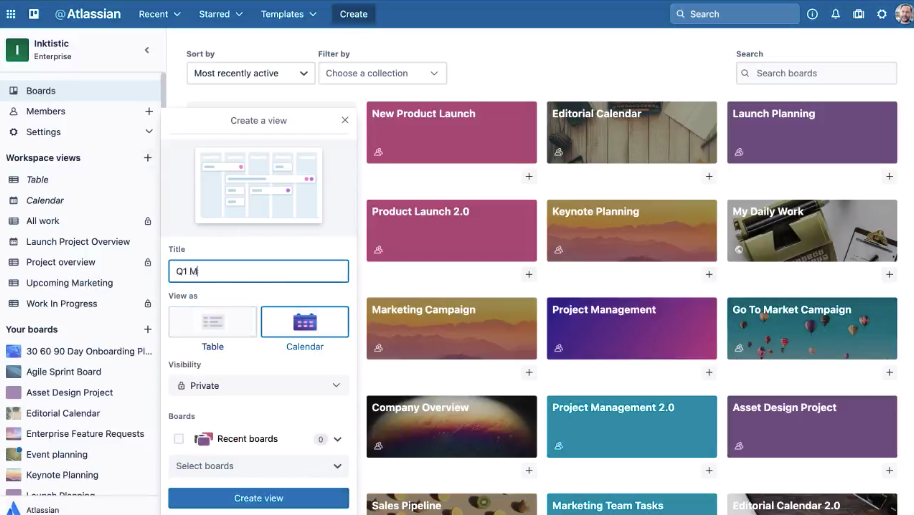 Trello Workspace View is available only in the Premium and Enterprise pricing plans (starting at $10 per user/mo.). The feature allows users to select tasks from multiple boards and organize them in a table or calendar view. The workspace view can be shared with team members and filtered by due date, label, member, and more.
Non-premium plan Trello users can use the BigPicture power up (a free add-on which displays multiple tasks for multiple boards on a Gantt chart) or Epic Cards (another free add-on that enables users to group Trello cards into larger bodies across multiple boards).
Winner: Draw
Trello has more options for portfolio management at a lower price point, however, Asana has a more advanced portfolio management solution and so the best project management tool will depend on the specific goals of the company.
Team Communication and Collaboration
Asana provides users with a number of team collaboration features.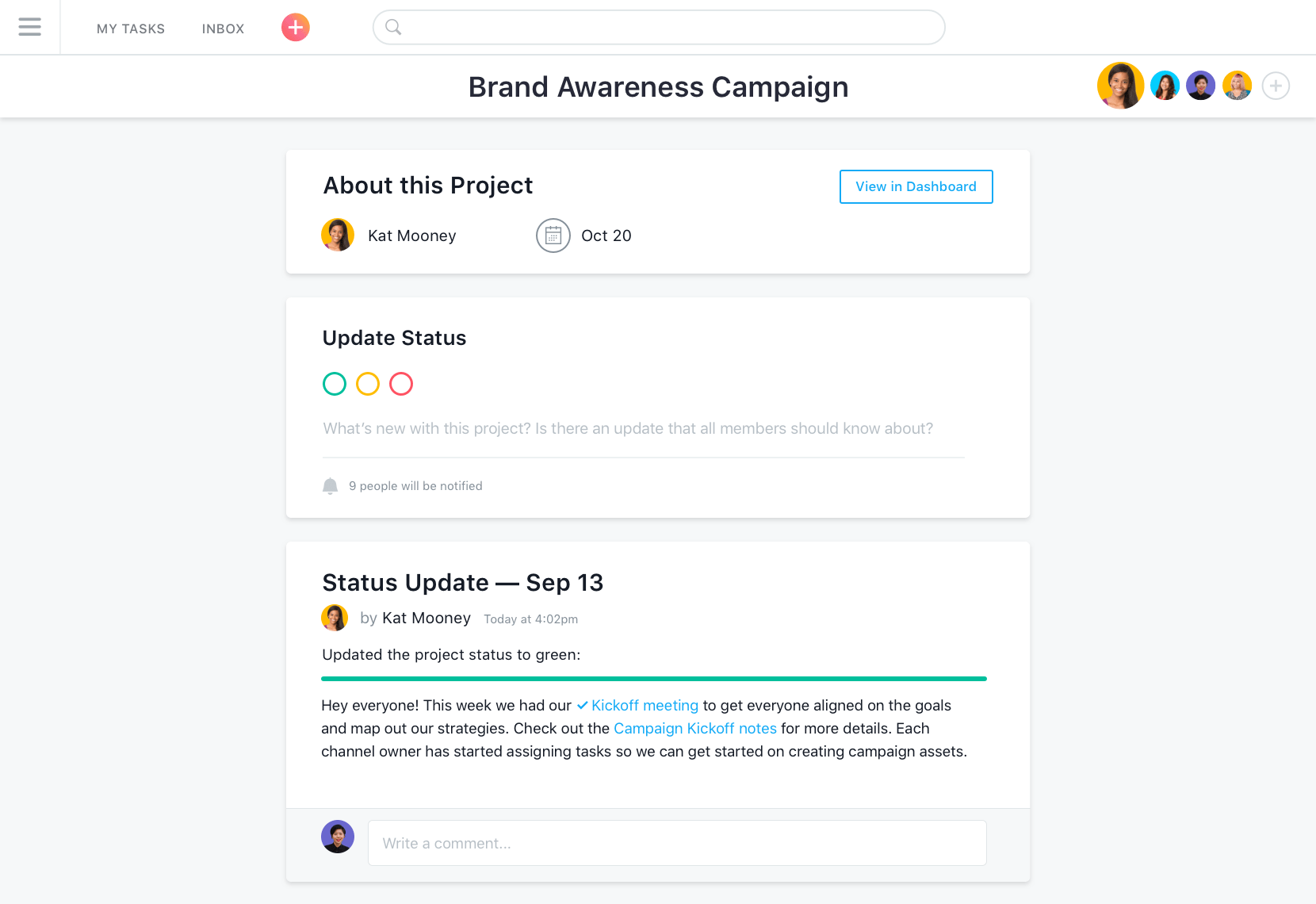 Task comments enable users to communicate directly on tasks, tag other team members, or follow task to monitor project progress.
All Asana plans include the "team message" feature, (shown below) a message board that lets users private message individuals or send group messages to teams and projects.
In team messages, users can tag anyone in the company (not just the team), opt in or out of message notifications, share files, and comment on messages. Users receive messages and alerts in their native Asana Inbox, which streamlines all notifications in an easy-to-read list that's updated in real-time.
Trello does not have a native team chat space.
However, each Trello Card can have multiple assignees, with access to the information contained in the Card and progress updates.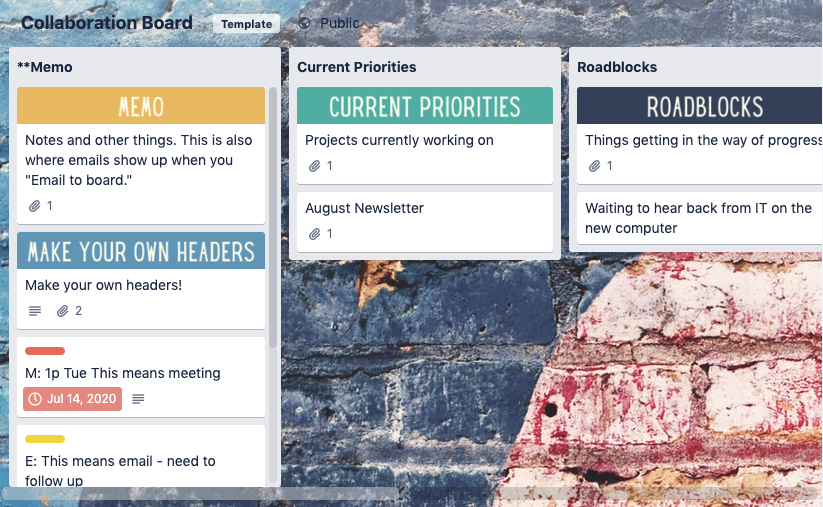 Trello also has a collaboration board template where team members can add Cards to customized columns such as "memos" or "roadblocks". Trello users can also collaborate using third-party integrations such as Slack and power ups such as Daily Updates, which enables admins to create a customized daily memo for teams.
Winner: Asana
Trello has some good options for team collaboration, but no native team communication capabilities. Although Asana does not have a dedicated real-time chat space, it does offer some collaboration features.
Integrations
Trello offers 300+ integrations with apps such as Gmail, MailChimp, To-doist, Google Drive and more. Unlimited integrations are available in all plans including the free plan.
Asana offers over 200 integrations with apps like Microsoft Teams, Dropbox, Adobe, and Youtube. Over 100 integrations are included in Asana's free plan. However, more advanced and industry-specific integrations like Tableau and Salesforce are only available in the Business plan.
Winner: Trello
With over 300 integrations and no limitations, Trello is the winner here.
Asana vs Trello: Pricing & Plans
Below is an overview of pricing models for Asana and Trello.
Asana Pricing
Asana offers a free plan as well as three different paid pricing plans.
Here is a breakdown of Asana pricing:
Basic 
Premium
Business
Enterprise
Annual Price
$0
$10.99 per user/mo.
$24.99 per user/mo.
Contact Asana
Monthly Price
$0
$13.49 per user/mo.
$30.49 per user/mo.
Contact Asana
Main Features

Unlimited projects and tasks
Basic workflows
Customer service knowledge base with tutorials

List, Board, Timeline and Calendar views
Automated workflows
Unlimited free guests

Custom rules, forms and templates
Portfolios and goals
Proofing and approvals

Custom branding
Admin announcements
24/7 support
Trello Pricing
Trello offers a free plan as well as three different paid pricing plans.
Here is a breakdown:
Free
Standard
Premium
Enterprise
Annual Price
$0
$5 per user/mo.
$10 per user/mo.
$17.50 per user/mo.
Monthly Price
$0
$6 per user/mo.
$12.50 per user/mo.
NA
Main Features

Unlimited storage (10MB/file)
Custom backgrounds & stickers
Unlimited activity log

Advanced checklists
Custom Fields
Saved searches

Views: Calendar, Timeline, Table, Dashboard, and Map
Unlimited Workspace command runs
Workspace-level templates

Multi-board guests
Free SSO and user provisioning with Atlassian Access
Organization-visible boards
Pros and Cons of Asana vs Trello
Here are some of the pros and cons of each platform.
| | |
| --- | --- |
| What users like about Asana | What users dislike about Asana |
| Unlimited free guests in all paid plans | Expensive compared to competitors |
| Automated and advanced workflows with custom rules forms, and project templates | 24/7 customer support only available for enterprise plan users |
| Highly secure with multi-factor authentication in all plans | No native team chat |
| | |
| --- | --- |
| What users like about Trello | What users dislike about Trello |
| Unlmited Activity log in all plans including Free plan | No native team chat space and not many team collaboration features |
| No code automation built in to every plan including Free | No multi-factor authentication or HIPAA compliance available |
| Provider focuses on ease of use with multiple customizable templates | Unlimited boards only available in paid plans |
Alternative Solutions to Asana and Trello
If neither Asana nor Trello seems like the right fit, there are plenty of options. Check out some of our other head-to-heads such as ClickUp vs. monday.com and the Asana and Trello alternatives below.
Provider
Pricing
Features
Best For
Slack
$0-$12.50 per user/mo.

99.99% guaranteed uptime
Screen sharing
Audio and video clips

Large teams that need high levels of security and reliability
ClickUp
$0-$29 per user/mo.

Whiteboards
Team Chat
Mind Maps

Remote and hybrid teams that need both project management and team collaboration tools
Smartsheet
$7-$32 per user/mo.

Gantt, Grid, and Card view
Forms with conditional logic
Document builder

Teams that need a solution for project management as well as document and/or spreadsheet creation
Airtable
$0-$20 per user/mo.

Gantt and timeline views
Custom branded forms
Rich field types such as checkboxes, dropdowns, attachments, etc.

Marketing and product operations teams that need a customizable project management solution
Wrike
$0-$24.80 per user/mo

File and video proofing
Analytics view
Automations (50-1000 actions per user/mo.)

Small and medium sized businesses needing video editing capabilities
Asana or Trello – Which is Best for You?
Asana and Trello are both project management focused.
Neither tool includes high-level team collaboration functionality–especially when compared to competitor project management apps like Slack– so both providers are best suited for teams with existing collaboration systems.
With a lower price point and an easy to use interface, Trello is best suited for small teams that are used to managing projects one at a time.
In its higher pricing tiers, Asana offers better security as well as more advanced features and is therefore a better option for larger organizations that have multiple simultaneous projects. Asana also allows for unlimited guests, which makes it a great option for companies that often work with freelancers and outside contractors.