Vonage has just announced today its latest addition to its growing platform. Dubbed VonageFlow, this team collaboration tool enables users to connect in multiple ways through one integrated application platform. The goal of VonageFlow is to enable teams to stay better connected, and of course in this digital age that means staying connected even on the go.
In fact, this could be considered an entrance by Vonage into the Team Collaboration market, competing with big names like RingCentral's Glip, Microsoft Teams, and eve Cisco's WebEx Teams, not to mention other approaches like Slack or HipChat.
What Is VonageFlow?
Simply put, VonageFlow is the VoIP and UC provider's Team Collaboration solution. Built directly off of the Vonage Business Cloud, the provider is actually considering VonageFlow to be a "feature" of their existing platform. In my mind, this squares the solution up similar to RingCentral's Glip Offering — a complete collaboration solution directly tied to the core Business VoIP system.
According to Vonage themselves, VonageFlow makes it easy to collaborate with colleagues through multiple methods of communication, including:
Instant Messaging (including Group Messaging)
File Sharing
SMS Texting
Voice and Group Calls
Business Inbox Capabilities including integrations with social media like Facebook
Overall, like other Team Collaboration and UC solutions wrapped into one, the main idea behind VonageFlow is to provide users with access to multiple methods of communication and collaboration, all from one single application. Just like with integrations, combining these functionalities into a single app in the end saves users time by empowering them to communicate and collaborate at a second's notice.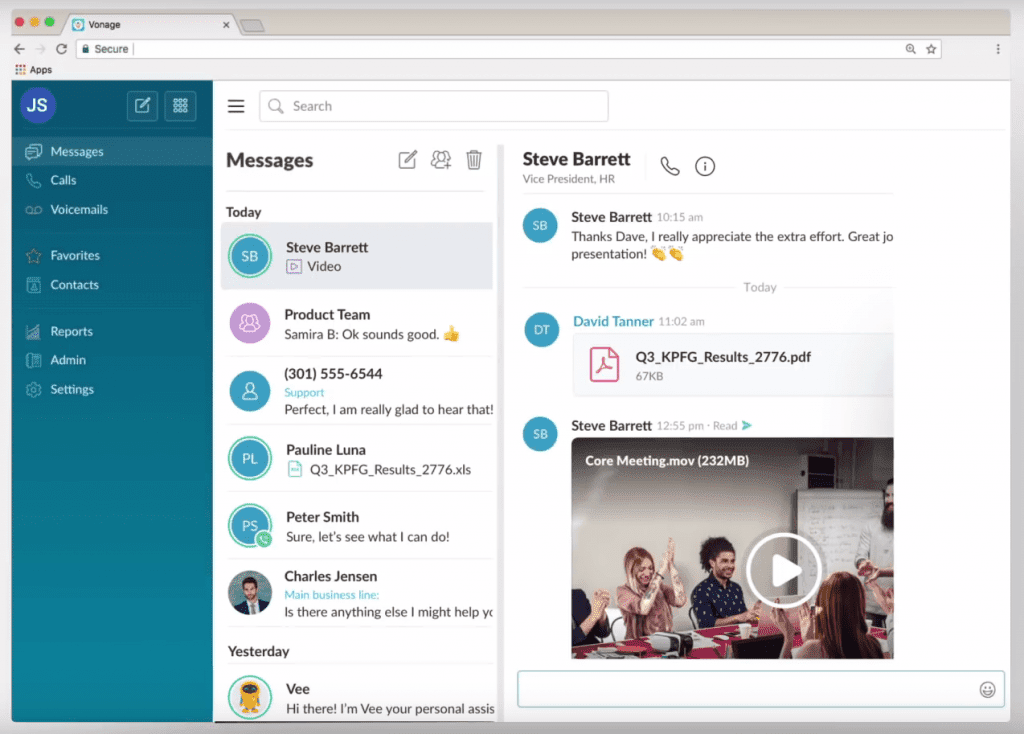 While this feature list seems fairly standard, it's all welcome additions to the newly updated Vonage Business Cloud solution. And like I said, VonageFlow is not a new standalone solution at all, but rather a new feature set addition to the Business Cloud. VonageFlow is actually now available to all existing Vonage Business Cloud users.
A New Platform Supporting New Features
Speaking of the Vonage Business Cloud, I wanted to offer a brief refresher on exactly what this platform entails. We first heard about this new solution from Vonage back in February of this year, when the platform was first rolled out.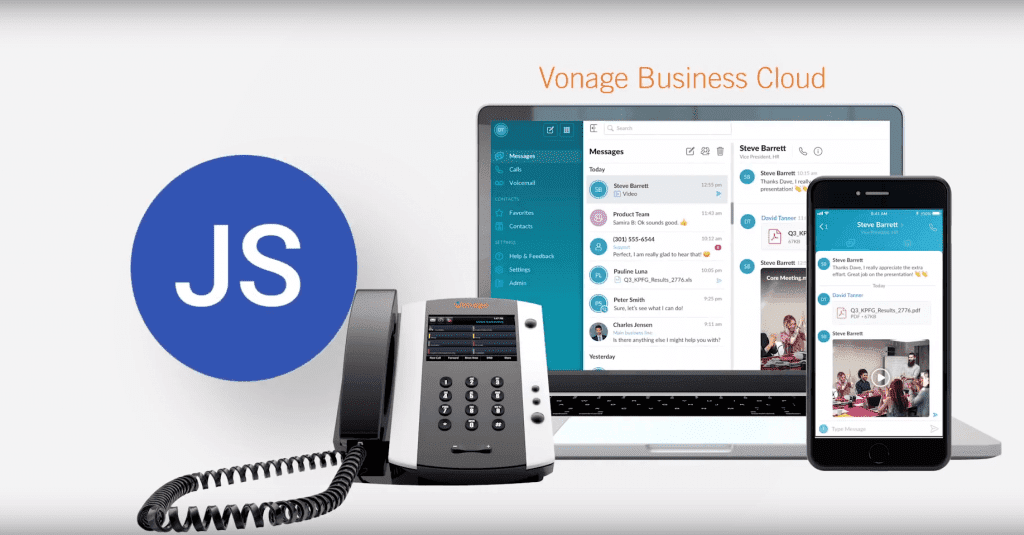 The Vonage Business Cloud was the replacement for Vonage's existing Essntials UCaaS offering, which had grown stale and outdated over time. The Business Cloud is Vonage's newly designed, more modern approach to offering their Business VoIP solution, moving away from their previous platform established on older technology.
"With the launch of VonageFlow, Vonage is providing customers with a better omnichannel customer experience, and bringing a richer collaborative set of capabilities to our VBC customers," said Ron Maayan, VP Product at Vonage.
Designed with SMBs in mind, the Business Cloud is built on a public cloud for enhanced reliability, and was re-designed with a mobile-first user experience. The solution even includes functionality from Amazon's Chime offering. And now as we see with VonageFlow, the service provider has expanded the solution even further.
The Bottom Line
It seems like Vonage is a little late to the Team Collaboration game. There are already some big name established players in this market, and of course many options to choose from. VonageFlow of course is a great addition to those already utilizing the platform, as the addition is simply a feature expansion of the Vonage Business Cloud solution. Voice calling and SMS messaging for example are directly based off of your Vonage Business Cloud subscription.
This of course makes Vonage's platform a bit more appealing to those currently searching for a new solution, but it doesn't make it a must-have recommendation at the same time. What it does do, however, is position Vonage as a stronger choice, especially when compared to a competitor like RingCentral. The main benefit lies in the integration platform, a strong point of RingCentral's Glip offering.
This alone makes the platform a bit more appealing than utilizing a completely separate solution, like adding on WebEx Teams or Microsoft Teams on top of another solution for calling. At the end of the day, "better late than never" hold true, and this was of course nothing but a good move for Vonage. It will be interesting to see how their platform continues to grow over time.