Facebook might soon be creeping its way into your office, and not just because it's a slow Friday. Reports state that the social media giant is planning to launch its collaboration platform, and potential Slack rival, "Facebook at Work" as early as next month. Of course, we all know what Facebook looks like and how it will work – so we already have a pretty good idea of what Facebook at Work will be like.
Facebook, but For Work
Reports from The Information say that Facebook at Work will be offered in a similar fashion to its competitors, with a monthly charge per user of the platform. While we don't know how much that will be just yet, reports explain that Facebook hopes the unique solution will be so engaging that it will make more sense to charge per user instead of a flat monthly rate. Just to apply some perspective, Slack currently charges $6.67 per active user per month for its Standard plan, and Atlassian's HipChat will only cost you $2 a month per user.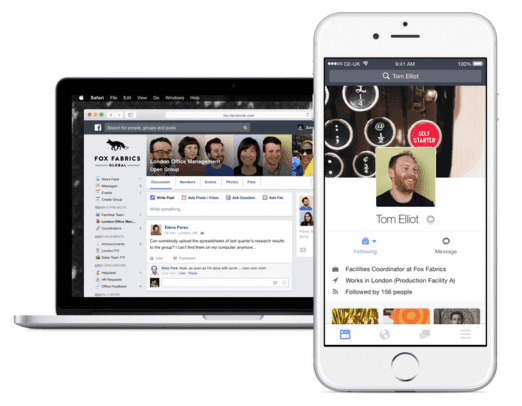 Since the vast majority of us are already so familiar with Facebook, about 5.25 million users, they already have the user experience aspect of the equation nailed down without a doubt. Switching over to Facebook at Work should be as quick and simple as logging into your personal Facebook account. The platform will include Groups to keep your team on the same page, a News Feed to stay up to date on everything your coworkers and colleagues are up to like project updates or any roadblocks, as well as a standalone Work Chat, Events and a powerful Search. Not to mention your own unique user profiles.
A New Challenger In The Collaboration Space
Work Chat included in Facebook at Work will presumably be built off of the current Facebook Messenger app and work much the same, and even include video and voice chat to rival Slack. The platform reminds me more of a couple of Slack alternatives we took a look at, like Flowdock, platforms that aim to do more than just basic chat and messaging. With an ongoing News Feed, users can easily stay in the loop of what the team is working on, and allows for questions to be asked and resources to be shared instantly.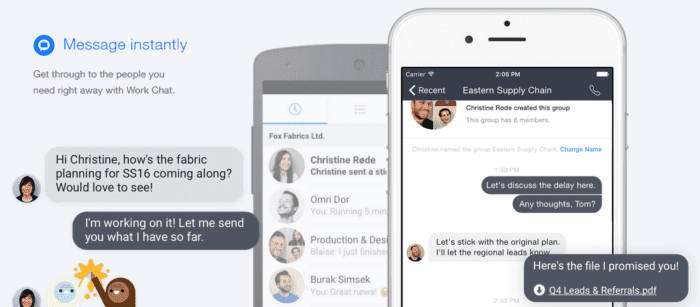 Reports are also explaining that Facebook plans to launch and support integrations with other SaaS platforms and tools – I would expect to see the usual Salesforce integration relatively quickly, and TechCrunch even said that Asana is currently working closely with Facebook on an integration. It is not currently know if APIs will be available to developers to construct their own integrations, but since Facebook makes it possible for developers to produce their own chat bots for the Messenger, we should expect to see developer support for Facebook at Work at some point.
Covering All The Bases
Facebook also ensures security will be handled up to par with most Enterprise regulations, promising that all information including a NCC Group security assessment report and Service Organization Control Report are available on request. You can even check out the Facebook at Work Trust Center to find out more about the security behind the new platform.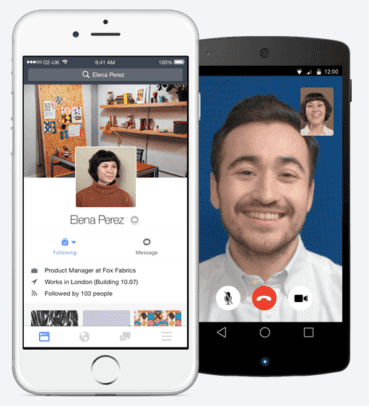 After coming across a preview for Facebook at Work months ago, the idea was seemed almost like a no-brainer. With such a massive population already on board and familiar with Facebook, and more recently the stand alone Messenger app, it made sense to transform the platform into a work solution. Many collaboration tools miss the mark and don't quite hit all the features, or attempt something completely different and user experience suffers from a lack of familiarity between platforms. But with 12 years behind the platform, Facebook has already been refined for many years after going through a number of different iterations they have a pretty good idea of how to build a social network, or in this case a collaborative network.