In a deal reportedly worth $4.13 billion, Zendesk announced it would purchase cloud-based customer experience management company; Momentive, formerly SurveyMonkey. The firm switched its name back in July 2021, having never changed its name since its 1999 launch. 
The move should grant the company access to more substantive data that pertains to the market, product, employee/customer experience data, and the ability to develop online surveys – of course.  
Acquisitions can get tricky and require endorsement from many official channels. We even recently saw one of the most sizable potential mergers in UC fall through. In a deal that would have merged Zoom and cloud contact center provider, Five9 – Five9 shareholders outright rejected Zoom's agreement to buy cloud contact center provider for $14.7 billion in stock, rendering the would-be merger null and void. 
In the Zendesk/SurveyMonkey deal – shareholders have already approved the transaction, although final approval comes from the board. For now, it seems as if the two may not be aligned, and it could indicate that these folks need a bit of persuasion to realize the merger. 
With a suite of paid back-end programs, SurveyMonkey should be a welcome addition to San Francisco-based Zendesk, which focuses more on software-as-a-service products related to customer support, sales, and other customer communications. 
Pending terms aside, Momentive's CEO, Zander Laurie, will stay onboard the combined entity following the acquisition by the first half of 2022. 
The Market Reacts 
Both firms have some solid financials to report, with the duo reporting its earnings just last week. Zendesk had $347 million in revenue, a figure up 32% year-over-year – leading to a $1.38 billion run rate. Run rates can predict a company's future financial performance leveraging present financial data to forecast later performance. It does assume that current and potentially favorable remain in order. 
Momentive reported $109.4 million in revenue, a figure that rose 24% when compared year-over-year, giving it a solid outlook of a $437.6 million run rate. This could indicate why Zendesk is excited to make the purchase: and; that they hope the agreement will be a fruitful one. 
Looking at the numbers alone, one might assume that the conditions are favorable for acquisition, while the stock market had other plans following the announcement of the merger. Following the news, when the market closed on Friday, Zendesk dropped nearly 15 percentage points.
Momentive made an over eight percent plunge. Although this is quite common, it could be a sign of some hurdles to come, but nothing a group of determined individuals cannot likely hash out during a few tough negotiation sessions. As of today, its stocks were still down. 
Some investors have vowed to block the move, though, posing only a modest threat to the proceedings. Investorstors at Legion Partners Asset Management own a 1.4 percent stake in Momentive and say they have a lot of reservations about the merger, telling Bloomberg in a recent interview: 
"Legion Partners is strongly against the proposed acquisition of Momentive by Zendesk and is willing do to whatever is necessary to put an end to this deal."
Zendesk has been hard at work collecting various technologies that further its customer-centric mission throughout the years with a series of buyouts that started with the 2014 purchase of live chat company, Zopim for $29.8 million.
Zendesk Technology Powered by SurveyMonkey
In 2013, Momentive started to boost its offerings, launching HIPAA-compliant features for those with premium subscriptions. It also announced the introduction of SurveyMonkey Genius, a service that measures how a survey will do and can make recommendations on strengthening the efficacy of polls. 
And in 2017, SurveyMonkey brought SurveyMonkey CX to market – a solution that helps organizations manage customer experience programs.
SurveyMonkey enables the advanced management of multiple users and gets greater visibility into all survey data collected across an organization via admin controls and dashboards. This is an influential appeal to someone in the business of CX, namely Zendesk, which hopes to breathe new life into its CX offerings. 
The biggest perk for Zendesk; is that it will gain access to more automation functionalities. In the fall of 2022, users can leverage other popular business applications via SurveyMonkey's APIs and powerful integrations with Salesforce, Marketo, Tableau, etc.
All of this should provide significant assistance to Zendesk, as it hopes to become an even stronger market leader in CX. Zendesk is recognized as a leader in Gartner's 2021 CRM Magic Quadrant, with its competitors like Microsoft, Salesforce, Pegasystems, and Oracle, too, receiving the distinction. 
Zendesk, According to Gartner 
Zendesk made it on Gartner's 2021 CRM Magic Quadrant for its Zendesk Support application – a part of the larger Zendesk Suite (also known as Zendesk for Service). The offering combines a customer communication hub with the power of engagement orchestration features. 
To date, Zendesk has 170,000 customers, giving it the most sizable customer base of the vendors that made it into the 2021 CRM Magic Quadrant. One potential pitfall for Zendesk is its lack of vertical market attack, as it does not currently extend industry-specific customizations to its software, Gartner notes.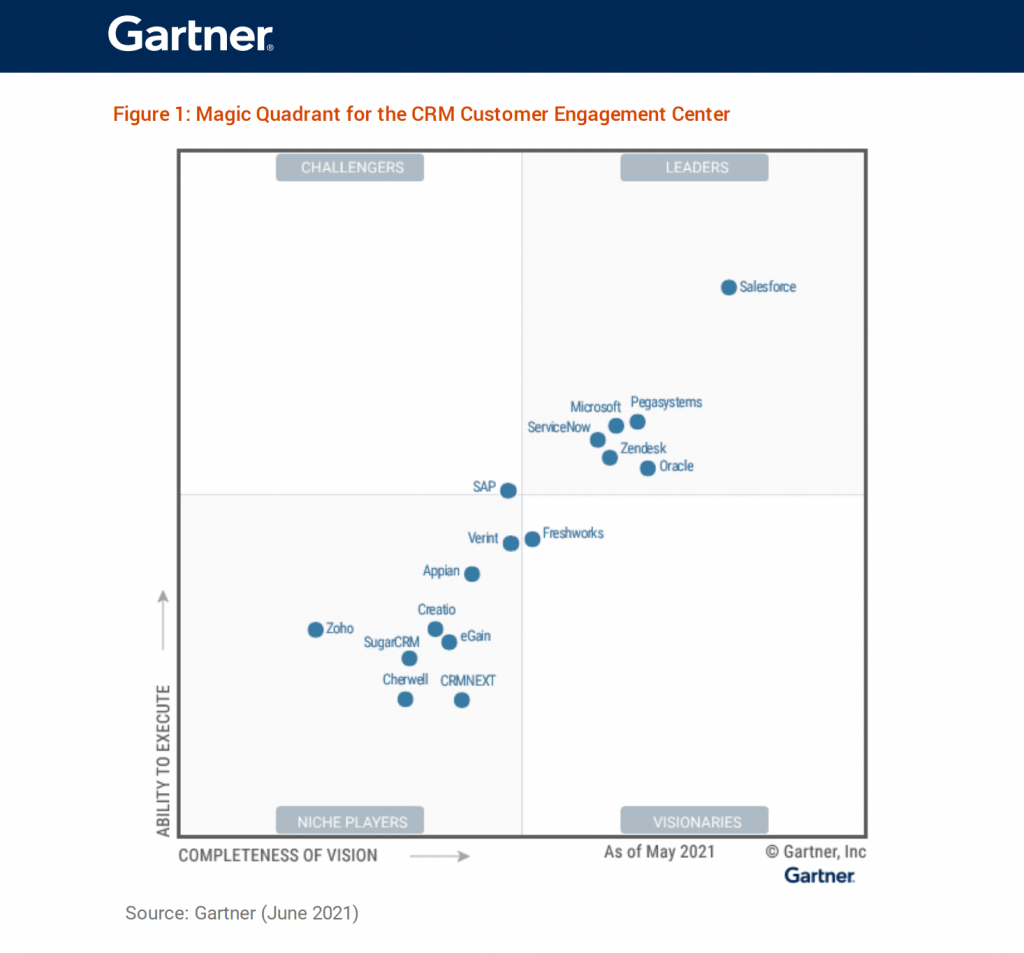 "Zendesk software is easy to use, offers the simplicity of administration, and Zendesk customers derive benefit from the fast time to value and agility that it delivers, which enable them to serve customers better."
It is also well known for its innovativeness. And Gartner notes that during the pandemic, Zendesk acted 'rapidly.' 
"In 2020, Zendesk launched key features in areas like automated conversation orchestration across channels, with a mix of native and third-party bots and workforce management through a partnership with Tymeshift."
The vendor proved; that it was an agile company in its response to the COVID-19 pandemic, introducing licensing relief, faster availability of digital customer service capabilities, and the release of its remote support bundle. There is even the Zendesk Vaccine Management Solution, which Gartner notes is a strong gauge of the firm's ability to execute.
This could (very well) create a powerhouse in customer insights/CRM once/if the cooperation is settled. The duo should then be able to focus on taking what started as an integration – to the next level. It could have to worry about Freshworks, though. Already a major competitor; the firm today announced that it has surpassed Zendesk's market cap, reaching over $13.5 billion compared to Zendesk's $12 billion.